This grilled corn salad recipe is perfect for summer! Great for picnics or as a side for a cookout, this summer corn salad is packed full of flavor and is easy and quick to assemble. It can be made ahead of time, so it's a simple fuss free option!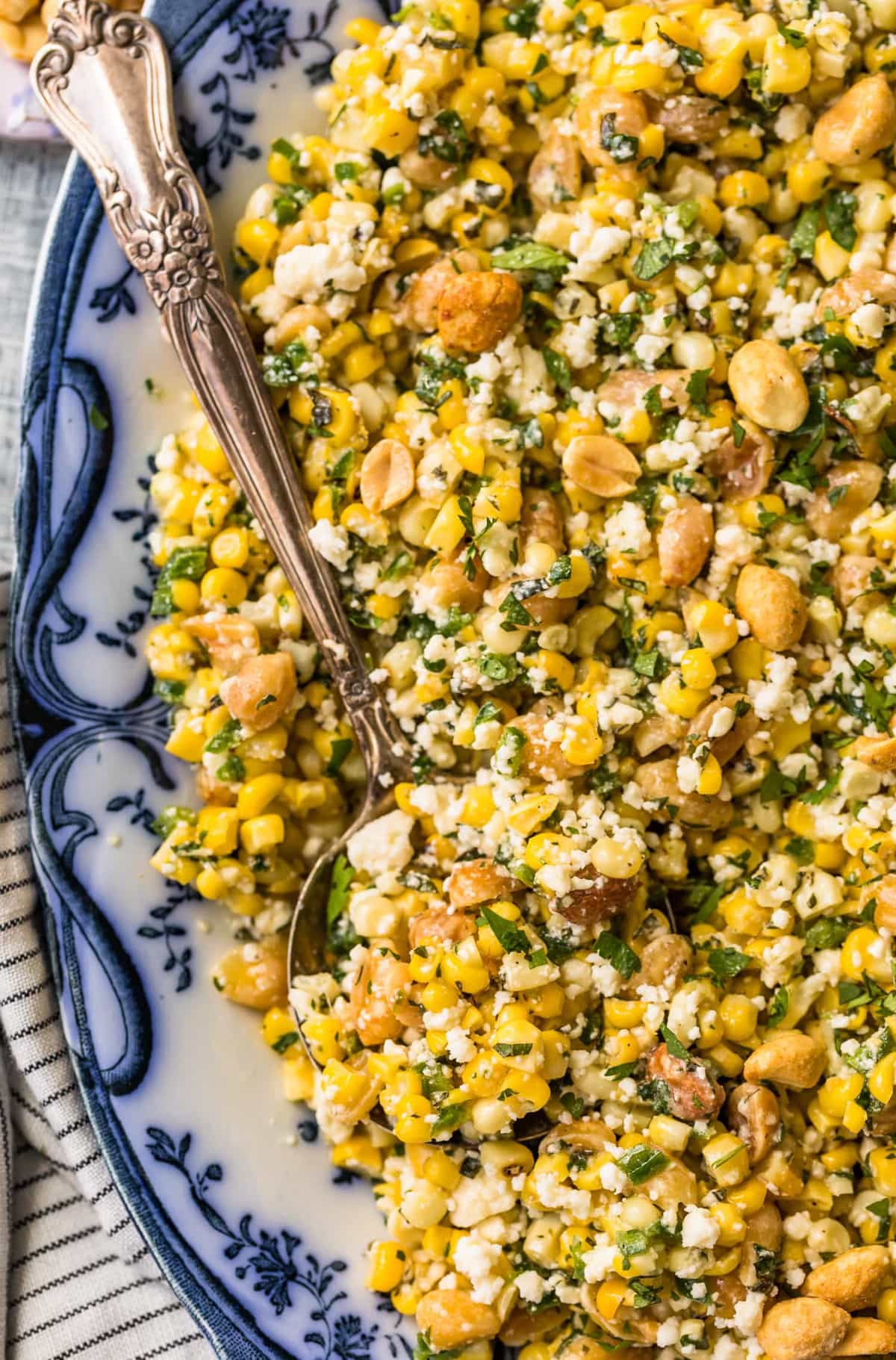 Summer is all about fresh seasonal colorful foods, and it doesn't get much more tasty than corn! I love how vibrant this dish is, it's a great addition to any summer party!
How to make this Grilled Corn Salad Recipe
Grill the corn until lightly charred on all sides. Transfer to a plate and let cool to the touch. Cut off the corn kernels and place in a large mixing bowl.

Add diced jalapeno, most of the mint, cilantro, Parmesan and most of the Cotija cheese to the corn. Mix well.

In a small mixing bowl, whisk together lime juice, oil, agave syrup, salt and black pepper. Whisk briskly about 1 minute. Pour the vinaigrette over the corn mixture and toss until all ingredients are coated. *See note about making ahead.

Directly before serving, add the peanuts and gently mix to combine.

Garnish with the reserved cheese and mint leaves.

Enjoy!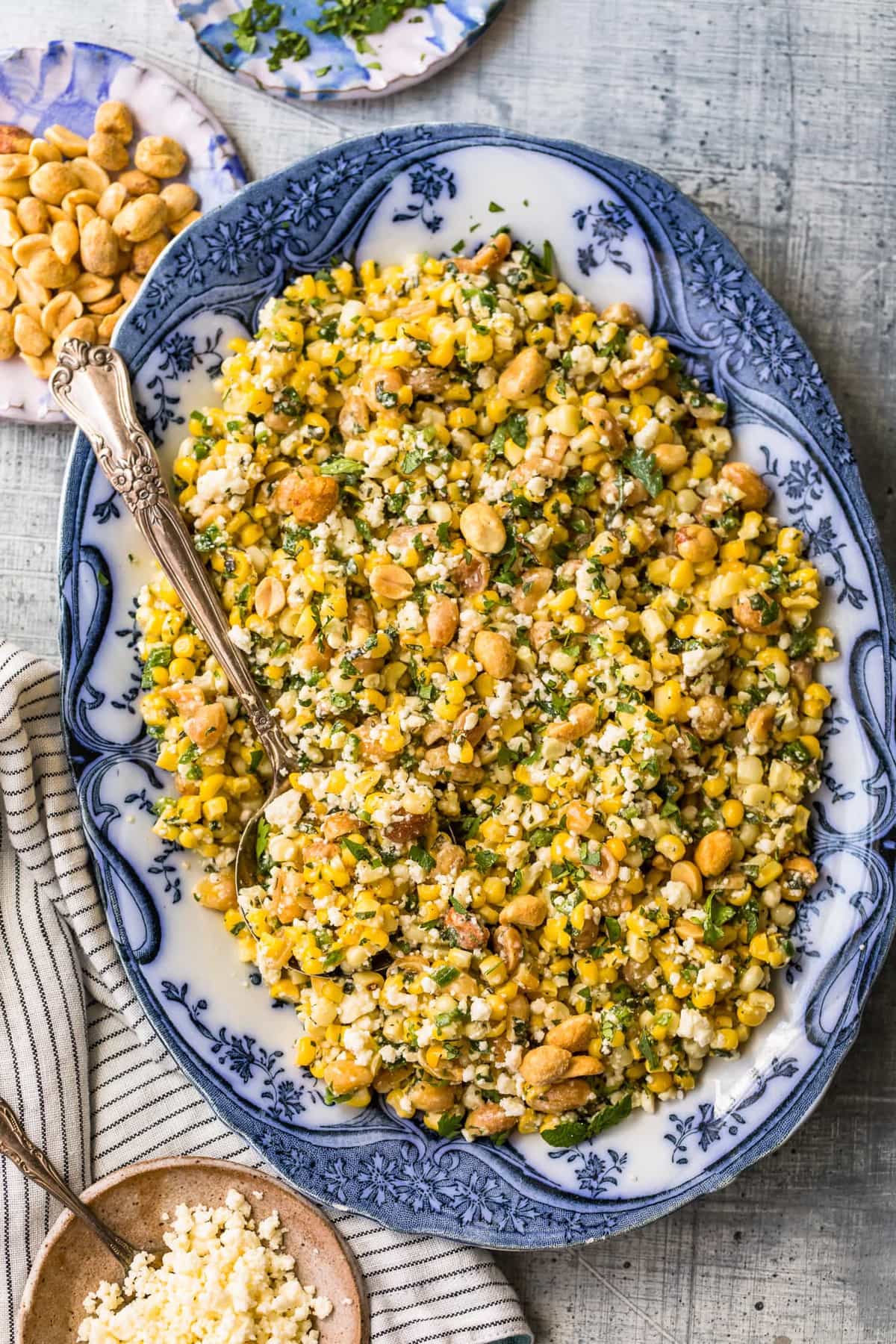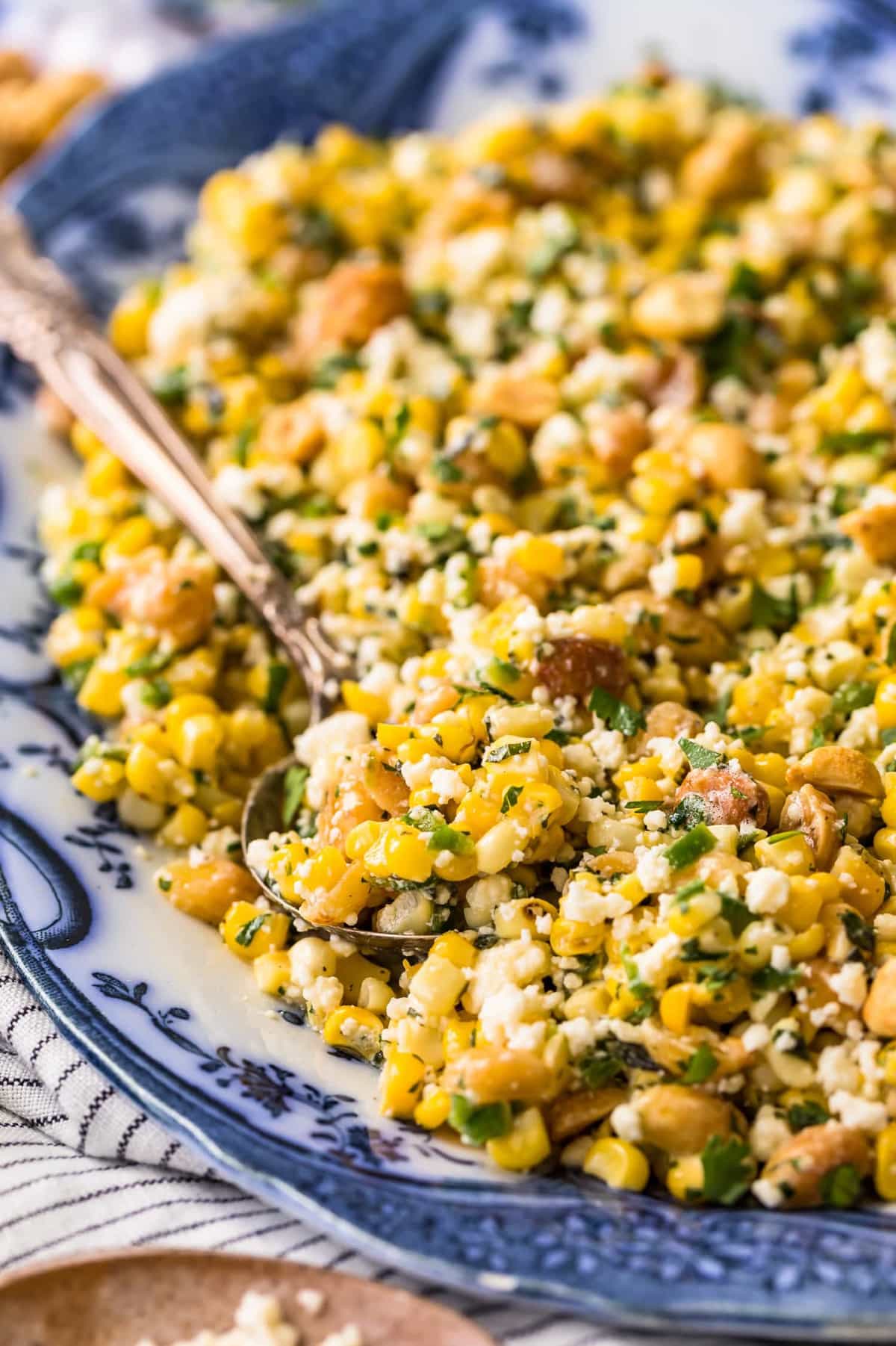 Mexican Grilled Corn Salad
Although this isn't an authentic Mexican corn salad, it has elements of cuisine from south of the border. Jalapeños add a mild heat and fresh cilantro lifts the dish. Lime juice and cotija cheese round of this salad which has a sweet edge to it.
Make ahead summer salad
The beauty of this salad, is that it can be made up to 24 hours ahead of time and stored in an airtight container in the fridge. It's perfect to take to a party or picnic, or to take a little pressure off if you are planning a large cookout.
Simple Corn Salad Recipe
I love how easy it is to put this delicious grilled salad together – 20 minutes and a handful of fresh and tasty ingredients and you have a real show stopper of a side dish.
Serve it alongside your favorite grilled meats for a delicious meal. It also works amazingly well as a topping for tacos!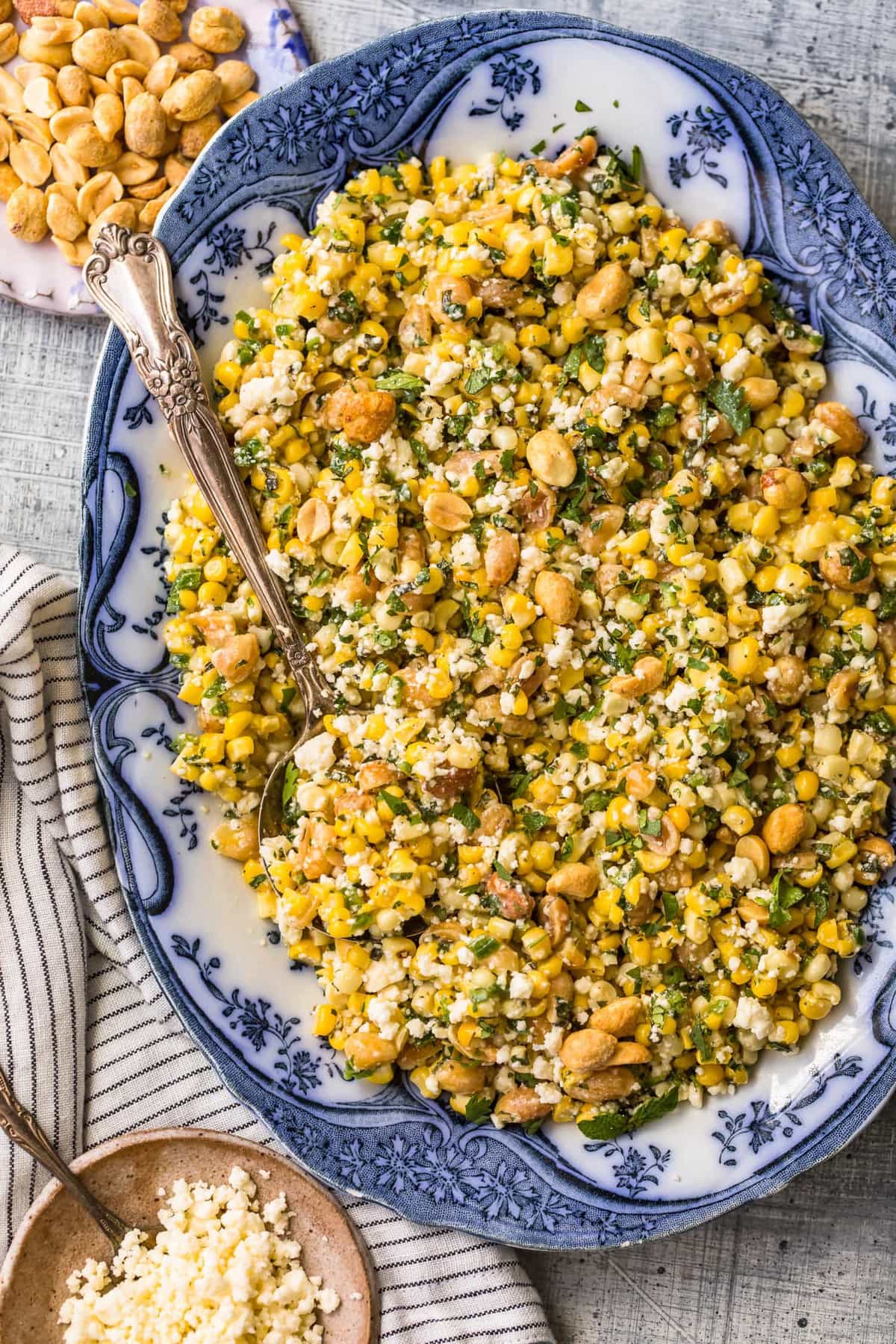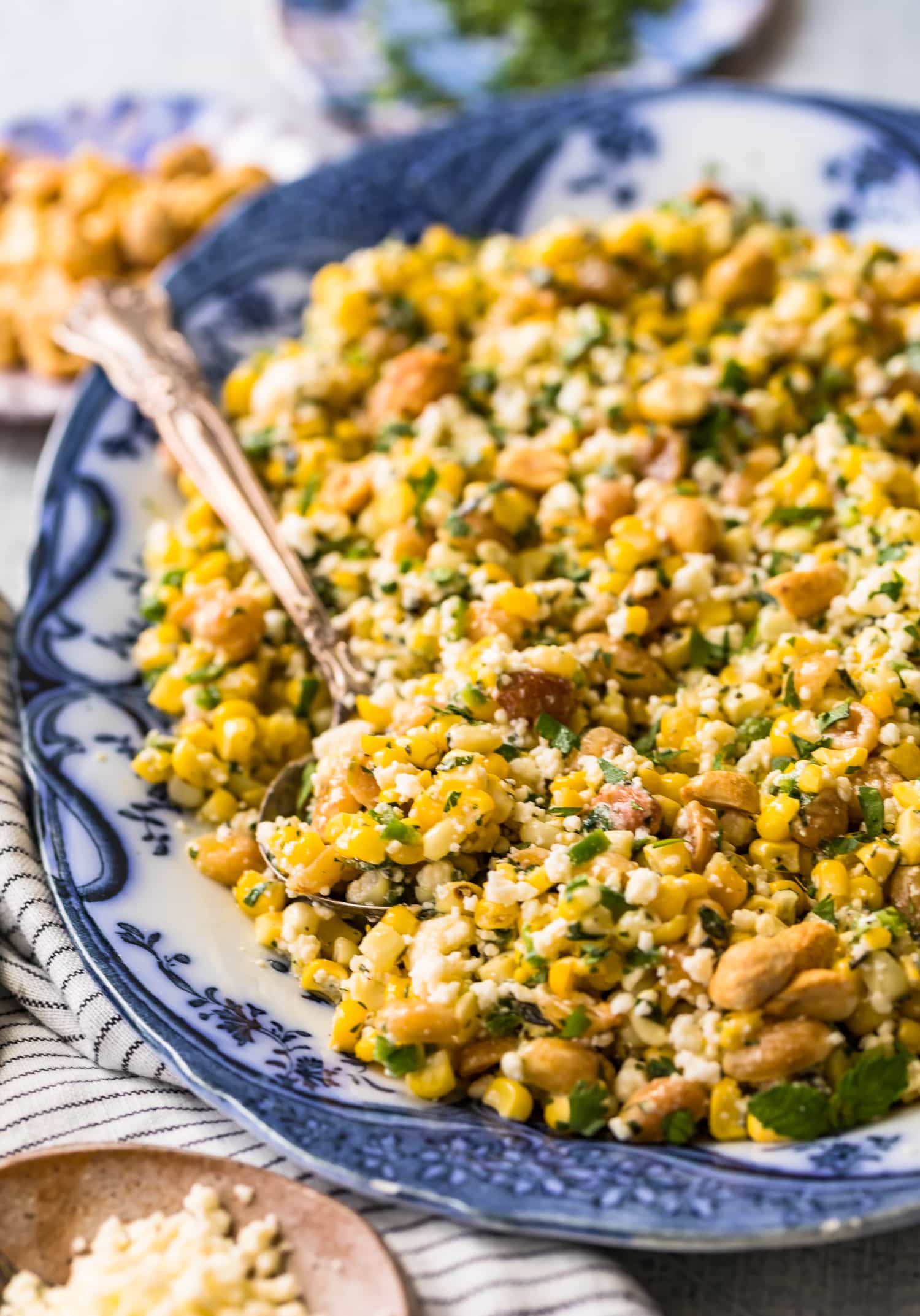 Top tips to make this Grilled Corn Salad Recipe
Grilled fresh corn is the best option for this recipes, but if you are in a squeeze, you can use canned or thawed frozen corn.
Add the peanuts just before you serve the salad.
Use the freshest ingredients you can, and organic if possible.
Serve on a large plate in the middle of the table, or use to top tacos.
What to serve with this Grilled Corn Salad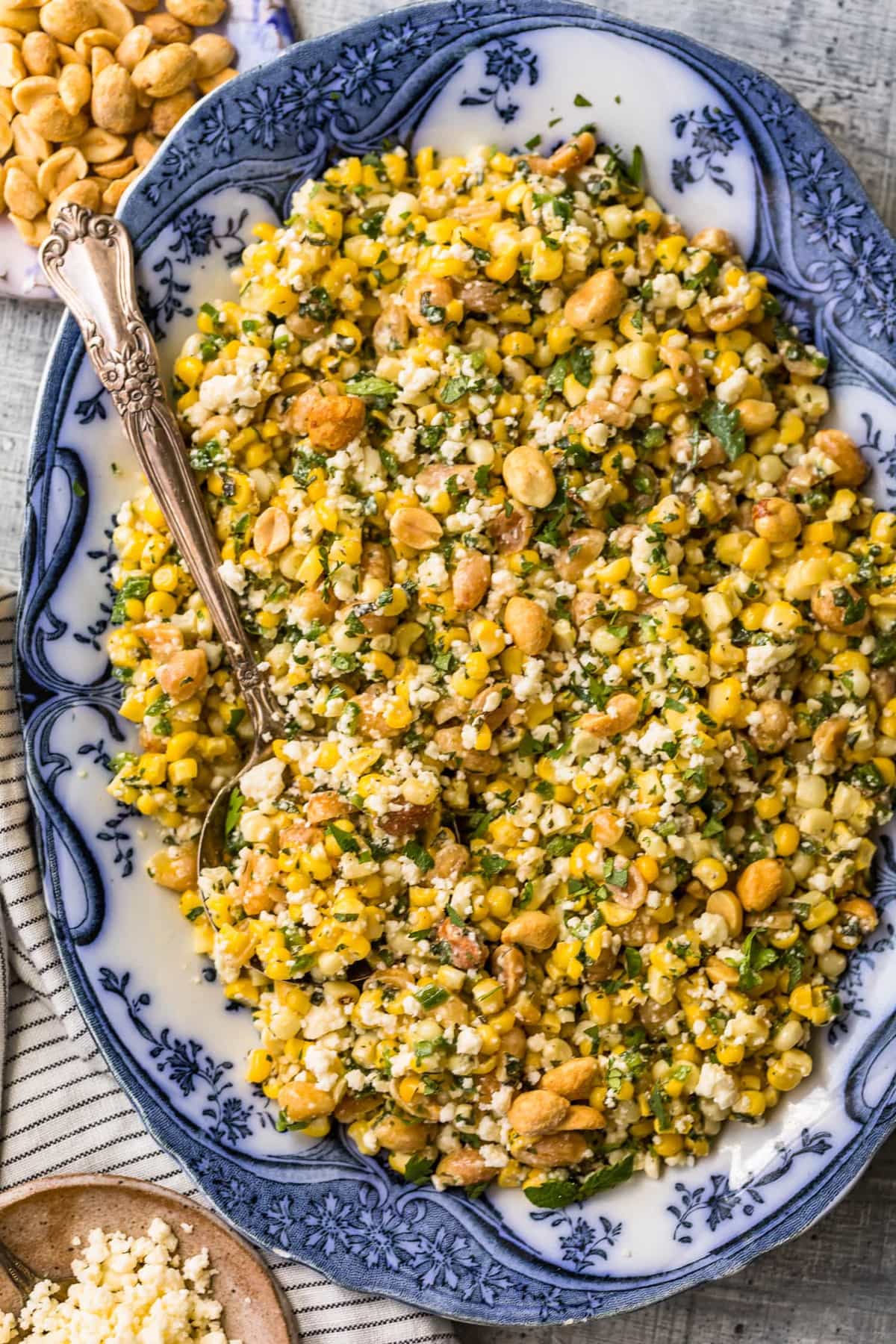 Be sure to check out these other summer salads for a party!