This Brown Sugar Salmon recipe is so simple yet so delicious! Start with a marinade made with brown sugar, soy sauce, and bourbon to add lots of flavor. After marinating, glazing, and baking, you'll have the perfect bourbon glazed salmon that everyone is sure to love!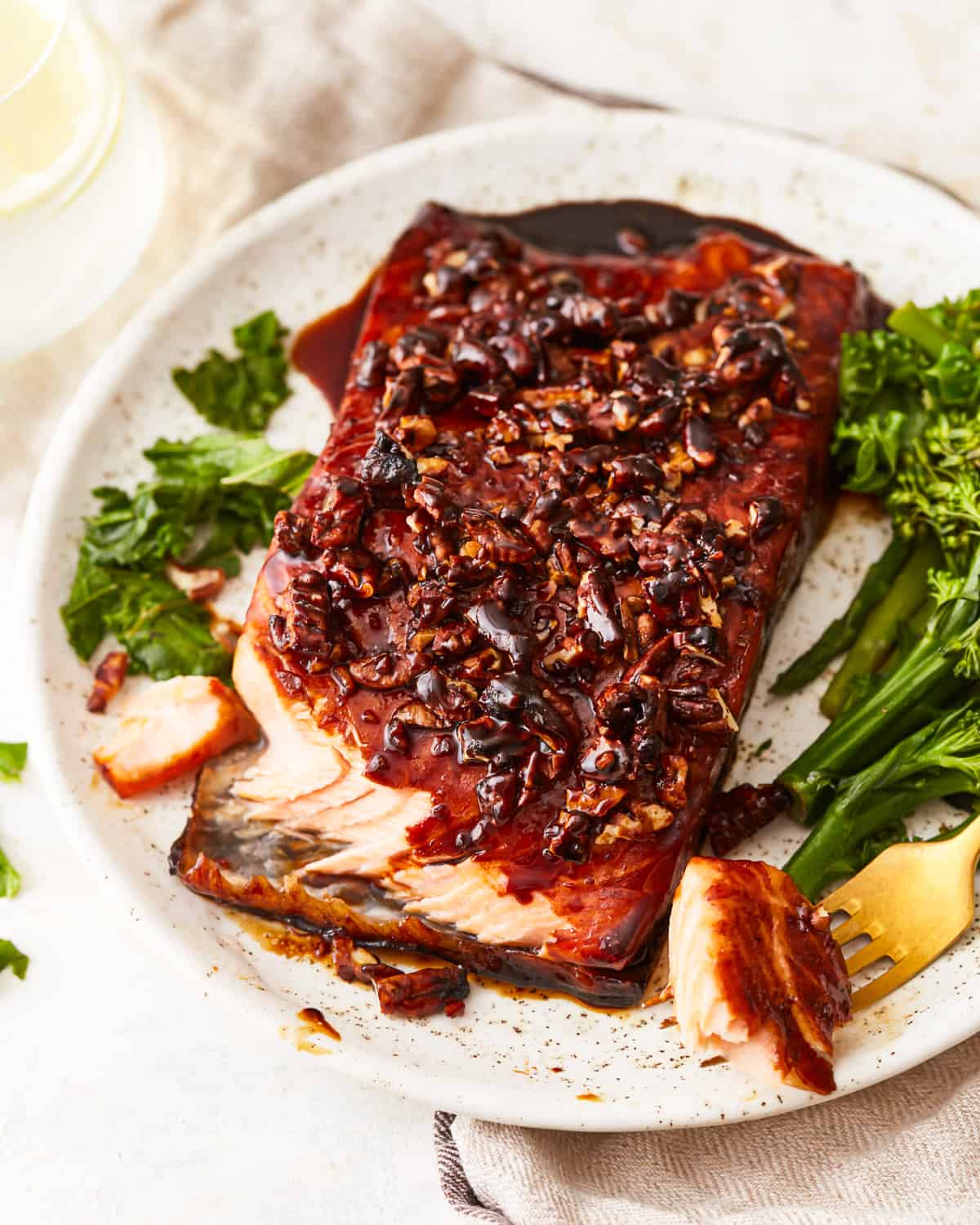 What's in this Brown Sugar Salmon Recipe?
The star of this delicious brown sugar salmon recipe is the salmon marinade with brown sugar, bourbon, and soy sauce. The flavor is plenty sweet but balanced out by the salty soy sauce and smooth bourbon.
Brown Sugar: Sweetens the glaze and helps make it thick and syrupy.
Soy Sauce: Adds a salty, umami flavor to the glaze. I recommend using low-sodium soy sauce.
Worcestershire Sauce: Adds a sweet and sour flavor.
Garlic: Adds an earthy flavor and a pungent aroma.
Black Pepper: Adds just a hint of spiciness.
Bourbon: Adds a toasty, nutty flavor.
Pecans: Add crunch and a nutty flavor.
Salmon Filets: I recommend wild-caught Alaskan salmon for the best taste. Make sure to remove any bones!
Pro Tip: If you're not a drinker, you can leave the bourbon out!
Variations on Bourbon Glazed Salmon
There are a number of ways to customize this salmon recipe to suit your individual tastes. Not a brown sugar fan? Swap it for honey or maple syrup! You can also use all soy sauce or all Worcestershire sauce depending on what you have in your pantry. Instead of pecans, try walnuts!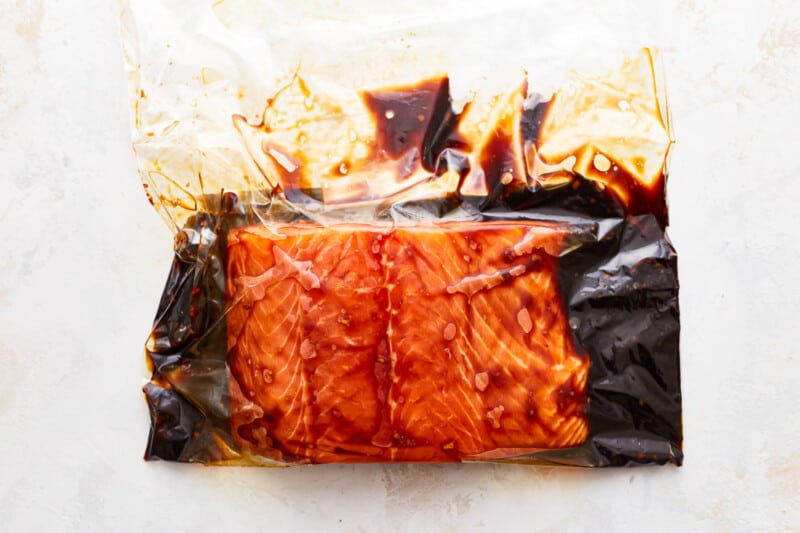 How long should I let salmon marinate?
Ideally, you'll want to let this salmon marinate for 3 hours. However, if you're short on time, as little as 30 minutes will be sufficient!
Is it better to marinate salmon in the fridge or on the counter?
Always marinate salmon in the refrigerator! It is dangerous to marinate it at room temperature, as it could allow bacteria to grow on the salmon.
Should you soak salmon in salt water before cooking?
Nope! There's no need to soak this salmon before cooking, especially since we are marinating it!
What temperature should you bake salmon?
This salmon gets baked at 400°F!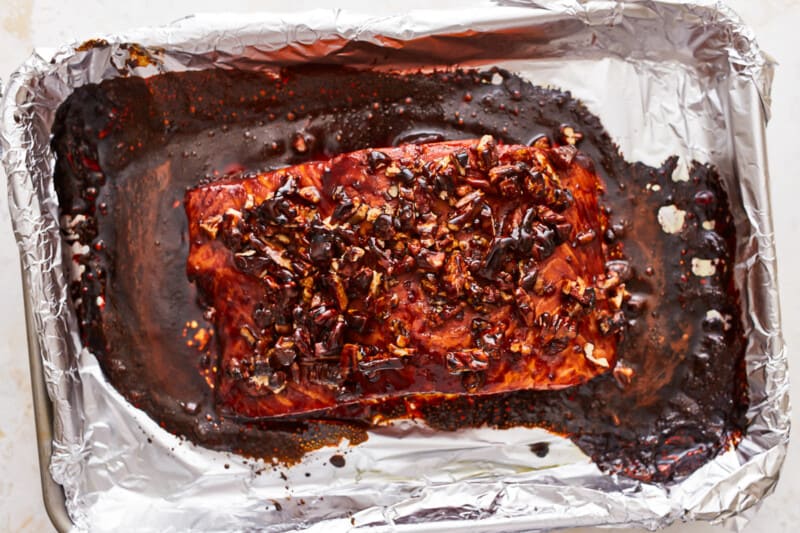 How to Store and Reheat
Store leftover brown sugar salmon in an airtight container in the refrigerator for up to 3 days. Reheat in a 275°F oven for about 15 minutes, or until warmed through.
How to Freeze
Freeze brown sugar glazed salmon in an airtight container or Ziplock bag for up to 3 months. Let thaw overnight in the refrigerator before reheating.
Serving Suggestions
Serve this bourbon glazed salmon with basmati rice or chantilly potatoes and brown sugar glazed carrots, roasted Brussels sprouts, or bourbon green beans with bacon!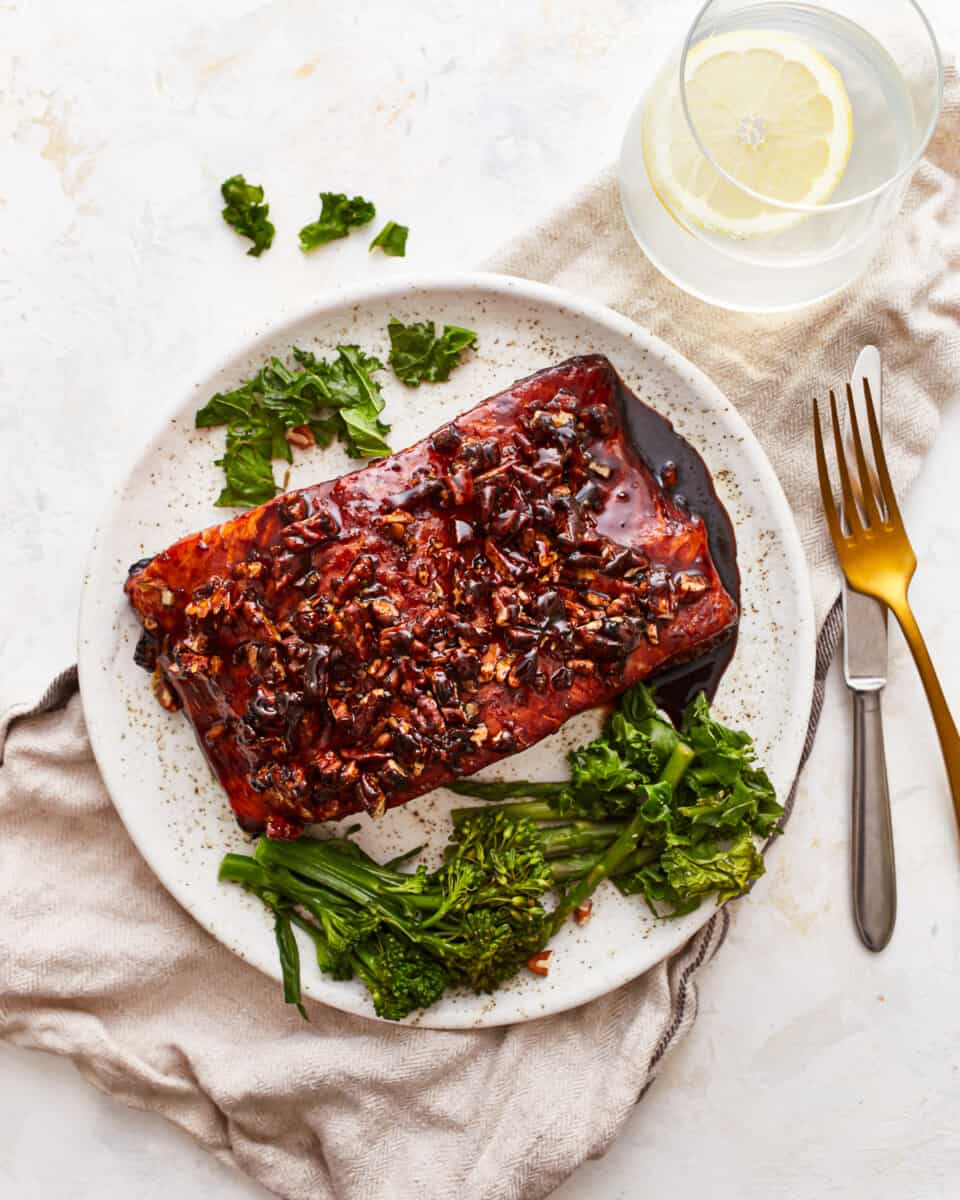 5-Star Review
"We eat salmon frequently and I needed a change from my usual recipes and I'm so glad I tried this one- it was amazing! I never would have thought to use the pecans as a topping. A new go to for my family for sure!" – Melissa Rankin
More Baked Salmon Recipes We Love