This Grilled Peaches recipe is a simple, healthy dessert, perfect for grilling season! Warm peaches, criss-crossed with char lines, smothered in ice cream and laced with caramel sauce – so good!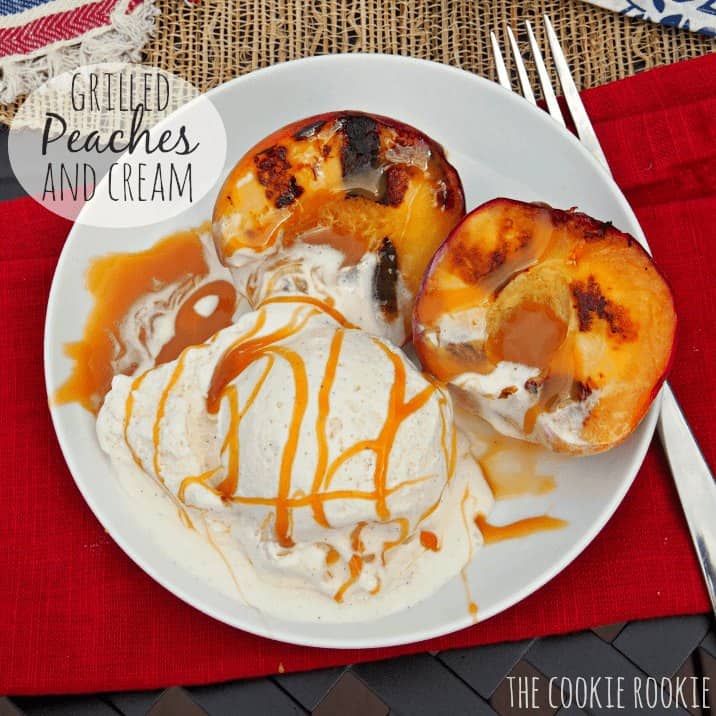 Once you start grilling these sweet and sunny stone fruits, you'll be making them all summer long! This Grilled Peaches recipe makes the perfect guilt-free dessert, until you add the ice cream and salted caramel sauce. ;)
Why this Grilled Peaches recipe is so good
A super simple and quick dessert, only 5 ingredients
The perfect BBQ dessert!
Cooked straight on the grill, you get these wonderful char lines. A great mix of textures.
Great on their own, a low calorie dessert.
Or serve warm peaches with creamy vanilla ice cream, add your favorite toppings.
Ingredients
Peaches – ripe, halved and with the stone removed.
Ice Cream – vanilla bean works great.
Olive Oil Spray – you can use lite spray.
Toppings – caramel or butterscotch sauce or delicious on these. Also you can top with chopped nuts like walnuts or pecans.
How to make this Grilled Peaches recipe
Spray/brush peach halves with oil, place on grill cut side down. Grill for 5 mins.
You can top with ice cream, hot caramel sauce and nuts, if desired.
Enjoy!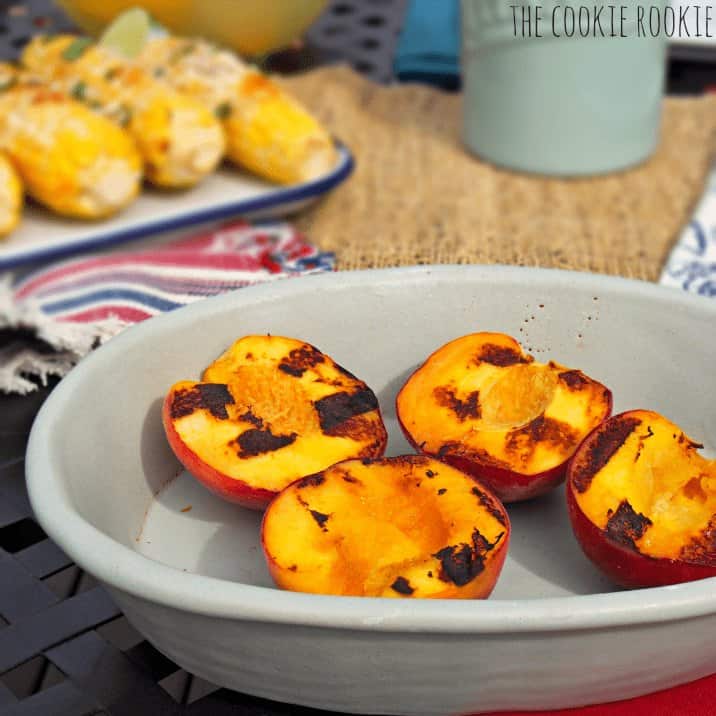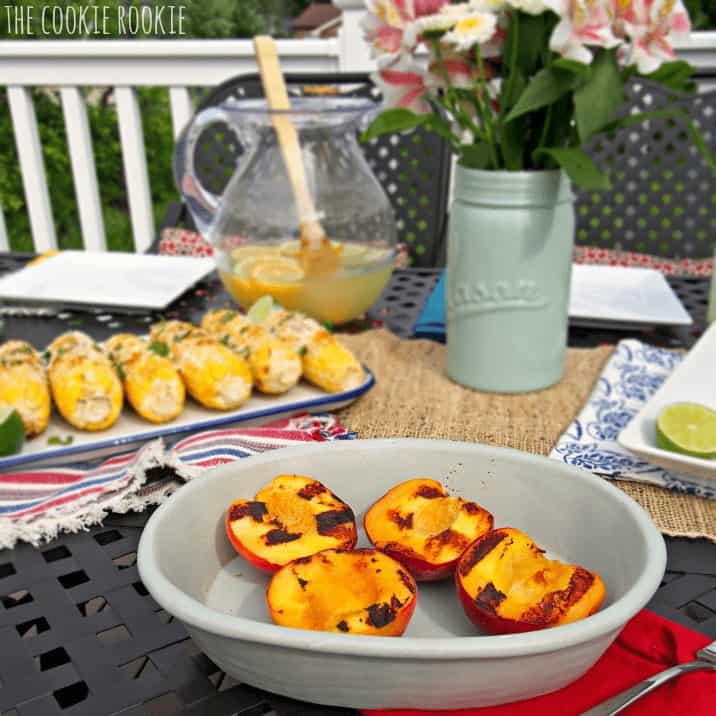 Grilling Peaches
Grilling the peaches makes them so tender and brings out all of their juicy flavor. This Grilled Peaches recipe would be perfect for the 4th of July or any other Summer BBQ! So delicious.
Cooking peaches on the grill, after dinner, when the coals have cooled down, is a great time. However, ripe peaches are as good an excuse as any for firing up the grill, so medium heat is best when you plan to grill peaches. Grill the peaches uncovered for four to five minutes on each side. Resist the temptation to reposition the peaches once on the grill — good grill marks on peaches are the result of patience (and clean grill grates).
The finished peaches should be more tender, but not falling apart, with distinct grill marks. Most of the time the peach skin will be loose and falling away. Feel free to pull these off with tongs before serving if desired.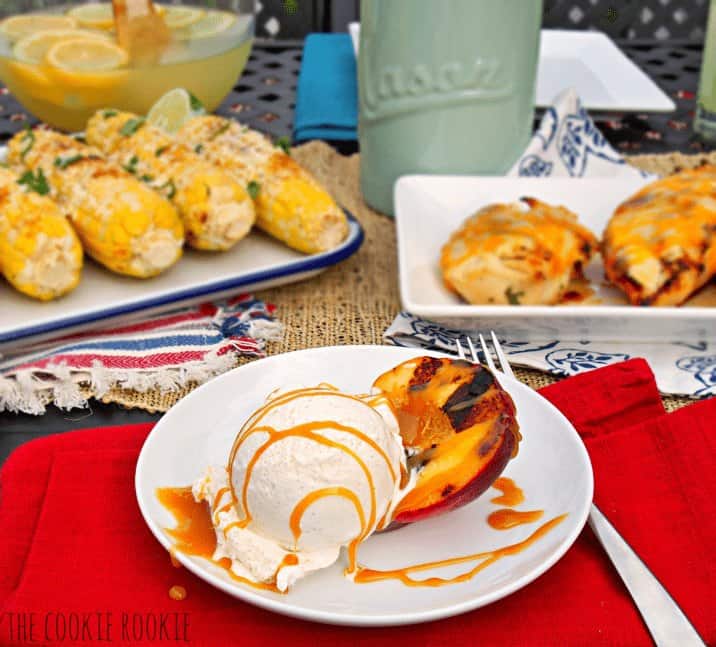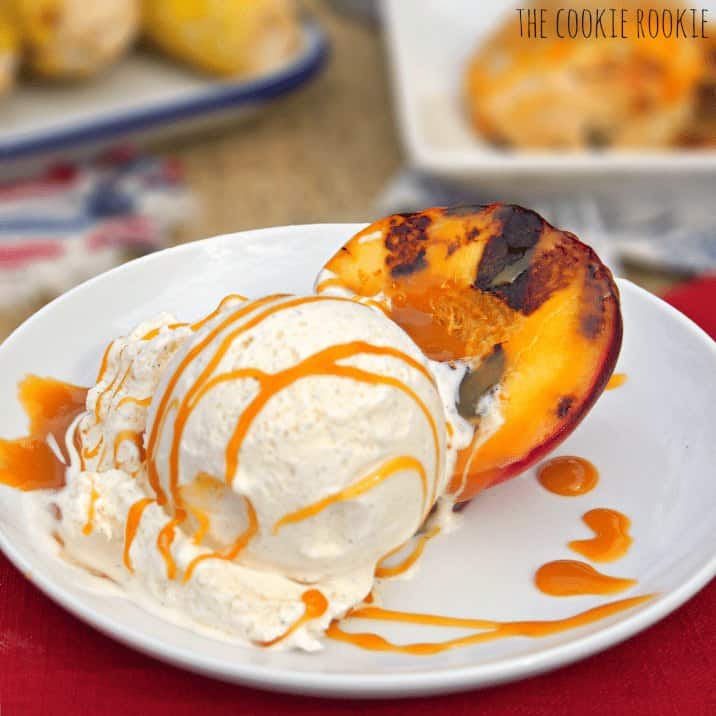 What are the best peaches for grilling?
Look for freestone peaches that are still firm when squeezed for grilling. Really ripe peaches have more sugar, which will burn quickly, and are too tender to take the heat. Grilling the peaches in halves, rather than slices, prevents overcooking and makes the peaches easier to handle — no slices slipping through grill grates. Brushing the peach halves with olive oil prevents sticking but won't burn the way sugar or spice rubs can when added to the fruit.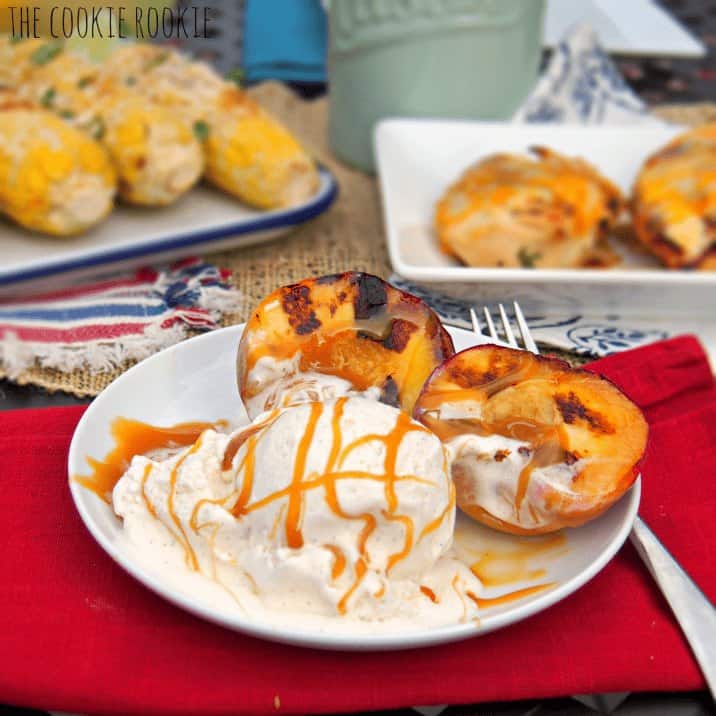 How to serve grilled peaches
You can plate of individually. If adding ice cream, put it on just before serving. Or, if serving a big crowd, bring a tray of scooped ice cream and spoons to the table, add the warm peaches from the grill to the ice cream, and let everyone dig in. Plan on at least one peach half per person.
But why stop there? Grilled peaches also make a great side with pork.
Top Tips
When buying peaches, make sure they are slightly soft, a dark yellow color and is round.
Brushing the peach halves with olive oil prevents sticking.
Serve with ice cream and warm caramel sauce.
Plan on at least one peach half per person.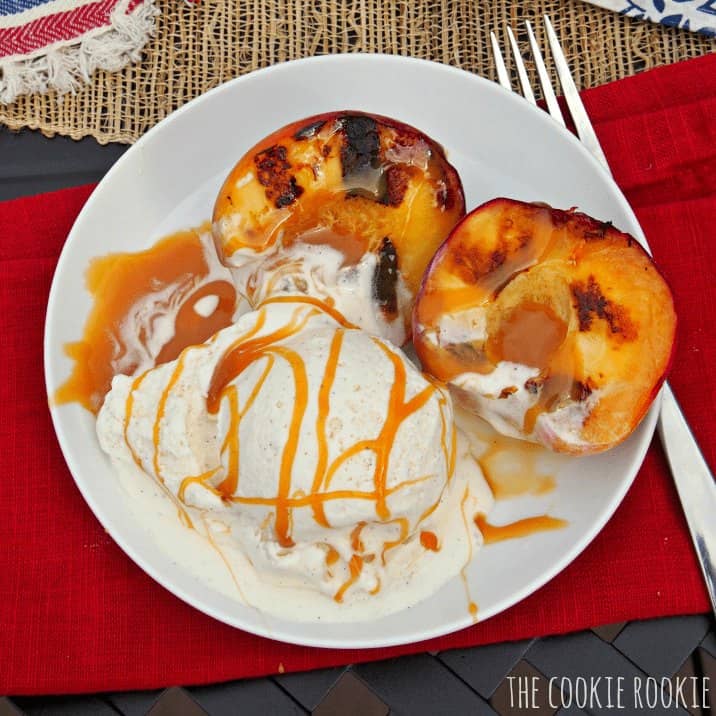 Check out these other delicious desserts
Have you tried this Grilled Peaches recipe? Feel free to leave a star rating and I'd love to hear from you in the comments below!