Breaded Baked Pork Chops make an easy dinner for any night of the week. This crispy pork chops recipe is flavorful and beyond simple. Add some roasted veggies, and you've got one easy dinner recipe made on a single sheet pan!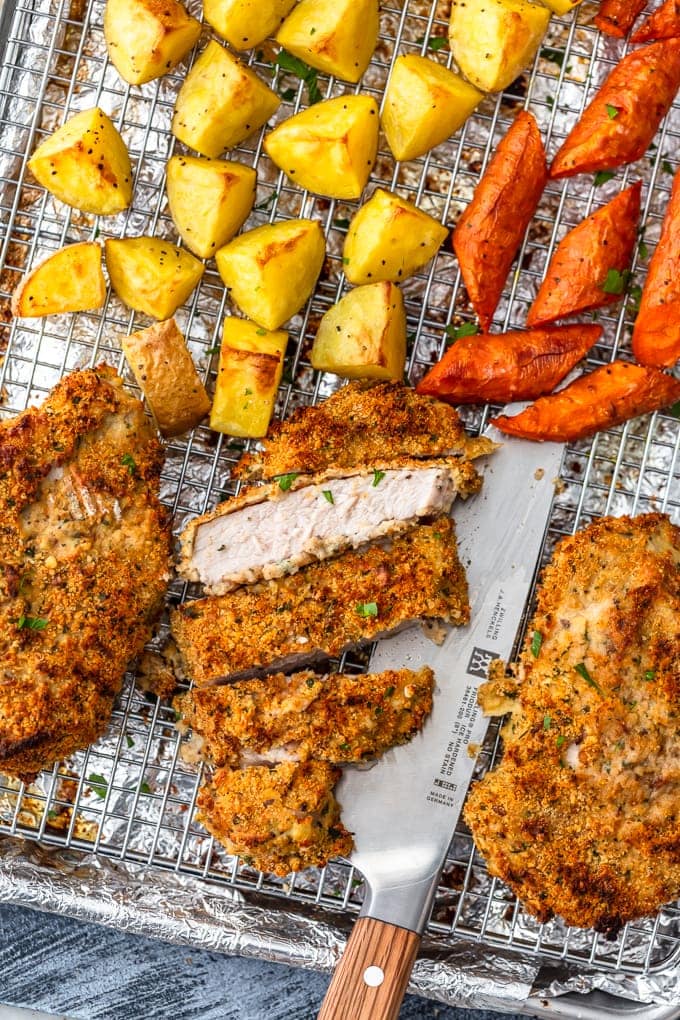 Breaded Baked Pork Chops
Wondering what to make for dinner? Don't worry, these breaded pork chops are so easy to make in the oven. You'll have a tasty supper ready in no time!
This recipe makes the perfect weeknight dinner! There's nothing simpler than baking pork chops in the oven along with some vegetables to create a simple sheet pan dinner. It's one of my favorite easy pork chop recipes!
We're making our own breadcrumb mixture to create the most amazing flavor for these breaded baked pork chops. I love how tender and juicy the meat becomes, while the outside gets this incredible crispy texture. It'll make your mouth water!
This crispy pork chops dinner will become a fast favorite for the entire family. Throw some chopped veggies (potatoes and carrots are a good complement to the pork) onto the sheet pan along with the chops, and you'll have a full meal.
You can have these breaded pork chops ready in less than an hour, using only one pan to make it!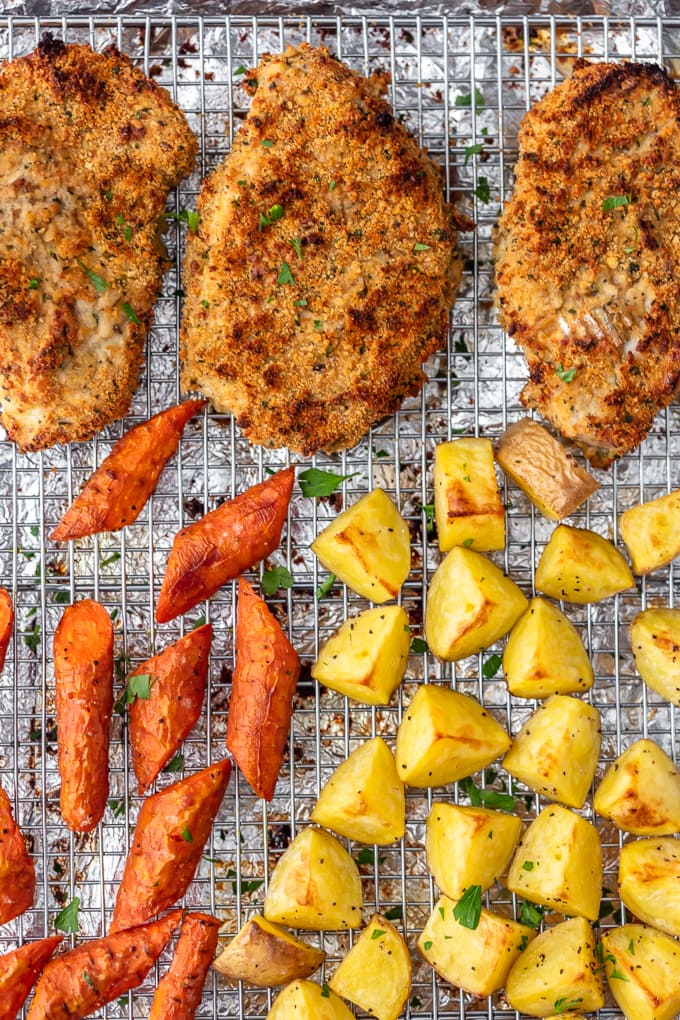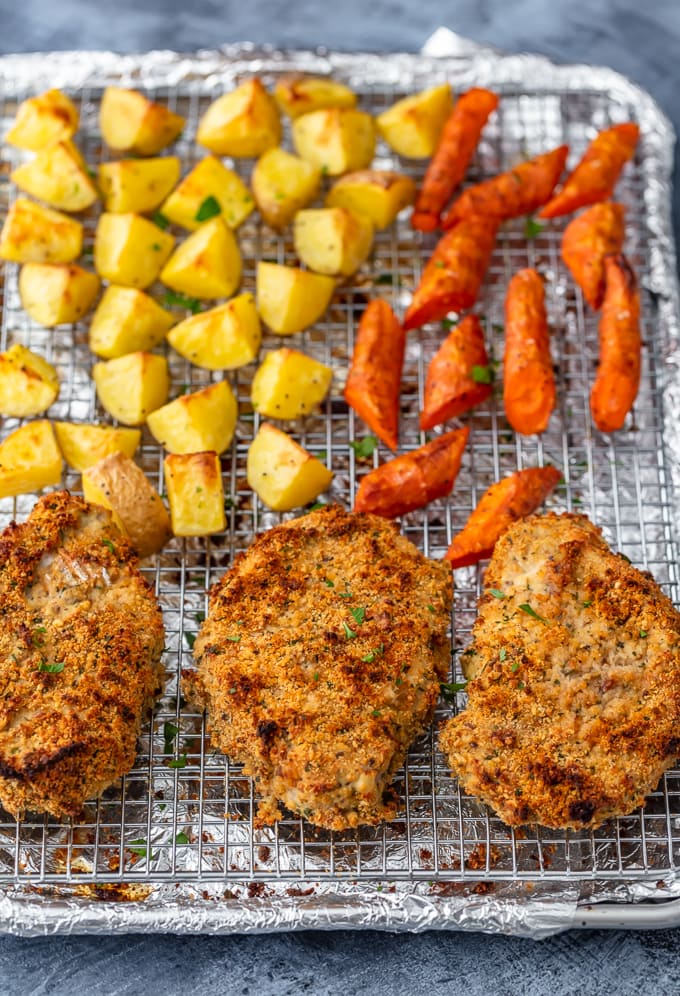 Pork chops make a great dinner, and they're even better when they're breaded and crispy! This is such an easy dinner recipe, one of my favorites to make when I'm stuck on ideas.
Breaded Baked Pork Chops are a quick go-to recipe. It's simple, and it's always so tasty. I love to add veggies to the sheet pan for a full meal.
How to Brine Pork Chops
Brining is the process of soaking meat in salt water in order to tenderize it and give it flavor (the secret to super juicy pork chops!). Not all pork chops will need to go through the brining process before beginning, but some do.
If you bought "enhanced" pork, this means the meat has already had a salt solution added to it, so you can skip the brining step at home.
To make a brine solution: In a large container or resealable bag, dissolve 1/4 cup of table salt in 1 quart of water.
Once you have your brine solution, place the pork chops in the bag and seal (or submerge in the container and cover). Then place it in the refrigerator for about 30 minutes. This will help add flavor to the meat and make it more tender.
Do you rinse pork chops after brining?
Yes! After brining, rinse the pork chops under cold running water. Pat dry before moving on to cooking.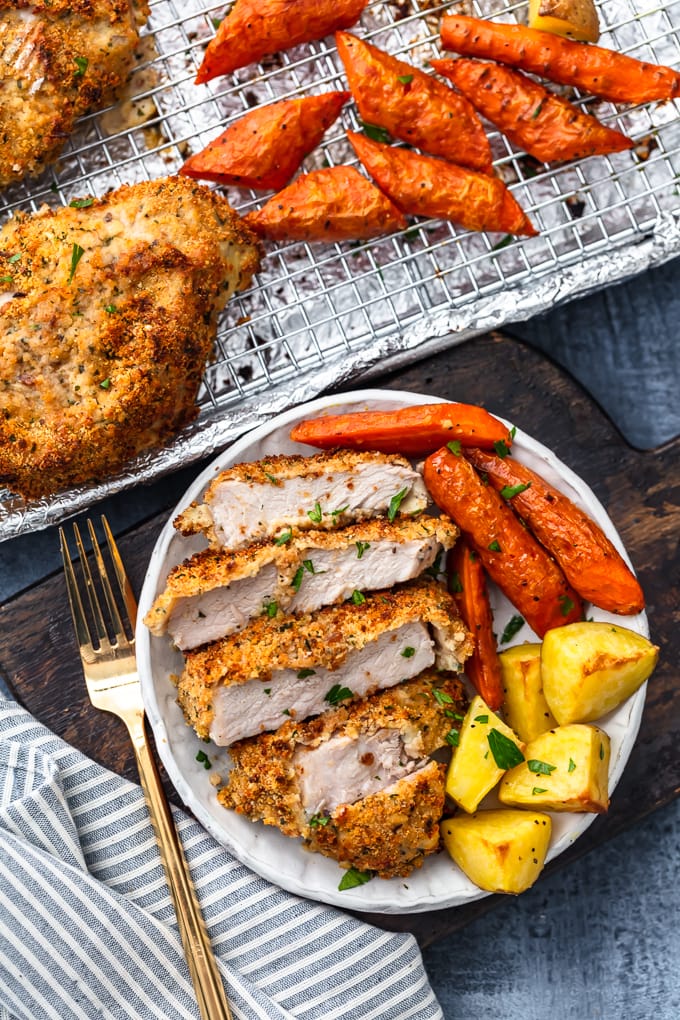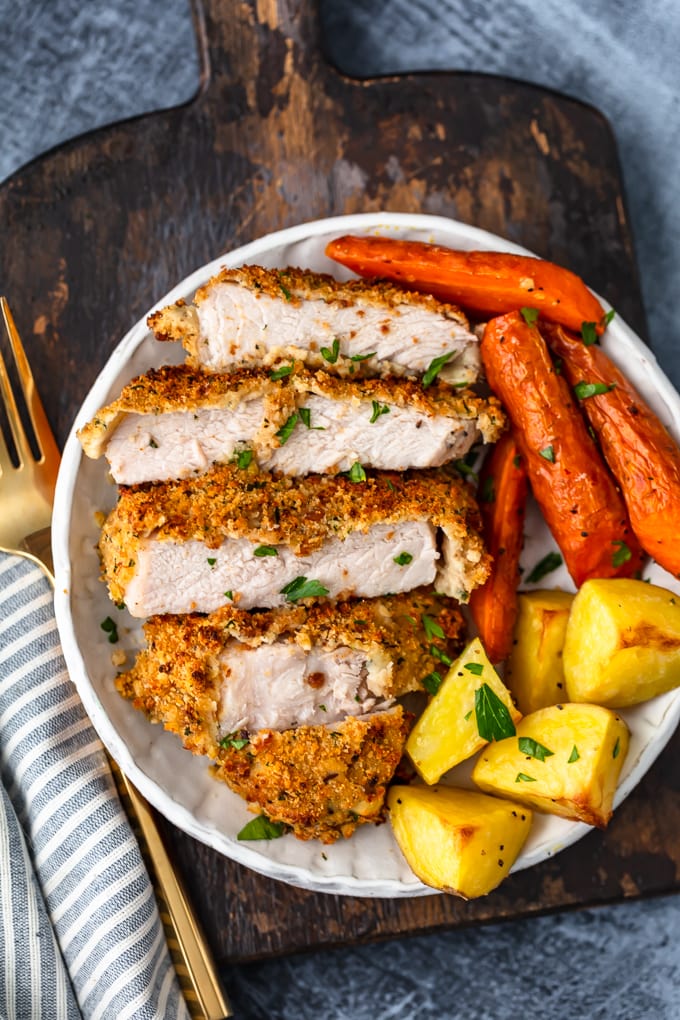 How to Make Breadcrumb Mixture Breaded Pork Chops
You can't make breaded pork chops without the perfect breadcrumb mixture! No need to buy something pre-made or bland, when you can easily make your own breadcrumbs. They make the pork chops super crispy and flavorful!
Breadcrumb Mixture Ingredients:
Regular white bread (something hearty)
Garlic
Shallots
Vegetable oil (or canola)
Salt & pepper
Grated parmesan
Thyme
Parsley
How to Make Breadcrumbs:
Tear sandwich bread into small pieces, then place in a food processor and pulse until coarse.
Add the breadcrumbs, minced shallots and garlic, oil, and salt & pepper into a mixing bowl, and toss everything together.
Pour the mixture onto a rimmed baking sheet. Bake about 15 minutes (oven set to 350°), until crumbs are dry and become a golden brown color.
Let the breadcrumbs cool. Then toss in the Parmesan, parsley, and thyme.
Once the breadcrumbs are ready, place them into a shallow bowl to use on the pork chops.
Making pork chops in the oven is such an easy thing to do. It's stress free, it doesn't take long, and they come out tasting SO good. This breaded baked pork chops recipe is one of my favorite dinner recipes, and everyone loves it! I mean, what's NOT to love here?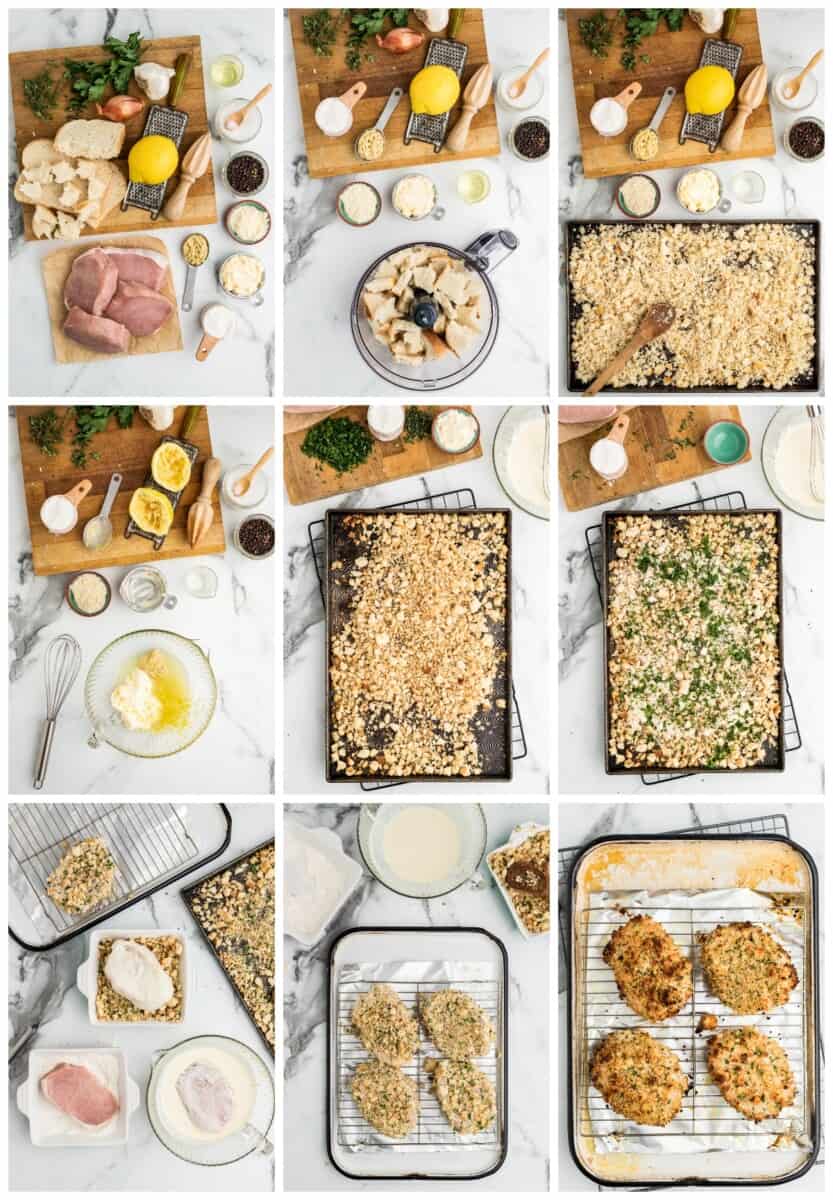 Step by Step Tips for Breaded Pork Chops:
You can jump to the recipe card for full ingredients & instructions!
Brine pork chops if needed (see above or check the recipe card for details).
Line a rimmed baking sheet with foil, then spray a wire rack with cooking spray and place it in the baking sheet.
Make breadcrumbs (see above), and then set the oven to 425°F.
Combine mayonnaise, Dijon mustard, lemon juice, and lemon zest in a medium bowl.
Place the breadcrumbs in a shallow bowl, and flour in a separate dish.
Dredge each pork chop in the flour, then the Dijon mixture. Press each chop into the breadcrumb mixture to coat on all sides, then place on the wire rack/baking sheet.
Bake pork chops for about 17-25 minutes, or until fully cooked.
These crispy pork chops are so delicious! Be sure to check the recipe card at the bottom of this post for more details and the full recipe.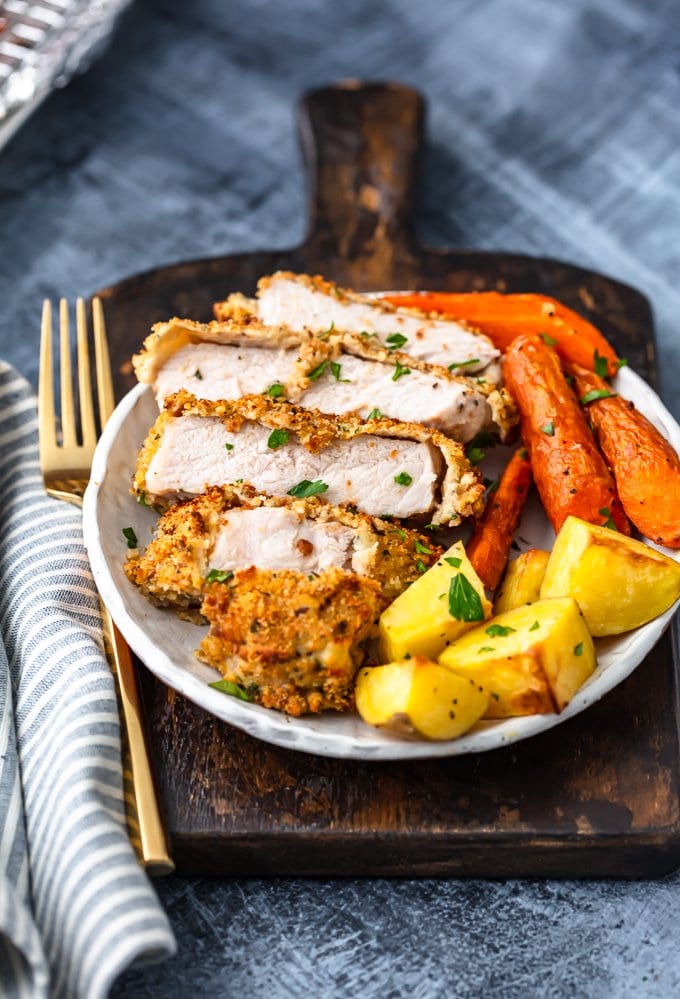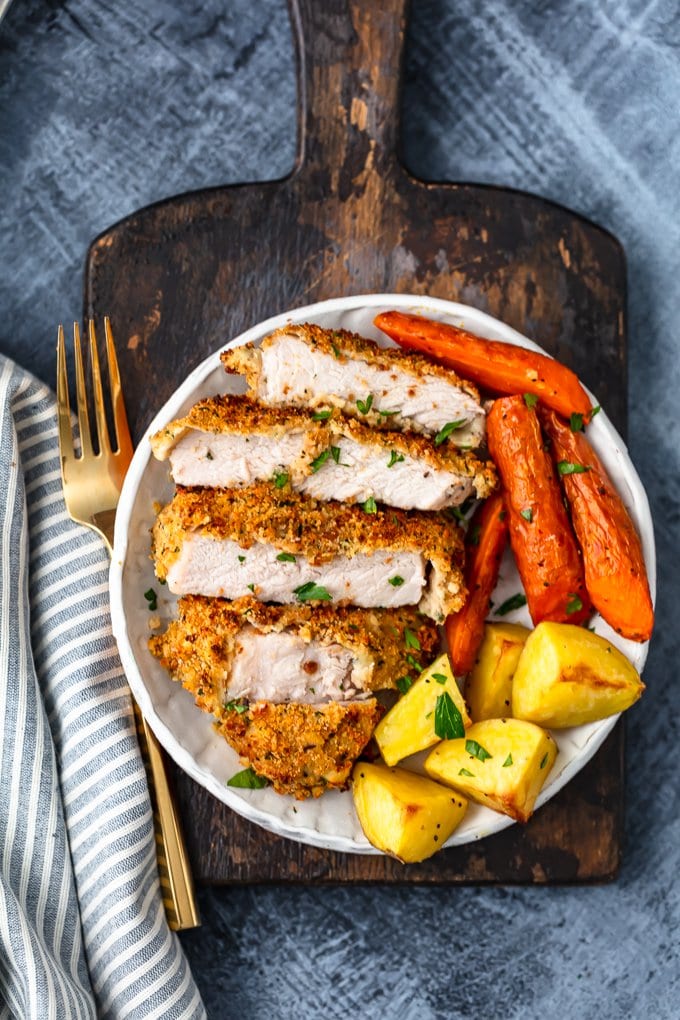 How long to cook pork chops in oven?
How long to cook pork chops in the oven depends on a few things, especially the oven temperature. For this recipe, we're cooking breaded pork chops in the oven for about 17-25 minutes at 425°F.
Remember that all ovens can be a bit different, so your cooking time may vary slightly. The most important thing is that the pork is cooked to a specific temperature for safe eating. So be sure to check internal temperatures as you cook.
Pork Chop Internal Temperature
The internal temperature of your pork chops (regardless of how you cook them) should be 150°F. Always use a meat thermometer to check this as you cook. If the temperature hasn't reached 150°F, keep cooking!
Grab our free Meat Temperatures Chart! You can print this out and leave it in your kitchen as a quick and handy reference. Always know what temperature to cook your meats to for safe eating!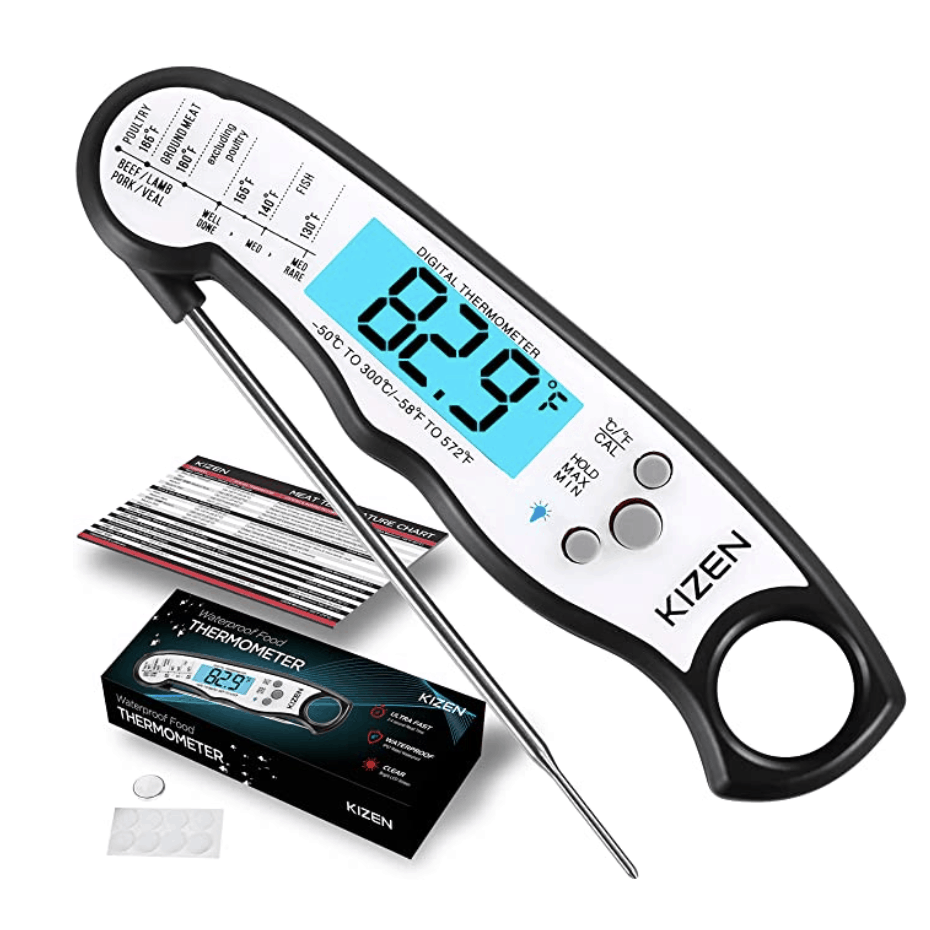 The Best meat thermometer!
I love using this meat thermometer for making sure the meat is at 165 degrees! Easy for beginners & totally worth the $10 cost!
Easy Pork Chop Recipes
This Breaded Pork Chops Recipe is just one of many tasty options. We might eat a lot of chicken around here, but pork chops always make a delicious dinner too (whether baked, grilled, or pan-fried). Here are some of our favorite easy pork chop recipes:
More Pork Recipes
These Breaded Baked Pork Chops are just one of our favorite ways to cook pork! Once you're tried this recipe, be sure to check out these other favorites.
See All Pork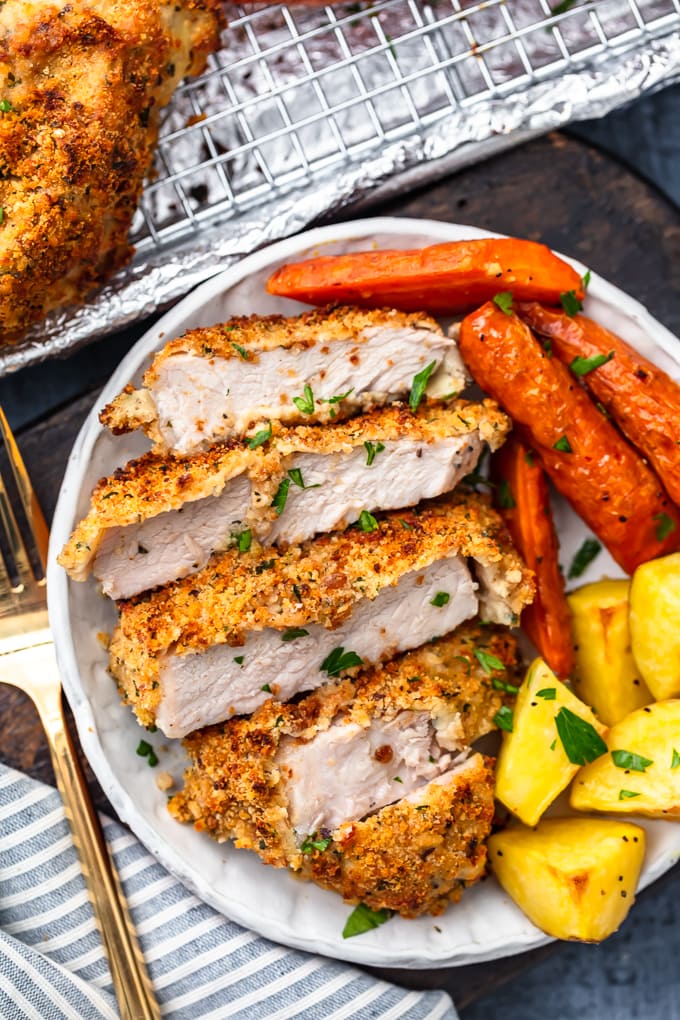 This recipe is definitely a favorite. Make dinner easy with these breaded baked pork chops that everyone will love!
More Sheet Pan Recipes
These Breaded Pork Chops cook with the veggies right on a sheet pan! So easy and only one pan to clean. Try these other baked sheet pan recipes as well.
See All Sheet Pan
If you love this breaded pork chops recipe be sure to upload a photo in the comment section below or leave a rating. Enjoy!