This delicious Banana Split Dessert is a no-bake recipe with a graham cracker crust, a cream cheese pineapple layer, bananas, and cream with cherries on top! This is always a crowd pleaser and a perfect summer dessert.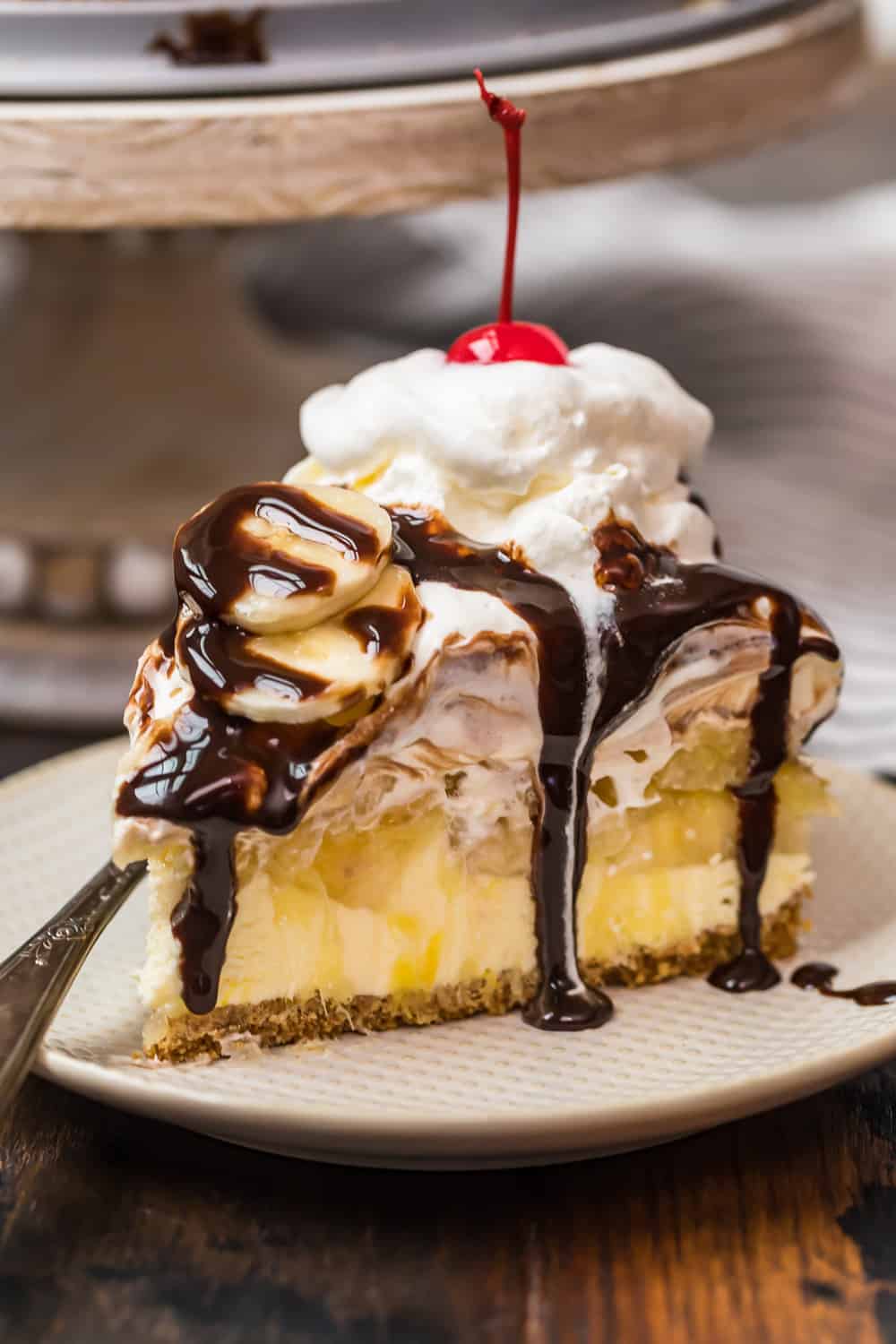 No Bake Banana Split Cake
This creamy, tangy and sweet Banana Split Dessert is so easy and quick to make! Perfect for BBQ's, potlucks, and any gathering, really!
Plus, when it's hot outside, the last thing you want to do is crank up your oven and sweat it out in the kitchen, it's a win, win, win!
How To Make This No Bake Banana Split Dessert – Step by Step
You can jump to the recipe card for full ingredients & instructions!
Combine melted butter and graham cracker crumbs in a medium bowl. Press the crumbs into a 9-inch springform pan or 9×13-inch glass baking dish.
Set the crust in the freezer (15-20 minutes) while preparing the filling mixture. Drain the pineapple in a mesh strainer and use a rubber spatula to press down firmly on the pineapple to drain all juices.
Spread the pineapple over a layer of paper towels to dry a little while preparing the filling. Beat confectioners' sugar and butter, on low speed, in the bowl of an electric mixer fitted with the paddle attachment.
Turn mixer to medium and beat 1 minute. Add eggs and vanilla extract and beat on medium-high 15-20 minutes – the sugar mixture should be pale yellow, fluffy and smooth.
Spread the sugar/butter/egg mixture evenly over the chilled crust. (Be sure to cover the crust edge-to-edge and completely so juices from the fruit don't seep into the crust layer.)
Spread a layer of sliced bananas over the filling mixture, then cover the bananas completely with the drained crushed pineapple and cover and refrigerate 4-24 hours.
When you're ready to serve, spread whipped cream over the pineapple layer.
Top the whipped cream with maraschino cherries and pecans. Drizzle with chocolate sauce.Enjoy!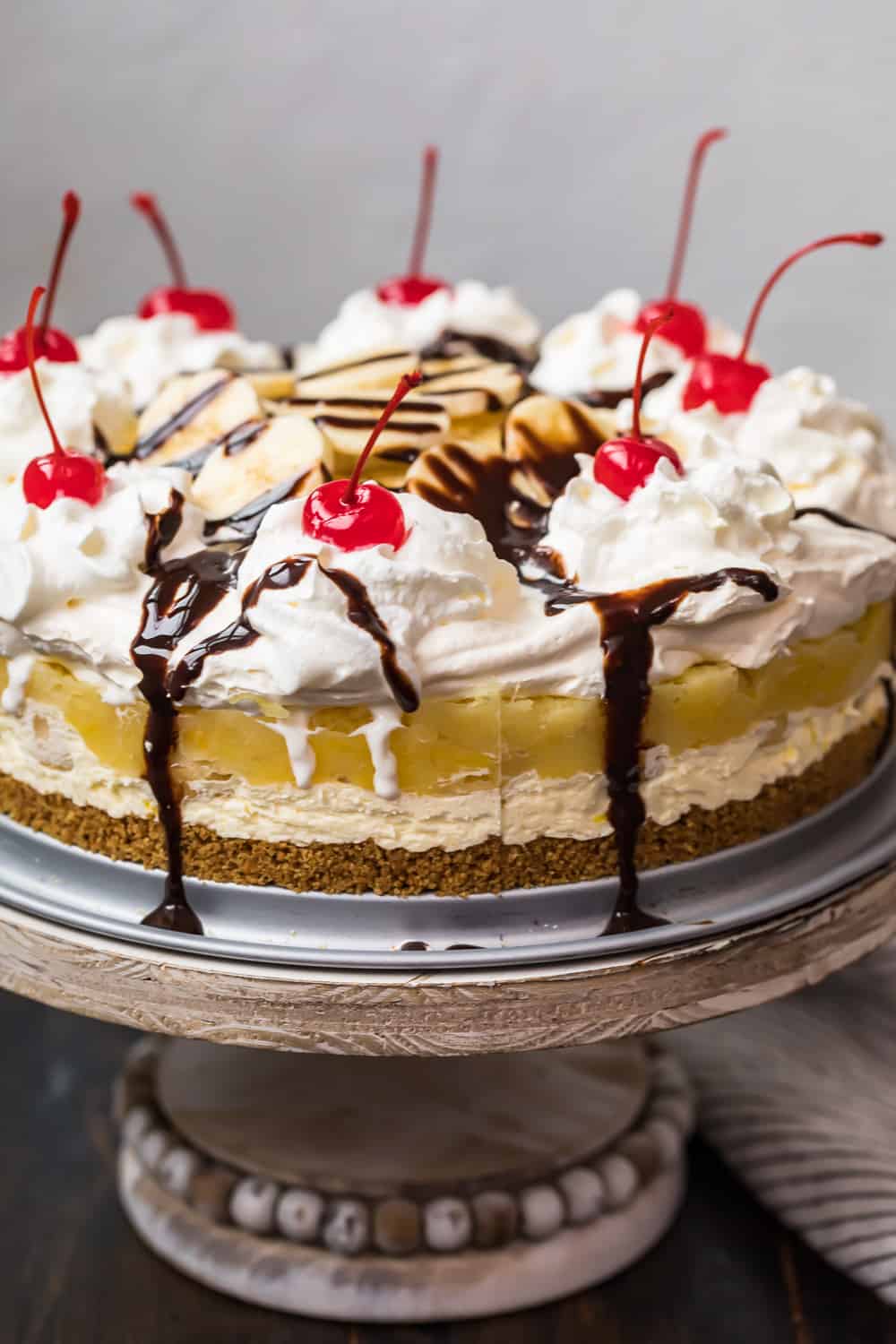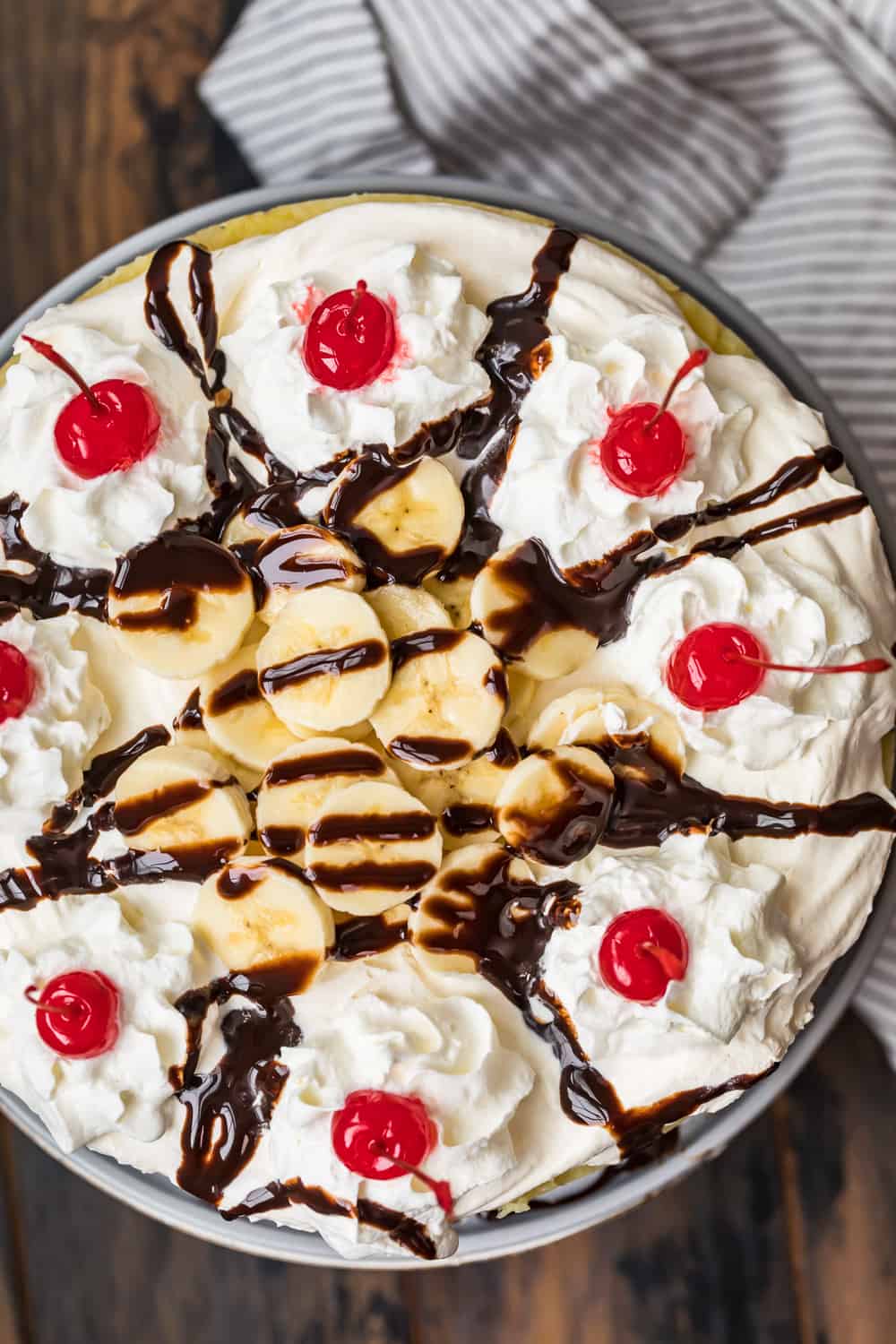 No Bake Banana Split Dessert
No-Bake Banana Split Cake has all the fabulous flavors you'd expect from a scrumptiously ooey- gooey banana split sundae, all in an easy to prepare no-bake dessert.
Complete with maraschino cherries on top of course, because it wouldn't be a banana split without a cherry on top!
Can I Use Real Whipped Cream?
Real whipped Sweetened Heavy Whipping Cream can be substituted for the frozen whipped topping.
Before adding the cream topping, cover and refrigerate the dessert until ready to serve, then add whipped cream and your favorite toppings right before serving.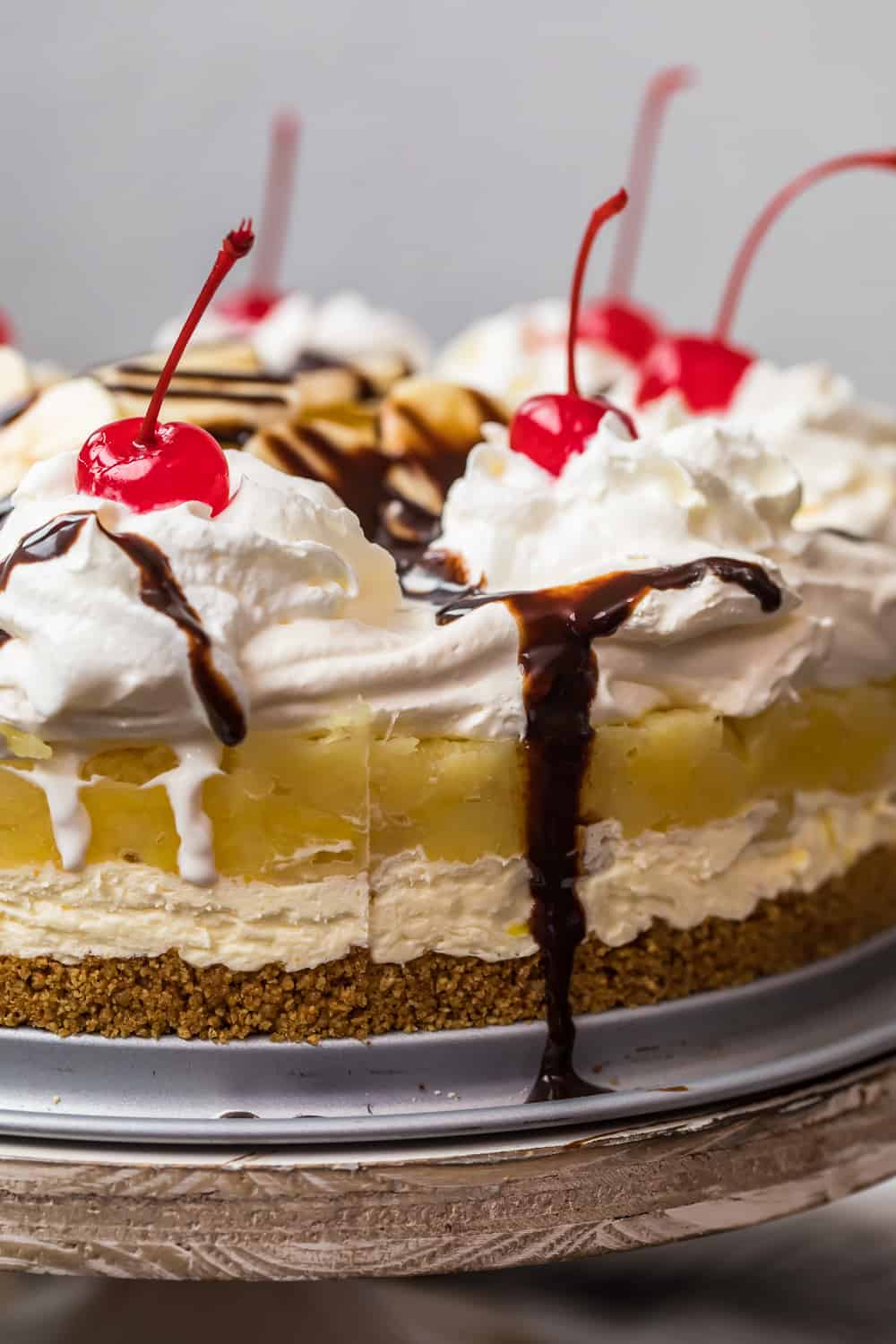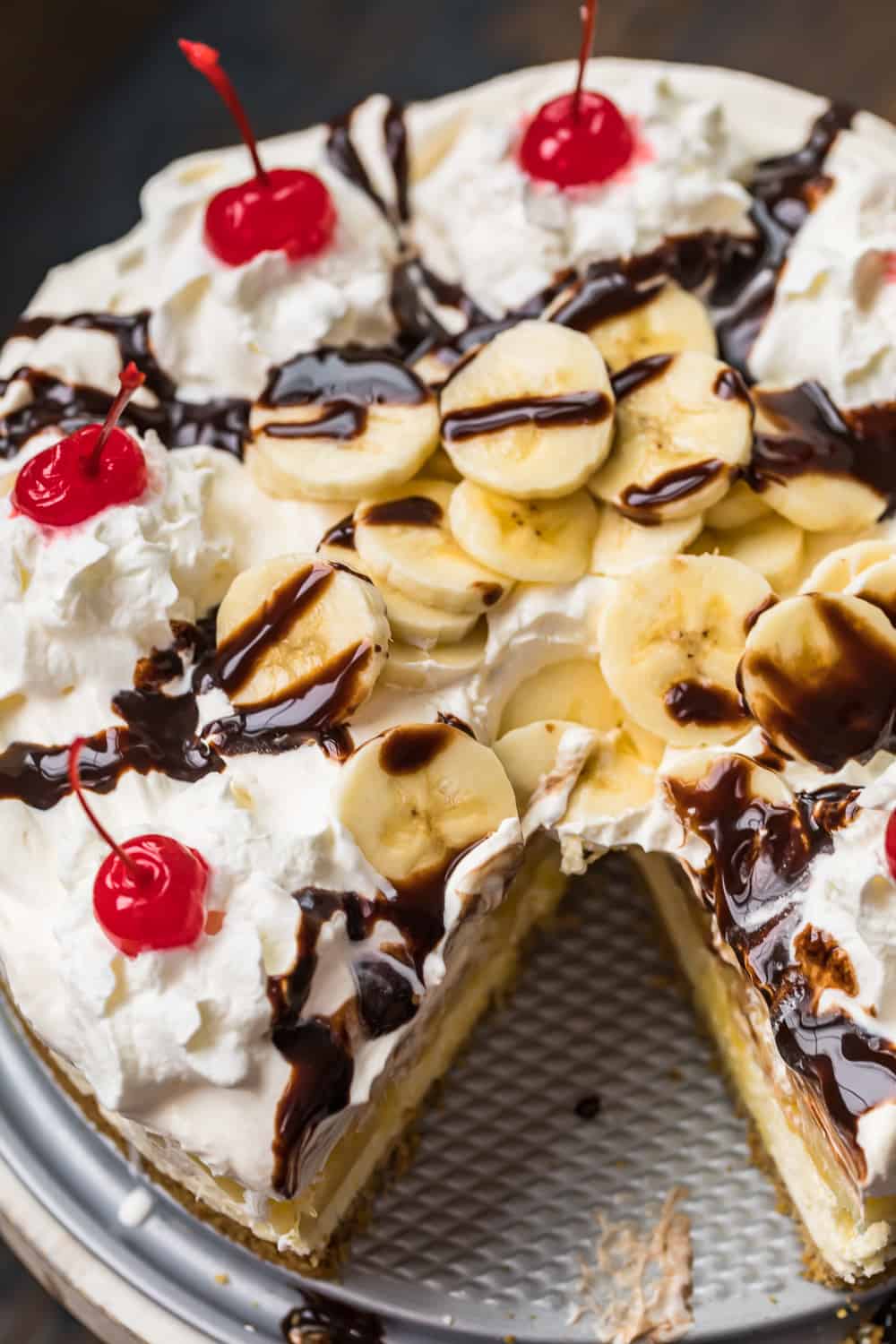 Banana Split Dessert – A Make Ahead Dessert
You can make this dessert the night before you plan to serve it. You may be wondering if the bananas will turn brown but once they are covered with the pineapple and whipped cream, they do not brown so you can make this a day in advance.
Once you do slice into it though and air hits the bananas, they will start to brown so this dessert is best eaten within 2 days.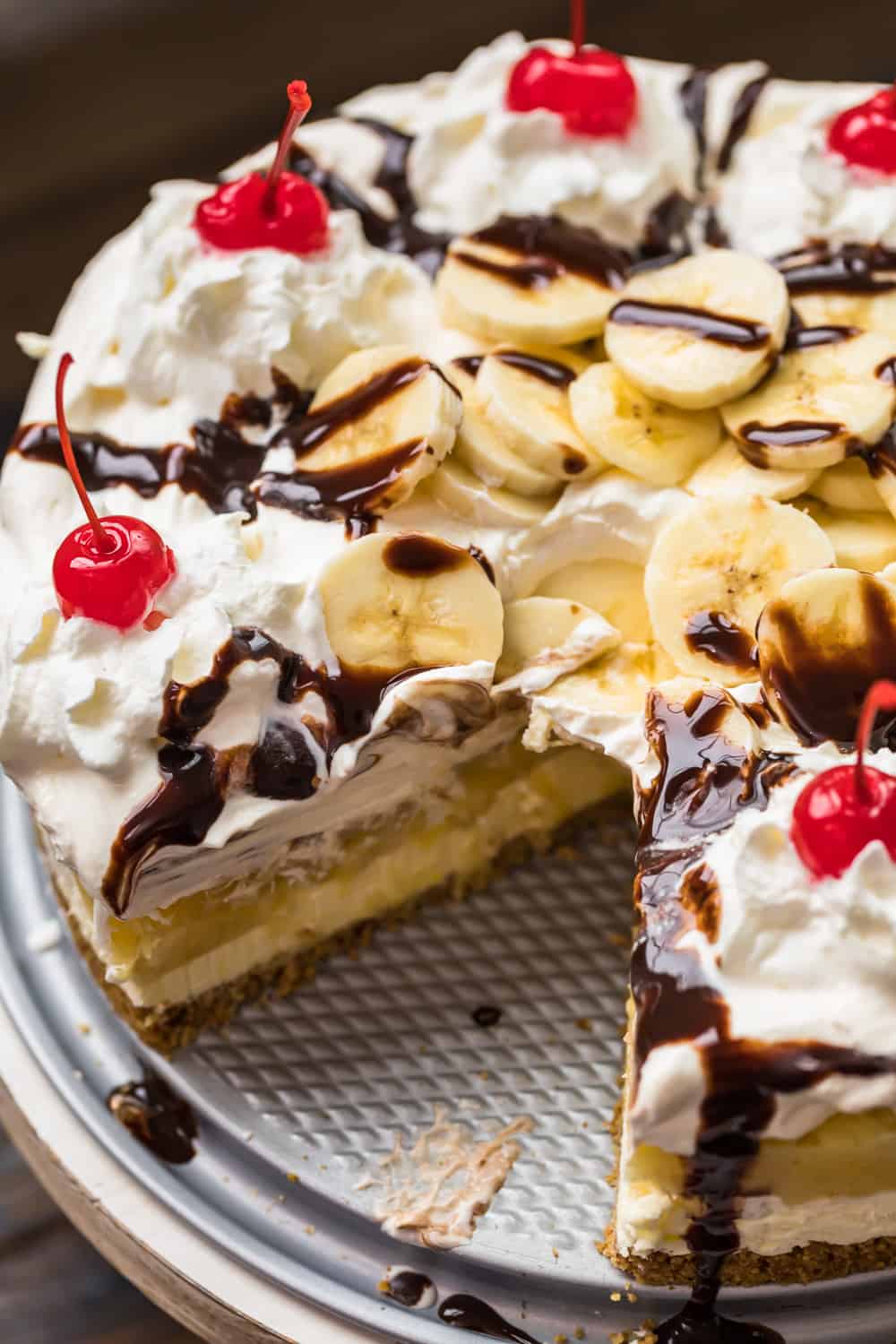 Tips!
It's important to follow the chilling instructions in the recipe to make sure all the layers set up properly. This cake takes a few hours to make, but the majority of that time is waiting for the layers to firm up.
This cake is best served within 24 hours after making it. The acid in the pineapple helps to keep the layer of bananas fresh, but eventually the bananas can soften and discolor.
You can use whipped topping or whipped cream in this recipe. I typically use whipped topping because it's less work, but if you want to whip your own heavy cream with some sugar, free free. Do not use the aerosol style whipped cream as it will quickly deflate.
You can use any sundae toppings you like to decorate your cake. Any variety of sprinkles, mini chocolate chips, toffee bit, caramel sauce will work.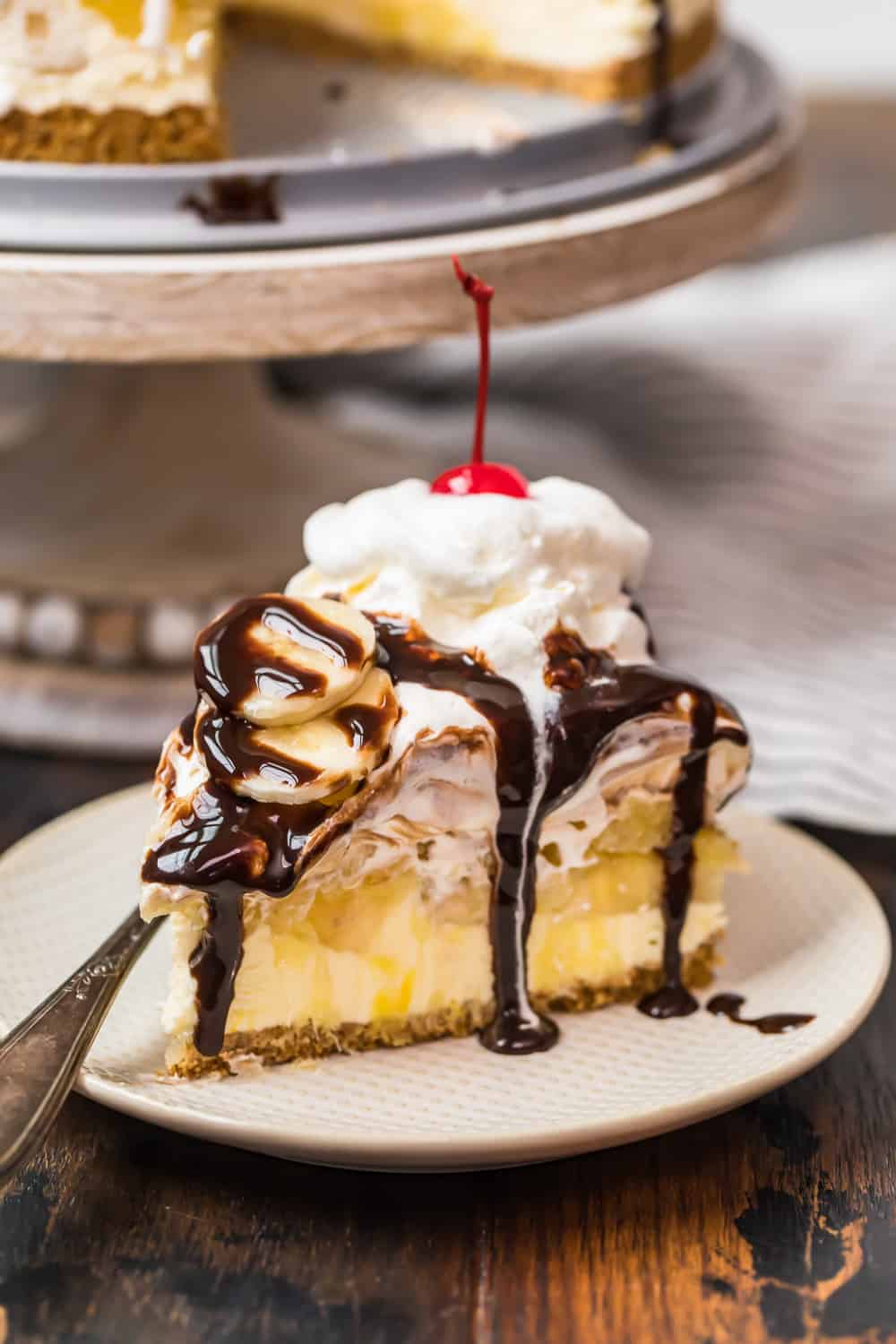 If you make this recipe be sure to upload a photo in the comment section below or leave a rating. Enjoy! You can also jump to recipe.