Christmas Butter Cookies with Powdered Sugar Icing are a MUST for the holidays. Simple iced cookies are one of the best treats for Christmas, and this easy butter cookies recipe is my FAVORITE. Make your favorite shapes with cookie cutters, and decorate however you like using our powdered sugar icing recipe!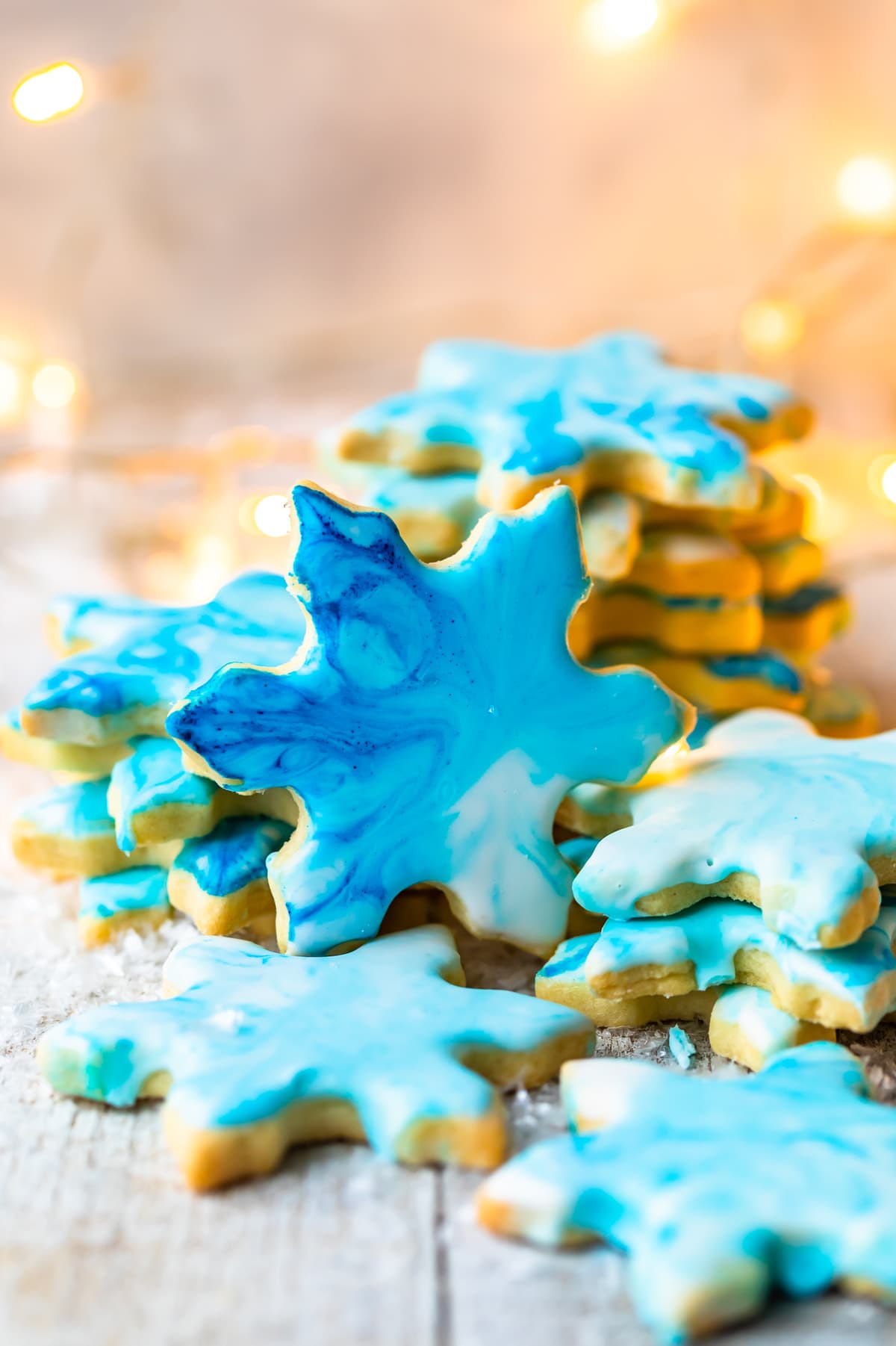 Christmas Butter Cookies Recipe
Christmas Butter Cookies are a staple for the holidays! You can make them into any shape you want with a cookie cutter, and the powdered sugar icing is soooo delicious. My mom's iced cookies are the best!
With Christmas just a few days away, it's time to go into full-on cookie mode. Baking is such a fun thing to do this time of year, and Christmas Cookies win out over everything else. My Christmas Sugar Cookies are always a favorite, and Chocolate Peppermint Cookies are a new addition to the lineup. But these Iced Christmas Butter Cookies will always be an absolute classic!
This is the best butter cookies recipe out there (amazing flavor and texture), matched with the most amazing powdered sugar icing recipe. I really love butter cookies because they are perfect for decorating. You can make them super fun and festive for Christmas, or for any other holiday. Choose your favorite cookie cutters to make fun shapes, and use any food coloring you like for the powdered sugar frosting.
I made snowflake cookies, but you could make Christmas tree cookies, snowman cookies, or simple round cookies. Make them with the family and let everyone choose their own shapes and decorations. It's a great Christmas activity with a tasty treat to enjoy at the end!
Make the perfect Christmas Butter Cookies recipe along with the most amazing Powdered Sugar Icing. These iced cookies are a MUST for the holidays!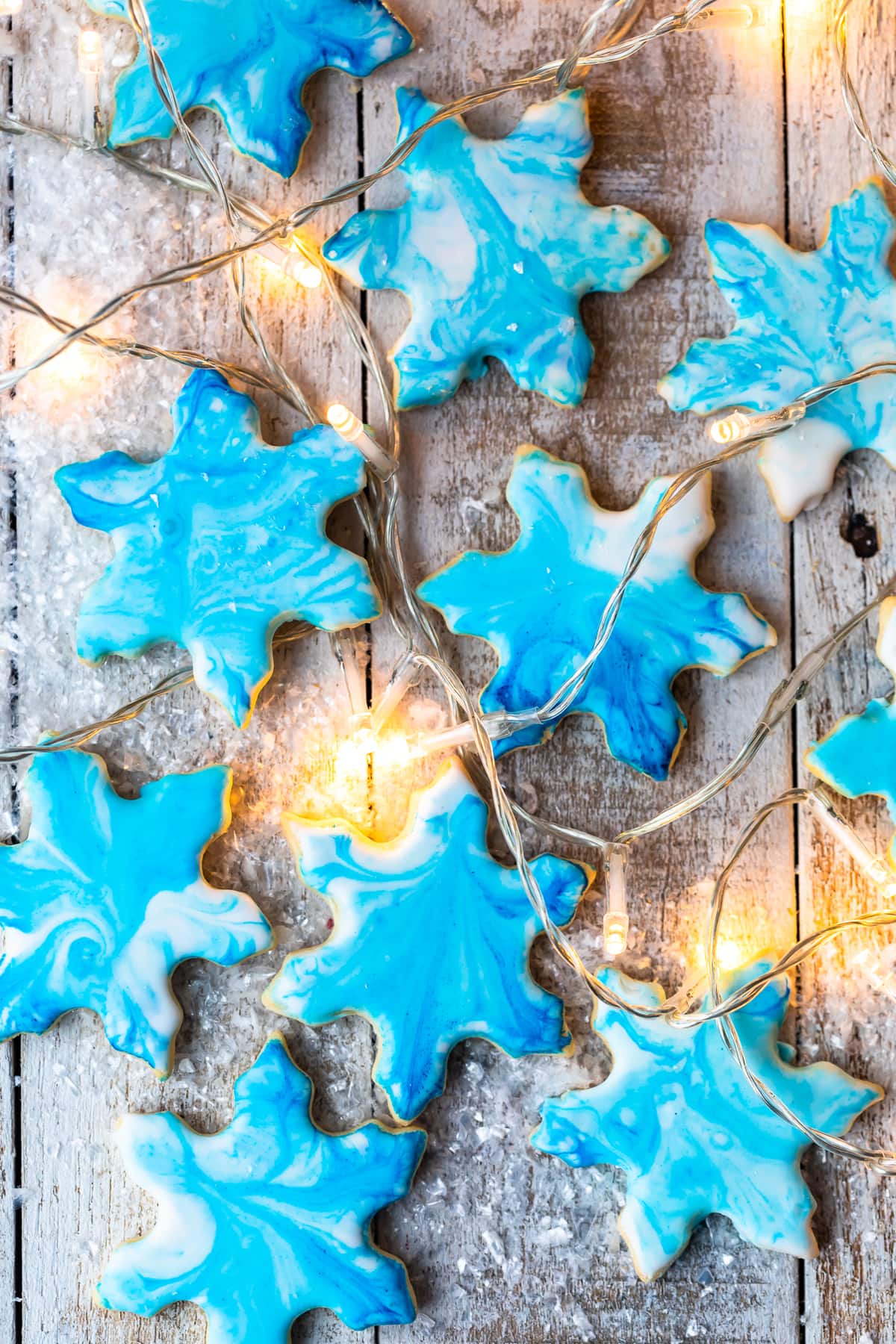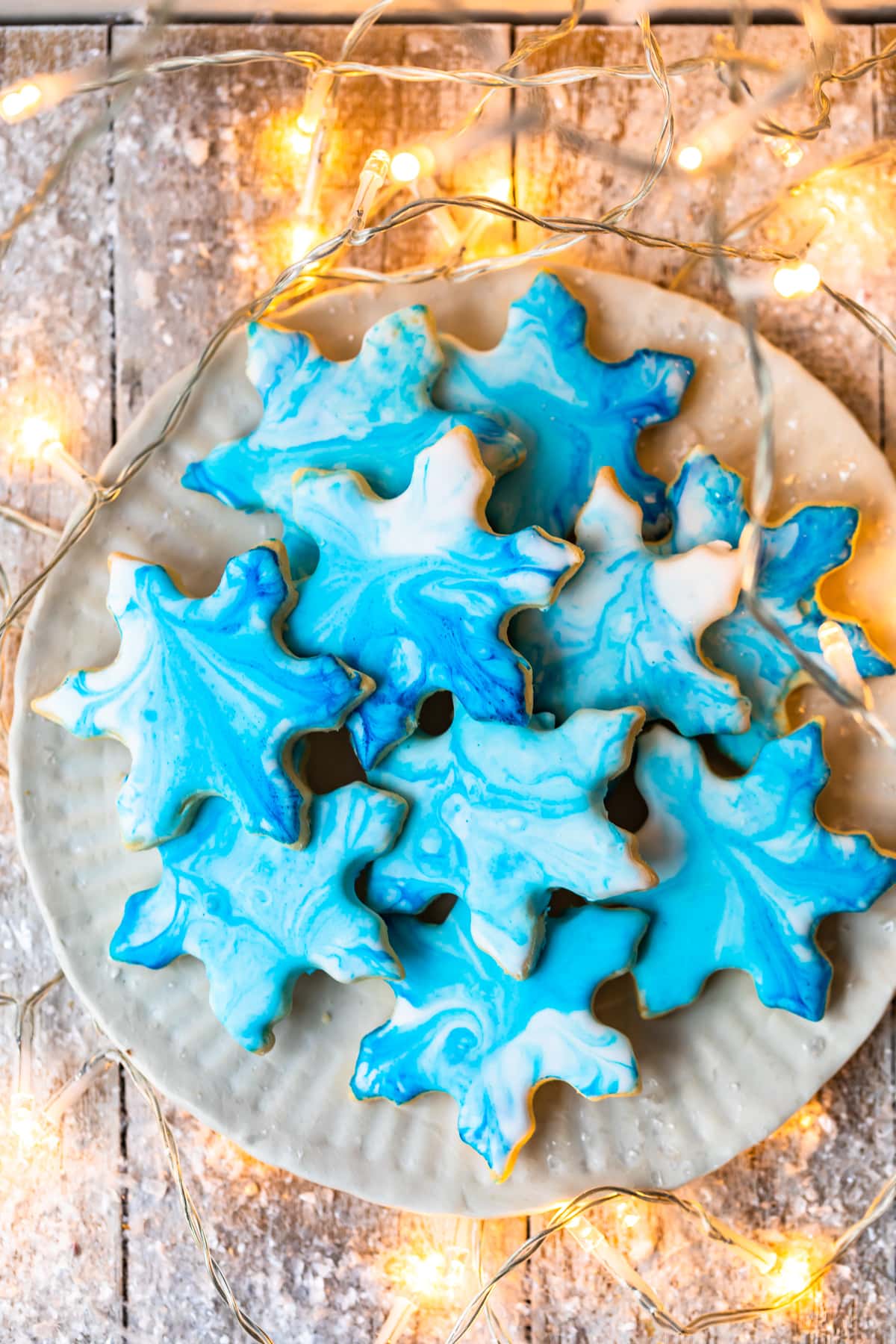 Powdered Sugar Icing Recipe
This powdered sugar icing recipe is my favorite kind of frosting to use for iced cookies. It's the perfect complement to the butter cookies, it looks beautiful, and it tastes SO good. I chose to do a blue and white marbled look for my snowflake cookies, and that's what I'm going to show you how to make. However, you can follow the basic icing recipe and make single-colored frosting to decorate your cookies.
How to Make Icing with Powdered Sugar
This is a variation of my favorite royal icing recipe. The marbled effect takes a bit more work, but the powdered sugar icing itself isn't complicated.
Place confectioner's sugar into the mixing bowl of a standup mixer.
Stir together corn syrup, water, & almond extract in a large measuring cup. Then pour it over the confectioner's sugar, with the mixer running on low speed.
Turn the mixer to medium-low speed, and continue mixing until the glaze becomes smooth and creamy.
At this point, you can just stir in your preferred food coloring to make a single-color frosting. Or pour the glaze into separate bowls, and add different colors to each one if you want to have options while decorating the cookies.
If you want to create the marbled icing that I used, check the recipe card for detailed instructions.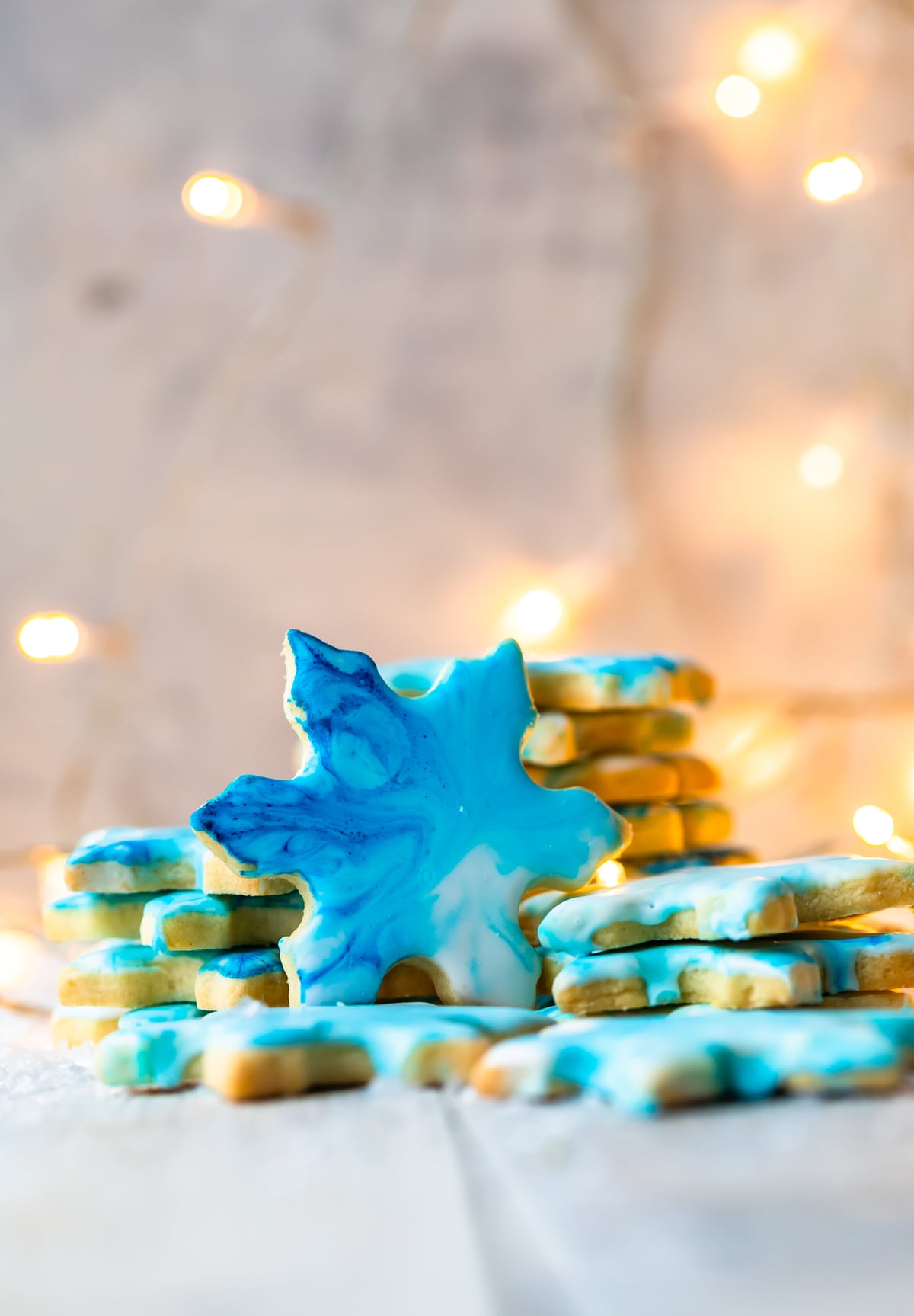 How to Make Butter Cookies
This Christmas Butter Cookies recipe is so good. I just love the flavor and texture of these butter cookies!
Beat butter and sugar together until light an fluffy, then add in egg, vanilla, and almond extract.
Whisk together flour and salt in a separate bowl.
Add the flour mixture into the butter mixture, and mix on low speed just until combined.
Prepare the butter cookie dough (details in the recipe card), and then refrigerate it for at least 2 hours, or overnight.
When ready to bake, cut the cookie dough into shapes, and places cookies on parchment liked cookie sheets.
Bake for 10 minutes at 350°F.
Once the butter cookies have cooled, you can move on to icing and decorating!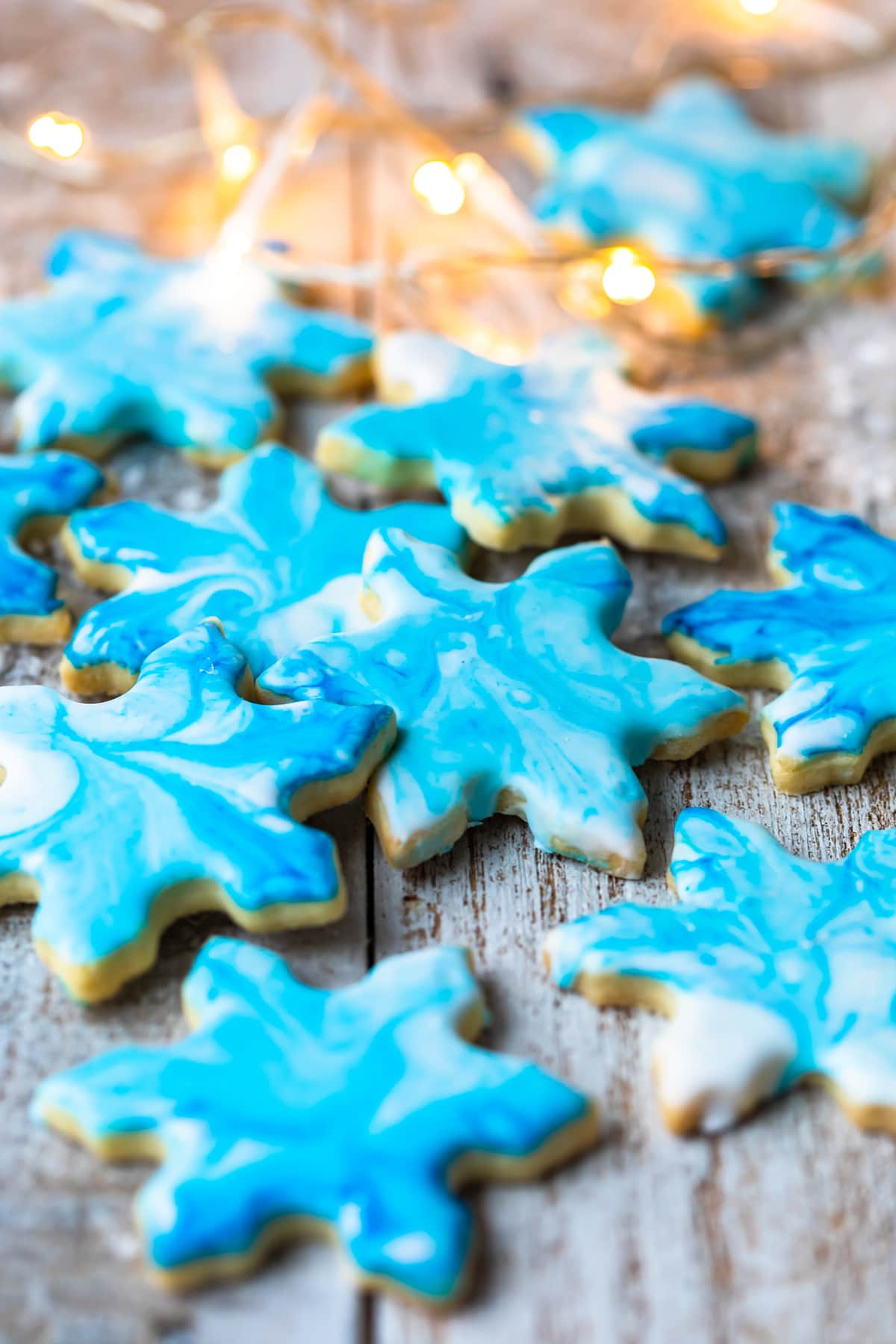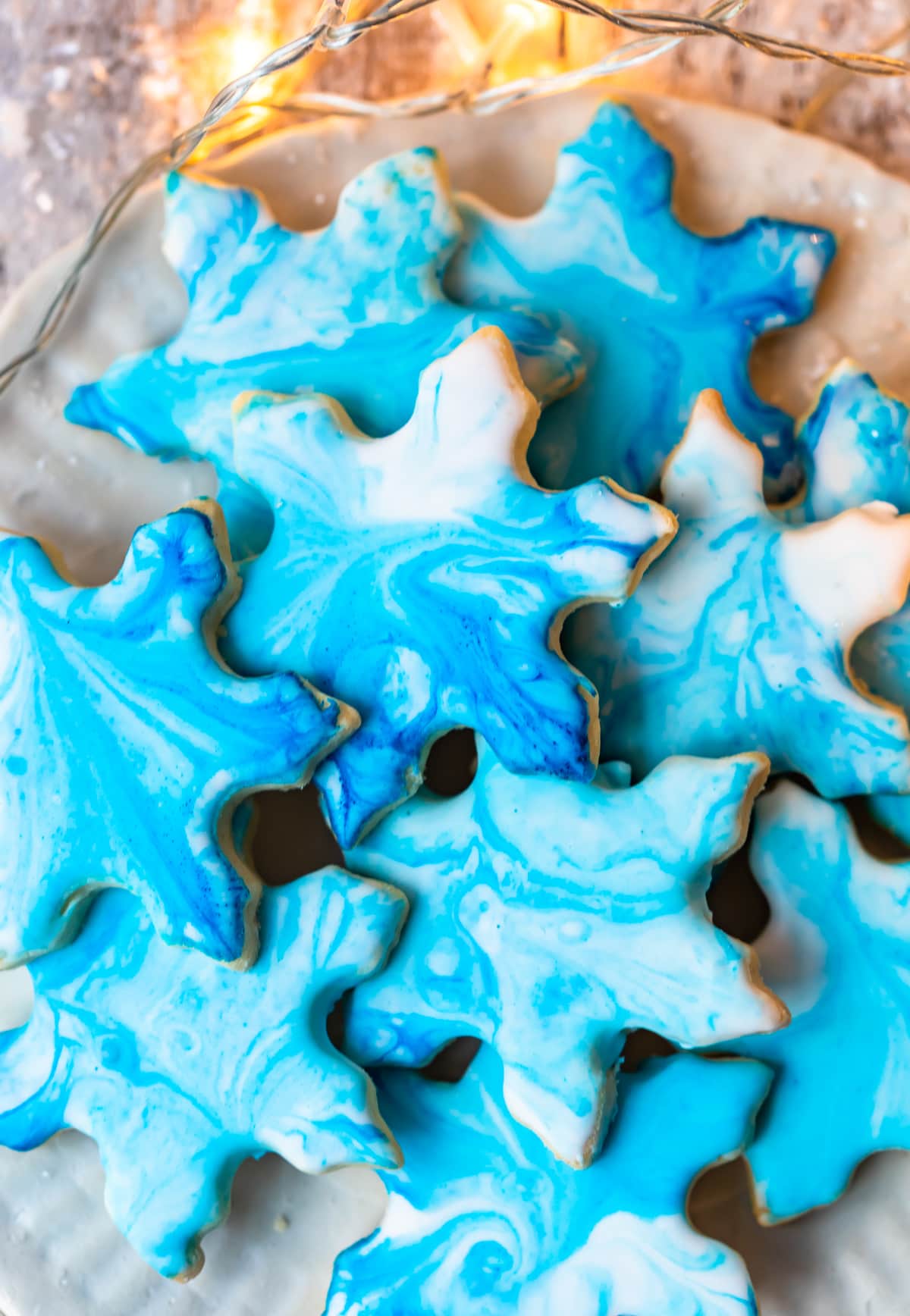 How to Decorate Christmas Butter Cookies
You can decorate your Christmas butter cookies however you like. You can order fun Christmas cookie cutters online, or find some at your local stores. Just cut the dough using any shapes before baking. Feel free to make as many different shapes as you want!
To glaze the cookies:
Let the butter cookies cool completely before icing.
Once you have your icing ready, pour half of into a bowl (bowl should be larger than your cookies, so you can dip them in). Cover the other half with plastic wrap and set aside until ready to use.
Hold the cookies by the edges, upside down, and dip into the bowl of glaze. Lift it straight up, and let excess glaze drip off.
I really love the powdered sugar icing, but you can use other types of frosting if you prefer. Add some sprinkles for an extra flash of fun!
How to Store Butter Cookies
Iced butter cookies can be stored at room temperature in an airtight container. Let the glaze dry completely before storing them; this could take 12-24 hours. To store them without icing, just make sure the cookies have cooled, and then they are ready to go.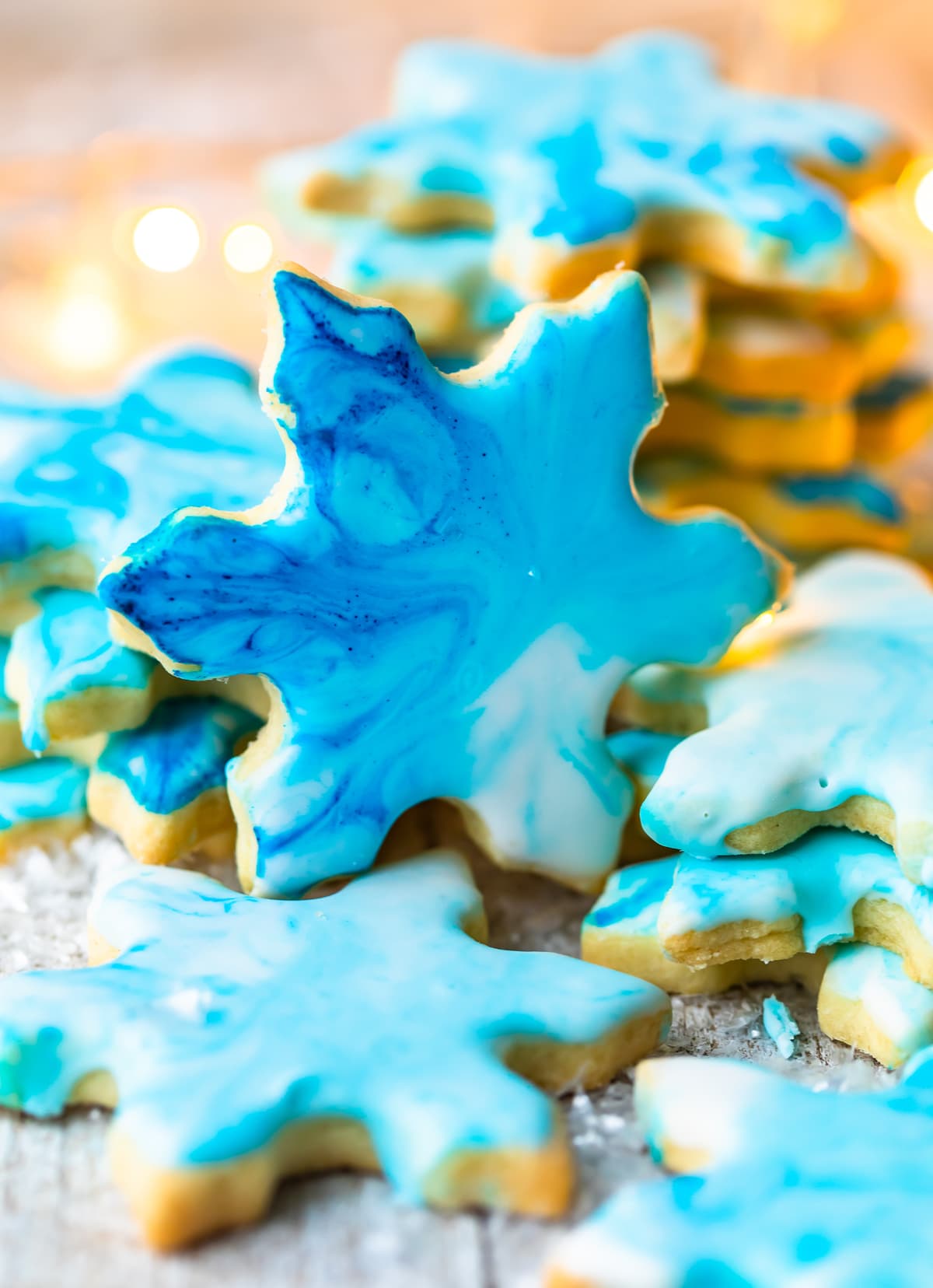 These Christmas Butter Cookies do take a little extra time, but it's worth it! The iced cookies are so much fun for Christmas, especially with the delicious powdered sugar icing. Everyone will love making them just as much as eating them. Happy Holidays!
See the recipe card below for details on how to make Butter Cookies & Powdered Sugar Icing. Enjoy!
If you like these Christmas Butter Cookies, you'll love all of our other easy Christmas cookie recipes: