Linzer Cookies are Christmas classics that never disappoint! Buttery homemade cookies are sandwiched together with sweet jam and dusted with powdered sugar to make them truly picture perfect. Bring a batch to your next cookie exchange or leave them out for Santa Claus!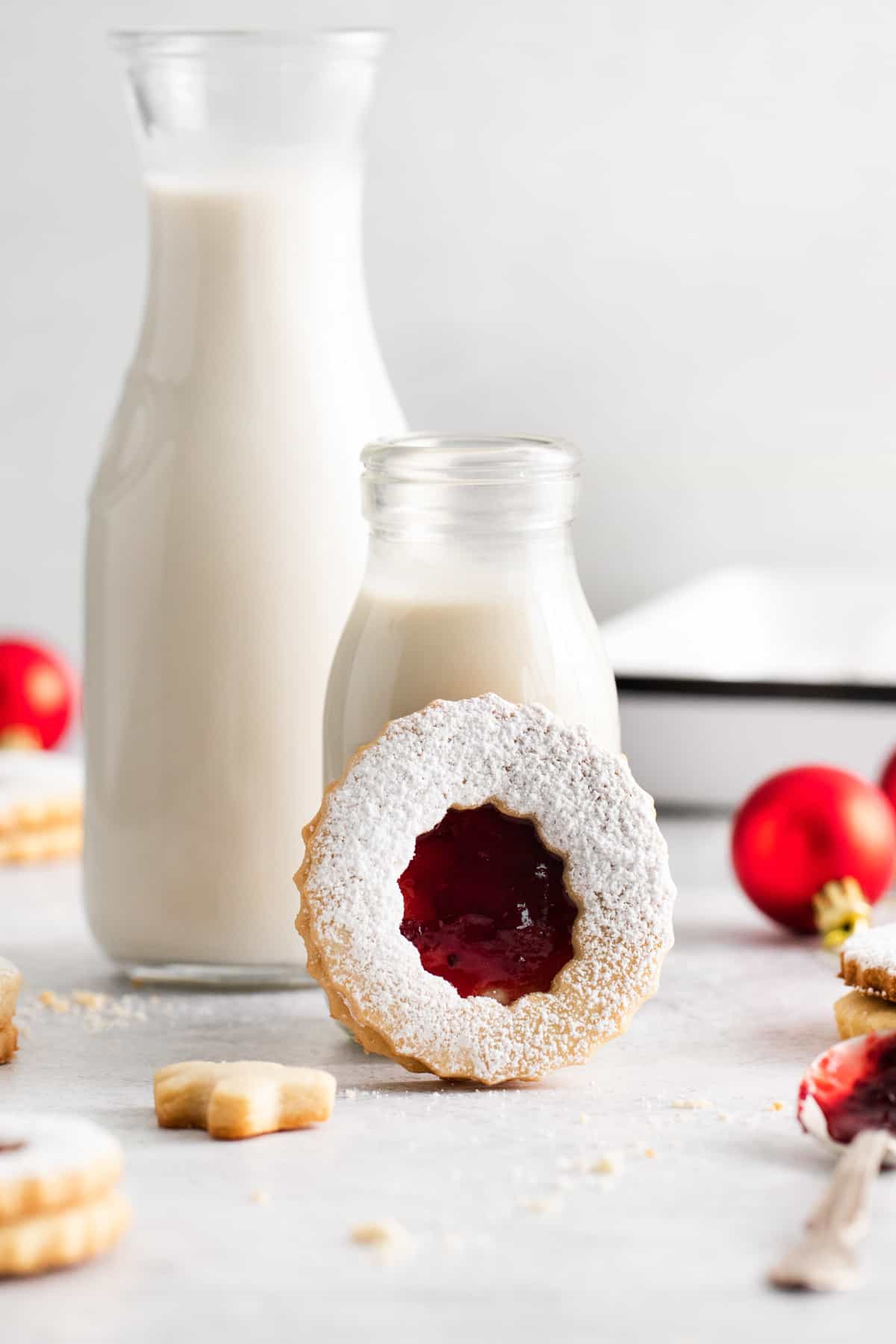 Linzer Tart Cookies
To me, nothing quite says Christmas like a beautiful Linzer Cookie! These classic cookies have been baked in kitchens all over the world since the 1600s… Now that's truly timeless. Crunchy, buttery, and sweet cookies are sandwiched together with jam and can be decorated as festive as you'd like them to be!
Don't you just love a cookie that's as pretty as it is scrumptious? Not only do these Linzer Cookies photograph phenomenally, but they also taste great! A recipe doesn't stick around for 400 years for no reason, after all. This easy-to-follow recipe really simplifies the process and gives you all of the classic results you want with none of the extra frills and fuss you don't.
Why You'll Love this Linzer Cookie Recipe:
Classic: As much as I love experimenting with exciting new recipes, sometimes you just can't beat a classic!
Customizable: Feeling creative? Switch up the flavor of jam in the middle of the cookies and form any shape you want in their little windows.
Hassle-free: Don't let the pretty shapes fool you. Just follow the hassle-free steps listed below and you'll have your own gorgeous batch of Linzer Cookies in no time!
If you crave a little extra sweetness like I do, sprinkle some extra powdered sugar on top of your cookies!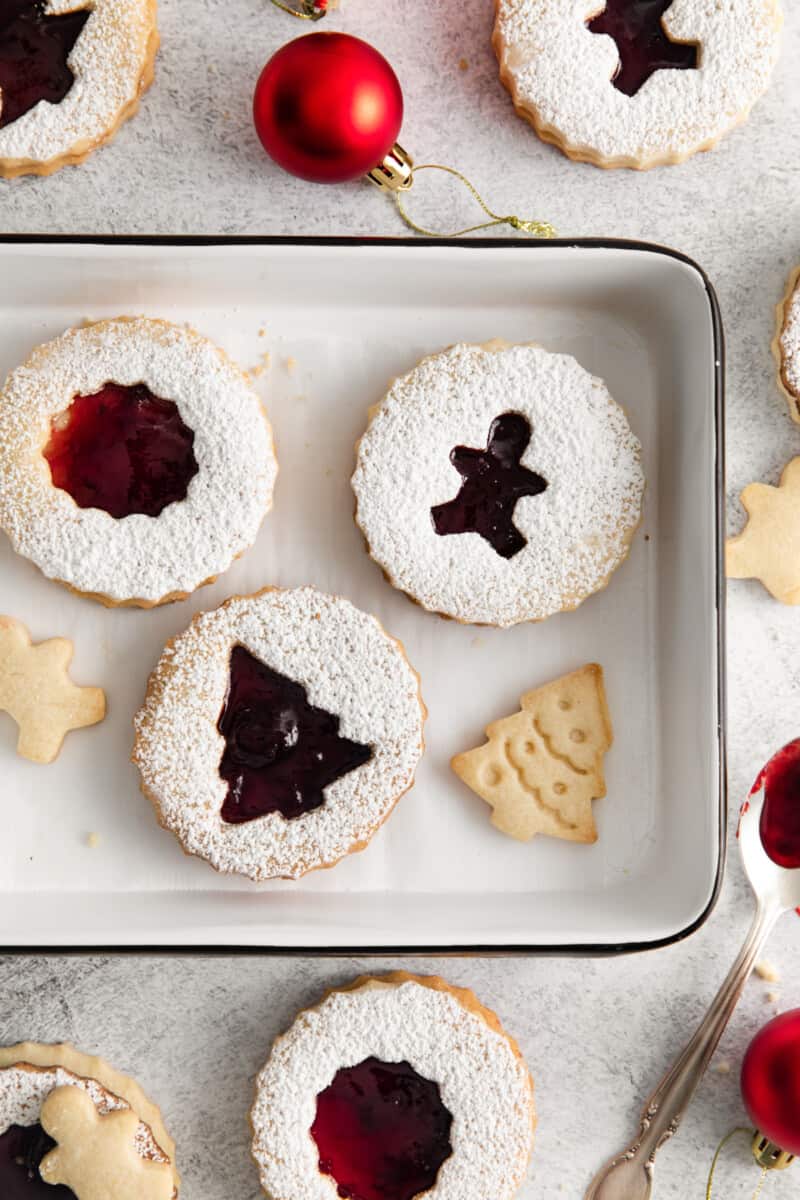 How to Make Linzer Cookies
You can jump to the recipe card for full ingredients & instructions!
Beat the butter and sugar until fluffy.
Mix in the egg and vanilla.
In another bowl, whisk together the flour, almond flour, baking powder, and salt.
Combine the wet and dry ingredients.
Divide the dough into 2 discs. Wrap in plastic wrap and chill.
Roll out the dough and form shapes.
Chill the cookies.
Bake at 350°F until golden.
Let them cool completely.
Dust the tops of the cookies with powdered sugar and add jam to the bottom cookies.
Assemble the cookies and enjoy!
Recipe Notes
Butter: The base of our cookies. It adds richness, great flavor, and helps give the cookies structure. Make sure the butter is fully softened so it incorporates with the sugar without creating lumps.
Granulated Sugar: Sweetens the cookies.
Egg: Adds moisture and helps hold the cookie dough together.
Vanilla: Enhances the sweetness of the cookies.
Flour: Gives the cookies structure. Make sure to measure using the spoon and level method. Adding too much flour results in dry, crumbly cookies.
Almond Flour: Adds a bit more texture and a very subtle nuttiness to the cookies.
Baking Powder: Helps the cookies puff slightly so they become soft and tender.
Salt: Helps balance out the sweetness of the cookies.
Powdered Sugar: Just for decoration! Feel free to skip it if you prefer.
Jam: The filling for our cookies. I'm using a cherry jam but check out the variations for other options!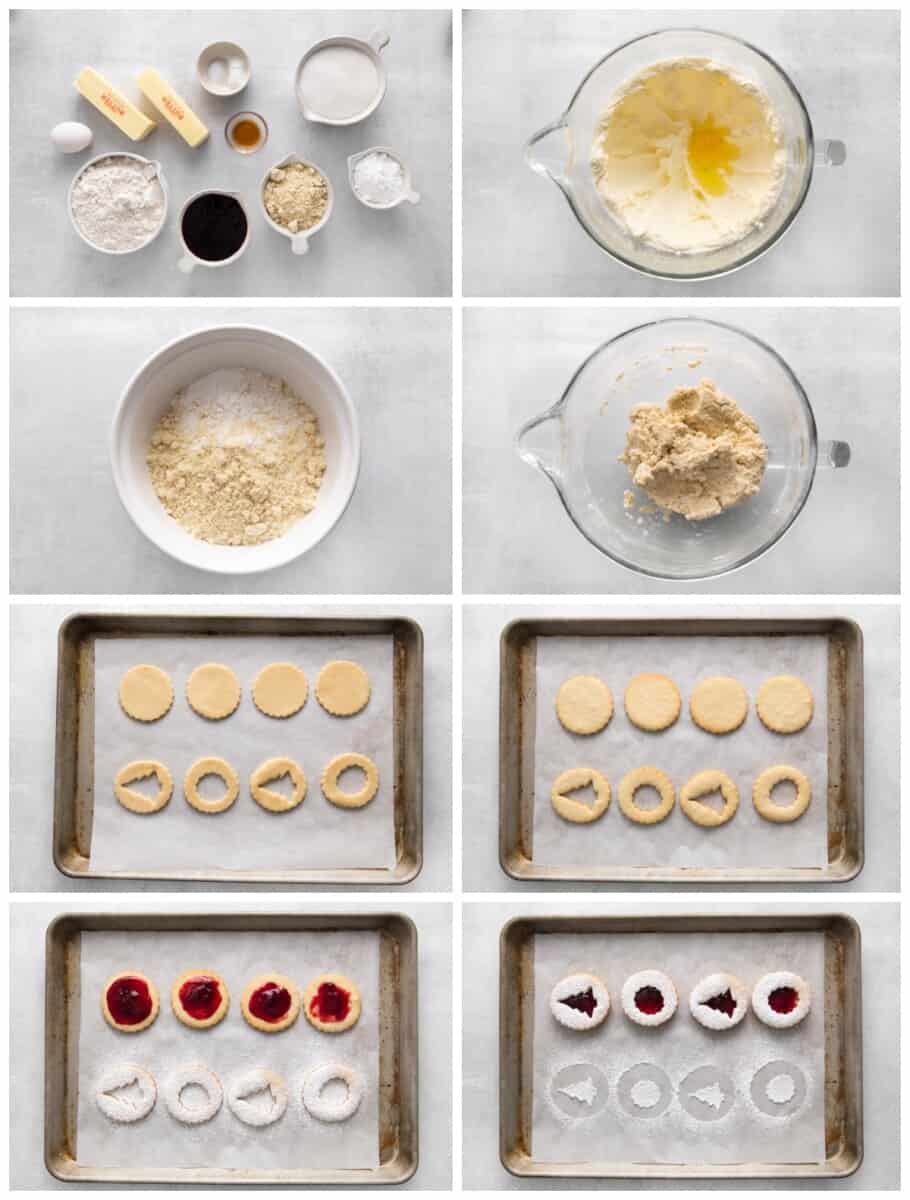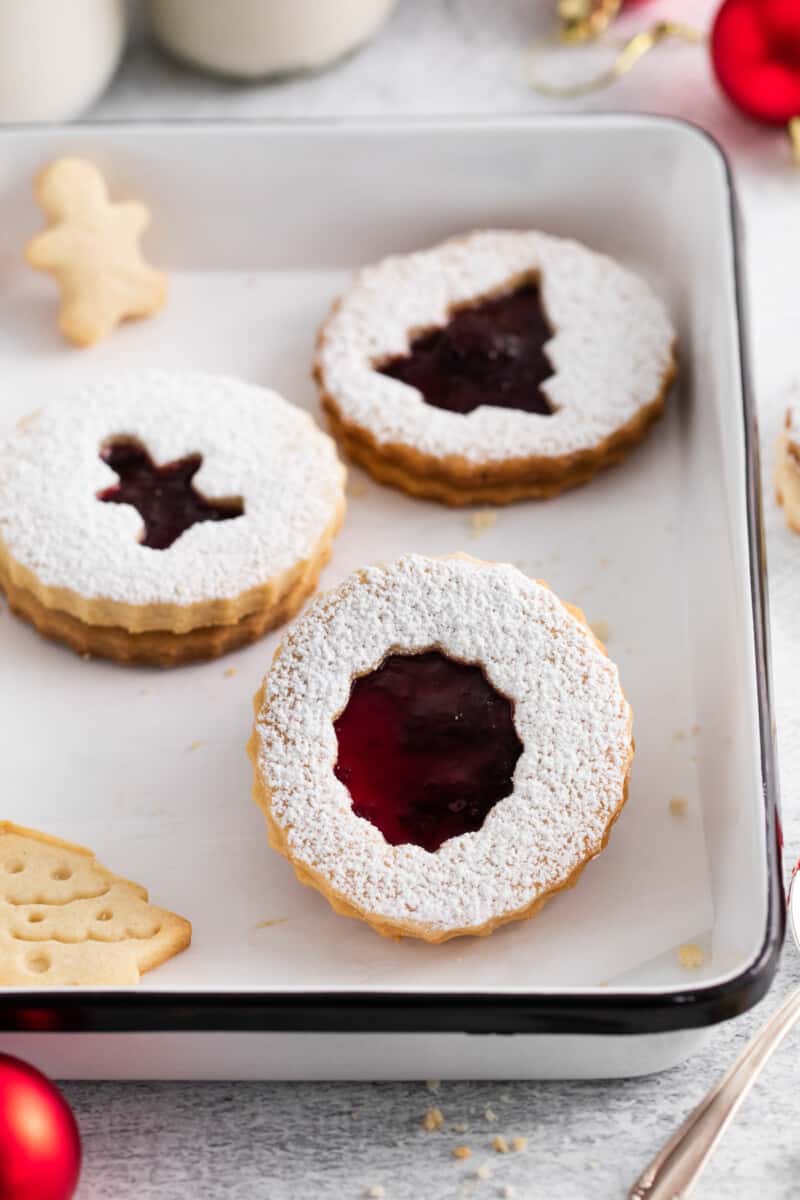 What is a linzer cookie?
Linzer cookies are derived from the Austrian dessert known as Linzertorte. They are a mini-version of the Austrian dessert that is made from a butter dough, pressed into a tart form, filled with jam, and then topped with a lattice crust.
Why are they called linzer cookies?
They're called linzer cookies due to their resemblance to the classic Linzertorte, which was created in the Austrian city of Linz.
What kind of cookie cutter should I use for linzer cookies?
For this recipe, you will need a Linzer cookie cutter. If you don't have one, you can get one on Amazon or use one large and one mini cookie cutter to get the same effect!
How long do linzer cookies stay fresh?
Linzer cookies taste best when eaten within a day or 2 of being filled. They can safely be stored in an airtight container like a metal cookie tin, glass jar, or plastic container in the refrigerator for about 4 days.
Can you freeze linzer cookies?
Yes, you can! I recommend freezing the cookies unfilled to keep them from getting soggy. However, you can freeze filled cookies as well. Place them in a Ziplock freezer bag and store them in the freezer for up to 1 month. Thaw frozen cookies overnight in the refrigerator and then set them on the counter for a few hours before eating.
Everyone from the littlest kids to the greatest of grandparents loves these classic Christmas cookies!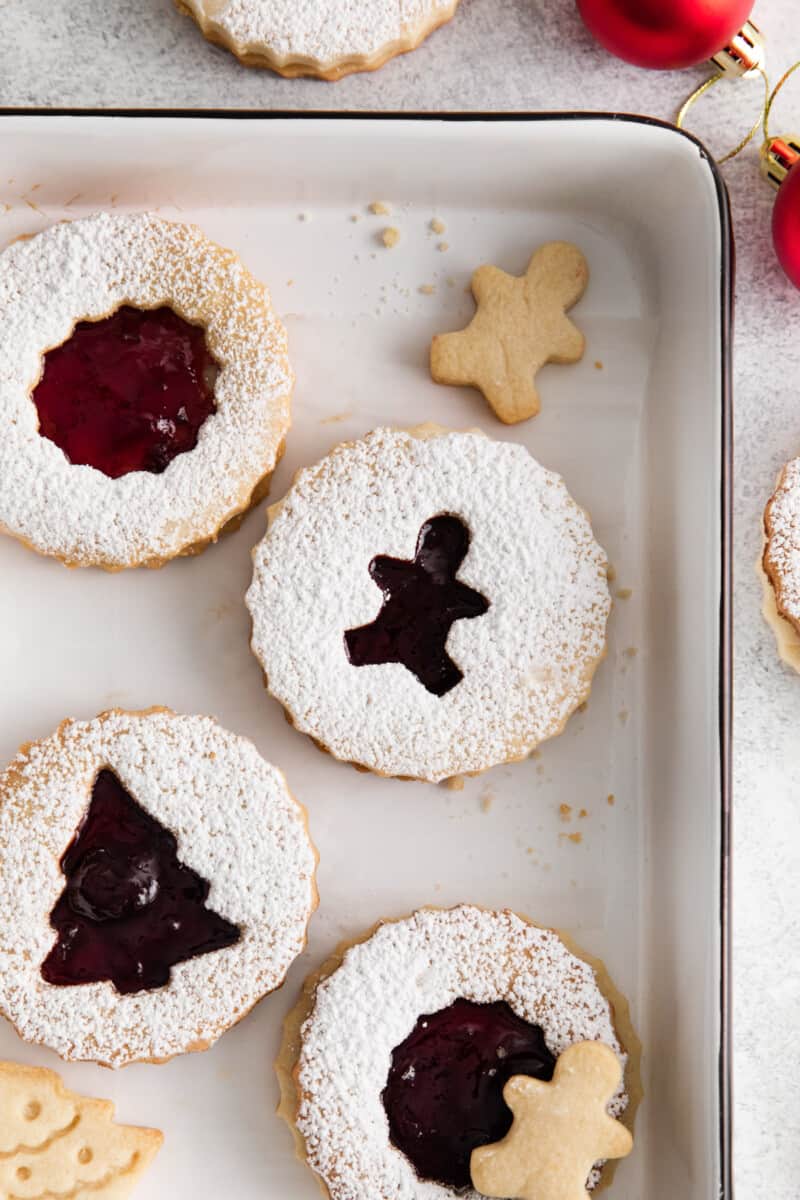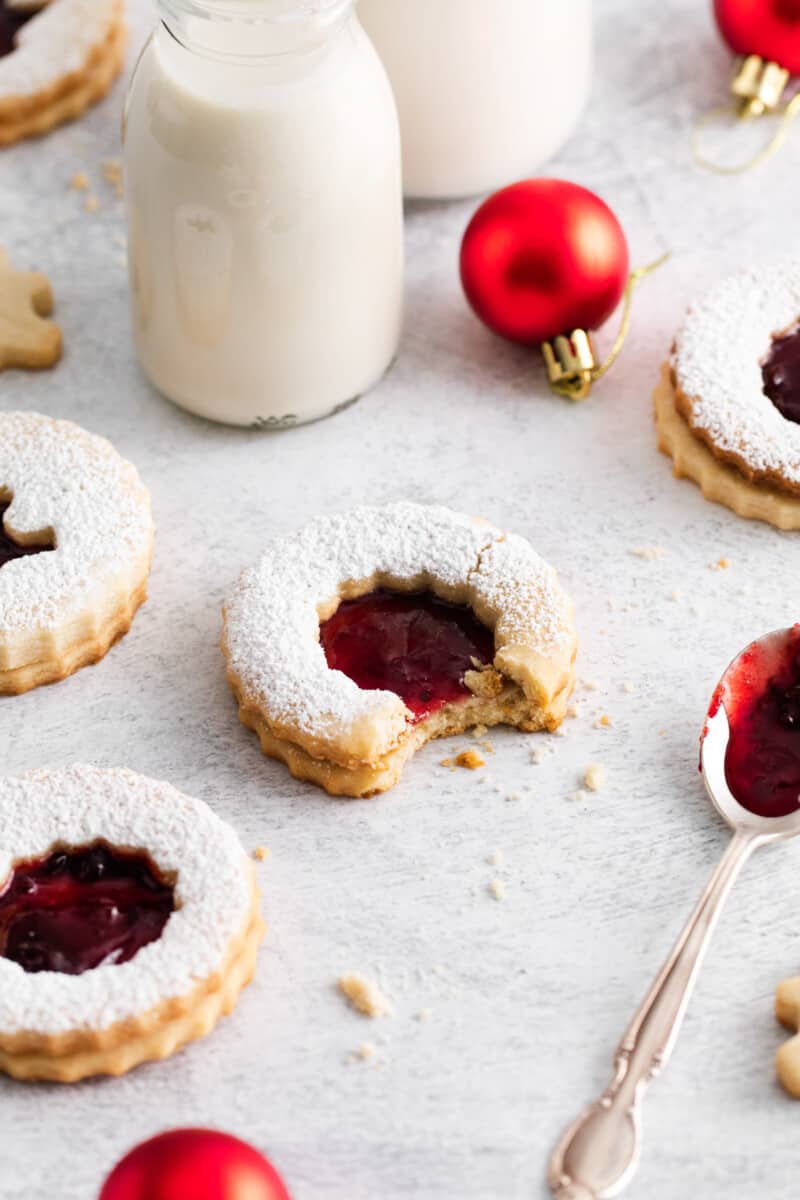 Make Ahead Instructions
Linzer cookie dough can be made through step 5 and stored in the refrigerator for up to 24 hours or in the freezer for up to 3 months. If frozen, let thaw overnight in the refrigerator before proceeding with the recipe.
Baked linzer cookies can be made up to 2 days in advance of when you plan to serve them. Store them in an airtight container in the refrigerator until ready to serve.
Storage Instructions
Store leftover linzer cookies in an airtight container in the refrigerator for up to 4 days. Let come to room temperature for about 1 hour before enjoying.
Freezing Instructions
Freeze linzer cookies filled or unfilled in a Ziplock bag for up to 1 month. Let thaw overnight in the refrigerator before filling and enjoying.
Variations
Want a bit more almond flour in the cookies? Add 1 teaspoon almond extract to the dough in step 2.
If you want to make these cookies nut-free, just swap the almond flour for ½ cup + 2 tablespoons all-purpose flour.
To make these cookies gluten-free, swap the all-purpose flour for an equal amount of gluten-free 1:1 baking flour.
I'm making these linzer cookies with cherry jam, but you could use any jam that you like! Strawberry and apricot are the most traditional jams used in linzer cookies.
Tips for the Best Linzer Cookies
Measure the flour using the spoon-and-level method to avoid crumbly dough.
Because the dough is so buttery, it may become sticky as you work with it. Work with the dough in small batches, leaving the rest in the refrigerator until ready to use.
You may need some flour to roll out the cookies, but try to avoid adding too much, as this could lead to dry, crumbly cookies.
Flour your cookie cutters to keep them from sticking.
Wait until the cookies have fully cooled to top them with powdered sugar; otherwise, it will melt off.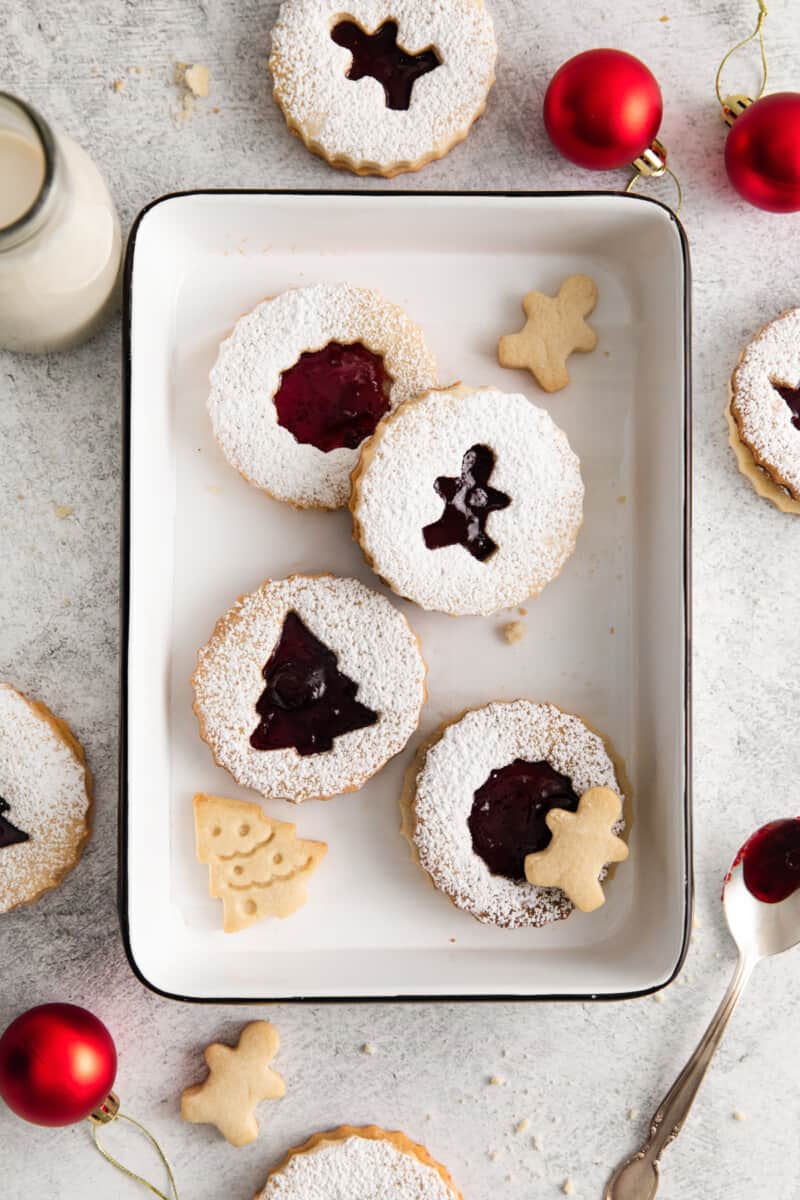 There are so many reasons to make Linzer Cookies – cookie exchanges, parties, potlucks, or just because you're craving some! No matter what jam you choose, you're sure to enjoy every sweet, buttery, and crunchy bite of these truly timeless treats.
If you make this recipe be sure to upload a photo in the comment section below or leave a rating. Enjoy! You can also jump to recipe.