These splatter paint cookies are the perfect way to treat friends and family this Christmas. Delicious sugar cookies are topped with frosting and then decorated with colorful red and green paint splatters that are ideal for the festive season.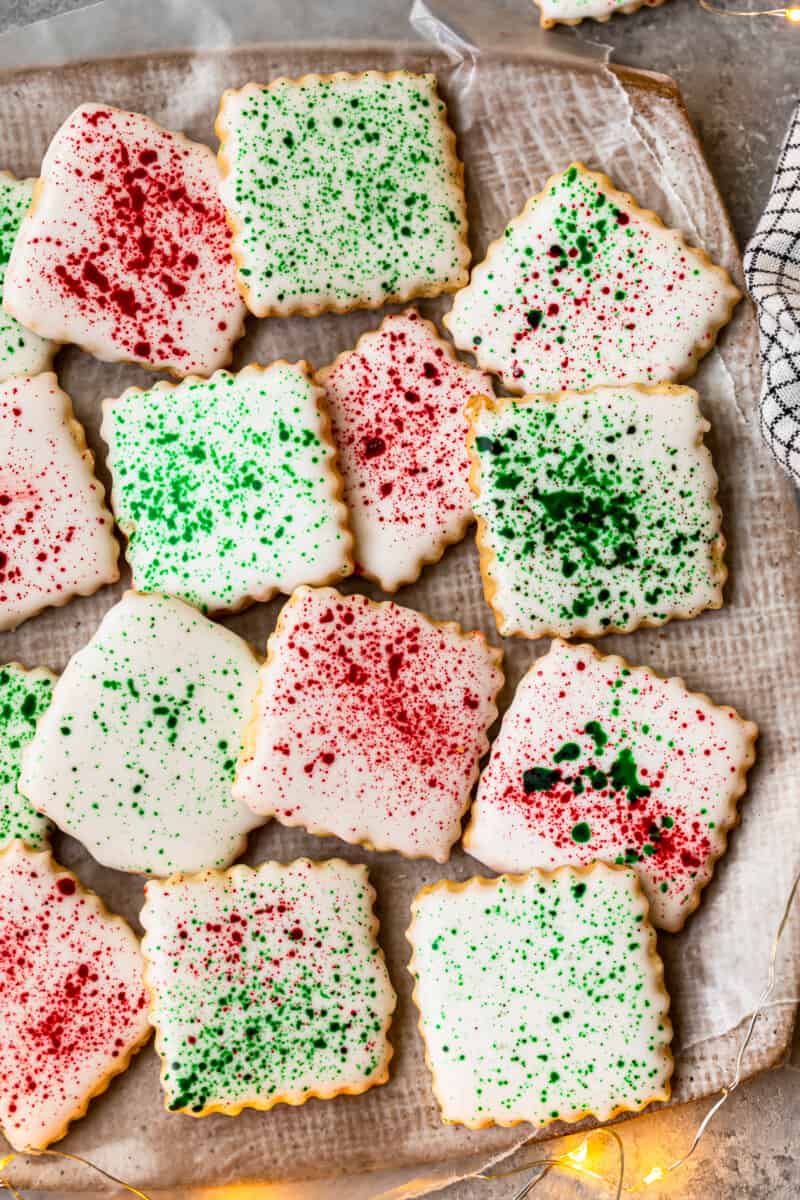 Paint Splatter Christmas Cookies
The holiday baking season is well and truly here, and these fun and colorful cookies will make an excellent addition to your festive table and perfect to take to a cookie exchange.
My Mom, Susie, came up with these cute and easy holiday cookies, inspired by Jackson Pollock! They're unique, fun, and fully customizable.
Deliciously sweet traditional sugar cookies are topped with white frosting before being decorated with vibrant red and green splatters. Jackson Pollock eat your heart out!
Be sure to try my Christmas Butter Cookies and Shortbread Cookies too!
Why You'll Love this Christmas Sugar Cookie Recipe:
EASY: There's nothing complicated about this cookie recipe and hey look like you bought them from a fancy bakery! Just make sure you allow enough time so that the icing fully sets.
SIMPLE INGREDIENTS: There's nothing complicated about this cookie recipe. If you are making baked goods during the holidays, you'll likely have most things to hand already.
SO FESTIVE: Sugar cookies are always a popular choice for the holidays, and the paint splatters make them extra special!
These easy cookies are so fun to make and they're sure to stand out during your Christmas parties!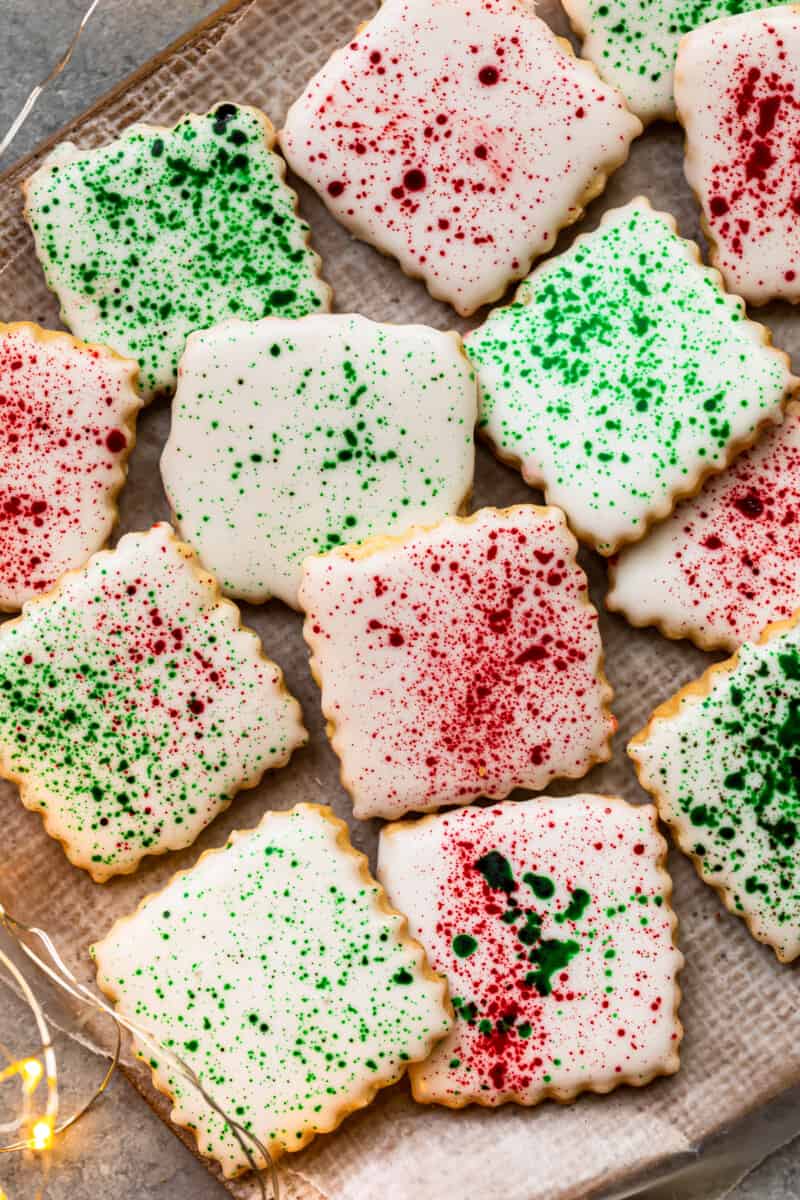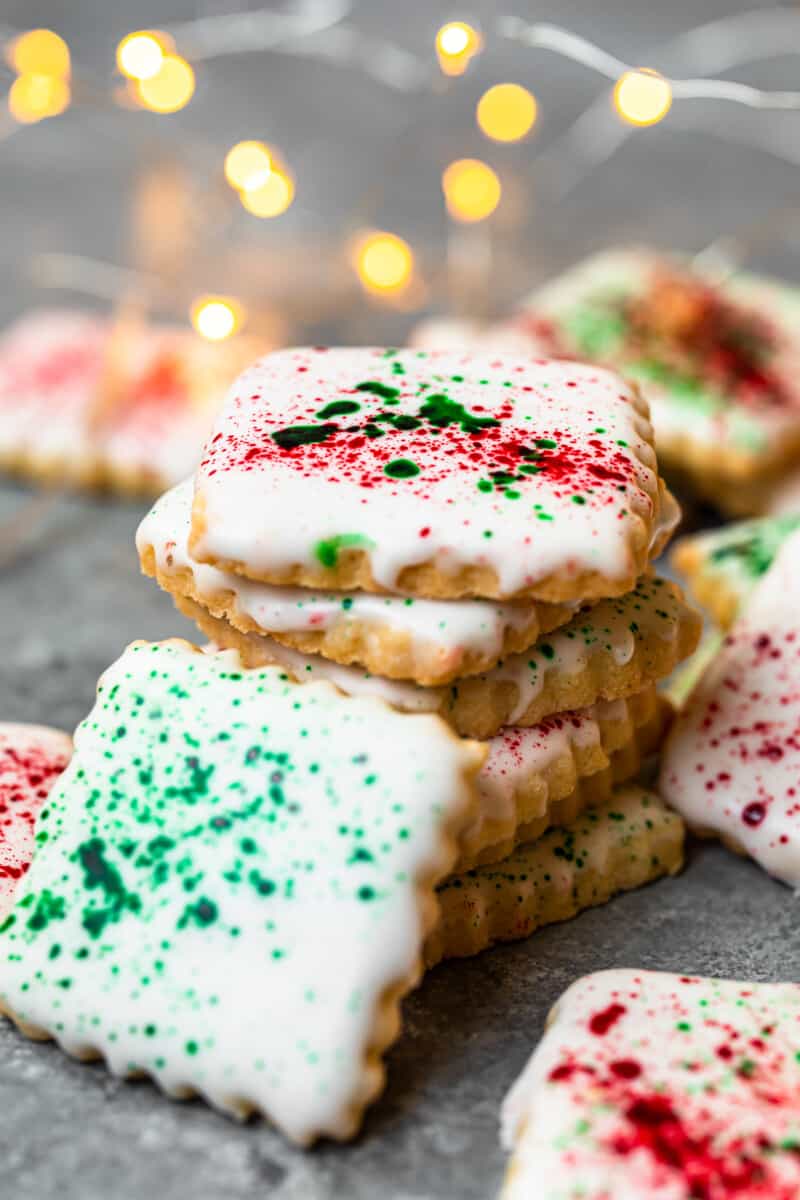 How to Make Splatter Paint Christmas Cookies
You can jump to the recipe card for full ingredients & instructions!
Mix together the wet ingredients and mix the dry in a separate bowl.
Combine the wet and dry ingredients.
Roll out the dough and refrigerate.
Bake in the oven and let cool fully on a wire rack.
Whisk together the ingredients to make the icing.
Frost the cookies and let dry completely.
Mix the food coloring with water or vodka.
Splatter the cookies with the food coloring.
Allow to dry fully before serving.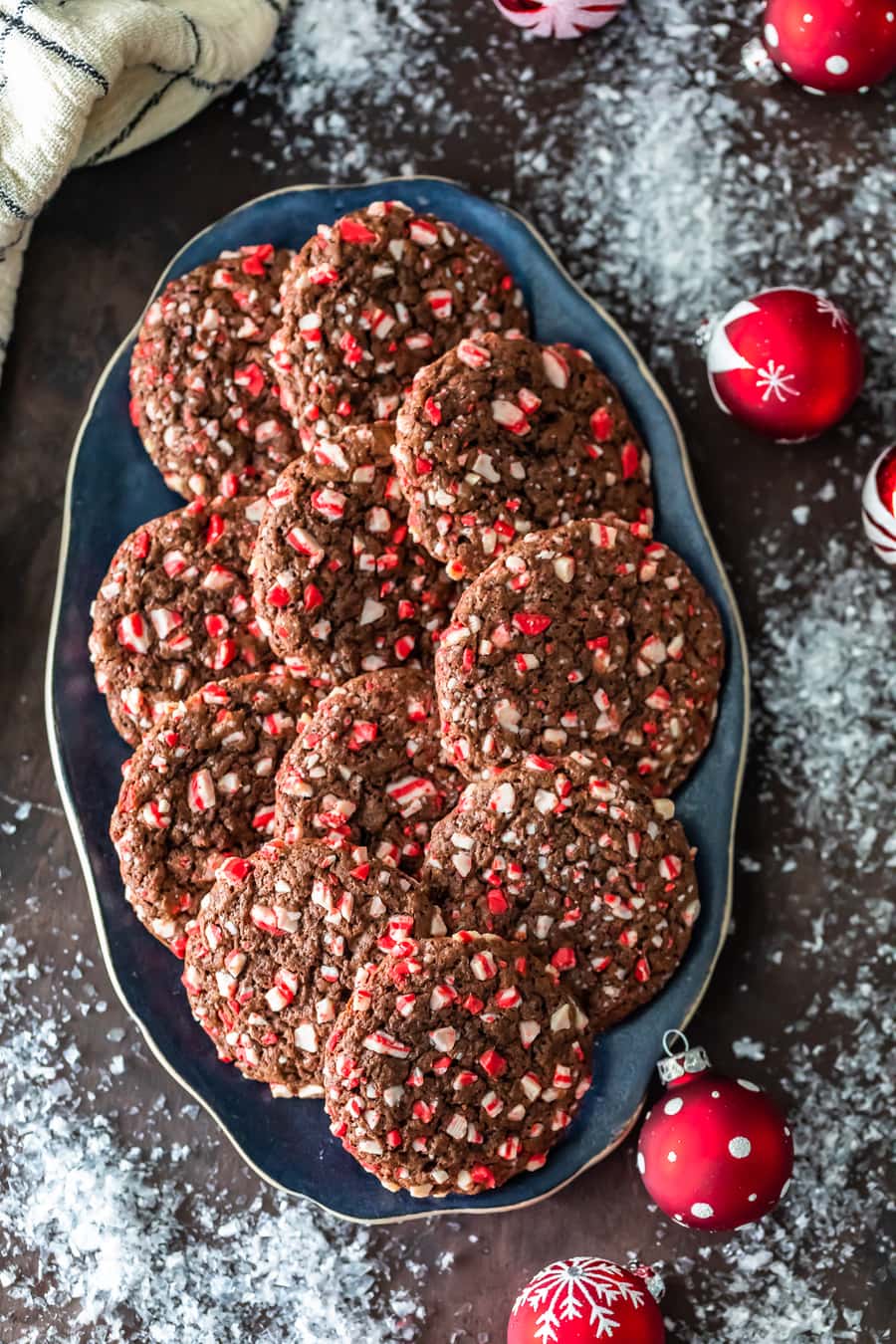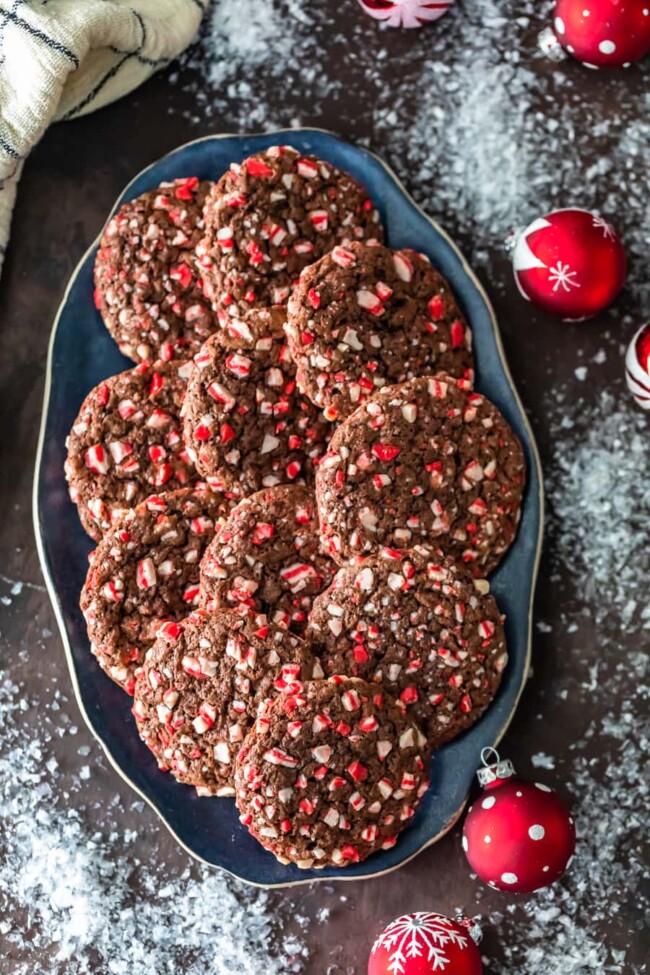 All the Holiday Cookies
25+ Favorite Christmas Cookies
Baking and Christmas go hand in hand. See our guide for our fave recipes + tips and tricks for perfect cookies.
See Guide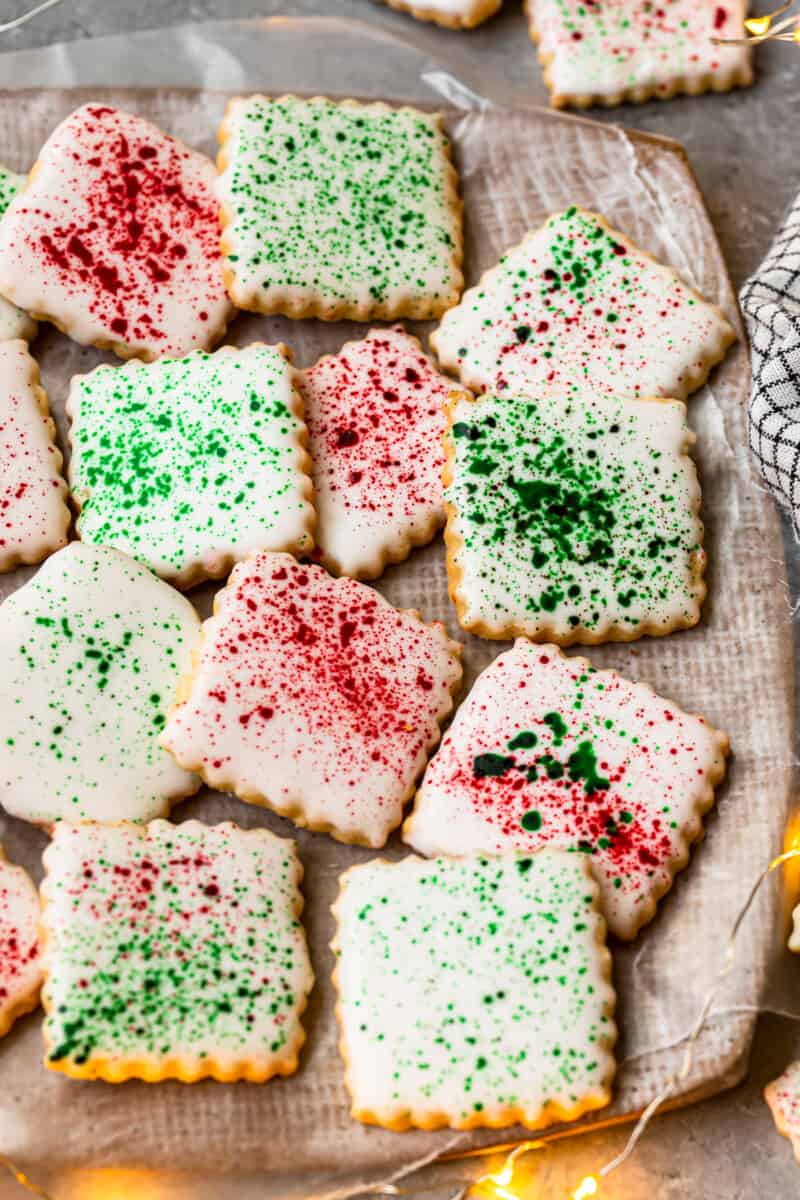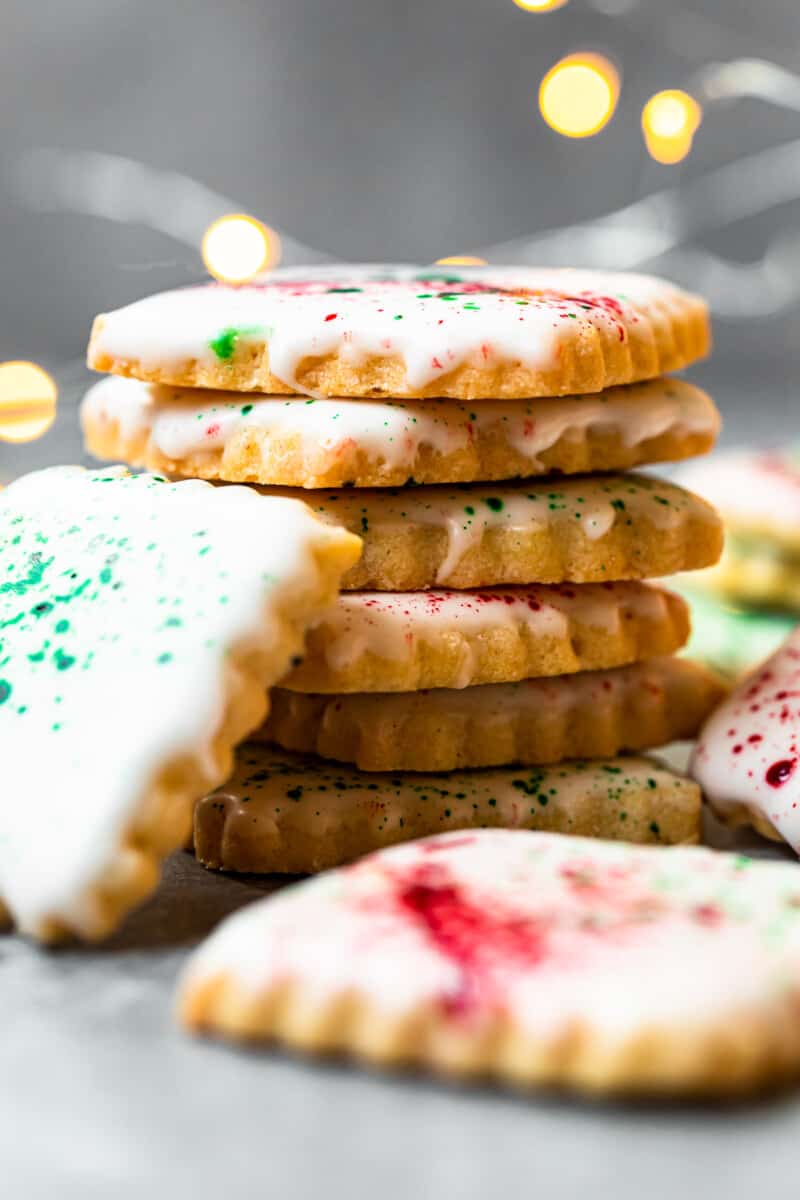 How far ahead can I make these Christmas cookies?
It's best to plan ahead when making these cookies and allow 2-3 days to make them in stages so that they have time to fully cool and for the layers of icing and food coloring to set. The cookies will keep well in an airtight container for up to 5 days at room temperature.
What is the best way to freeze these cookies?
These cookies freeze well and will keep for 2-3 months. They freeze well with the icing. Make sure the icing is fully set, and you can either freeze them solid on a baking sheet and transfer to an airtight container or layer them in a container separated with parchment. Thaw the cookies at room temperature.
Can I double this cookie recipe?
This recipe makes 36 iced sugar cookies and is easily doubled if you want to make more. Use the toggle in the recipe card below to adjust amounts for your needs.
Can I use chocolate sugar cookies for the base of these decorated Christmas cookies?
I opted for a classic sugar cookie recipe, but you can use your favorite sugar cookie recipe if you have one. Chocolate would be a great treat!
These splatter paint cookies are so fun to make! You can easily make them outside of the holidays too, just mix up the colors!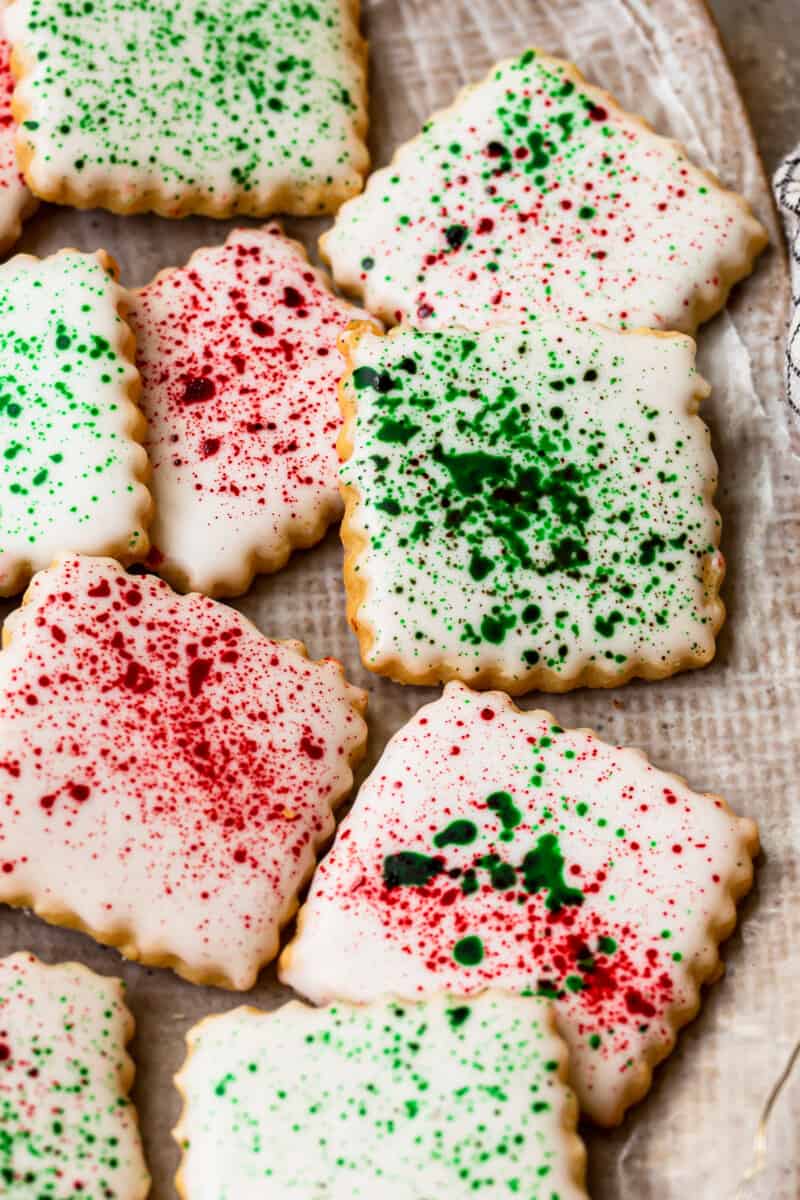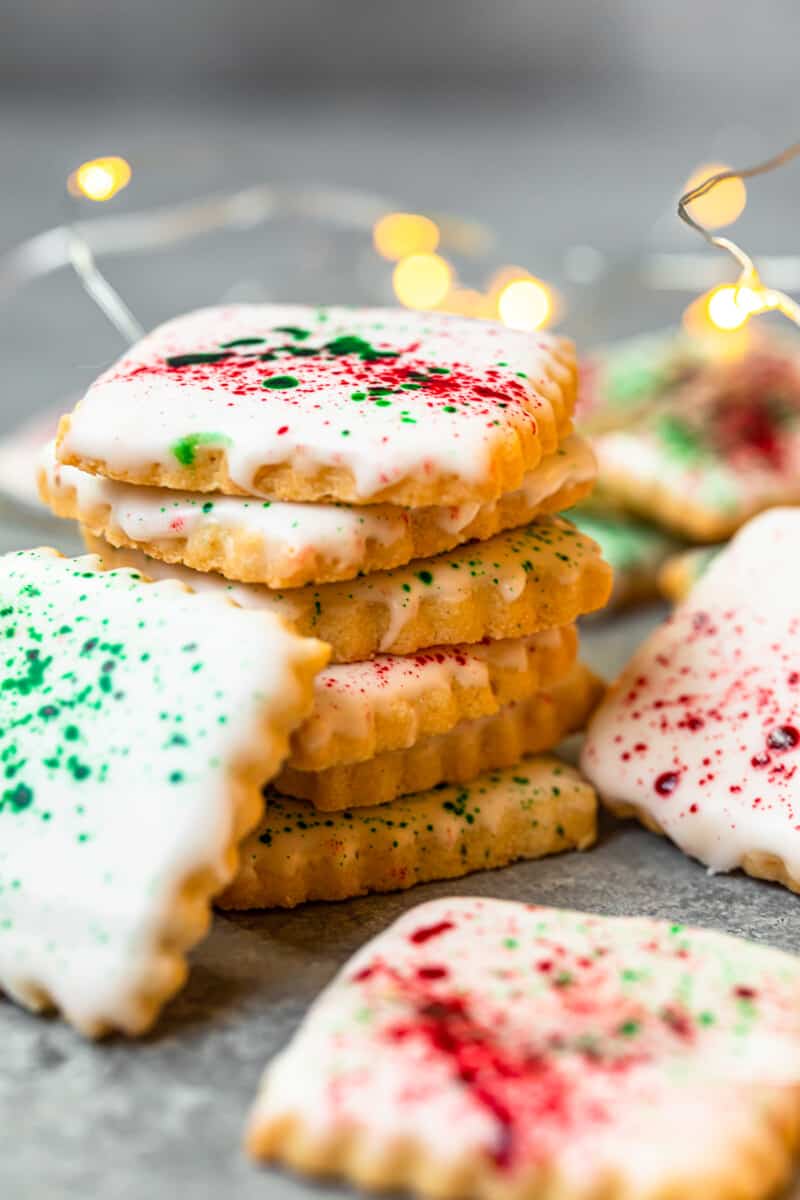 Tips!
Don't overmix the sugar cookie dough when you add in the flour. The gluten can overdevelop and your cookies can turn out heavy and chewy.
Let the cookies fully cool before icing and after each layer of decoration.
It is best to start making these cookies 2-3 days before serving to allow the icing to completely dry.
These cookies are an easy way to add some festive flair to the holidays, plus they taste DELICIOUS!
How do you splatter food coloring?
Splatter the 'paint' by dipping the paintbrush in the food coloring, hold it (brush side down) over what is being splattered, and use your other hand to tap your wrist.
Alternately, this is very messy but works a little better, hold the brush (brush side down) over the cookie and flick the food coloring off of the brush and onto the cookie with the tip of a finger on the opposite hand.
What food coloring is best for paint splatter cookies?
I find that gel food coloring works best for the paint splatters. We dilute it a little with water or vodka to create the perfect consistency but still keep the vibrant colors.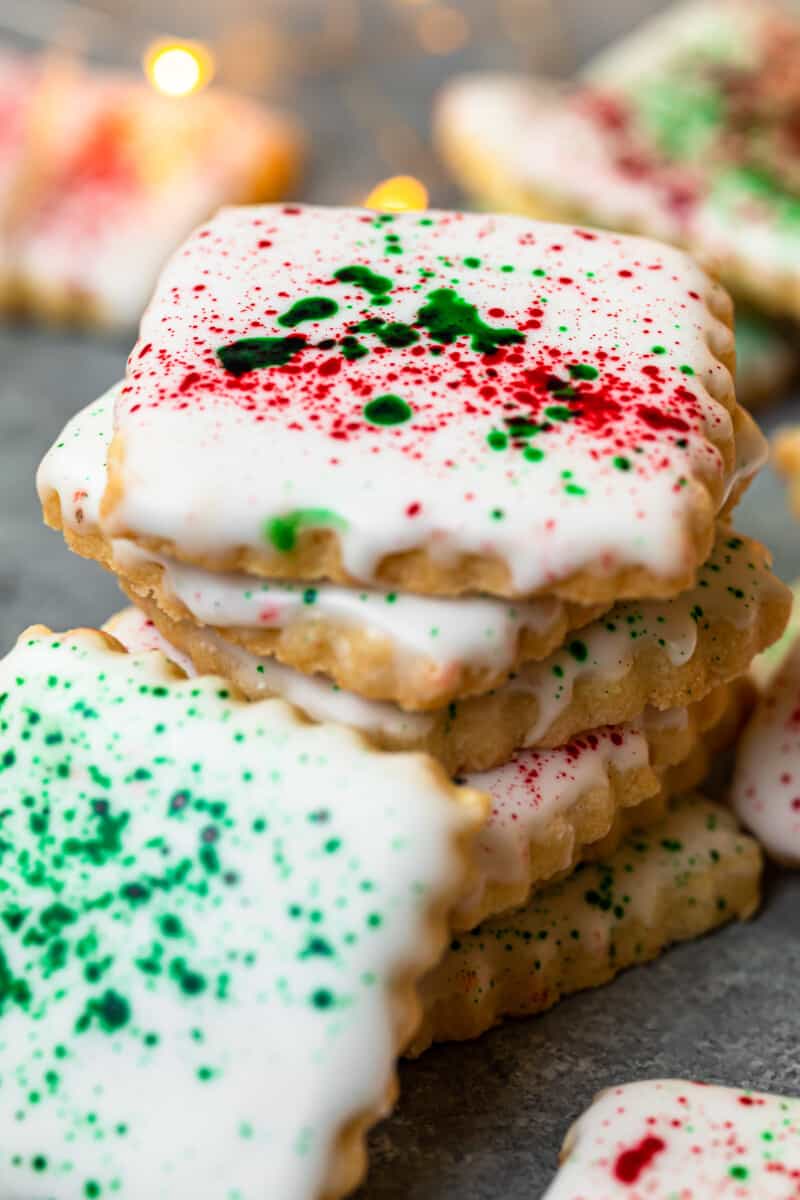 These paint-splatter Christmas cookies are so fun and festive! They make for great holiday gifts for friends and family too!
More Holiday Desserts to Try
If you make this recipe be sure to upload a photo in the comment section below or leave a rating. Enjoy! You can also jump to recipe.