Skip a trip to the coffee shop and make your favorite coffee at home with this Iced Caramel Latte recipe. It's a delicious and refreshing way to start the day!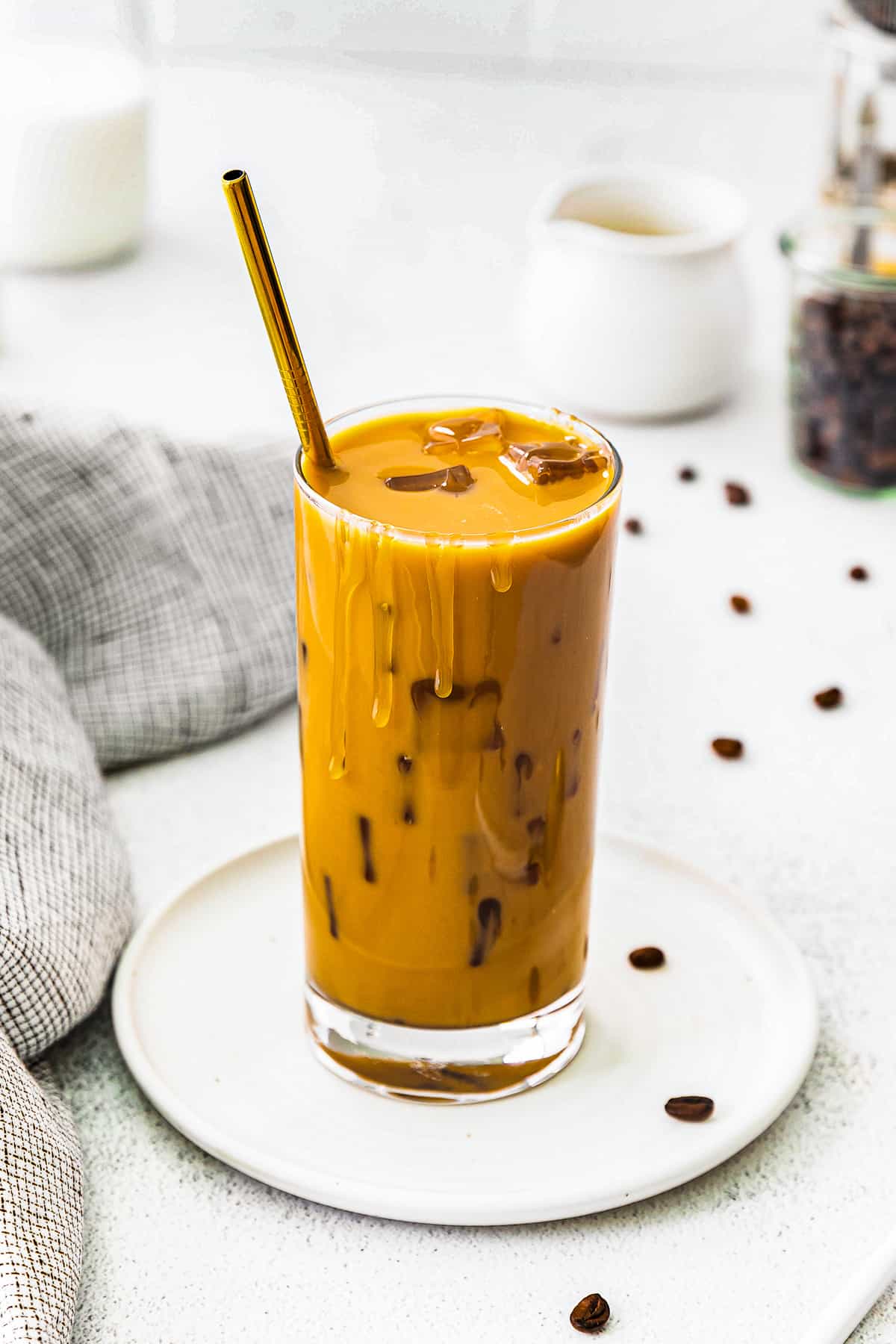 Homemade Iced Caramel Lattes
Use your favorite espresso, caramel sauce, and milk to make a homemade version of a popular Starbucks favorite! This iced caramel latte is just as delicious as one from a coffee shop, made in the comforts of your own home.
Enjoy this caramel latte as a pick-me-up any time of day! Easy to prepare with just a few simple ingredients, you'll be surprised at how quickly this homemade latte comes together.
Why You'll Love this Copycat Iced Caramel Latte Recipe:
EASY: Made with 4 ingredients in less than 5 minutes, this is much more convenient than going out for coffee.
FLAVORFUL: Strong espresso pairs wonderfully with sweet caramel and cold milk for the perfect iced beverage.
CUSTOMIZABLE: Adjust this recipe to your taste preferences!
If you're a Starbucks regular, give this homemade iced caramel latte a try!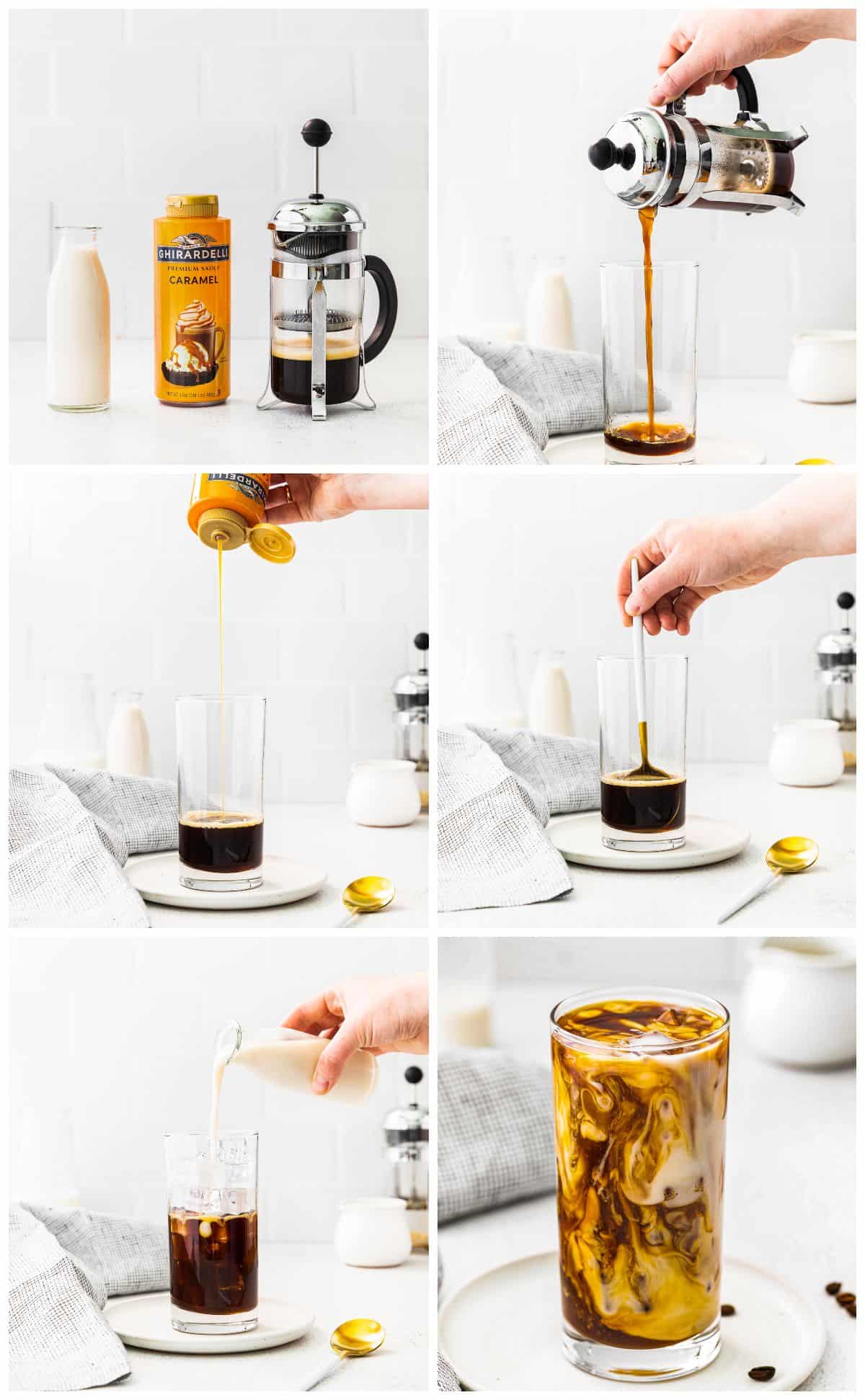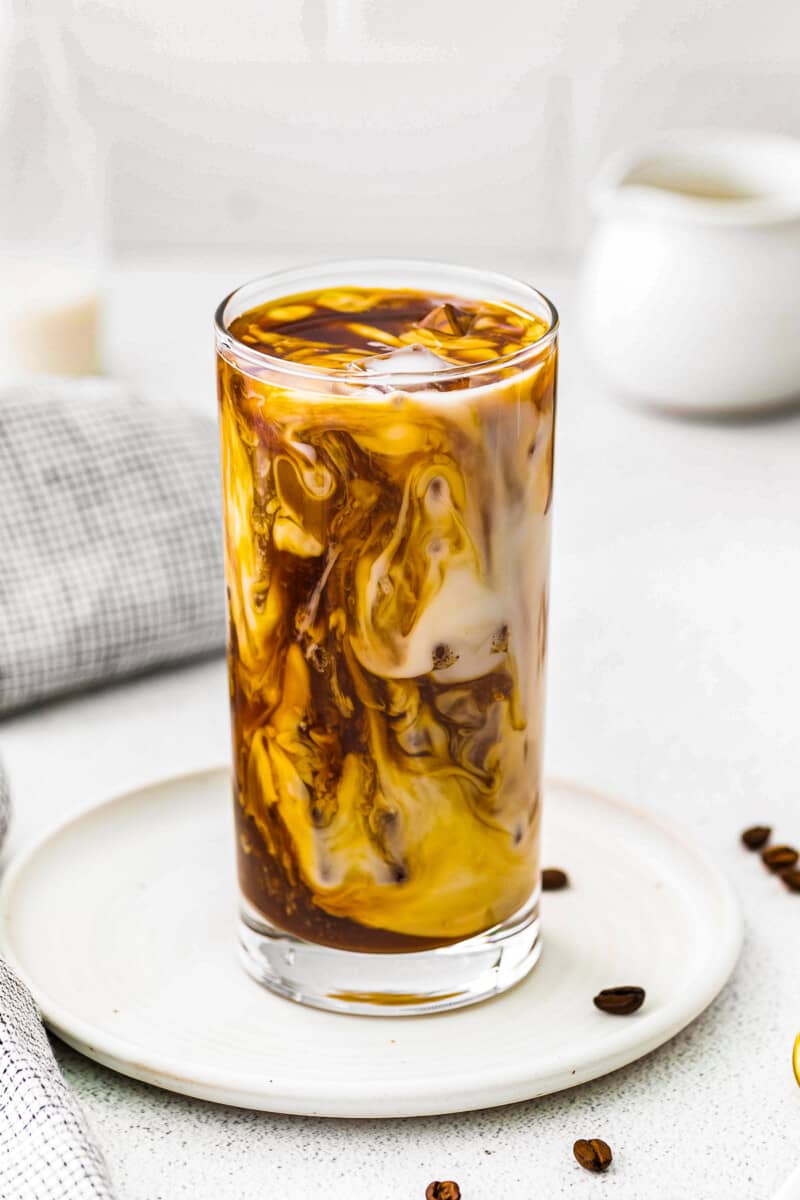 How to Make an Iced Caramel Latte
You can jump to the recipe card for full ingredients & instructions!
Combine the espresso and caramel sauce.
Add ice and milk, stir, and enjoy.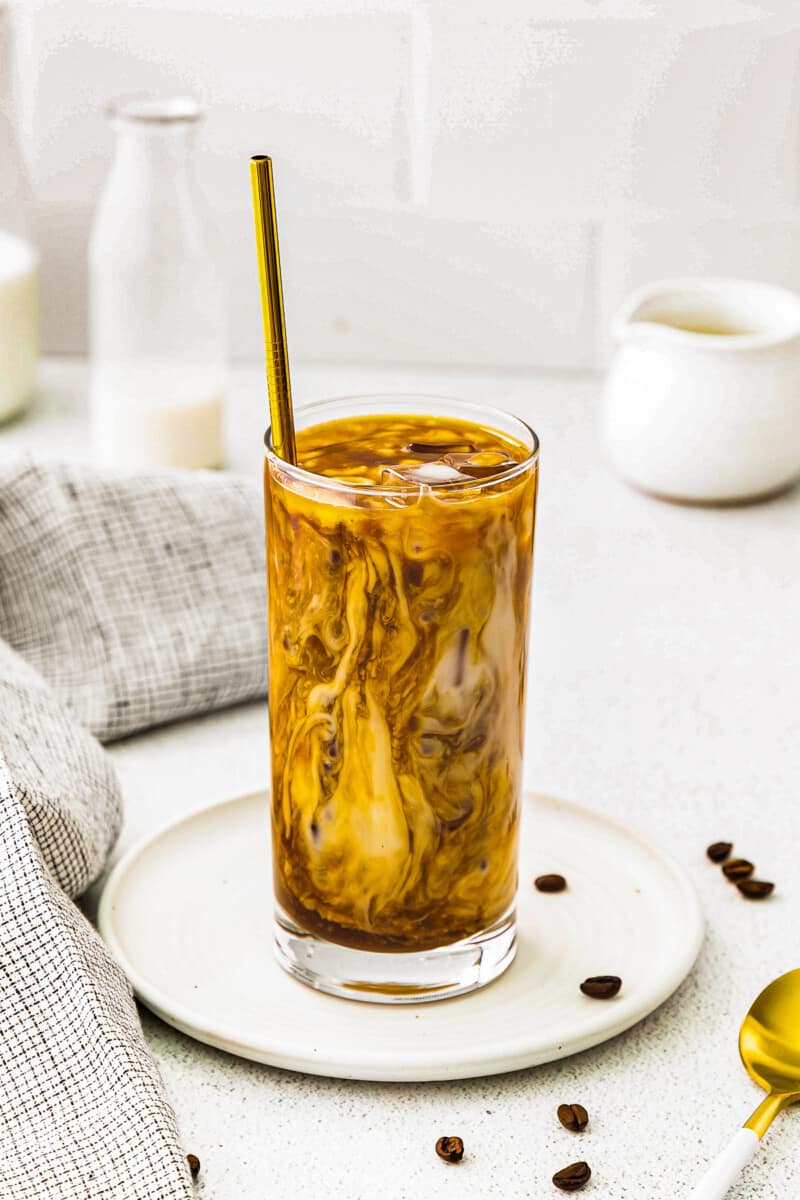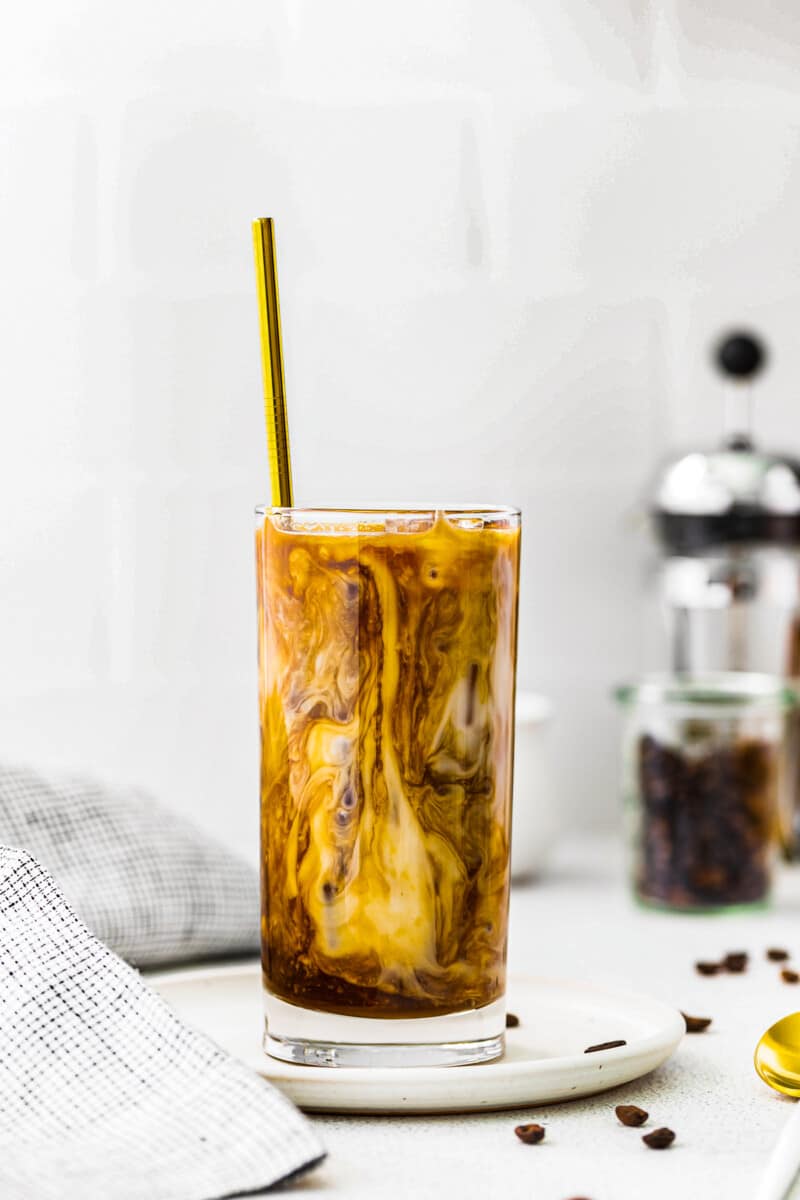 What kind of caramel sauce should I use?
Use your favorite kind of caramel sauce or syrup for this latte. Regular or sugar-free options both work great. Ghirardelli caramel sauce is my go-to!
Can I add chocolate syrup?
Chocolate pairs wonderfully with espresso and caramel. Feel free to use half chocolate and half caramel sauce for a little something different.
What kind of milk should I use?
Any kind of milk, dairy or non-dairy, works wonderfully! Some of my favorite non-dairy milks to use for lattes are oat milk, almond, and macadamia nut milks. You can also use heavy cream or a splash of half-and-half instead of milk.
Does this iced caramel latte have a strong flavor?
While it certainly tastes like coffee, the espresso flavor isn't too strong. The caramel and milk both add sweetness that lessen the intensity of the espresso.
Undeniably delicious, this iced caramel latte will quickly become your new favorite way to drink coffee! Pair it with these Air Fryer Donuts or a homemade croissant, and you'll be set!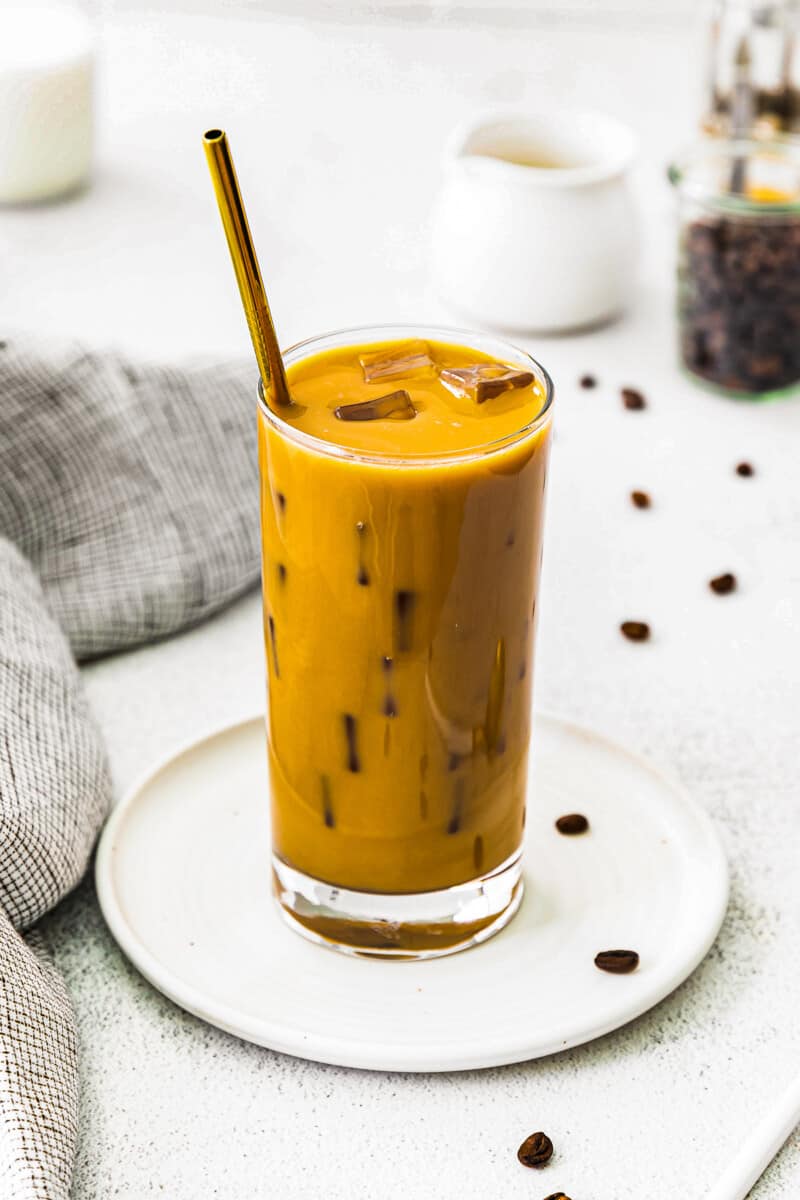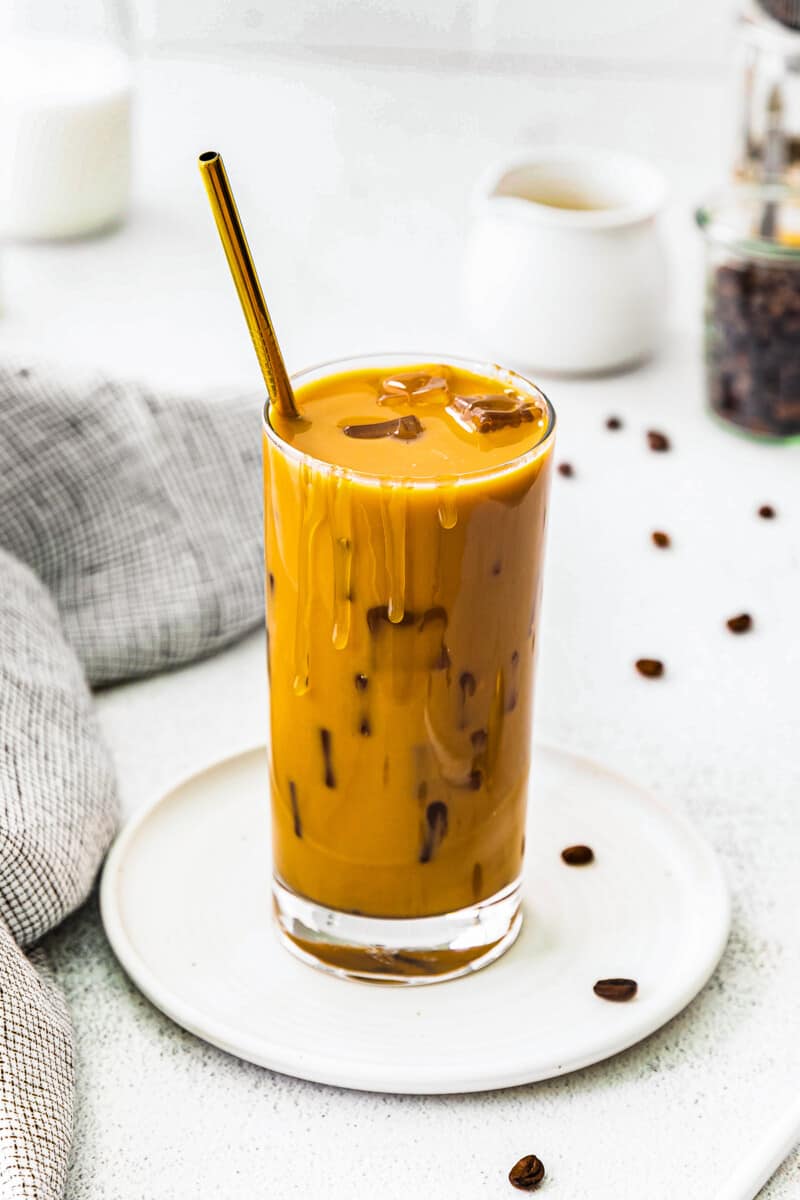 Tips!
Add ¼ teaspoon of ground cinnamon to the espresso/caramel mixture for an extra burst of flavor.
For a totally over the top iced latte, add a spoonful of whipped cream before serving. The sweetest finishing touch!
To make a salted caramel latte, drizzle caramel sauce on top and add a pinch of salt.
Skip the Starbucks line and make this copycat iced caramel latte at home! It's decadent and totally tastes like the original.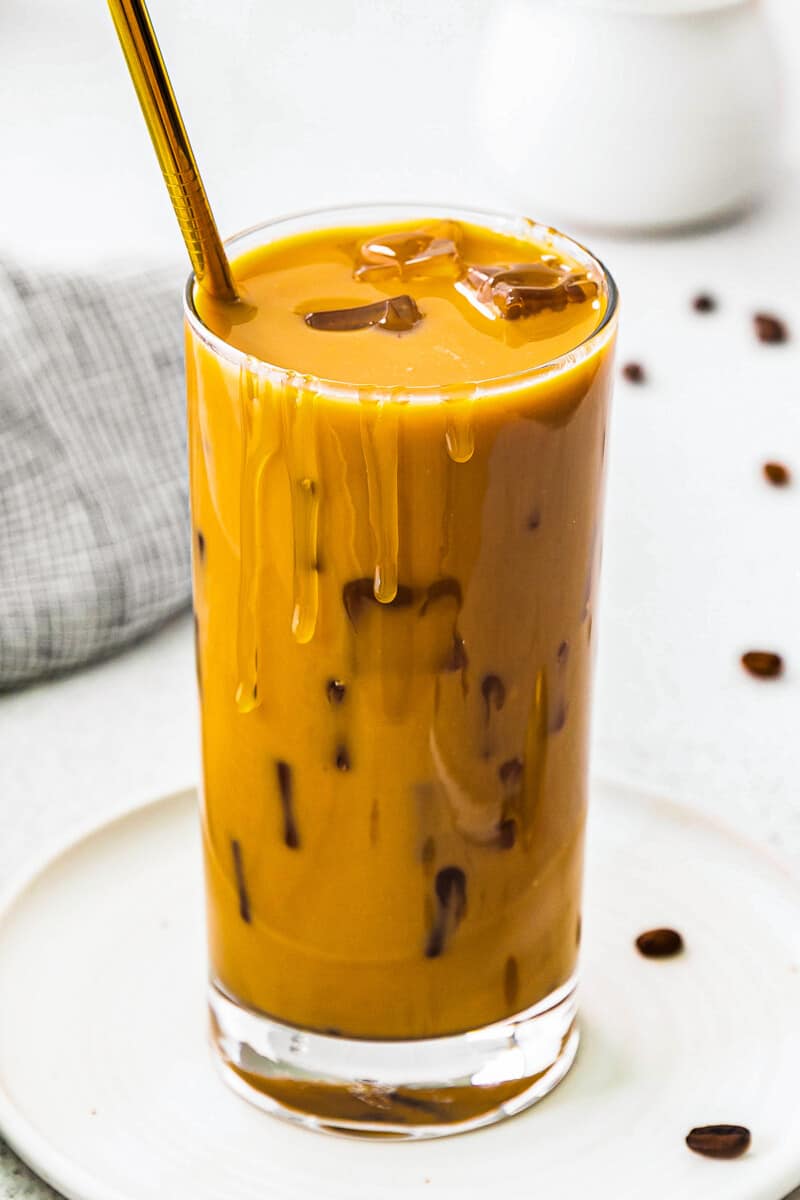 Sweet, refreshing, and ready in minutes, add this iced caramel latte to your morning routine!
If you make this recipe be sure to upload a photo in the comment section below or leave a rating. Enjoy! You can also jump to recipe.