Instant Pot Potato Salad with Dill Pickles is an awesome side dish for Easter, Summer, and anytime in between. Potato Salad is a must make for Summer BBQs and this Dill Pickle Potato Salad is our favorite recipe. Creamy, easy, and so quick in a pressure cooker. If you wondered how to make potato salad in an Instant Pot, today is your lucky day!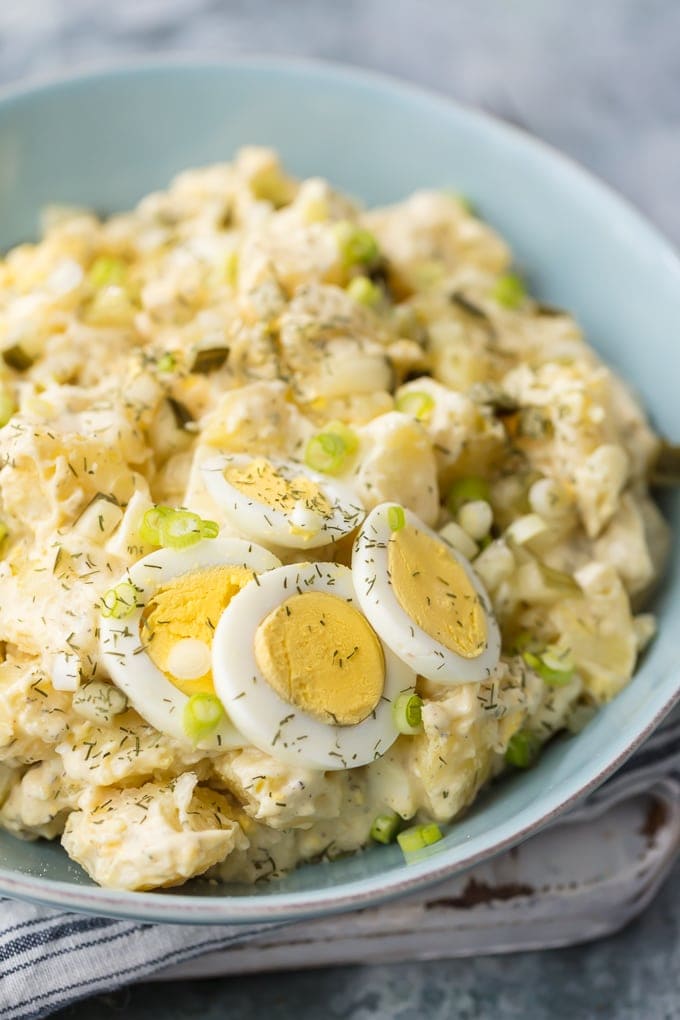 Potato Salad is one of those recipes that is passed down and loved for generations.
Everyone has a favorite potato salad recipe. That Summer BBQ side dish that needs to be at every get together or it doesn't feel like home. This Instant Pot Potato Salad with Dill Pickles is that Potato Salad recipe for me. I love the tangy flavor of the pickles mixed with the creamy dressing and chunky potatoes. It's so classic, tasty, EASY, and quick, especially in a pressure cooker! You're gonna love this recipe.
When I think of Summer I think of recipes like this Potato Salad Recipe. I think of hot days, good food, laughs with friends, and sunburns.
But that's just because I have VERY fair skin. Poor baby Henry inherited my translucent skin. I digress.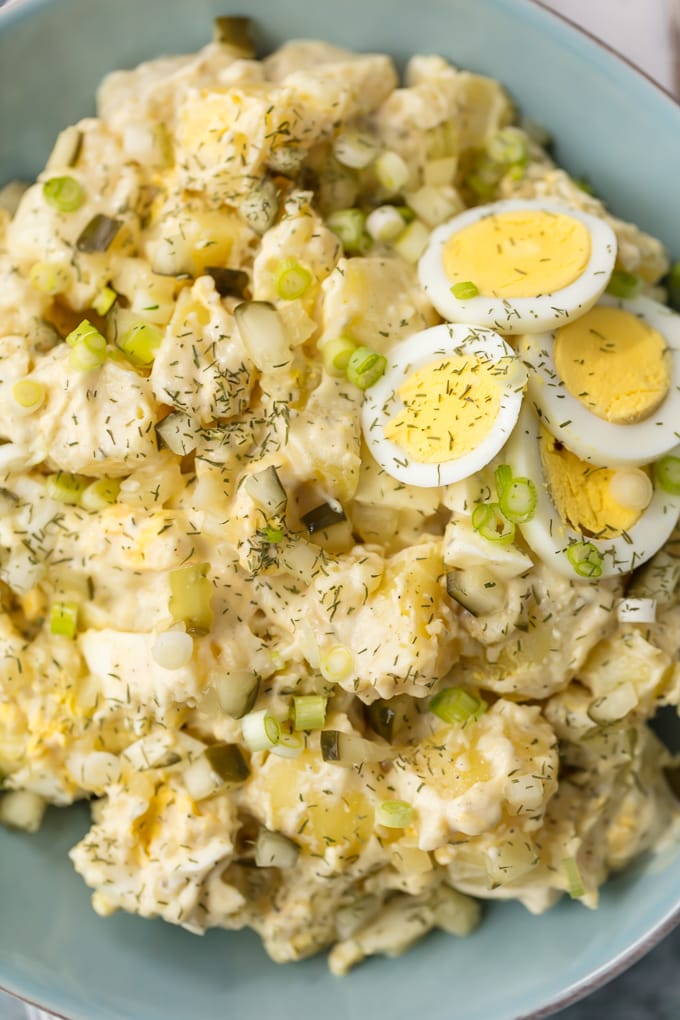 Potato Salad in an Instant Pot is so much easier than you might think. It does all the work for you!
All you need to focus on is how to win flip cup, how to grill the perfect Grilled Caprese Chicken Sandwiches, or how to safely open the champagne for your Sparkling Strawberry Margarita Punch. Summer is for FUN. It's for being outside and enjoying your friends and family. The very last thing you need to worry about is slaving away in the kitchen in order to feed the masses.
Let the Instant Pot do the work for you with this Potato Salad. I'm obsessed. Dill Pickle Potato Salad is the best Instant Pot recipe ever!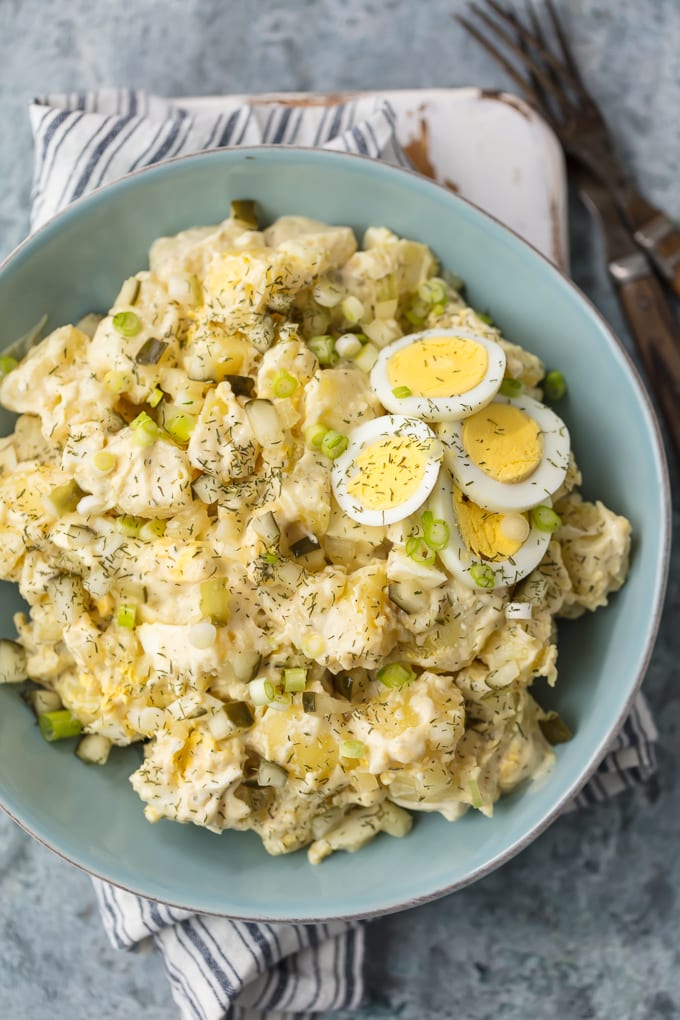 How to make Instant Pot Potato Salad with Dill Pickles:
It's so simple. Check out the recipe card below for details, but ingredients include potatoes, pickles, mustard, eggs, scallions, and spices. The flavor is UNREAL and so perfect for pair with burgers, chili dogs, bbq chicken, and more!
If you haven't tried an instant pot yet, today is the day! Check out the "Shop This Post" section below to see our favorite versions and sizes. For a family of 4, I recommend the 6 qt. For a larger family, I recommend the 8 qt. Don't be afraid of the IP, it's not like pressure cookers in the old days. They've made so many advancements in safety and it's really a multi-cooker that does it all! Love it so much. Click to see all of our favorite Instant Pot Recipes.
See the recipe card below for How to Make Instant Pot Potato Salad. Enjoy!
AROUND THE WEB: Our blogger friends are killing it with the BBQ side dish ideas! Here are some of our favorites; Bacon Fried Pickles, Carrot and Apple Slaw, Instant Pot Rice Pudding Recipe, and Collard Greens with Bacon.