Bruschetta Chicken with tomatoes, basil, balsamic, and parmesan cheese has always been one of my favorite recipes, and now it's even easier to make! This Instant Pot Chicken Bruschetta recipe is a fresh, light, quick, and EASY Instant Pot Chicken Recipe! Instant Pot Bruschetta Chicken is one of our go-to easy weeknight meals.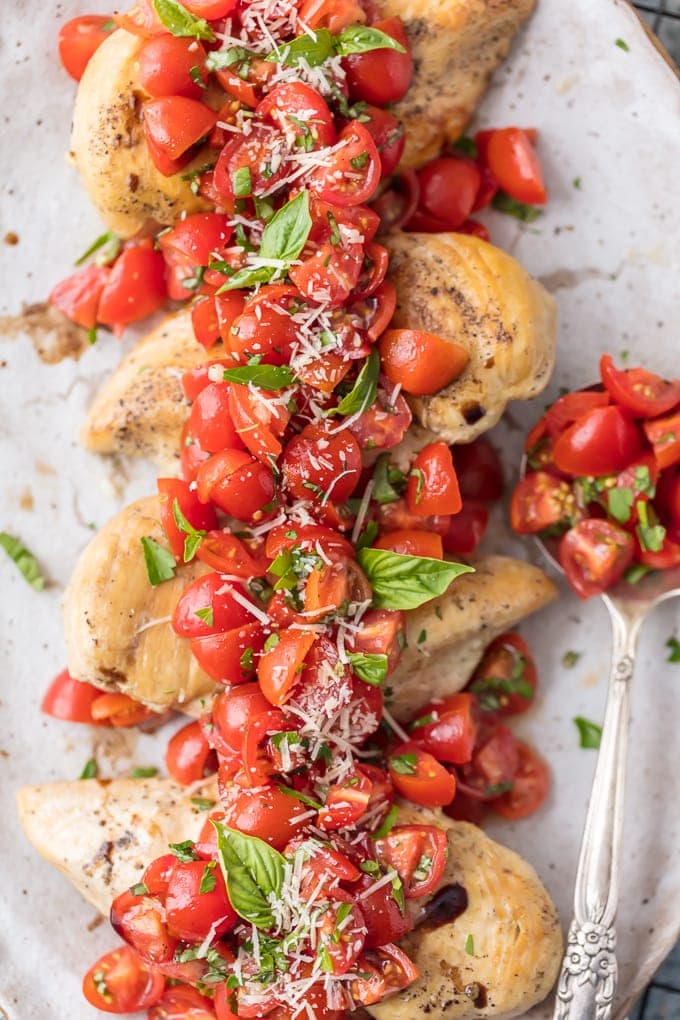 Bruschetta Chicken Recipe
Bruschetta Chicken is made even better by cooking it in an Instant Pot. Just as delicious, but made in a flash!
This Instant Pot Bruschetta Chicken Recipe is just SO delicious. The flavor combination of the chicken breast, tomatoes, balsamic, basil, and parmesan is so simple but also so out of this world.
It's such a simple dish, and yet it feels so special. This easy Chicken Bruschetta Recipe makes me feel like I'm back in Italy enjoying the good life, one bite at a time.
I crave dishes like this Instant Pot chicken recipe because they're made in under 30 minutes, as quick to clean up as they are to make, and loved by all. Your family will request this easy chicken recipe again and again!
Make Bruschetta Chicken in an Instant Pot for the easiest and most delicious meal!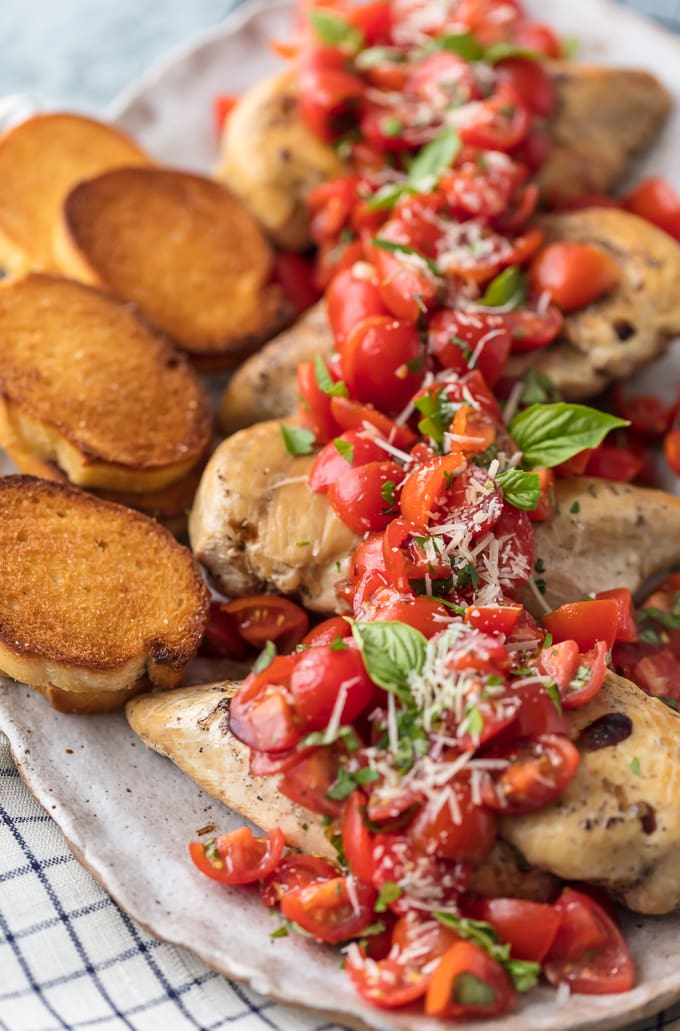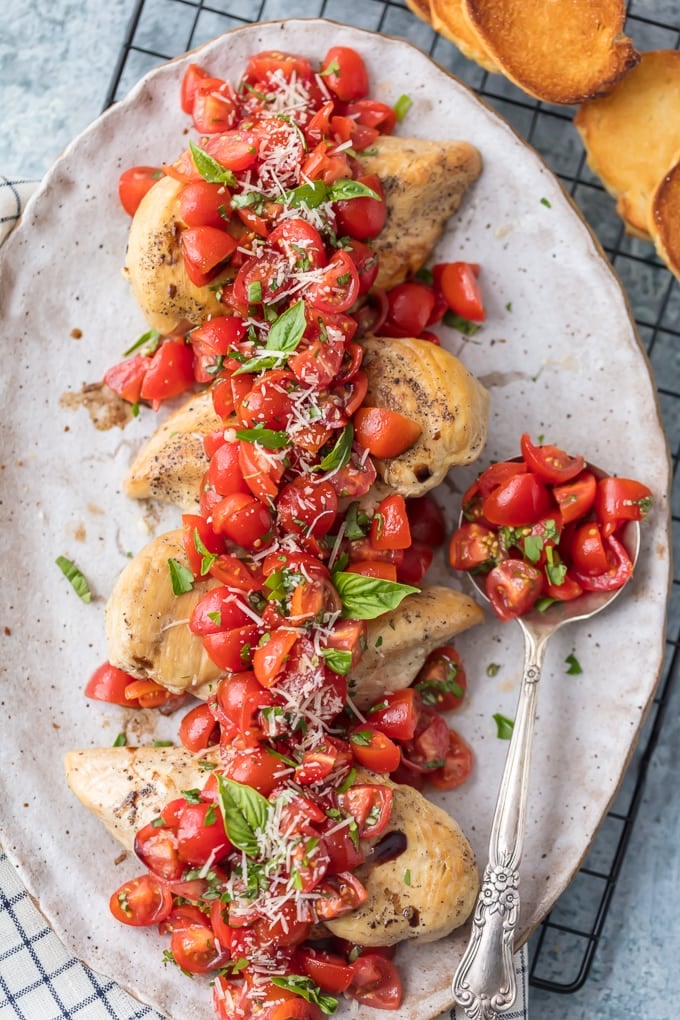 Instant Pot Chicken Bruschetta Recipe
Instant Pot Chicken Bruschetta is one of our absolute favorite flavor combinations! We have always loved Caprese Salad (tomatoes, basil, mozzarella, and balsamic). This is so similar, but with parmesan instead of mozzarella, so this Bruschetta Chicken recipe is just as delicious.
We actually made Grilled Bruschetta Chicken with Caprese flavors back in the day, but this was our first time trying it in an Instant Pot. And it works like a charm! Less than 30 minutes and you've got this delicious meal ready to serve!
Bruschetta Chicken Ingredients
I just love that you can combine fresh ingredients into a little machine, press a button, and a meal like THIS comes out. The Instant Pot makes such delicious chicken, and it's just such an easy way to cook when you're in a hurry.
The chicken breast gets cooked in the perfect mix of liquids and seasonings to make one amazing flavor. Then you just toss together everything for the tomato topping, combine it all, and you've got bruschetta chicken!
For the Chicken:
Olive Oil
Garlic
White Wine
Chicken Broth
Italian Seasoning
For the Topping:
Cherry Tomatoes
Olive Oil
Garlic
Basil
Salt & Pepper
And of course you can't forget the toasted bread to serve alongside the chicken bruschetta recipe!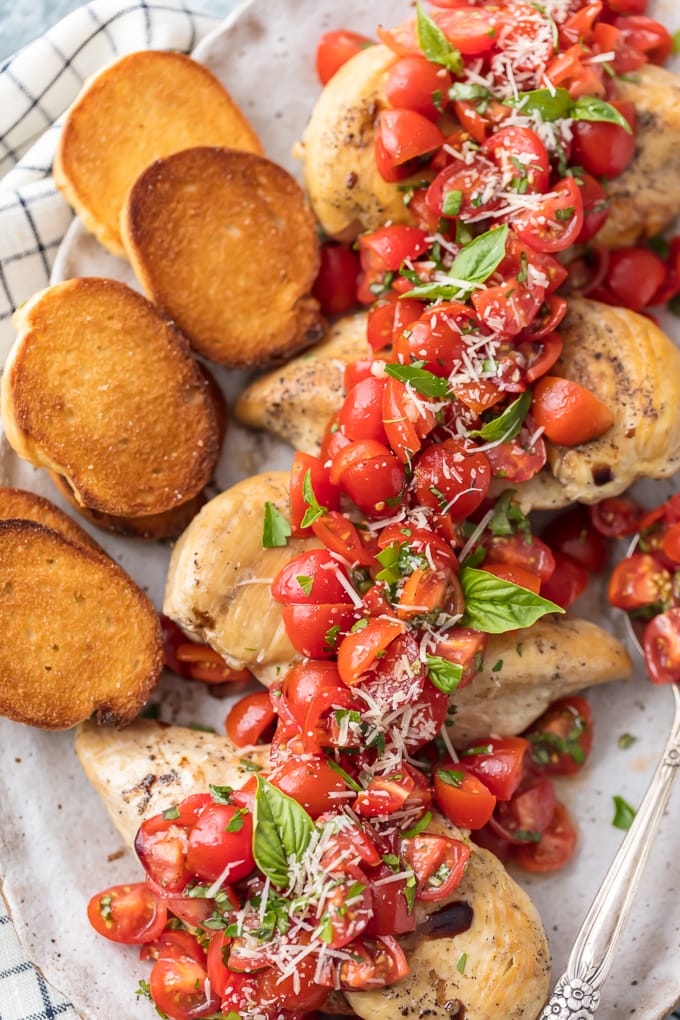 What are some good side dishes for this Instant Pot Chicken Brushetta?
We love to serve this dish with our Herb Roasted Potatoes, Crock Pot Potatoes, Brussels Sprouts, or Garlic Butter Hawaiian Rolls. And toasted bread, of course! You can't go wrong with a simple and delicious recipe like this. The chicken speaks for itself.
Do you have other favorite Instant Pot Chicken Recipes?
We have been LOVING our pressure cooker lately, and we've been using it to make anything and everything! We love Instant Pot Chicken Tortilla Soup and have compiled some of our favorite Instant Pot Chicken Recipes here. So many good ones to choose from!
Can you cook frozen meat in a pressure cooker?
You can! If you are cooking meat frozen, it will need approximately 50% more cooking time inside the Instant Pot. So take that into account!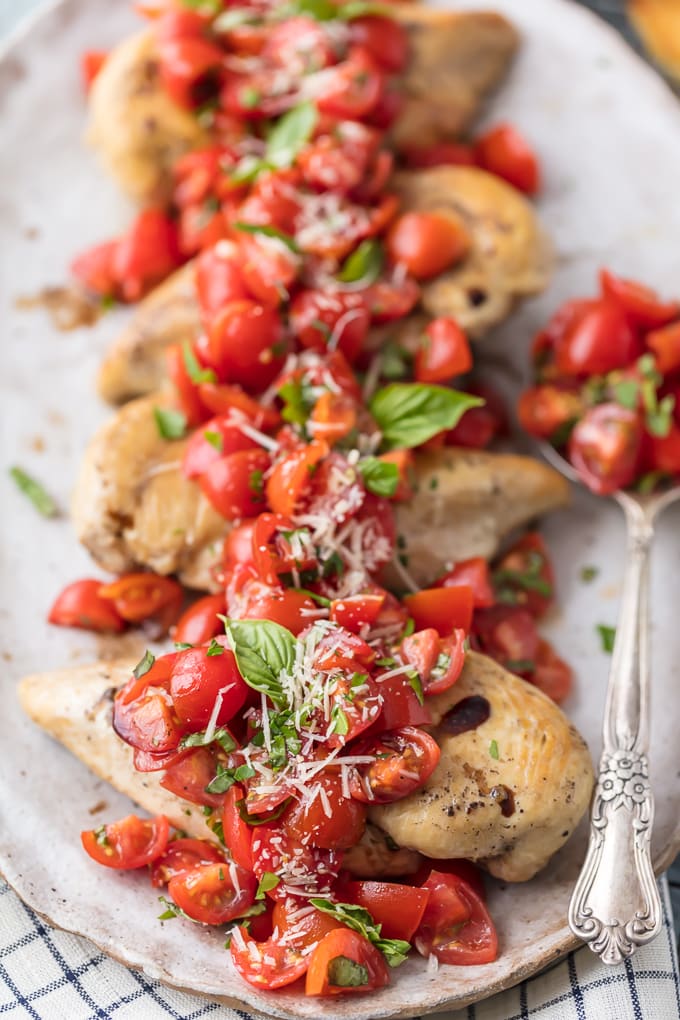 I hope this Instant Pot Chicken recipe helps you find your love for your pressure cooker! This is such an easy weeknight meal under 30 minutes and full of flavor! Try our Cheesy Bruschetta Chicken Bake if you don't have an Instant Pot.
See the recipe card below for full details on How to Make Instant Pot Bruschetta Chicken. Enjoy!
Try these other easy Instant Pot recipes: