These slow cooker Italian Beef Sandwiches are the best way to up your leftover beef Rib Roast. Easy to make in the slow cooker, these sandwiches really make the best out of your roast beef! Take a classic Rib Roast and make Roast "Planned-Overs" with these easy beef sandwiches. SO MUCH FLAVOR!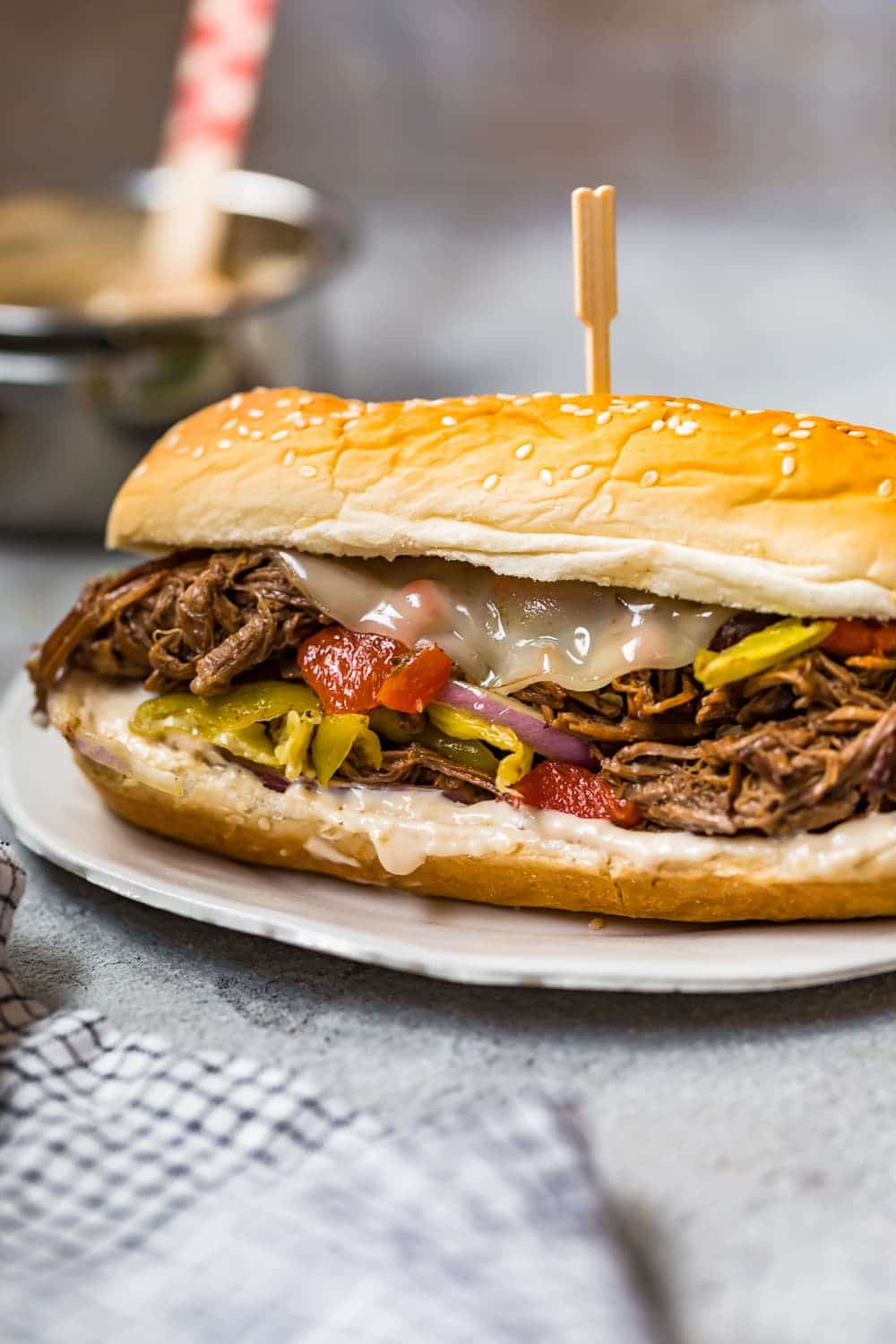 Making a roast at the holidays is one of my very favorite meals. I love the way a roast (and the sizzle of that beef!) can bring people together and make you feel so festive. Our family of 3 will make a roast, but then have a TON of leftovers, so this Roast "Planned Over" recipe for Italian Beef Sandwiches is one of my favorite ways to turn a holiday meal into lunch for days.
I love cooking a big Rib Roast for the family, but I'm always stuck when it comes to making the most of those leftovers. Well no more! These Italian Beef Sandwiches are so delicious, I just know you're going to love them!
How to make the best Italian Beef Sandwiches
How to make the best Italian Beef Sandwiches
This is a recipe for using your leftover roast to make sandwiches. You can find a great Rib Roast recipe HERE.
Grab your leftover roast, chop it into cubes and remove excess fat and pop it into your slow cooker. Add in the seasonings, pepperoncini, juice, red peppers, onion, and broth. Give it a stir and cook on low for 2 hours.
Shred the meat and place it on the hoagie buns and top with cheese. You can serve them like this or wrap them in foil and warm them in the oven.
How to Pick the Perfect Roast:
Not sure where to start when picking out the perfect Roast for your family? My friend Natasha, of Natasha's Kitchen, has all the answers, and I encourage you to check out her recent post on the process! This is my go-to guide for finding the best cut of meat.
Want to know all there is about making the ultimate roast? Here are some other great resources: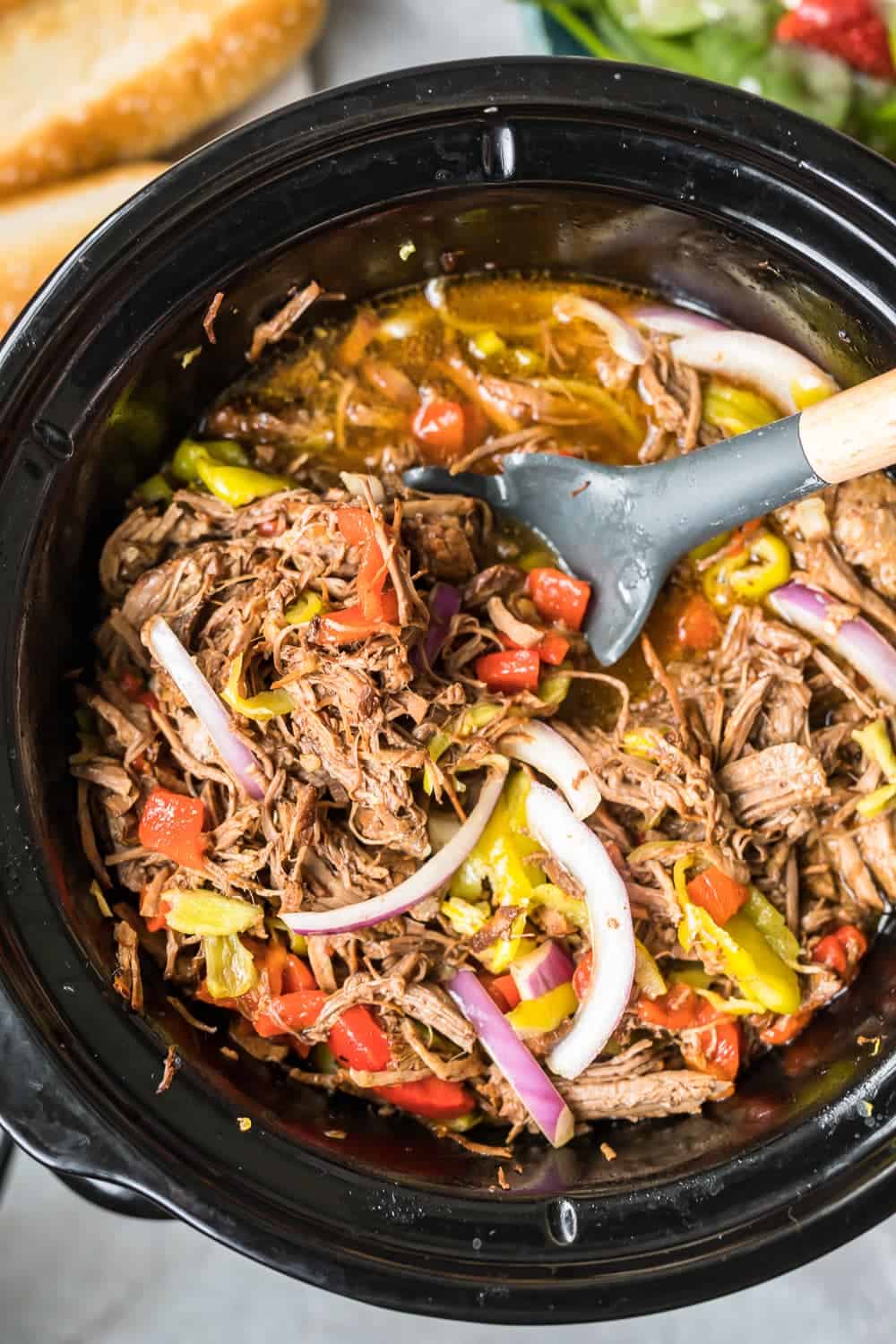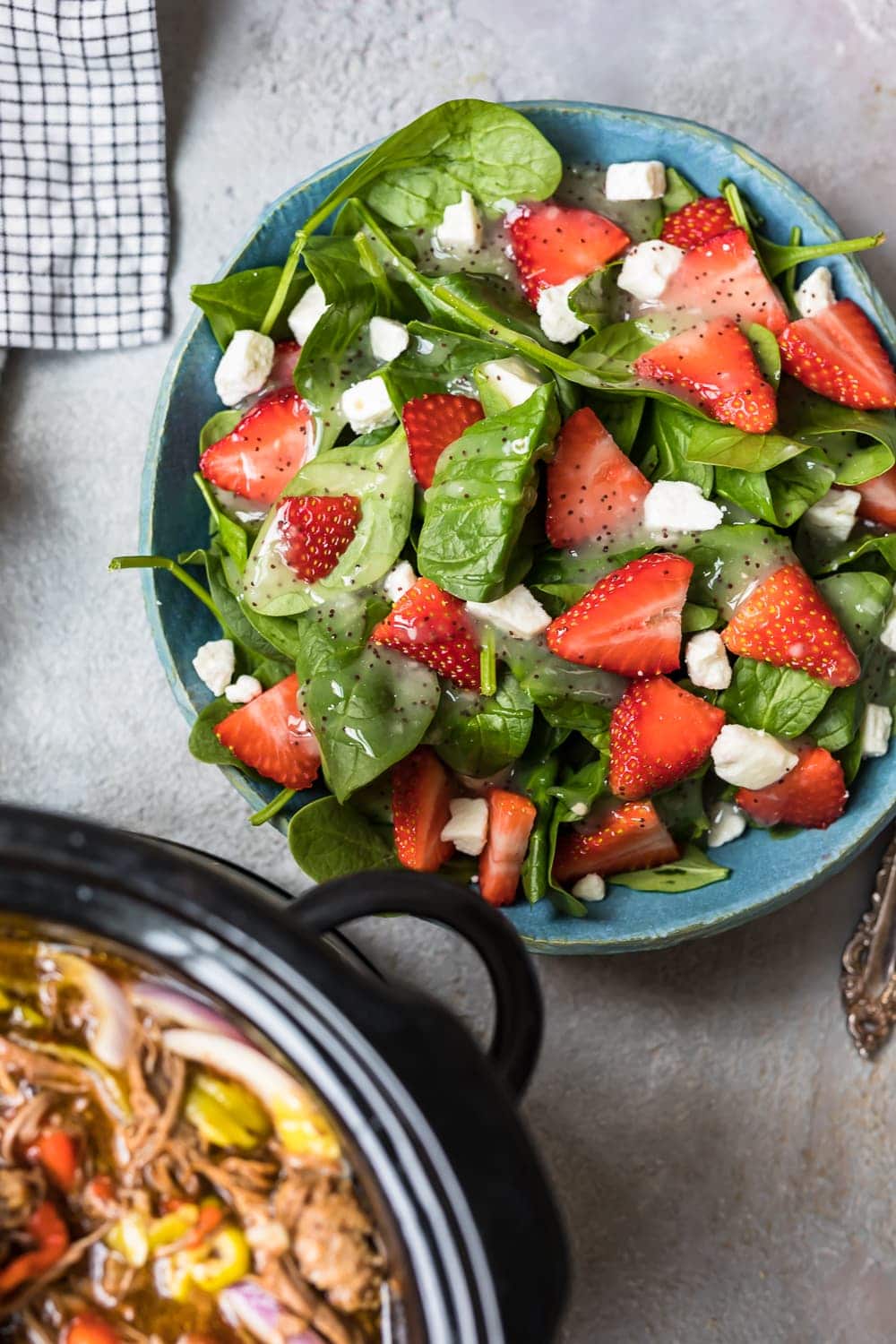 Slow Cooker Beef Sandwiches made with Leftover Roast
The holidays are no time to skimp on the nutrition. It's not all cookies and cakes, its amazing main dishes too. Keep things balanced and delicious by adding beef to your holiday table. Whether you're making Prime Rib, or these Italian Beef Sandwiches, beef makes every holiday better. And bonus, beef provides protein, iron, and zinc, which are important for brain health.
Beef gives me and my family the strength and nutrients to be our best selves during the crazy and hectic holiday season. These Italian Beef Sandwiches make sure not a piece of your holiday roast goes to waste. They're SO EASY TO MAKE and are packed with flavor and nutrients thanks to the star ingredient, BEEF!
You can find out so much more by visiting the ultimate website for all things Beef: BeefItsWhatsForDinner.com
The importance of balancing your plate
We are big fans of beef in our house. It's important to make sure your plate is balanced with lots of elements. I love feeding Henry a balanced meal of a powerful protein, like beef, mixed with veggies, dairy, and whole grains. This sandwich has it all in one package!
These sandwiches are packed with veggies like roasted red peppers, pepperoncini, and onion. Adding dairy with the provolone is not only tasty, its nutritious! Top it off with a quality hoagie bun for your grains, and you have a great sandwich for on the go, or an entire meal.
We paired these Slow Cooker Beef Sandwiches with a simple Strawberry Spinach Salad with Poppyseed Dressing. It was as easy as tossing together fresh baby spinach, crumbled feta, sliced strawberries, and Poppyseed Dressing. Yum!
Chuck Knows Beef
If you have an Alexa or Google Home, you can activate Chuck Knows Beef, the only all-knowing beef virtual assistant. Chuck is the only helper that you need in the kitchen this season. Chuck can tell you exactly how to prepare that holiday roast, including how to follow the right cooking temperatures and even suggest recipes the whole family will love. Check out Chuck at ChuckKnowsBeef.com.
Just say "Alexa, Activate Chuck Knows Beef" or "Hey Google, Activate Chuck" to get started. You can ask him about temperatures or cooking times, cuts of beef, and more! He's not all business, he's fun too. I love using Chuck to get all the best info about how to cook beef, so so helpful!
If you don't have a device that's loaded with Chuck Knows Beef, you can also find him at ChuckKnowsBeef.com, making it accessible to everyone!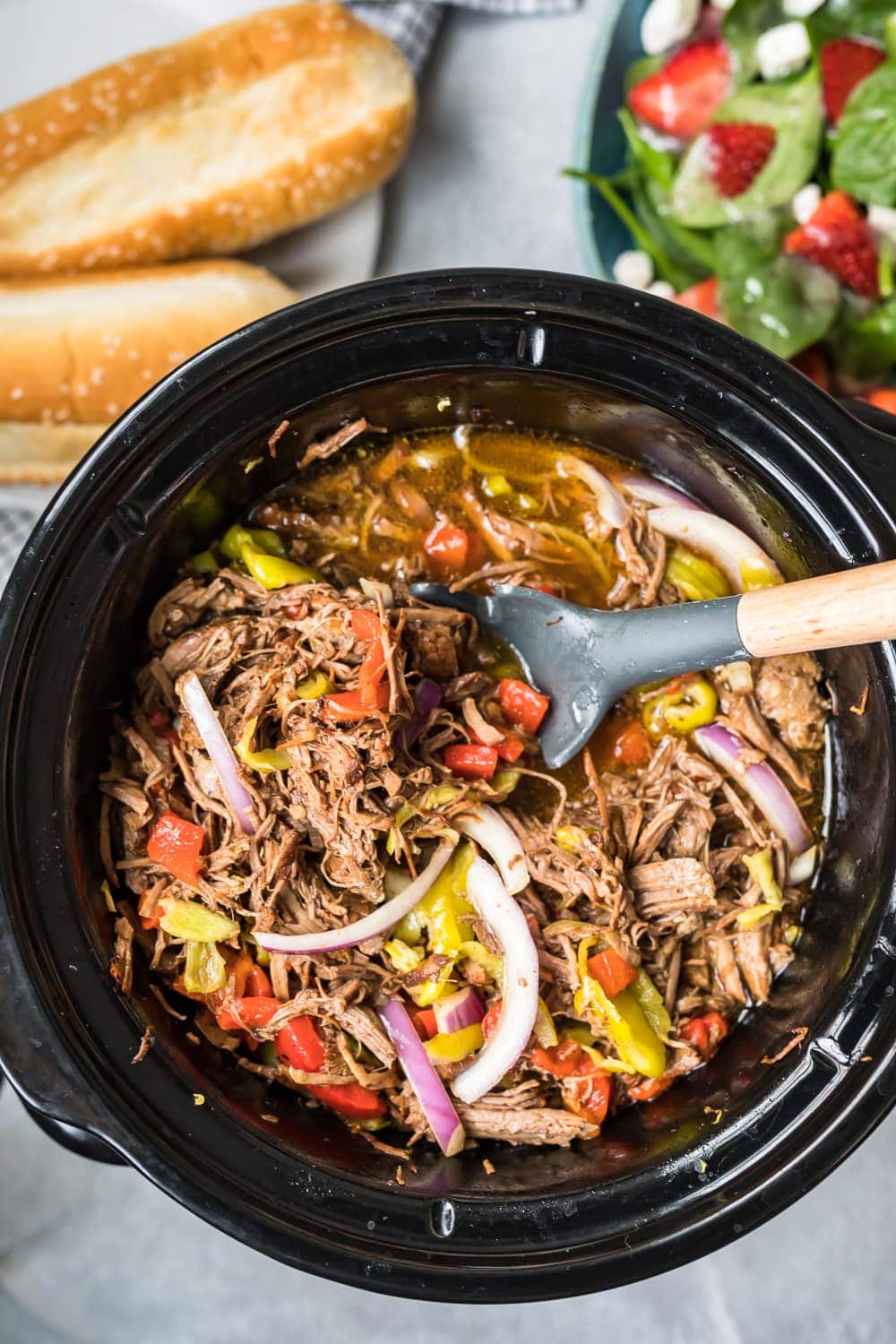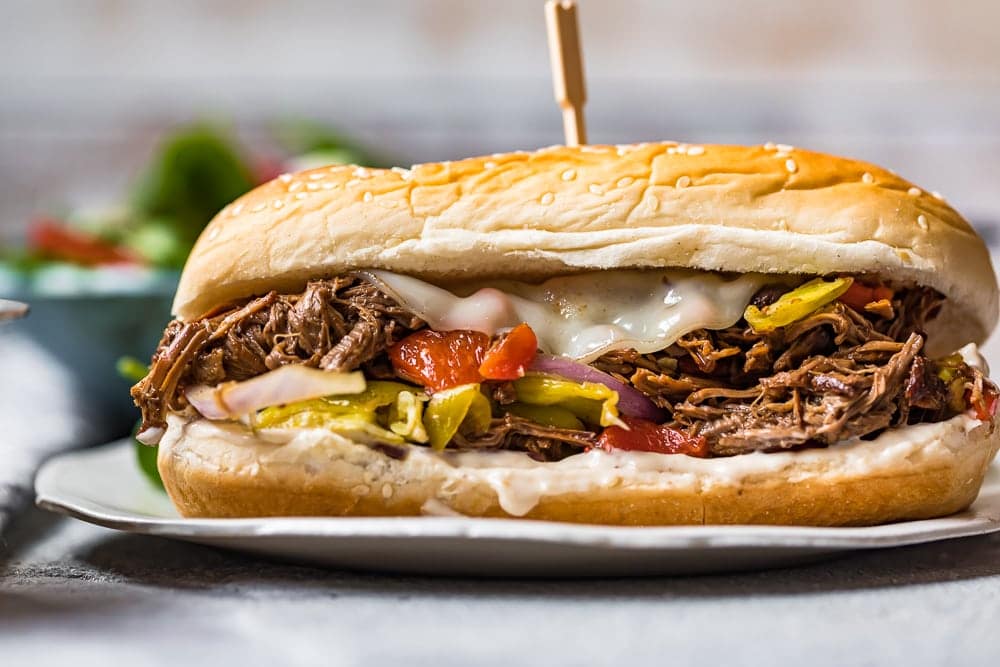 Easy slow cooker beef sandwiches
Cooking beef in the slow cooker means that it is wonderfully tender and you can shred it with ease for your sandwiches. The beauty of making the beef in the slow cooker is that you don't have to be pot watching, just set it and leave it until you are ready to make the sandwiches.
What do you serve with Italian beef sandwiches?
These sandwiches are great for a hearty lunch or as a main meal. You can serve them up with a veggie side or salad, kicking things up a notch.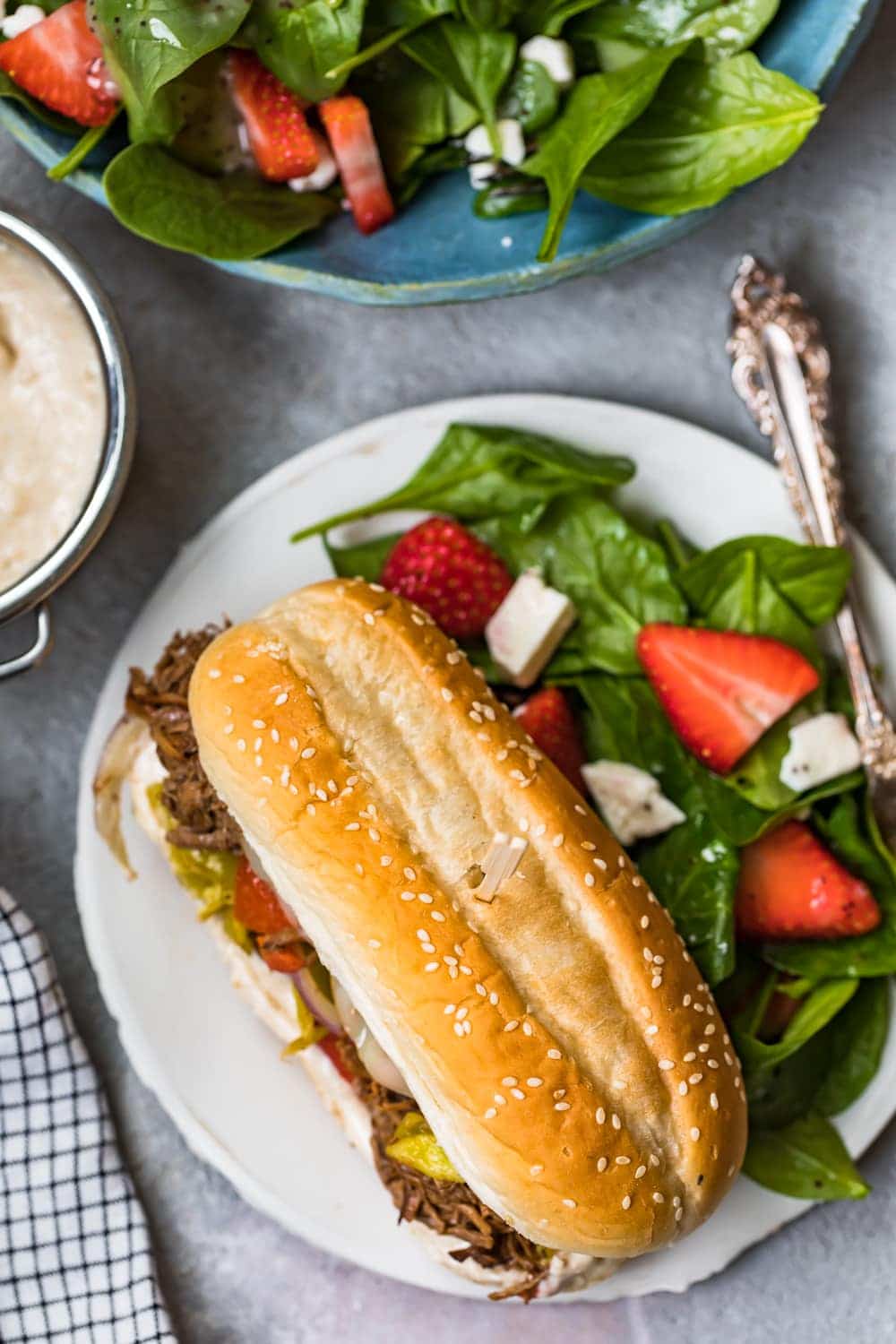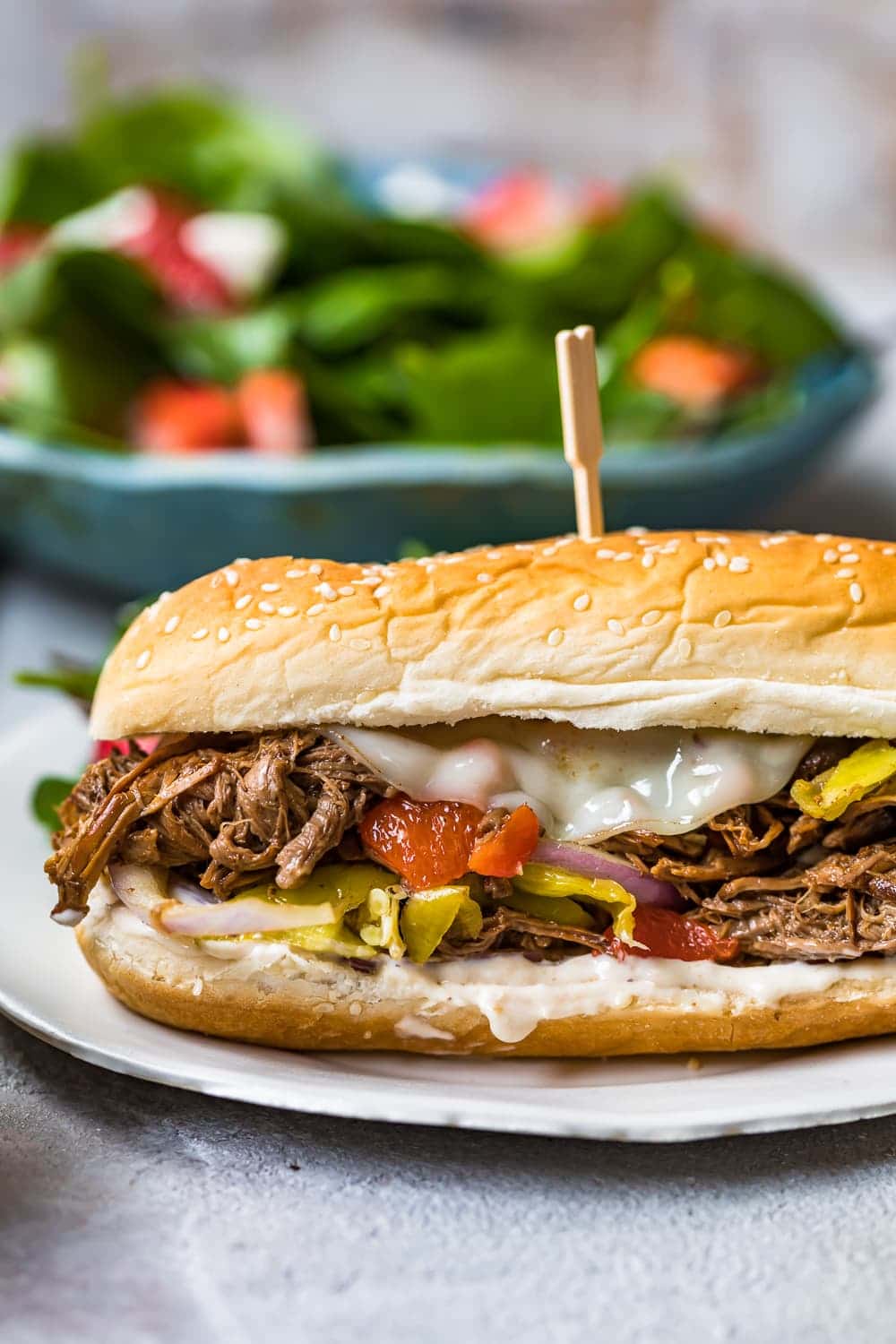 Can you make the Italian shredded beef ahead of time?
If you need to use up your leftover roast beef, but not ready to eat it straight away, this is the recipe for you! Cook the beef in the slow cooker, let it cool to room temperature and place it in airtight containers or freezer bags. It will keep in the fridge for around three days and it also freezes really well.
If you freeze the beef, thaw it in the refrigerator overnight and then you can reheat it on the stovetop to 165 degrees F. Italian beef sandwiches whenever you want!
Top tips to make this recipe
Be sure to remove any excess fat from your leftover roast beef before cooking in the slow cooker.
Adjust the amount of pepperoncini if you like it more or less spicy. I used mild, but you can also purchase it spicy if that's what your family prefers!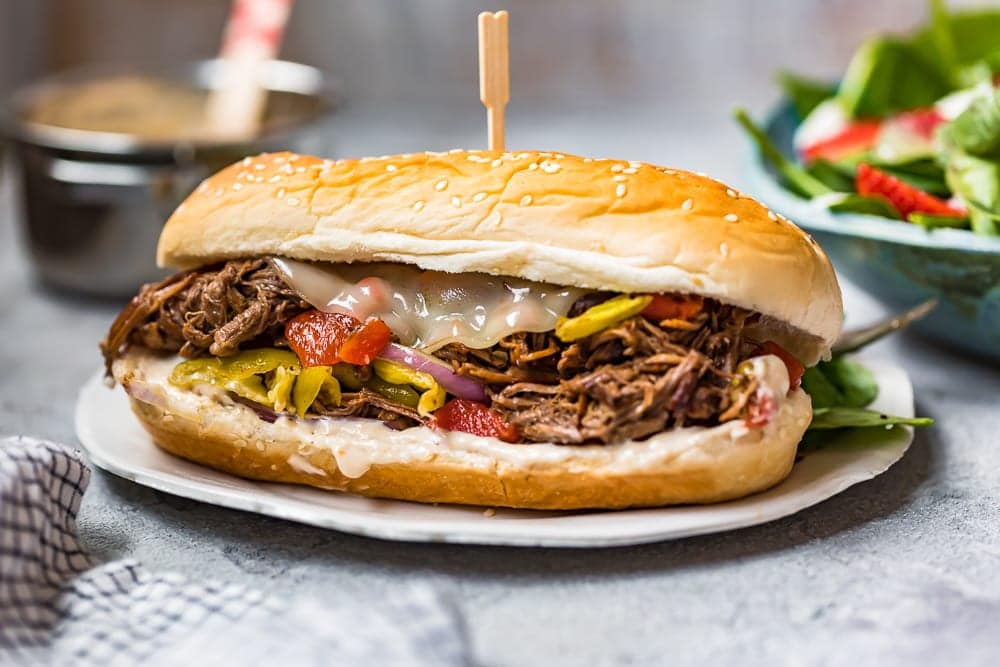 For more delicious beef recipes: