Strawberry Salad with Poppy Seed Dressing is a fresh, fun, and fruity salad! This healthy Strawberry Poppy Seed Salad is our fave summer salad recipe is filled with all kinds of good stuff, like lettuce, almonds, feta cheese, homemade croutons, and fresh strawberries. I even topped it off with my very own homemade Poppy Seed Dressing recipe! I'm going to be making this tasty summer salad all season long for a fresh and healthy lunch.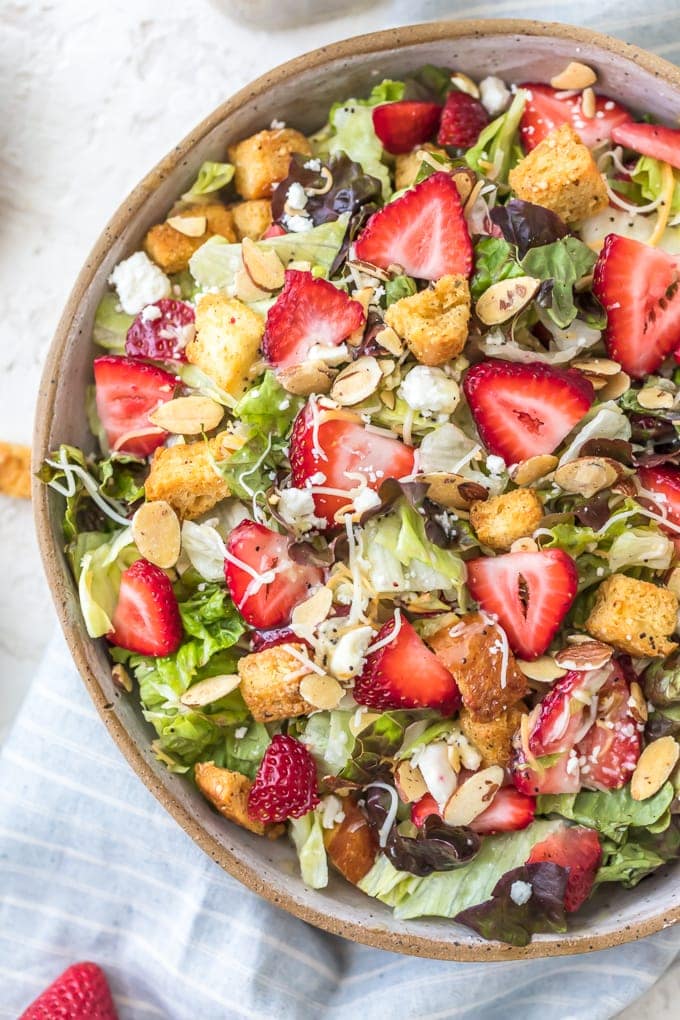 Strawberry Salad with Poppy Seed Salad
Strawberry Salad with Poppy Seed Dressing is filled with fresh ingredients and full of flavor. I can't get enough of this summer salad recipe!
Nothing screams SUMMERTIME quite like fresh strawberries, and this Strawberry Poppyseed Salad recipe is filled with them. This is the perfect summer salad to serve for a weekend lunch, or any time really. There's never a bad time for a healthy and flavorful salad!
It's easy to eat healthy when you've got a dish like this, overflowing with good ingredients. Fresh Romaine and Iceberg lettuce, fresh strawberries, plenty of feta cheese for an extra flavor kick, and of course the delicious Poppyseed salad dressing. I had to add in some of my favorite homemade baked croutons too!
Whip up this healthy salad recipe any time you have fresh strawberries around. It's quick to throw together, and the dressing is easy to make too.
Celebrate strawberry season with this healthy summer salad. You're going to love this fresh Strawberry Salad with Poppy Seed Dressing recipe!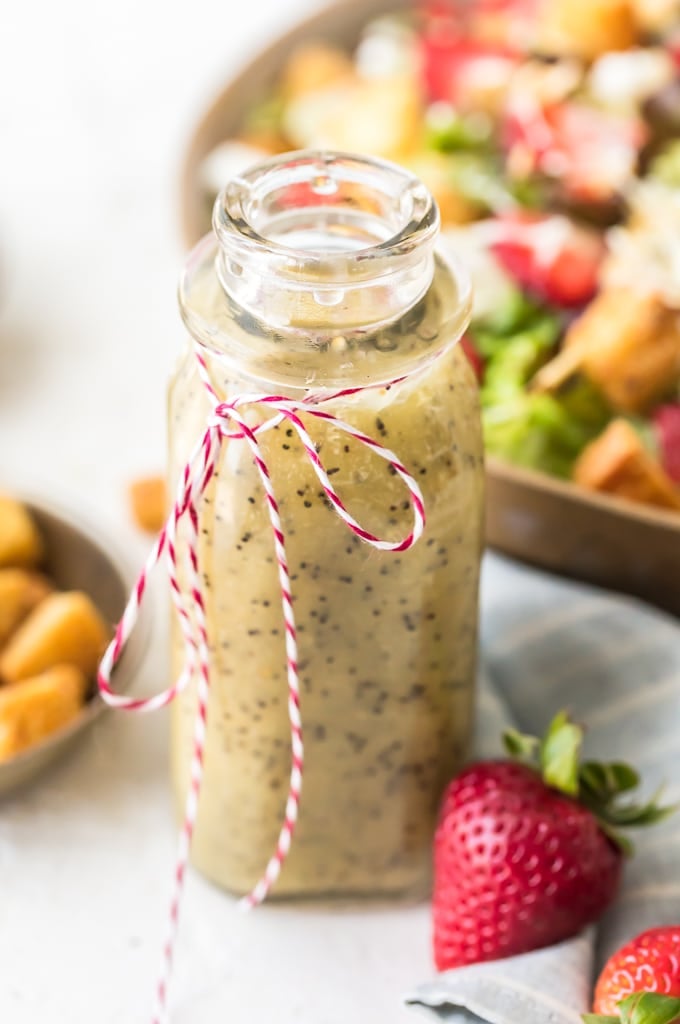 What's in Strawberry Poppyseed Salad?
If you've ever had Panera's strawberry poppyseed salad, you're going to love this fruity summer salad too!
It's quite a bit different then Panera's, but it's still filled with good, healthy, fresh ingredients and a delicious poppyseed dressing.
Strawberry Poppyseed Salad Ingredients:
Fresh Strawberries
Romaine & Iceberg Lettuce
Crumbled Feta Cheee
Most of these ingredients are either fresh produce or homemade products, so the whole salad is just fresh, fresh, fresh! Can't get better than that for a simple summer recipe.
If you want to make this into a full meal, try adding some grilled chicken breast on top for a little more protein. And of course you can always get creative and add in more fruit.
Try throwing in some mandarin oranges, blueberries, or pineapple if you have some. Although I really love this recipe just the way it is! My perfect salad.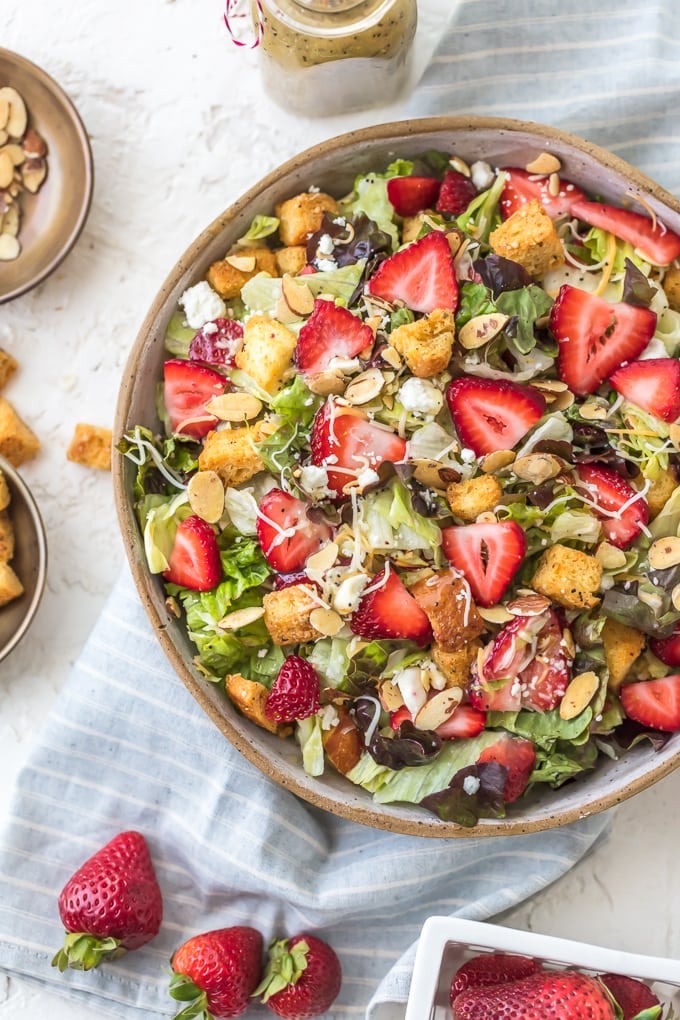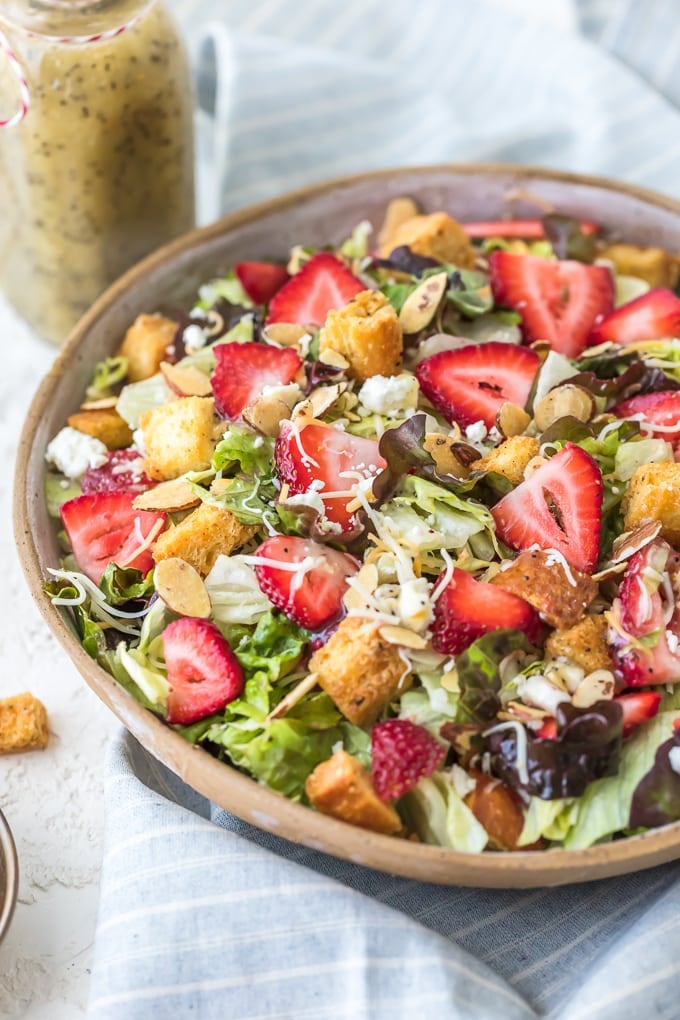 I love eating big salads in the summer. They're a light, healthy, and tasty option for lunch, dinner, brunch, whatever meal you want! They fill you up with GOOD things (you know, nutrients and things) without weighing you down in the summer heat.
This Strawberry Salad with Poppy Seed Dressing isn't my the only summer salad recipe I'll be eating though. While I will happily eat this any time I have fresh strawberries around (yay for strawberry season!), I might mix it up with some other summer salads too.
Try these other healthy summer salad recipes too: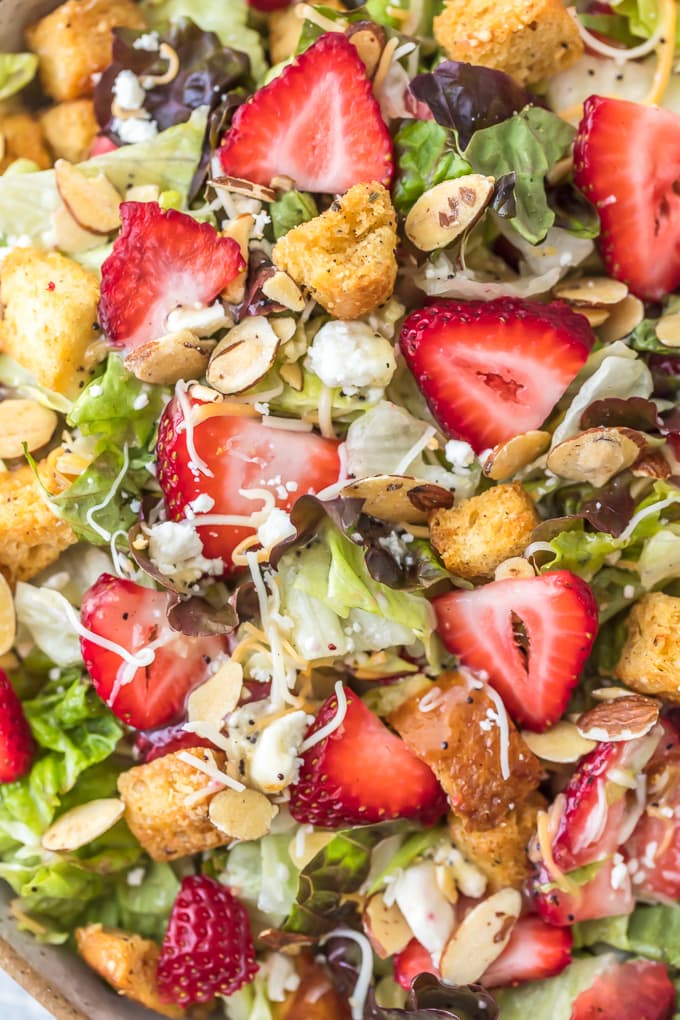 How many calories are in strawberry poppyseed salad?
This salad is so healthy because it's only filled with fresh ingredients and a couple of homemade extras. Nothing processed or high-calorie here.
A single serving of this delicious strawberry poppyseed salad is less than 200 calories with the dressing. That makes it an easy light lunch, or just make a nice heaping serving of this and fill up on nutrients!
How to Make Strawberry Poppyseed Salad at home
Salads are simple, and that's one of the things that I love about them. They are easy to make in a rush but they still taste sooo good.
Just toss all of the ingredients together in a salad bowl to get the perfect mix if ingredients.
Then drizzle the dressing on top and toss it up one more time.
Lastly, throw on those healthy baked croutons for some crunch.
That's one beautiful summer salad!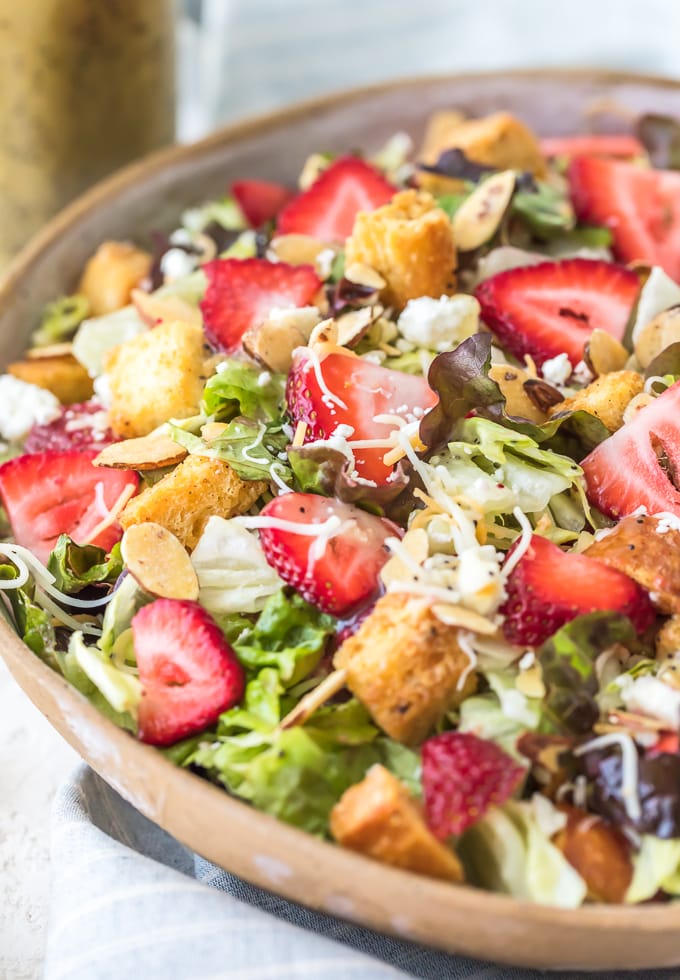 You guys need to make this fresh Strawberry Poppyseed Salad recipe as soon as possible!
Go get some fresh strawberries (from the grocery store, from the farmer's market, or go pick them yourself!) and make this amazing summer salad. It's just so tasty and satisfying in this summer weather.
If you like this recipe, try some more strawberry recipes:
If you make this recipe be sure to upload a photo in the comment section below or leave a rating. Enjoy! You can also jump to recipe.