Kale Caesar Salad is a great pairing for just about any meal! It's just like a classic Caesar salad, but with a twist. You've got the homemade croutons and the Caesar dressing, but we're throwing in kale instead of romaine, and adding some tomatoes and shallots for extra flavor. To round it all out, I'm pairing it with my favorite classic, Stouffer's Macaroni & Cheese. It's a match made in heaven!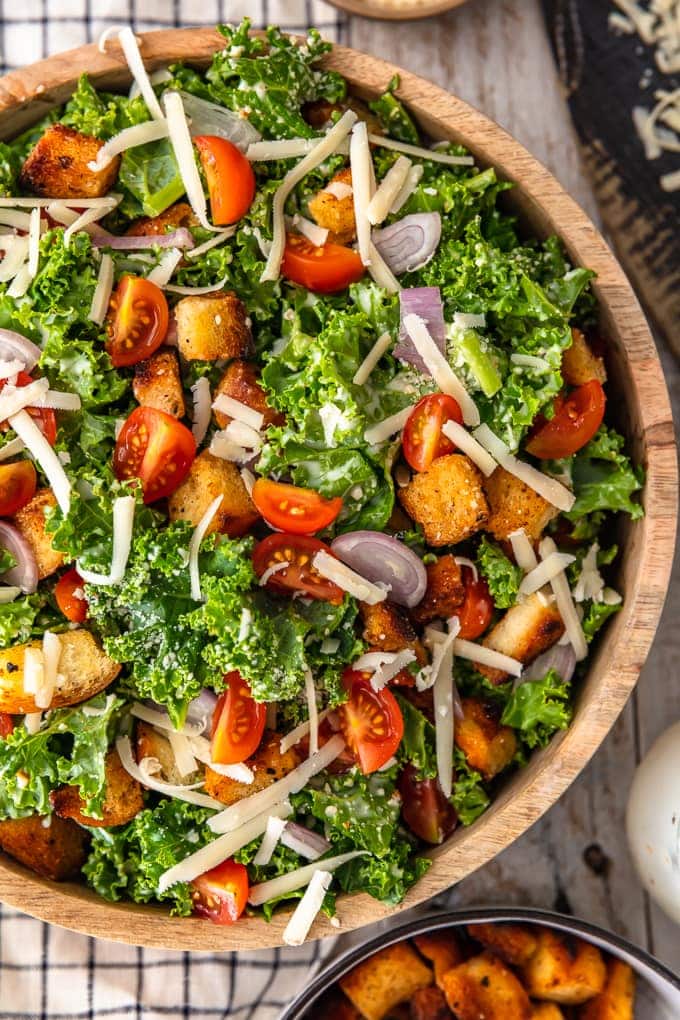 Kale Caesar Salad
Kale Caesar Salad is a great side dish for tonight's dinner. It's easy, it's delicious, and it takes almost no time at all to put it together. It's one of my go-to recipes because the salad goes well with many different dishes. Tonight, I'm pairing it with a classic favorite – Stouffer's Macaroni & Cheese.
Caesar Salad is traditionally made with romaine lettuce, but I love to mix things up a bit by using kale! This Kale Caesar Salad has all the basics (Caesar dressing, croutons, shaved Parmesan), but with a few twists that make this salad super fun and more nutritious:
We're replacing the romaine lettuce with kale, a nutrient-packed green with tons of health benefits.
We're adding cherry tomatoes and shallots for even more flavor.
We're making our own croutons with Italian bread.
This fresh side salad is so delicious and so easy to throw together along with any meal. It will take your dinner from good to great in no time!
I can't wait for you to try this Kale Caesar Salad because I know you will love it too. Whatever you're cooking for dinner tonight, add this easy side salad for a healthy addition.
Kale Caesar Salad is a simple, healthy, and delicious side salad recipe that goes well with just about any meal!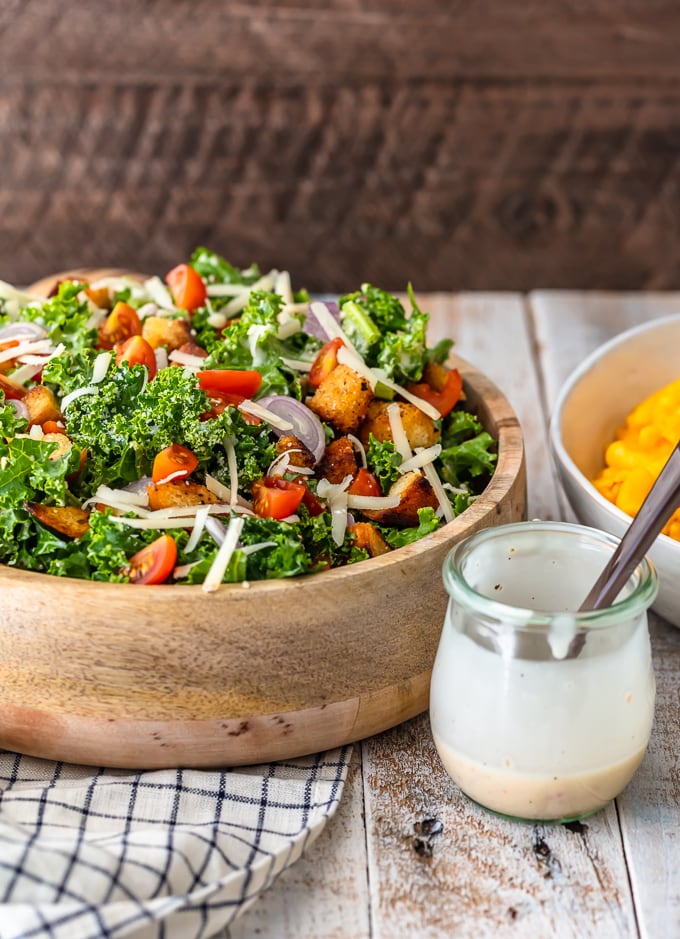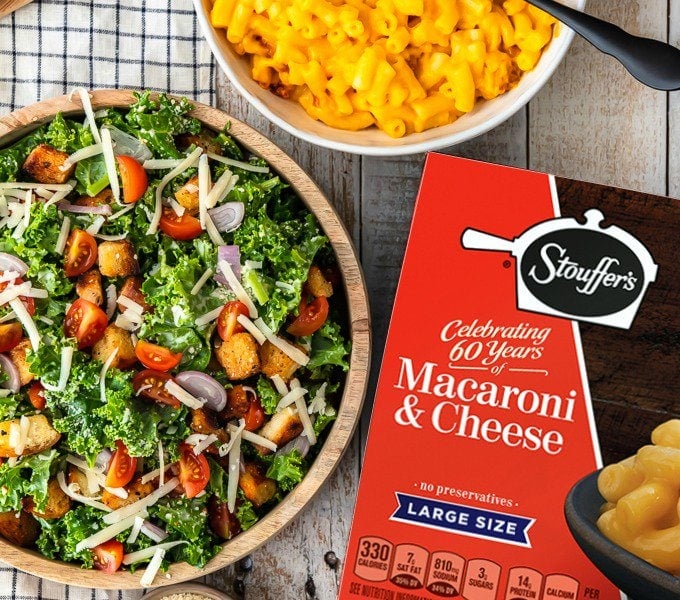 Balance your Plate with this Kale Caesar Salad Recipe
Research shows that Americans are only meeting the MyPlate guidelines for vegetables, fruit, proteins, dairy, and grains SEVEN days out of 365. Every time I read that it shocks me to my CORE! It doesn't have to be hard or laborious to add quick and simple fruits and veggies to your family's dinner plates that also taste good and are requested time and time again. Partnering with Stouffer's has made me realize just how easy it is to create a well-rounded meal while leaning on some of your favorite foods, like Macaroni & Cheese!
People don't always think about food this way, but pairing a frozen prepared meal, like Stouffer's Macaroni& Cheese with a recipe like this Kale Caesar Salad Recipe is an easy and great way to get your greens while enjoying a delicious and stress free meal. Continue to balance your plate with some sliced strawberries or grilled veggies and you're good to go!
You shouldn't hesitate to use the help of a frozen food when feeding your family. Can you believe that many frozen foods have around the same or fewer number of calories than an average homemade recipe, and typically have greater nutritional benefits than eating out?. IT'S TRUE!
You don't have to give up all the foods you love (LIKE Stouffer's Macaroni & Cheese) to create a balanced meal. Balancing your plate is about adding in the right pairings and keeping everything in moderation. Stouffer's Macaroni & Cheese is great because you can make it in minutes (bake for 75 minutes and spend time with your family, or microwave for 15…IT'S THAT EASY!) and it's sure to please each and every member of your family.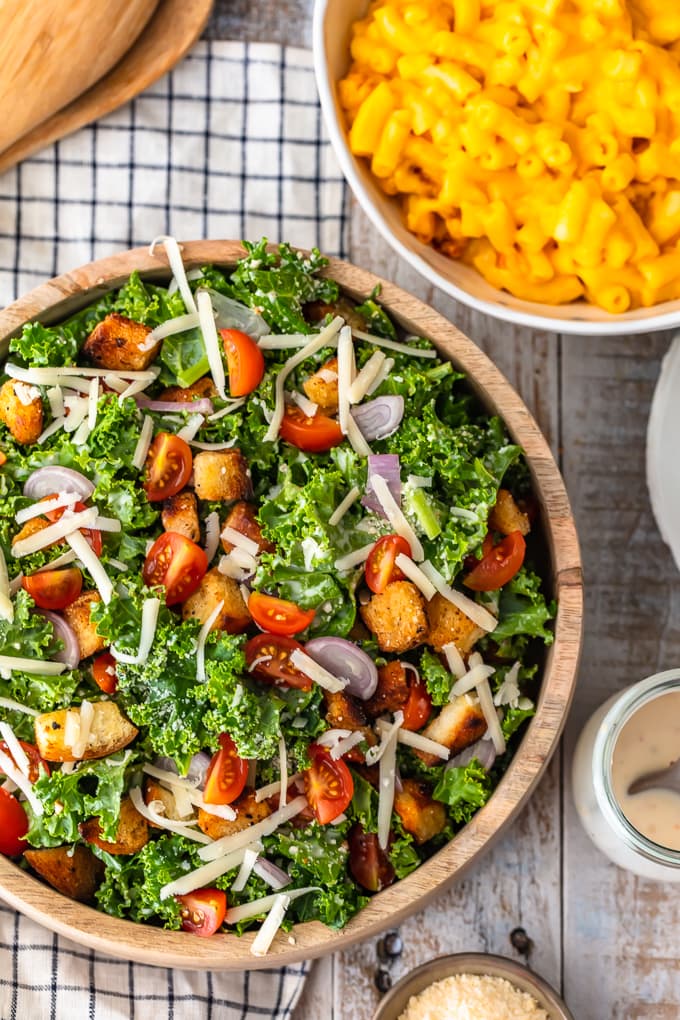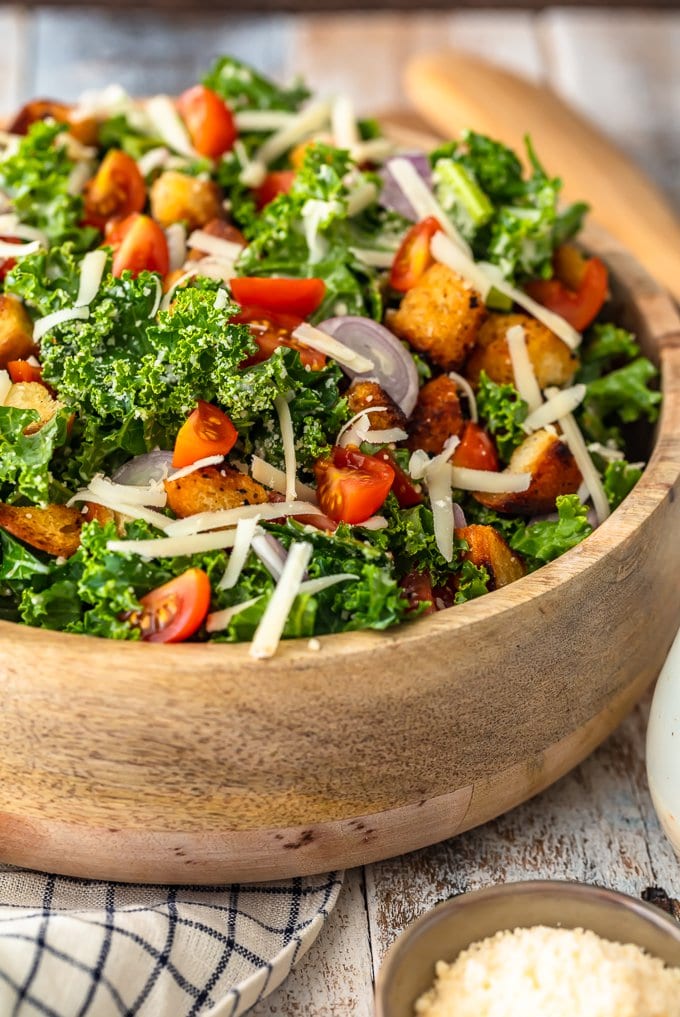 Homemade Caesar Salad Dressing
You can't call it a Caesar salad without the Caesar dressing, so let's talk about it. I have a homemade dressing that I use for my classic Caesar salad, and I'm using the same recipe for this Kale Caesar Salad. It's just so perfect, it doesn't need a twist.
What's in it?
Anchovies
Eggs
Garlic
Lemon Juice
Worcestershire Sauce
Dry Mustard
Kosher Salt
Ground Black Pepper
Olive Oil
Click here to get the full recipe and instructions on how to make it.
How to Make a Kale Caesar Salad
There are three main parts to this Kale Caesar Salad recipe: the croutons, the salad dressing, and assembling the salad.. And even though there are three components, it's really simple to put together.
Make the Caesar salad dressing first (here's the recipe). Then you can refrigerate it until you're ready to make the salad.
Prepare the croutons on the stove by cooking the bread cubes with olive oil, red pepper, and garlic.
Chop up the kale and massage it as you toss it with the Caesar dressing.
Finally, assemble the salad by tossing the kale with the tomatoes, shallots, cheese, and croutons.
This Kale Caesar Salad is so easy! It's so fresh and simple, and yet it's filled with flavor. It's a perfect match for any meal.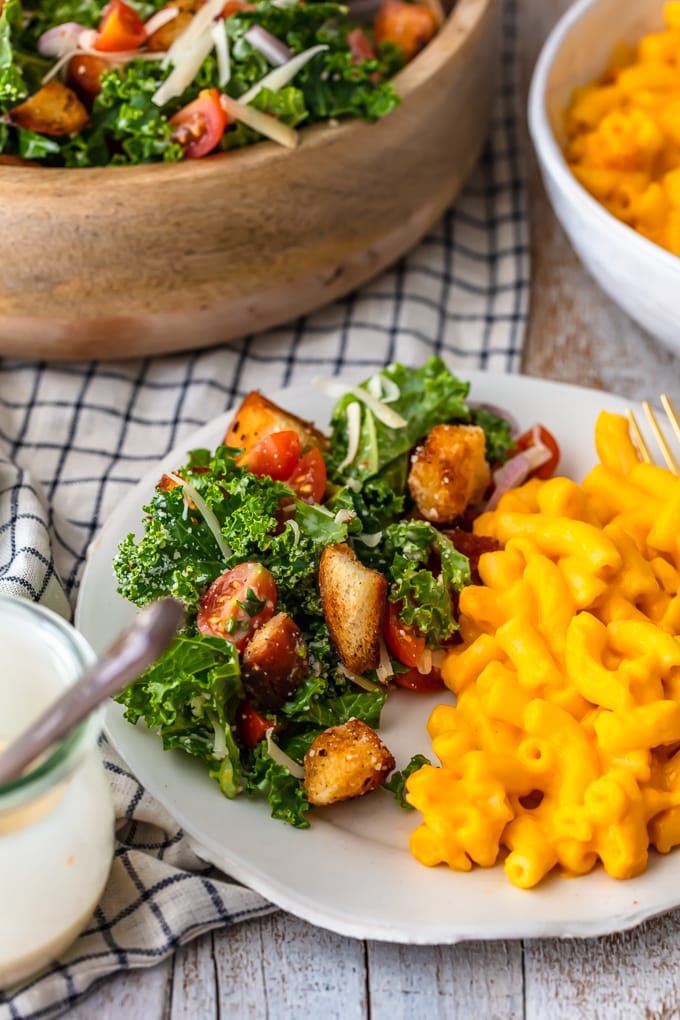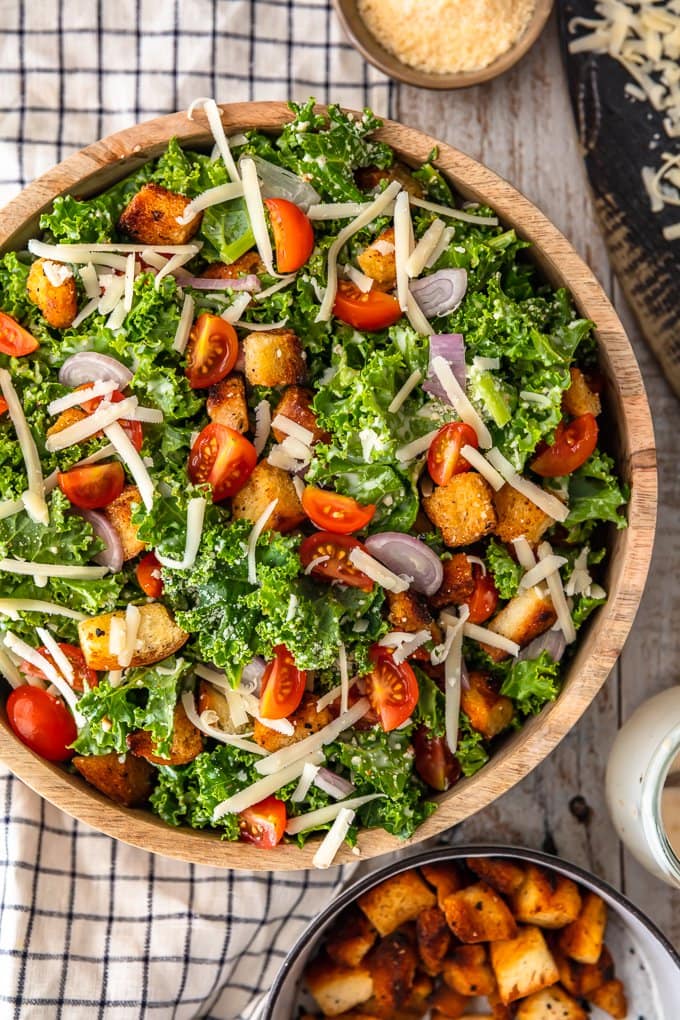 Homemade Croutons
One of my favorite parts of this kale Caesar salad recipe is the homemade croutons. We're using day old Italian bread to make them, and cooking them up on the stove with garlic, crushed red pepper flakes, and olive oil. Sometimes I forget how easy it is to make croutons at home instead of buying bags of pre-made ones, and homemade always tastes so much better!
We also have another homemade crouton recipe you can try if you prefer. Our Healthy Baked Croutons recipe is simple, baking the croutons instead of making them on the stove. You can easily make a big batch of them and store them to use for a couple of weeks.
Or try our garlic croutons or bacon croutons.
How do you soften kale for a salad?
Fresh kale is a fibrous green that can be quite tough. To soften raw kale for a salad, you'll need to massage it first. Spend a minute or two just gently massaging the kale leaves as you toss it with olive oil, or for this recipe, as you toss it with the Caesar dressing.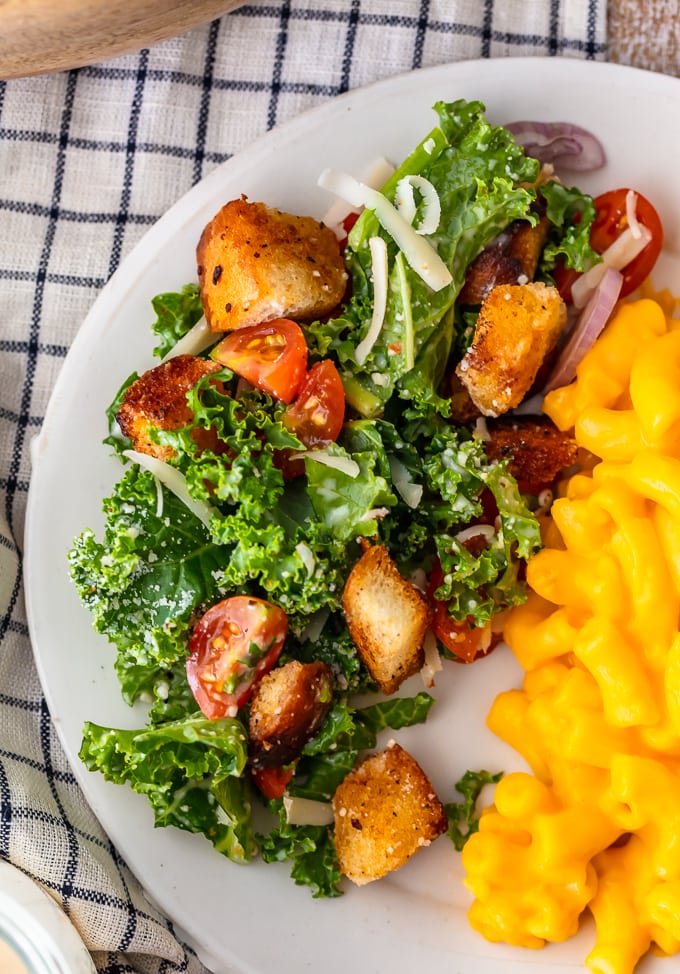 I can't wait for you to try this incredible Kale Caesar Salad paired with Stouffer's Macaroni & Cheese. Nothing beats a simple salad that is absolutely delicious! This needs to be your go-to side dish for pastas, soups, chicken, or Macaroni & Cheese!
See the recipe card below for details on how to make Kale Caesar Salad. Enjoy!
If you like this easy salad recipe, you'll love these salads too: