Garlic Mashed Cauliflower with Rosemary may be healthier than mashed potatoes, but I promise it tastes just as good! This healthy mashed cauliflower recipe is perfect for Thanksgiving, Christmas, Easter, or any day of the year. You won't regret making this Garlic Mashed Cauliflower Recipe; missing out on calories and gaining all the flavor! This healthy side dish will be your new favorite recipe.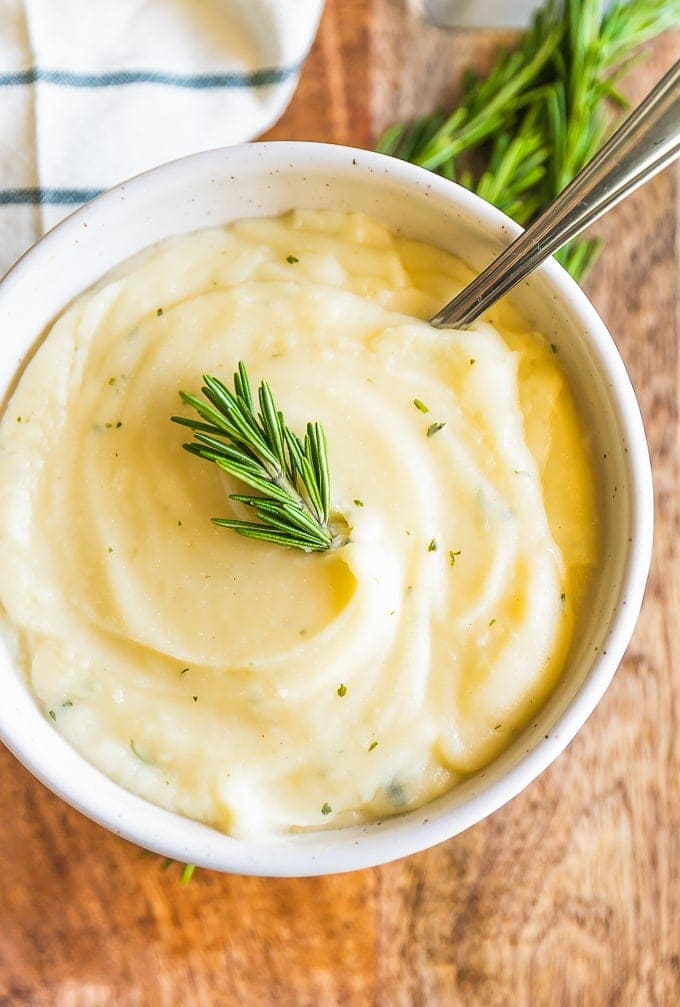 Garlic Mashed Cauliflower Recipe
Learn how to make cauliflower "mashed potatoes" for a healthier side with all the flavor. This Garlic Mashed Cauliflower recipe won't disappoint!
When I first started cooking (which as you probably know was NOT long ago), I never imagined I'd be making healthy mashed cauliflower someday. I mean, honestly I never imagined I'd be making much other than Easy Mac and Lean Cuisines!
But over the past year and a half I've found my passion. All of a sudden I'm making a Rosemary Garlic Mashed Cauliflower recipe. My how times have changed!
What I've realized on my journey to learn my way around a kitchen is that cooking is SO MUCH EASIER than I once thought. You can follow a recipe exactly or you can get as creative as you desire. When you just follow the steps, you'll find that you can make just about anything!
I wasn't sure if our family would like these cauliflower mashed potatoes as much as real mashed potatoes, but I have to say we LOVE it…maybe even more. Pat would rather eat this side dish for any holiday, and that makes me so happy!
Find out how to make mashed cauliflower with a delicious garlic rosemary flavor. So good, you won't want to go back to potatoes!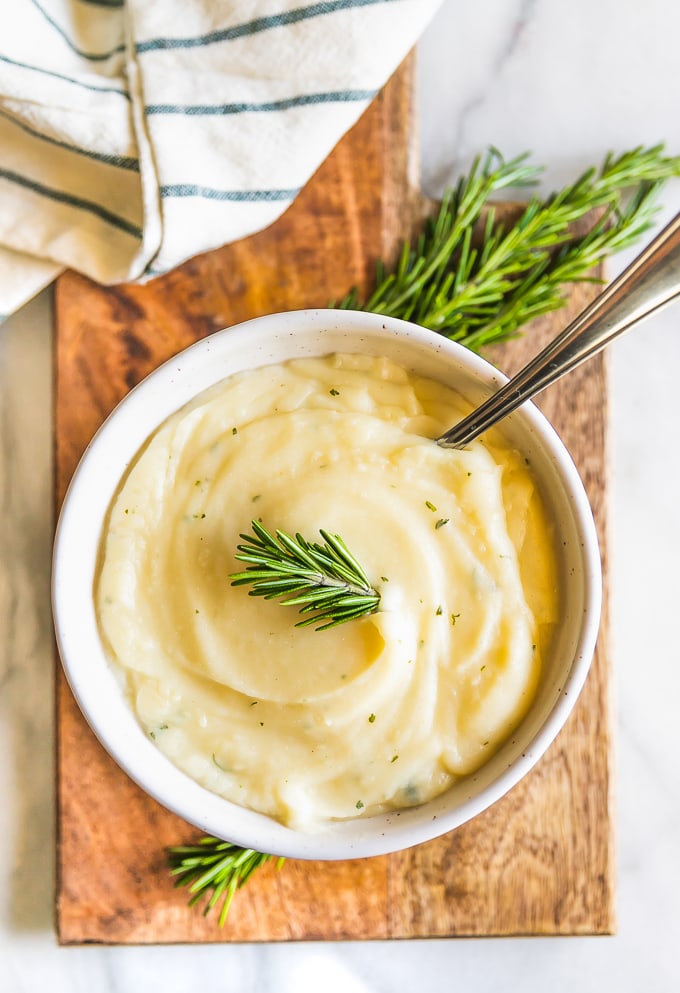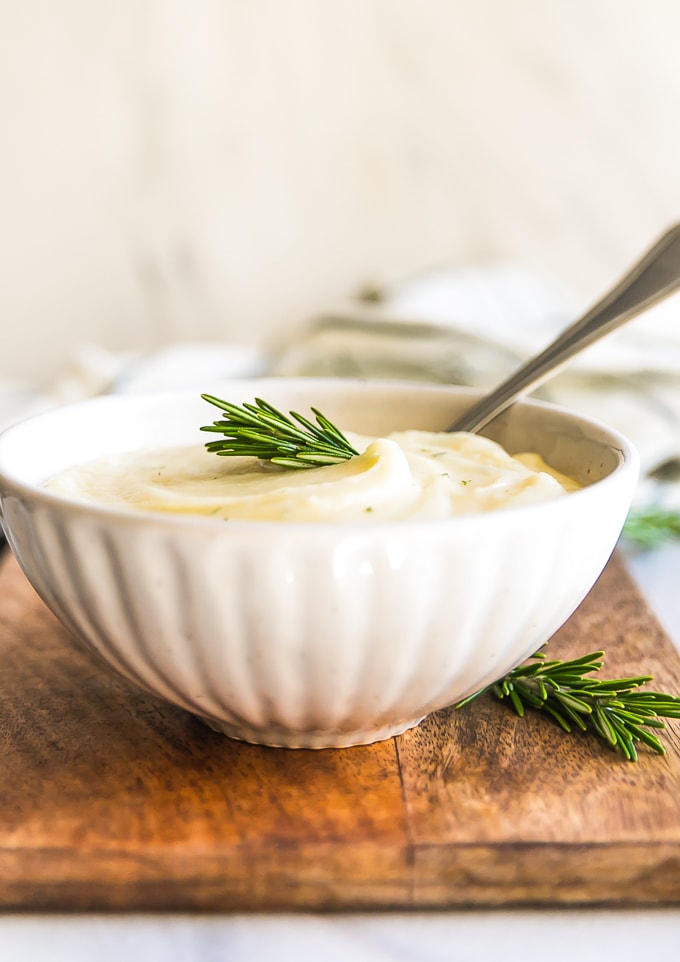 What does garlic mashed cauliflower taste like?
This Mashed Cauliflower Recipe is often compared to mashed potatoes because it's a similar consistency and paired with similar foods (like our Sheet Pan Chicken Parmesan or Skillet Steak), but it tastes quite a bit different.
Cauliflower isn't the same as a potato. For starters, one is a vegetable and one is a starch! Although different, both taste amazing. I hope you give this Garlic Mashed Cauliflower a try.
I was skeptical, I'll be honest, but this healthy(er) Garlic Mashed Cauliflower was creamy, delicious, and best of all, EASY.
This will definitely be making its way to our Thanksgiving table! There will be enough non-healthy items there. I guess I could add just a few less fattening options!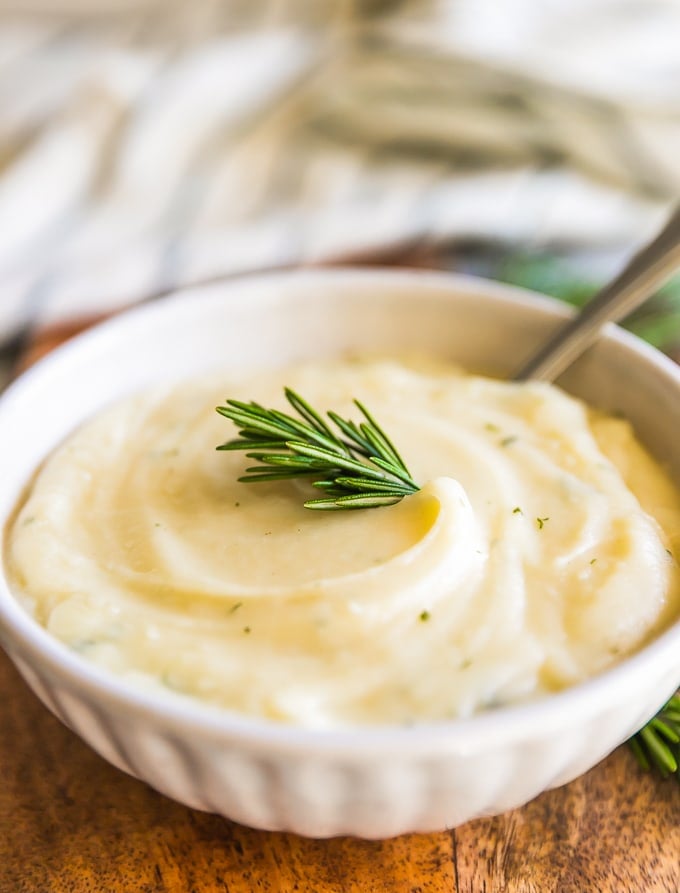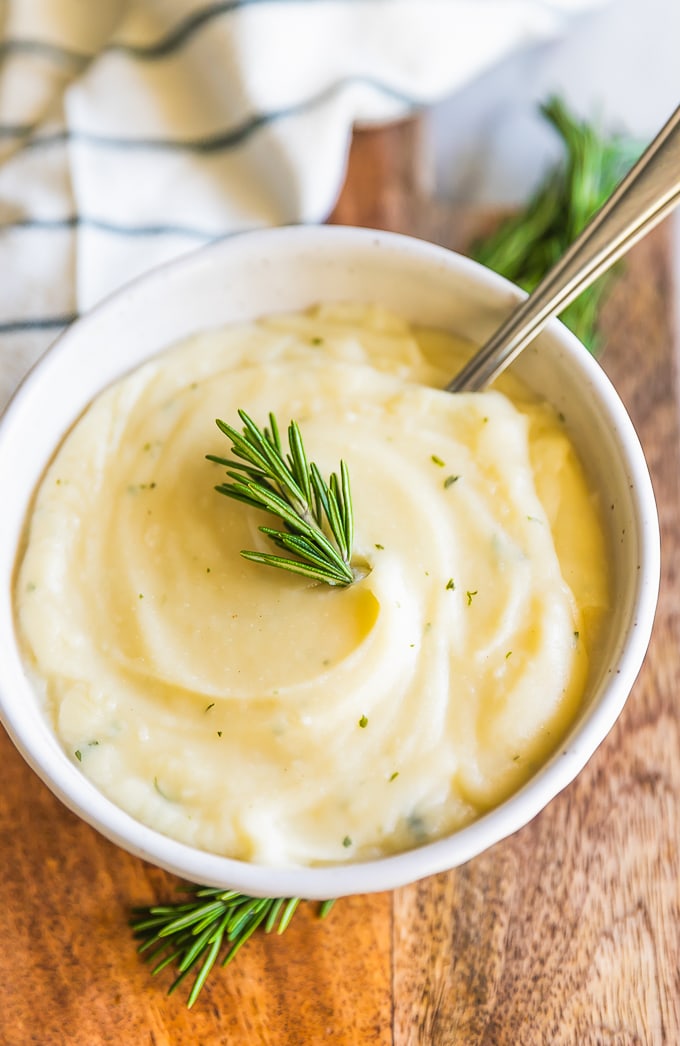 How to Make Cauliflower Mashed Potatoes
You're probably wondering HOW to make cauliflower into mashed potatoes…Because that sounds crazy, right? A healthy vegetable turned into creamy mash with the taste and texture of potatoes? It is SO possible, and SO good. And of course it's easy too, so that's a win.
How to make Garlic Mashed Potatoes:
First, boil a pot of water and cut up the cauliflower into small florets.
Then place the cauliflower into the boiling water and let it cook for about 8-10 minutes.
Once the cauliflower gets soft, drain it from the water.
Place the cauliflower into a blender, along with the cream cheese, butter, garlic, and rosemary. Then pulse until it becomes smooth and creamy.
So simple! You've got a healthier version of mashed potatoes, made entirely out of cauliflower.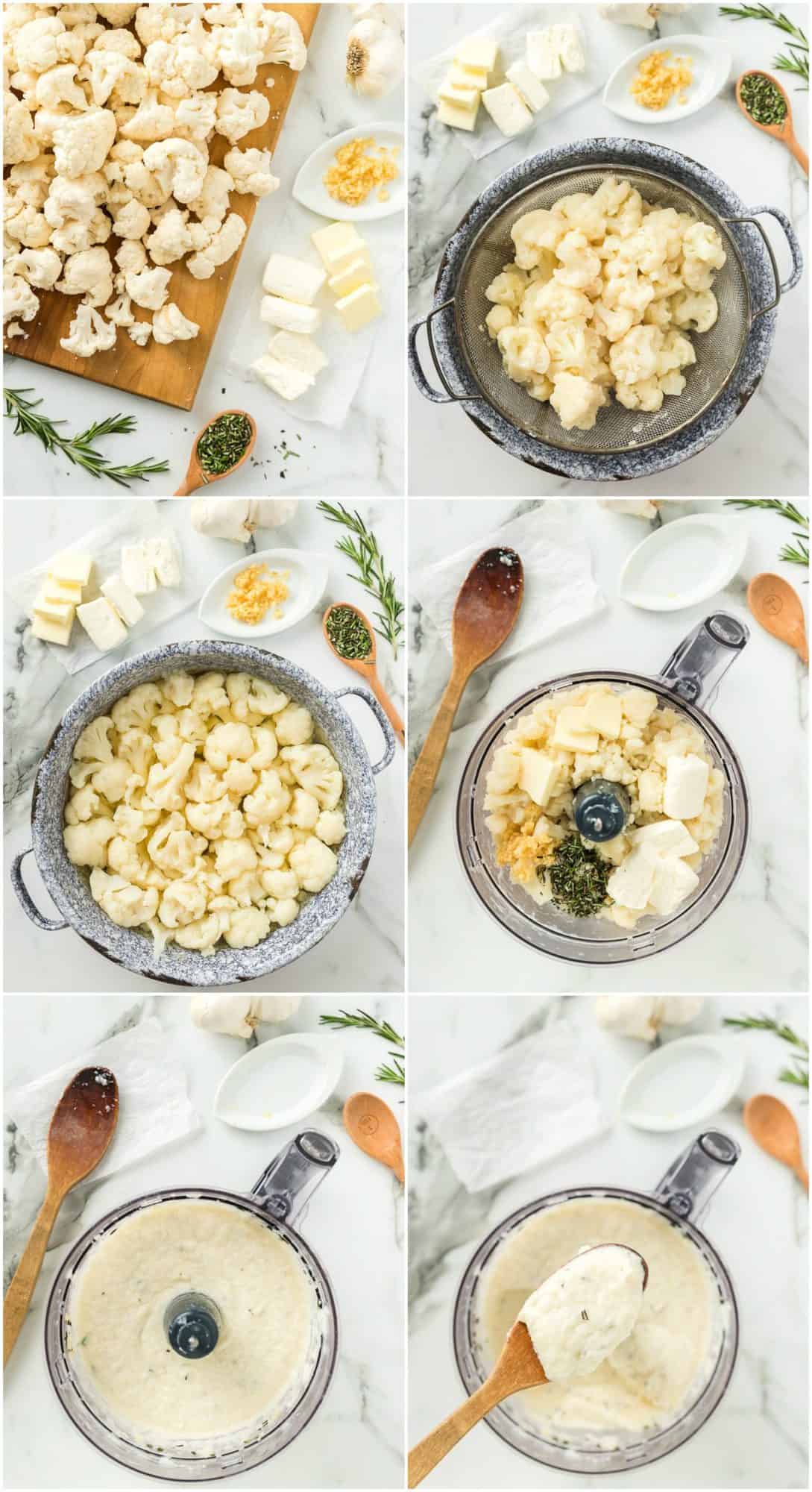 Mashed Cauliflower or Mashed Potatoes
Which one is better? It's a tough question because they're both GREAT. I love this garlic mashed cauliflower recipe as a healthy alternative. Potatoes are just empty calories (not much in the way of nutrition), so you're just filling up on carbs. Cauliflower mashed potatoes give you that same delicious texture and flavor, but in healthy vegetable form. So that's always a win, especially when the rest of your holiday table if already filled with carbs.
That being said…mashed potatoes are one of my favorite things to eat, and I certainly won't be giving them up completely. I like having both options in my life, so I can choose when I'm here for the healthy option and when I want the real potatoes.
Don't forget to try our CHEESY Cauliflower Mash for a variation on this recipe. And if you're just looking for potatoes, well we've got plenty of those too!
Best Mashed Potatoes Recipes
All the best mashed potato recipes you need!

Can I use a blender to make Garlic Mashed Cauliflower?
YES! This recipe uses a blender. It helps to make things really smooth. If you prefer a chunkier version you could use a hand blender and not blend it all the way smooth. I love the creamy consistency.
Is this Mashed Cauliflower Recipe low carb?
FOR SURE! I love that this side dish is a low carb option to add to your holiday table or to any weeknight dinner of the year.
How can I make this recipe even healthier?
I chose to still use butter and cream cheese (although low fat) in these Garlic Mashed Cauliflower. My life view for eating is everything in moderation…so I'm more than fine with a little butter and cream.
If you want to make them even lower in calories and healthier, you can sub in greek yogurt or vegan butter. Lots of options to make these your own.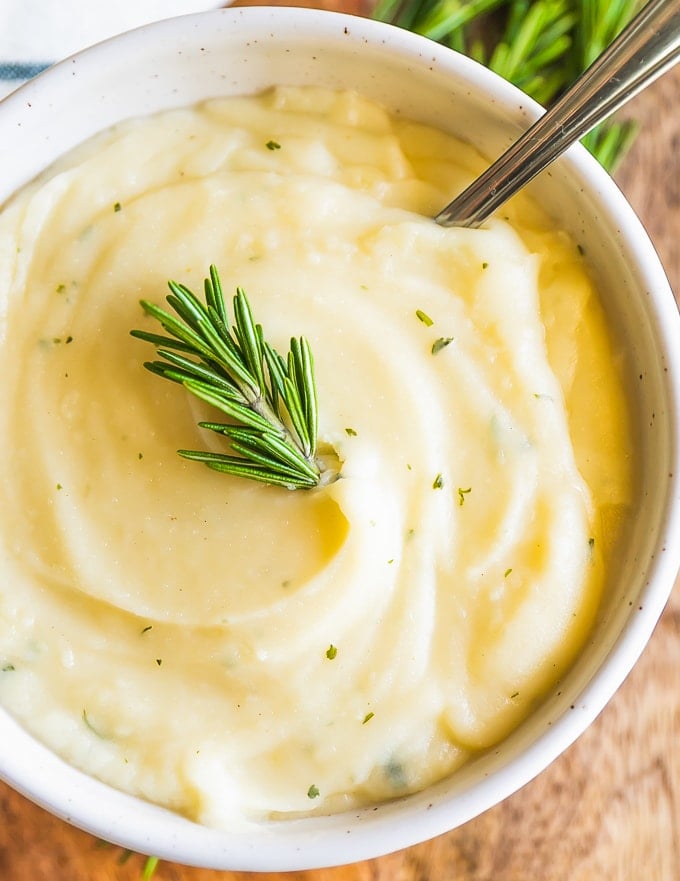 Be sure to check out some of our other most loved healthy recipes like Grilled Salmon Recipe with Avocado Salsa, Enchilada Stuffed Peppers, and Mediterranean Chicken Burgers. Enjoy!
See the recipe card below for full details on How to Make Garlic Mashed Cauliflower. Enjoy!
Looking for other healthy sides? Give these a try: