Garlic Mashed Cauliflower may be healthier than mashed potatoes, but I promise it tastes just as good! You won't regret making this garlic mashed cauliflower–missing out on calories and gaining all the flavor! This healthy side dish will be your new favorite recipe.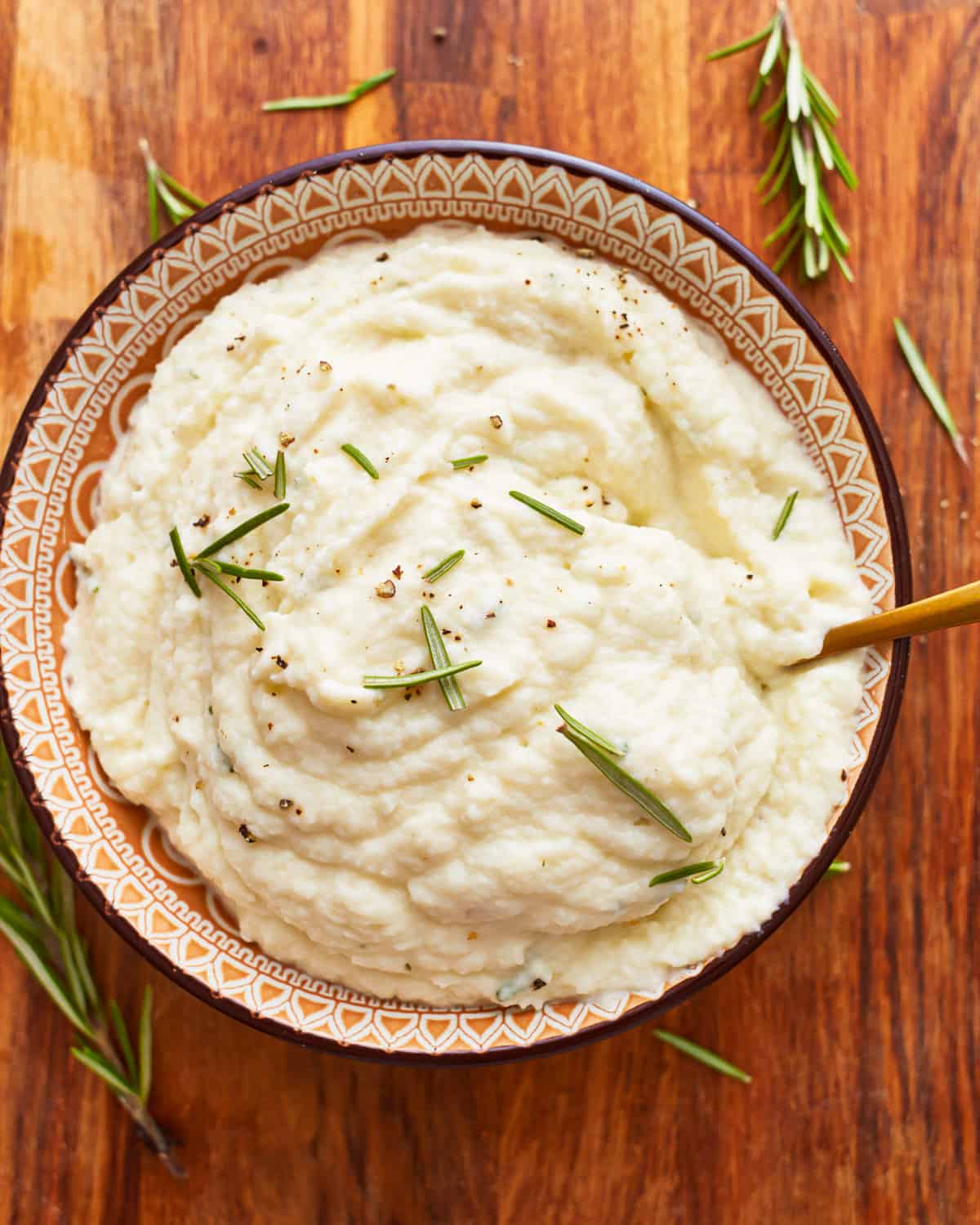 What's in this Garlic Butter Mashed Cauliflower Recipe?
You're probably wondering how to make cauliflower into mashed potatoes… Because that sounds crazy, right? A healthy vegetable turned into a creamy mash with the taste and texture of potatoes? It is so possible and so good. And of course, it's easy too, so that's a win.
Cauliflower: The magic ingredient that blends up into a creamy mash!
Low-Fat Cream Cheese: Helps create a creamy texture that more closely resembles classic mashed potatoes.
Salted Butter: Adds that rich buttery taste we love!
Garlic: Adds an earthy flavor and a pungent aroma.
Rosemary: Adds a fresh herbal flavor that balances the garlic.
Pro Tip: Make sure to cut the cauliflower into equal-sized pieces so it all cooks through completely. This will help create the creamiest mash.
Variations on Mashed Cauliflower
This cauliflower mash recipe is so versatile! You can swap out the rosemary for any fresh herb, like parsley, sage, or thyme. Plus, you can add cheese, and you know how much I love cheese! Cheddar, mozzarella, gouda, provolone, or Swiss are all great cheeses to add. Simply grate them into the warm mash and stir until melted!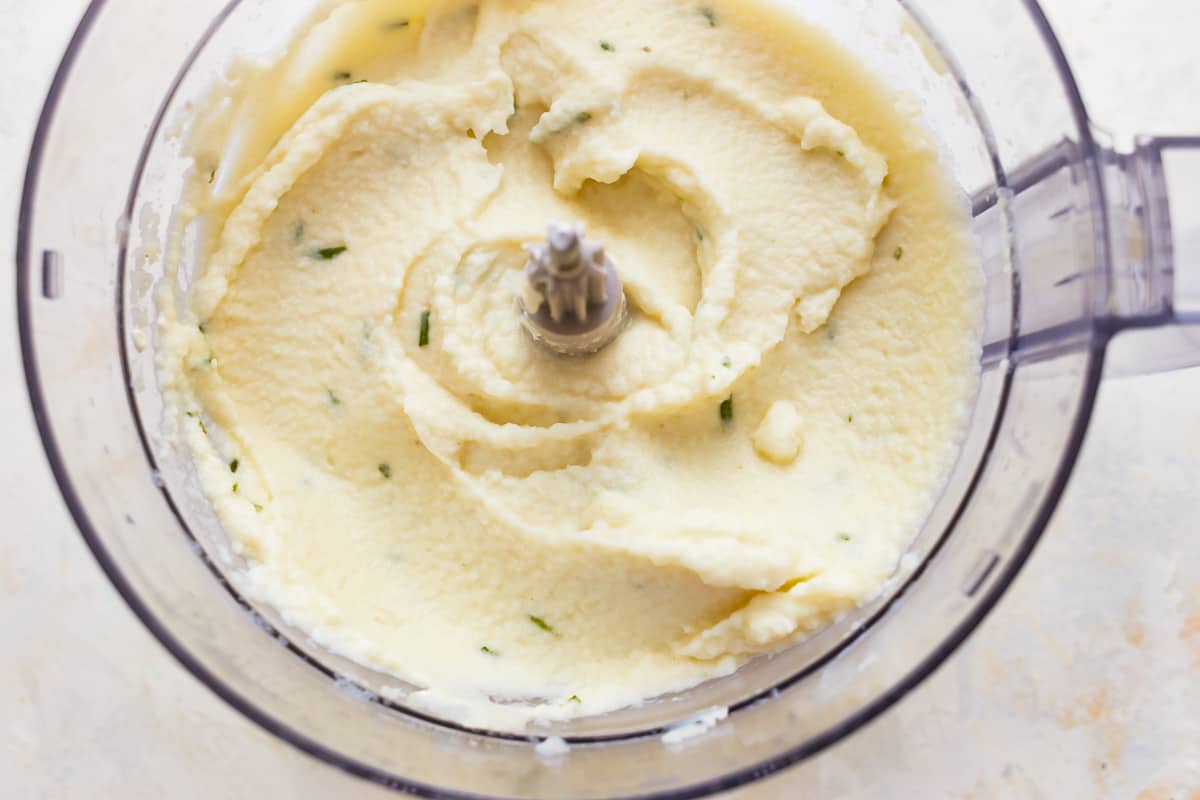 Does mashed cauliflower really taste like mashed potatoes?
Cauliflower has an earthy and nutty flavor that's slightly more complex than potatoes, but it's pretty darn close!
Is cauliflower mash better than potato mash?
It's certainly a healthier alternative! It's lower in calories and carbohydrates.
How do you keep mashed cauliflower from being watery?
It's important to drain the cauliflower well before blending it to remove excess water. But if it's still watery, try adding a slurry made from 1 teaspoon of cornstarch and 1-2 tablespoons of cold water and cook for a few minutes to thicken.
What do you add to cauliflower to thicken mash?
We add cream cheese to this recipe to make it nice and thick, but if you find that you'd like your mash even thicker, try adding the cornstarch slurry from above.
Why is my cauliflower mash grainy?
If your cauliflower is grainy, it's likely that some of the florets were undercooked. Be sure to cut the cauliflower into equal-sized florets to ensure it all cooks at the same rate. This will ensure a smooth final result.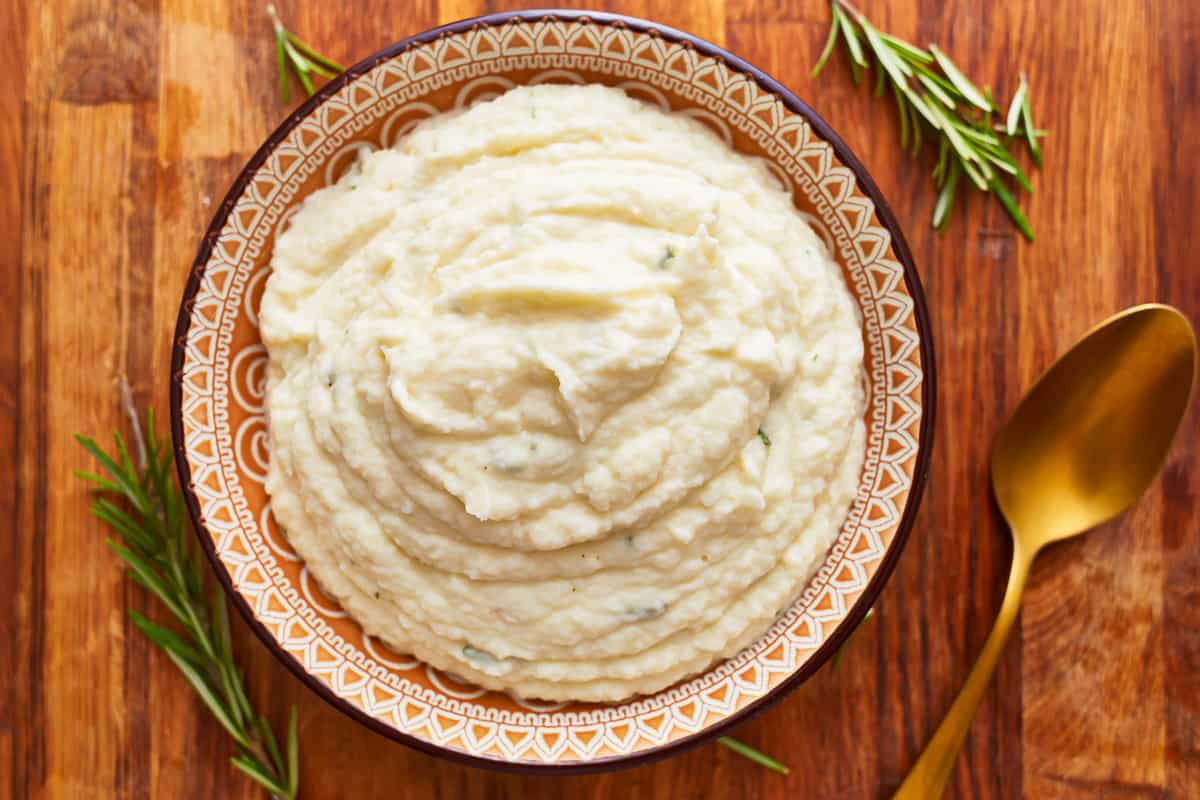 How to Store and Reheat
Store leftover mashed cauliflower in an airtight container in the refrigerator for up to 5 days. Reheat in a pot set over low heat or in the microwave in 30-second increments, stirring frequently, until warmed through.
How to Freeze
Freeze this cauliflower in individual portions in Ziplock bags for up to 3 months. Let thaw overnight in the refrigerator before reheating.
Serving Suggestions
Serve this garlic mashed cauliflower with anything you'd serve traditional potatoes with! Beef tenderloin, honey baked ham, baked Caesar chicken, herb crusted salmon, Parmesan crusted tilapia, and smoked turkey breast are some of my favorites! Add a side of roasted vegetables or a spinach berry salad for a rounded meal.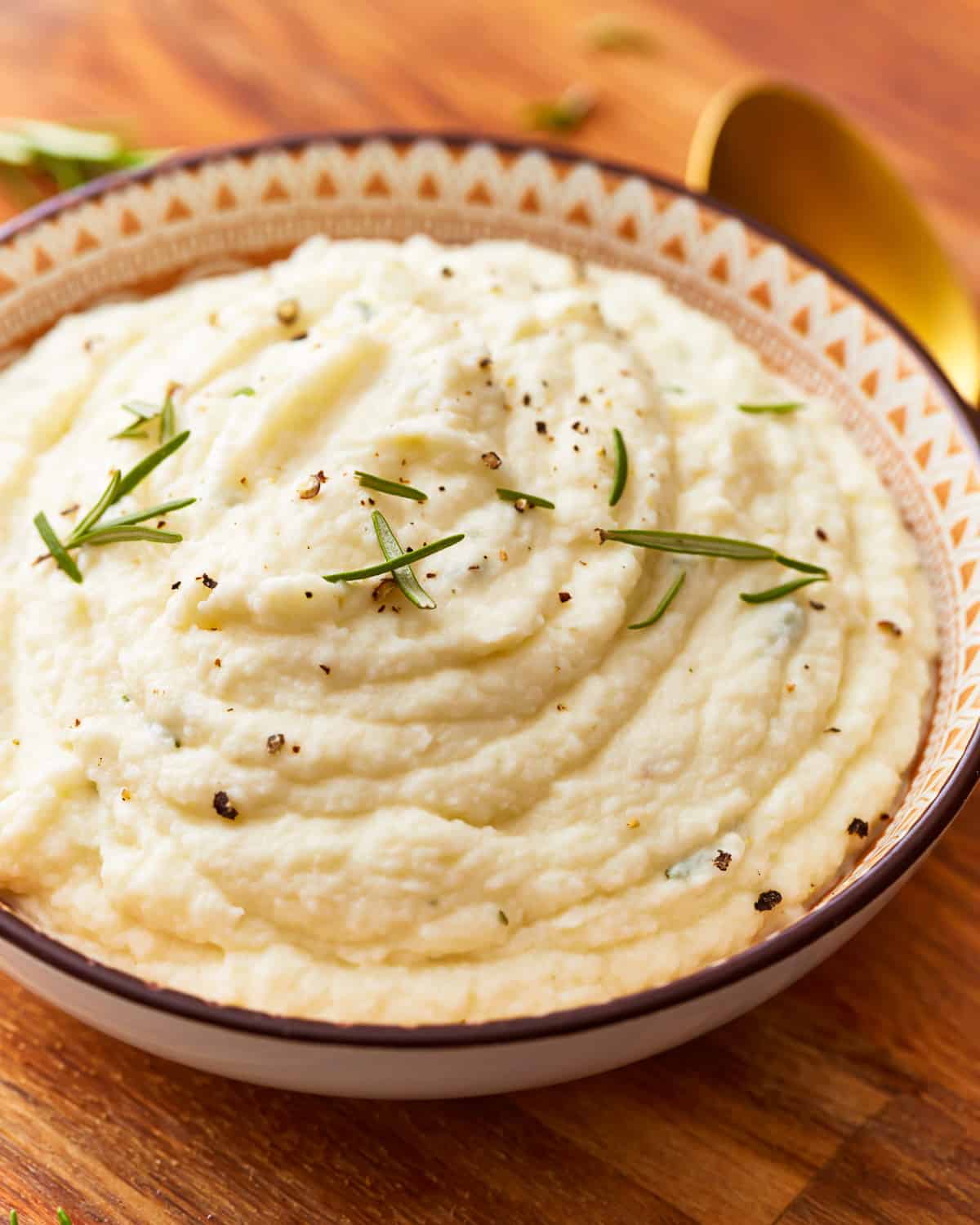 5-Star Review
"Oh my goodness these came out amazing! I've been looking for a way to make cauliflower mashed with a creamier texture and this was it! Thank you!" – Lisa R.
More Cauliflower Recipes We Love