Molasses Cookies are a holiday staple around our house. This soft molasses cookies recipe is so chewy, with warm spices and a delicious molasses flavor. These are the perfect treat to fill your cookie jar!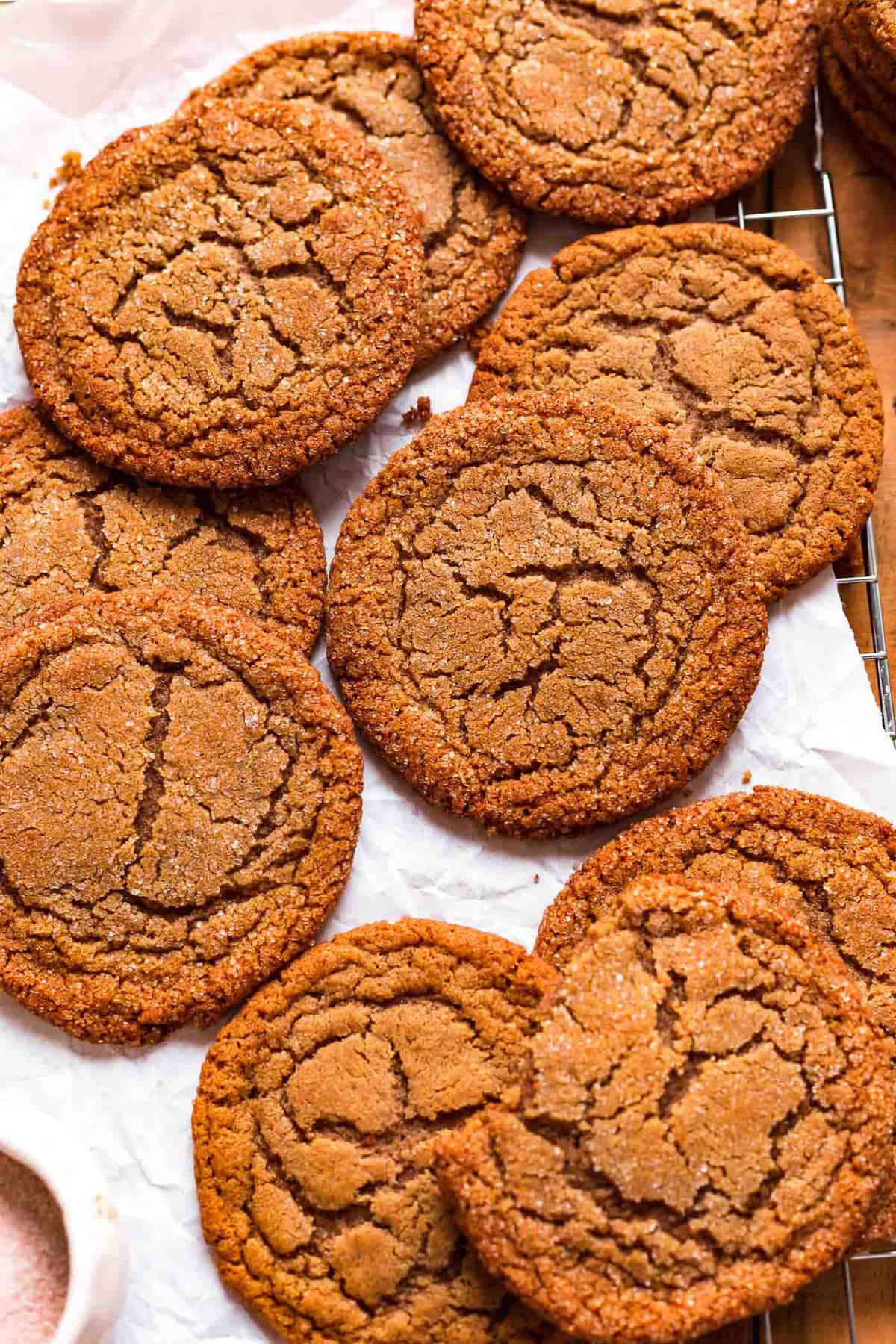 Molasses Cookies
Molasses Cookies smell and taste like Christmas. I absolutely love this soft and chewy molasses cookies recipe to share with family during the holidays!
Don't be put off by the molasses; its mild flavor and smooth texture makes these cookies so soft and scrumptious! You'll love the sugary outside and the tender, spicy inside. These soft molasses cookies are such a warm, comforting dessert for the holidays, or any day!
I used to think I didn't like molasses, until a dear friend baked me a batch of these cookies several years ago. One bite of chewy, sweet, soft molasses cookies and everything I thought I knew about molasses changed forever. And now, this recipe is one of my all time favorites. I know you will love them too!
These soft and chewy Molasses Cookies can be rolled in sugar before baking for a sweeter treat, or leave the dough as is and bake. Either way, these beauties are sure to become a favorite!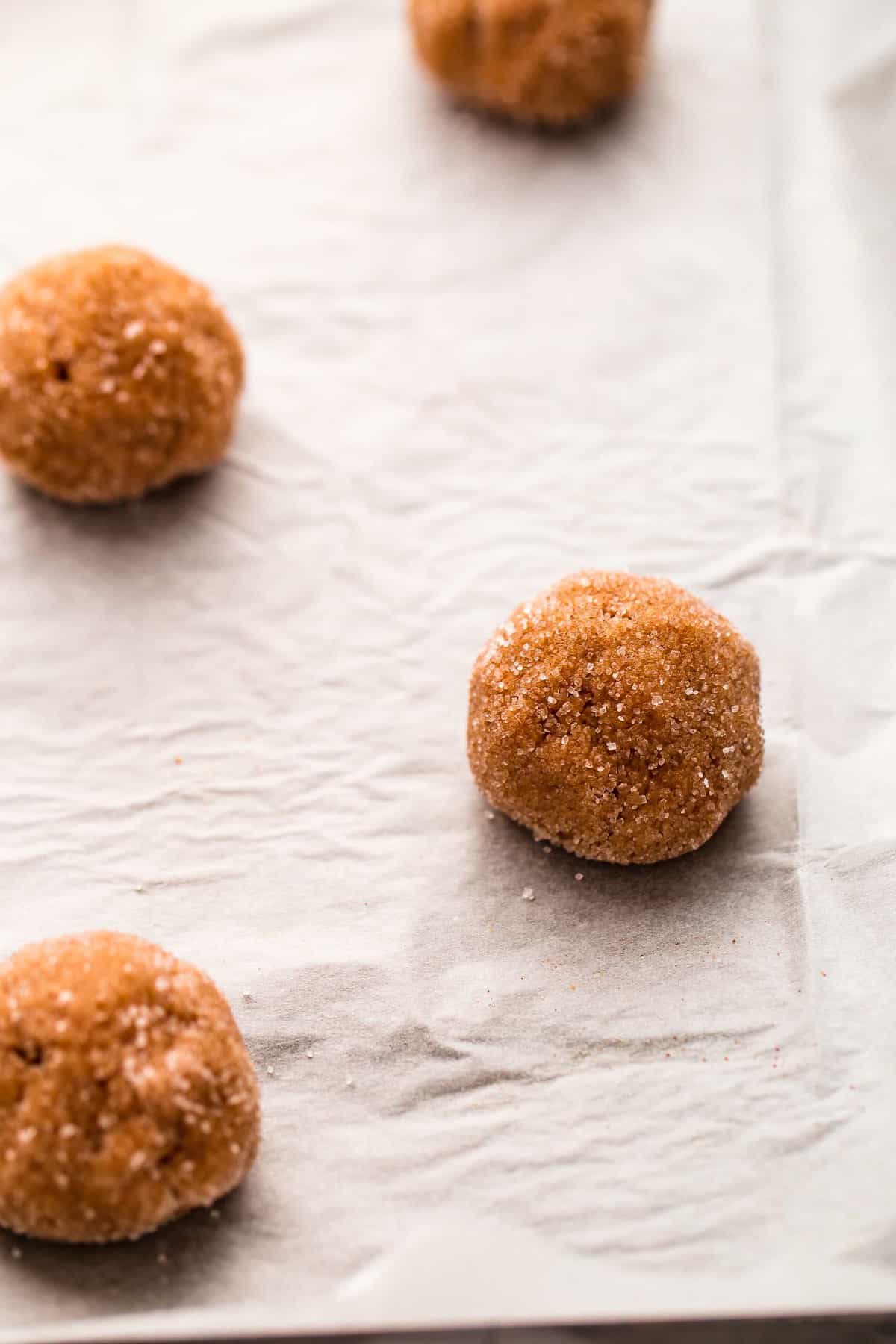 How to Make Soft Molasses Cookies
I just can't get over how soft and chewy these cookies are. Warm, spicy, and delicious! Exactly what I want from a holiday cookie. Of course I'll eat them any time of year, but ginger and cinnamon just scream CHRISTMAS IS HERE.
To Make:
Preheat your oven to 350°F.
Combine melted shortening, sugar, and molasses in a bowl, and beat together for about 3 minutes.
Then add in the eggs and beat for another 2 minutes, until well blended.
Combine all dry ingredients, and then add the shortening/sugar mixture and beat everything together.
Let the dough set for 10 minutes.
Roll the dough into balls, roll them in sugar if desired, and then place the balls of dough on a cookie sheet covered with parchment paper.
Bake cookies at 350°F for 10-11 minutes.
Let cookies cool on a cooling rack. Store them in an airtight container (if you don't eat them all first). Make plenty so you can share with friends and family!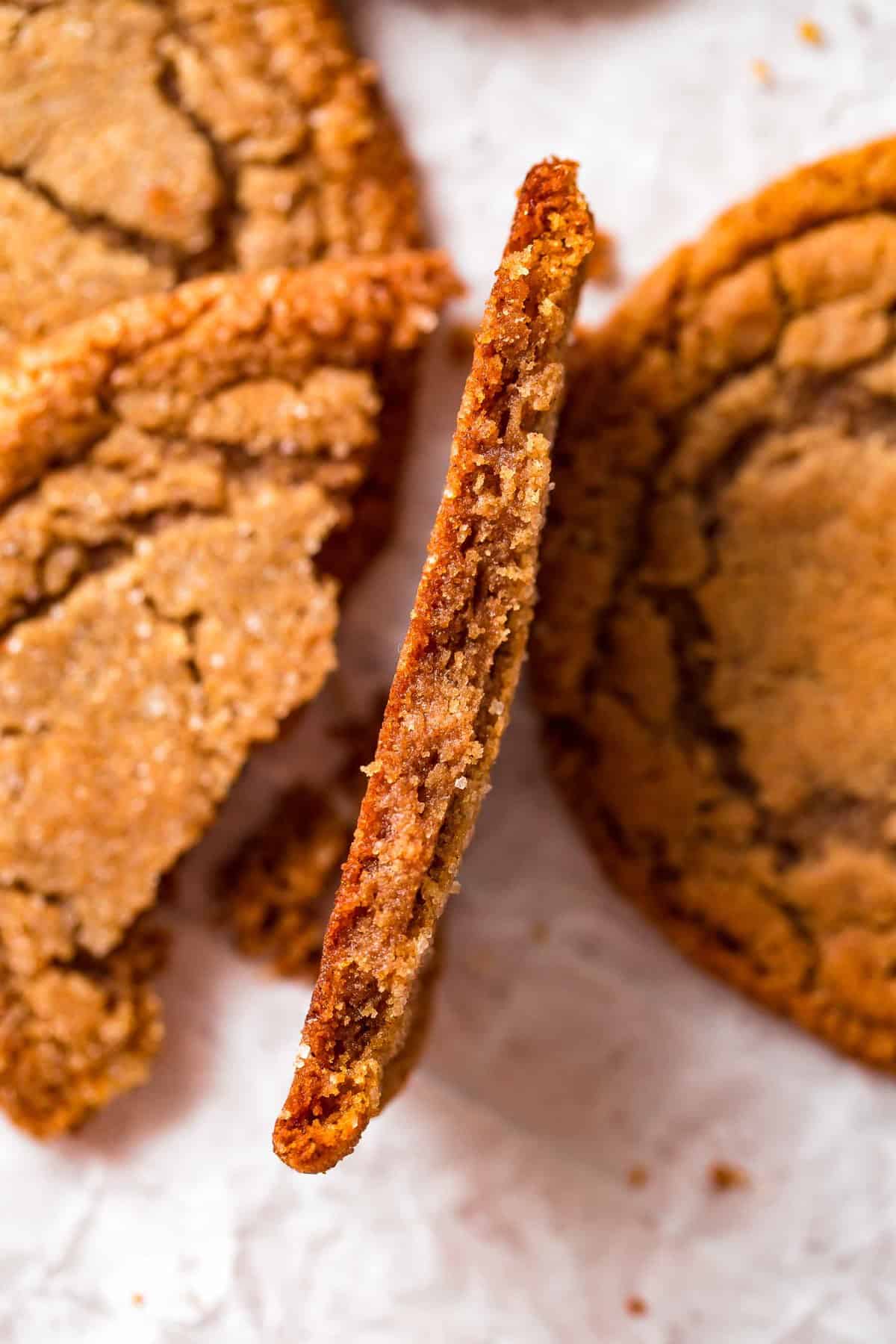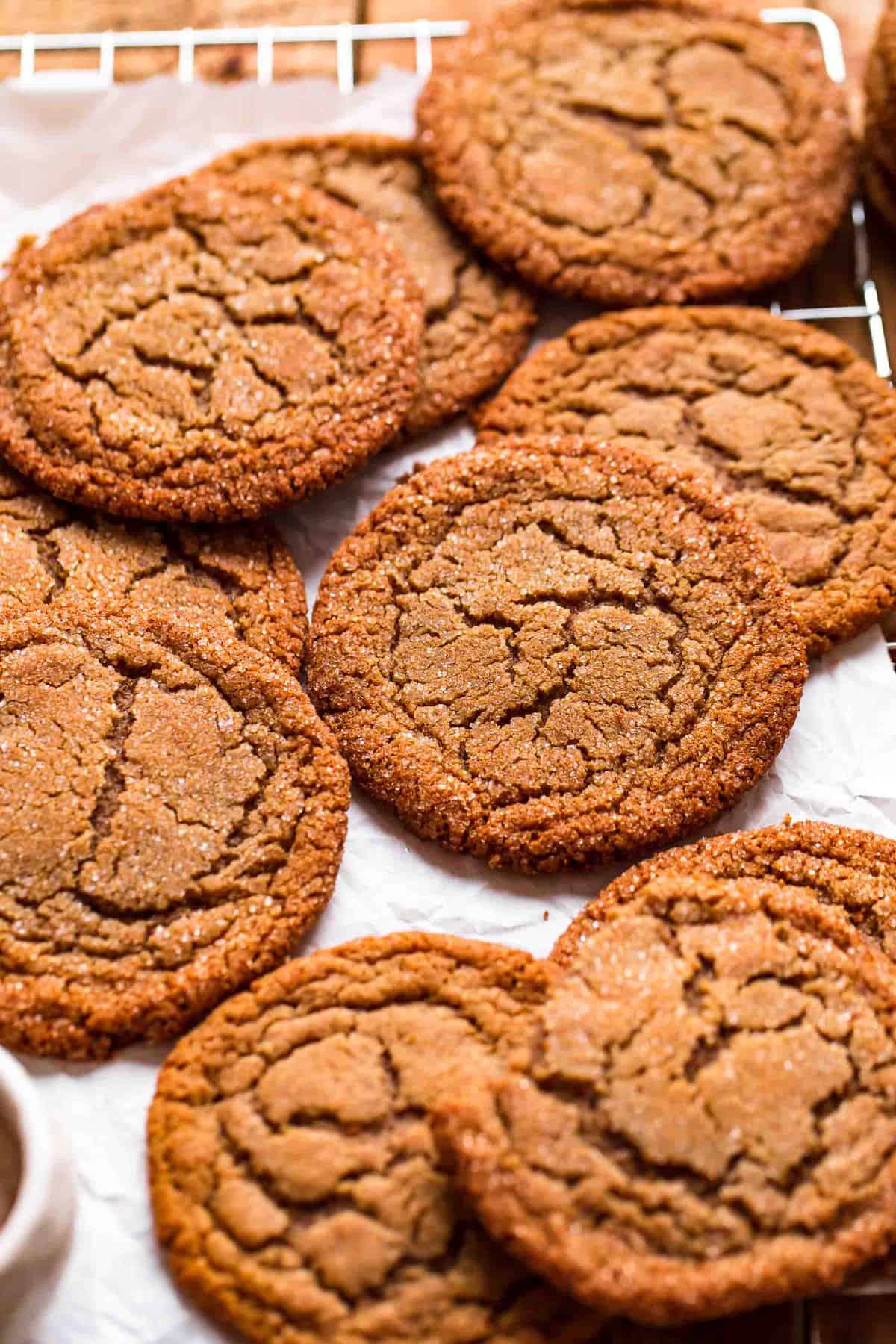 Are molasses cookies the same as Gingersnaps?
The key ingredient to both cookies is similar; both call for exactly the same amount of molasses. The big difference is in the texture. Molasses Cookies are soft and chewy, whereas gingersnaps are crisper and, well, snappier in texture.
What kind of molasses should I use?
I generally use a lighter molasses in these cookies, but a dark, or "robust" molasses will enrich the flavor and color of the cookies. Steer clear of Blackstrap molasses for this recipe; the flavor is very intense and may overpower your spices.
Can I make molasses cookies without shortening?
Shortening, along with the molasses is what gives these cookies their soft and chewy texture. You can use half shortening and half butter if you like the flavor better.
Can these cookies be frozen?
Absolutely! Some even prefer to eat them straight out of the freezer. Me, I love them fresh out of the oven with a tall glass of milk, but they freeze beautifully and will keep for up to three months. They'll store on the counter nicely in an airtight container for up to five days.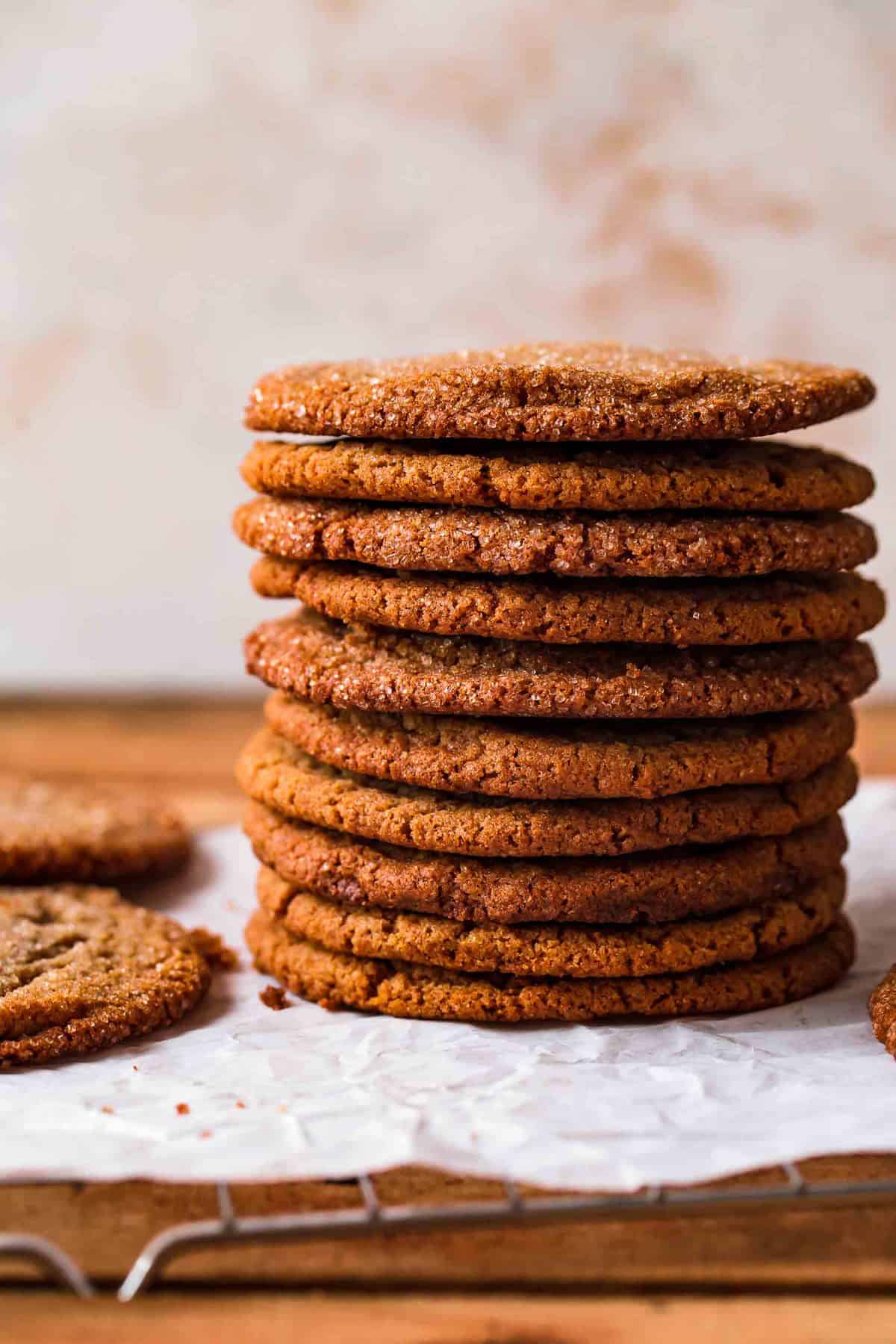 Share a plate of these divine cookies with friends and neighbors this holiday season. Happy baking!
Watch the video and check out the recipe card below for details on how to make these soft Molasses Cookies. Enjoy!
More Holiday Cookie Recipes
One of the best things about the holidays is the baking! Nothing better than grabbing an apron and whipping up something sweet and tasty in the kitchen, pulling out treasured recipes year after year. Check out a few of my favorite cookies:
And check out our Christmas Cookies Guide for ALL the best recipes!