Loaded Mac and Cheese is the most satisfying side dish you'll ever make! Rich, creamy cheese coats tender macaroni pasta, and it's all dressed up with plenty of crispy bacon and toasted breadcrumbs. I dare you to try and just have one bite!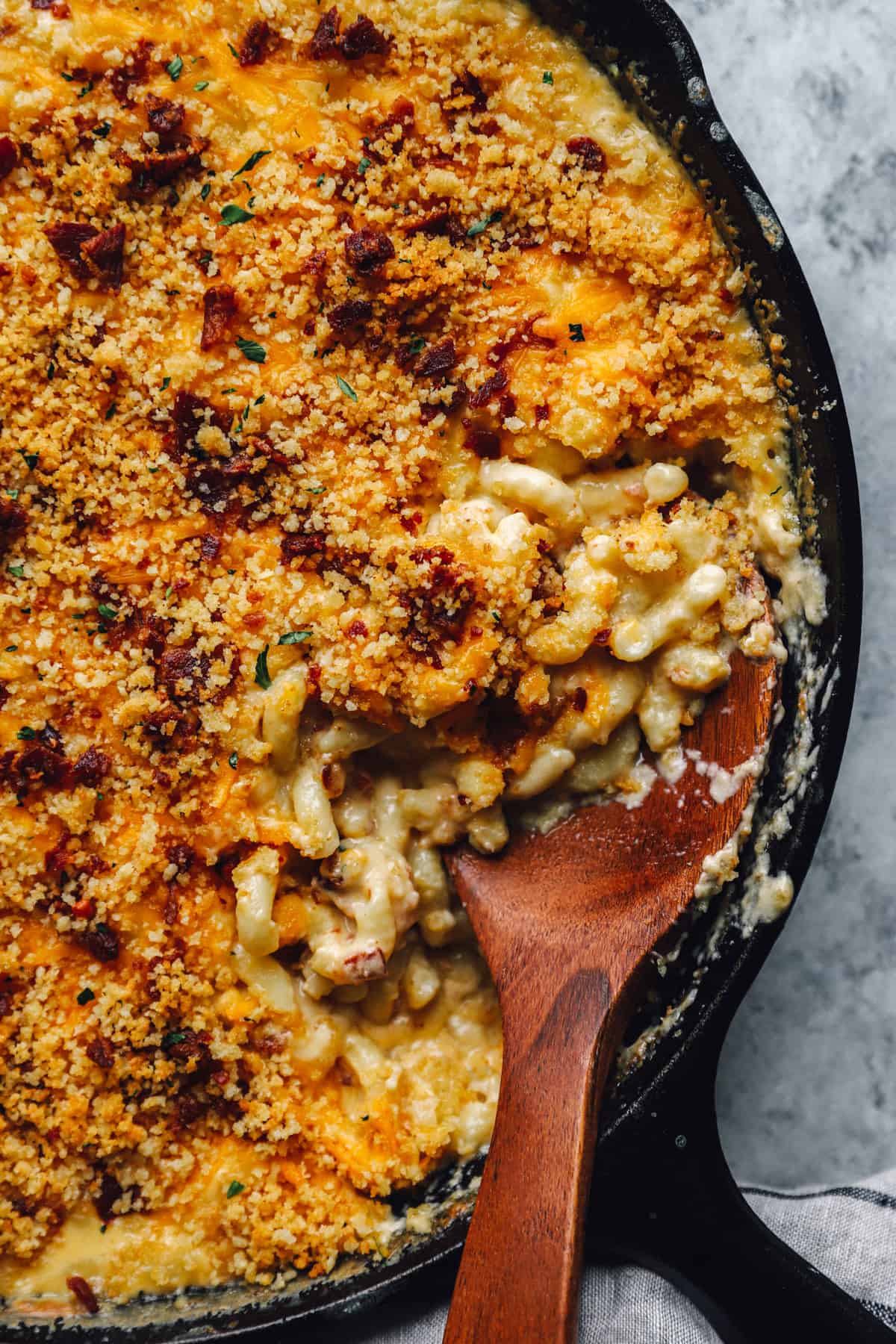 Mac and Cheese with Bacon
Is there anything better than loaded mac and cheese? I don't think so! This kid-friendly side dish is probably going to be more popular than your entree. If you wanted to make it your entree, go for it, because it makes a comforting and hearty winter meal! There's no bad way to enjoy this loaded, cheesy, bacon-packed macaroni recipe.
While the bacon is the most stand-out ingredient in this dish, it's complimented perfectly by the creamy cheese that might just be the best part. Freshly shredded sharp cheddar cheese is mixed with sour cream and a few other ingredients to make the richest cheese EVER!
Keep in mind that if you make this side dish for holidays, it might just get more attention than anything else on the plate. You've been warned!
Why You'll Love this Loaded Mac and Cheese Recipe:
Cheesy: Calling all cheese lovers! This cheese is far better than anything that could ever come out of a box. Real cheddar cheese is thickened to super rich perfection in this recipe.
Bacon: Crispy bacon fills every bite of this loaded macaroni and cheese. It makes an already delicious dish even more mouthwatering!
Easy: This homemade recipe is SO easy to make! You'll love how simple these step by step instructions are.
Craving even more bacon? Go ahead and toss an extra crispy slice in the mix. It's your kitchen, you make the rules!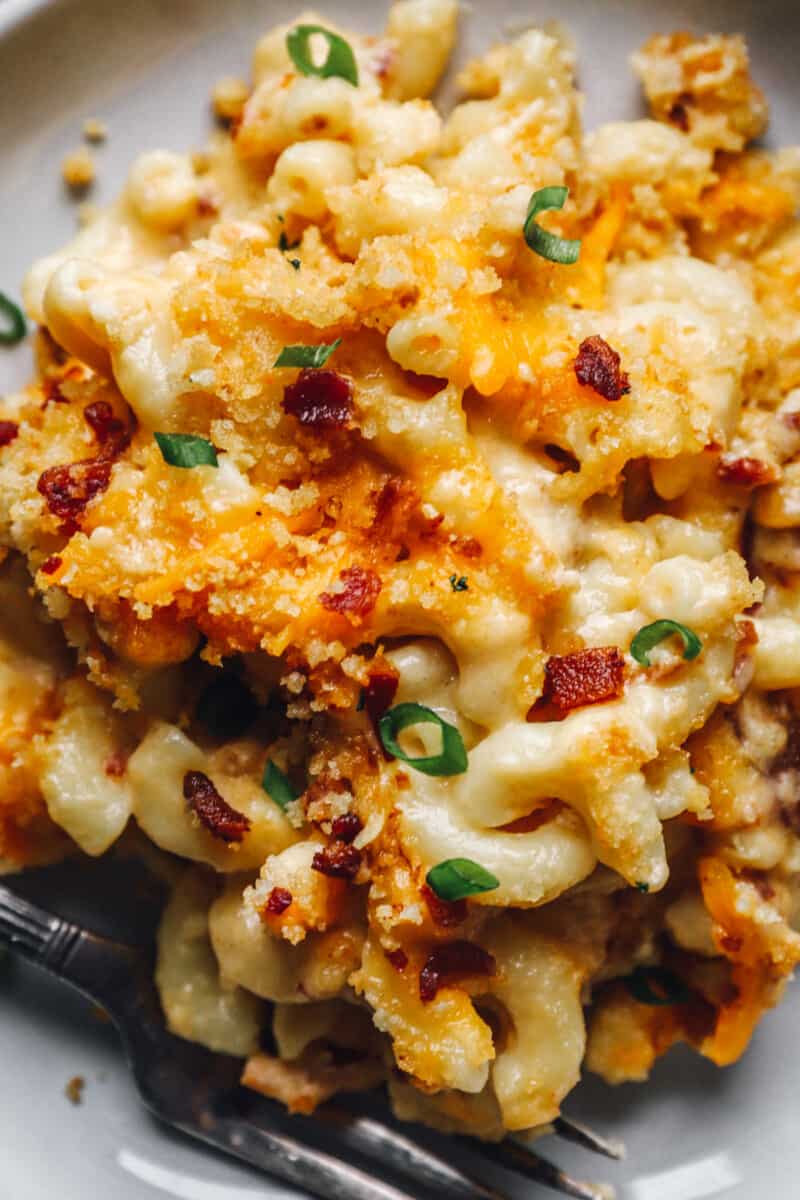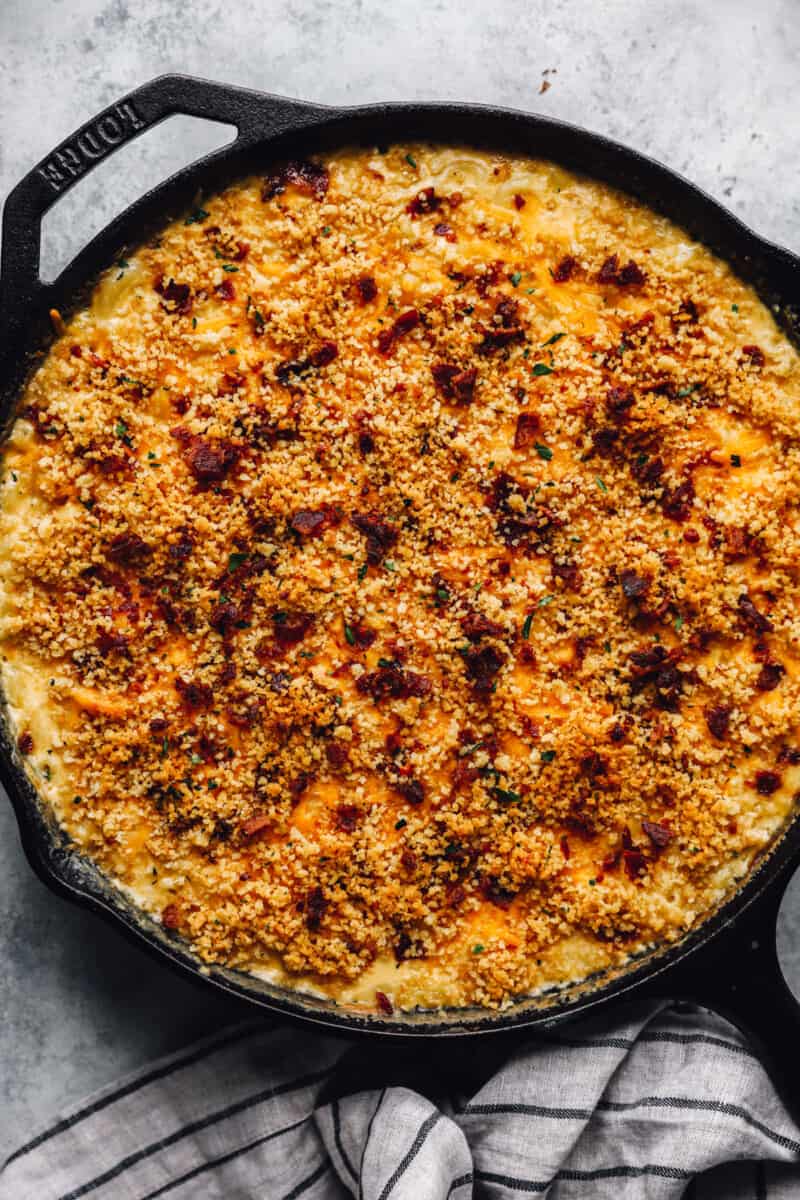 How to Make Loaded Mac and Cheese
You can jump to the recipe card for full ingredients & instructions!
Cook the macaroni pasta.
Fry the bacon until crispy, and drain excess grease.
Sauté onions and garlic in butter, then sprinkle in flour.
Whisk in milk until thick, and then add in sour cream.
Stir in 3 cups of cheddar cheese.
Stir the pasta into the pot to fully coat with the cheese.
Stir half of the crumbled bacon into the pot.
Toast the breadcrumbs.
Top the macaroni with the remaining bacon, cheese, and breadcrumbs.
Bake.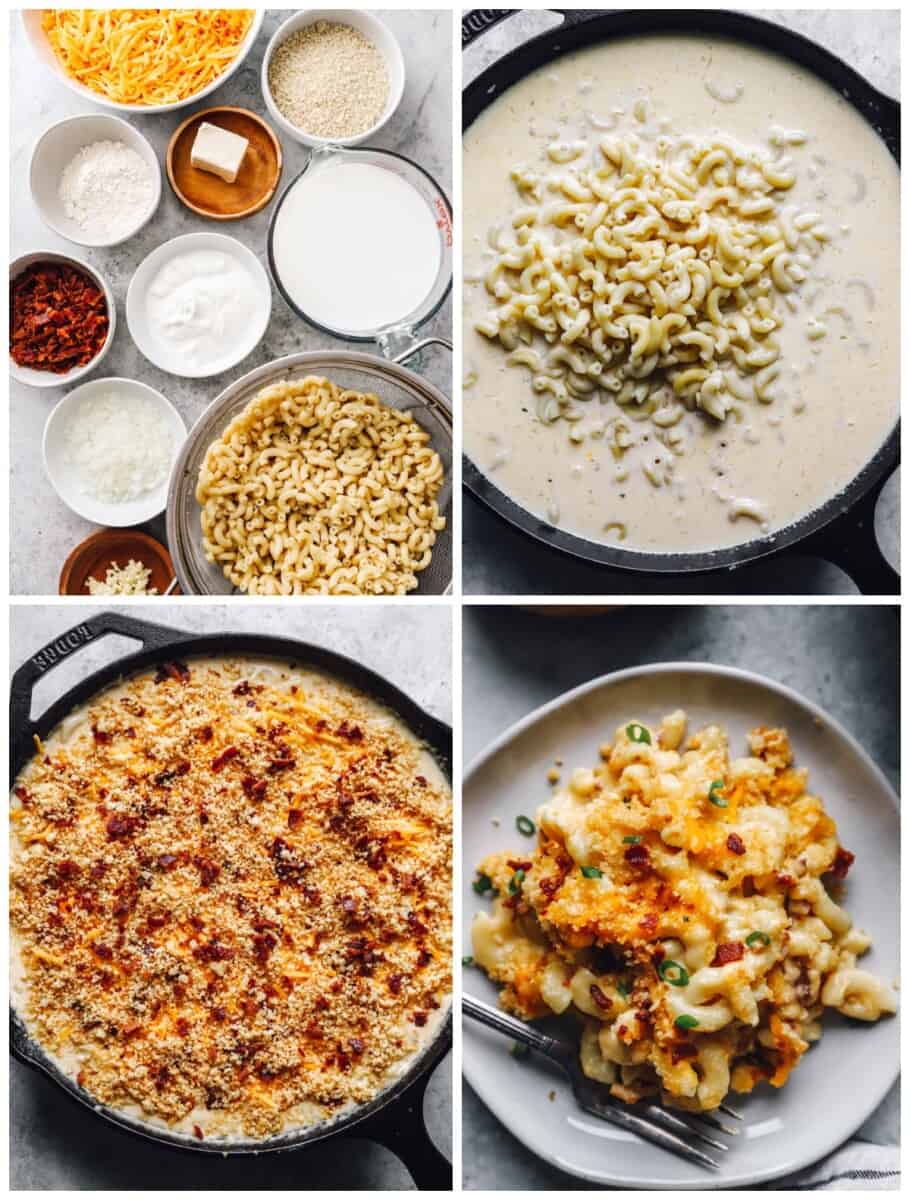 What is loaded mac and cheese?
Loaded mac and cheese is traditional baked mac and cheese loaded with bacon, onion, garlic, and sour cream! It's kind of like a baked potato in mac and cheese form!
What is the best cheese for loaded mac and cheese?
While I really like a classic sharp cheddar, you can also use any combination of cheddar, Colby, Monterey jack, gouda, pepper jack, gruyere, or Swiss cheese.
Can I make loaded mac and cheese with a different kind of pasta?
Absolutely! You can use any short-shaped pasta, like penne, ziti, shells, or rotini!
How can I make loaded mac and cheese spicier?
If you want a spicier version of this dish, you can add cayenne pepper, crushed red pepper flakes, or Buffalo sauce. You could also add some diced jalapeños directly to the mac and cheese or as a topping.
Can I make loaded mac and cheese with pre-shredded cheese?
While you certainly can use pre-shredded cheese, I don't recommend it. Pre-shredded cheeses are coated in starch to keep them from sticking, but that also makes them more difficult to melt, and the starch can affect the consistency of the sauce. Furthermore, fresh cheeses just taste better.
Supremely cheesy, thick as can be, and full of crispy crumbled bacon…there's a whole lot to love about this loaded mac and cheese recipe!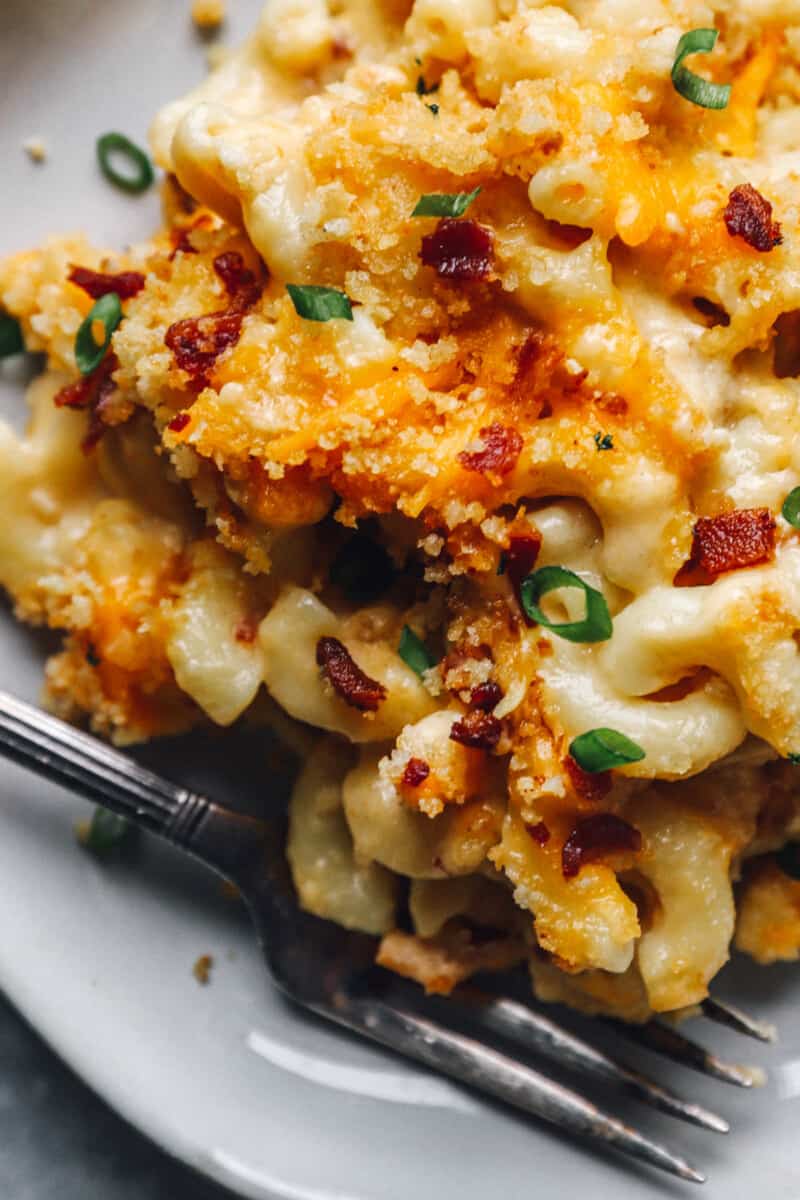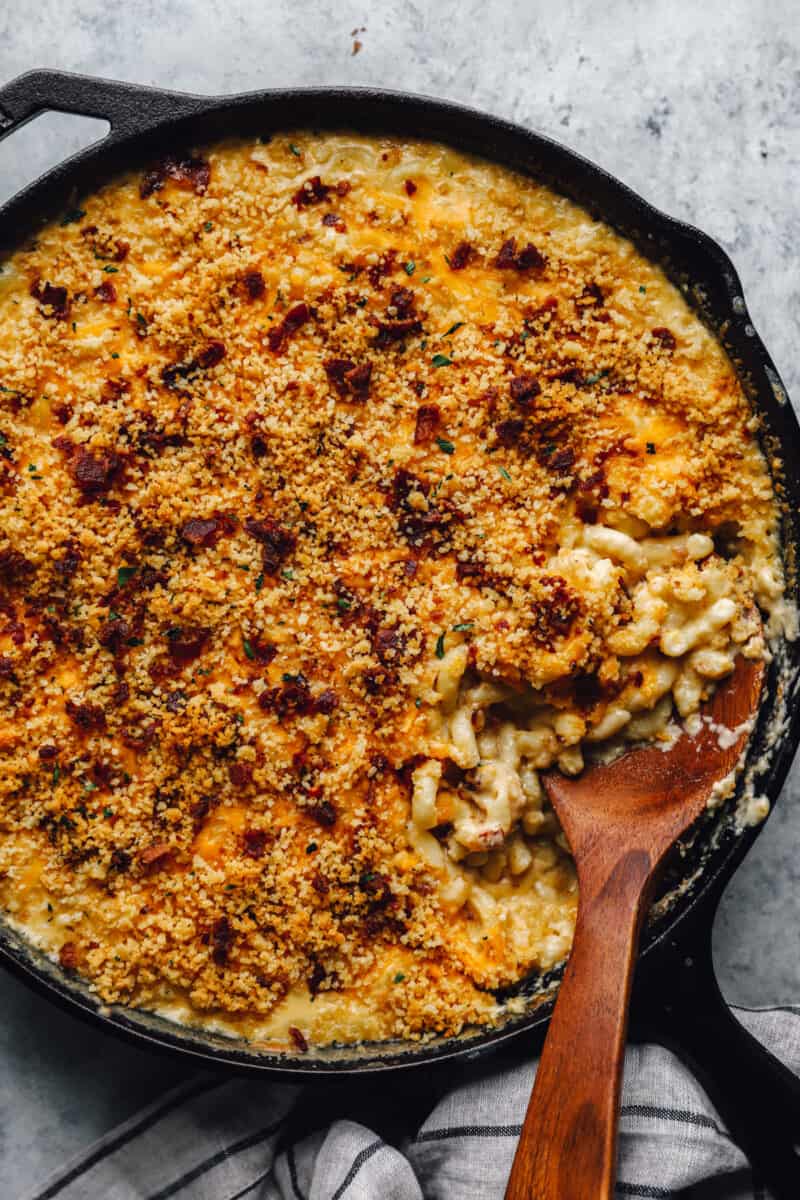 Make Ahead Instructions
This loaded mac and cheese can be prepared (but not baked) up to 2 days in advance of when you plan to serve it. Cover the unbaked casserole tightly with aluminum foil and store it in the refrigerator. When ready to bake, let the casserole sit out at room temperature for 30 minutes, then bake as directed.
Storage Instructions
Store leftover loaded mac and cheese in an airtight container in the refrigerator for up to 4 days. Reheat covered with aluminum foil in a 350°F oven for 20 minutes, then remove the foil and bake for another 10 minutes, until hot and bubbly.
Freezing Instructions
Freeze mac and cheese casserole whole or in individual portions in airtight containers for up to 3 months. Let thaw overnight in the refrigerator before reheating.
Substitutions
You can use any short-shaped pasta, like penne, ziti, shells, or rotini.
In place of the bacon, you can use store-bought bacon bits, or try pancetta!
You can use red, white, or yellow onion.
In place of the sour cream, you can use plain or Greek yogurt.
You can use any combination of cheddar, Colby, Monterey jack, gouda, pepper jack, gruyere, or Swiss cheese in place of the sharp cheddar.
Feel free to substitute crumbled Ritz crackers or Italian breadcrumbs in place of the Panko.
If you'd prefer, you can top this mac and cheese with another cup of cheddar cheese instead of breadcrumbs before baking.
Tips for the Best Loaded Mac and Cheese
Generously salt your pasta water; it adds a lot of flavor.
Cook the pasta al dente; the pasta will continue to cook in the casserole.
Use room temperature milk and sour cream to prevent curdling.
Shred the cheese by hand if possible for the best flavor and texture.
At the end of baking, broil the casserole for a few minutes for an extra crispy crust.
Let the casserole rest for 10 minutes before serving to give it time to set.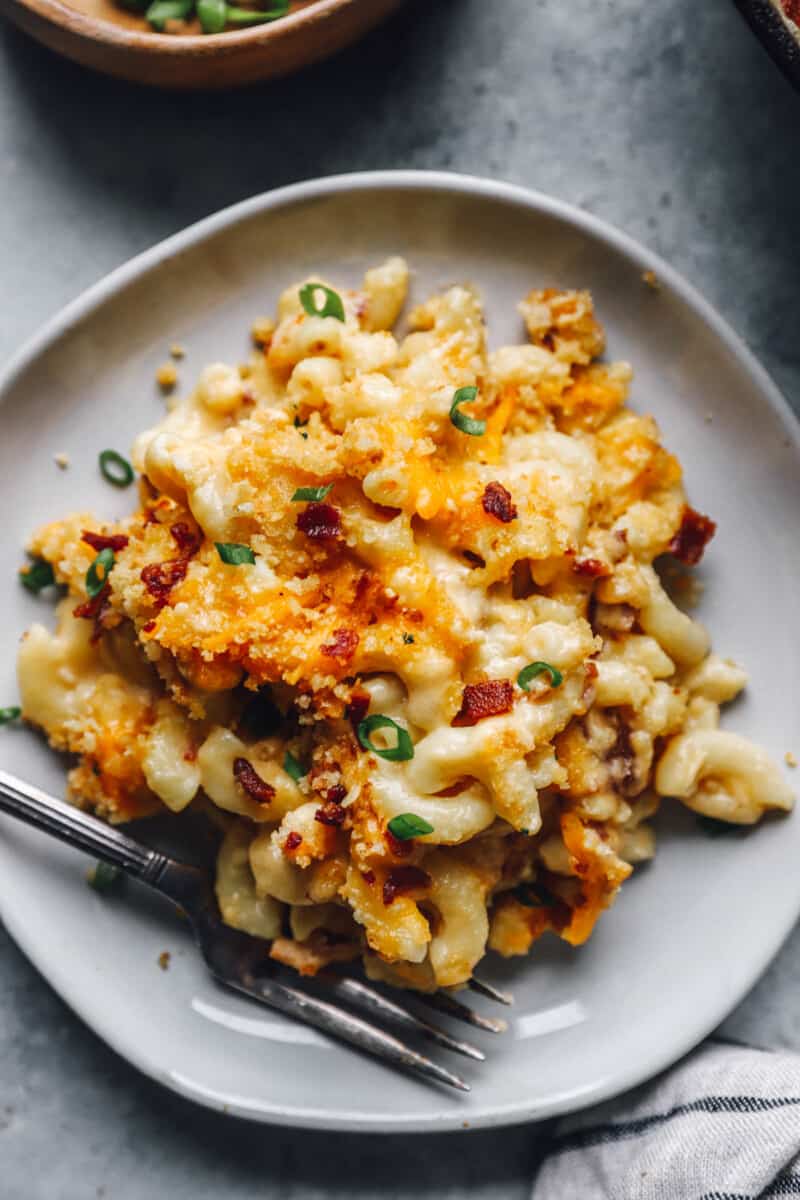 Cheese and bacon go together even better than peanut butter and jelly! Combined with tender pasta and buttery toasted breadcrumbs, every bite of this loaded Mac and cheese is as decadent as can be.
If you make this recipe be sure to upload a photo in the comment section below or leave a rating. Enjoy! You can also jump to recipe.