This easy broccoli cheese casserole makes for the most delicious side dish, no matter the occasion! Enjoy tender broccoli coated in delicious, cheesy goodness. The best part? It's topped with Ritz cracker crumbs!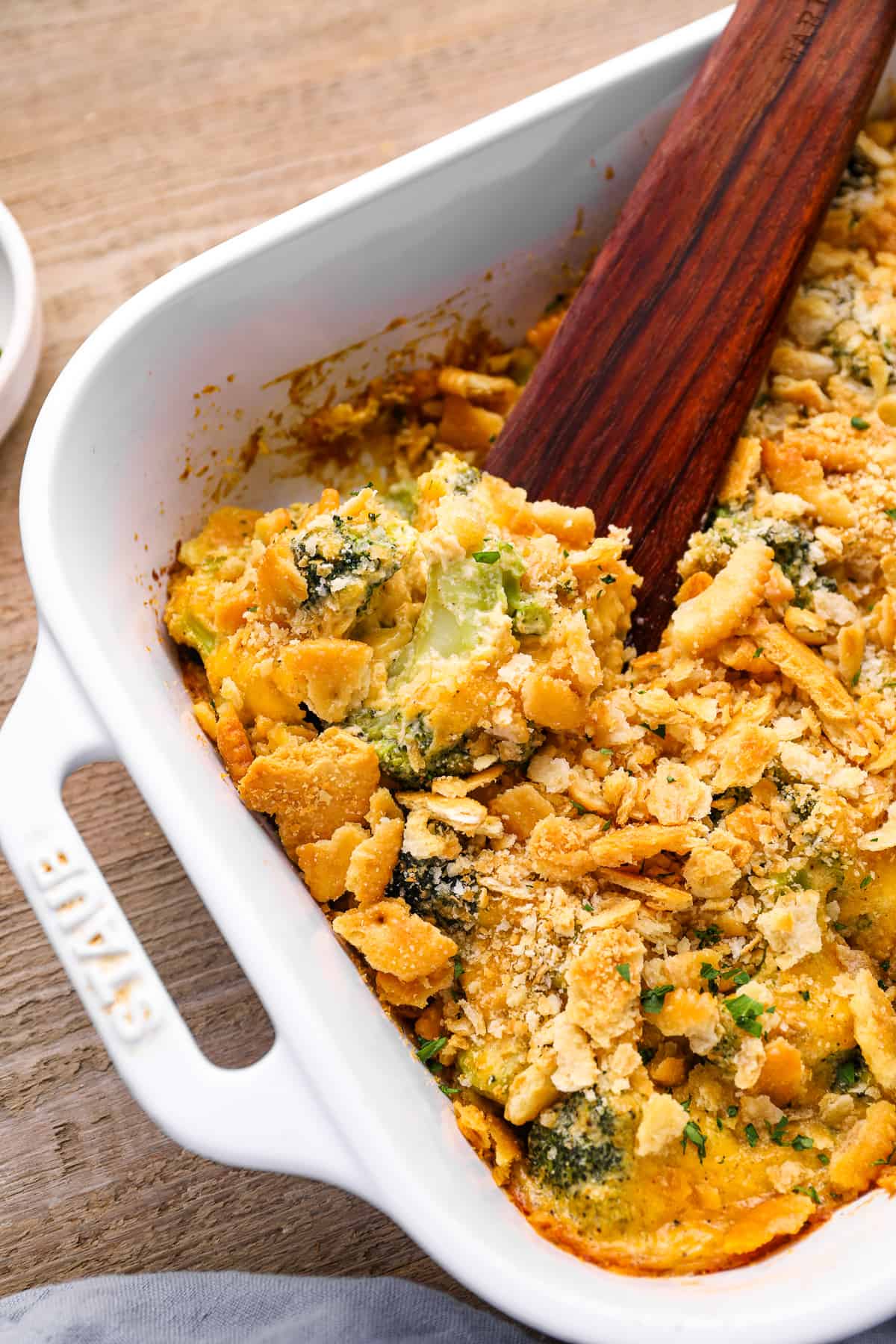 Broccoli Cheddar Casserole
Broccoli and cheese are a match made in heaven. Add a layer of buttery crackers into the mix, and you've got yourself the ultimate comfort food! Savor this broccoli cheese casserole as a side dish at any holiday gathering, potluck, or even as a complete meal at home.
We love this recipe because it's a simple, make-ahead recipe that can easily be customized to your liking. Feel free to add rice, mushrooms, chicken, and other seasonings to make this fantastic recipe all your own!
Why You'll Love this Broccoli Cheese Casserole Recipe:
Quick & Easy: This easy broccoli casserole recipe takes little time and only a few simple steps to bring from kitchen to table.
Crunchy Topping: The crushed Ritz crackers add a yummy, crunchy texture and are easily the best part of this recipe!
Perfect Side Dish: Everyone loves broccoli cheese! Serve this classic side dish at any holiday dinner or celebration.
Trademark Note: In the spirit of transparency, I want to note that some of these ingredients are trademarked products. Ritz is a proprietary brand that I want to acknowledge and give credit to.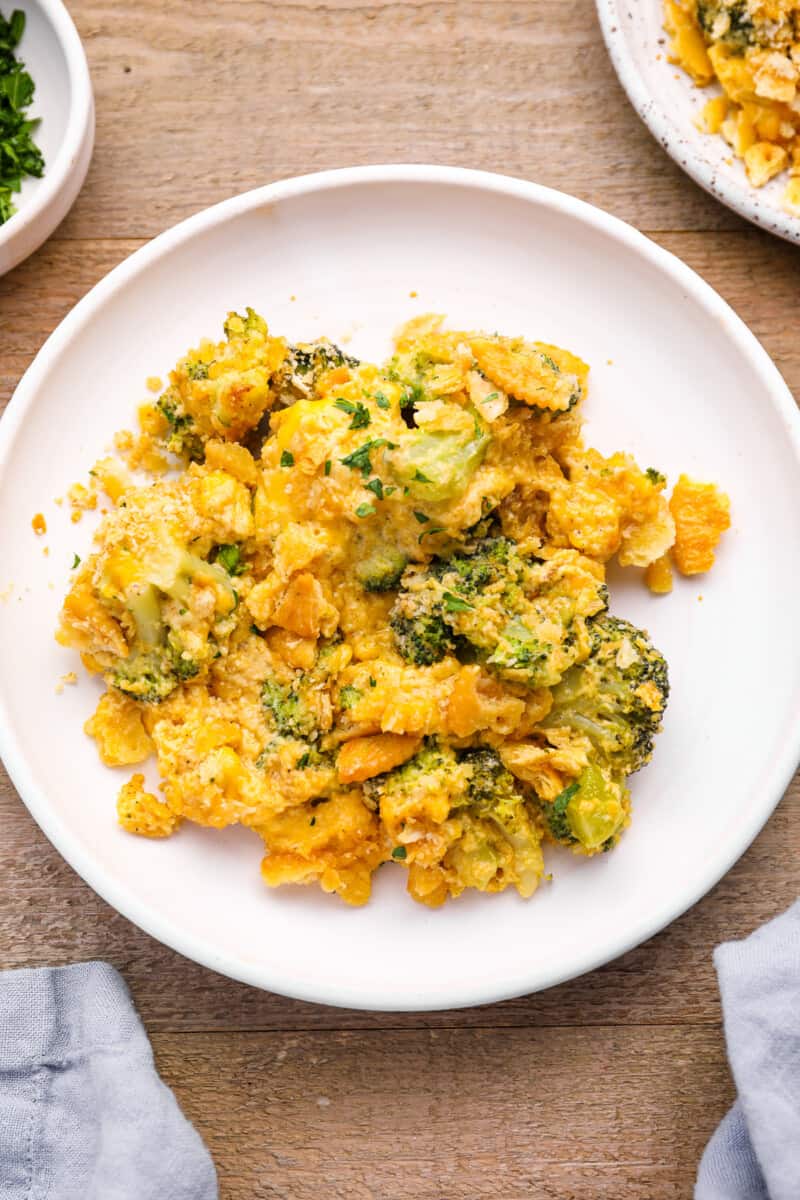 How to Make Broccoli Cheese Casserole
You can jump to the recipe card for full ingredients & instructions!
Preheat oven to 350°F. Coat a 9×13-inch baking dish with nonstick cooking spray.
In a large bowl, whisk together the casserole sauce. Add in the broccoli and cheddar cheese. Stir until coated.
Transfer to your baking dish and smooth into an even layer. Top with the crushed crackers and drizzle with butter.
Bake for 35-45 minutes until the crackers are golden and the casserole is warmed through. Enjoy!
Recipe Notes
To quickly thaw your broccoli, microwave it at 50% power until no longer frozen but cool to the touch.
For a vegetarian casserole, use cream of mushroom or cream of celery soup in place of the cream of chicken.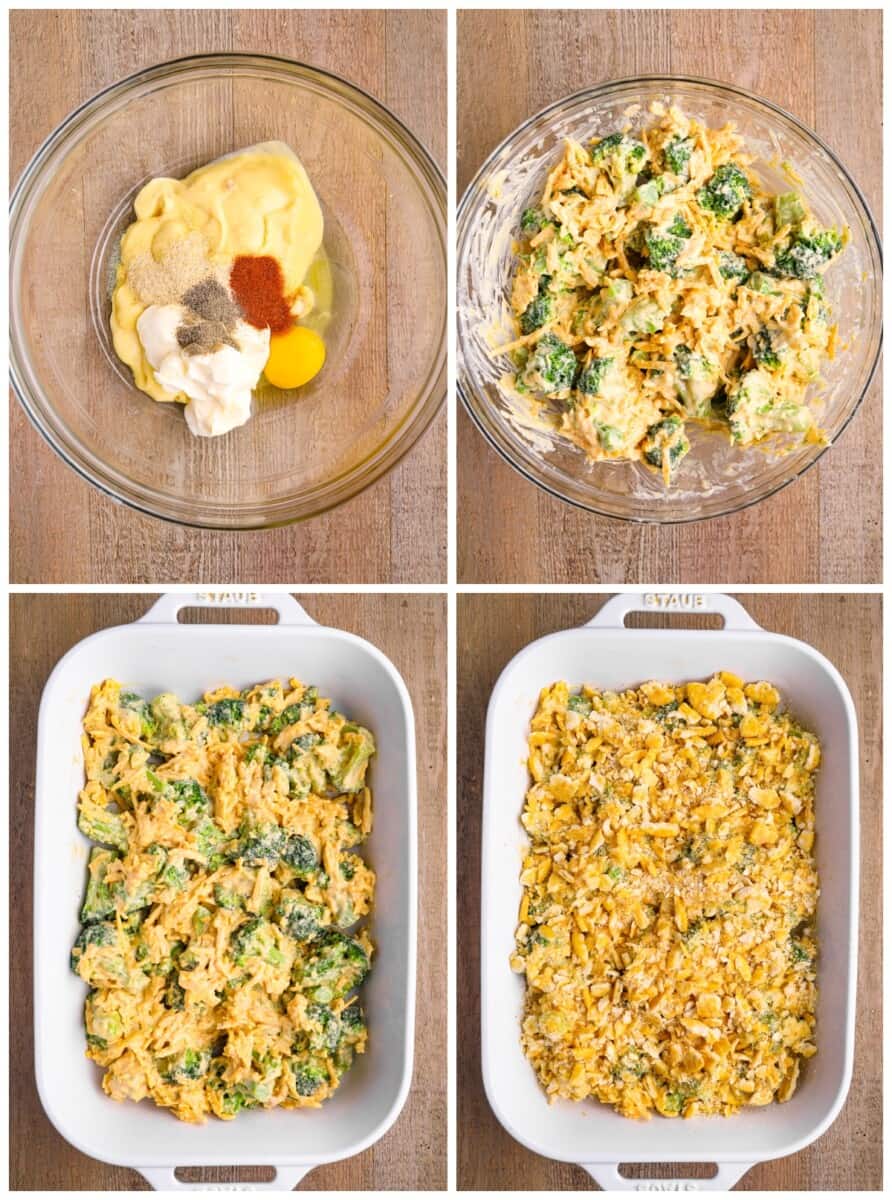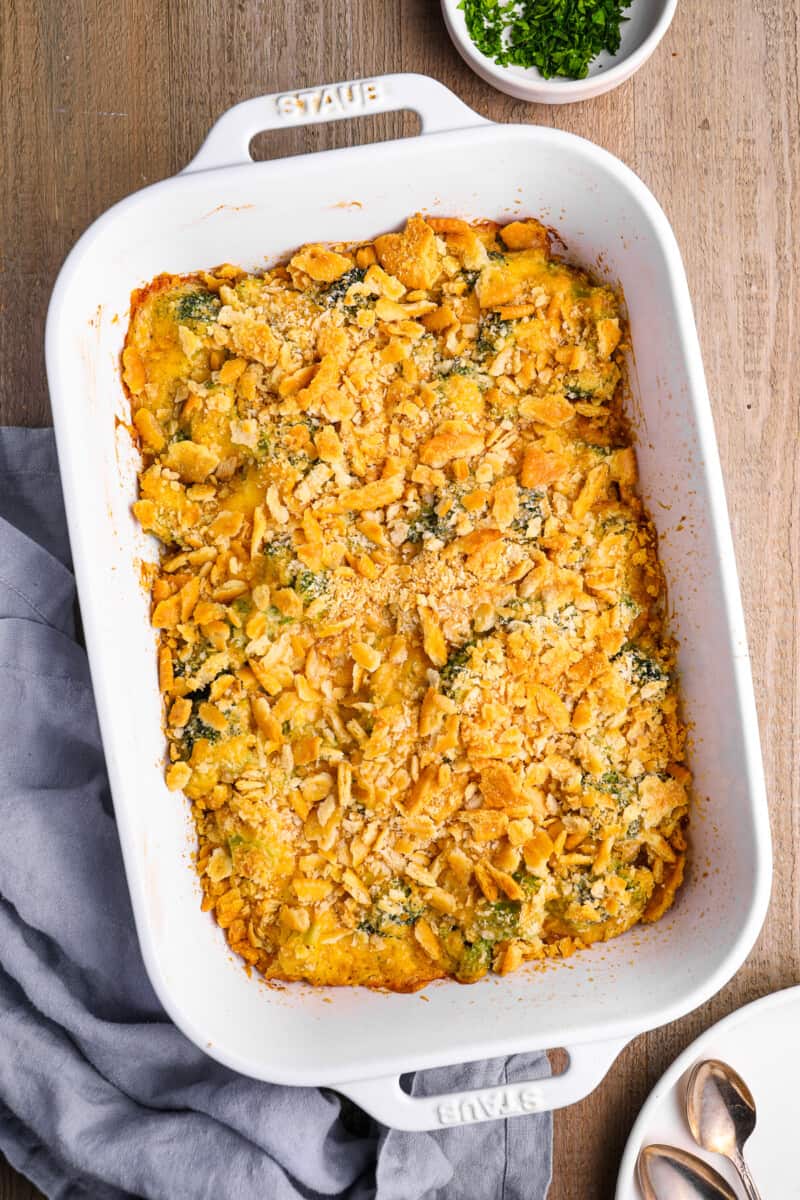 Can I make broccoli cheese casserole with fresh broccoli instead of frozen?
Yes, you can swap in 3-4 stalks of fresh broccoli for each 16-ounce bag.
Do I need to cook the broccoli before adding it to broccoli cheese casserole?
If using frozen broccoli, there's no need to blanch it! With fresh broccoli, it's up to you. I don't usually blanch fresh broccoli because I like it crisp. If you like yours on the softer side, you can definitely blanch it before adding it, though!
Should I add egg to broccoli cheese casserole?
Absolutely! The egg in this recipe helps to bind the casserole together!
What's the best topping for broccoli cheese casserole?
I love the classic mix of Ritz crackers and butter, but you can use any crackers you like, or try Panko or regular breadcrumbs!
Make Ahead Instructions
This broccoli casserole recipe is great for making a day ahead. Just prepare the recipe through step 3 (in the recipe card), cover your bowl with aluminum foil, and chill until ready to bake.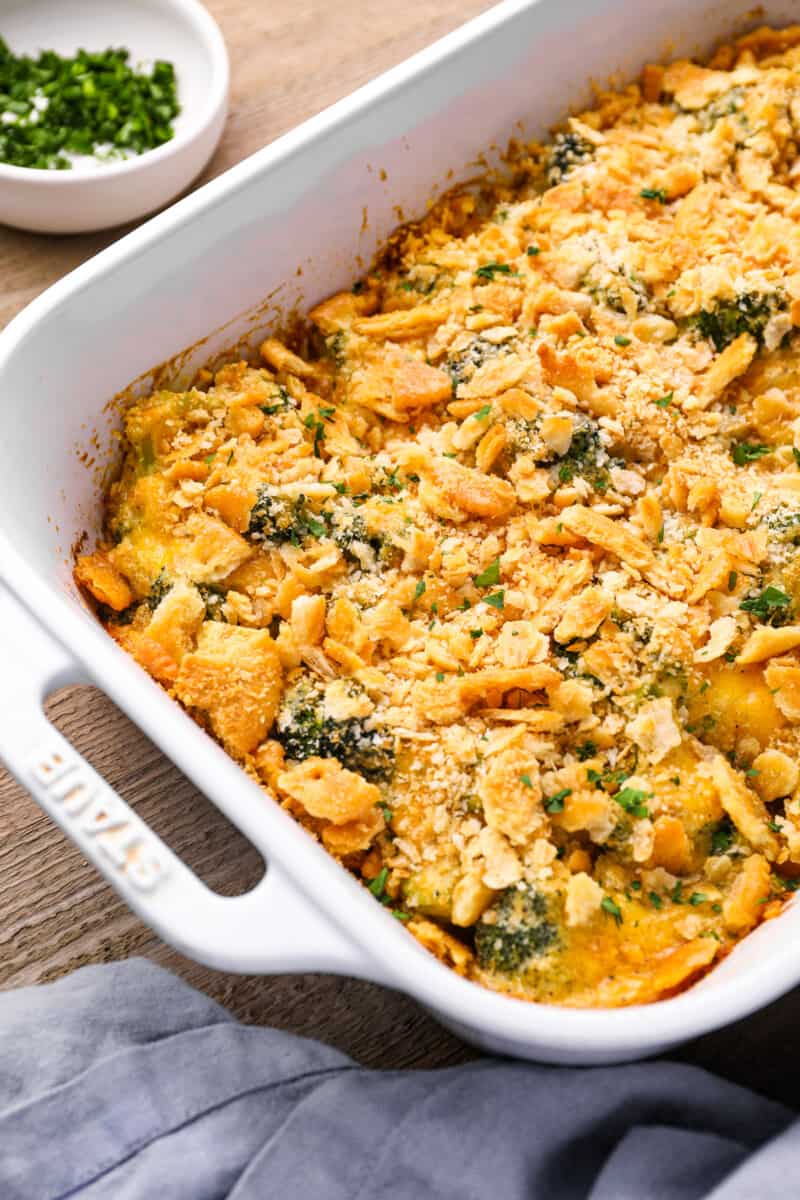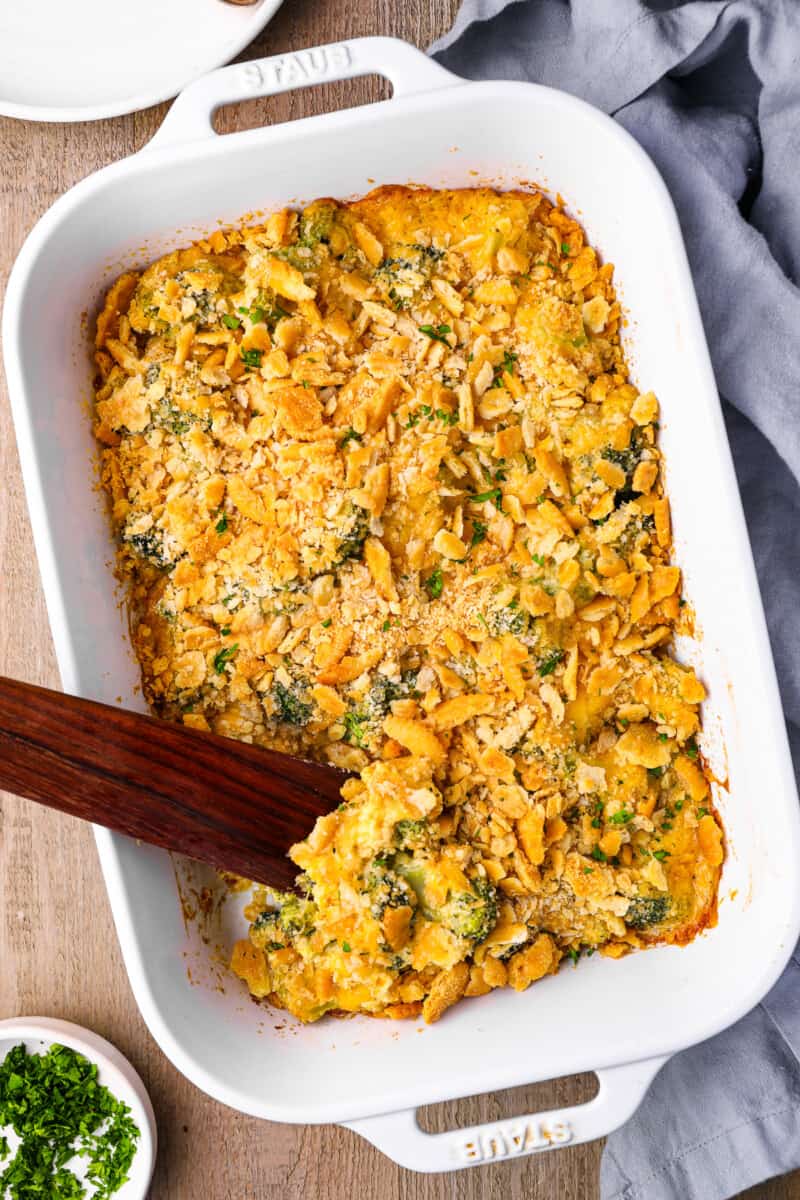 Make Ahead Instructions
You can make this broccoli cheese casserole up to 3 days in advance and store it in an airtight container in the refrigerator until ready to serve.
Storage Instructions
Store leftover broccoli cheese casserole in an airtight container in the refrigerator for up to 4 days. Reheat in a 350°F oven for 15-20 minutes, or until warmed through.
Freezing Instructions
Freeze broccoli cheese casserole tightly wrapped in 2 layers of plastic wrap and 1 layer of aluminum foil for up to 3 months. Let thaw overnight in the refrigerator before reheating.
Substitutions
You can swap in 3-4 stalks of fresh broccoli for each 16-ounce bag of frozen.
You can replace up to half of the broccoli with cauliflower.
In place of the cream of chicken soup, you can use cream of celery or cream of mushroom.
In place of the mayonnaise, you can use sour cream.
Feel free to use sharp cheddar, gruyere, fontina, or Havarti instead of regular cheddar.
In place of the Ritz crackers, you can use any other cracker or Panko or regular breadcrumbs.
Feel free to add a cup of chopped cooked chicken or 2 cups of cooked rice to this casserole.
Tip for the Best Broccoli Cheese Casserole
Make sure to fully defrost the broccoli before using it!
Drain any excess water from the thawed broccoli before adding it to the casserole to avoid a watery casserole.
If your casserole is browning too quickly, loosely cover it with aluminum foil for the remainder of the baking time.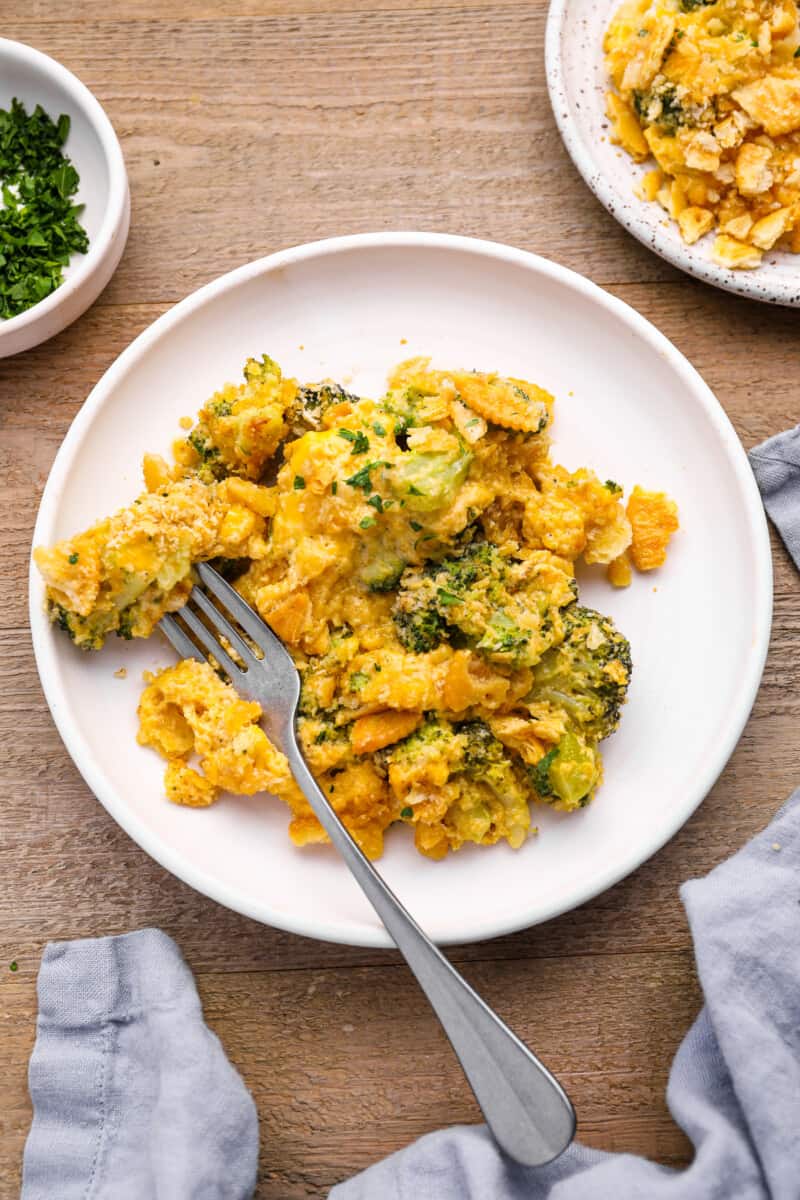 This cheesy broccoli casserole is so warm and comforting that even the pickiest eaters will devour it! Let us know how your casserole dish turned out in the comments below!
If you make this recipe be sure to upload a photo in the comment section below or leave a rating. Enjoy! You can also jump to recipe.