This Broccoli Cheese Casserole makes for the most delicious side dish, no matter the occasion! Enjoy tender broccoli coated in delicious, cheesy goodness. The best part? It's topped with Ritz cracker crumbs!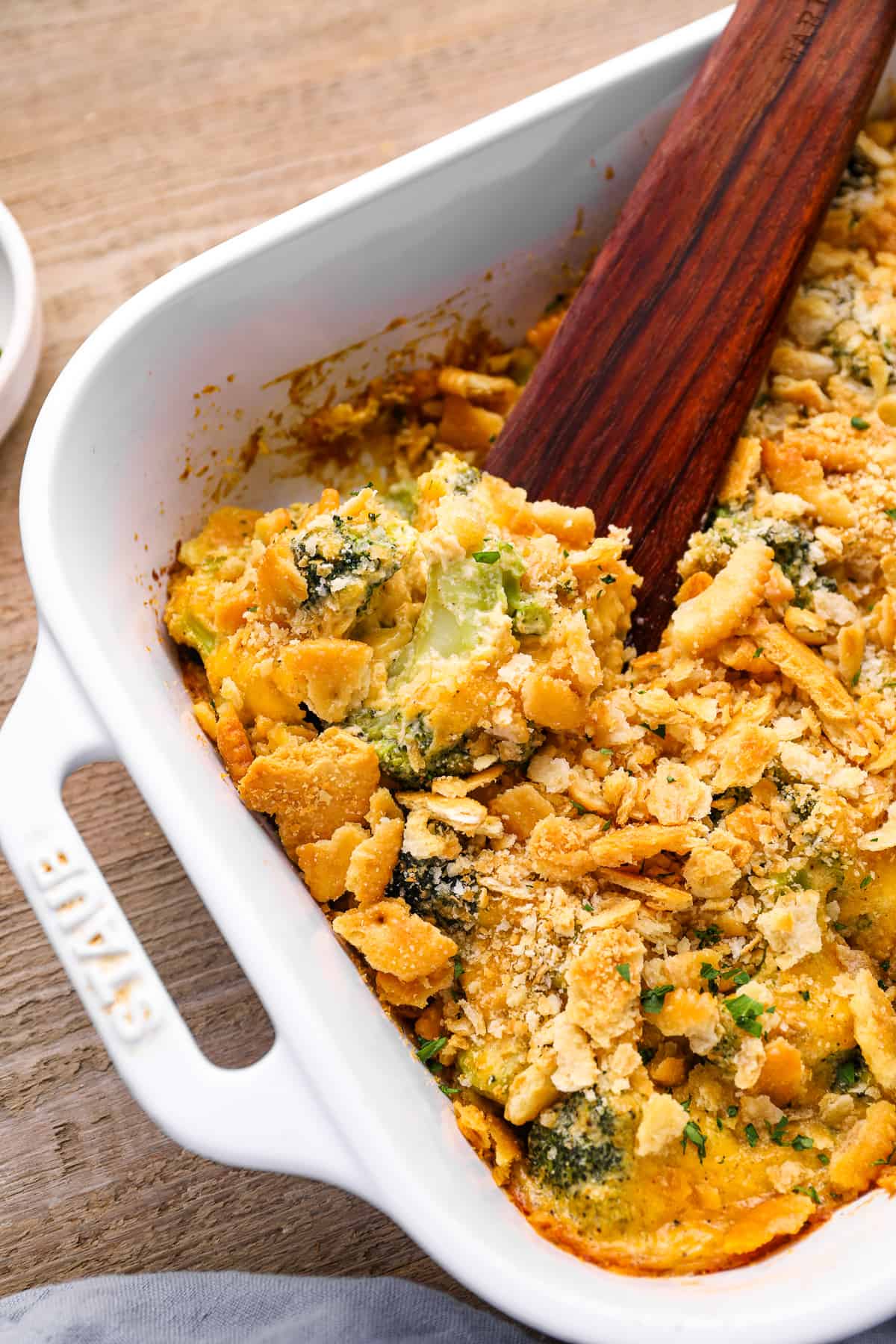 What's in this Broccoli Cheese Casserole Recipe?
Broccoli and cheese are a match made in heaven. Add a layer of buttery crackers into the mix, and you've got yourself the ultimate comfort food! Savor this broccoli cheese casserole as a side dish at any holiday gathering, potluck, or even as a complete meal at home.
Frozen Broccoli: Makes this casserole easy to throw together since it's already cut into florets.
Egg: Helps bind the casserole together.
Cream of Chicken Soup: Makes this casserole creamy and adds a savory flavor. If you're vegetarian, feel free to swap for cream of mushroom soup or cream of celery.
Mayonnaise: Helps make this casserole super rich and creamy.
Spices: Garlic powder, onion powder, black pepper, and ground paprika add a savory flavor to the casserole.
Cheddar Cheese: Makes this casserole gooey and cheesy!
Ritz Crackers: Create a crispy, crunchy topping.
Unsalted Butter: Binds the crackers and helps them brown in the oven.
Pro Tip: To quickly thaw your broccoli, microwave it at 50% power until no longer frozen but cool to the touch.
Variations on Broccoli and Cheese Casserole
We love this recipe because it's a simple, make-ahead recipe that can easily be customized to your liking. Feel free to add rice, mushrooms, chicken, and other seasonings to make this fantastic recipe all your own!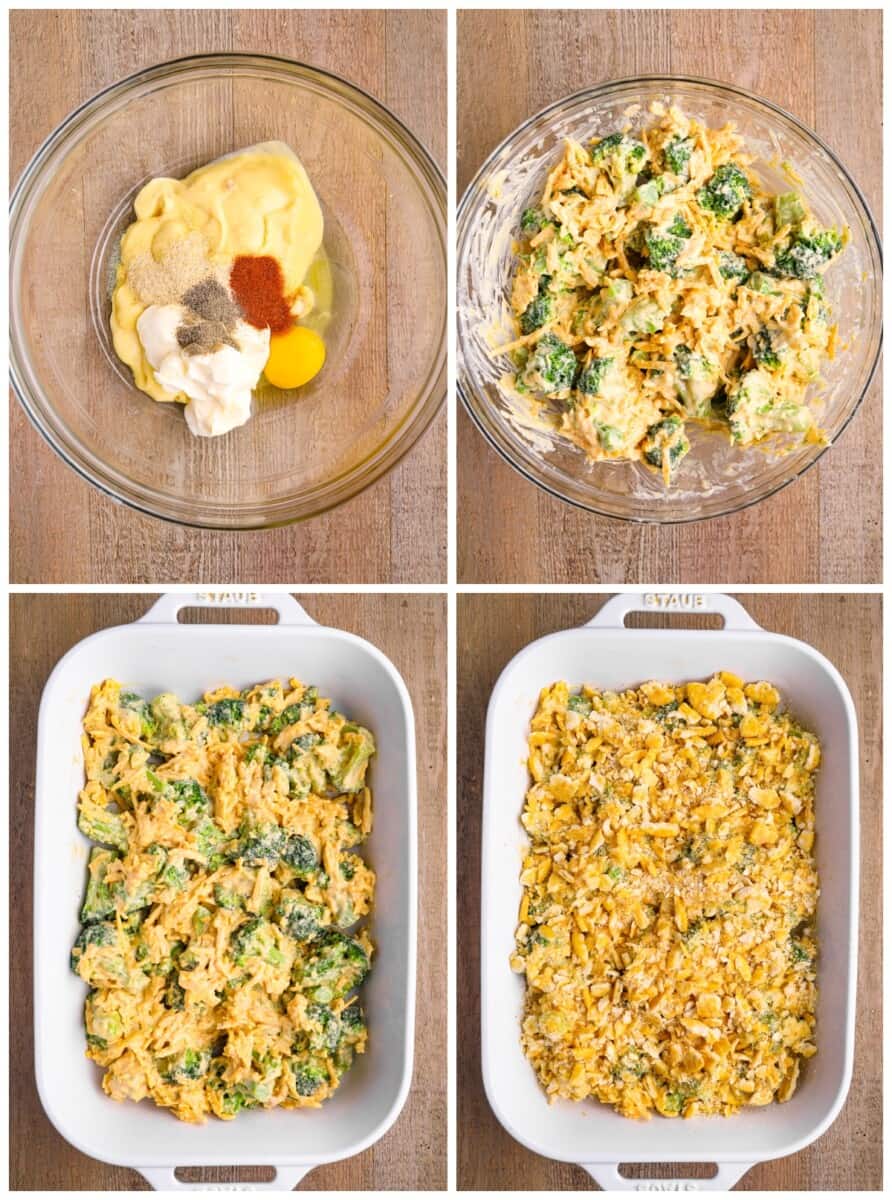 Is it better to use fresh or frozen broccoli in a casserole?
It's totally up to you! I like using frozen because I don't have to waste time cutting the broccoli crowns into florets and it's already partially cooked (so no need to blanch!).
How much fresh broccoli would I need?
Yes, you can swap in 3-4 stalks of fresh broccoli for each 16-ounce bag.
Do I need to cook broccoli before adding it to this casserole?
If using frozen broccoli, there's no need to blanch it! With fresh broccoli, it's up to you. I don't usually blanch fresh broccoli because I like it crisp. If you like yours on the softer side, you can definitely blanch it before adding it, though!
How do you cook frozen broccoli so it's not mushy?
Drain any excess water from the thawed broccoli before adding it to the casserole to avoid a watery casserole.
Why is my broccoli cheese casserole watery?
If your casserole is watery, it's likely that the frozen broccoli wasn't properly drained. Try patting it dry in a towel before adding it to the casserole.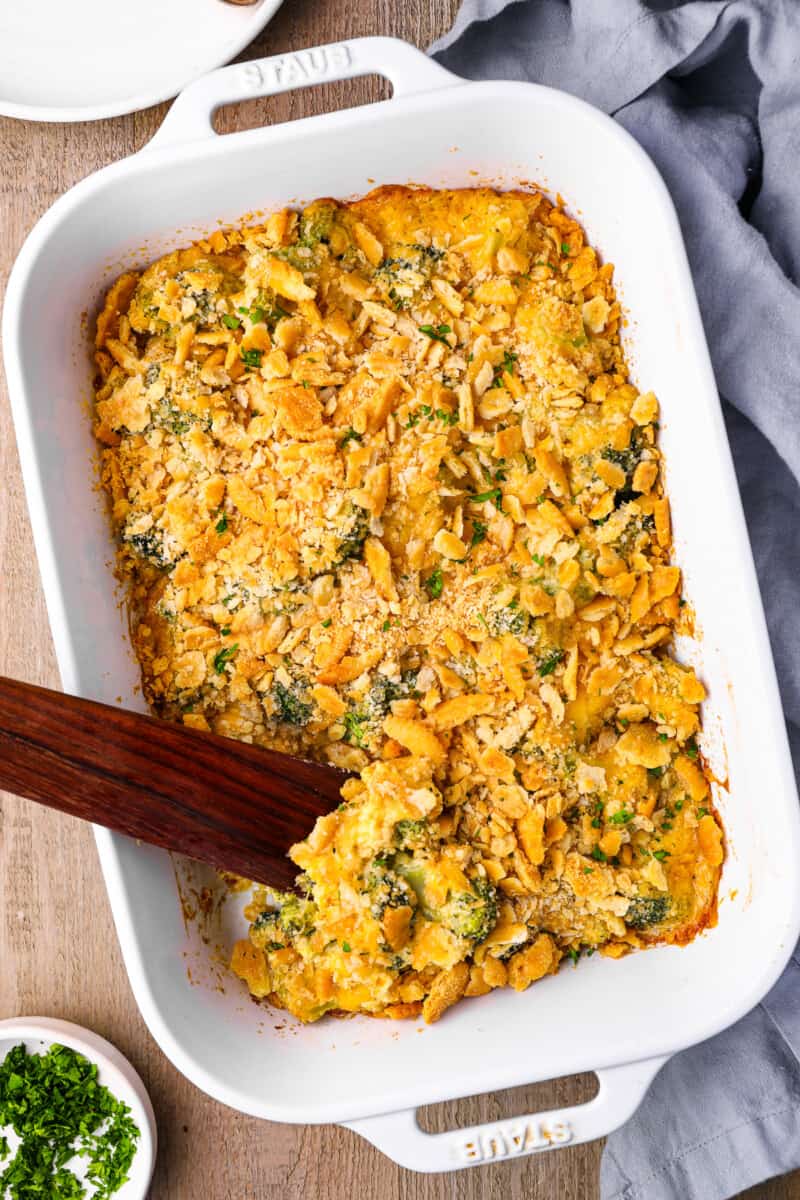 How to Make Ahead and Store
This broccoli casserole recipe is great for making a day ahead. Just prepare the recipe through step 3 (in the recipe card), cover your bowl with aluminum foil, and chill until ready to bake.
Store leftover broccoli cheese casserole in an airtight container in the refrigerator for up to 4 days.
How to Freeze and Reheat
Freeze broccoli cheese casserole tightly wrapped in 2 layers of plastic wrap and 1 layer of aluminum foil for up to 3 months. Let thaw overnight in the refrigerator before reheating in a 350°F oven for 15-20 minutes, or until warmed through.
Serving Suggestions
Serve this cheesy broccoli casserole with Thanksgiving turkey, turkey gravy, mashed potatoes, green bean casserole, creamed corn, cranberry sauce, and fresh dinner rolls.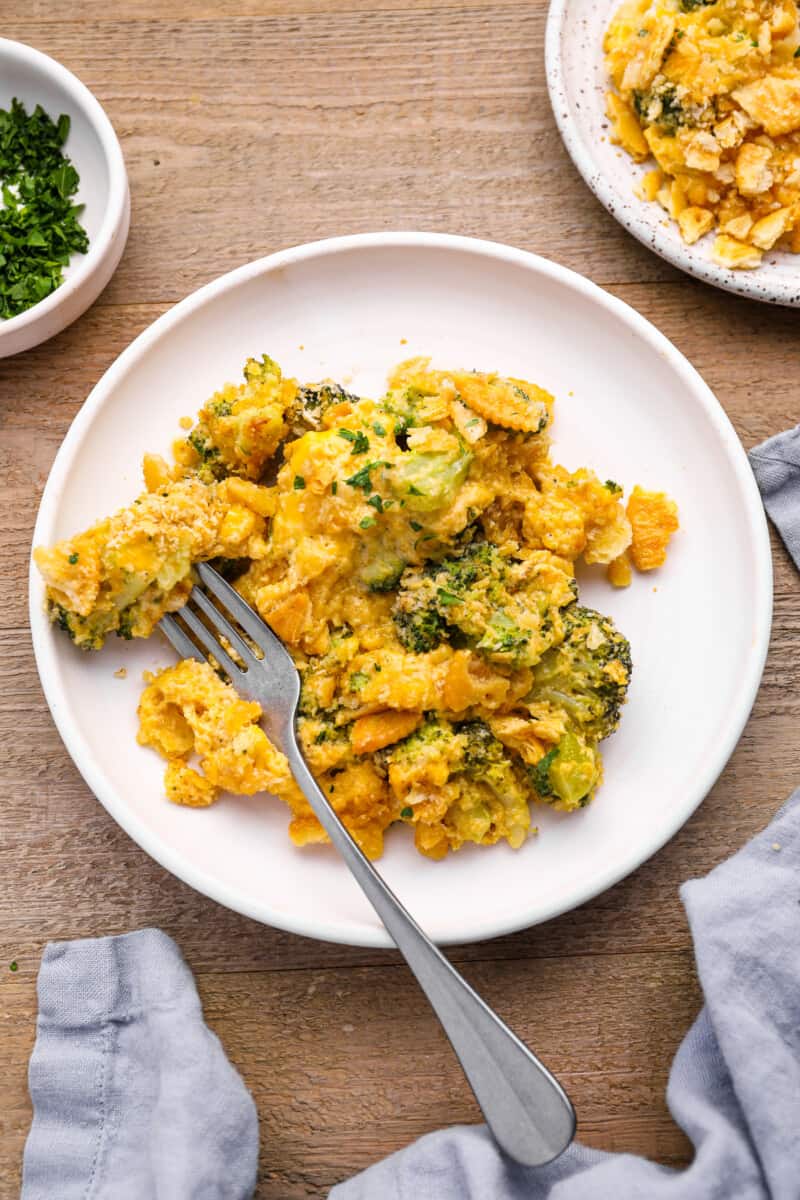 More Broccoli Casserole Recipes We Love