Tater Tot Casserole is so cheesy and so easy! This delicious dish is filled with ground beef, green beans, cream of chicken, and cheese, then topped off with tater tots. Everyone will love this easy meal!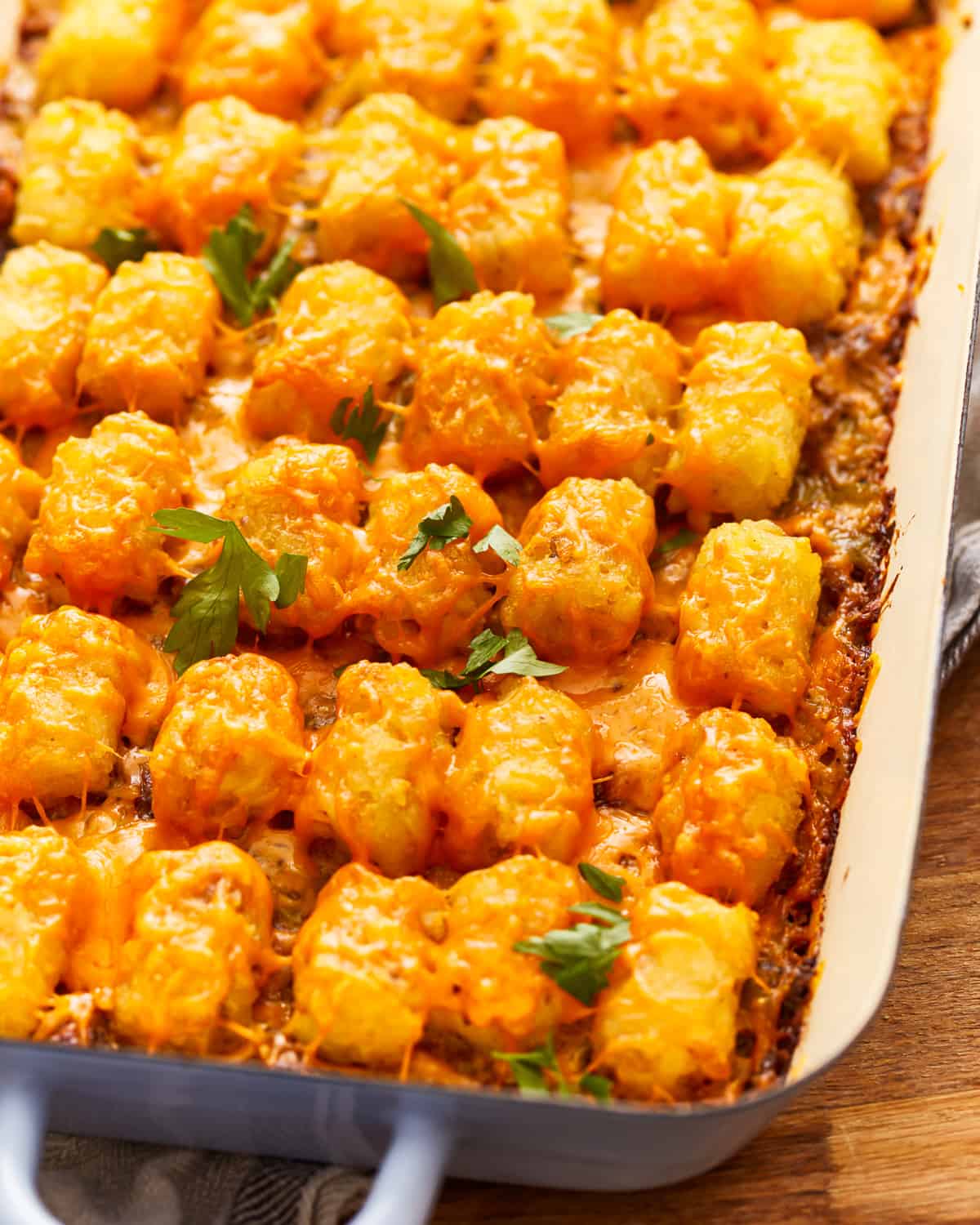 What's in this Tater Tot Casserole Recipe?
This is the best tater tot casserole, made with green beans, ground beef, lots of cheese, and so much more for an amazing flavor. Then everything is topped off with tater tots!
Ground Beef: I used 85% lean!
Spices: Garlic powder, onion powder, salt, basil, and pepper add so much flavor to the beef!
Green Beans: Add a pop of color, texture, and nutrition!
Cream of Chicken Soup: Binds the casserole ingredients together and adds moisture and richness.
Sharp Cheddar Cheese: Creates a gooey, cheesy layer on top of the casserole!
Sour Cream: Adds a touch of tanginess to the casserole.
Ketchup: Adds a lightly sweet and tangy flavor.
Soy Sauce: Adds a salty, umami flavor.
Frozen Tater Tots: Form a crisp golden crust on top!
Pro Tip: Do not thaw the tater tots!!
Variations on Cheesy Tater Tot Casserole
There are so many ways you can change up this casserole. Try adding crumbled bacon for an extra smoky flavor and crispy texture. For a healthier casserole, add additional sautéed vegetables, like bell peppers, onions, and mushrooms. For a southwestern take, try making my Mexican Tater Tot Casserole!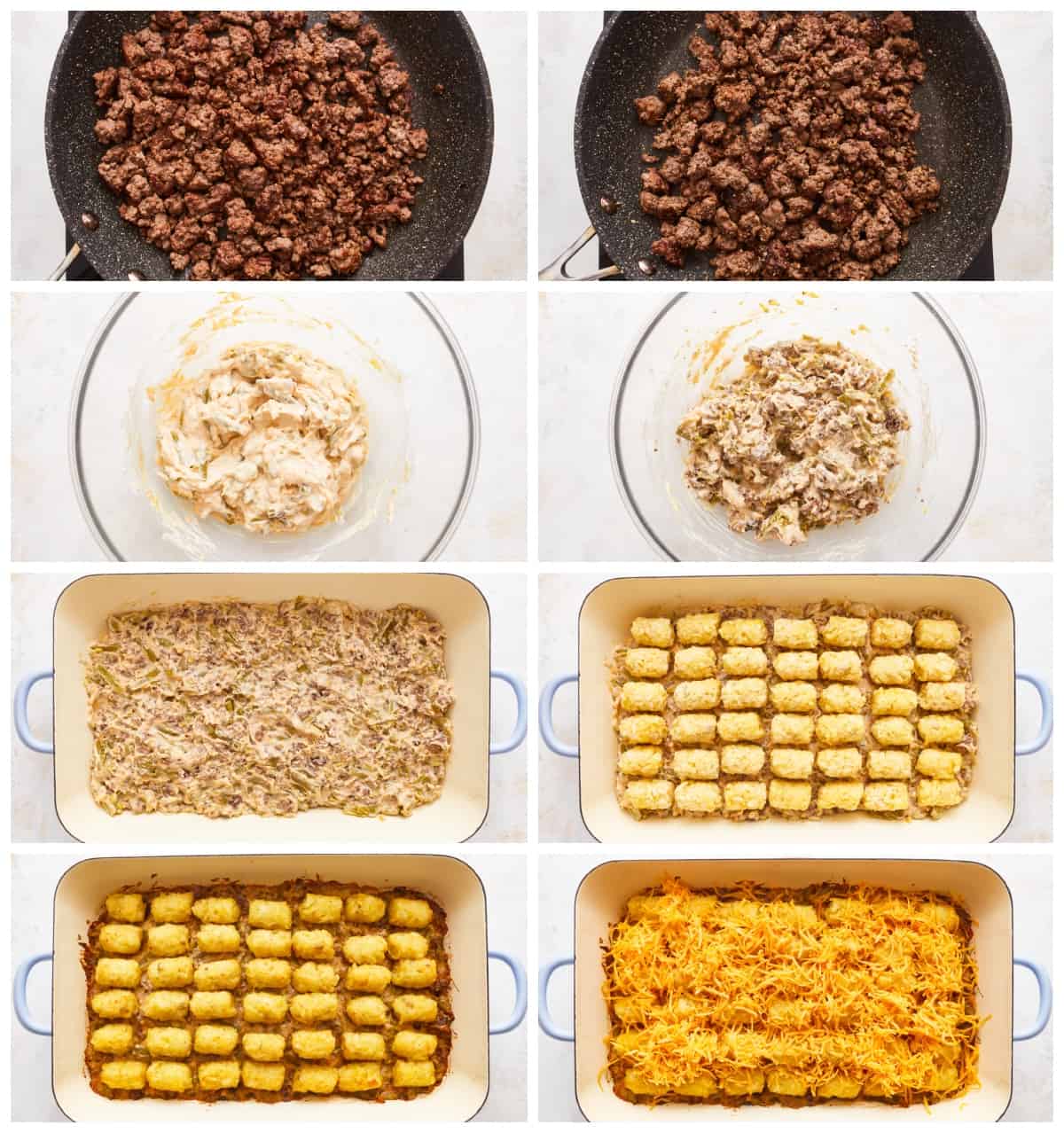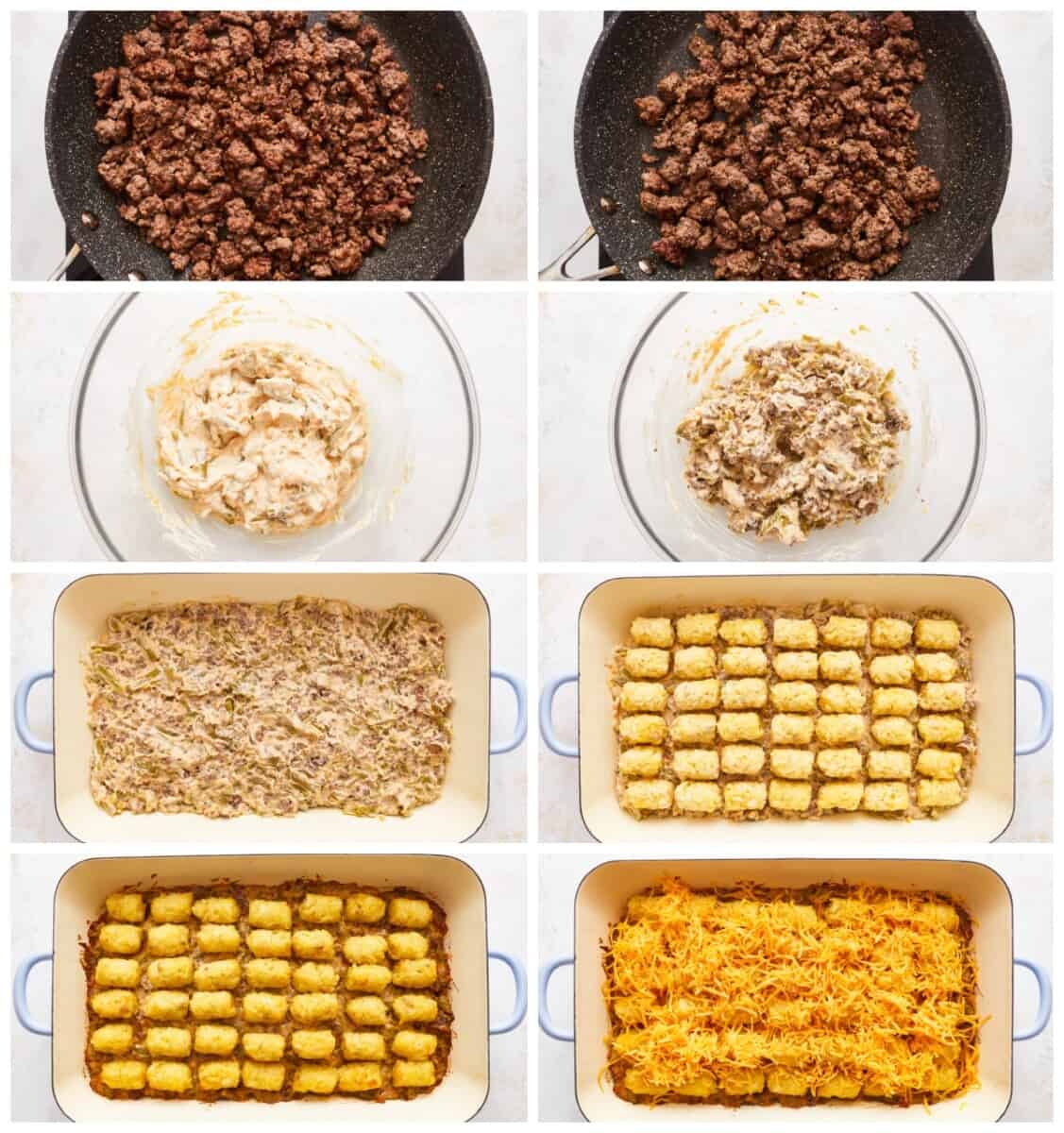 What state is known for tater tot casserole?
Minnesota is best known for tater tot hotdish, although it is a staple meal in much of the Midwest!
How do you thicken a tater tot casserole?
The cream of chicken soup should make this casserole plenty thick, but if yours seems a bit thin, try whisking together equal parts cornstarch and cold water, then stir it into the filling until thick.
Why aren't my tater tots crispy?
If your tater tots aren't crispy, they probably need a bit longer to bake. You can also try spraying or brushing on some cooking oil to help them brown more in the oven!
What goes with tater tot casserole?
This casserole is a full meal all by itself, but you could also serve it with some buttermilk biscuits or coleslaw!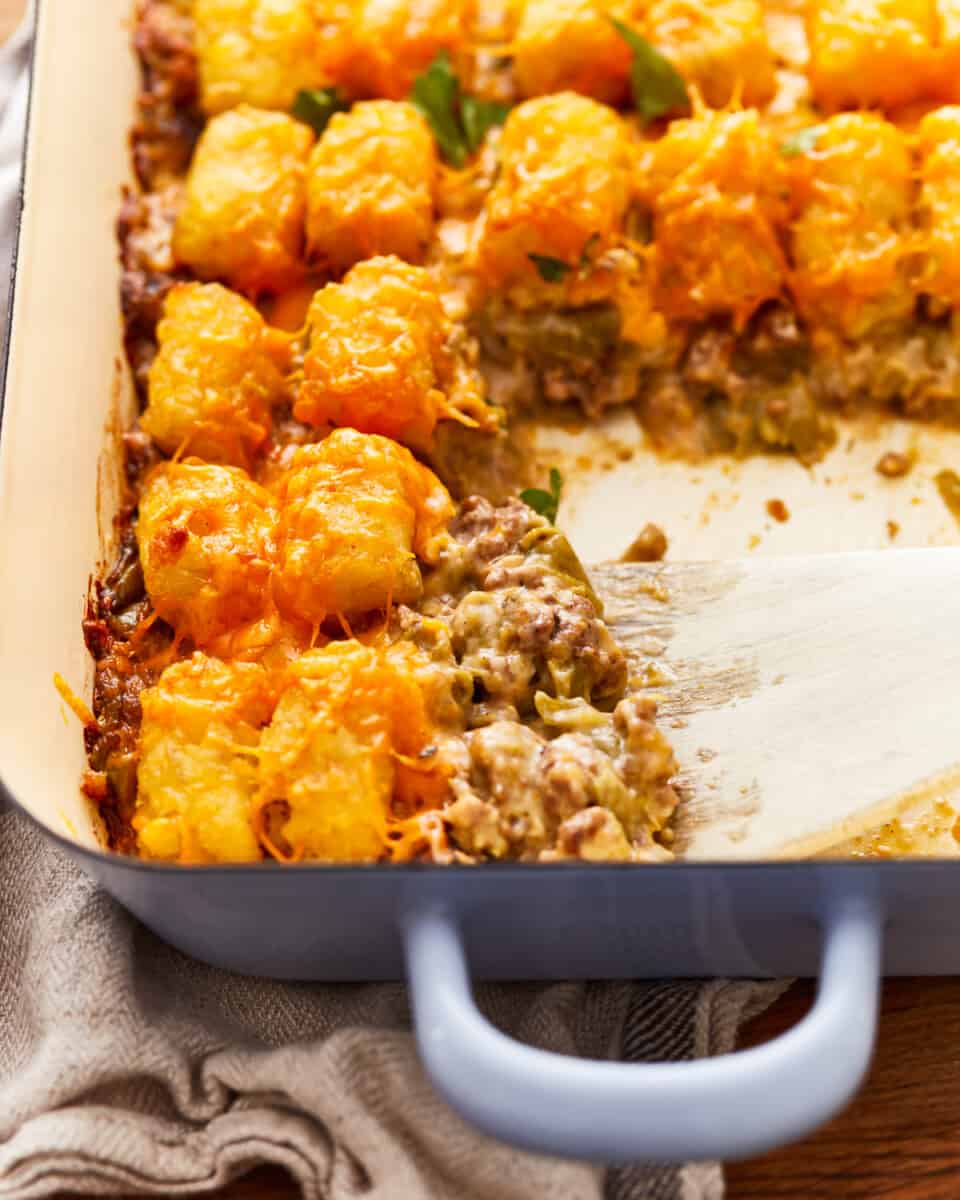 How to Store and Reheat
Store leftover tater tot casserole tightly covered with plastic wrap in the refrigerator for up to 3 days. Reheat covered with aluminum foil in a 350°F oven for about 30 minutes, or until warmed through.
How to Freeze
This recipe makes a great freezer meal! If you want to make it ahead of time, prep and assemble the casserole according to instructions. Instead of baking it, let it cool, cover it with aluminum foil, then freeze up to 1 month. You can freeze it the same way after cooking if you have leftovers.
Serving Suggestions
With all of the ingredients in this casserole (beef, green beans, and tater tots), it's a full meal on its own. But if you'd like to add something extra, I'd recommend serving it with another veggie side, a salad, or maybe some bread. Try this spinach salad and cornbread muffins.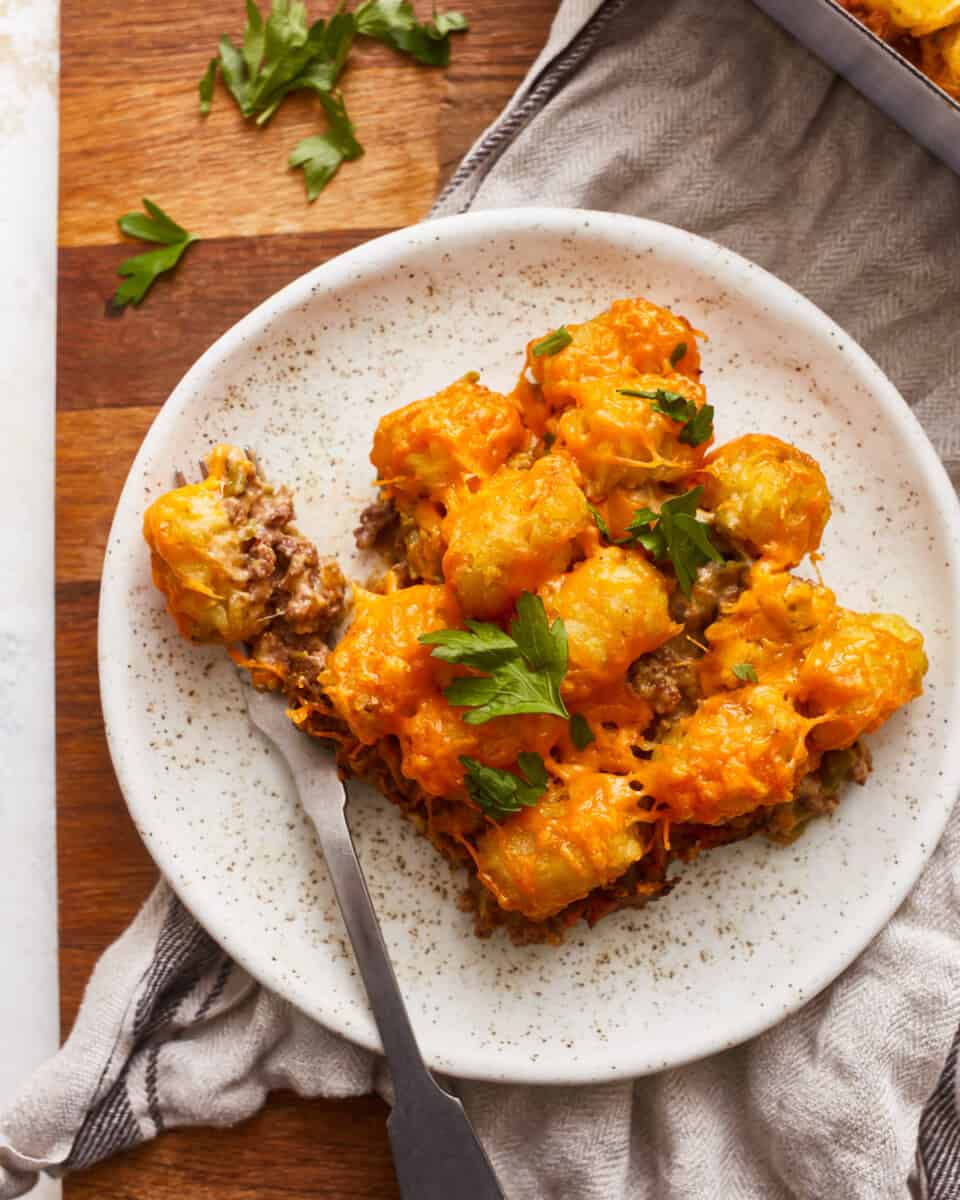 5-Star Review
"Love it!" – Donna Rose
More Beef Casserole Recipes We Love