Homemade Hamburger Helper is a classic combo of cheesy macaroni and hearty ground beef, with plenty of seasonings to go around. This cheeseburger macaroni recipe is so much better than the boxed version but just as easy to make. It's sure to fill you up and satisfy even the pickiest of eaters!
What's in this Hamburger Helper Recipe?
This homemade version of Hamburger Helper is a great way to stretch a pound of ground beef into a larger meal. Here's a rundown of the ingredients:
Macaroni: Elbow macaroni is the classic choice for Hamburger Helper, but you could use any short-shaped pasta, such as shells, bowties, or penne.
Olive Oil: Helps the onion and garlic cook without burning. You can use vegetable oil, canola oil, avocado oil, or unsalted butter if you prefer.
Onion and Garlic: Classic flavor pairings for ground beef that give this dish depth.
Ground Beef: Ground beef is classic. I like 85% lean ground beef, but you could go leaner if you like.
Tomato Paste: Tomato paste adds rich tomato flavor without whole tomato pieces for picky eaters.
Dijon Mustard: This secret weapon ingredient adds brightness to the dish to make it taste fresher.
Worcestershire Sauce: Worcestershire sauce adds a rich, umami flavor that enhances the meatiness of the dish. In a pinch, you can swap the Worcestershire sauce for soy sauce.
Paprika: Regular or smoked paprika both work well in this recipe.
Beef Broth: Broth helps to make this dish extra savory. You can use vegetable broth or hot water instead.
Milk: Whole milk makes this dish creamy without as many calories as heavy cream. You can use cream cheese, plain yogurt, evaporated milk, plant-based milk, water, or more beef broth instead.
Sour Cream: In place of the sour cream, you can use plain yogurt or vegan sour cream.
Cheese: Use freshly shredded cheddar cheese for the best consistency. Pre-shredded cheese is coated in starch which can cause it to melt unevenly. Feel free to swap the cheddar cheese for Colby, Swiss, Monterey jack, or vegan cheddar.
Pro Tip: You can sneak in spinach at the end of cooking.
Variations on Cheeseburger Macaroni
For a spicier dish, add a bit of chili powder or hot sauce. Top with more hot sauce or crushed red pepper flakes to taste. For a healthier swap, use ground chicken, turkey, lentils, or diced tofu instead of beef.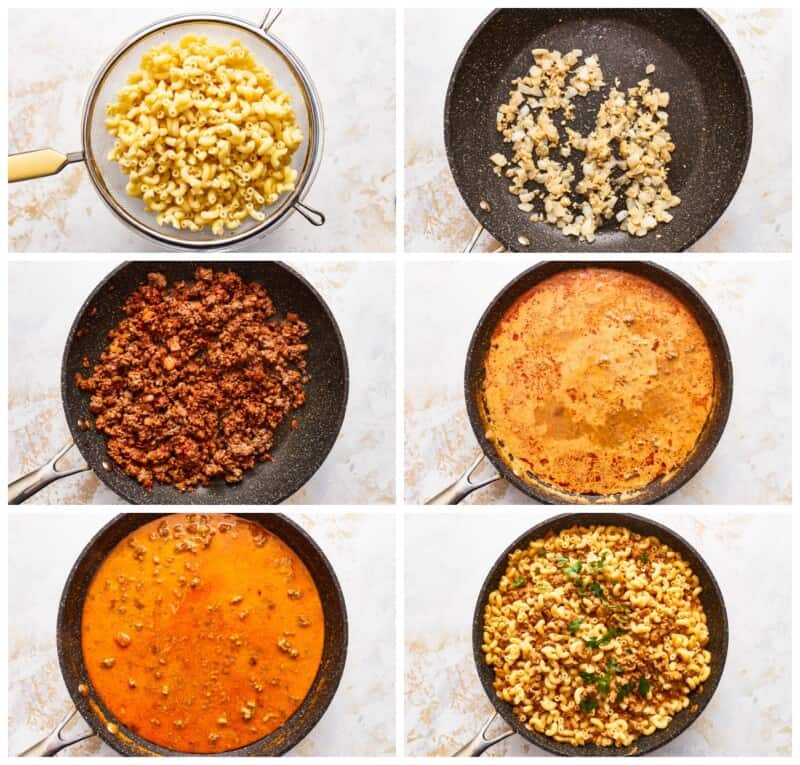 Is Hamburger Helper healthy?
The pre-packaged Hamburger Helper is pretty high in sodium. Our homemade version allows you to better control the sodium levels and uses real, wholesome ingredients rather than just powdered seasonings.
Can you make Hamburger Helper without milk?
Yes! The easiest swap for milk is another dairy product, such as cream cheese, yogurt, or evaporated milk. For a dairy-free version, you can use plant-based milk, water, or broth; swap the sour cream for a dairy-free or vegan sour cream; and swap the cheese for a dairy-free or vegan cheese!
Can you make Hamburger Helper without meat?
Sure! This dish is great vegetarian or with lentils or diced tofu!
How long does it take for Hamburger Helper to thicken?
It shouldn't take more than 5 minutes for the sauce to thicken once you add the noodles.
Can you make Hamburger Helper in a crockpot?
Absolutely! Follow the recipe through step 2, then place the sautéed veggies, beef, and all other ingredients except for the cheese in a crockpot. Cook over high for 2-3 hours or low for 4-5 hours, stirring in the cheese and cooked pasta at the very end.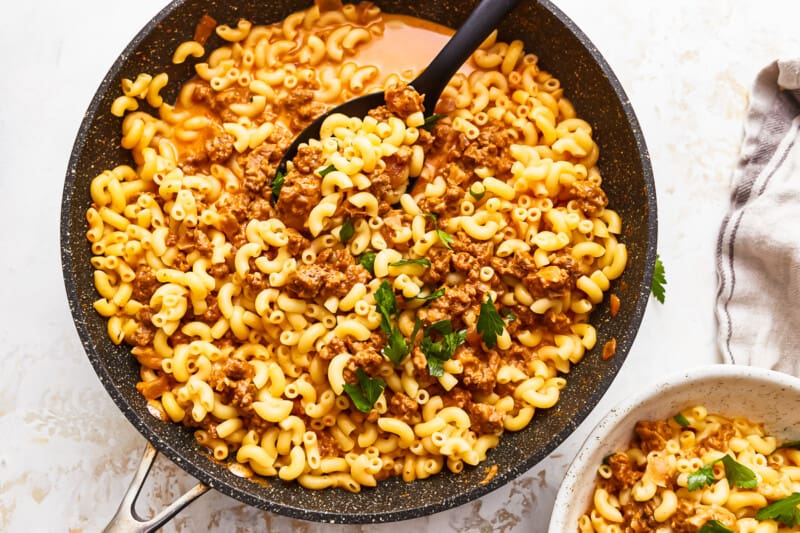 How to Store and Reheat
Store leftover Hamburger Helper in an airtight container in the refrigerator for up to 3 days. Reheat in the microwave or in a saucepan set over medium-low heat.
How to Freeze
Freeze cheeseburger macaroni in an airtight container for up to 3 months. Let thaw overnight before reheating.
Serving Suggestions
Hamburger Helper is a wholesome, filling dinner all on its own. It's got plenty of protein, starch, and fat to sate even the hungriest growing teens. For a bit more greenery, stir in a few handfuls of fresh spinach at the end of cooking or serve this casserole with air fryer broccoli, roasted mushrooms, maple bacon Brussels sprouts, or Pennsylvania Dutch beans.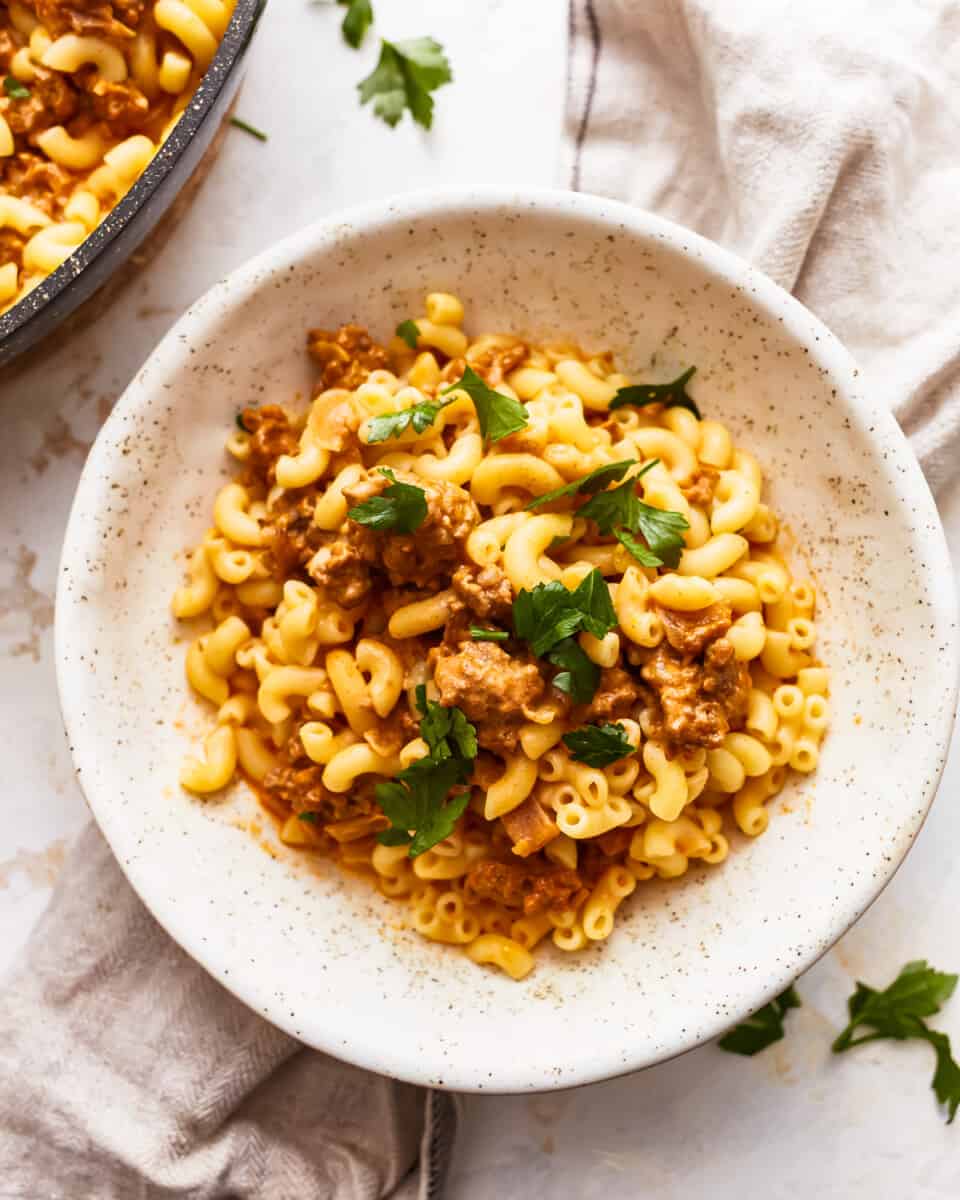 More Classic Beef and Noodles Recipes We Love