These crockpot mashed potatoes are the perfect side dish for Thanksgiving dinner. They're buttery, rich, and have a luxuriously creamy texture that is sure to be everyone's all-time favorite this year!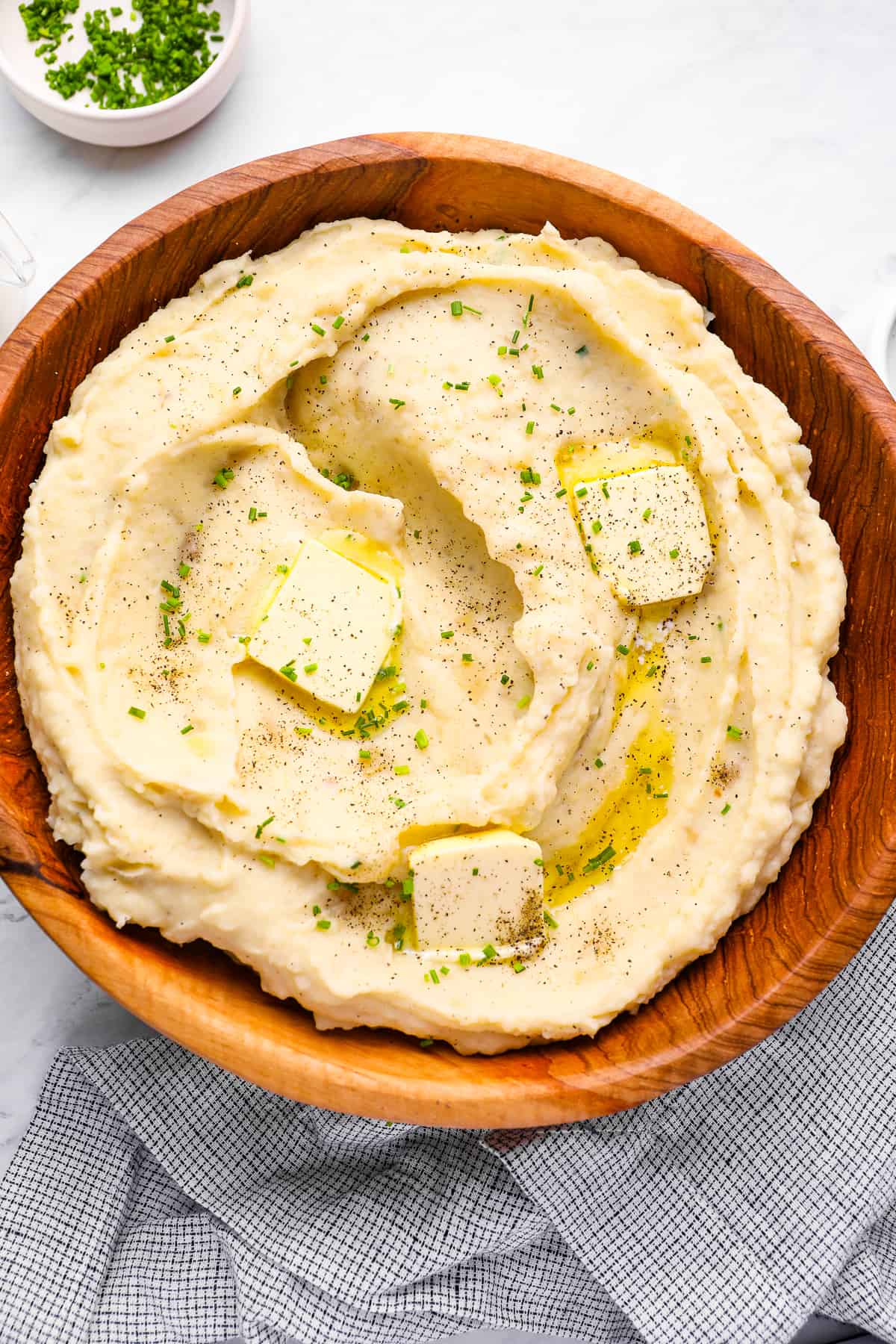 Slow Cooker Mashed Potatoes
Nothing is worse than a holiday meal featuring a slab of cold mashed potatoes. But cook them in a crockpot, and your creamy potatoes will stay toasty warm once they make it to the Thanksgiving table.
We love this potato recipe because it's a ridiculously easy, hands-off way to make mashed potatoes for any special occasion with many guests to feed. Just prep your potatoes, dump them in the crockpot, and let it do all the cooking for you!
Why You'll Love this Crockpot Mashed Potatoes Recipe:
Easy & Delicious: These crockpot mashed potatoes are an easy, set-it-and-forget-it meal with an enhanced flavor as it's cooked long and slow.
Family Favorite: You can't go wrong with a plate of warm, buttery mashed potatoes! Their wonderfully smooth texture and rich taste will surely have guests diving in for seconds!
Ultimate Comfort Food: There's just something about mashed potatoes that makes you feel all warm and cozy inside, and this recipe hits the spot!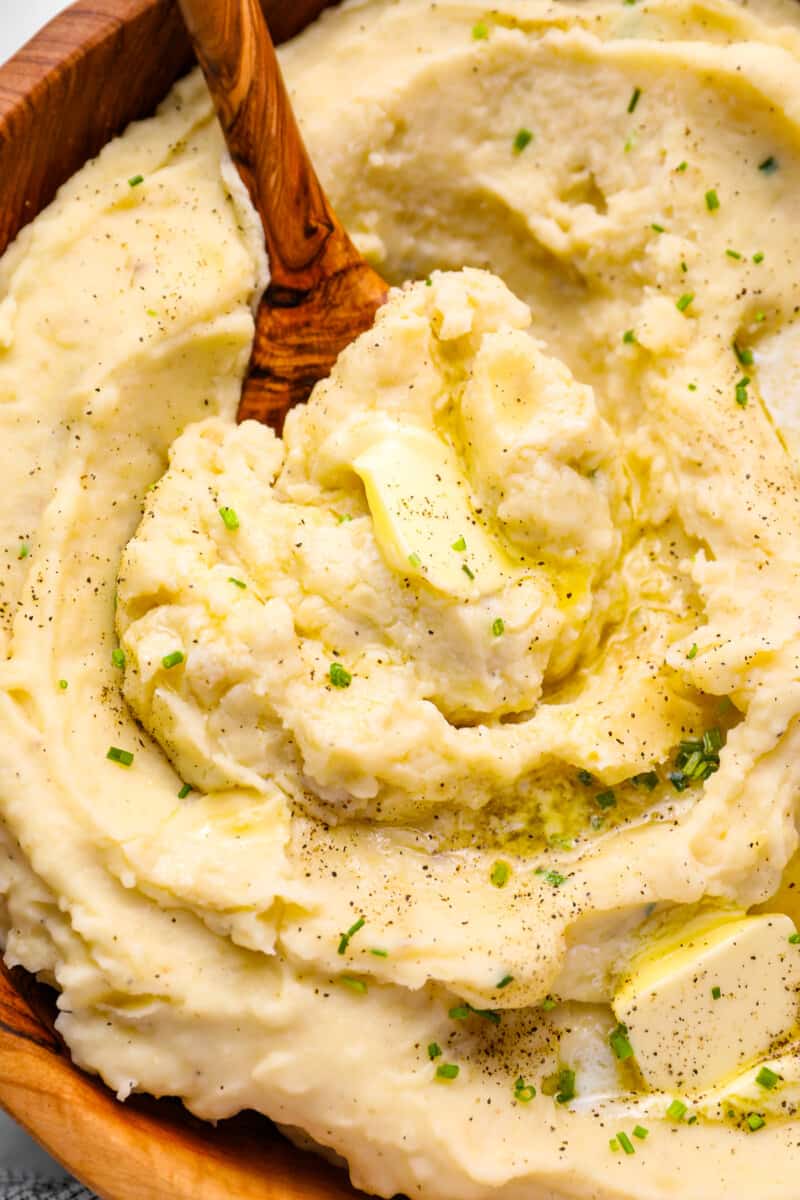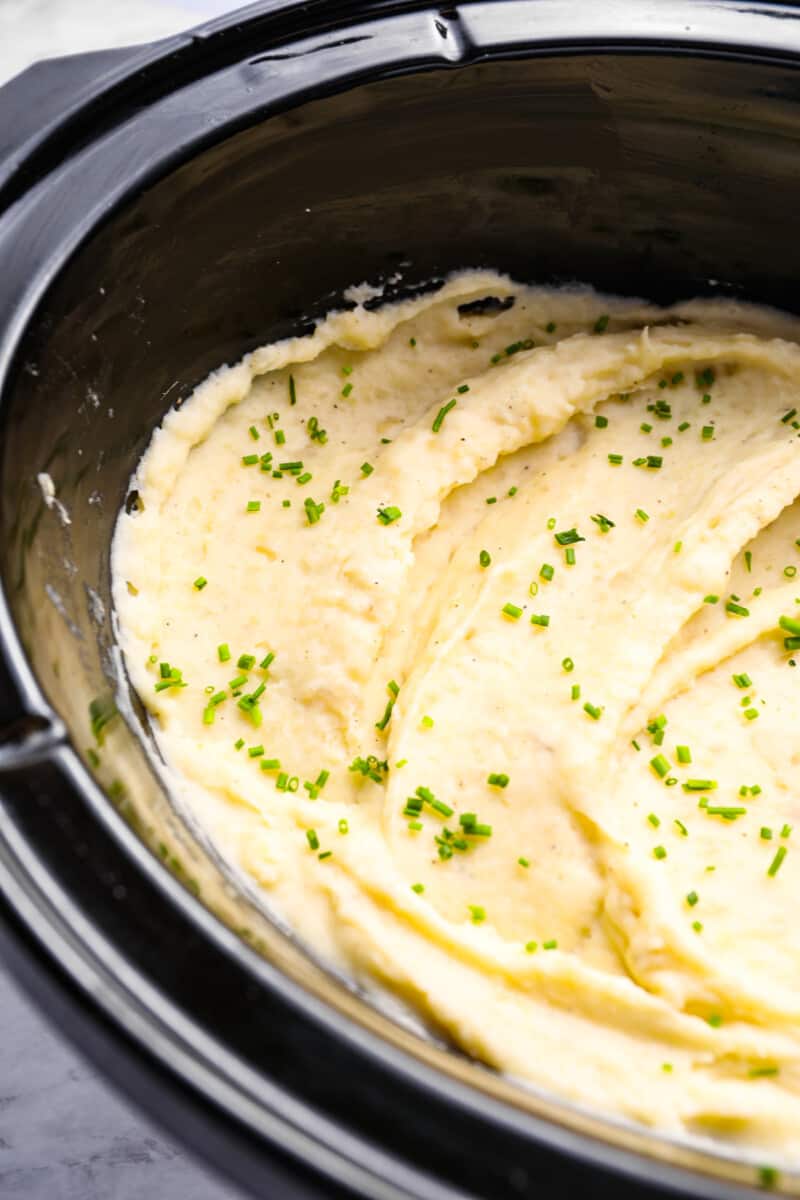 How to Make Mashed Potatoes in the Crockpot
You can jump to the recipe card for full ingredients & instructions!
Grease your crockpot with nonstick cooking spray.
Peel and chop your potatoes according to the instructions below (in the recipe card).
Add the potatoes to the crockpot with the chicken broth, salt, and pepper. Stir.
Cover and cook on high for 4-5 hours or until the potatoes are fall-apart tender.
Add in the cream cheese and mash the potatoes right in the pot.
Melt butter in a pot over medium heat. Add in the milk and cream, warming until steaming.
Pour the milk and butter mixture into the potatoes. Gently fold until the potatoes are creamy.
Garnish with chives, if desired, and serve with more butter. Enjoy!
Recipe Notes
Potatoes: Russet potatoes are classic, but you can also try Yukon gold potatoes in this recipe! If using a thinner skin potato, you can leave the skins on if you like.
Chicken Broth: Using chicken broth to cook the potatoes instead of plain water adds tons of flavor! For vegetarian potatoes, use vegetable broth or milk instead of chicken broth.
Salt: Adds saltiness and boosts the potato flavor.
Black Pepper: Adds a bit of spice and warms up the flavor of the potatoes.
Cream Cheese: Makes these mashed potatoes smoother and gives them a richer flavor!
Butter: Adds richness and buttery flavor!
Milk: Adds creaminess and helps thin out the potatoes. I recommend whole milk for the creamiest potatoes, but you can use whatever you have on hand.
Heavy Cream: Adds creaminess and helps thin the potatoes to your desired consistency.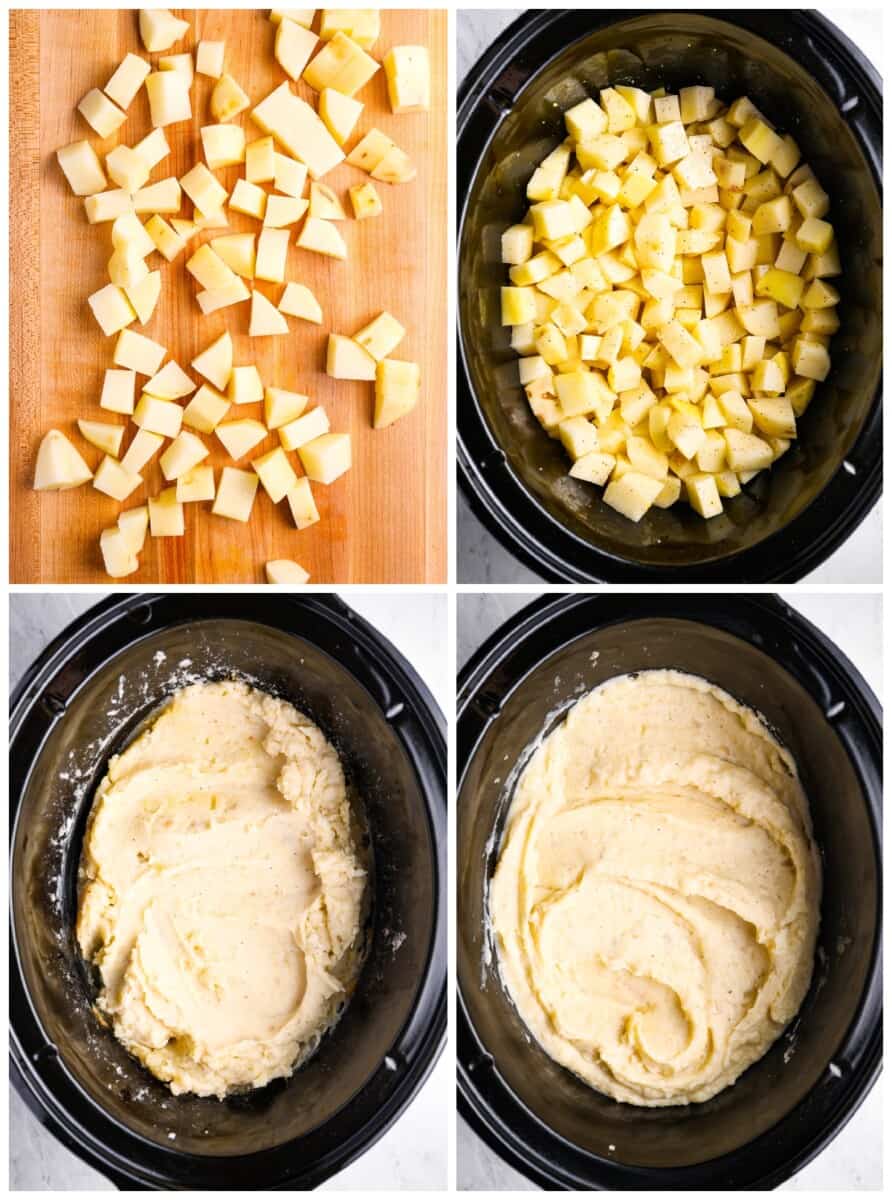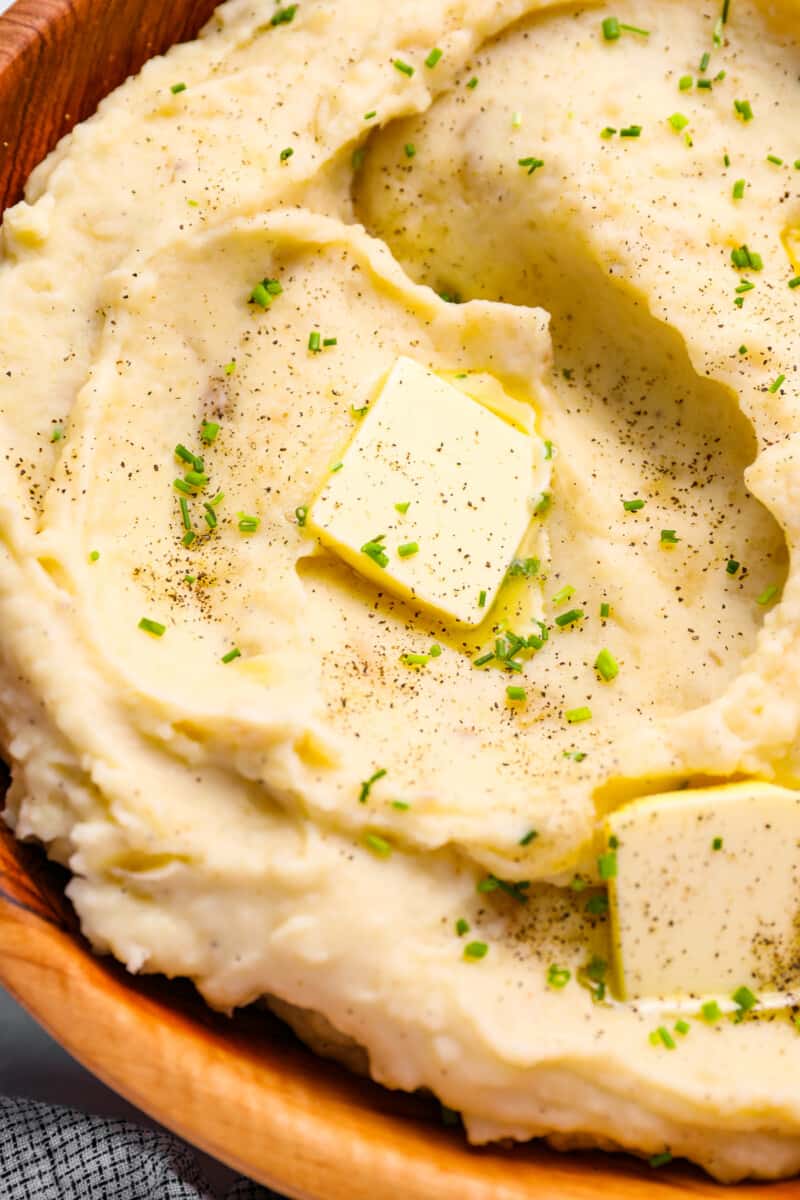 Can I put raw potatoes in a crockpot?
Absolutely! As long as your potatoes are cut into equal-sized cubes, they will cook in just 4-5 hours on high!
Are crockpot mashed potatoes gluten-free?
Yes, these potatoes are naturally gluten-free.
What are the best potatoes for crockpot mashed potatoes?
The best potatoes for mashed potatoes are starchy varieties, such as russet or Yukon gold. I do not recommend using red or new potatoes, as they are waxy and do not mash as well.
Do I have to add cream cheese to crockpot mashed potatoes?
I really recommend it. Cream cheese makes these mashed potatoes unbelievably smooth, creamy, and rich! Try it and I'm sure you'll love it!
Can I make crockpot mashed potatoes on the stovetop instead?
Absolutely! In fact, I already have a great stovetop mashed potatoes recipe that you can follow!
Can I keep mashed potatoes warm in a crockpot?
Yes! You can hold these mashed potatoes on the "warm" setting for up to 2 hours!
Recipe Tips and Tricks
Avoid overmixing your potatoes once they are mashed. Otherwise, they can get gummy. Just mix them until you don't see any more lumps.
Make a dairy-free version of mashed potatoes by mixing in chicken or vegetable broth instead of milk. You can also load up your mashed potatoes with shredded cheddar cheese, crumbled bacon, and chives as toppings.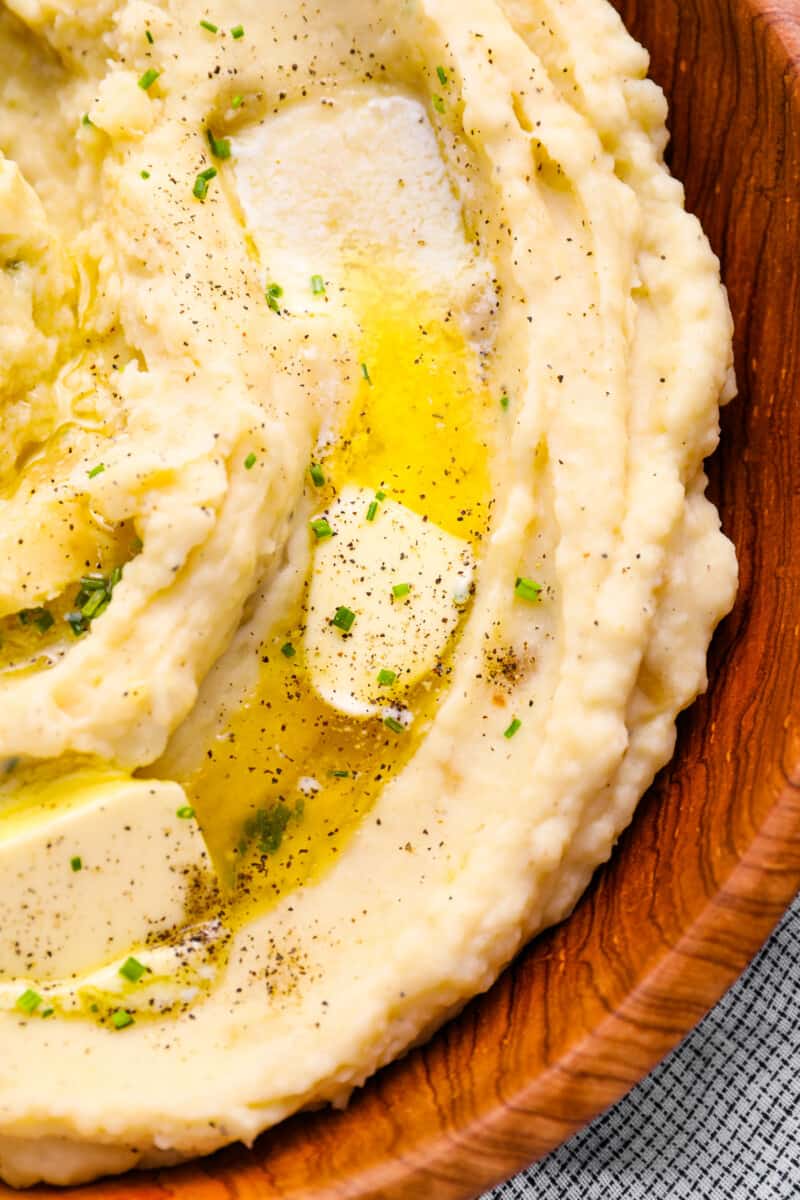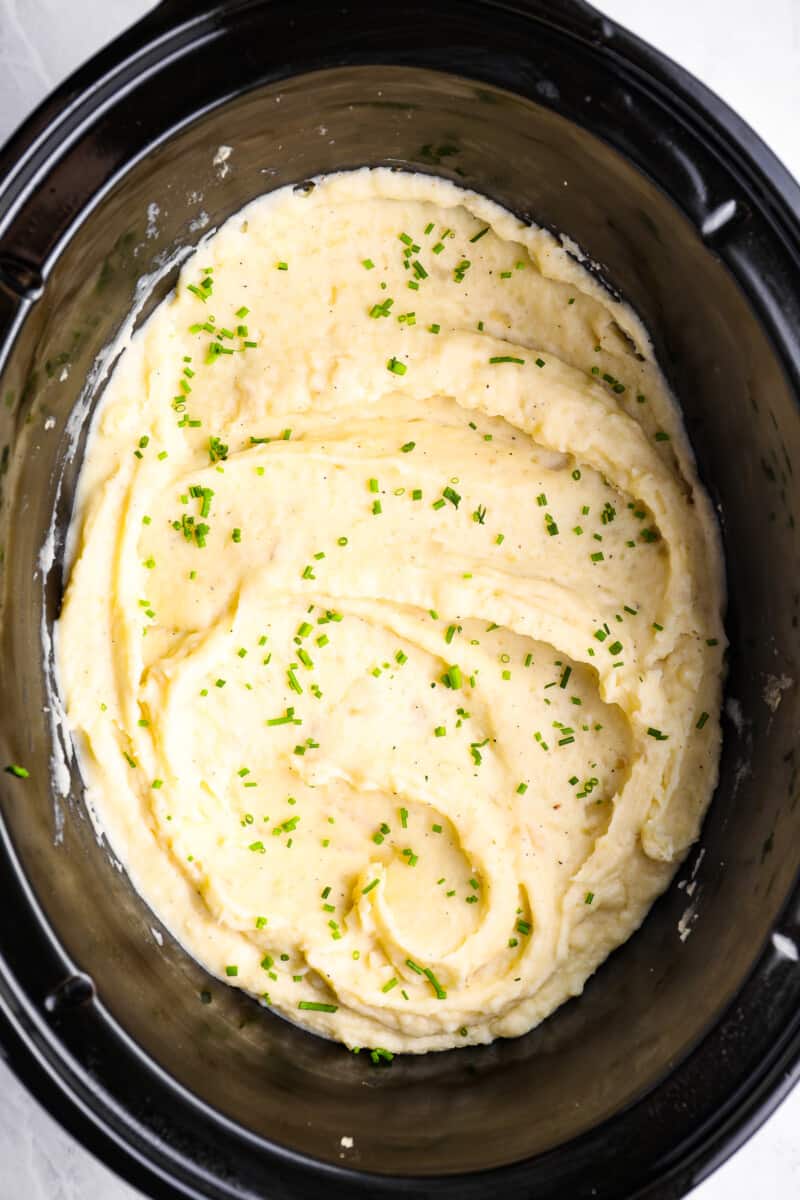 Make Ahead Instructions
You can make crockpot mashed potatoes up to 1 day in advance of when you plan to serve them. Prepare the recipe as directed, let cool completely, then cover and place in the refrigerator. When ready to serve, return to the crockpot on the "keep warm" setting, stirring occasionally until warm. Add splashes of milk or cream as needed to thin.
Storage Instructions
Store leftover crockpot mashed potatoes in an airtight container in the refrigerator for up to 4 days. Reheat in the crockpot on the "keep warm" setting, in a Dutch oven over medium-low heat, or in the microwave on high for 1 minute.
Freezing Instructions
Scoop 1-cup mounds of mashed potatoes onto a lined baking sheet and freeze uncovered until solid, about 1-2 hours. Transfer to an airtight container or Ziplock bag to store for up to 2 months. Let thaw overnight in the refrigerator before reheating.
Substitutions
You can use Yukon gold potatoes instead or russets, or try a mix of both!
For vegetarian mashed potatoes, swap the chicken broth for vegetable broth or milk.
In place of the cream cheese, you can use sour cream or Greek yogurt, but your potatoes won't be as creamy.
You can use any milk you have on hand, including plant-based milks.
In place of the heavy cream, you can use half-and-half or more milk.
Tips for the Best Crockpot Mashed Potatoes
Keep the potatoes hot until you're ready to mash them. It will help the ingredients to combine better.
Take care not to overmix your potatoes; otherwise, they will turn out gummy.
Keep mashed potatoes warm on the "keep warm" setting for up to 2 hours.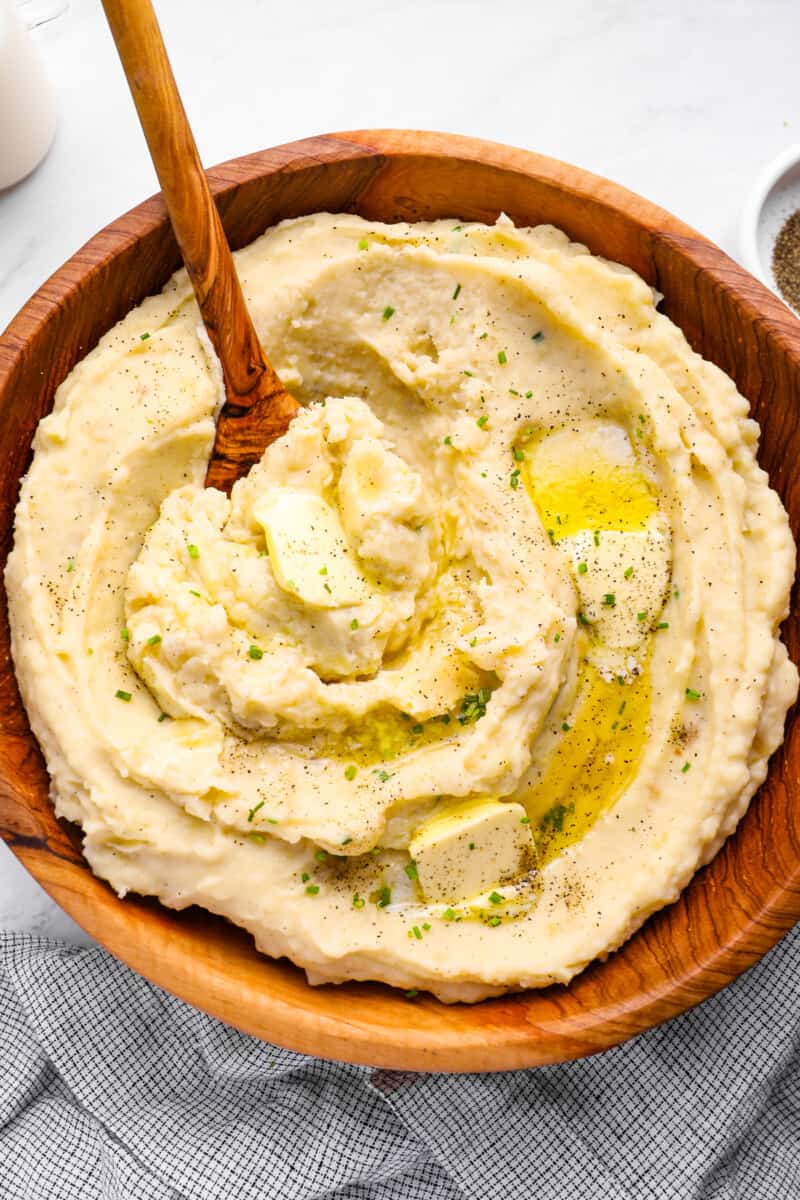 Whether you're serving your mashed potatoes for Thanksgiving, Christmas, or any special occasion, cooking them in the crockpot is the way to go! After one bite, you won't want to make these flavorful potatoes any other way. Enjoy!
If you make this recipe be sure to upload a photo in the comment section below or leave a rating. Enjoy! You can also jump to recipe.