You won't want to miss out on this creamy, cheesy, and delicious crockpot potato casserole. It's the perfect side dish for Thanksgiving dinner or any special occasion. Plus it's addictively good and won't take up any oven space!
Crockpot Hashbrown Casserole
Easy crockpot recipes are your best friend during the holidays, and this crockpot potato casserole is no different! It's super easy to make, and it's an oh-so-yummy comfort food that will have everyone scrounging for seconds.
The combination of cheddar cheese, sour cream, and cream of chicken and celery soup make the potatoes deliciously cheesy and creamy. Top with crispy bacon and cheese, and every bite will burst with heavenly, savory flavor!
Why You'll Love this Potato Casserole Recipe:
Oven-Free Meal: Cooking this cheesy potatoes recipe in the crockpot leaves you more oven space when preparing any holiday dinner!
Easy Side Dish: The crockpot will do all the cooking for you, saving you lots of time and energy. Just set it and forget it!
Cheesy Goodness: Potatoes and cheese were meant to be together! Every bite is creamy, cheesy, potatoey, and delicious!
How to Make Crockpot Potato Casserole
You can jump to the recipe card for full ingredients & instructions!
Allow your hashbrowns to thaw from the freezer for 10-12 minutes.
Spray your crockpot with nonstick spray. Add ingredients to the crockpot according to the instructions below (in the recipe card). Stir to combine.
Cover and cook on low for 4-5 hours until the potatoes are tender.
While the potatoes cook, fry the bacon in a pan until crisp. Remove from the pan and place on a paper towel-lined plate.
Top your casserole with the remaining cheese, cover, and cook for another 10-15 minutes.
Finally, top with the cooked bacon and optional chives. Enjoy!
Recipe Notes
For a vegetarian casserole, substitute the cream of chicken soup for cream of celery or cream of mushroom soup.
You can also cook on high for 2-3 hours.
In place of chives, you can use chopped green onions or parsley.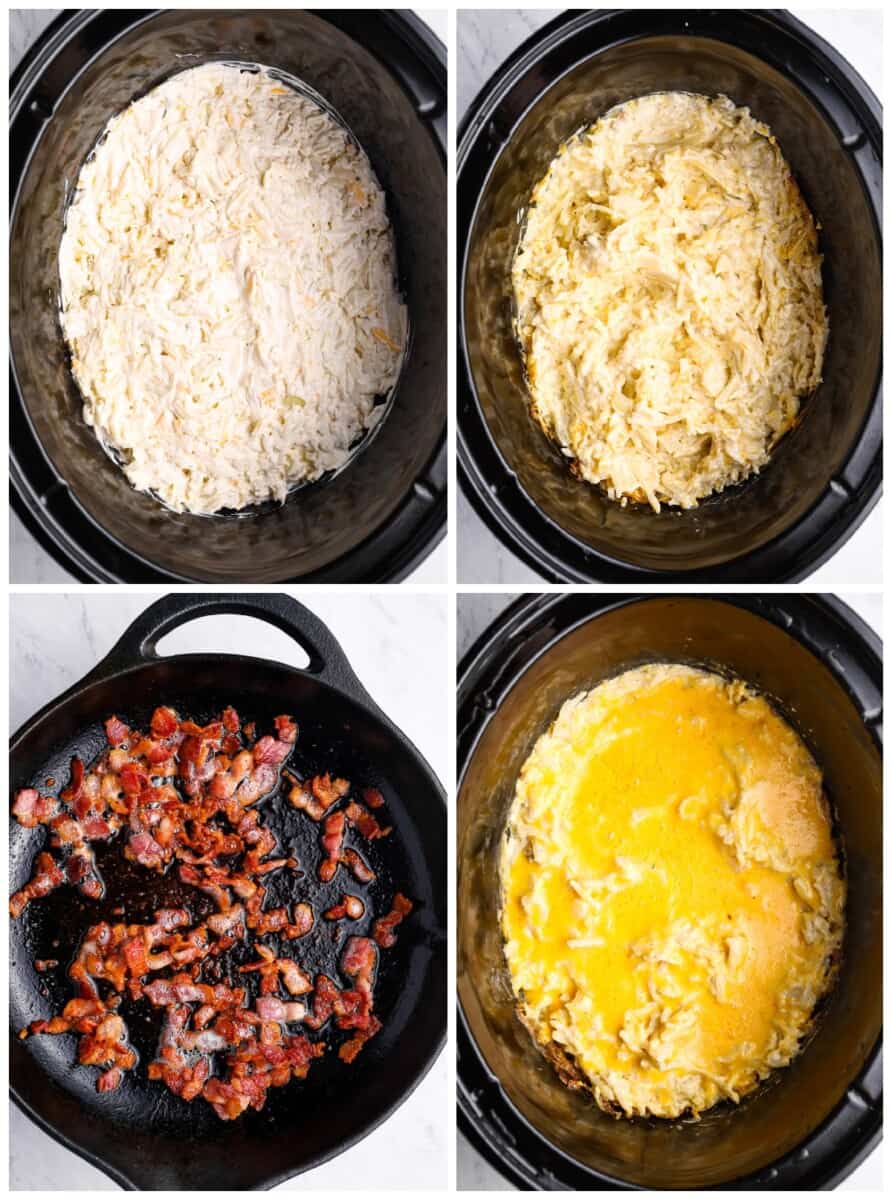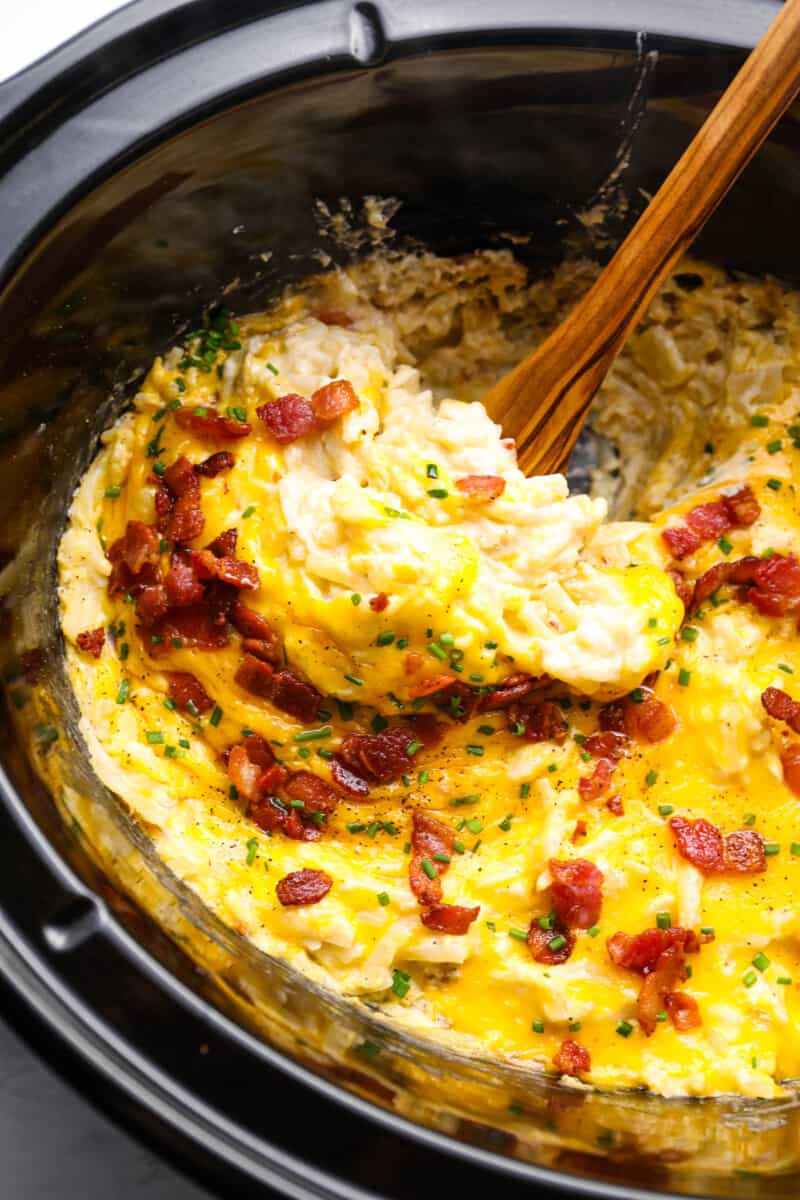 Can I make crockpot potato casserole with fresh potatoes instead of frozen ones?
Yes! Shred fresh potatoes, then rinse them a few times to remove excess starch. Dry the potato shreds, then continue with the recipe as written.
What's the best cheese for crockpot potato casserole?
I like to use freshly-shredded cheddar cheese. Pre-shredded cheese is coated in starch to prevent sticking, and that can hinder its ability to melt well, so fresh is best!
Can I bake crockpot potato casserole in the oven instead?
Sure! Simply mix the ingredients and place them in a large baking dish. Bake in the oven at 350°F for around 30-40 minutes. If the top starts to brown, you can cover it with some foil.
Recipe Tips and Tricks
Frozen hashbrowns make this meal convenient and inexpensive, but fresh potatoes work just as well.
Add chicken, ground beef, or sausage to this cheesy potato recipe to make it a more flavorful and complete meal.
You could even add diced peppers or green chilis to give your crockpot potato casserole a delicious, spicy kick!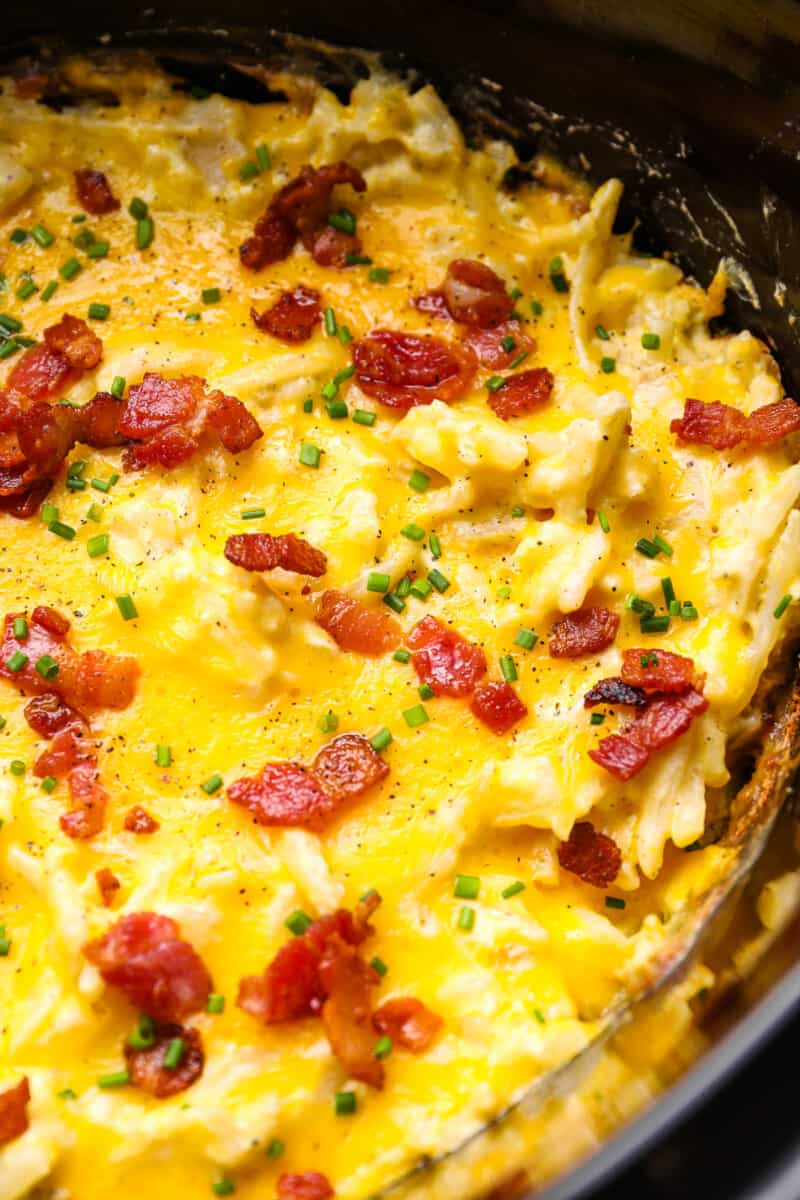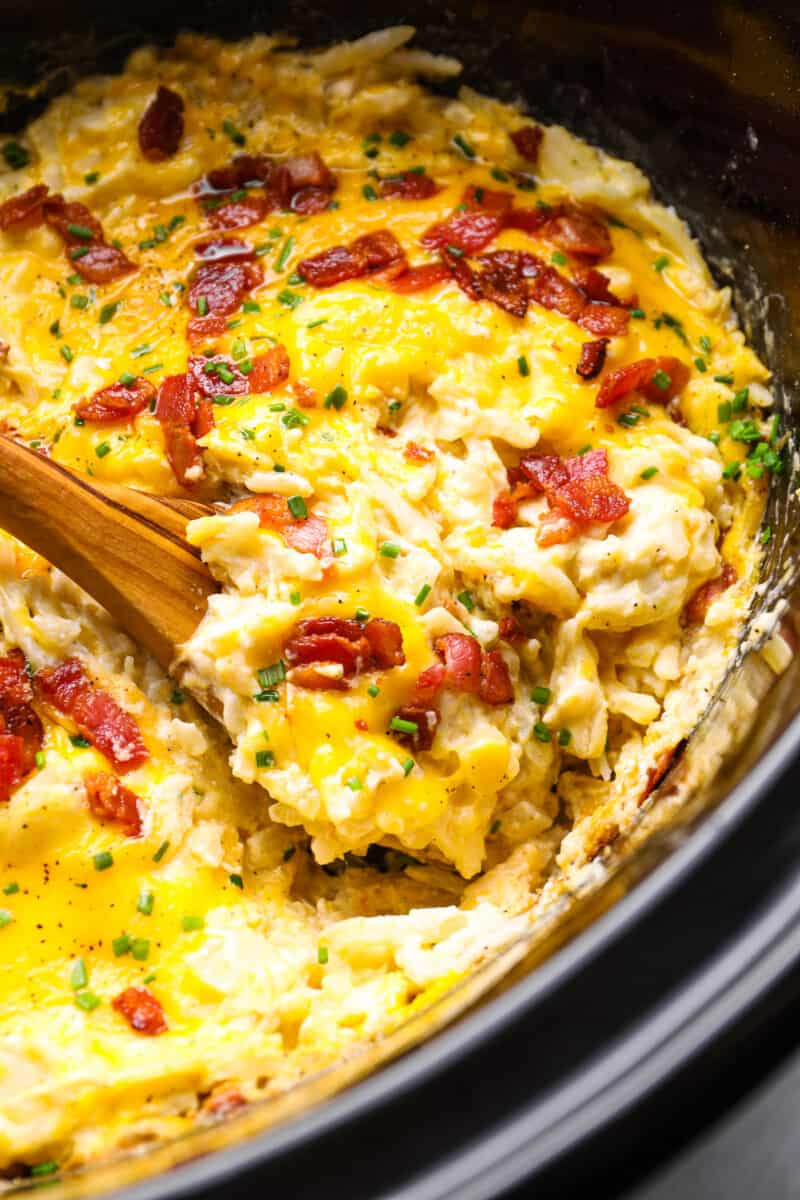 Make Ahead Instructions
You can cook the bacon up to 2 days in advance and store it in an airtight container in the refrigerator until ready to use.
The entire casserole can be made up to 2 days in advance and stored in an airtight container in the refrigerator until ready to serve.
Storage Instructions
Store leftover crockpot potato casserole in an airtight container in the refrigerator for up to 3 days. Reheat in the crockpot on "keep warm" or in a 350°F oven for 15-20 minutes.
Freezing Instructions
Freeze crockpot potato casserole tightly wrapped in 2 layers of plastic wrap and 1 layer of aluminum foil for up to 3 months. Let thaw overnight in the refrigerator before reheating.
Substitutions
You can use shredded fresh potatoes in place of frozen; simply rinse and dry the potatoes before using.
You can use cream of mushroom soup in place of the cream of celery.
You can use a 50-50 mix of low-sodium chicken broth and heavy cream or sour cream in place of the cream of chicken soup, but it won't be as creamy.
For a vegetarian casserole, swap the cream of chicken for cream of celery or cream of mushroom.
In place of the sour cream, you can use plain Greek yogurt.
In place of the bacon, you can use bacon bits or pancetta.
In place of the chives, you can use green onions or parsley.
Tips for the Best Crockpot Cheesy Hashbrown Potatoes
You can also cook this casserole on high for 2-3 hours.
You can keep this casserole warm on the "keep warm" setting for up to 2 hours.
Serve this crockpot potato casserole for Christmas, Thanksgiving, Easter or any other time of the year! It's so delicious!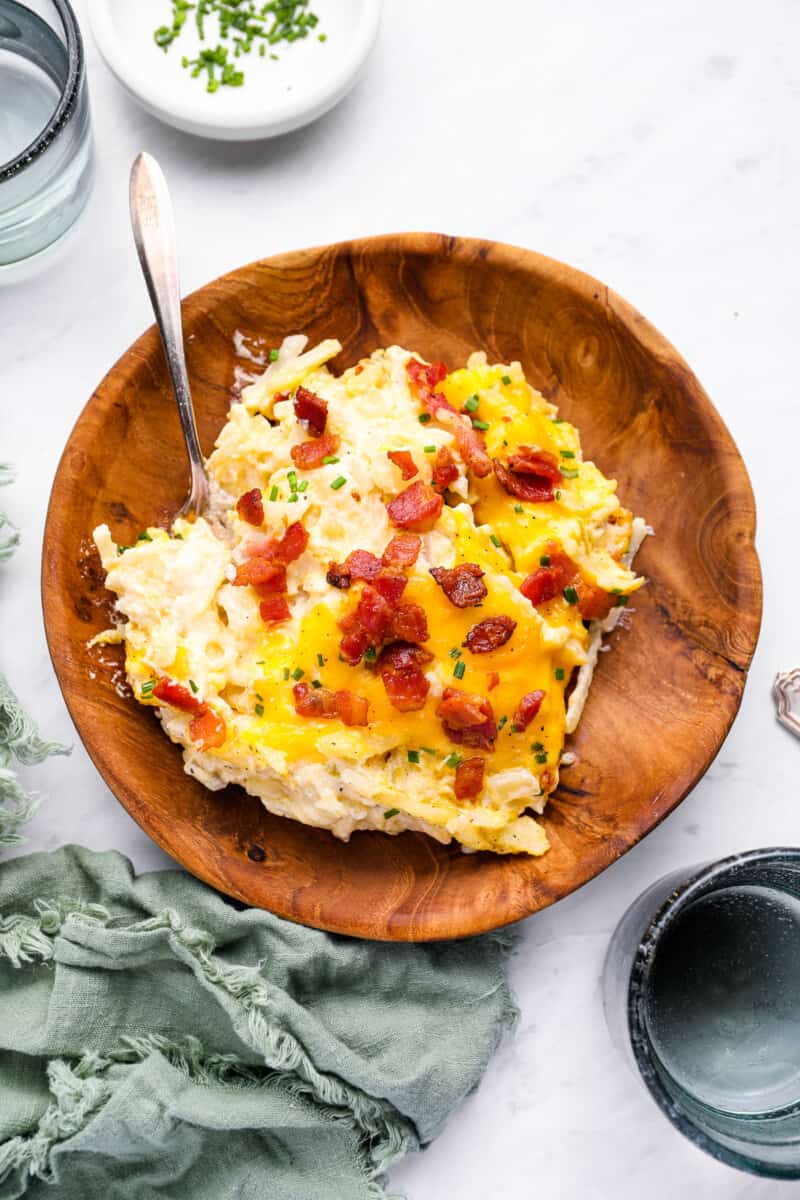 These crockpot potato casserole will be your new reliable, go-to staple for any family dinner or special occasion. Did you try out any variations of the recipe? We'd love to hear all about it! Let us know in the comments below!
If you make this recipe be sure to upload a photo in the comment section below or leave a rating. Enjoy! You can also jump to recipe.