Mac and Cheese Casserole is a quintessential Thanksgiving side dish that's always one of the best parts of the plate! Creamy Mac and Cheese is baked to perfection under a layer of crunchy, buttery Panko topping and is made rich with three different cheeses.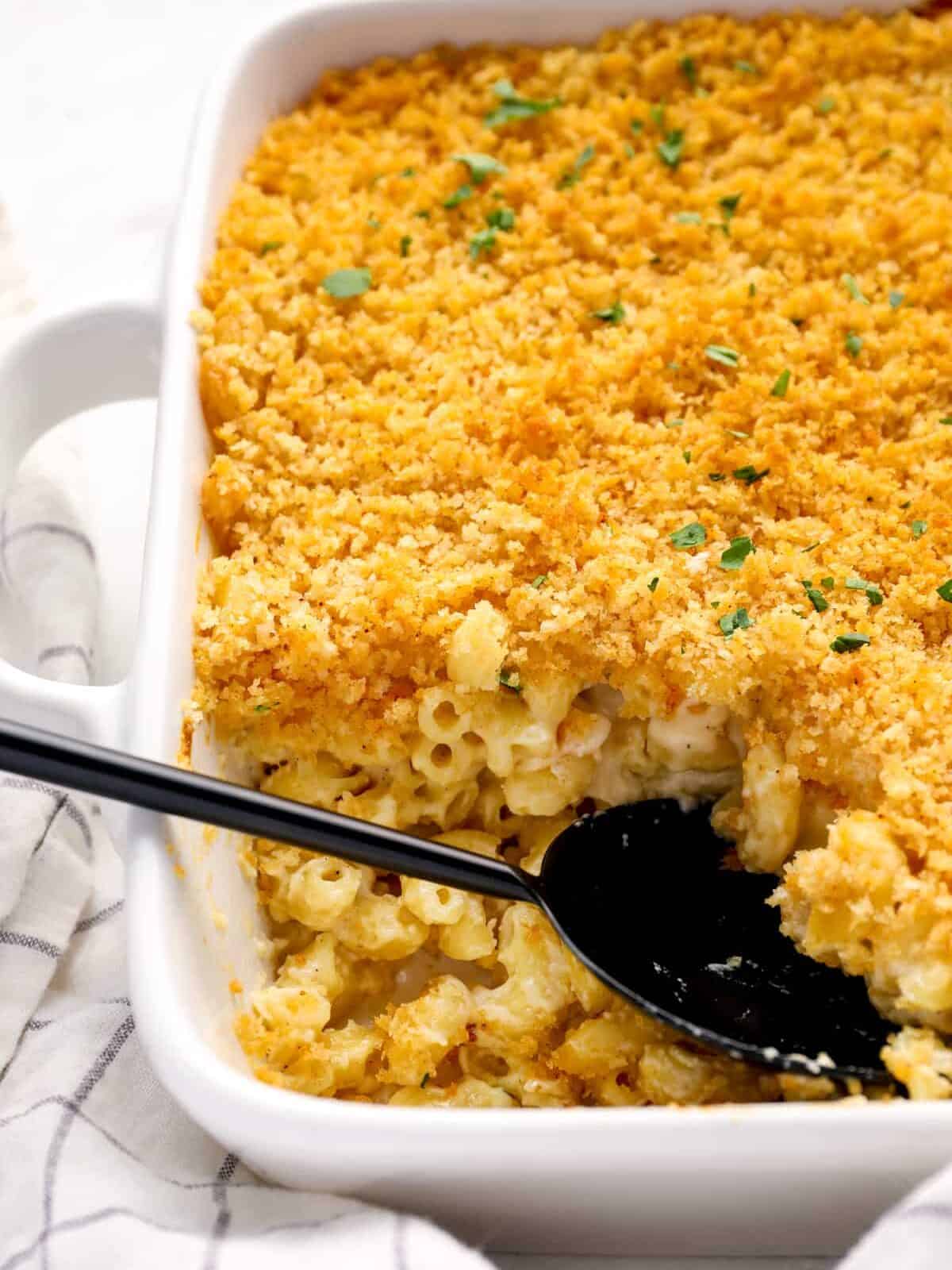 What's in this Mac and Cheese Casserole Recipe?
Everyone has their family favorite Mac and Cheese recipe, but this one might be even better than your grandma's! Sharp cheddar, gruyere, and parmesan make this Mac and Cheese casserole supremely cheesy. What's even better is the whole milk and heavy cream that work in tandem to make it decadently rich and creamy!
Pasta: Elbow macaroni is classic, but you can use any tube-shaped pasta, like penne, ziti, etc. Shells would work too!
Butter: Mixes with the flour to create a roux, thickening the sauce. Melted butter helps form the breadcrumb topping.
Garlic: Pairs well with the cheeses.
Flour: Mixes with the butter to create a roux, thickening the sauce.
Milk: Forms the base of the cheese sauce.
Cream: Adds creaminess to the cheese sauce.
Spices: Mustard powder, salt, pepper, and paprika are classic mac and cheese spices.
Cheese: A blend of sharp cheddar, Parmesan, and Gruyere makes for a more complex mac and cheese.
Breadcrumbs: Form the crunchy topping. I like Panko, but you can use any breadcrumbs you like.
Pro Tip: Generously salt your pasta water; it adds a lot of flavor.
Variations on Macaroni and Cheese Casserole
This mac and cheese casserole is great as is, but you can spice it up by adding crumbled cooked bacon, sausage, or ham; shredded chicken; broccoli florets; diced peppers and onions; Buffalo sauce or sriracha; canned beans and salsa; canned tuna; or chili.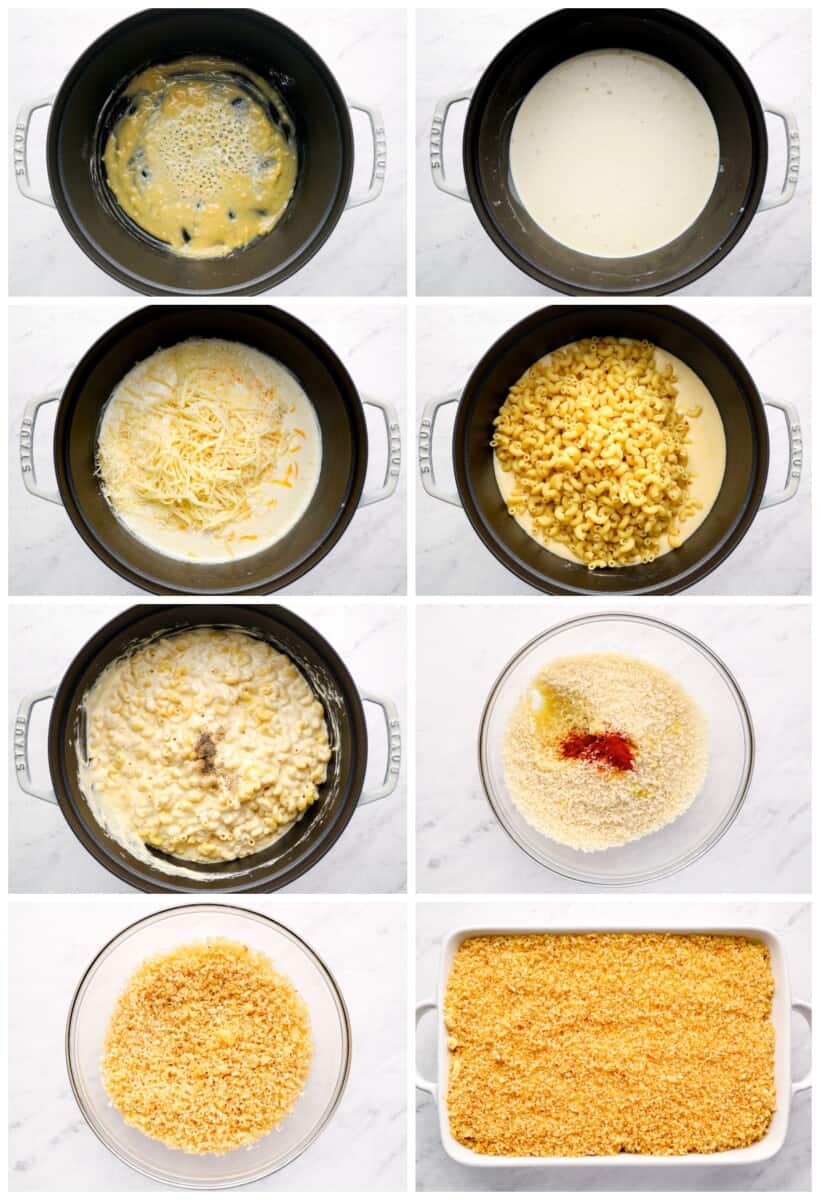 What are the 3 best cheeses for mac and cheese?
Cheddar is classic. I love the blend of sharp cheddar, Parmesan, and Gruyere. It's a great mix of classic mac and cheese flavor with extra saltiness, nuttiness, and just a bit of earthiness. You can switch it up by using a milder cheddar or white cheddar, gouda, fontina, and/or Monterey jack.
Can I use a different kind of pasta?
Absolutely! You can use any short-shaped pasta, like penne, ziti, shells, or rotini!
Should I rinse the pasta before adding it to mac and cheese casserole?
Yes! Rinsing the pasta will remove any excess starch, which could cause your sauce to be too thick! I like using a roux to control the thickness of my sauce, and extra pasta starch makes it harder to control the thickness. Rinsing in cold water also stops the pasta from overcooking!
Can I use pre-shredded cheese?
While you certainly can use pre-shredded cheese, I don't recommend it. Pre-shredded cheeses are coated in starch to keep them from sticking, but that also makes them more difficult to melt, and the starch can affect the consistency of the sauce. Furthermore, fresh cheeses just taste better.
Should mac and cheese be runny before baking?
The mixture shouldn't be completely solid, but it also shouldn't be overly watery. Take a look at the step-by-step photos for a good idea of what the consistency should be.
How to Make Ahead and Store
This mac and cheese casserole can be prepared (but not baked) up to 2 days in advance of when you plan to serve it. Cover the unbaked casserole tightly with aluminum foil and store it in the refrigerator. When ready to bake, let the casserole sit out at room temperature for 30 minutes, then bake as directed.
Store leftover mac and cheese casserole in an airtight container in the refrigerator for up to 4 days.
How to Freeze and Reheat
Freeze mac and cheese casserole whole or in individual portions in airtight containers for up to 3 months. Let thaw overnight in the refrigerator before reheating covered with aluminum foil in a 350°F oven for 20 minutes, then remove the foil and bake for another 10 minutes, until hot and bubbly.
Serving Suggestions
Serve this delicious mac n cheese casserole with holiday classics, like Thanksgiving turkey, Easter ham, or Christmas beef tenderloin!
It's also great with weeknight standards, such as baked Caesar chicken, ham and cheese sliders, or bacon BBQ meatloaf.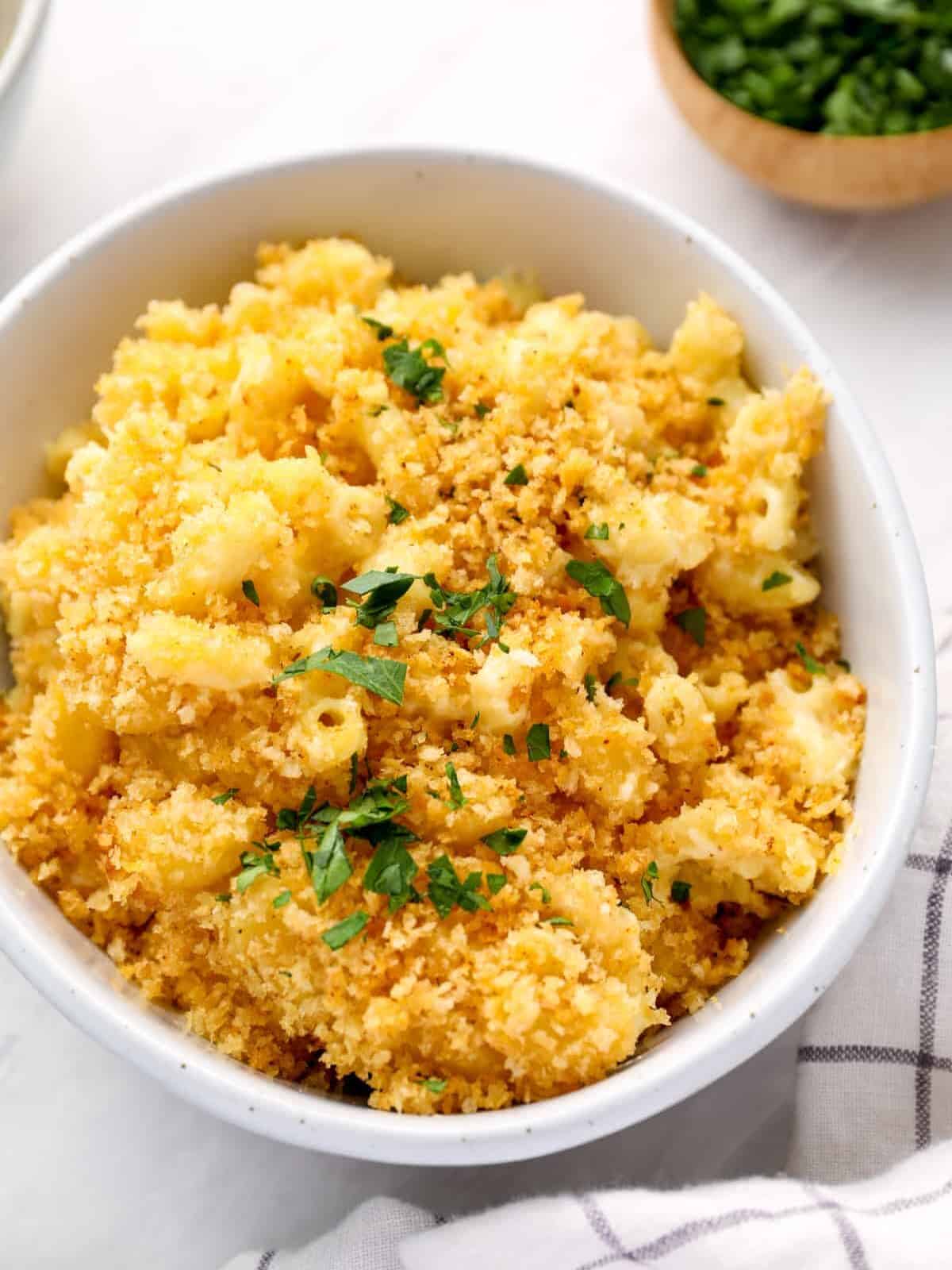 More Mac and Cheese Recipes We Love