This Pomegranate Martini is the perfect Valentine's Day cocktail! It's a tasty triple berry martini with strawberry vodka, Chambord black raspberry liqueur, and pomegranate juice. Plus there's a little dry ice trick to really put on a show. It's one of my favorite Valentine's Day drinks!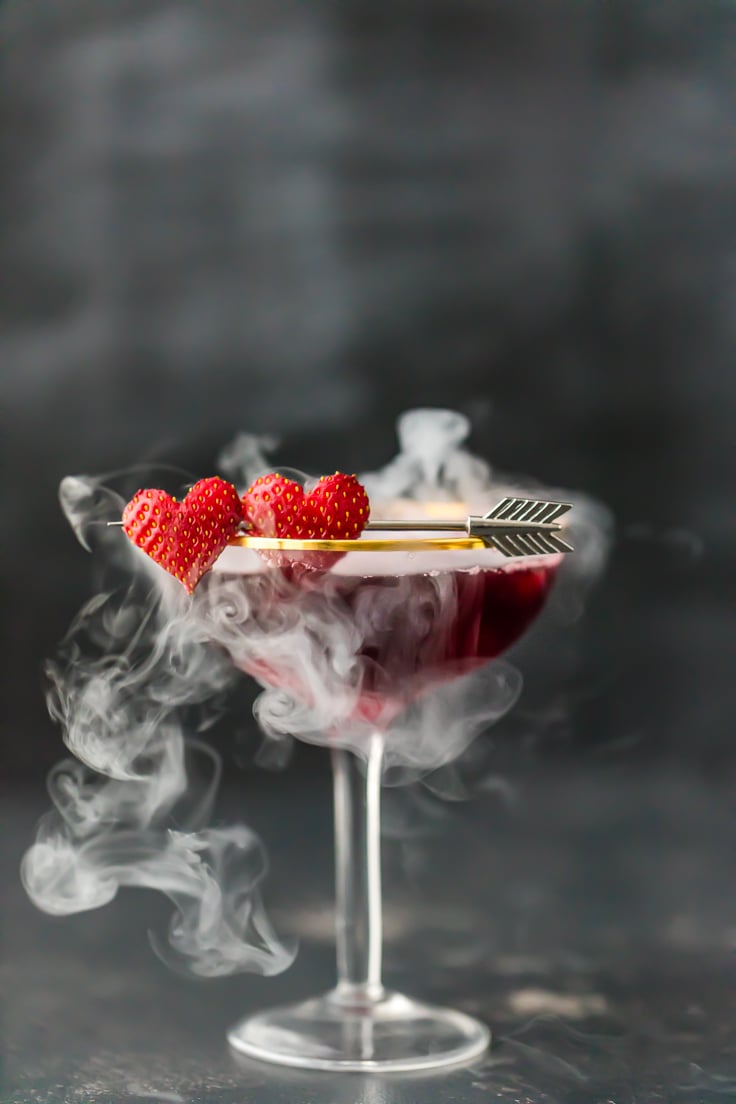 Pomegranate Martini (Love Potion #9)
This Triple Berry Pomegranate Martini is SO delicious. It's my favorite Valentine's Day drink and it's so much fun to make with that dry ice!
I'm bursting at the seams with excitement over this super fun and festive Valentine's Day drink! I'm calling it the Love Potion #9 Martini because it deserves a cool name like that. Just wait until you see how awesome this one is!
This Triple Berry Pomegranate Martini is a mix of Chambord (black raspberry liqueur), strawberry vodka, and pomegranate juice. It tastes amazing, but the part I'm really excited about is the dry ice! It's all about the visuals for me, and I had so much fun photographing this dry ice drink idea.
So not only does this sweet cocktail taste great, but it looks killer too. The perfect purpley color, the strawberry hearts, the smoking dry ice, and everything came together perfectly. Wow your loved ones or just entertain yourself this Valentine's Day with the hottest, er coolest cocktail on the block!
This Triple Berry Pomegranate Martini is the COOLEST Valentine's Day drink you'll ever make. The REAL Love Potion #9.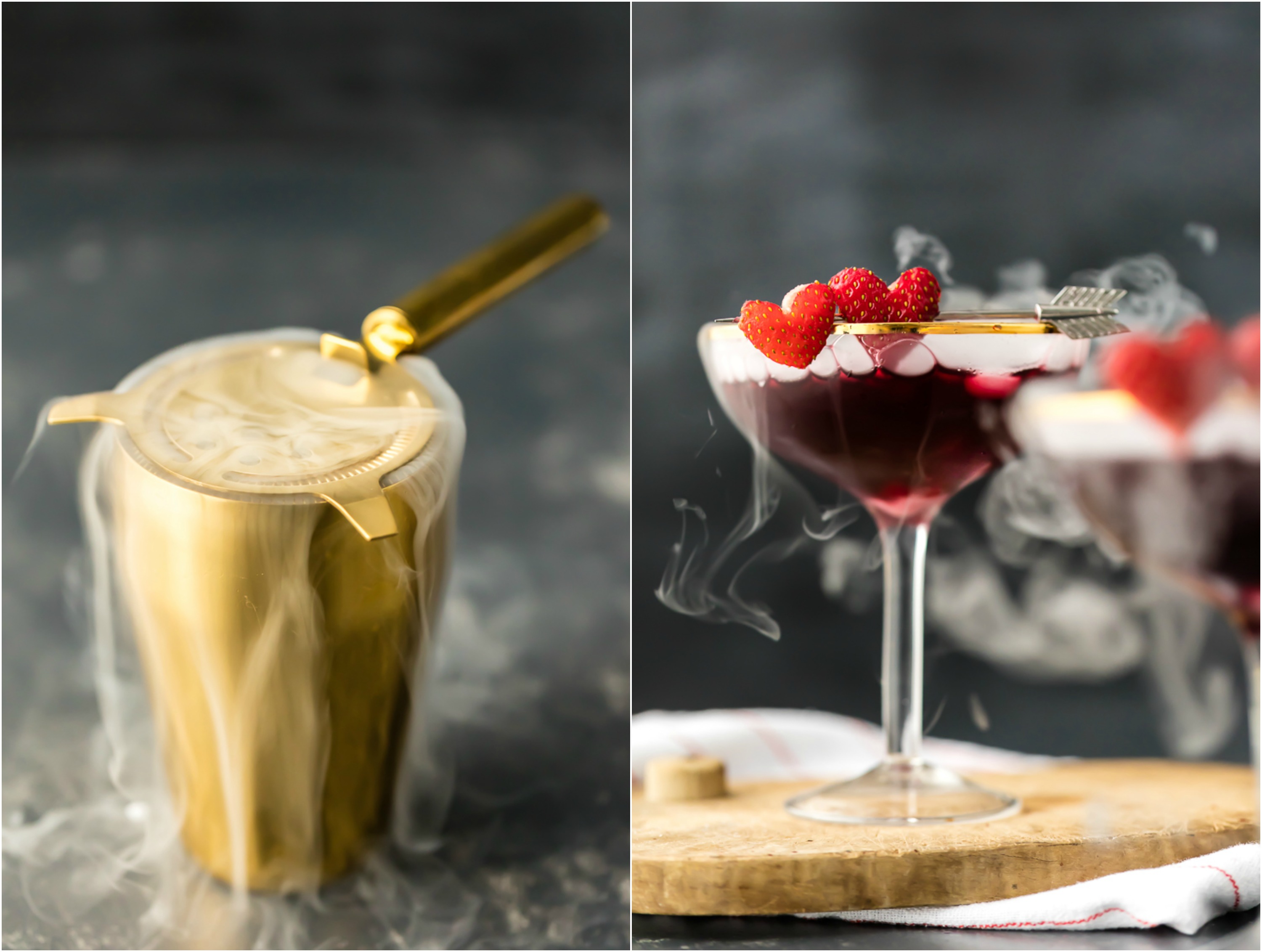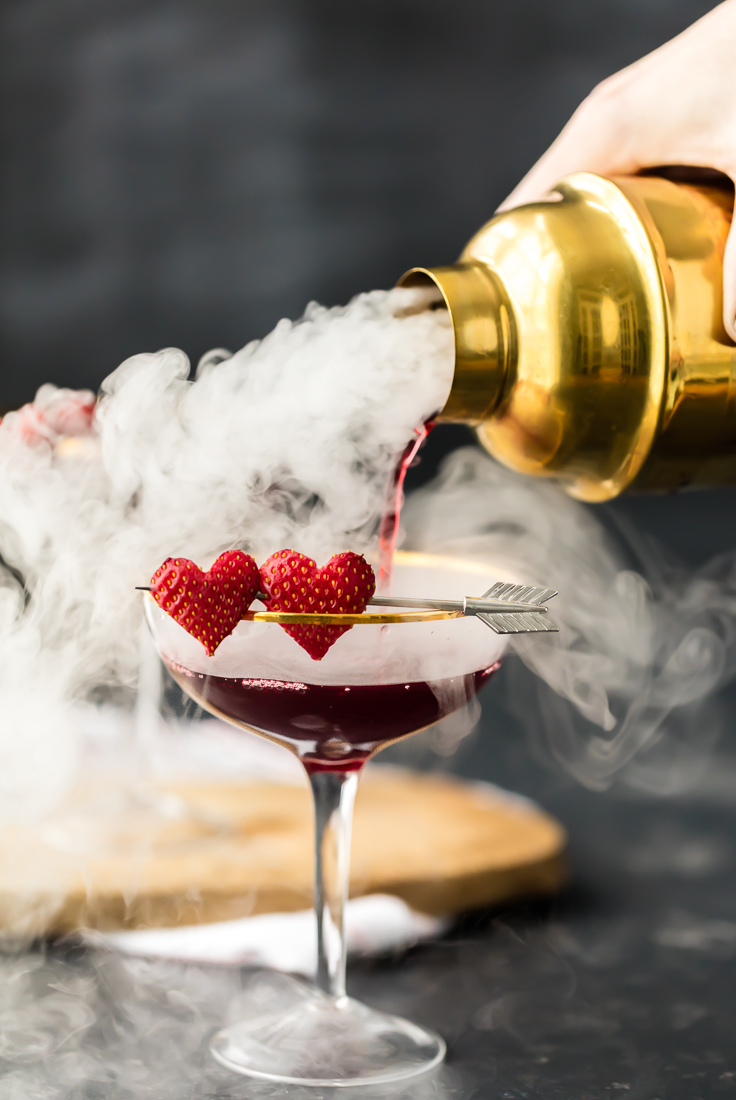 Triple Berry Martini
I went through a lot of stress to get everything together for this recipe. As a food blogger and photographer, I was SET on getting this absolutely perfect. When I finally got my hands on the dry ice for this triple berry pomegranate martini, I was ready to go.
The Love Potion #9 Martini is my favorite Valentine's Day cocktail EVER. It's absolutely delicious, absolutely beautiful, and it really puts on a show. The dry ice is optional of course, so you can make this drink without all the extras…but if you're planning a special night, the extra touches will really impress.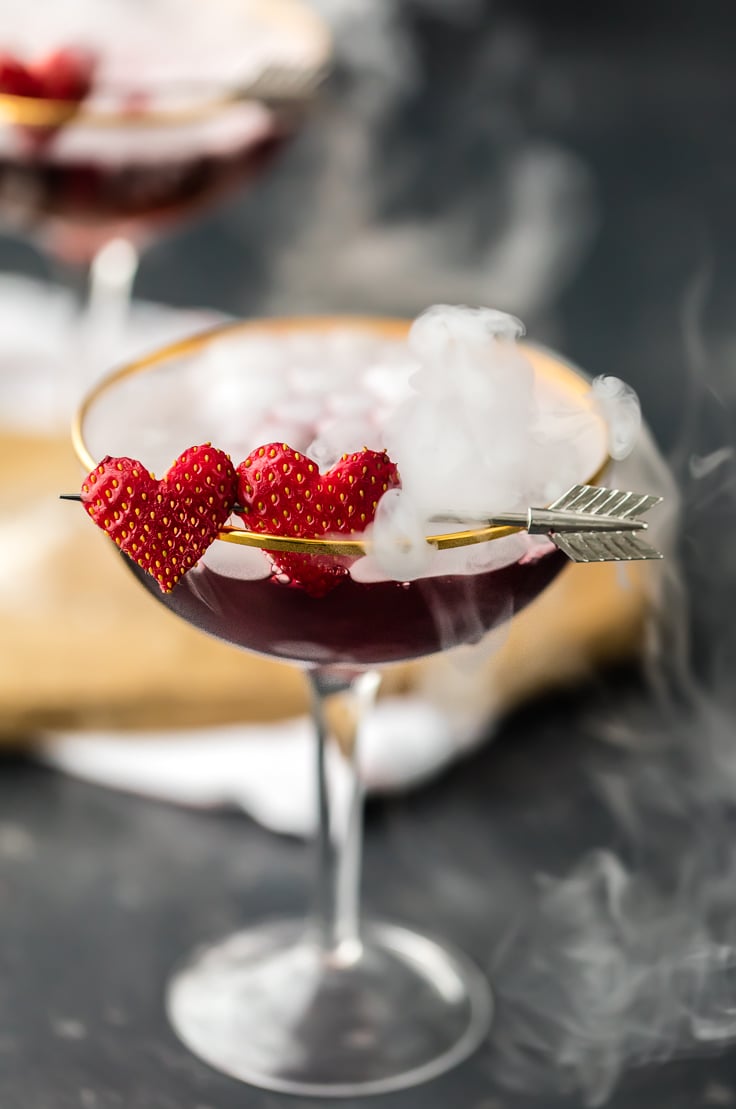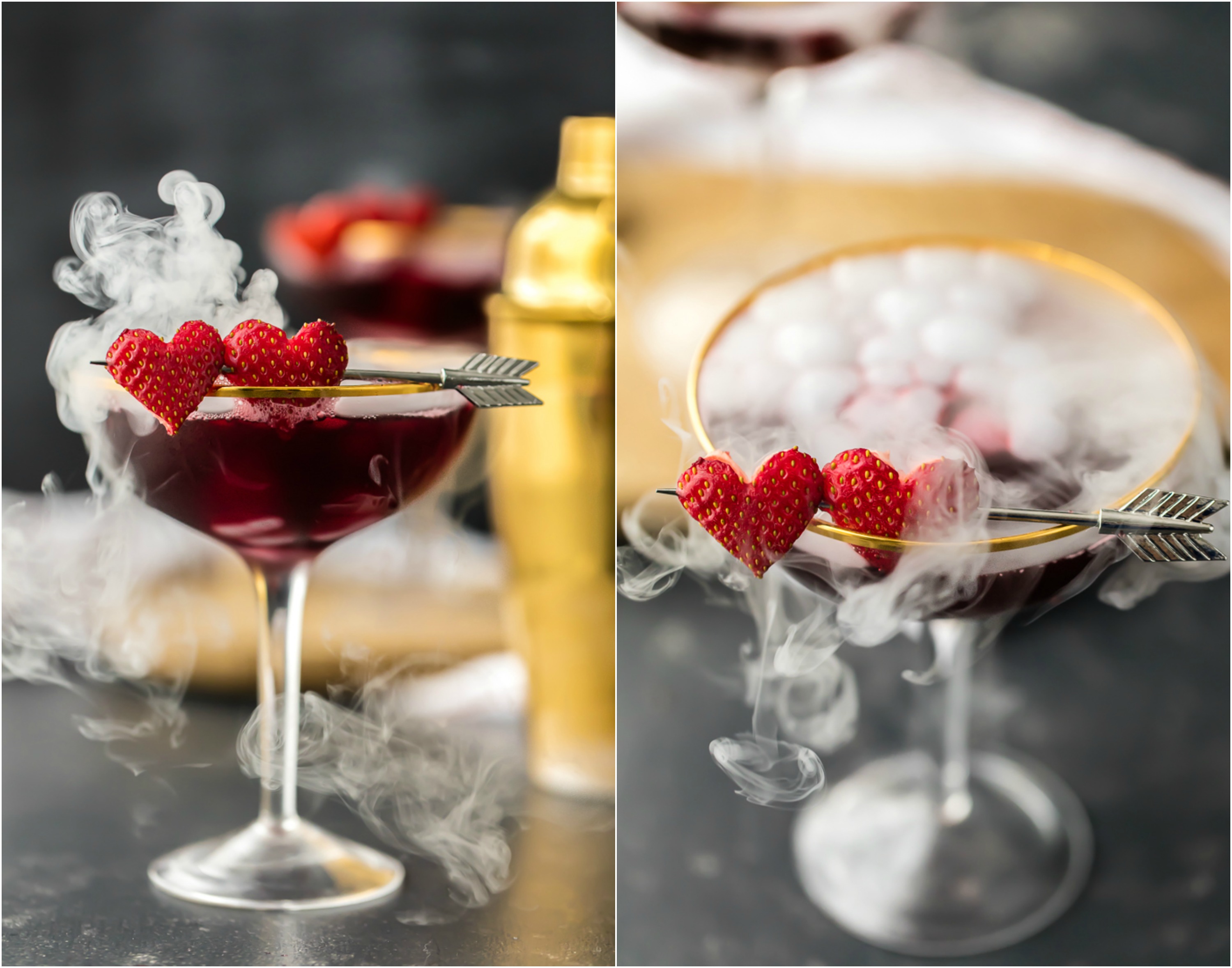 How to Make a Berry Pomegranate Martini
The Love Potion #9 Martini is actually really easy to make. You definitely need to understand how to use dry ice safely (more on that below), but the drink itself is so simple.
Combine pomegranate juice, strawberry vodka, and Chambord in a cocktail shaker, and shake it all up.
Place 1 small piece of dry ice (use tongs or another tool to do this) in the bottom of each glass.
Pour the martini into the glass (directly over the dry ice).
Garnish the glasses with the little strawberry hearts!
Now just sit back and enjoy the show! This really makes a statement and is so fun to watch. Be sure to wait a good 5-10 minutes before consuming the drink. The dry ice needs to dissolve completely.
Dry Ice Drinks
Okay, let's get really focused on that dry ice situation. This dry ice drink is SO much fun. But there are some things you have to follow to make sure it's safe. So consider this my disclaimer.
You CANNOT drink dry ice. Dry Ice is super simple to use in cocktails like this, but proper handling is VERY important. You do not want to actually swallow the dry ice, so you need to use really small chunks and make sure they're at the bottom of your drink. Make sure they have fully dissolved before sipping. It takes about 5-10 minutes for a small piece to dissolve.
DO NOT INGEST THE CUBES!
This is not meant to scare you guys, just a proper warning. These pomegranate martinis are totally safe to drink once the dry ice dissolves, just be sure to give it that full 5-10 minutes.
Once they dissolve, your Love Potion #9 will be oh so cold and fabulous! You can find tons of good tips on handling dry ice for cocktails HERE. PLEASE READ THAT IF MAKING THIS COCKTAIL! Dry ice is super fun and cute, but make sure you handle it correctly!
You can make the drink without the dry ice too, if you don't want to deal with it. But it does make the drink super exciting!
What happens if you put dry ice in your drink?
Putting dry ice in your drinks is a great way to make them extra cold. For this recipe, the point is for that awesome visual effect. Once the dry ice has dissolved, it is okay to drink. The full pieces of dry ice should not be ingested, but once it dissolves and mixes into the drink, it is 100% fine to consume.
Can you touch dry ice?
Dry ice is extremely cold! Touching it briefly most likely won't be a problem, but too much contact with the skin can cause frostbite in extreme cases. In this situation, just use tongs or something to drop the ice into the glasses instead of using your hands. No problem!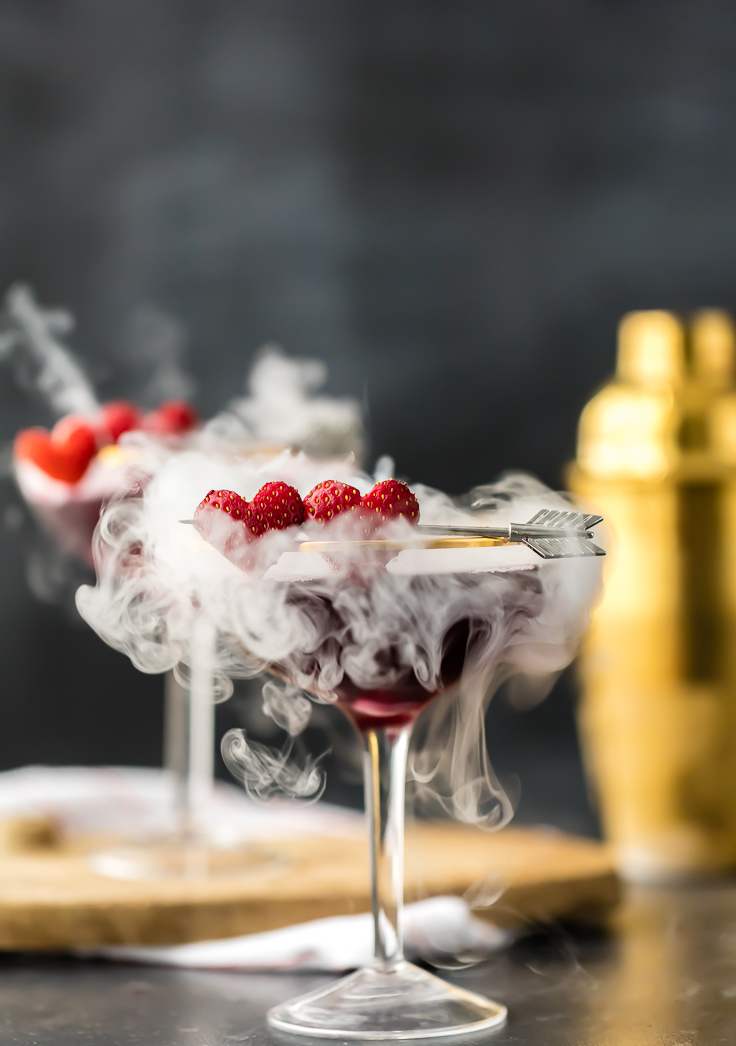 Valentine's Day Drinks
I'm just obsessed with these Love Potion #9 Martinis…and I'm going to have that song in my head all day! But how fun to give your love this berry pomegranate martini along with some homemade sweet treats. Nothing says I love you like creativity in the kitchen, right?
Here are some other fun Valentine's Day Drinks to try out: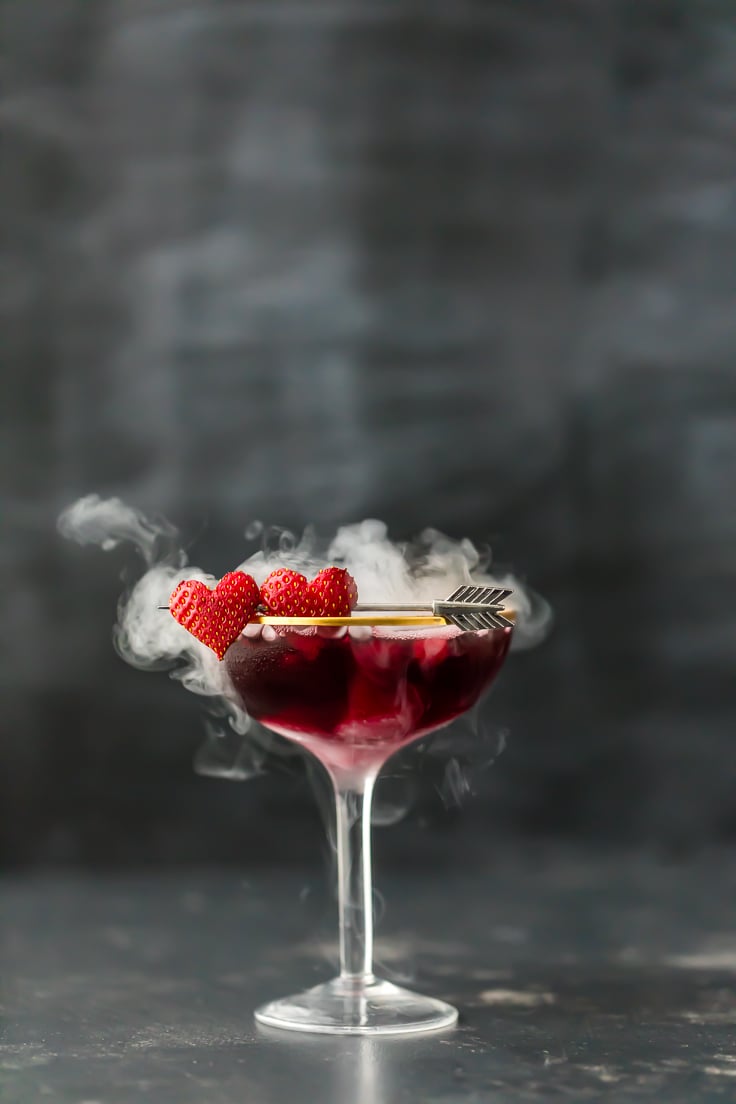 CHEERS to this amazing berry pomegranate martini (aka Love Potion #9!) and Happy Valentine's Day!
See the recipe card below for details on how to make this Berry Pomegranate Martini. Enjoy!
If you like this recipe, you'll love our other Valentine's Day recipes too: