Strawberry Cinnamon Roll Cookies are the perfect Valentine's Day cookies! This easy cookies recipe is sweet, fun, and perfect for any loved one.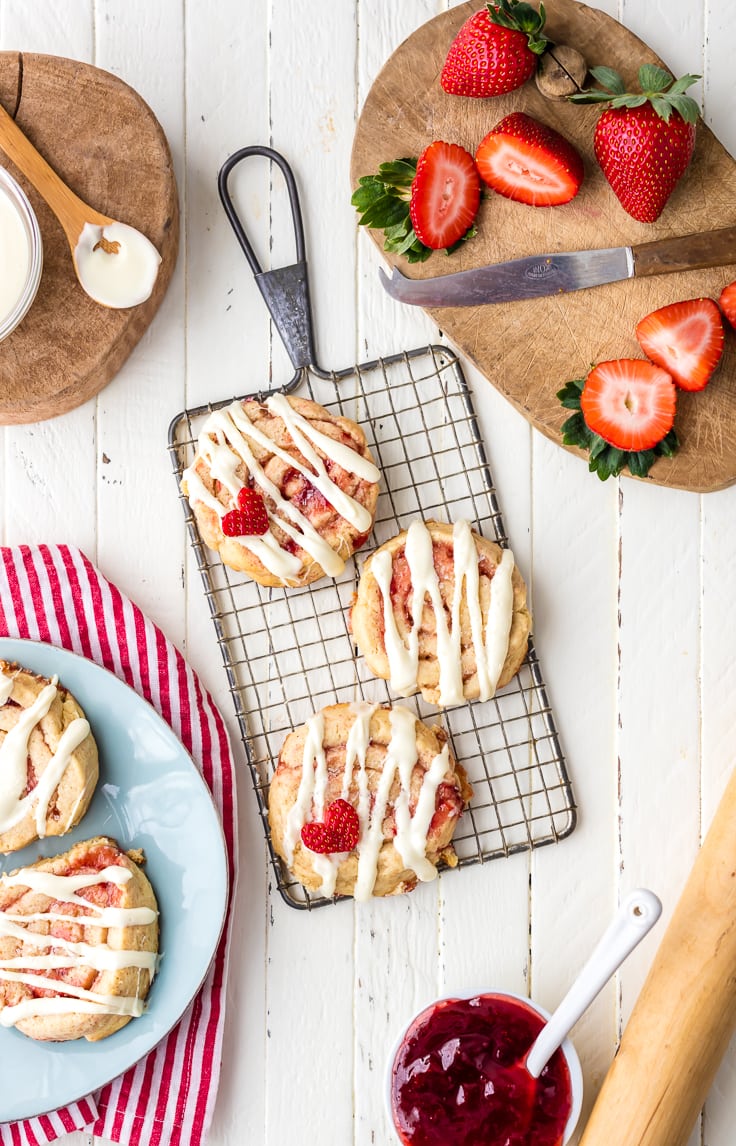 I'm slowly working on baking more. Trust me, it's a struggle! THE STRUGGLE IS REAL! I'm just still intimidated and too impatient and not exact enough. But…baby steps, right? These cute (and huge) Strawberry Cinnamon Roll Cookies are just perfect for Valentine's Day, and if I can do it, so can you! They're super easy, super delicious, and super fun. And they're so big and fluffy that they double as a pastry!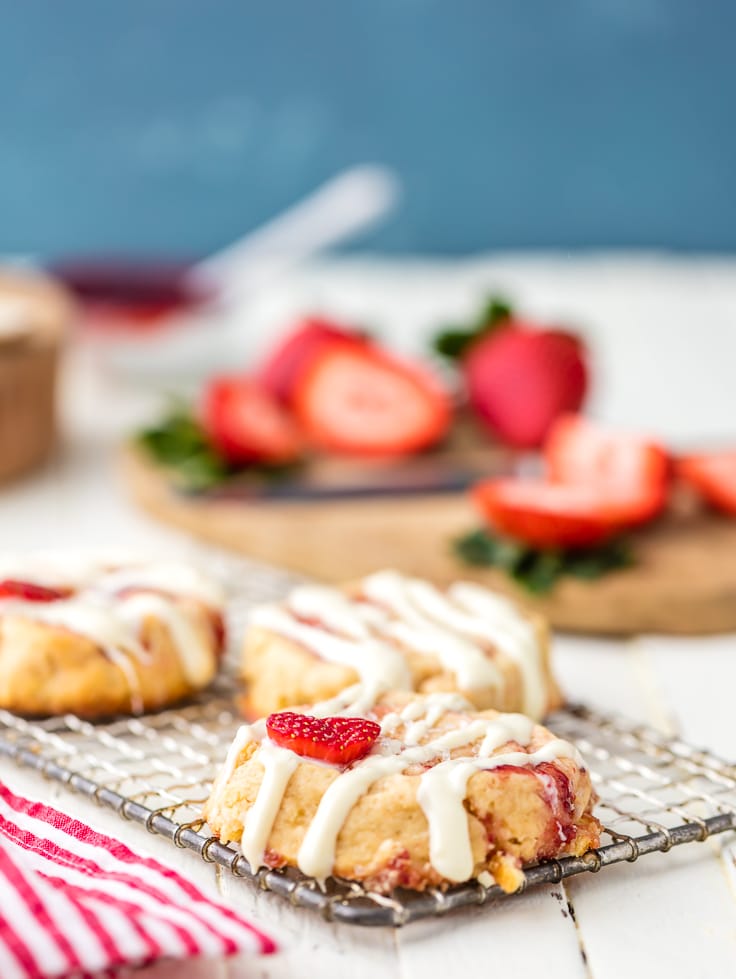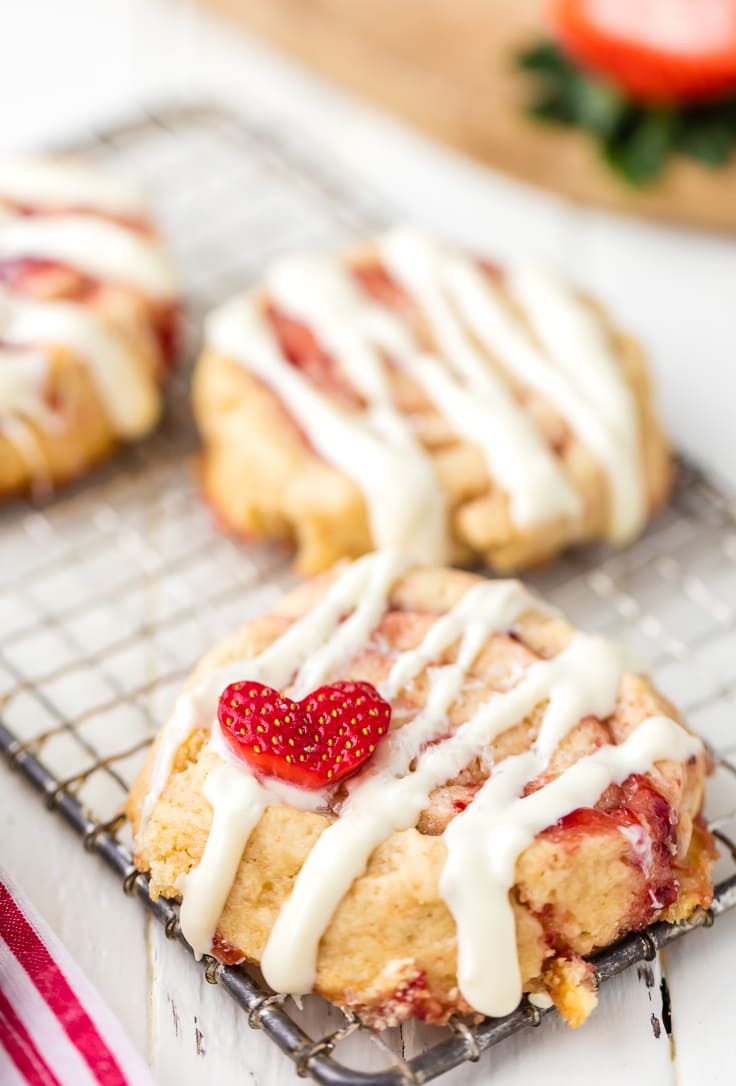 I gave one of these cinnamon roll cookies to Pat and he seriously didn't believe it was a cookie. It was the size of my palm. He swore it was an actual cinnamon roll. So if you don't like your cookies large and in charge, you could make them half the size. But he ate the entire cookie. So there's that.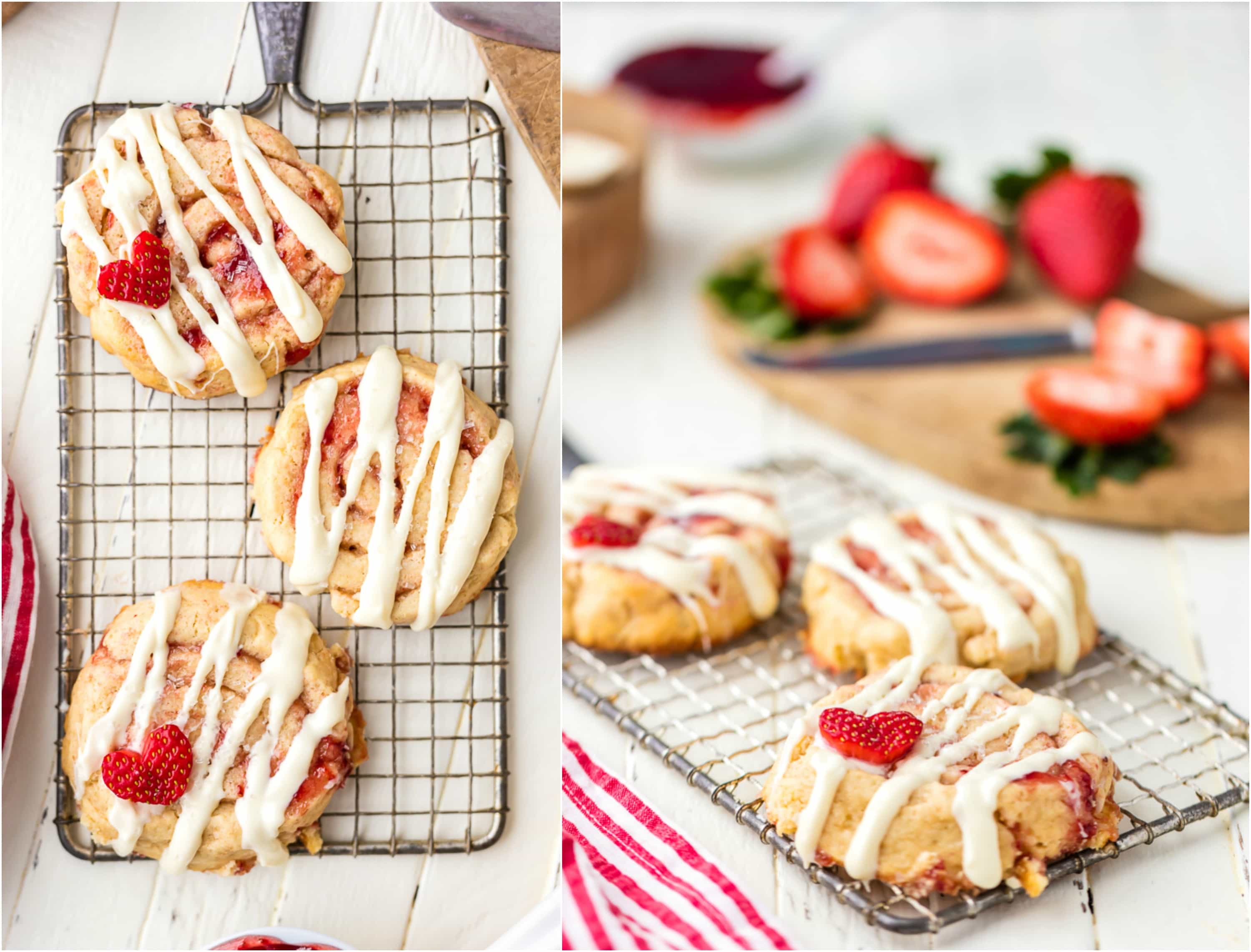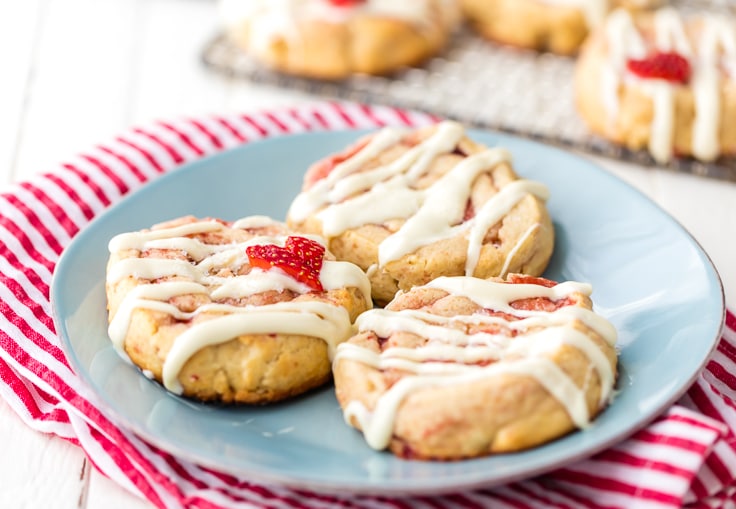 I saw Cinnamon Roll Sugar Cookies on Picky Palate (SUCH an awesome site) and was in love. HOW CUTE! This strawberry twist is just perfect for Valentine's Day. Especially if you take the time to cut out cute little strawberry hearts. I apparently only had time to make three hearts. ;)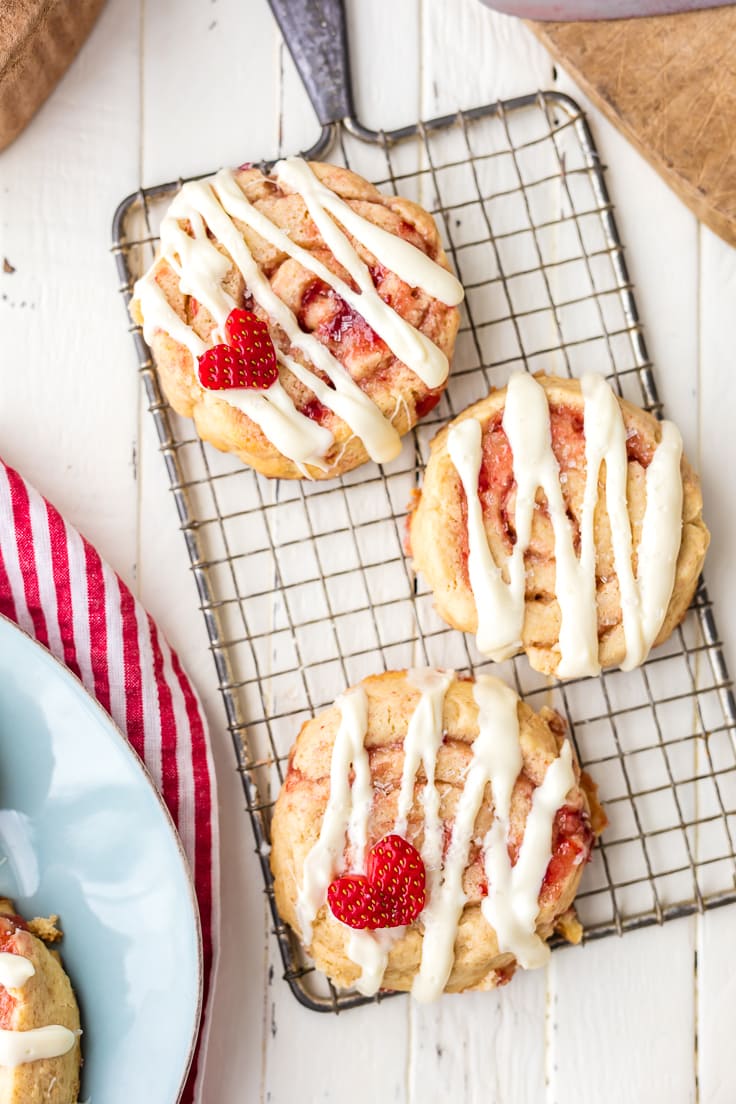 Happy Valentine's Day! Enjoy the strawberry cinnamon roll cookies, loves.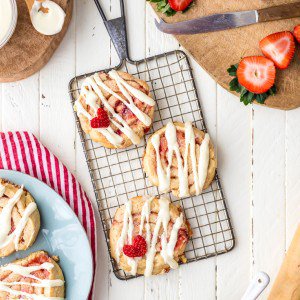 Strawberry Cinnamon Roll Cookies
Print
Ingredients
2

cups

sugar

1

cup

butter

softened

3

eggs

1

teaspoon

vanilla

6

cups

all purpose flour

1

cup

sour cream

2

teaspoons

baking soda

2

teaspoons

baking powder

1/2

teaspoon

salt

4

tablespoons

strawberry jam or ice cream topping

1

cup

white chocolate chips

1

tablespoon

olive oil

Sanding sugar for garnish

strawberries cut into hearts as garnish

optional
Instructions
Cream together the sugar and butter using the paddle attachment in an electric stand mixer. Once creamed, mix in the eggs, vanilla, baking soda, baking powder, and sour cream. Add the flour one cup at a time, mixing as you go.

Form the dough into a large disc and wrap in plastic wrap. Chill in the fridge for at least 2 hours.

Once chilled, cut the dough into two sections. (If you'd like the cookies to be smaller, you can cut the dough into 4 pieces) Work with one section at a time. On a well floured (important) surface, roll our each section until about 1/4-1/2 inch thick. Spoon 2 tablespoons jam onto each rolled section and smooth out evenly. Roll each section lengthwise, making two logs. Use a sharp knife to cut each log into about 10-12 1 inch cookies. I used a bread knife. If you're making smaller cookies, you can make them thinner as well.

Place cookies on a non-stick sprayed baking sheet, making sure they're about 1 1/2 inches apart.

Bake at 350F for 10-14 minutes for the bigger cookies and 8-10 minutes for the smaller cookies. Watch closely because ovens vary. Cookies are done when the edges begin to brown and the middles are totally set.

Let cool for 5 minutes on the baking sheet before transferring to cooling rack.

While the cookies cool, microwave your white chocolate and olive oil in a microwave safe bowl. Microwave in 30 second increments, stirring between sessions. When fully melted, use a spoon to put the white chocolate "icing" on each cookie.

Sprinkle each with some sanding sugar for extra sweetness and top with strawberry hearts if desired.

Enjoy!