Strawberry Cinnamon Roll Cookies are the perfect Valentine's Day cookies! This easy cookies recipe is sweet, fun, and perfect for any loved one.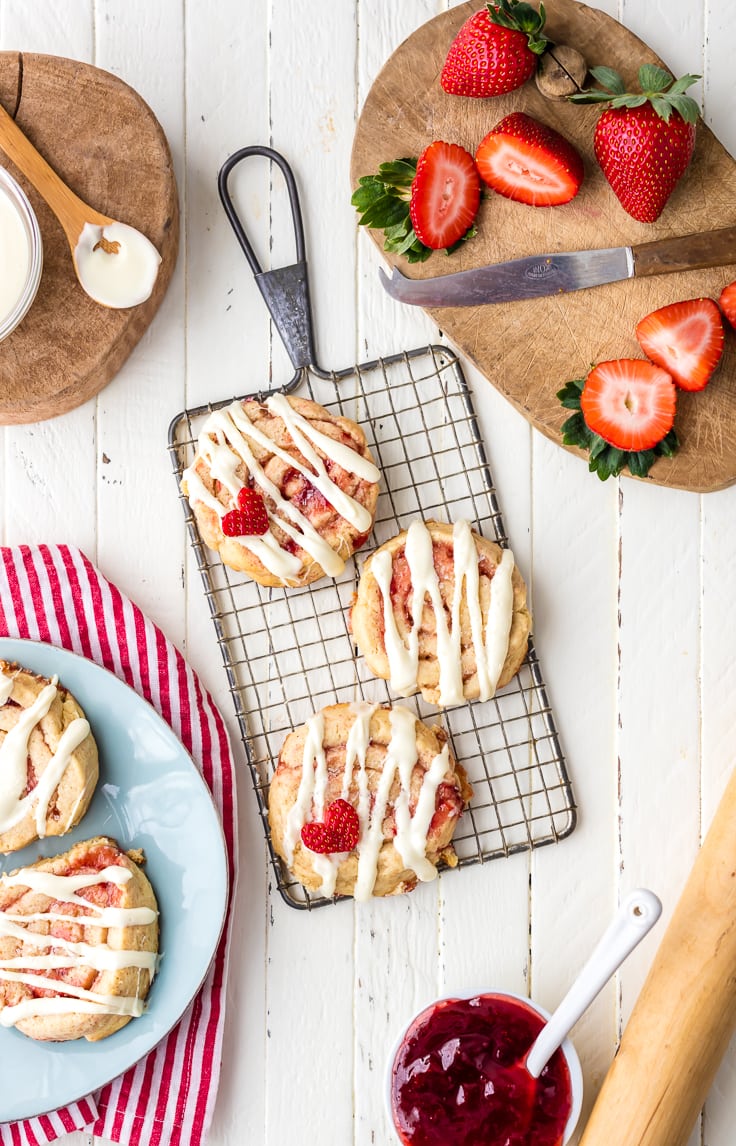 Strawberry Cinnamon Roll Cookies
These strawberry cinnamon roll cookies look just like cinnamon rolls, but don't be fooled. Filled with strawberry jam and topped with icing, they make the perfect Valentine's Day treat!
I'm slowly working on baking more. Trust me, it's a struggle! I'm just still intimidated and too impatient and not exact enough. But…baby steps, right? These totally cute (and totally huge) Strawberry Cinnamon Roll Cookies are just perfect for Valentine's Day, and if I can do it, so can you!
Strawberry jam is rolled into the cookies, they're baked to perfection, and then topped with icing. They look so much like cinnamon rolls, and I love how the flavor is swirled into them. So delicious! They make the best Valentine's Day cookies, perfect for sharing with everyone you love.
These strawberry cinnamon roll cookies are super easy, super delicious, and super fun. And they're so big and fluffy that they double as a pastry!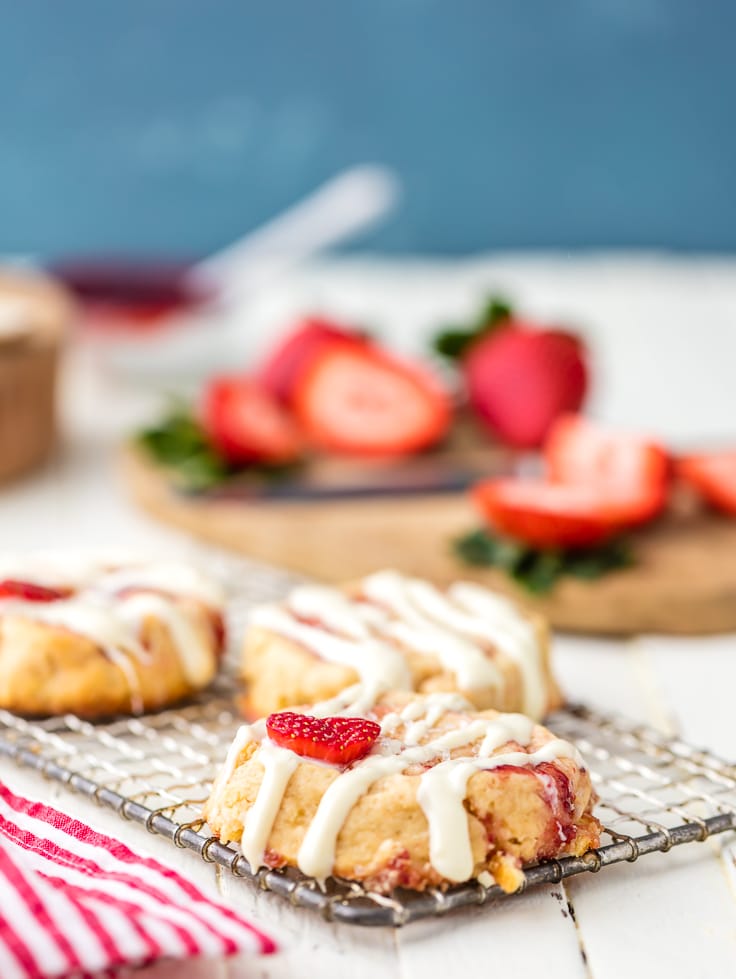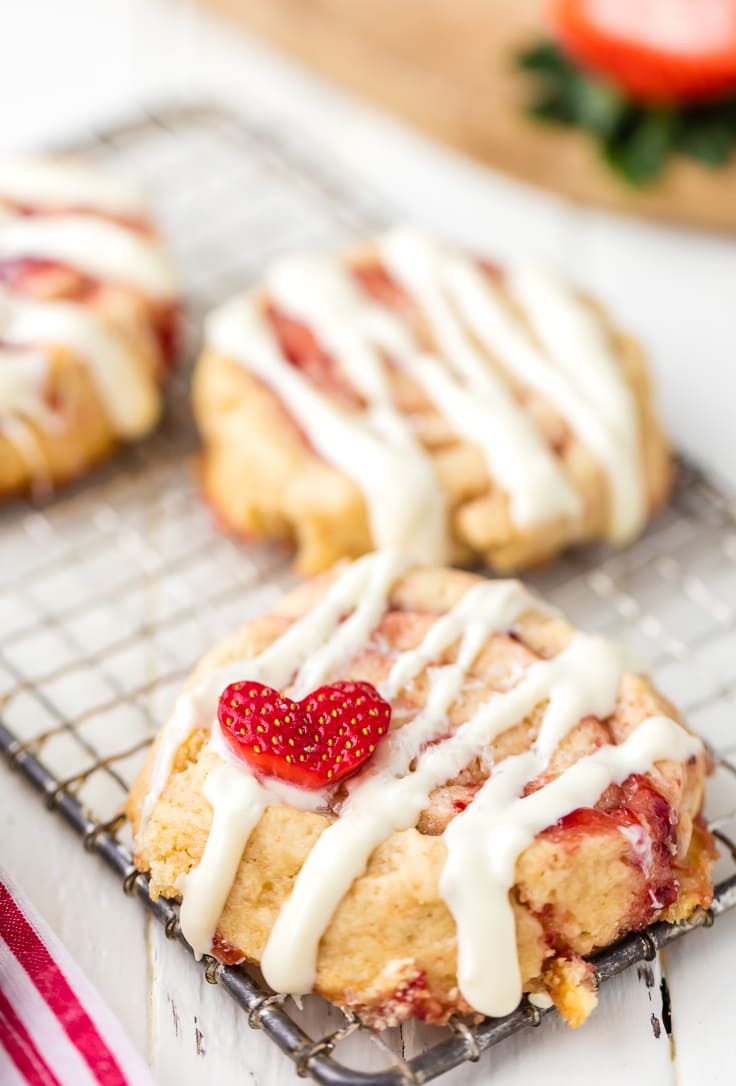 Valentine's Day Cookies
I gave one of these strawberry cinnamon roll cookies to Pat and he seriously didn't believe it was a cookie. It was the size of my palm. He swore it was an actual cinnamon roll! So if you don't like your cookies large and in charge, you could make them half the size. But he ate the entire cookie…so it can be done!
I just love these for VDay because they're cute and sweet and filled with strawberry. And those little strawberry hearts add some extra fun too. Here are a few other Valentine's Day cookies to try!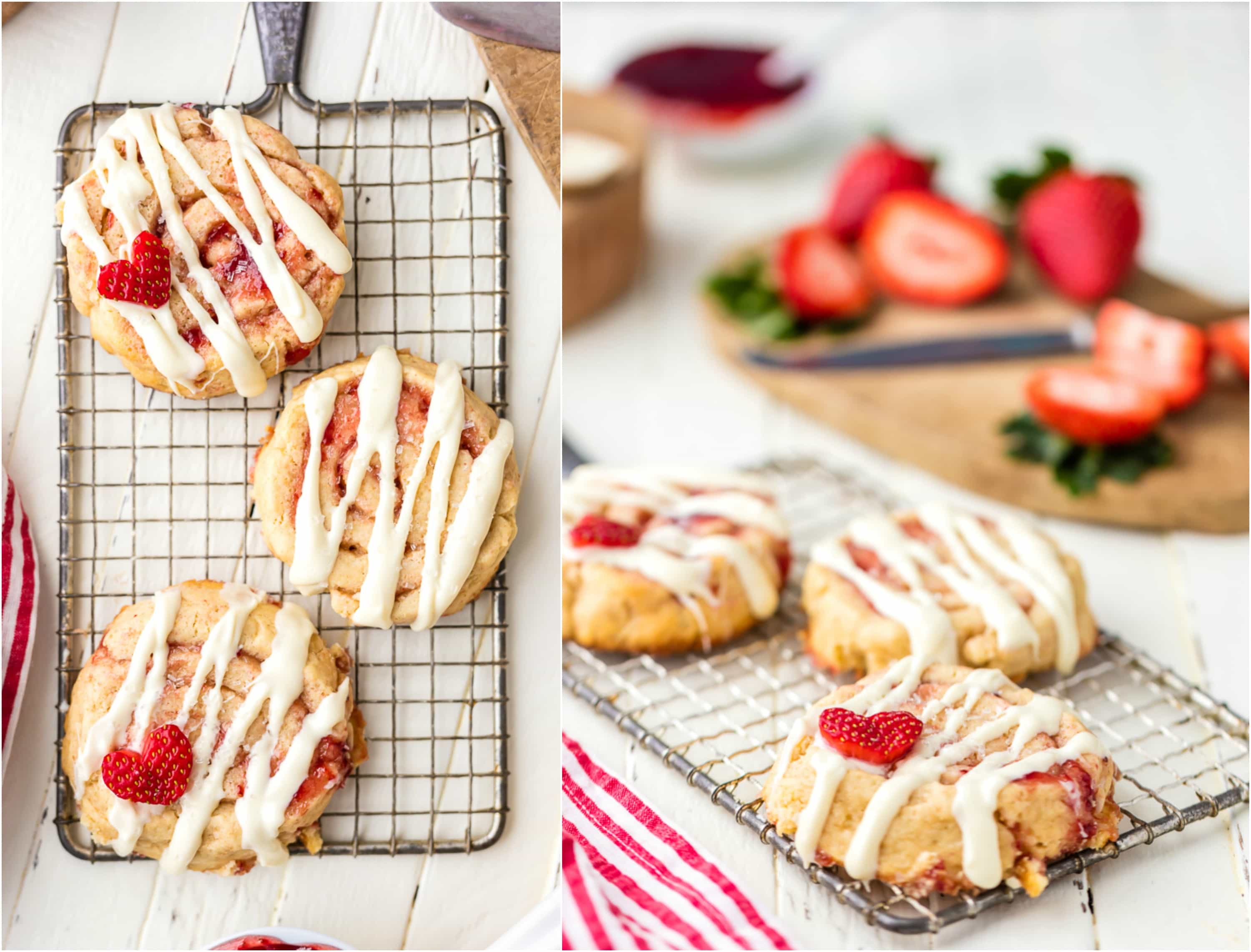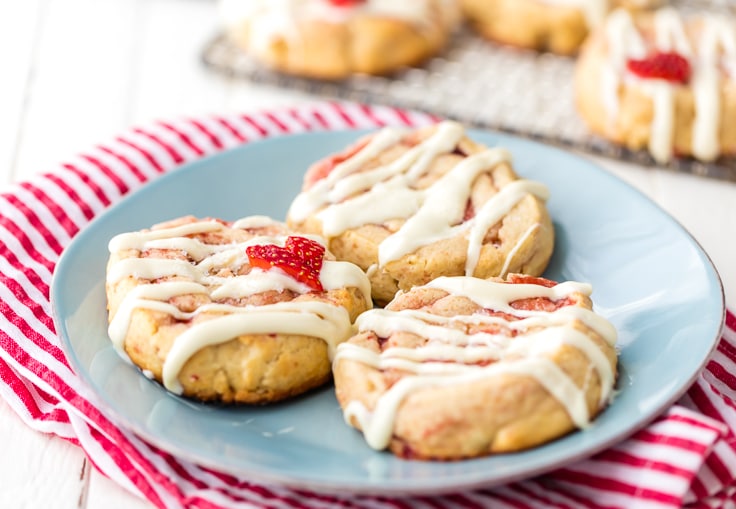 How to Make Strawberry Cinnamon Roll Cookies
Lucky for me, this is a pretty easy cookie recipe. Strawberry cinnamon roll cookies aren't tough to make, and they turn out so good!
Use a stand mixer to cream together the butter and sugar. Then mix in the eggs, vanilla extract, baking soda, baking powder, and sour cream. Then mix in the flour, one cup at a time.
Take the dough and form it into a large disc, and wrap it in plastic wrap. Let it chill in the fridge for at least 2 hours.
Now take the dough out of the refrigerator and cut it into two sections. Roll one section out at a time on a floured surface, and then spread strawberry jam in an even layer over the dough.
Next, roll up the dough lengthwise to make a log shape, and cut it into 10-12 cookies (about 1 inch thick each).
Place cookies on a baking sheet and bake for 10-14 minutes at 350°F. Let them cool for 5 minutes and then transfer to a cooling rack.
While the cookies are cooling, microwave the chocolate and olive oil together to make the white chocolate icing. Then drizzle it over the cookies!
These cinnamon roll cookies are just so tasty. They have such a great texture and such a great flavor! Be sure to read the recipe card for more detailed instructions.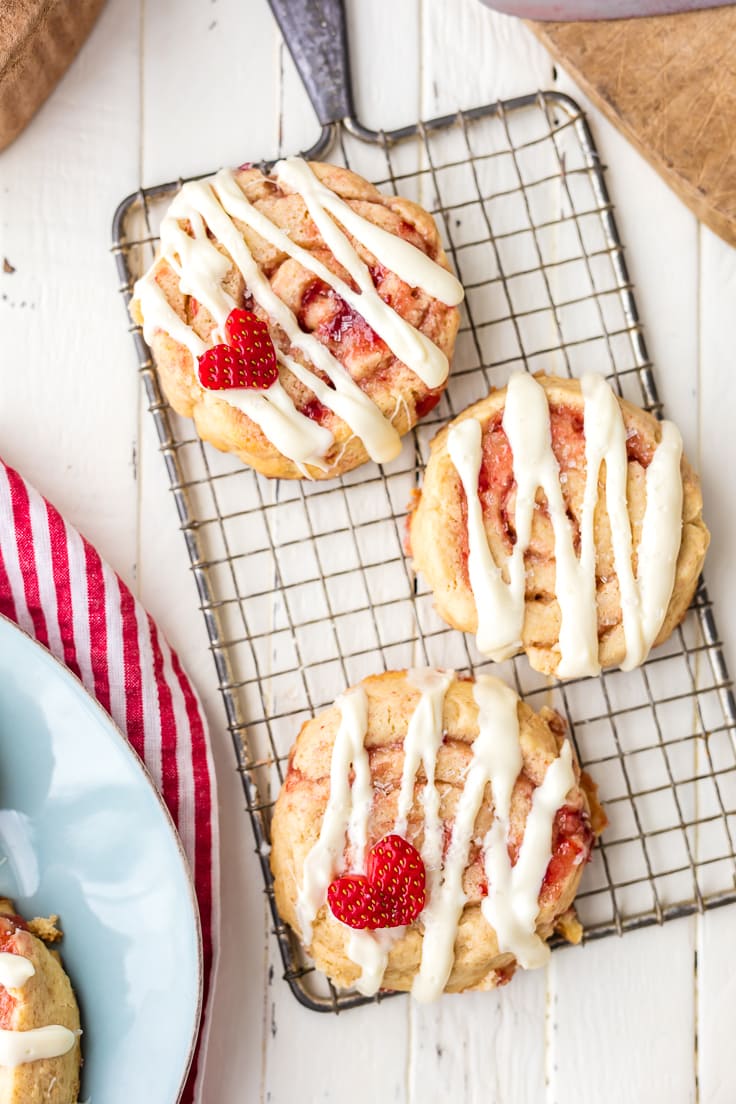 Happy Valentine's Day! Enjoy these amazing Strawberry Cinnamon Roll Cookies!