This Cosmo Recipe is the perfect balance of sweet, sour, and tart. Learn how to make a Cosmopolitan for yourself or for a whole party! This classic cocktail is one of my absolute favorites!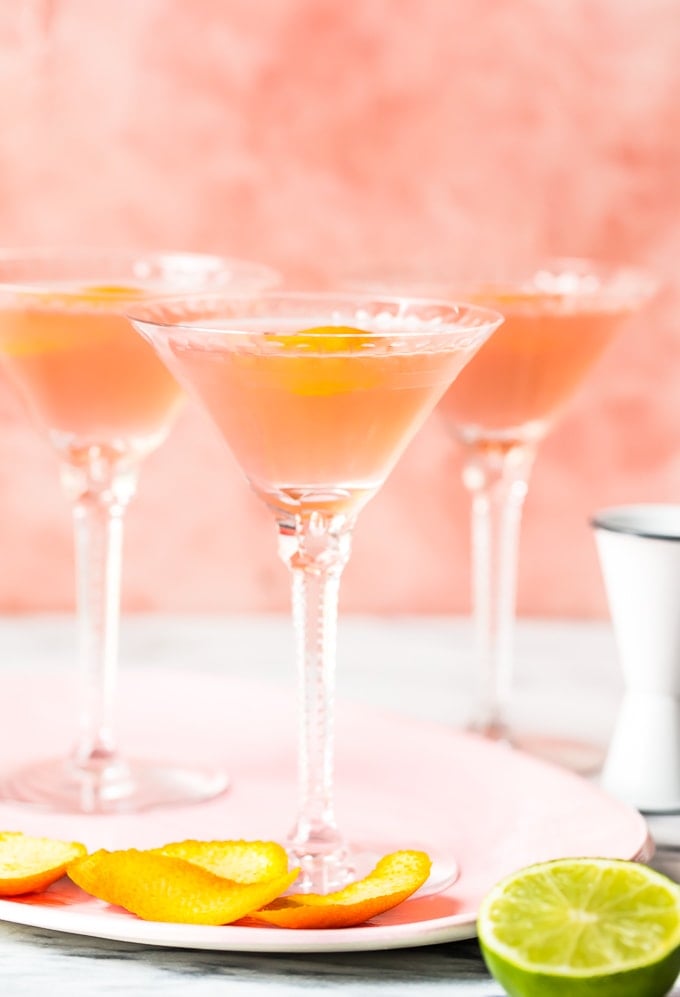 What's in this Cosmopolitan Recipe?
This Cosmo recipe has just the right balance of sweet, sour, and tart ingredients. You can make a whole pitcher, set it in the refrigerator until party time, and then shake and serve each one individually! So much easier than making one drink at a time while the party is already underway.
Citrus Vodka: Infuses the cocktail with a bright citrus flavor.
Cointreau: Adds a sweet and slightly bitter orange flavor.
Cranberry Juice: Gives this cocktail its signature tart flavor and pinkish-red hue. I prefer to use 100% cranberry juice, but you can use cranberry juice cocktail for a sweeter flavor.
Lime Juice: Adds a tangy and slightly sour note.
Pro Tip: Garnish with a flamed orange peel for the perfect presentation!
Variations on a Cosmopolitan Cocktail
There are a number of well-known variations on this classic cocktail. Make the classic recipe, then give some of these twists a try:
White Cosmo: Swap out the cranberry juice for white cranberry juice.
Cosmobellini: Add some prosecco for a bubbly take!
Cosmocello: Swap out the lime juice for limoncello.
French Cosmopolitan: Swap out the Cointreau for Grand Marnier and add a dash of grenadine.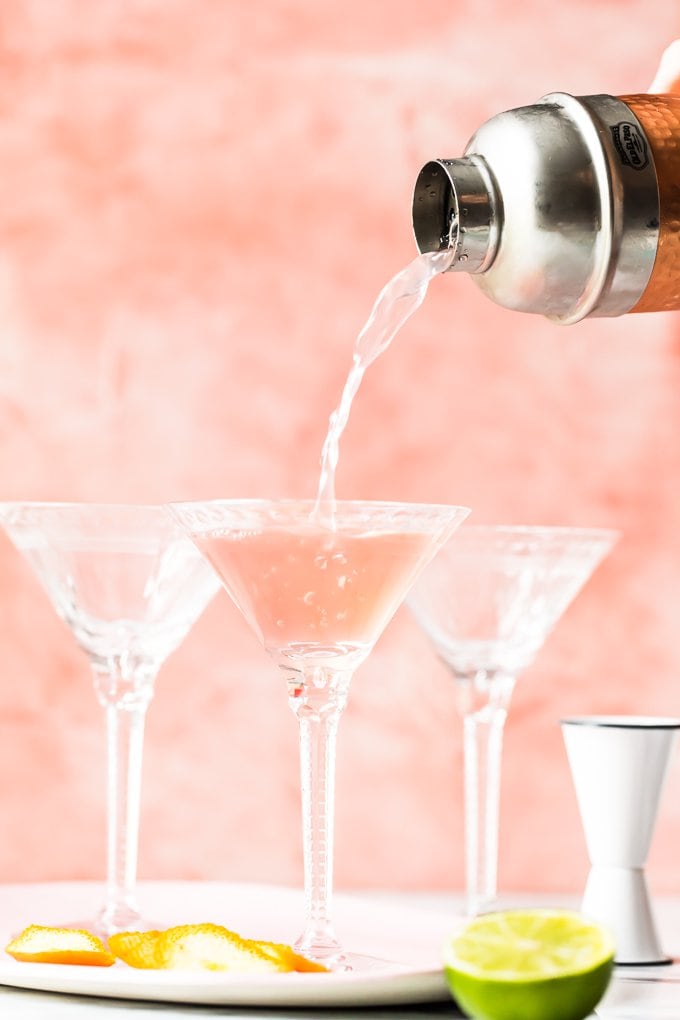 What's in a Cosmo?
This classic cocktail consists of citrus vodka, Cointreau, cranberry juice, and lime juice. Simple and delicious!
Why is it called a Cosmo?
While the origin of the cocktail is widely disputed, allegedly, the first person to taste it exclaimed "How cosmopolitan!"
What vodka is best for a Cosmo?
The classic choice is a citrus vodka, but plain vodka will also work.
Is triple sec the same as Cointreau?
Cointreau is a type of triple sec. Triple sec refers to a category of dry orange liqueurs. Other common brands include Grand Marnier and Curacao.
How much alcohol is in a Cosmo?
That depends on the type of vodka you use. If you choose a standard 40% alcohol vodka, this cocktail comes out to about 22% ABV. A stronger or weaker vodka will lead to a different ABV.
Is there a lot of sugar in a Cosmo?
There are 12 grams of sugar in each drink.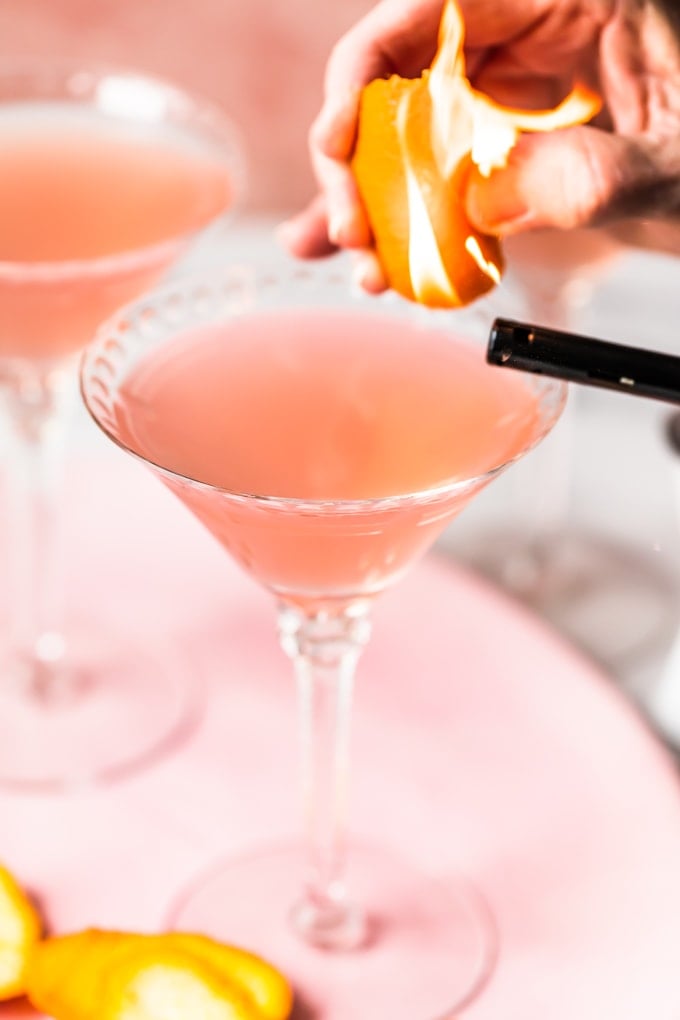 How to Store
If making a pitcher of cosmos, mix the ingredients together and store in the refrigerator for up to 1 week. Shake individual servings in a cocktail shaker with ice to refresh.
Serving Suggestions
These refreshing cosmos pair perfectly with finger foods like antipasto skewers, shrimp ceviche, goat cheese bruschetta, avocado egg rolls, bacon wrapped dates, or jalapeno poppers.
For an entrée, choose light and refreshing orange glazed salmon or cilantro lime shrimp scampi.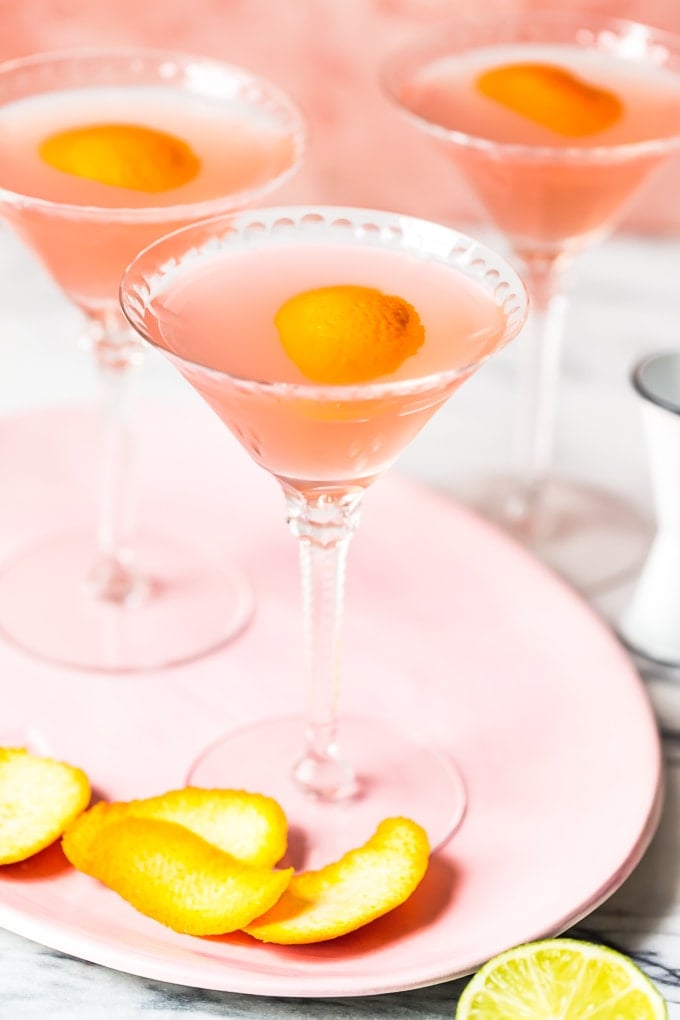 5-Star Review
"This is my go to recipe whenever making Cosmos for a crowd! Just made this for a party tomorrow Everyone always loves it Thanks for a great recipe!" – Laura
More Classic Cocktail Recipes We Love