So simple and easy, you have to try this cotton candy martini! They are SO FUN for Halloween or any time of the year! You can make these kid friendly by just using grape juice. Fun and tasty!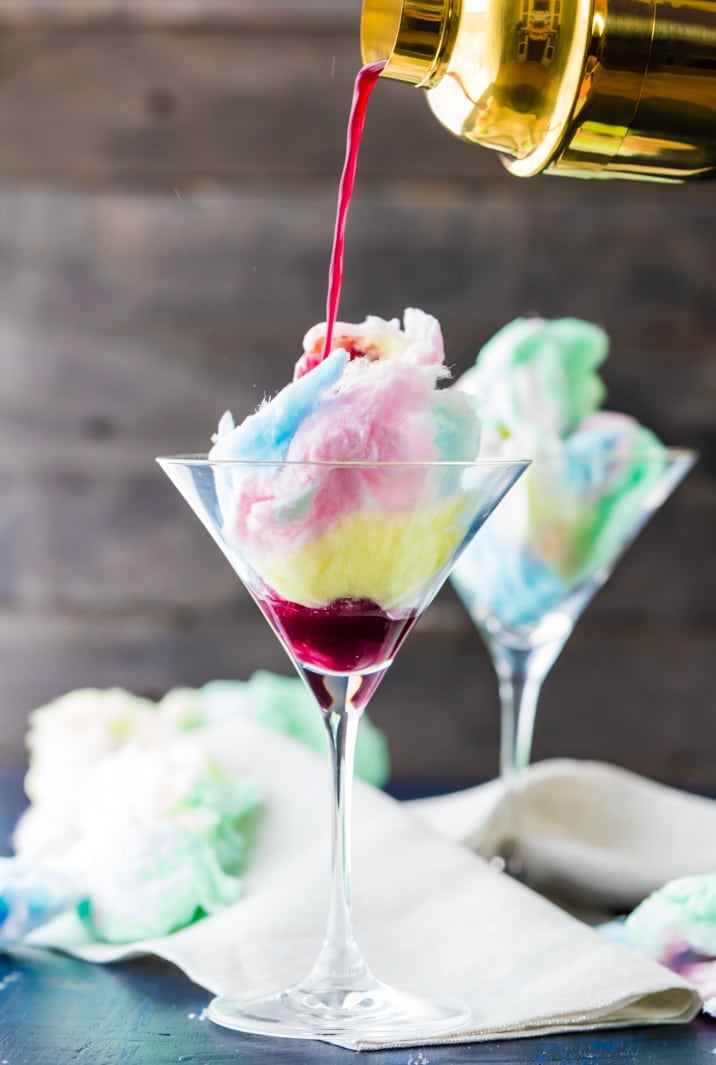 Cotton Candy Cocktail
I'm so excited about today's drink recipe! It's just so so fun and PERFECT for Halloween. It can be made kid friendly simply by leaving out the vodka…and is tasty for both kids and adults!
I think the grape juice is the perfect color for Halloween parties, and your guests will be so excited to make these themselves…bonus!
The cotton candy dissolves the second you pour in your martini…leaving the sugar behind for an extra sweet treat. So fun!
Be sure to try my Gingerbread Martini and Dirty Redbird Martini too!
Why you will love this recipe!
Simple ingredients: You just need some cotton candy, grape juice and optional vodka.
So easy: Just shake up the juice and pour it over the cotton candy. It's so easy that guests can pour their own drinks!
Perfect for holidays: This color is perfect for Halloween, but please feel free to enjoy it any time of the year when you want to impress!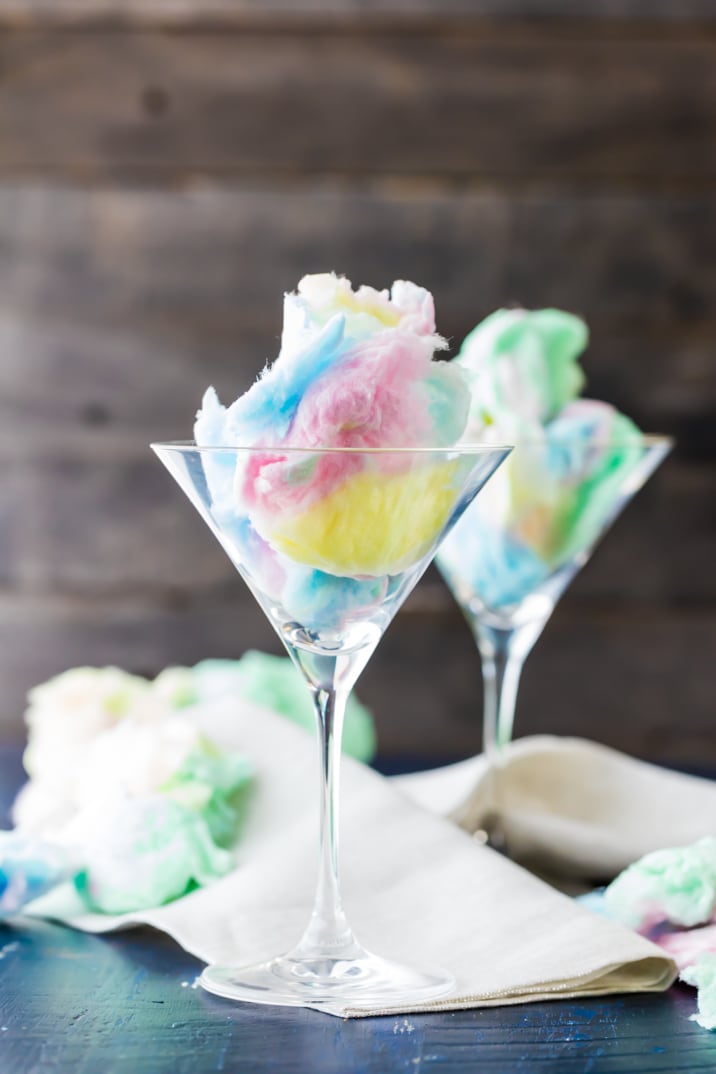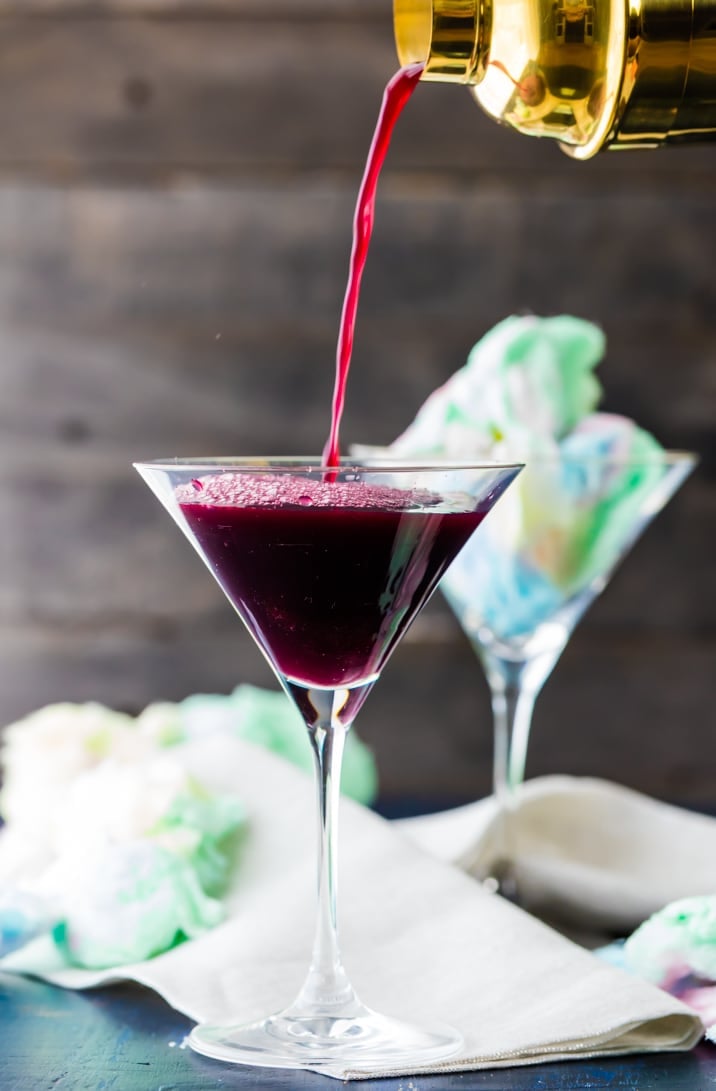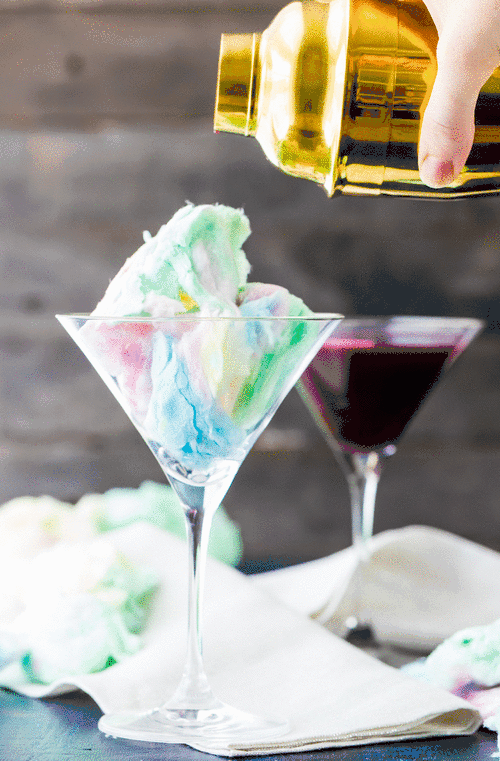 How to make a candy cotton martini
Be sure to scroll down for the full recipe!
Shake the grape juice and vodka with ice.
Pour into a martini glass over the cotton candy.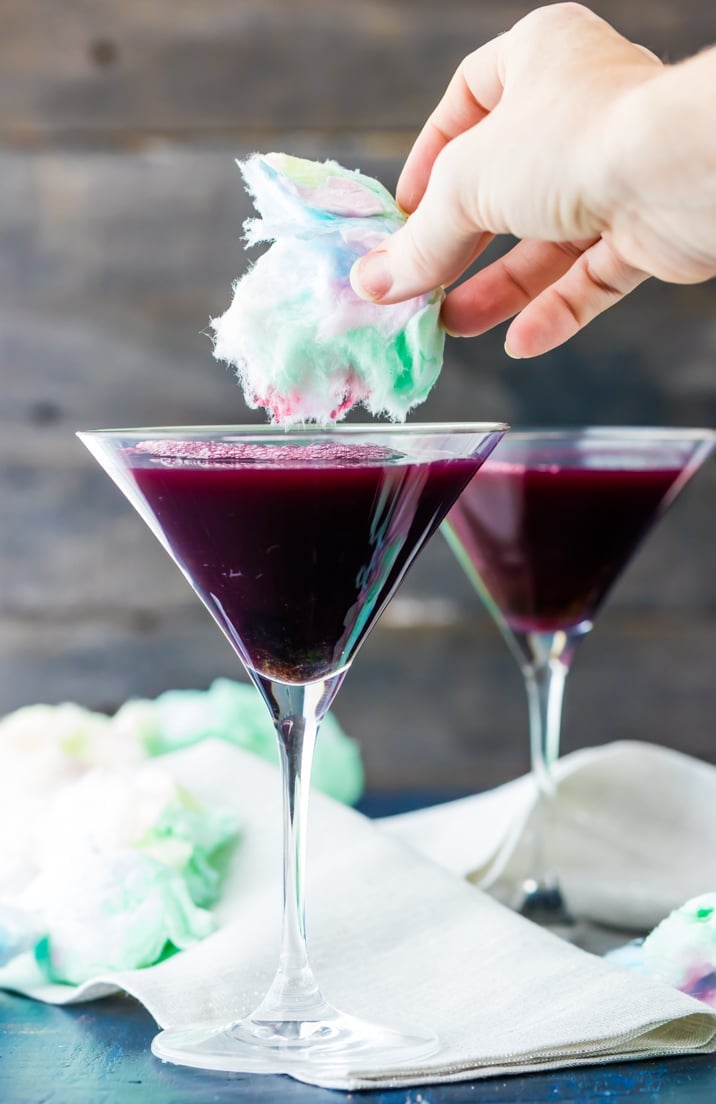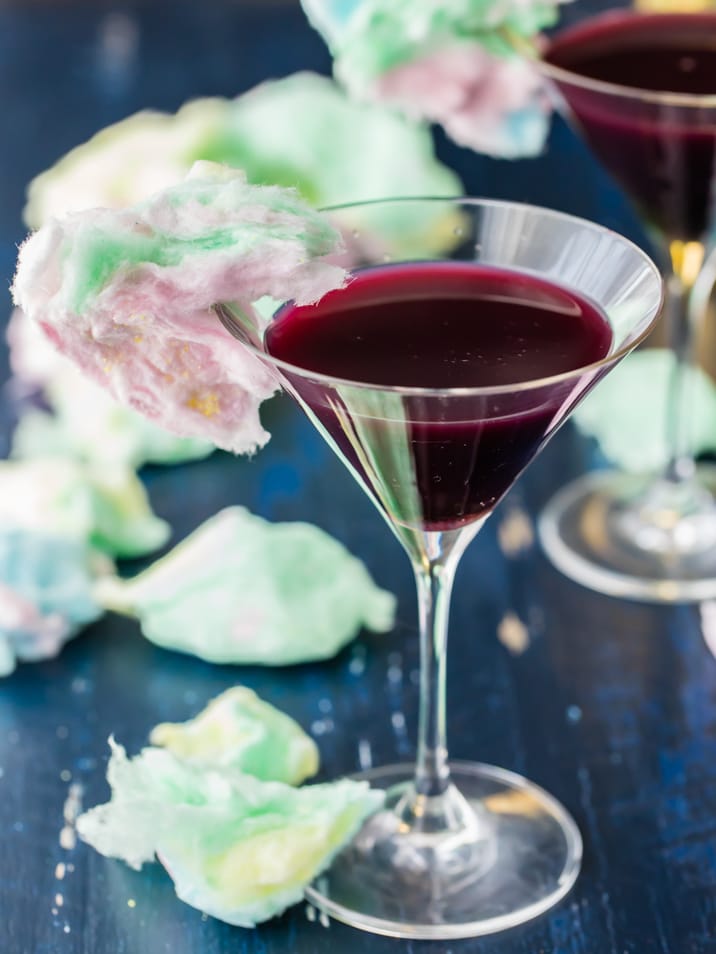 Can you make it ahead of time?
This cotton candy martini cocktail is best served straight away, and it only takes minutes to prep. Be sure to do the pouring in front of your guests so that they get to see the magic happen!
Garnish
I kept the garnish on these martinis pretty simple with just some extra cotton candy added to the rim, but if you want to get fancy, you can add some colored sugar or sprinkles to make them extra festive.
Recipe Variations
I used grape juice for the purple color, but you can use whatever juice you love best! You could even do some with orange juice and some purple and really overachieve for Halloween! I'd be impressed with that!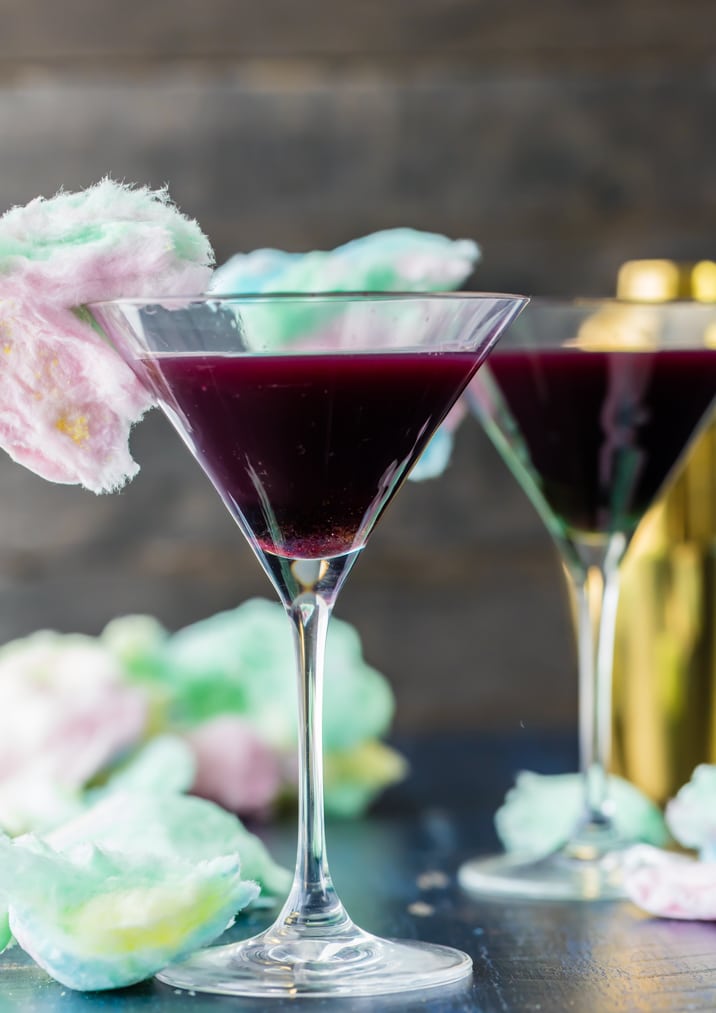 Recipe Notes and Tips
I like to use a mixed colored candy, but you can use any color you like.
I prefer to use flavored vodka to give it a slightly more complex flavor, but plain will work just fine. You can also make these with gin or white rum.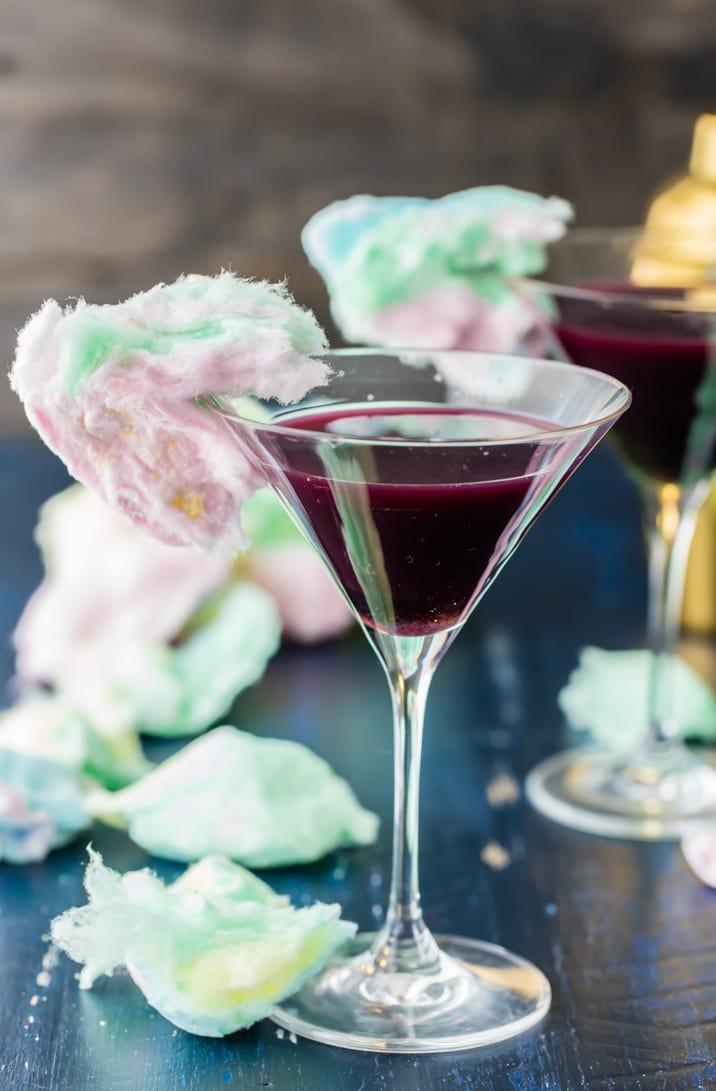 Cheers!!