Lavender Lemonade is a fragrant, refreshing, and beautiful drink. This Lavender Lemonade Recipe is the ultimate party drink to make for baby showers, wedding showers, Summer BBQs, and more! Cheers to Spring! This purple lemonade is such a pretty sip to bring to any party.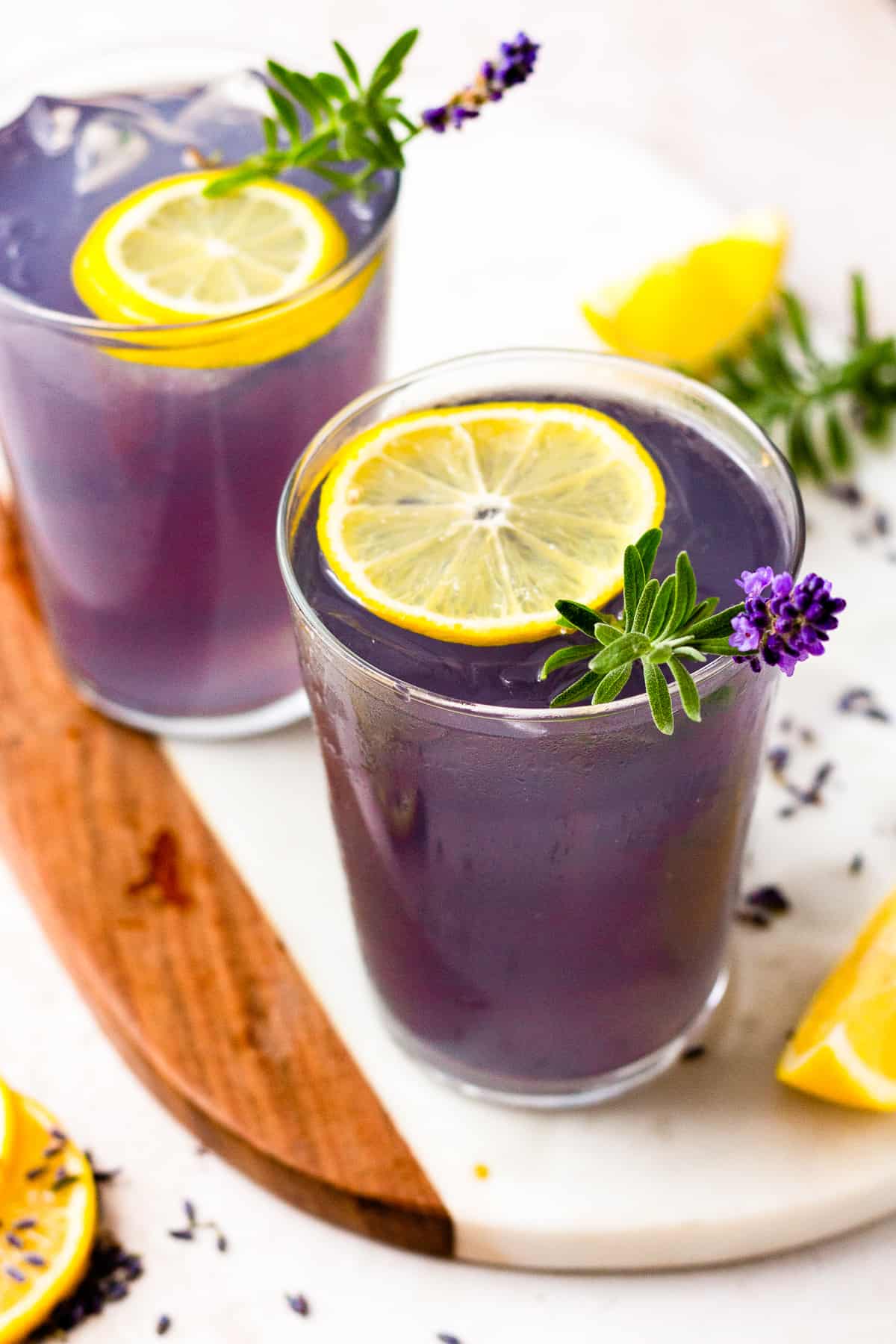 Lavender Lemonade
Lavender Lemonade is my favorite easy mocktail (or cocktail) to make for every special occasion!
Lavender Lemonade is such a beautiful drink! I just love the pretty purple lemonade for parties and special occasions. This lemonade recipe is perfect for baby shower drinks, bridal showers, or even a simple summer brunch. Whether purple is one of your party theme colors , or you're just looking for something light and refreshing, this is a great party drink to serve (with or without alcohol!).
Homemade lemonade is so refreshing as is, and it's actually so easy to make fresh. You can prepare this easy lemonade recipe any time, and it's so good all summer long. Just add in a bit of dried lavender to give it an extra kick of color and flavor.
Why You'll Love this Lavender Lemonade Recipe:
REFRESHING: Lemonade is always refreshing. Perfect for warm days!
EASY: This is just so easy to make! A few ingredients and few steps, and it'll be ready to serve.
PARTY DRINK: Party guests will love this Lavender Lemonade Recipe, both for the taste and because of how pretty it is. Add alcohol to make it a cocktail if the occasion calls for it!
Your guests will love this Lavender Lemonade recipe because it's both refreshing and beautiful to look at! It's perfect for baby shower drinks, bridal showers, or any summer occasion.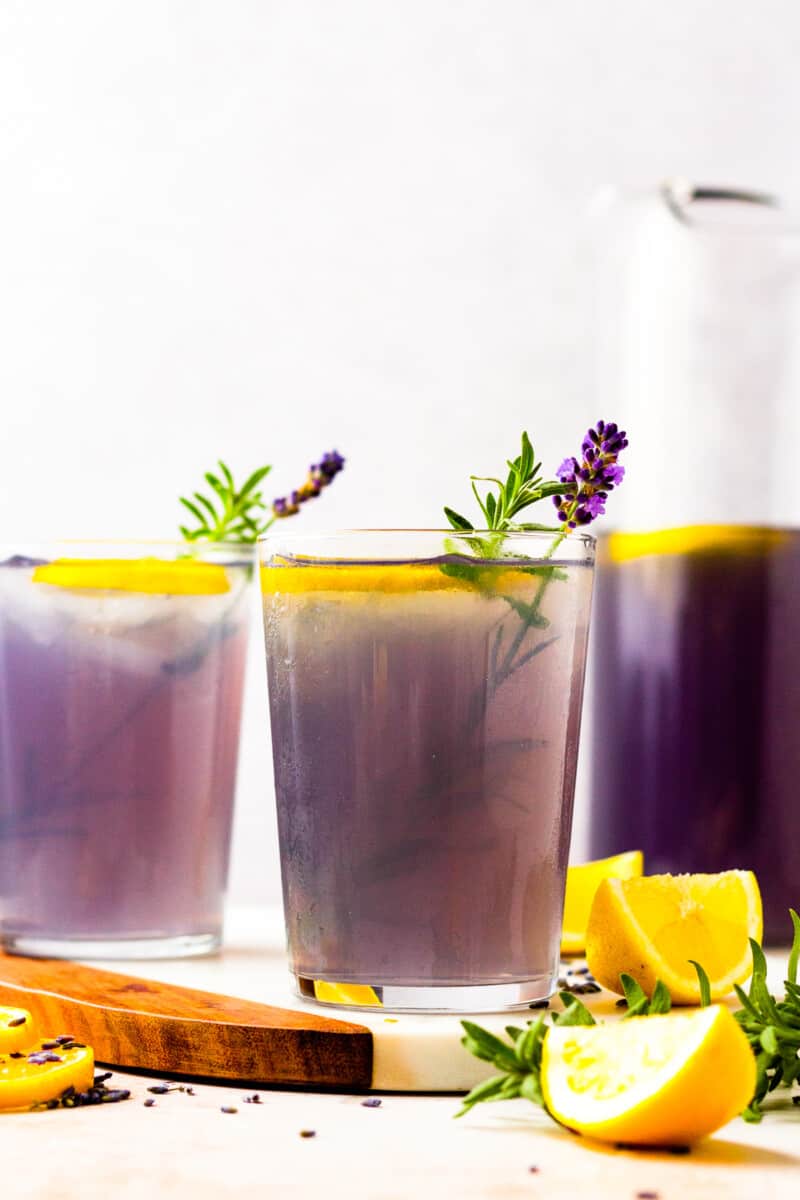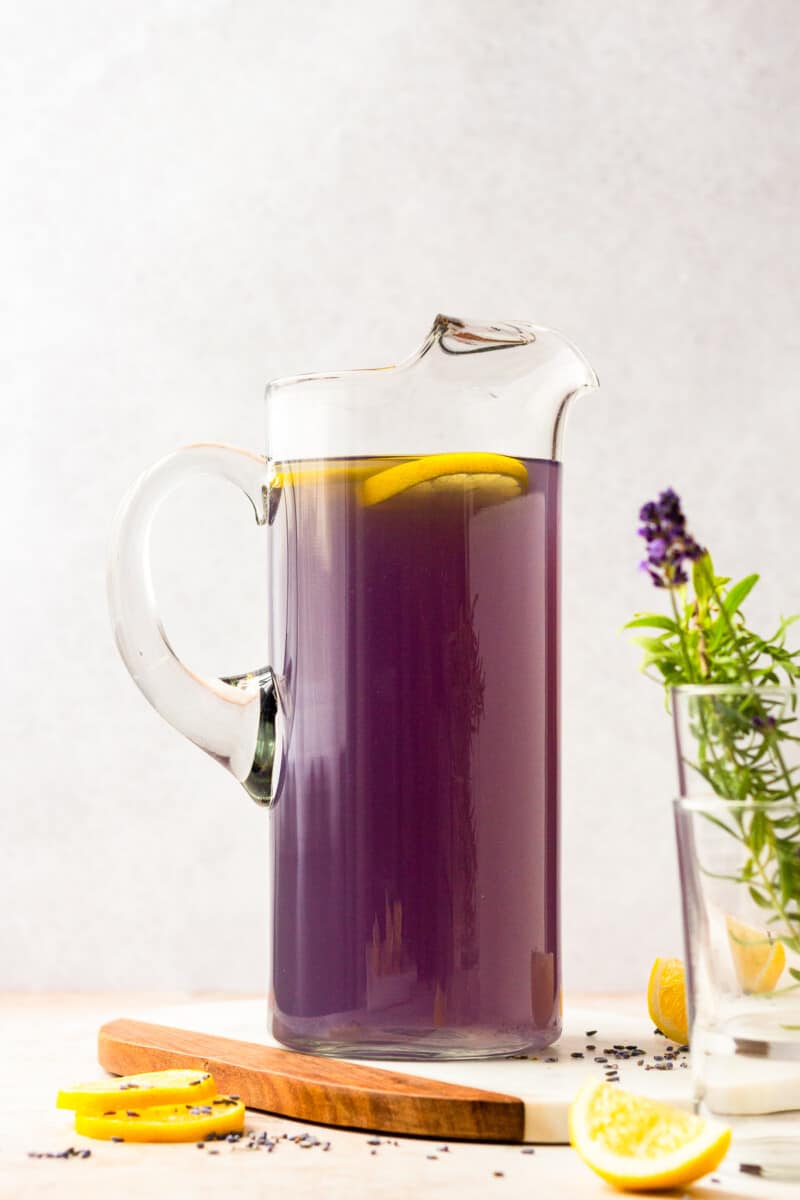 Ingredients
Here are the ingredients you'll need to make Lavender Lemonade:
Water
Sugar
Honey
Lemon Juice
Dried Lavender
Food Coloring (optional)
Lemon slices and lavender (for garnish)
How to Make Lavender Lemonade
Be sure to see the recipe card below for full ingredients & instructions!
Combine water and sugar to heat on the stove.
Stir in the honey and lavender, and let the mixture steep (like tea).
Strain the mixture to remove the dried lavender.
Combine lavender mixture, lemon juice, and water in a pitcher to make the lemonade.
(Optional) Add food coloring to make the color more vivid.
Serve over ice and enjoy! Garnish with lemon slices and lavender.
These simple lemonade ingredients are things you probably already have around the house. Just pick up some edible lavender and fresh lemons when you're ready to make this pretty purple lemonade.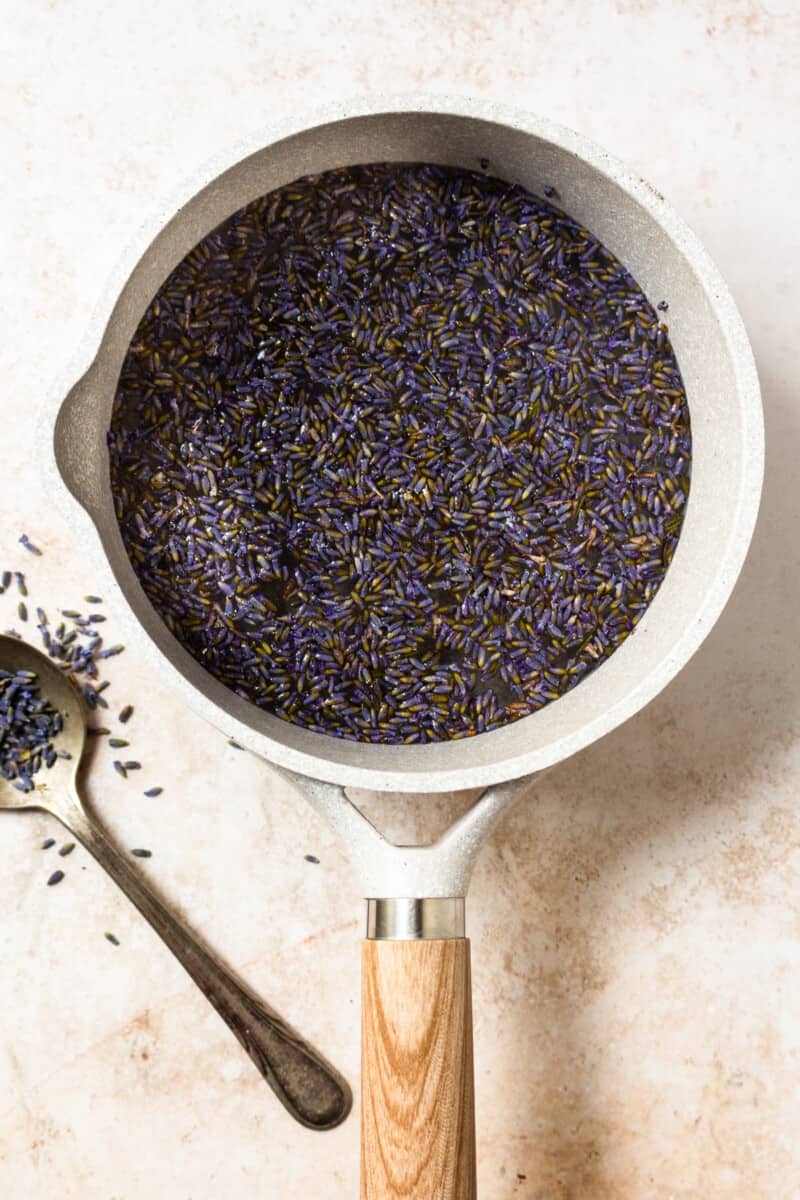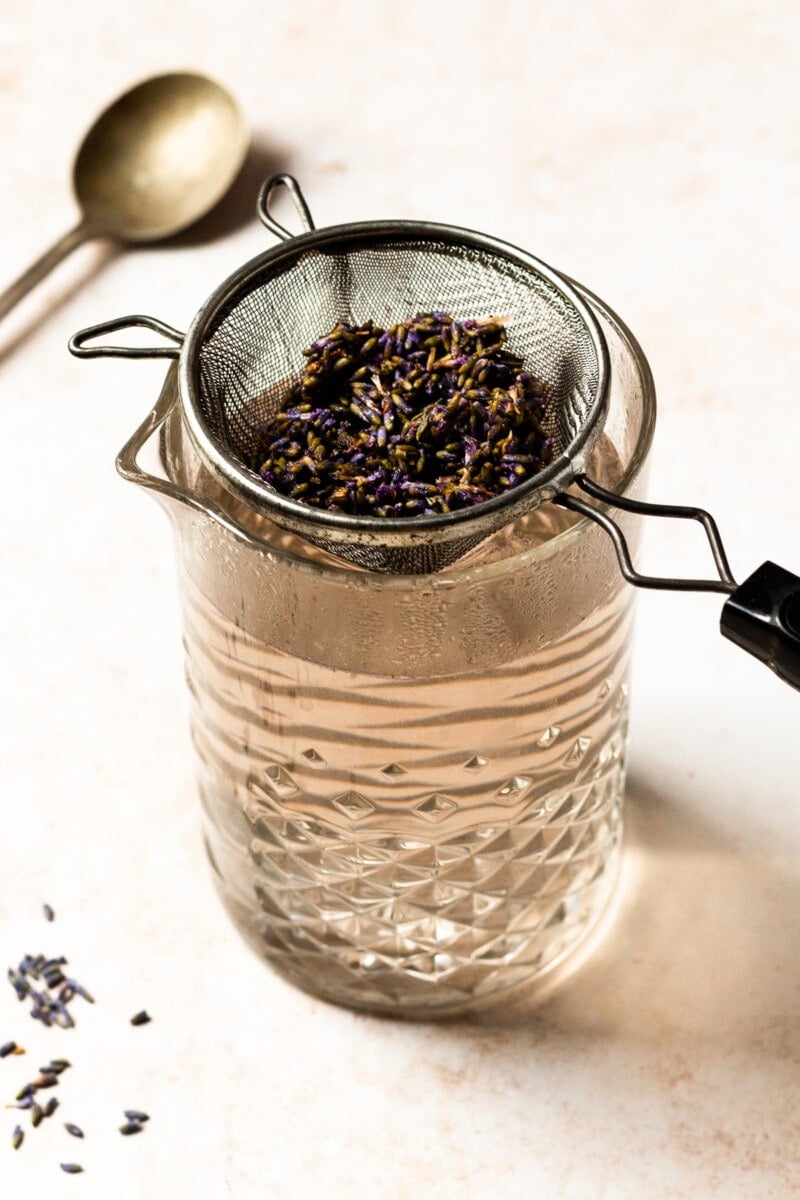 What kind of lavender can you cook with?
If you're going to make this lavender lemonade recipe, you're going to need dried lavender. You're going to love the fragrant, pretty, and unique flavor combination of the lemon juice and lavender flowers.
Whole Foods sells fresh lavender, but you can also order it on Amazon (*affiliate link). You want to be sure you buy lavender meant for eating/cooking, so Whole Foods is an easy way to make sure you're getting the best kind. (I am not working with them, but they're such a great spot.)
(our Vanilla Lavender Scones are one of my favorite brunch recipes!) so easy!
The Perfect Purple Party Drink – Lavender Lemonade
This Lavender Lemonade Recipe is always a party hit. Everyone always asks for the recipe! I love the zesty citrus and light floral flavor combination. SO DELICIOUS!
This makes a great drink for bridal showers, baby showers, birthday parties, brunch parties, or just for a simple summer gathering.
Some of our other favorite cocktails for a brunch party are Sparkling Strawberry Margarita Punch, Easy Holiday Punch, and Sherbet Mimosas.
Can I make this a lavender cocktail recipe?
I made this lavender lemonade a non-alcoholic drink, but it can easily be turned into a lavender cocktail for the right occasion! This recipe is kid friendly as is, but is would also be great for an adult only brunch or tailgate party.
To make it a cocktail, just add a splash of vodka, or whichever alcohol you prefer. The sky is the limit! A bit of champagne would turn it into a nice, bubbly drink for bridal showers or brunch. You could also use tequila instead and make Lavender Margaritas! I think I'm onto something…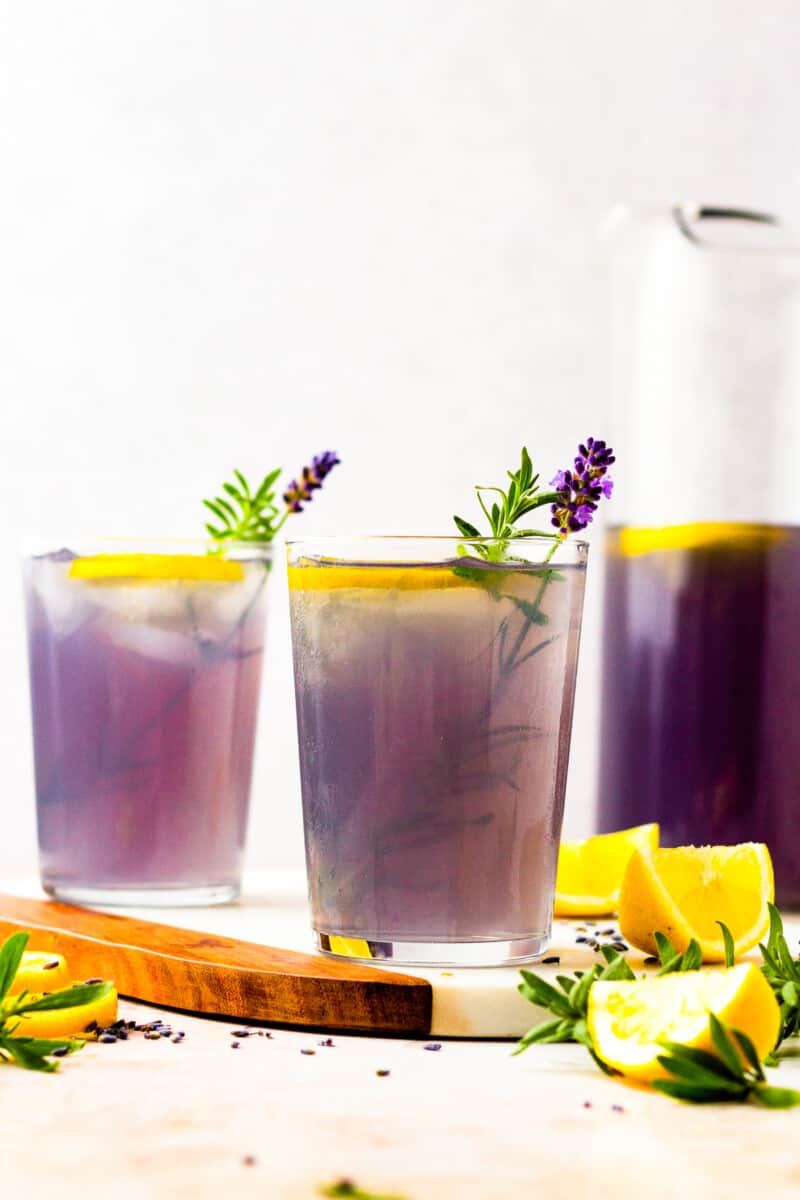 Tips!
First and foremost, fresh lavender is a must!
I recommend adding some purple or blue food coloring to make the color even brighter and prettier, but that is totally optional. It's a fun twist if you're making this mocktail for baby or wedding showers, but it's not necessary.
Fresh lemonade is so easy to make on a stove, and we are just infusing it with a bit of lavender to kick things up a notch.
If you want to make this a cocktail, just add in a bit of vodka, tequila, champagne…whichever type of alcohol you prefer for your drinks.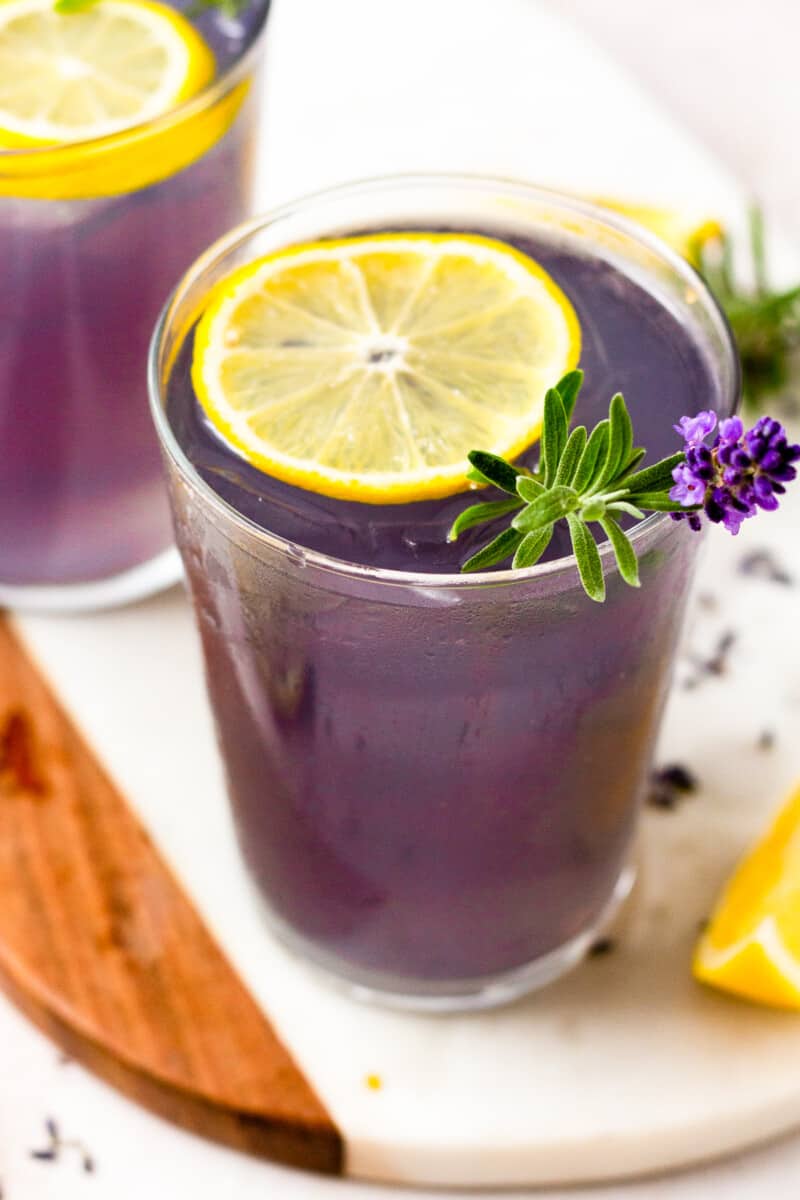 This refreshing Lavender Lemonade is going to be a big hit at any party! The light floral flavor mixed with the lemonade is just do tasty.
If you make this recipe be sure to upload a photo in the comment section below or leave a rating. Enjoy!