Caramel Apples are easy to make treats that just scream FALL! There's nothing better than biting into an apple dipped in sweet, sticky homemade caramel, then coated with chopped nuts. You're going to love making and eating this classic autumnal treat.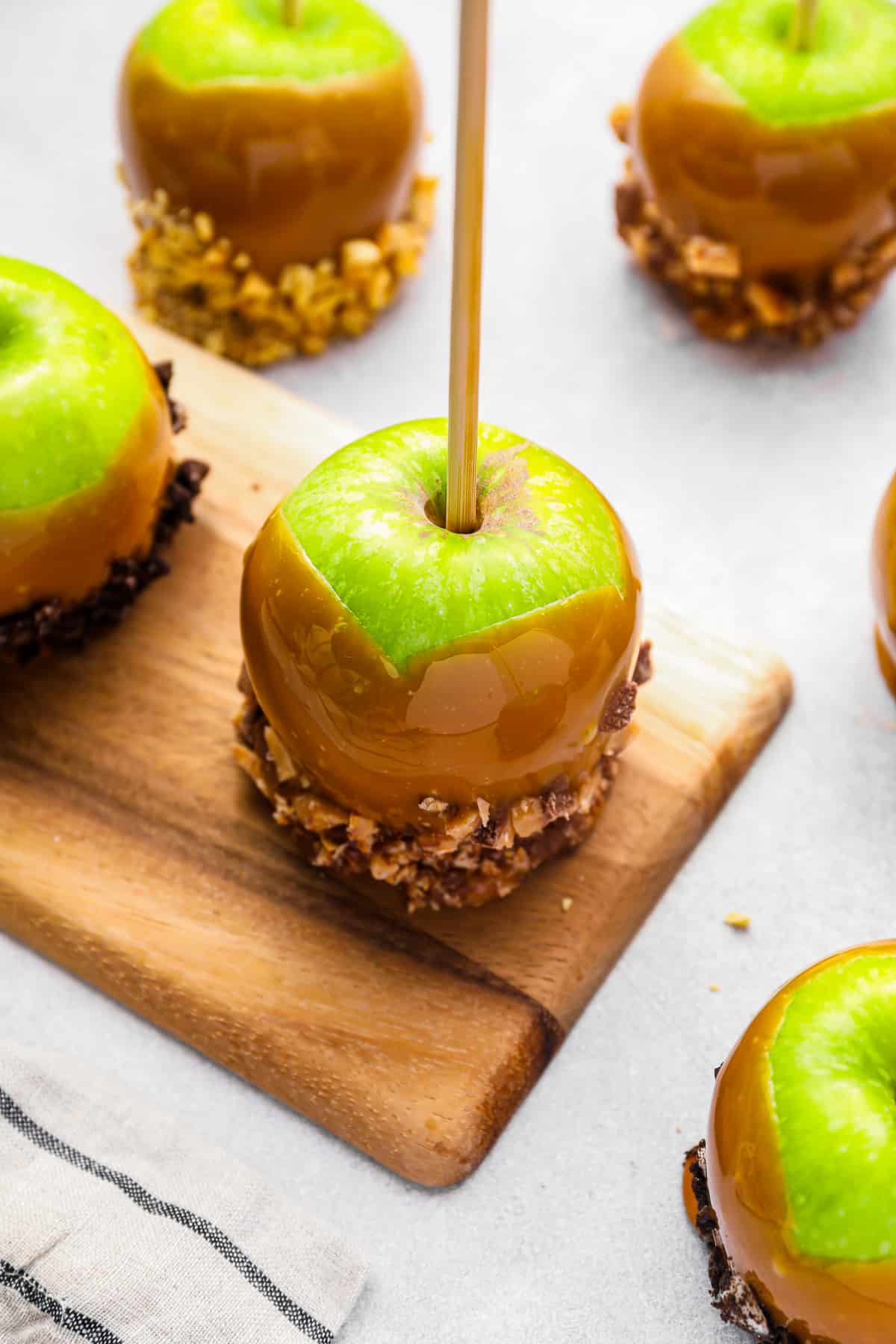 Homemade Caramel Apples
There's so much to love about this easy Caramel Apple recipe! First and foremost, it's truly timeless. Caramel Apples have been around for what seems like forever and this recipe keeps their simplicity. You won't find any unnecessary frills here!
With that being said, you can dress them up with extra toppings for extra fun. Use sprinkles, chocolate drizzle, M&M candies or whatever else your heart desires, and feel free to get creative with this fall favorite.
I see Caramel Apples as beautiful blank slates that are perfect for decorating with even more sugary goodness! However, they're also pretty delicious all on their own.
Why You'll Love this Caramel Apples Recipe:
TIMELESS: Caramel Apples are the definition of tried and true! This timeless recipe features two key elements: fresh apples and creamy caramel!
SO EASY: Just melt the caramel and make it creamy, then dunk your apples, decorate them if you want, and enjoy!
FALL STAPLE: This sweet treat is fun all year round, but they're even better during the fall season, especially for Halloween parties!
Your little ones are going to obsess over this kid-friendly recipe! Not only will they love eating the caramel dipped apples, but they'll love making them, too. This recipe is so much fun to get family involved with!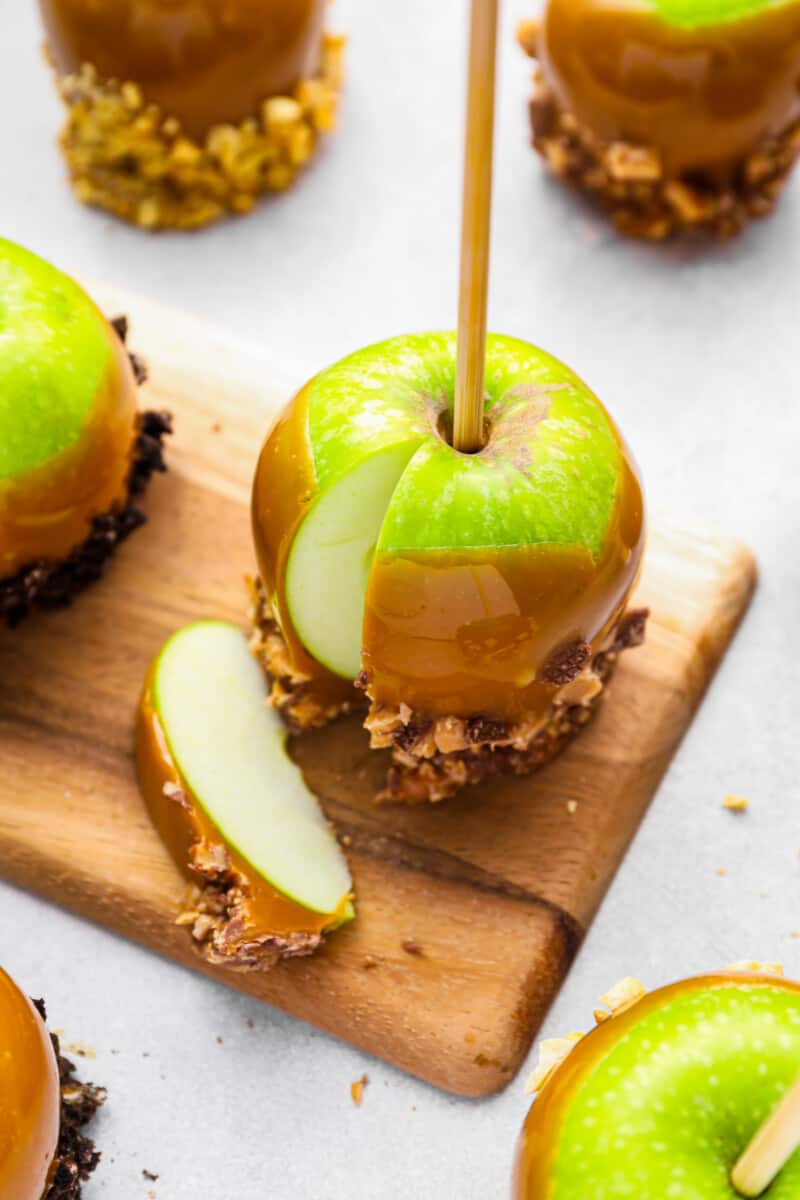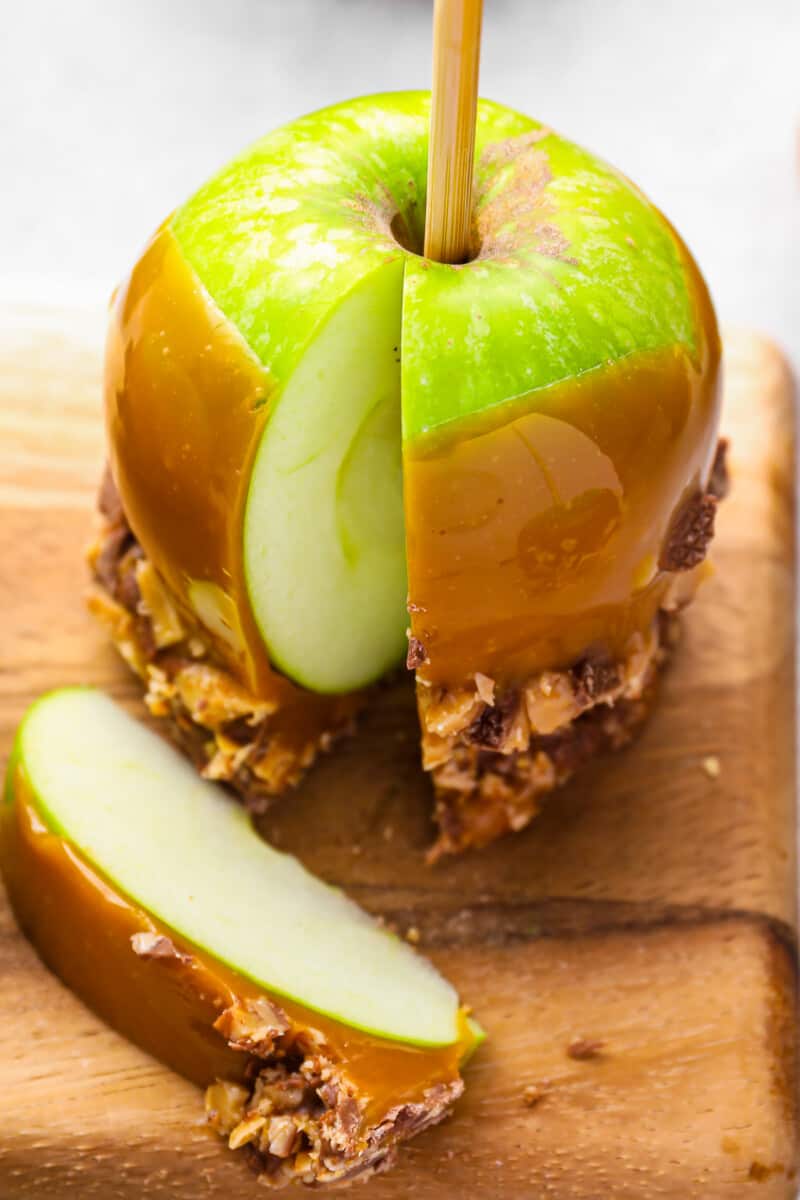 How to Make Caramel Apples
You can jump to the recipe card for full ingredients & instructions!
Wash the apples the night before, remove the stem, and skewer them.
Microwave the caramel and heavy cream together, then stir in the salt and vanilla.
Dip the apples in the caramel, then roll them in your desired toppings.
Let them sit for 20 minutes, then enjoy!
Ingredient Notes
Apples: Look for small, perfectly round apples with no visible blemishes. I like tart apples, like Granny Smith, but you can use any apple you like!
Soft Caramels: A great hack for no-fuss caramel apples. Soft caramels simply need to be melted down and mixed with some cream. No need to worry about crystallizing or burning!
Heavy Cream: Thins out the caramel so that it can coat the apples.
Vanilla: Enhances the rich caramel flavor.
Salt: Adds a bit of saltiness to balance the caramel flavor.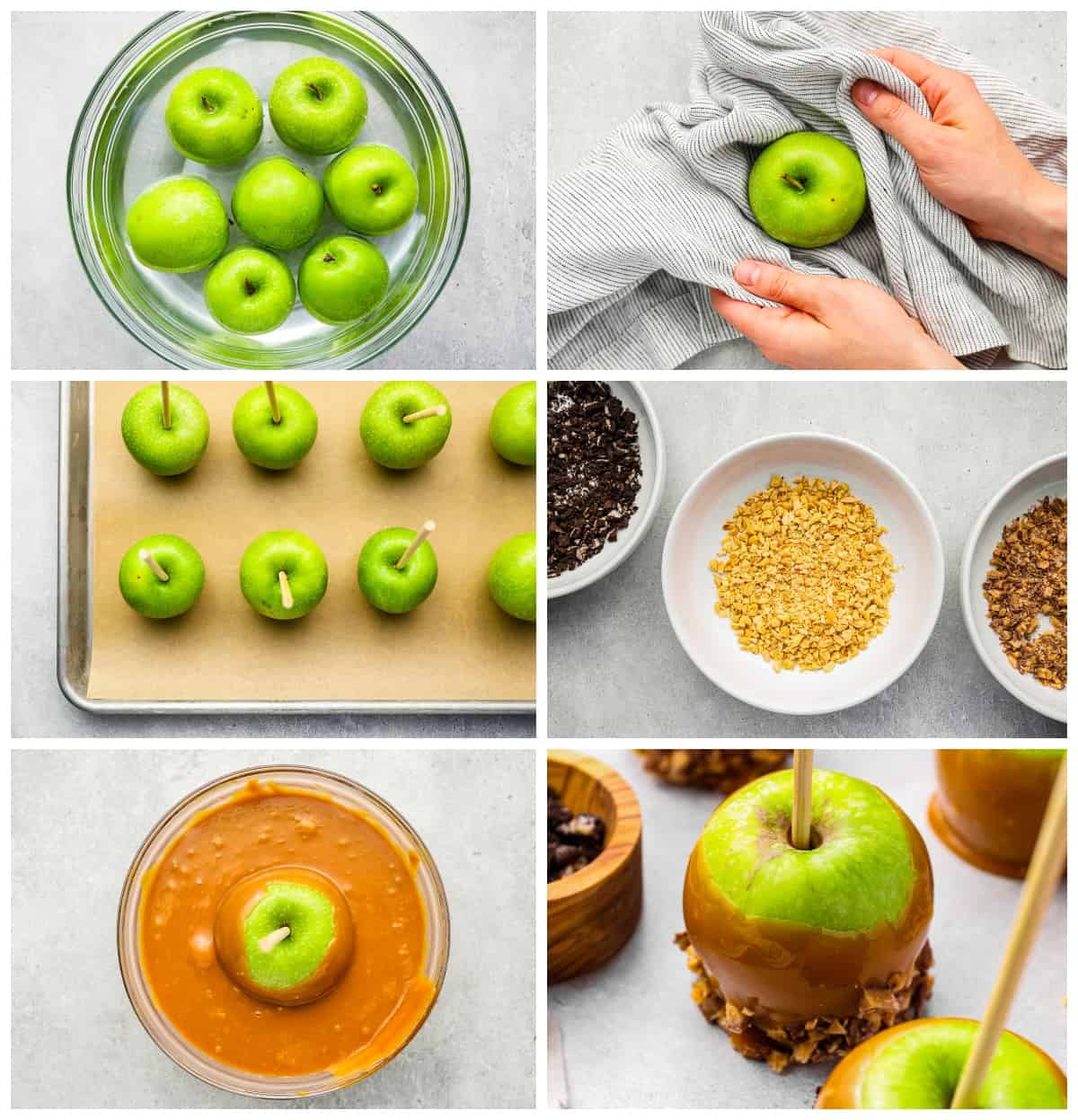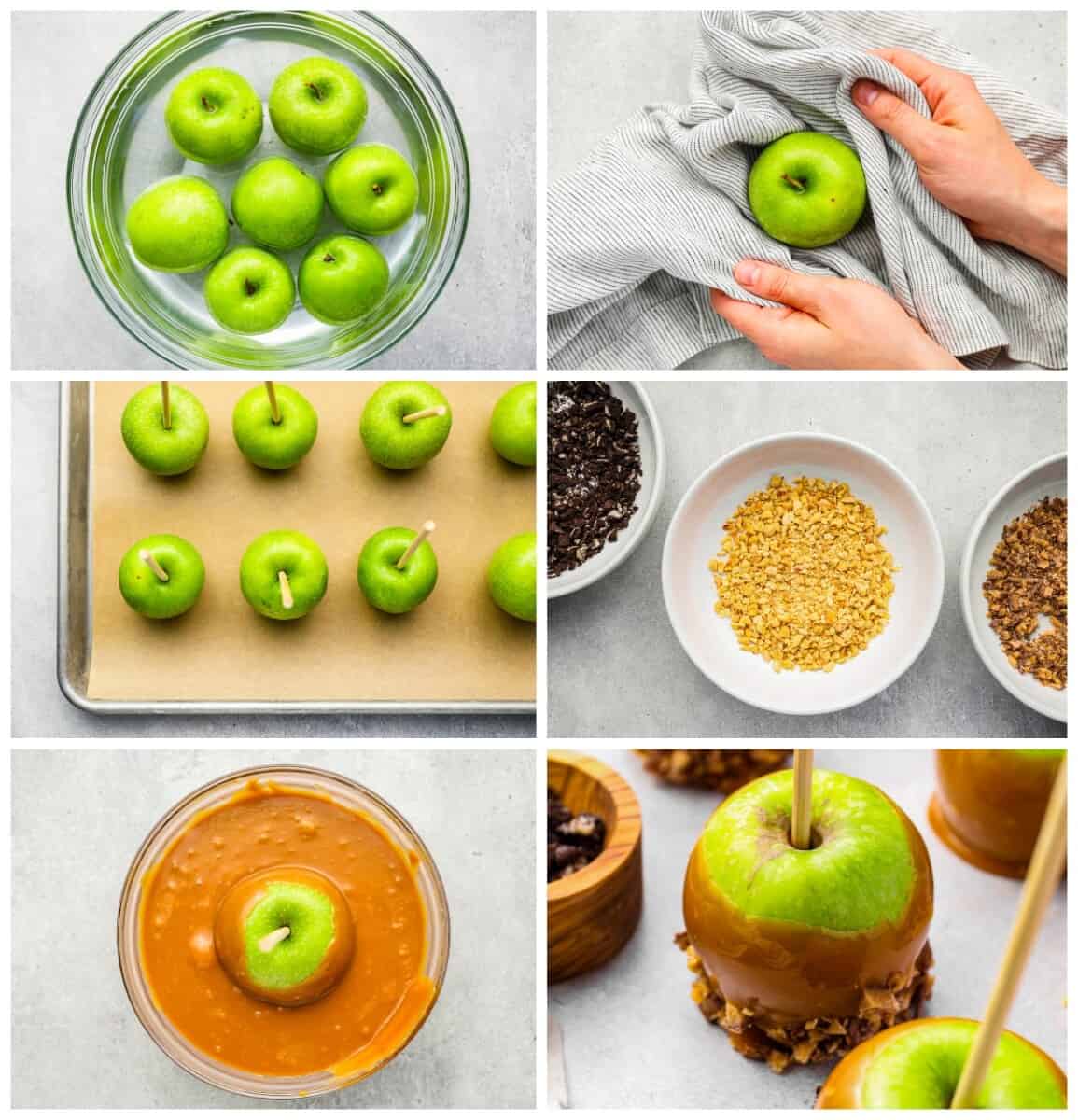 What are the best apples for caramel apples?
You can use any apples you like! I like tart Granny Smith apples to contrast the sweetness of the caramel, but Fuji or Honeycrisp would also be delicious.
Are caramel apples gluten-free?
Yes, caramel apples are naturally gluten-free. Just be sure to use gluten-free toppings!
Are caramel apples a healthy snack?
Caramel apples are certainly a healthier snack than more traditional candy bars. Apples are a healthy source of fiber, but the added sugar from the caramel makes these caramel apples less ideal. Enjoy caramel apples in moderation!
How do I remove the wax from apples for caramel apples?
To remove the waxy coating from your apples, dip them in very hot water for a few seconds, rub the wax off, then rinse in cool water.
Can I make caramel apples with homemade caramel?
You sure can! Try my caramel recipe, and be sure to cook the caramel to the soft-ball stage (235°F-240°F).
How do I keep the caramel from sliding off of the apples?
Make sure the apples are thoroughly dried and cooled, and allow the caramel to cool slightly before dipping the apples. If the caramel is too hot, it will slide right off the apples.
Why are there bubbles on my caramel apples?
If you stir the caramel too much, it can cause bubbles to form. Stirring adds air into the caramel, and this cannot be reversed. However, you can use a knife or toothpick to pop the bubbles after the fact.
Do caramel apples have to be refrigerated?
Yes! Unfortunately, caramel apples can quickly grow dangerous bacteria if they are left unrefrigerated, so be sure to store yours in the refrigerator!
Can dogs eat caramel apples?
No, dogs should not eat caramel apples. Caramel apples have way too many calories and sugar, and they can cause dangerous blood sugar spikes in dogs.
Whether you make these homemade caramel apples for Halloween, Thanksgiving, or just a fun weekend, you're gonna LOVE these festive fall treats!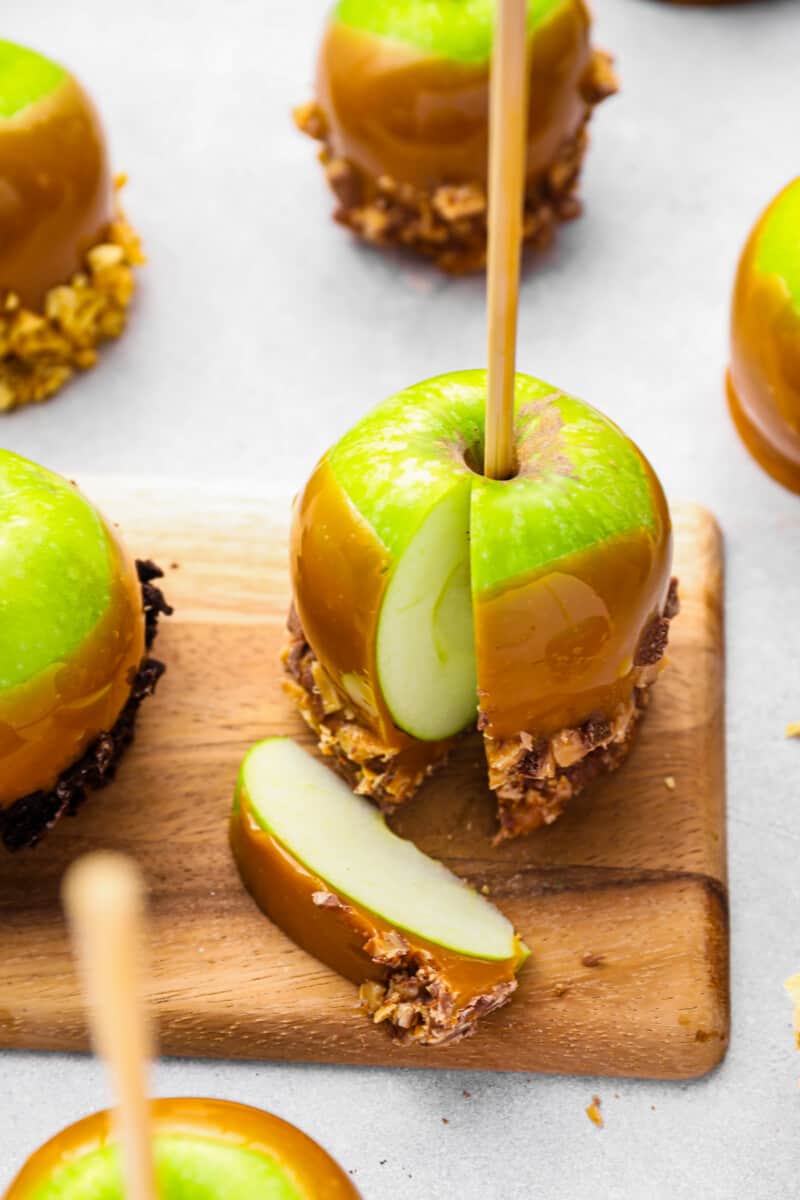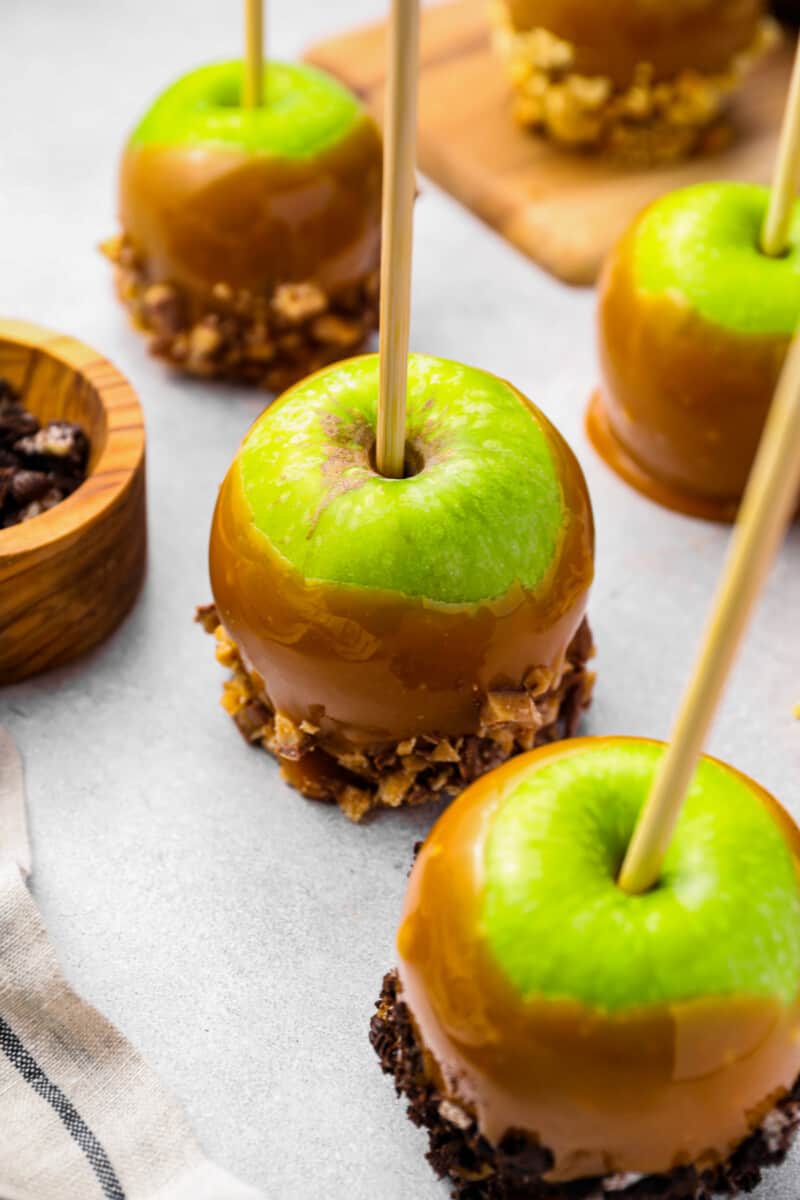 Make Ahead Instructions
Make sure to wash and thoroughly dry your apples the night before. Press in the skewers and refrigerate them overnight for the best results.
Storage Instructions
Store leftover caramel apples in an airtight container in the refrigerator for up to 5 days.
Freezing Instructions
Freeze caramel apples in individual Ziplock bags for up to 6 months. Let thaw overnight in the refrigerator before enjoying.
Substitutions
You can use any apples you like!
In place of the heavy whipping cream, you can use evaporated milk.
In place of the soft caramels, you can make your own caramel sauce.
Topping Ideas
Chocolate drizzle
Crushed graham crackers
Crushed Oreo cookies
Chopped nuts
Mini chocolate chips or mini M&Ms
Chopped candy bars
Sprinkles or toasted coconut
Chopped pretzels
Tips for the Best Caramel Apples
Choose small, perfectly round apples with no visible blemishes.
Be sure to wash and dry them thoroughly the night before.
If you don't have a microwave, you can gently melt the caramels on the stovetop over medium-low heat.
To keep the caramel soft and pliable, place it in a slow cooker on low heat, stirring every 10 minutes. This is great if you're setting up a caramel apple bar at a party!
Finely chop your toppings to allow them to stick better.
If you'd like to dip your apples in a second layer of caramel, always allow the first layer to cool completely first.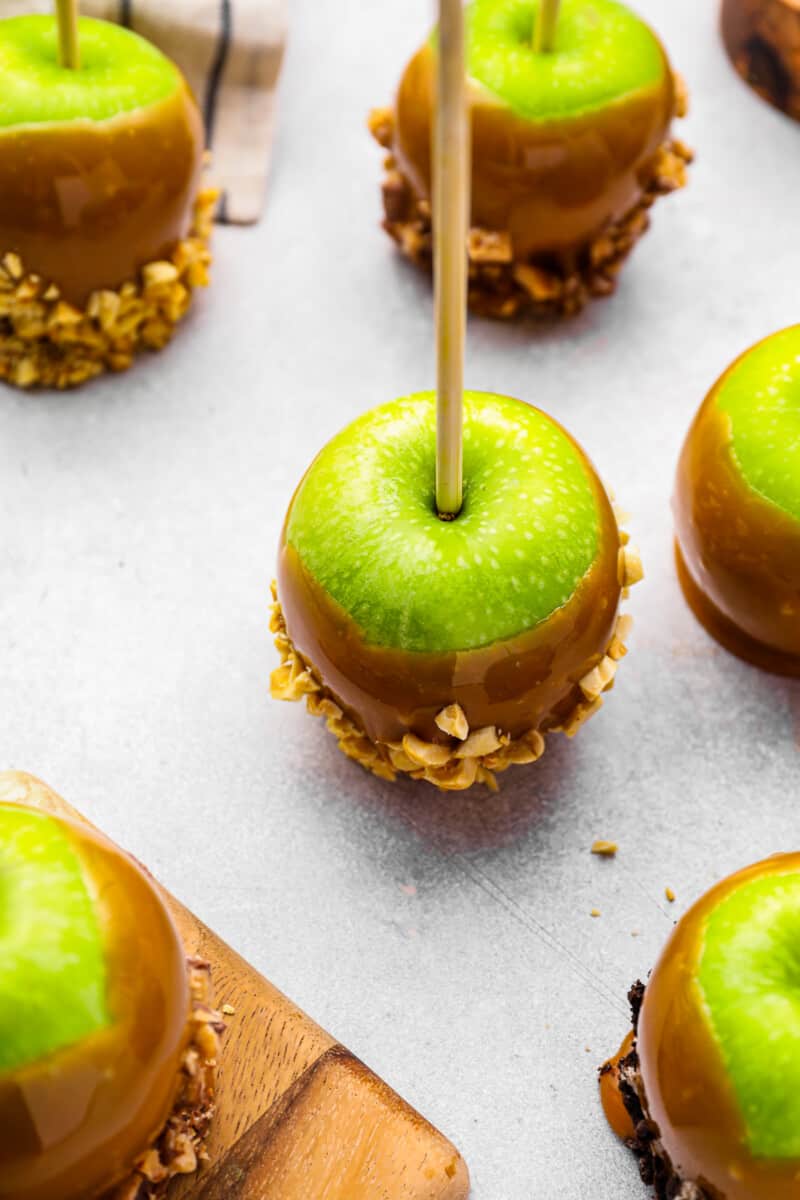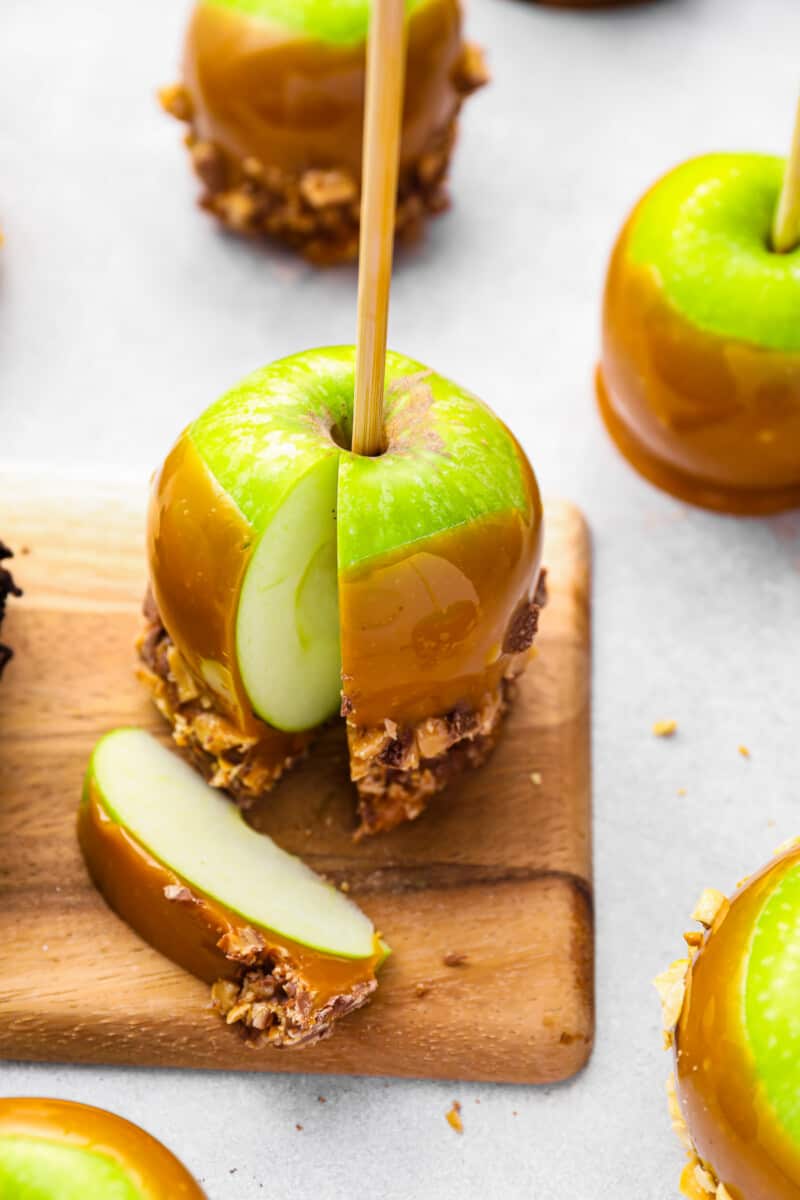 Bite right into a Caramel Apple or slice it into pieces. Either way you choose to enjoy a classic treat like this can't be wrong! Everyone from your grandparents to your youngest kids at the Halloween party will love these sweet and sticky treats.
If you make this recipe be sure to upload a photo in the comment section below or leave a rating. Enjoy! You can also jump to recipe.