Corn Salsa is one of my favorite dips, the perfect mix of ingredients with plenty of texture. This amazing Mexican Street Corn Salsa recipe works for just about every occasion! Make it for Cinco de Mayo, for tailgating, for Taco Night, or for a simple summer appetizer. This salsa is filled with roasted corn, feta, lime juice, sour cream, cilantro, pico de gallo, and more!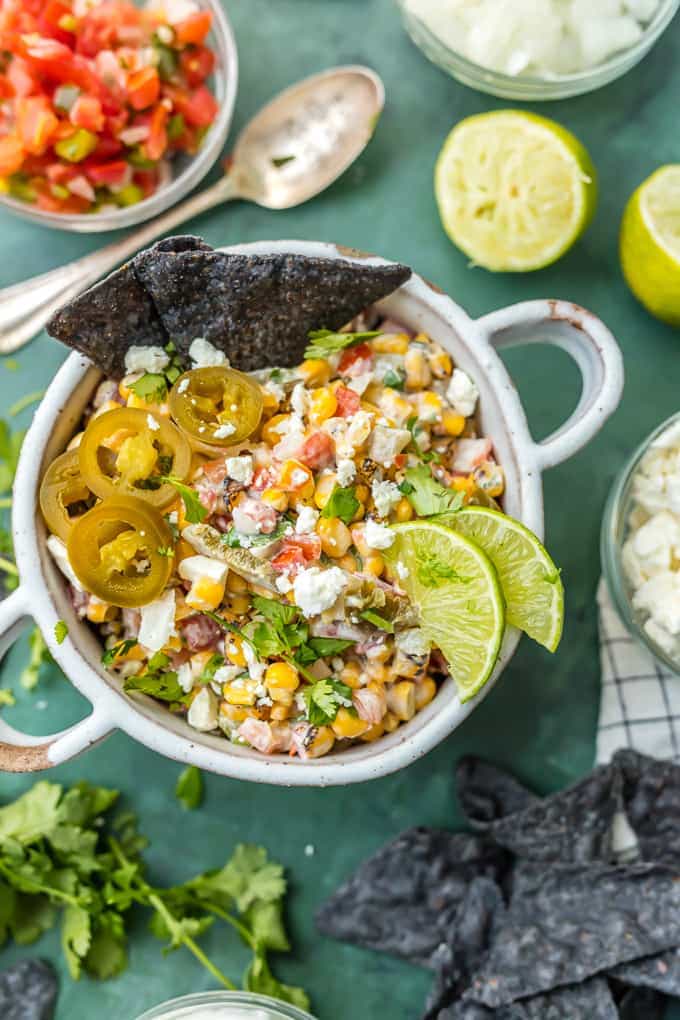 Corn Salsa Recipe
This corn salsa recipe is easy to make any time, and it's absolutely delicious. Mexican Street Corn meets Salsa in this perfect dip recipe!
Corn Salsa is one of my favorite go-to dip recipes. It's filled with the best ingredients, it tastes fresh, and it has lots of texture. I don't know about you, but I really love a chunky dip that adds a bit of weight to my chips. There's so much flavor in every bite!
With the 4th of July just days away, my mind is in a mad scramble to figure out everything I want to cook for the big day. There's burgers, brats, pasta salads, you name it…just so many great recipes out there for the party of the year! We will be having sangrias, pies, and more. Even with all the good food around, this Mexican Street Corn Salsa recipe is still one of my very favorite dishes; combining two of my faves, street corn and salsa.
I love this Mexican Street Corn Salsa on its own, as a dip with crispy blue corn chips, or as a garnish on everything from tacos to chicken. It's the ultimate appetizer or side dish, just perfect for the Fourth of July. I know it's short notice, but you still have time to make this for Tuesday's festivities!
This Mexican Street Corn Salsa recipe is the perfect appetizer for Cinco de Mayo, 4th of July, or Taco Tuesday!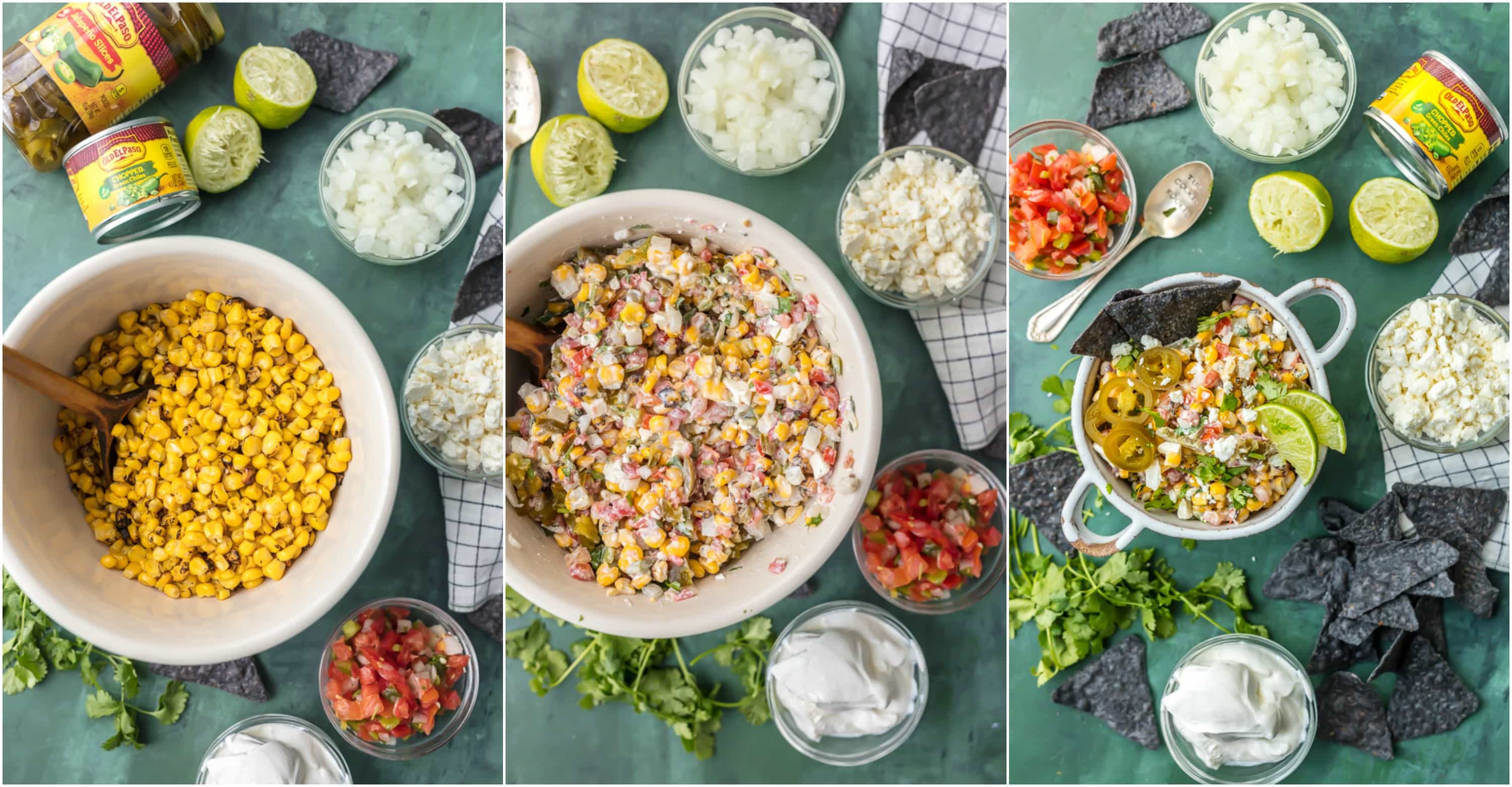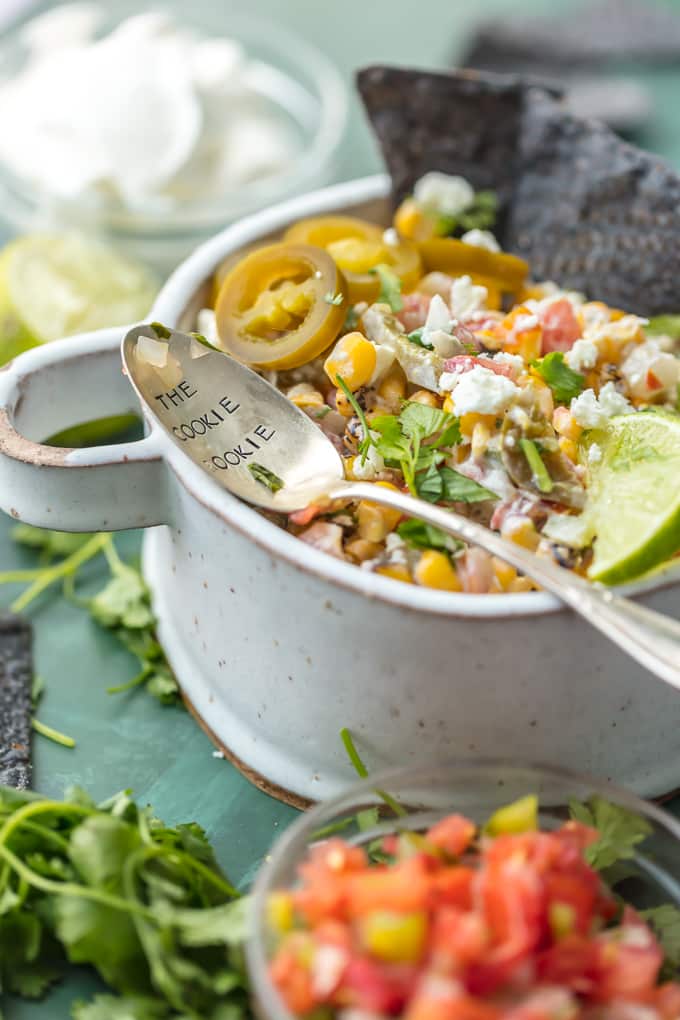 The Best Ingredients for Corn Salsa
I'm so thrilled to have signed on for another year of ambassadorship with Old El Paso, my very favorite brand for making easy and delicious meals at home. You guys have been with me the past 2 years cooking up everything from Inside Out Chicken Enchiladas, to Baked Chicken Tacos, all the way to Spicy Blackberry Margaritas.
Old El Paso is second to none and I'm never without their products in my pantry. For this Mexican Street Corn Salsa recipe, I used their Jalapenos and Green Chiles. The Green Chiles are one of my favorite ingredients on the planet! I can't recommend their products enough for any Mexican-inspired dish.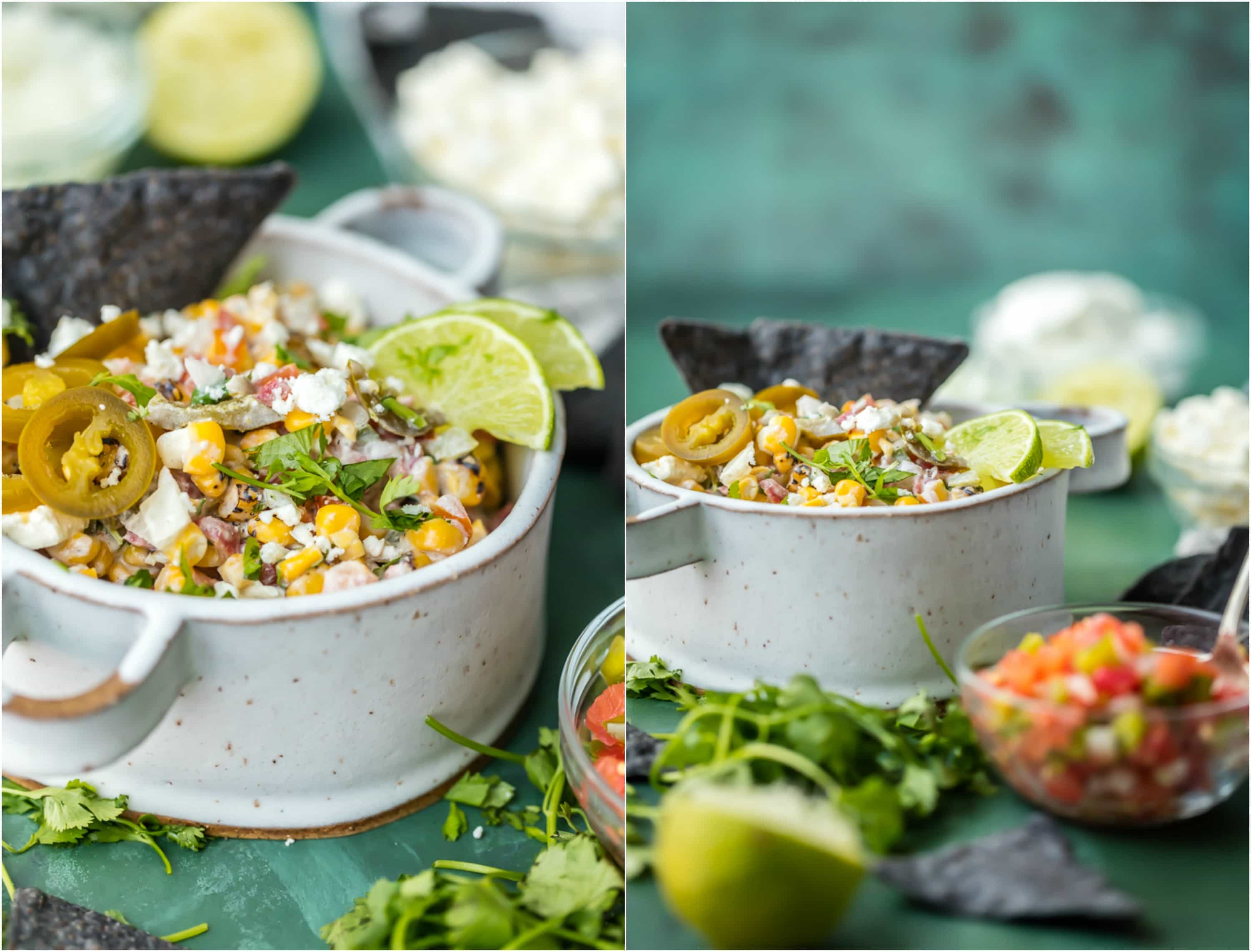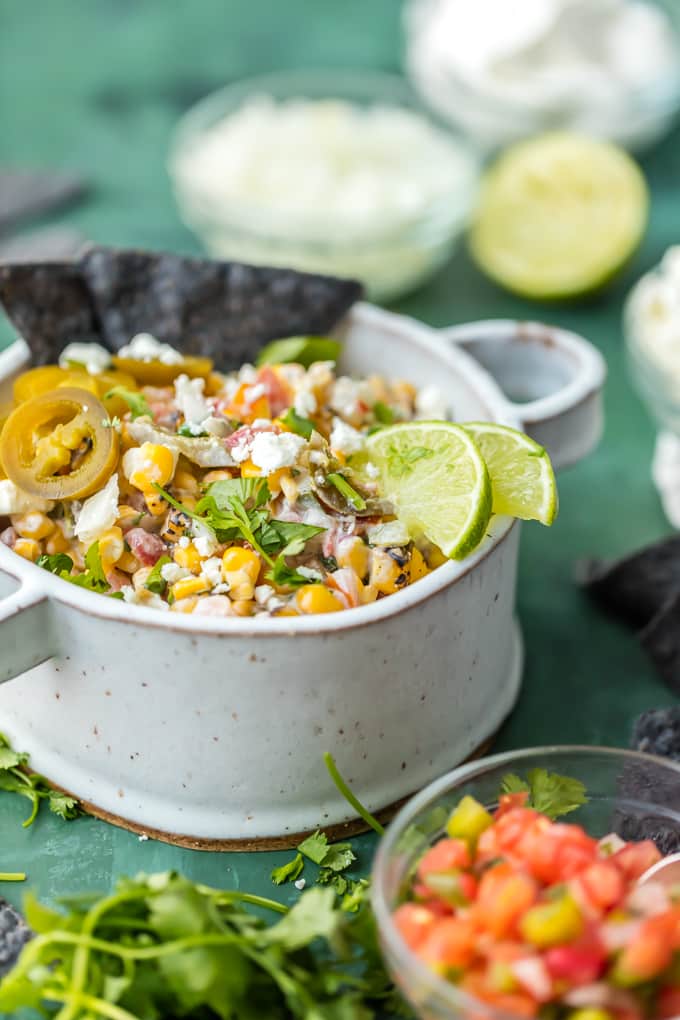 Mexican Street Corn Recipes
I'm a big fan of Mexican Street Corn. There's something about it that I just can't get enough of! I've made a couple of different Mexican Street Corn recipes before: On the grill, in cheesy dip form, and in a lightened up version. I love them all, but there just weren't enough of them.
So I made ANOTHER recipe, this one the perfect mix of street corn and salsa. This Corn Salsa recipe really has my heart, guys. There is just so much flavor in this easy salsa dip with so little effort. My kind of recipe indeed! I love this stuff any day, any time, but it's perfect for Cinco de Mayo, summer celebrations, or Taco Tuesday.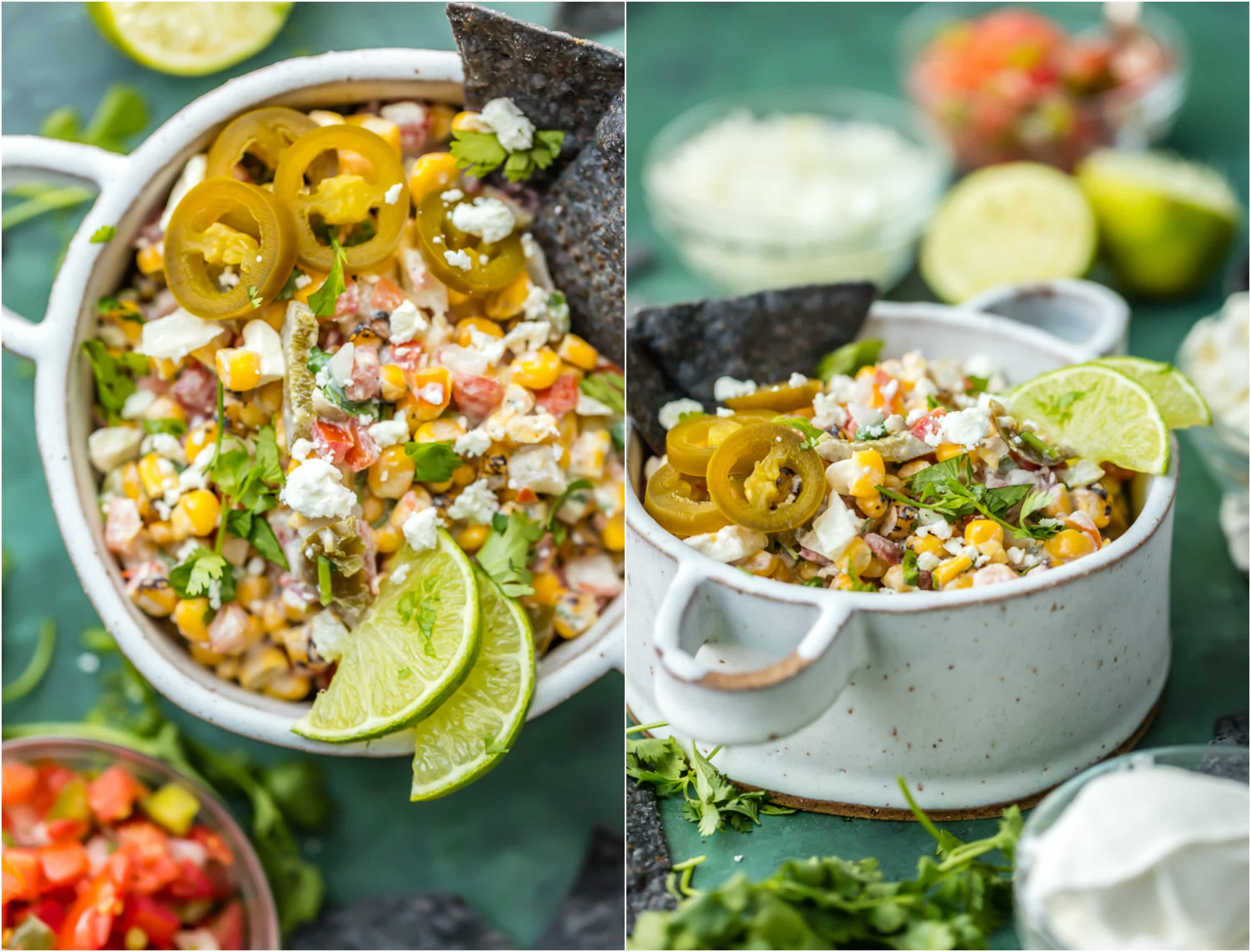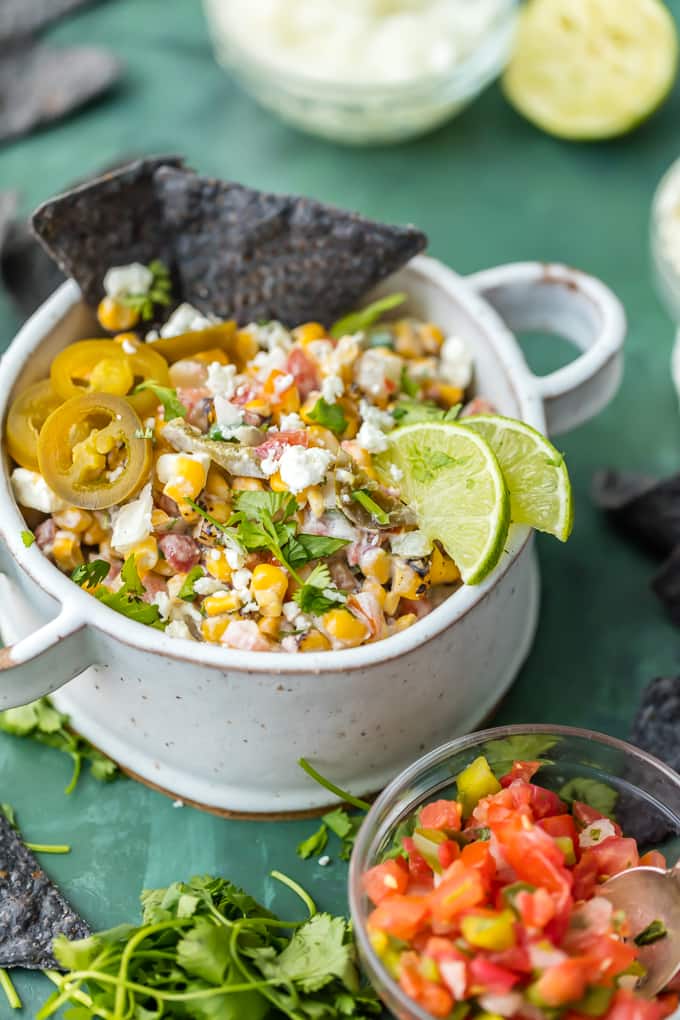 How to Make Corn Salsa
This corn salsa recipe is beyond easy. This dip is just a bunch of amazing ingredients mixed together, with a little bit of cooking (or heating up, really) involved. It's ready in no time for last-minute snacking. When you start running low at the party, make another batch in just a few minutes…and trust me, it will go fast!
Mexican Street Corn Salsa Ingredients:
Corn
Green Chiles
Jalapenos
Sour Cream
Lime Juice
Onion
Feta Crumbles
Cilantro
How to Make Corn Salsa:
Microwave frozen corn according to bag instructions
Throw corn in a skillet briefly to char it
Mix corn with the rest of the ingredients in a bowl to combine
This salsa can be stored in the refrigerator for a couple of days. Add a bit of lime juice and mix to freshen it up!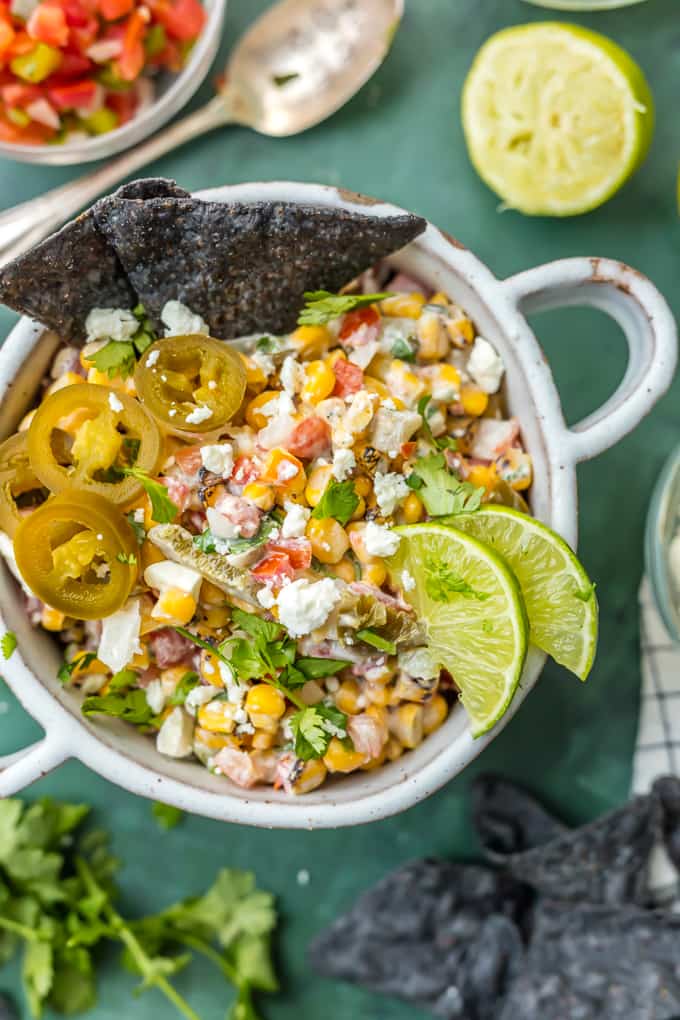 If you're looking for the perfect side dish for the 4th of July or another summer celebration, look no further! This Mexican Street Corn Salsa recipe is just the thing!
See the recipe card below for details on how to make Mexican Street Corn Salsa. Enjoy!
If you like this corn salsa recipe, try these other perfect dips and salsa recipes: