This Mexican Street Corn recipe is a healthy version of a restaurant favorite. I took the corn off the cob, switched out some ingredients (no mayo or sour cream), and kept the same delicious flavors to create this healthy Mexican Street Corn Salad recipe that works as an awesome appetizer, side dish, or snack!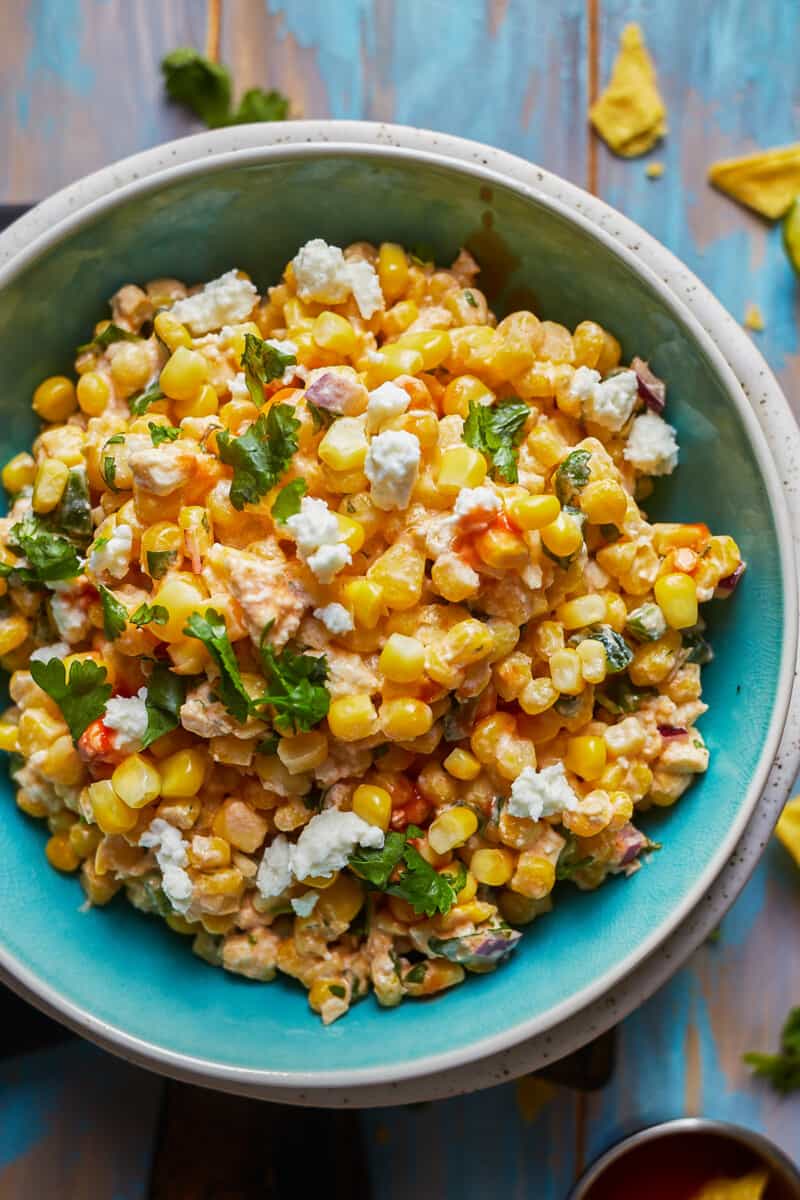 Skinny Mexican Street Corn Dip (Off the Cob)
One of my favorite and most popular recipes on the site is my Mexican Grilled Corn on the Cob. It's delicious, flavorful, and surprisingly healthy! It's not quite warm enough to bust out the grill, but that doesn't mean we can't enjoy this favorite recipe year round.
I took those flavors and turned it into sort of a street corn salad version that's easy to make and easy to eat. It's basically just Mexican street corn off the cob, and I substituted some ingredients to make it a little lighter.
I also wanted to give this recipe an extra kick, so I added in some wing sauce and included the jalapeno seeds. If you're not a fan of the spice, you can easily leave those two things out. It's just as good mild as it is hot! (Maybe a tad more boring, but I won't judge!)
This is a healthy Mexican side dish to serve with tacos and enchiladas, but it also works as more of a dip or appetizer too. I love anything that can double as a side dish and as a dip. Doubles the opportunities to make this delicious dish!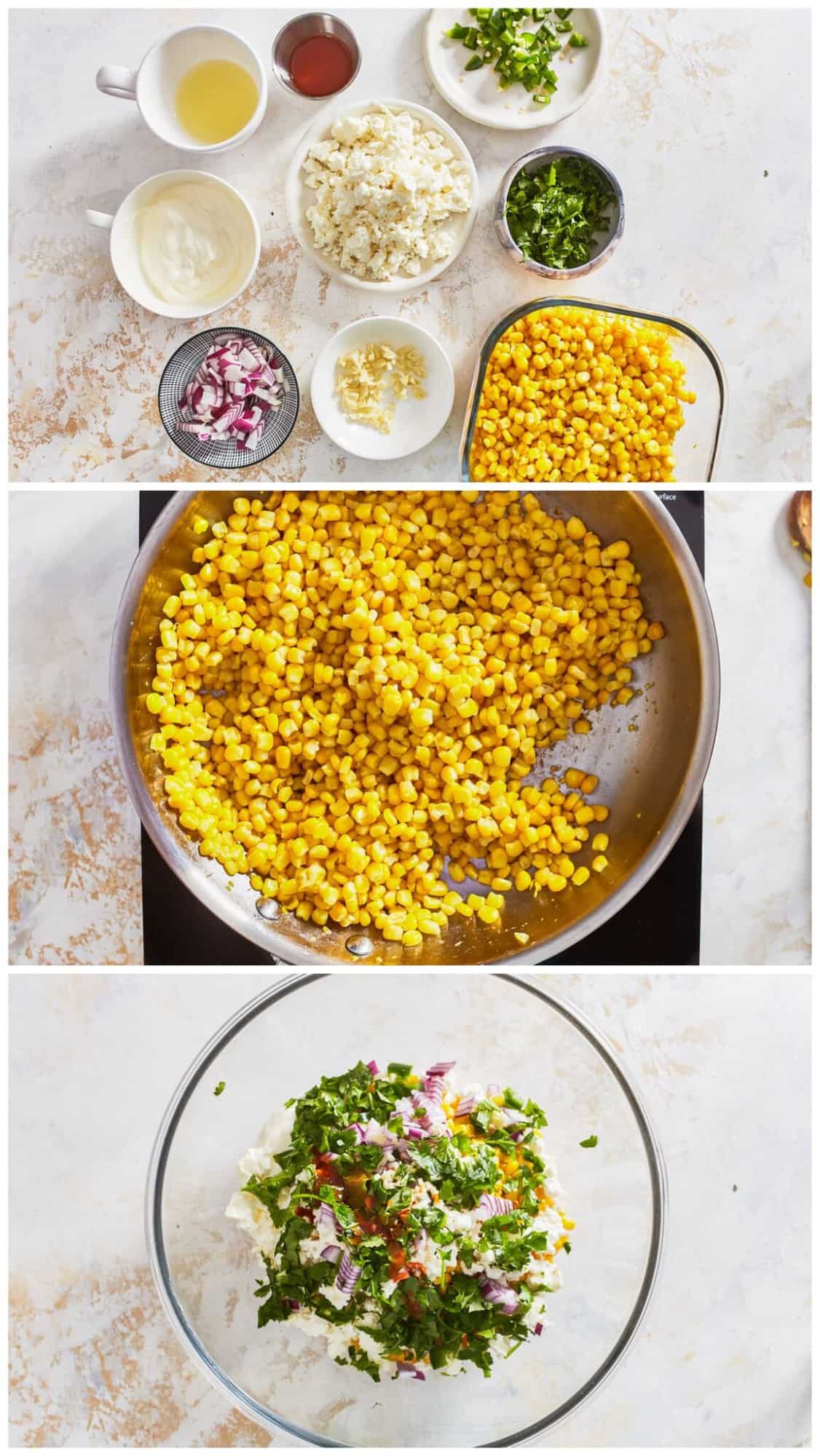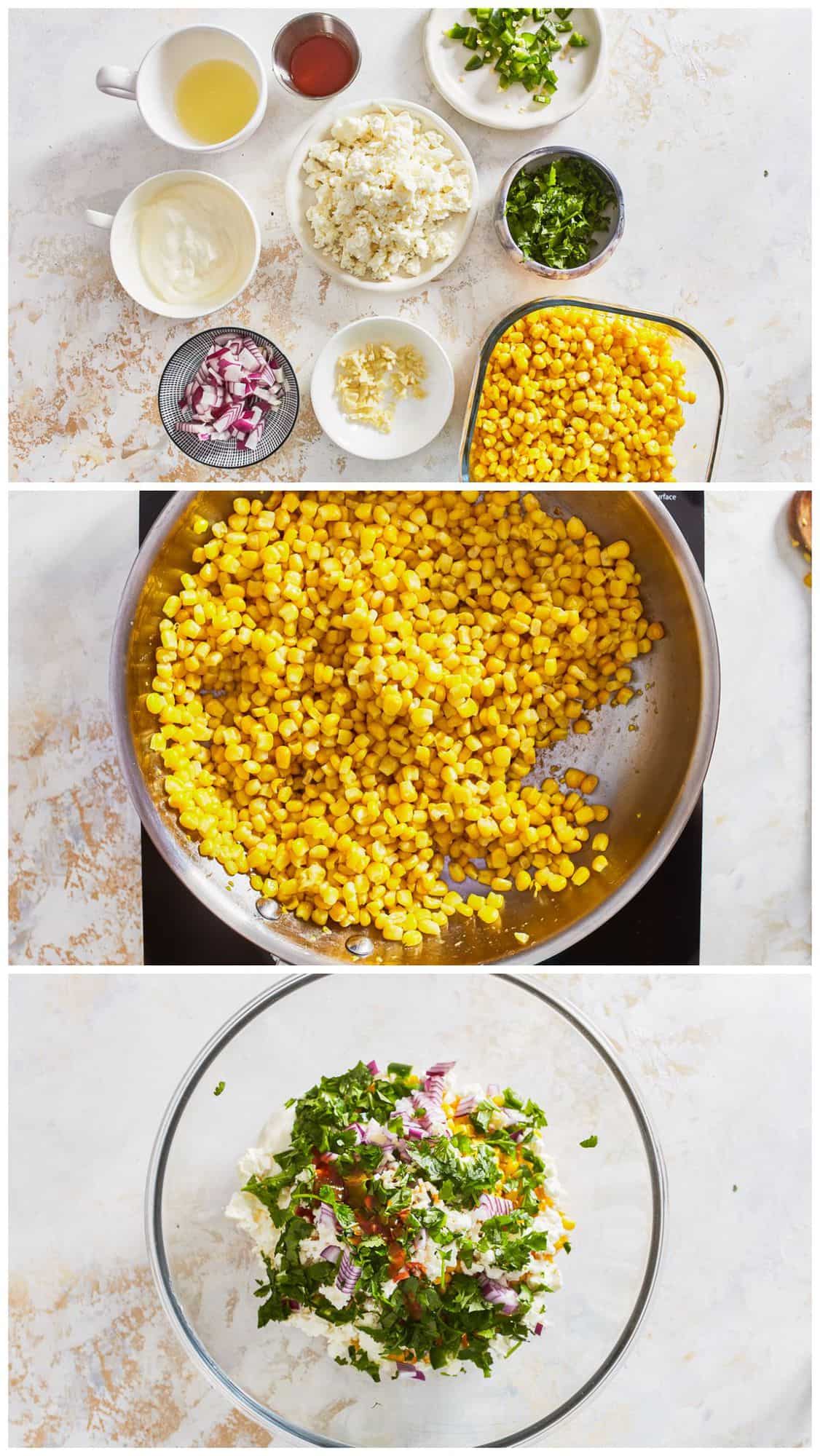 Healthy Street Corn Recipe
Most street corn recipes include mayonnaise or sour cream, but I wanted to swap those things out for lighter ingredients that would turn this into a healthy side or appetizer. Overall this is a really simple recipe, so it's the ingredients that make it so delicious!
What's in it:
Corn – a frozen steam-in-bag corn works great for this recipe, but you could also use canned (just drain and rinse before adding it to the skillet).
Plain Greek Yogurt – replaces the mayo and/or sour cream to add a creamy element.
Low Fat Feta Cheese – feta crumbles add a GREAT flavor into the mix.
Lime Juice
Jalapeno – remove the seeds for a little spice, keep them for extra spice, or skip all together if you don't want any spiciness.
Red Onion
Garlic
Cilantro – I LOVE fresh cilantro, add a little or none if you don't like it.
Frank's RedHot Sauce – this adds such an amazing flavor and heat. Leave it out if you don't like spice. You could also use a homemade taco sauce instead.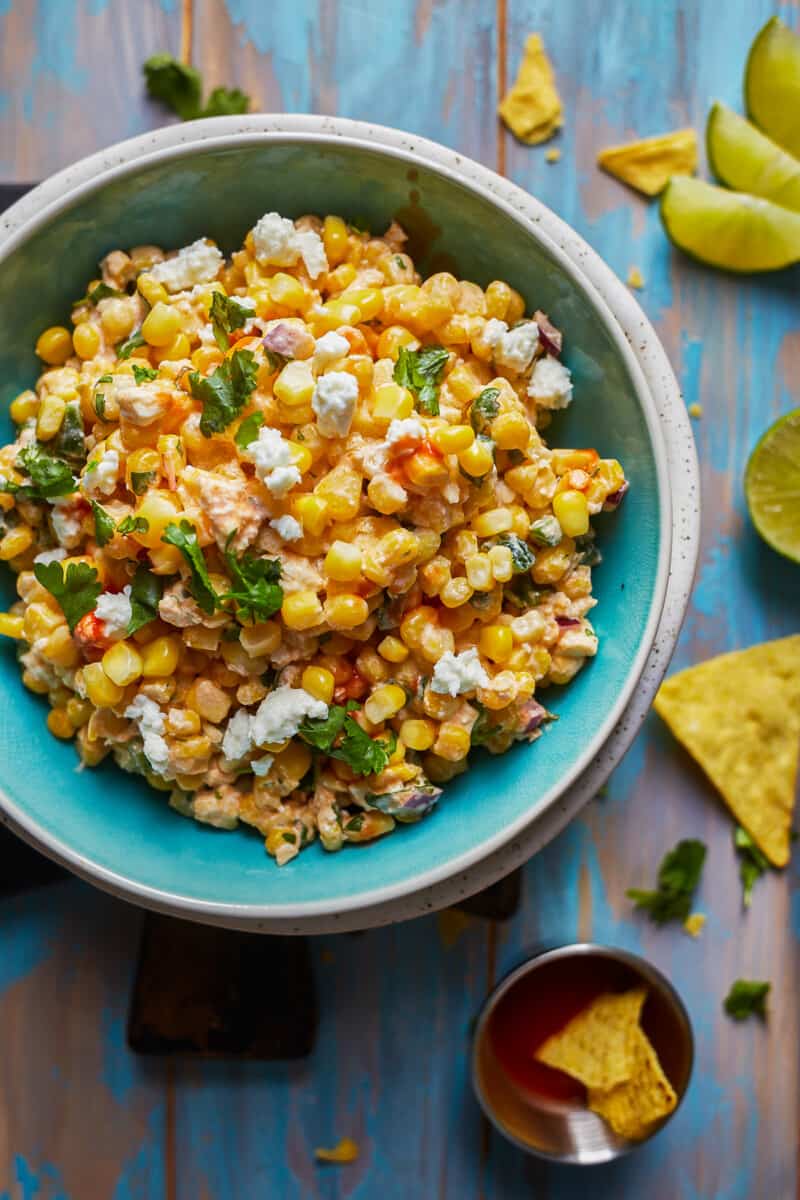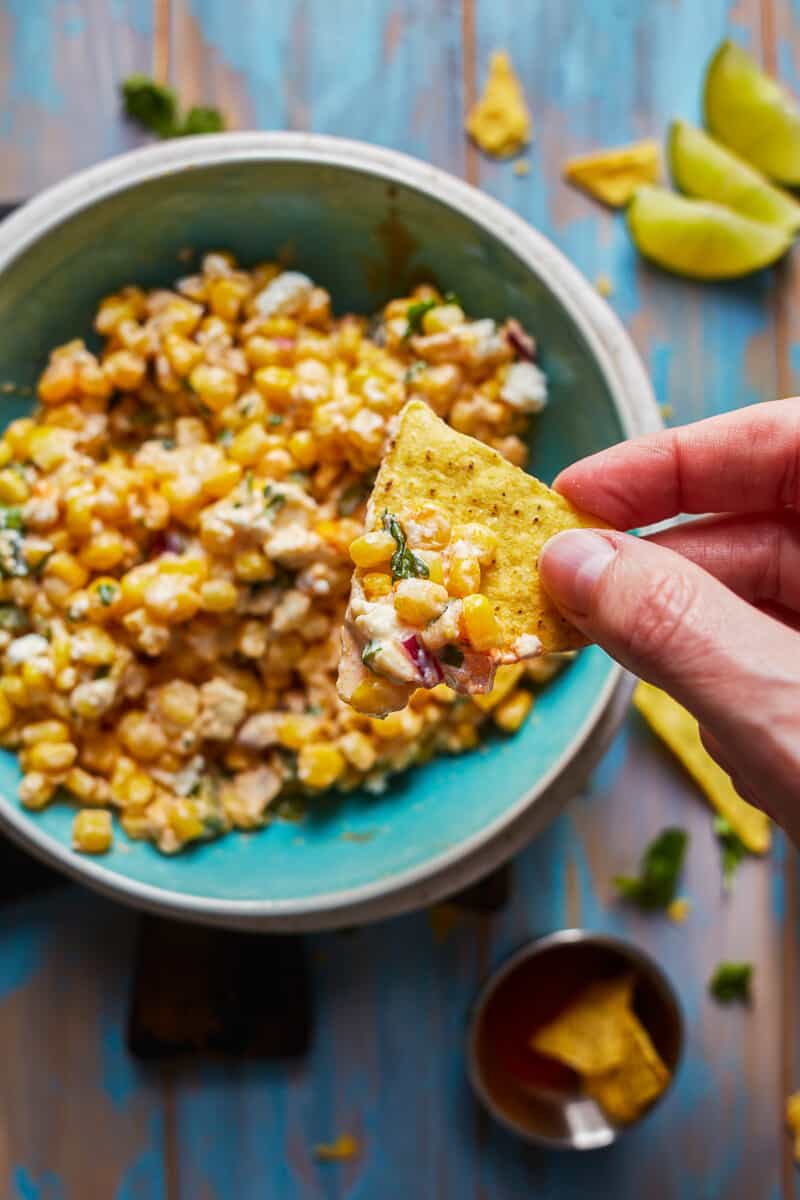 What is Mexican street corn made of?
Also known as Elote, it's typically made with mayonnaise or sour cream, cheese, lime, and chile powder. This version has a few differences:
Corn is taken off the cob to make it into a salad/dip/etc.
The jalapenos and hot sauce add the heat you'd get from chile powder.
There's NO MAYO and no sour cream, but there's still a creamy element mixed in.
Cotija cheese is often used for Mexican street corn, but we're swapping it for low fat feta, which is very similar in flavor.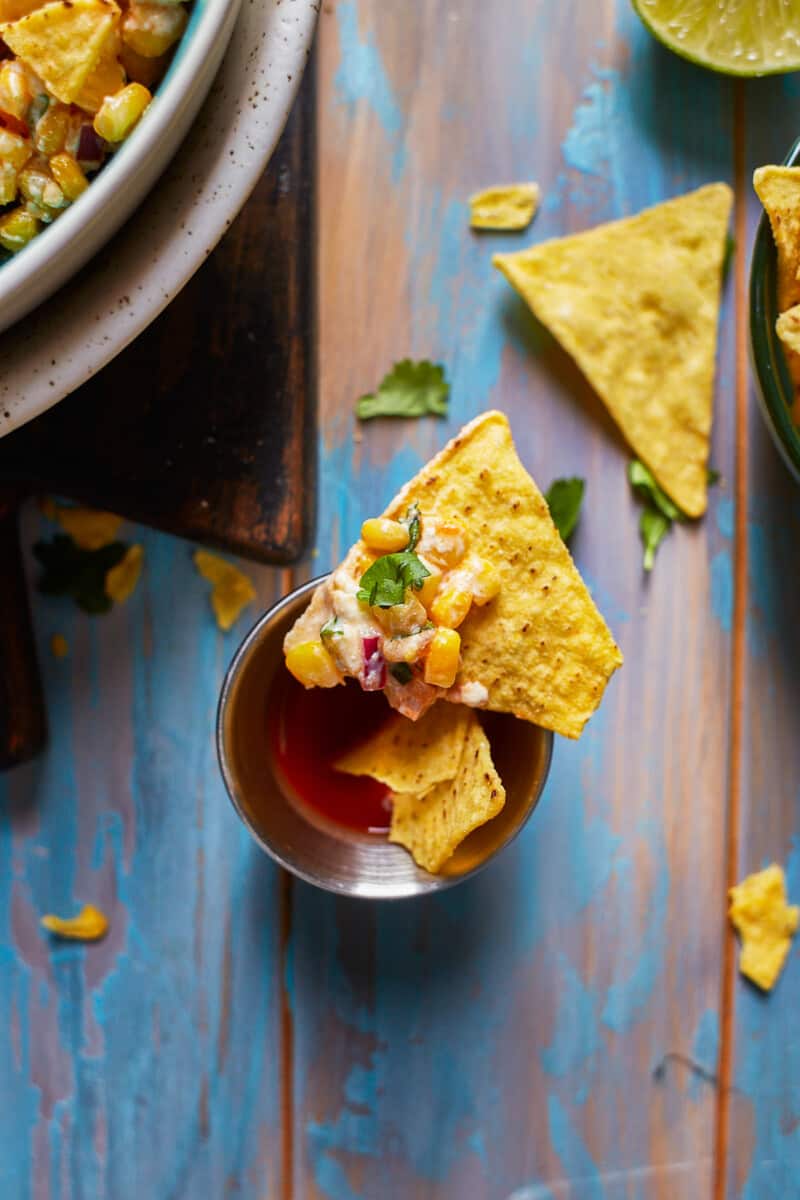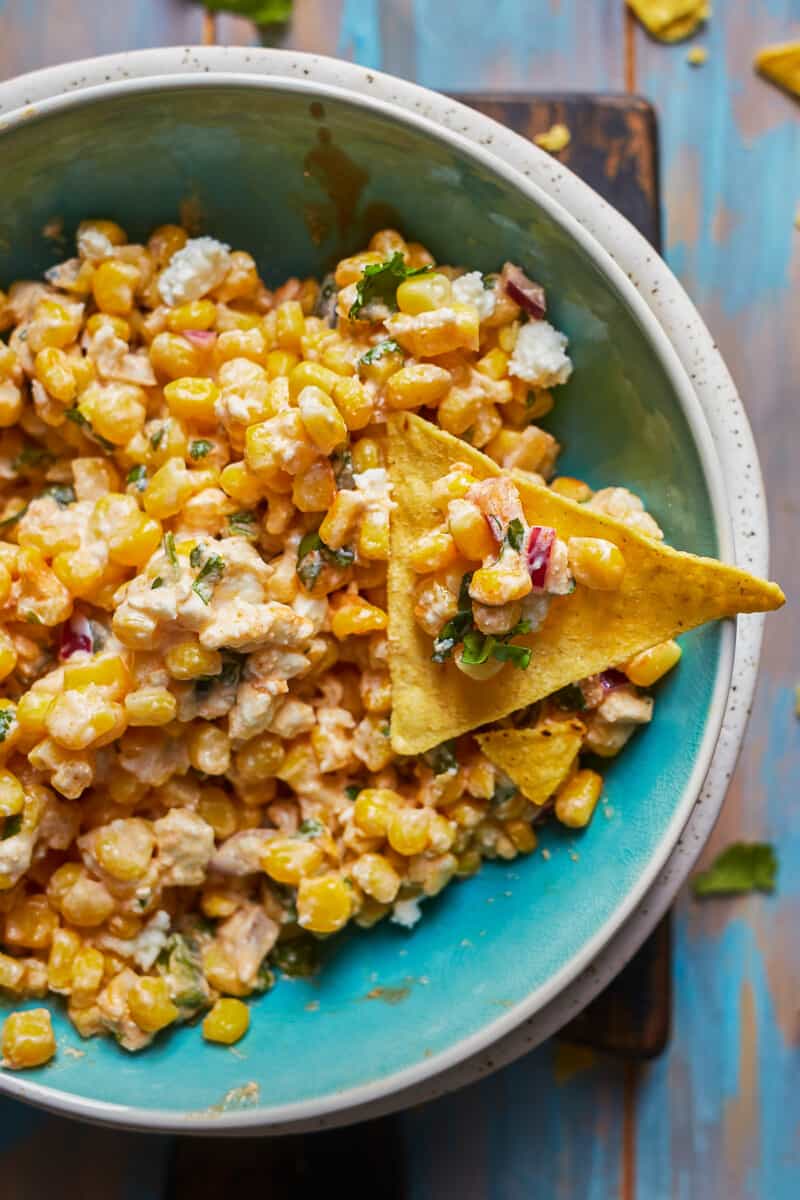 Mexican Side Dish or Dip
I got the idea for this Healthy Mexican Street Corn when we ate at one of my favorite St. Louis restaurants, Mission Taco Joint.
This side dish is one of my favorite things to order, so I wanted to make my own version at home. It's not exactly a copycat recipe, but it's definitely inspired by it.
I like that this recipe can be eaten in a lot of different ways.
Serve it on the side with your favorite Mexican dishes.
Use it as a topping for tacos.
Eat it as a dip with tortilla chips.
It works as an appetizer just as well as a side, so keep this recipe on hand!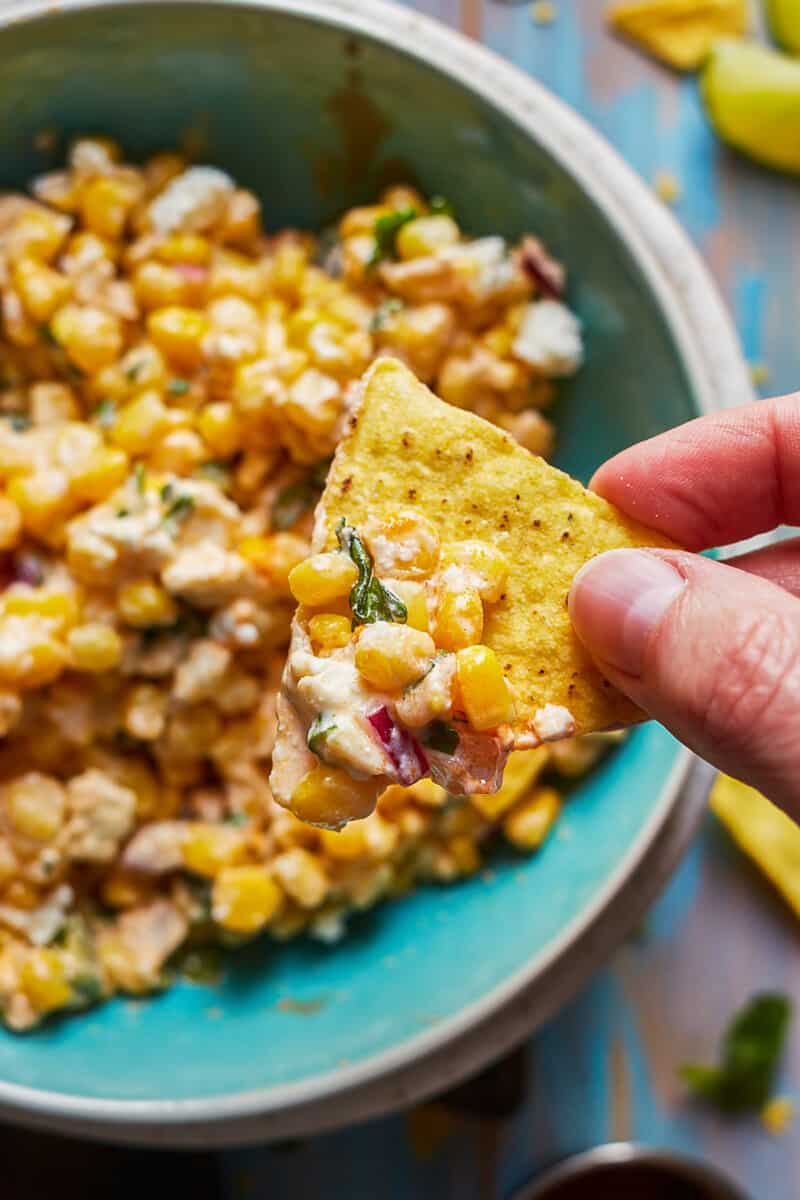 This recipe is basically just: brown the corn in a skillet, mix it with all the ingredients to make a sort of corn salad, then EAT! So simple, so delicious, and perfect for so many occasions (especially Cinco de Mayo).
More sides and dips for taco night:
If you make this recipe be sure to upload a photo in the comment section below or leave a rating. Enjoy! You can also jump to recipe.