This Mexican Street Corn Pasta Salad is a great side dish for Taco Night, Cinco de Mayo, or any weeknight. It's creamy, delicious, and so easy to make!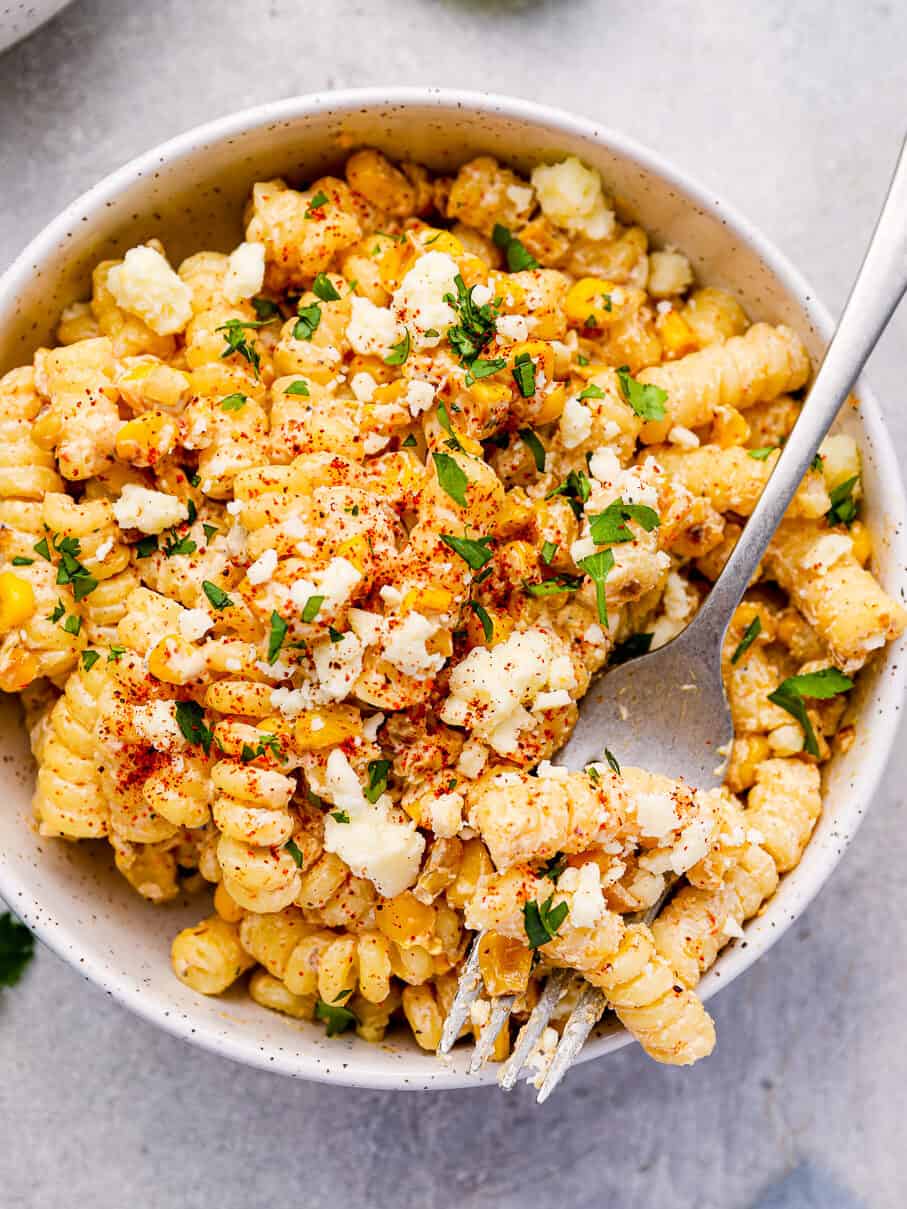 What's in Street Corn Pasta Salad?
This street corn pasta salad is filled with corn, cheese, a chili lime mayo dressing, and so much more. It's a fun side dish or a simple lunch. The whole family will enjoy this one.
Butter: Unsalted butter adds flavor to the onions and garlic while keeping them from burning in the pan.
Onion: Adds earthy flavor and a bit of crunch.
Garlic: Adds earthy flavor.
Corn: Forms the base of the street corn flavor. You can use fresh or frozen corn in place of canned if you prefer.
Pasta: Any kind of shaped pasta or short noodles will work here, like fusilli, rotini, or penne.
Olive Oil: Prevents the pasta from sticking together while you prepare the sauce.
Mayonnaise: Creates the base of the street corn sauce and makes this salad creamy. See our recipe for homemade mayonnaise!
Sour Cream: Adds tangy flavor and keeps this salad creamy.
Lime Juice: Adds acidity and zesty flavor.
Chili Powder: Adds a touch of spice and a classic Mexican flavor.
Cheese: A crumbly fresh cheese works best here. Cotija is classic, but queso fresco or feta will also work.
Cayenne Pepper: Adds a bit of spice. Feel free to adjust the amount to your personal tastes.
Salt + Pepper: Help to season this dish to taste.
Pro Tip: For a pop of freshness and flavor, top this pasta salad with fresh cilantro!
Spicy Street Corn Pasta Salad
This recipe has just a little bit of a kick from the chili powder and cayenne pepper. Feel free to increase the amounts of both to make this dish spicier. You can also add chopped fresh jalapeños to up the spice level.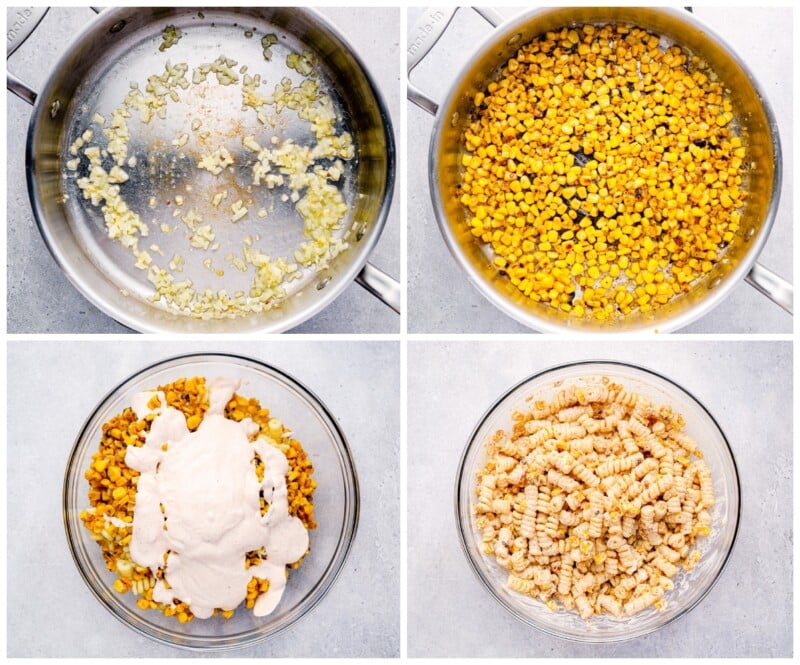 What is street corn?
Mexican street corn (also called Elote or Esquites) is a delicious street food that's now become a popular side dish, appetizer, or snack. It's grilled corn with a mayo sauce usually topped with chili powder, lime, and cheese.
How long does pasta salad with mayo last?
Generally, pasta salads with mayonnaise in them can be stored in the refrigerator 3-5 days. I recommend eating this dish within 3 days.
What's in this Mexican street corn pasta salad?
Just like traditional Mexican street corn, in this pasta salad you'll find corn, mayonnaise, chili lime, cotija cheese, and a few other ingredients. If you're looking for a few more things to add, try adding chicken, black beans, taco sauce, or jalapeños for a little more heat.
Should I serve this cold or warm?
This street corn pasta salad is best served slightly warm (room temperature) soon after making it. While it tastes just as good served cold/chilled, the mayo dressing starts to dry out a little bit after being refrigerated (although that problem can be fixed!).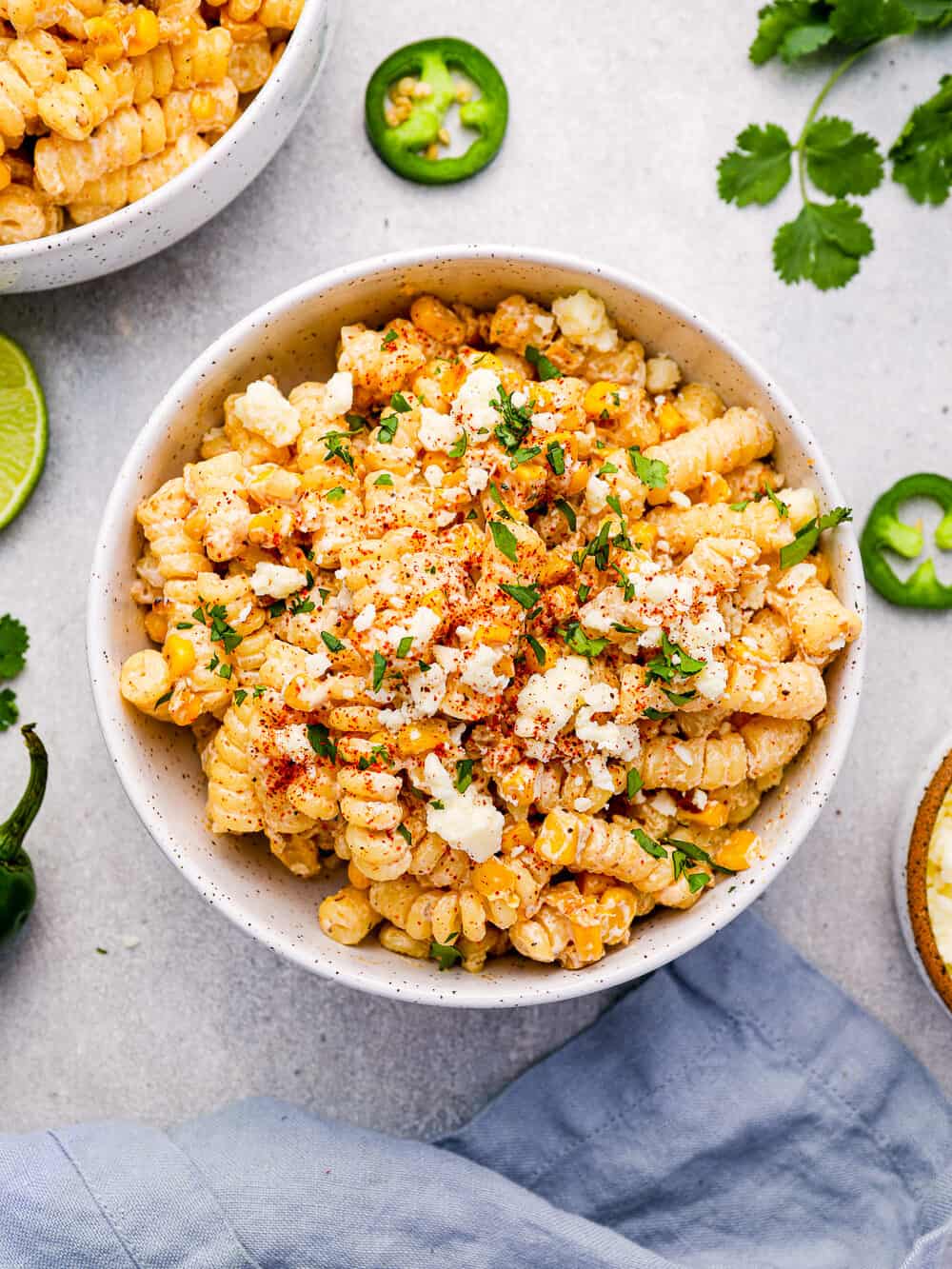 How to Store Elote Pasta Salad
Store leftover street corn pasta salad in an airtight container in the refrigerator for up to 3 days. Enjoy at room temperature, slightly warmed, or cold straight from the refrigerator. I do not recommend freezing this pasta salad.
What to Serve with Esquites Pasta Salad
Street corn pasta salad is delicious as a side dish for taco night or Cinco de Mayo! Serve it alongside cilantro lime chicken, beef taquitos, chicken enchiladas, barbacoa tacos, crockpot beef carnitas, chicken chimichangas, steak fajitas, or baked chicken tacos.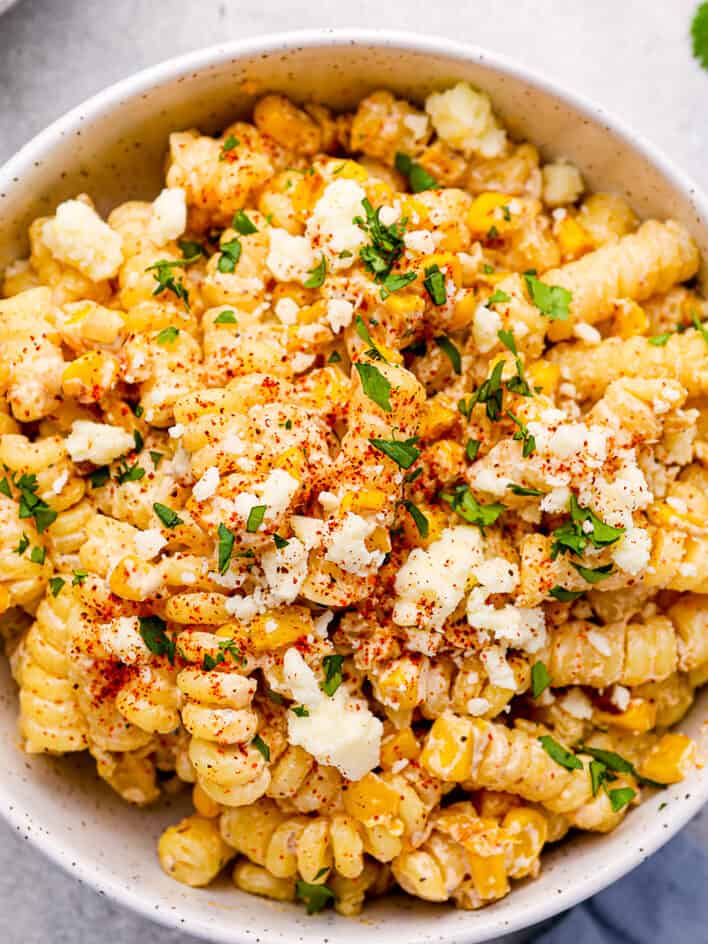 More Mexican Street Corn Recipes We Love