Apple Chips are the perfect guilt-free treat. They're sweet and delicious, and you can make this microwave apple chips recipe in just 6 minutes! Learn how to make cinnamon apple chips for those extra snacky days.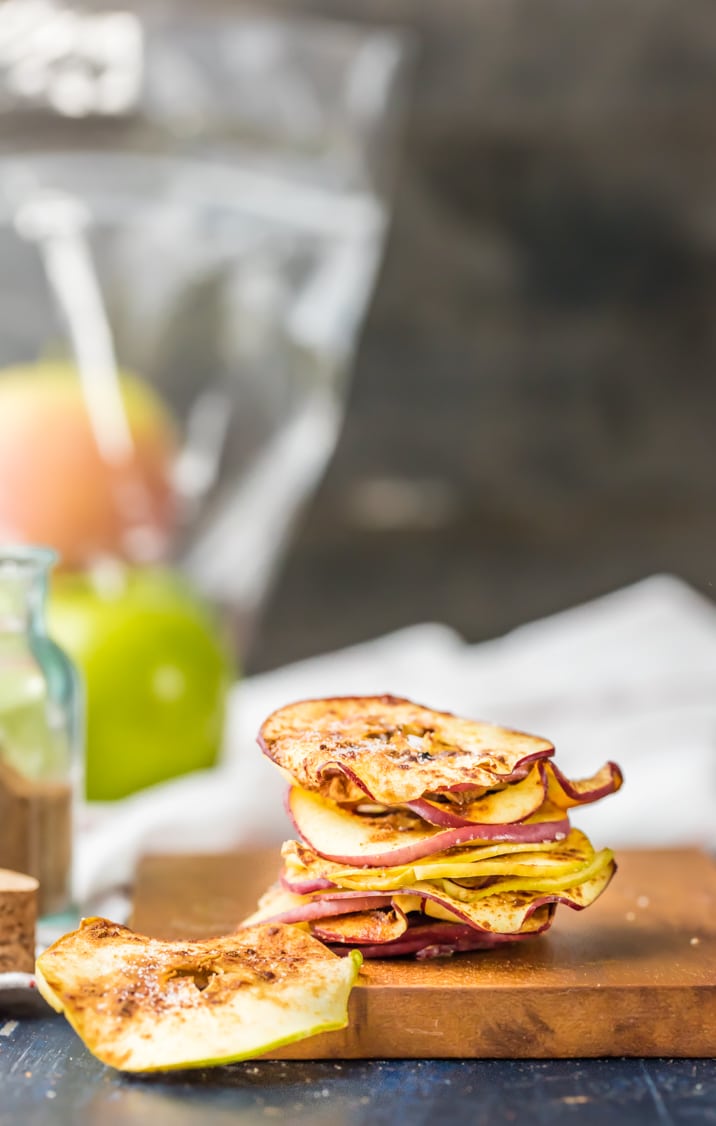 Apple Chips Recipe
Cinnamon Sugar Microwave Apple chips are one of my very favorite fall snacks. They're sweet and crispy and so satisfying. And with only three ingredients, they're a breeze to whip up and done in just six minutes so you can enjoy them all the time!
Seasoned with cinnamon and sugar, they are perfectly sweet and have all of the flavors of fall.
Be sure to try my Sweet Potato Chips and Wonton Chips too!
Why you will love this recipe!
Simple ingredients: You only need three basic ingredients to make these fruit chips, so they are great to whip up on a whim.
Quick and easy: Ready to enjoy in less than ten minutes, just slice and pop in the microwave. Simple!
Make ahead: These apple chips have a pretty good shelf life. Make up a big batch and enjoy them throughout the week!

How to make apple chips in the microwave
With only three ingredients, these couldn't be easier to make! Here's what you do:
Slice the apples thinly.
Sprinkle over the cinnamon and sugar.
Microwave until the edges curl up slightly.
Let them cool for a bit and start snacking!
Check out the recipe card below for details on how to make Cinnamon Sugar Microwave Apple Chips. Enjoy!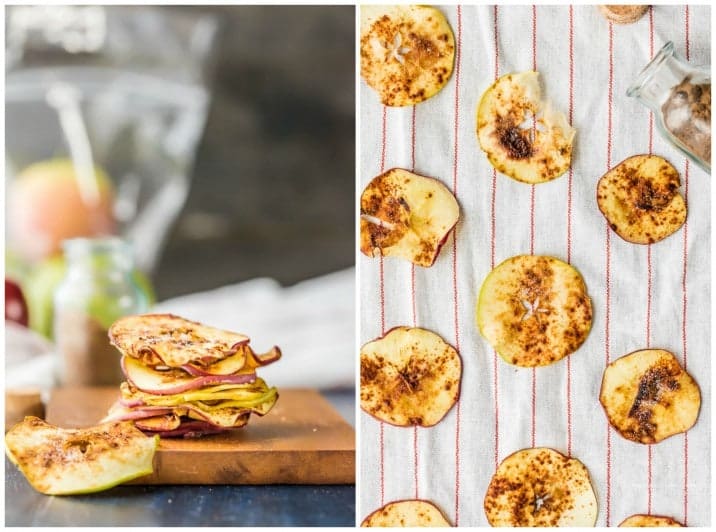 Are they healthy?
Cinnamon sugar apple chips made in the microwave are a super healthy and addictive snack. Unlike store bought apple chips, these crispy dried apple chips are baked right in the microwave instead of fried in fattening oil. And with a simple sprinkle of cinnamon and sugar they're bound to satisfy your sweet tooth without derailing your diet.
Can you make them in the oven?
Absolutely! The downside to oven baking is you just have to wait longer to get your hands on those crunchy sweet snacks! They take about 40 minutes to bake in the oven, and only six minutes in the microwave. They turn out just a bit crispier in the oven, but if you're running dry on patience microwave these babies and enjoy your snack in a fraction of the time!
How long do they last?
Once they're out of the microwave and cooled, these cinnamon sugar apple chips keep in an airtight container at room temperature for up to a week.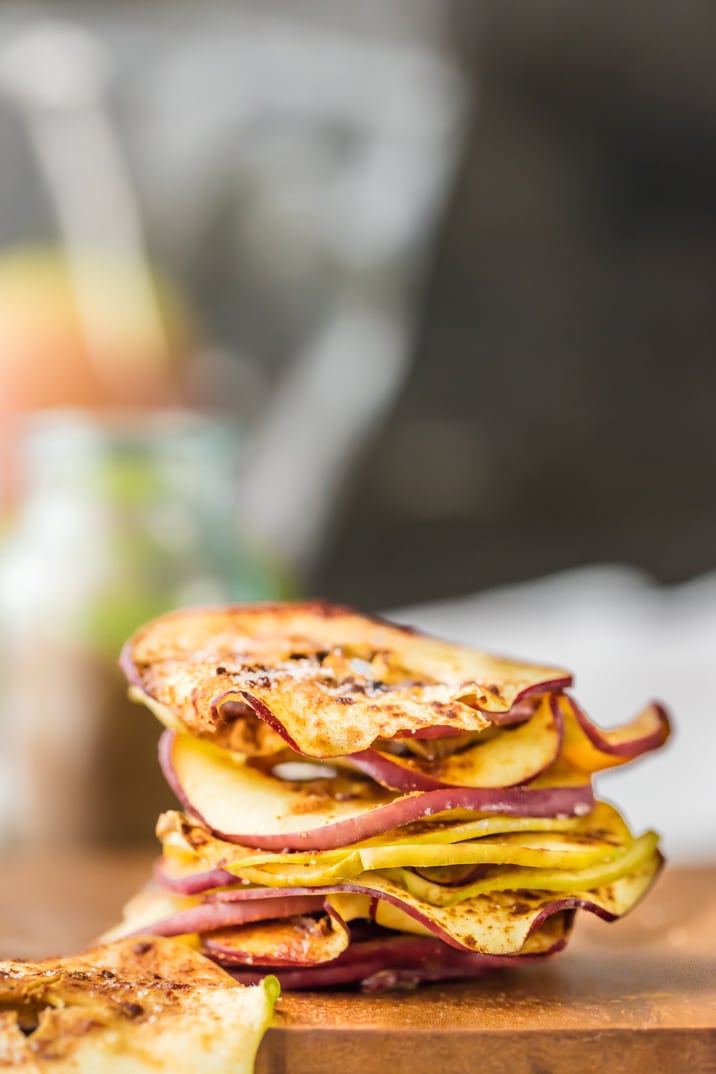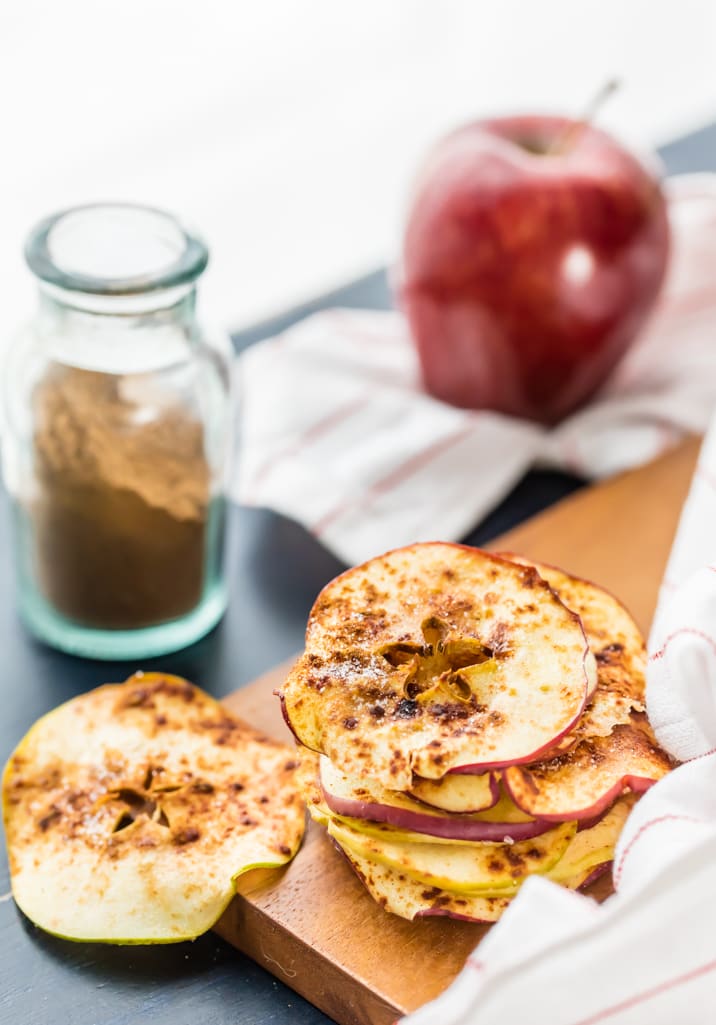 Recipe Notes and Tips
I find that a mandolin is the best way to slice the apples thinly and evenly. If you use a knife, get them as thin as you can, and be careful!
There's no need to peel the apples, you just need to core them. The skin helps them to get nice and crisp.
Use your favorite type of apple for these chips.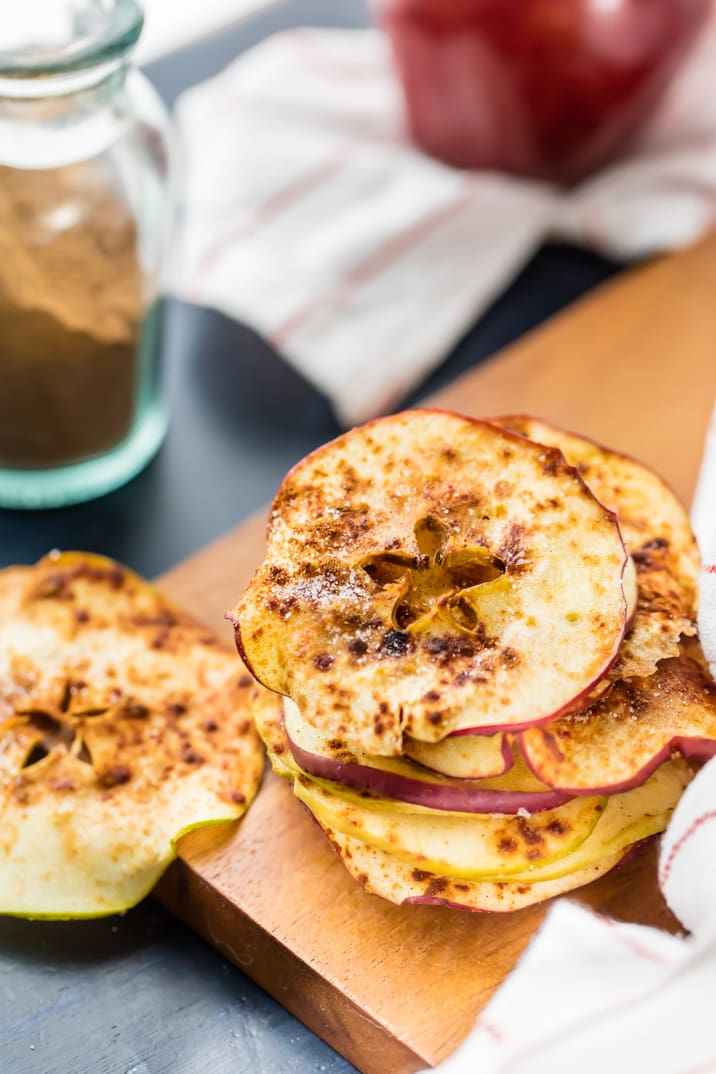 I love how simple and scrumptious these apple chips are! They're perfect for snacking and kids love to help make them too. Whip up a batch with your kiddos today. Happy snacking!
More Apple Snacks
Apples make some of the very best kid friendly snacks. They're easy to make and fun to eat! Here are a few of my favorites: