CHICKEN CORDON BLEU MEATBALLS are the most amazing holiday appetizer ever! Chicken meatballs stuffed with swiss and ham, and cooked in a white wine dijon sauce. I could eat these Cordon Bleu Chicken Meatballs for every meal!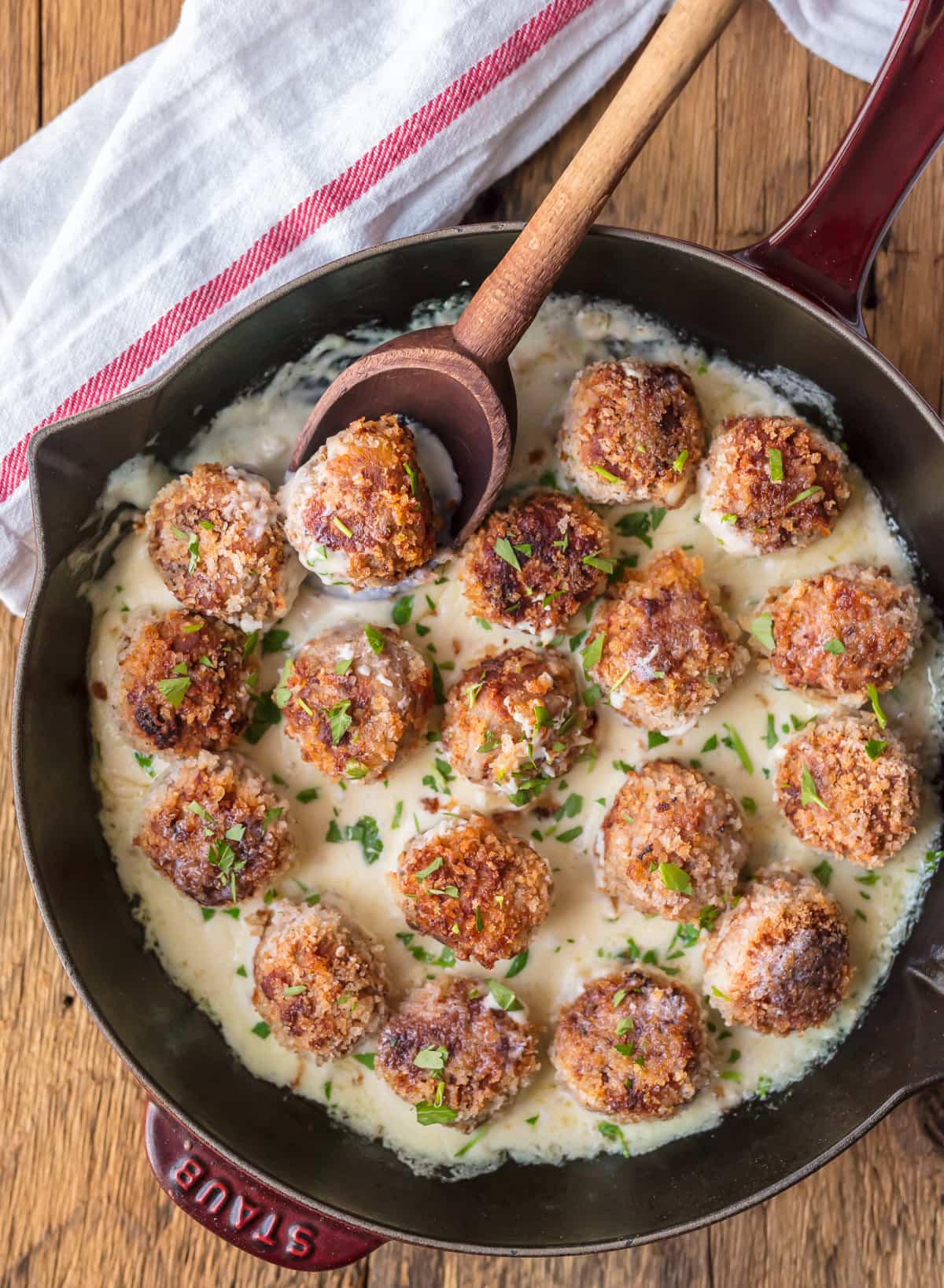 Cordon Bleu Chicken Meatballs
Chicken Cordon Bleu Meatballs are the perfect holiday appetizer. These tasty cordon bleu chicken meatballs are filled with cheese and cooked in the most delicious, creamy dijon sauce!
Welcome to my ultimate holiday appetizer, Chicken Cordon Bleu Meatballs! I've made an Easy Chicken Cordon Bleu recipe, Baked Chicken Cordon Bleu Dip, and even a Grilled Chicken Cordon Bleu Sandwich. But these meatballs stand as my favorite chicken cordon bleu recipe. I can never pass up a good appetizer!
These Cordon Bleu Chicken Meatballs are stuffed with swiss cheese and ham, and then cooked on the stove top in a creamy white wine dijon sauce. They taste just like the traditional recipe, but in meatball form. What could be better than that? This easy meatball recipe is totally addicting and will be gone in minutes, guaranteed!
The holidays are made for awesome food, and this appetizer is no exception. Christmas, New Years Eve, and then tailgating for the Super Bowl have totally met their match with these Cordon Bleu Chicken Meatballs, buckle up!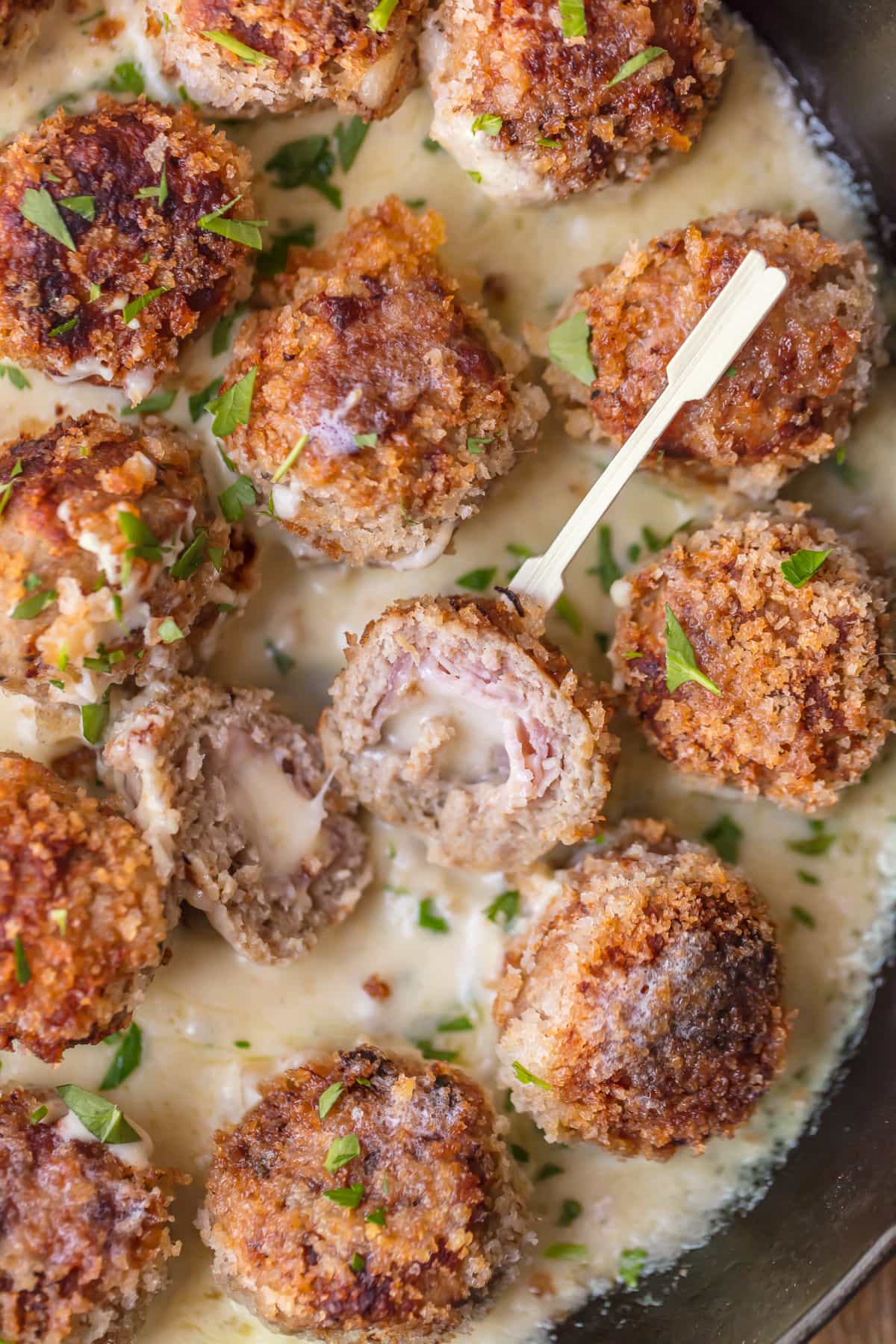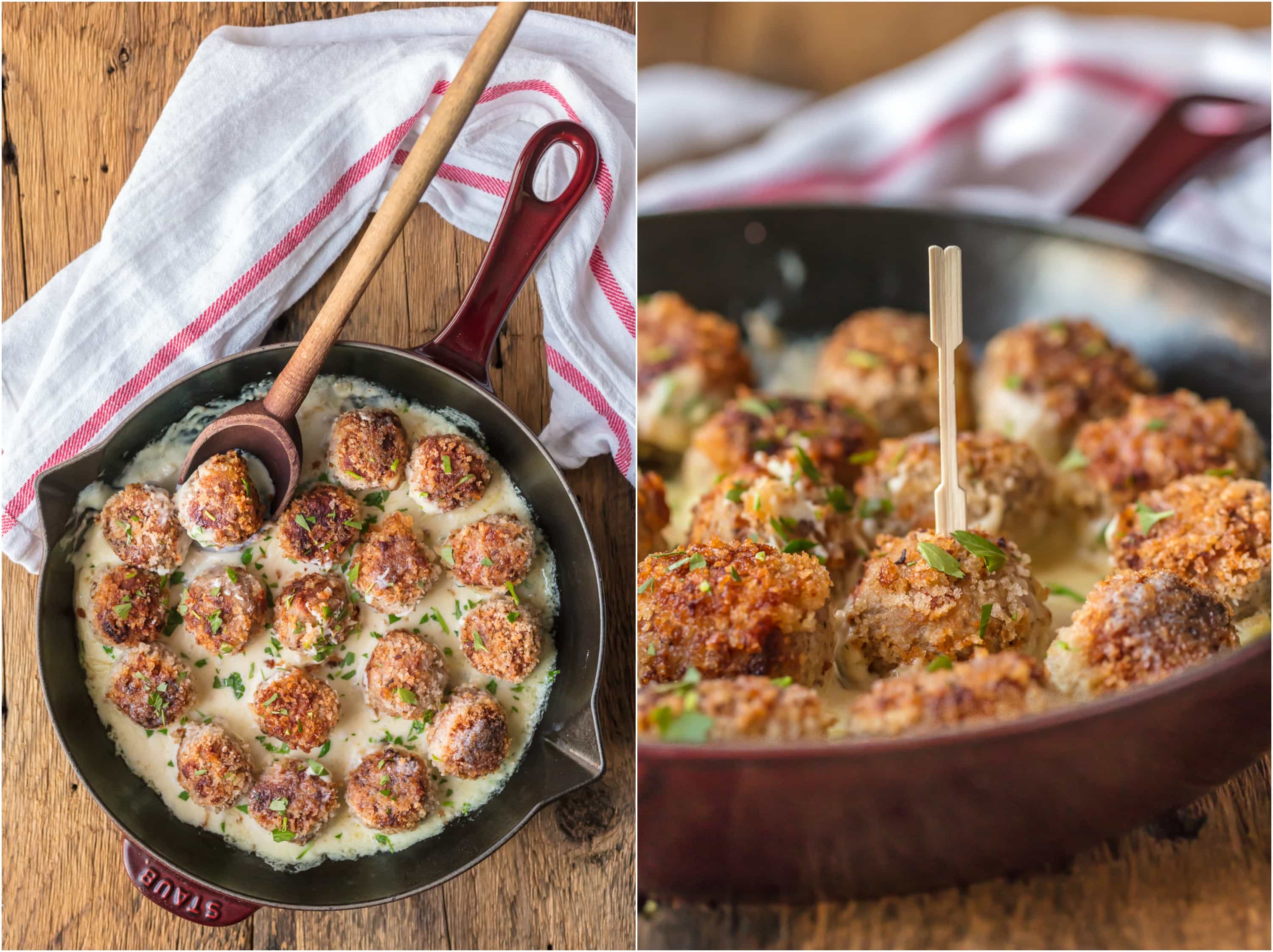 Creamy Dijon Sauce
The creamy Dijon sauce for these Cordon Bleu Chicken Meatballs is something foodie dreams are made of. It's so simple, but SO delicious. One of the best Chicken Cordon Bleu Sauce recipes ever. It would work just as well with the traditional recipe, layered on top of chicken breast. Cooking the meatballs in this sauce just brings them to the next level!
What's in this Dijon Sauce?
Heavy Cream
Dijon Mustard
Milk
Flour
Butter
White Wine
Worcestershire Sauce
Chicken Bouillon Granule Cube
Parmesan Cheese
Basically, all you have to do to make the dijon sauce for these cordon bleu chicken meatballs is mix the ingredients together in a skillet. You'll start by making the sauce and then set it aside. Once the meatballs have been cooked, you'll add the sauce back into the skillet and place the meatballs in with them.
Easy Meatball Recipes
Meatballs are the perfect appetizer. They are absolutely delicious, they're simple, and they are already in individual (sometimes bite-sized) portions. That makes them easy to share and easy to eat. I love serving meatballs at any party, but they seem like they're MADE for holiday parties (New Year's Eve, Christmas) and game day.
Try our other favorite easy meatball recipes: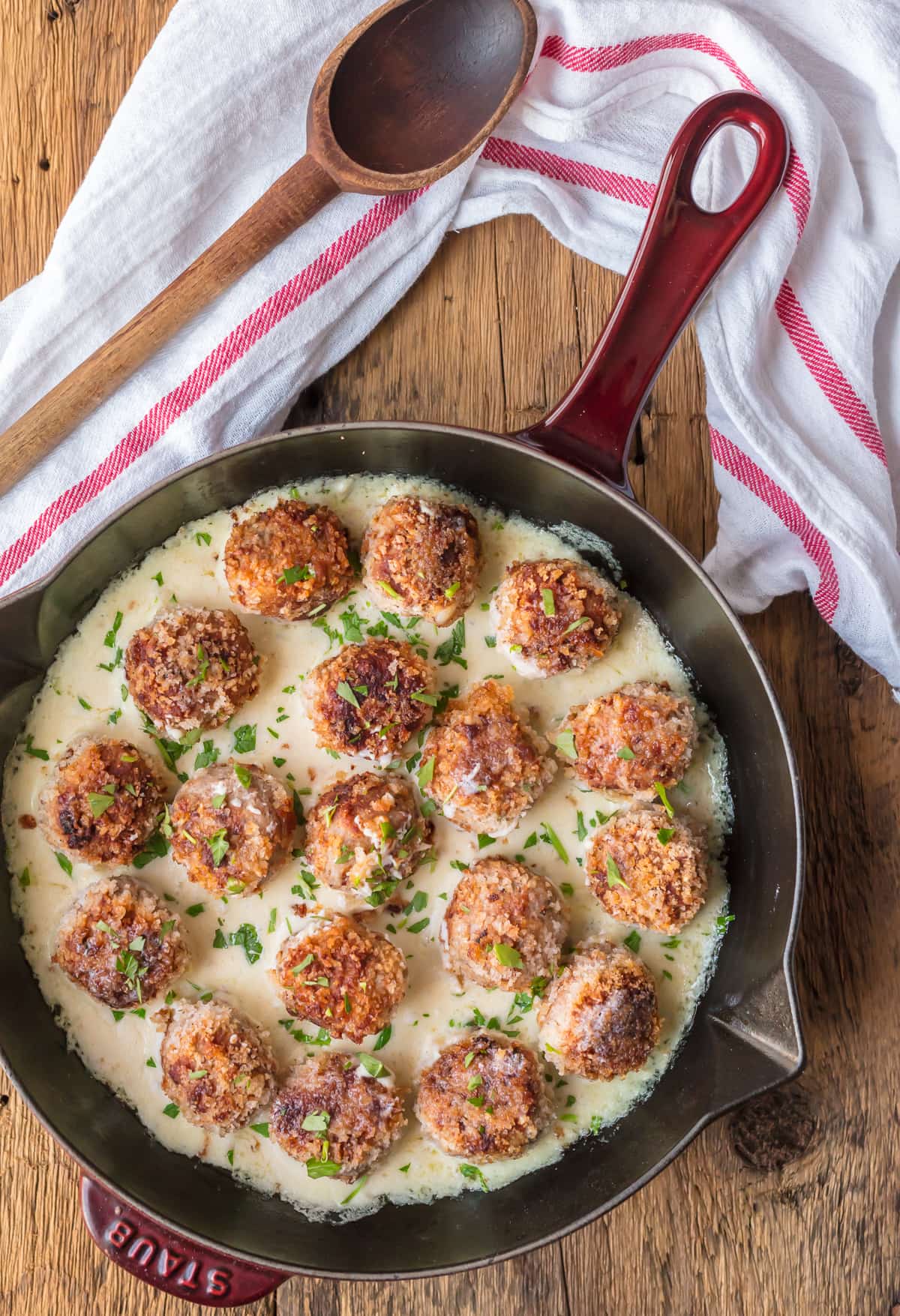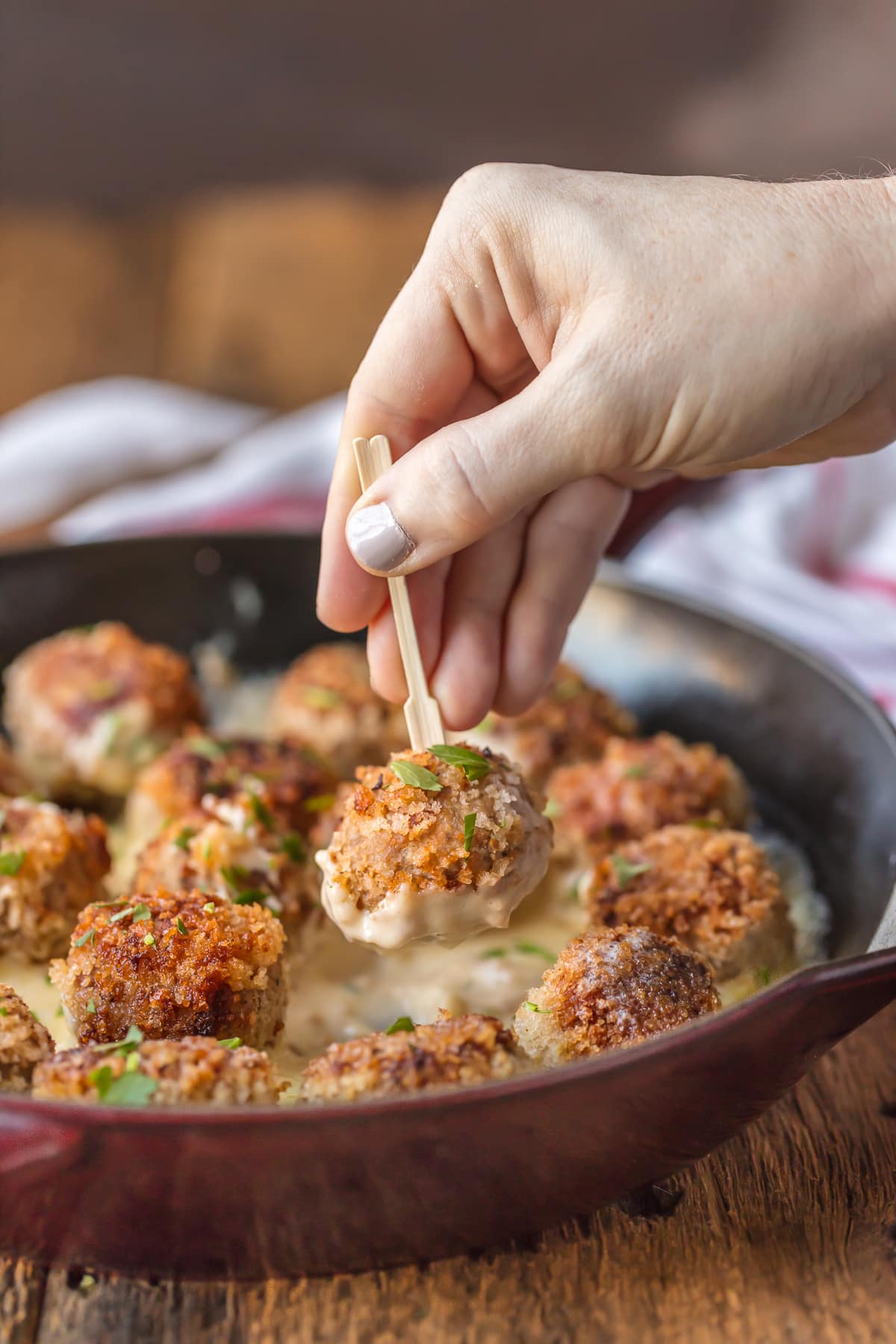 How to Make Chicken Cordon Bleu Meatballs
I'm going to tell you a secret: Pat and I actually ate these Chicken Cordon Bleu Meatballs for an entire meal…and I don't regret it at all! Sure, you can eat them as an appetizer or serve them at a party, but they're also great served over some rice or noodles for a full fledged meal. Or you can just be like us and eat them straight out of the skillet in a mad dash to see who can eat the most. He won…but just barely.
Here's a quick overview of the process:
Combine ingredients to make the chicken mixture, and form into balls.
Place swiss cheese and ham in each ball, and finish forming the chicken meatballs.
Roll each one into the egg mixture and then into the breadcrumb mixture and place in a skillet filled with hot oil.
Let them cook through in the skillet, then place them on a plate lined with a paper towel.
Once all meatballs have been cooked, drain oil from the skillet.
Return the dijon sauce to the skillet to reheat, then place the meatballs in with the sauce.
I like serving these Cordon Bleu Chicken Meatballs in the skillet, especially if I'm making them as an appetizer before dinner. But if you prefer, you could transfer the meatballs to a serving platter and drizzle the dijon sauce on top, or serve it as a dipping sauce. You can find detailed instructions in the recipe card below OR you watch the video to get a visual tutorial.
Can you make these meatballs ahead of time?
If you want to prepare these Cordon Bleu Chicken Meatballs ahead of time, it's pretty simple. Make the dijon sauce as detailed in the recipe, and then store it in an airtight container. Then make the meatballs, following the same directions, and those can be stored in the refrigerator along with sauce. Both will keep up to about 3 days. Then when you are ready to serve them, place both the sauce and the meatballs in a skillet over low heat, and let everything heat fully.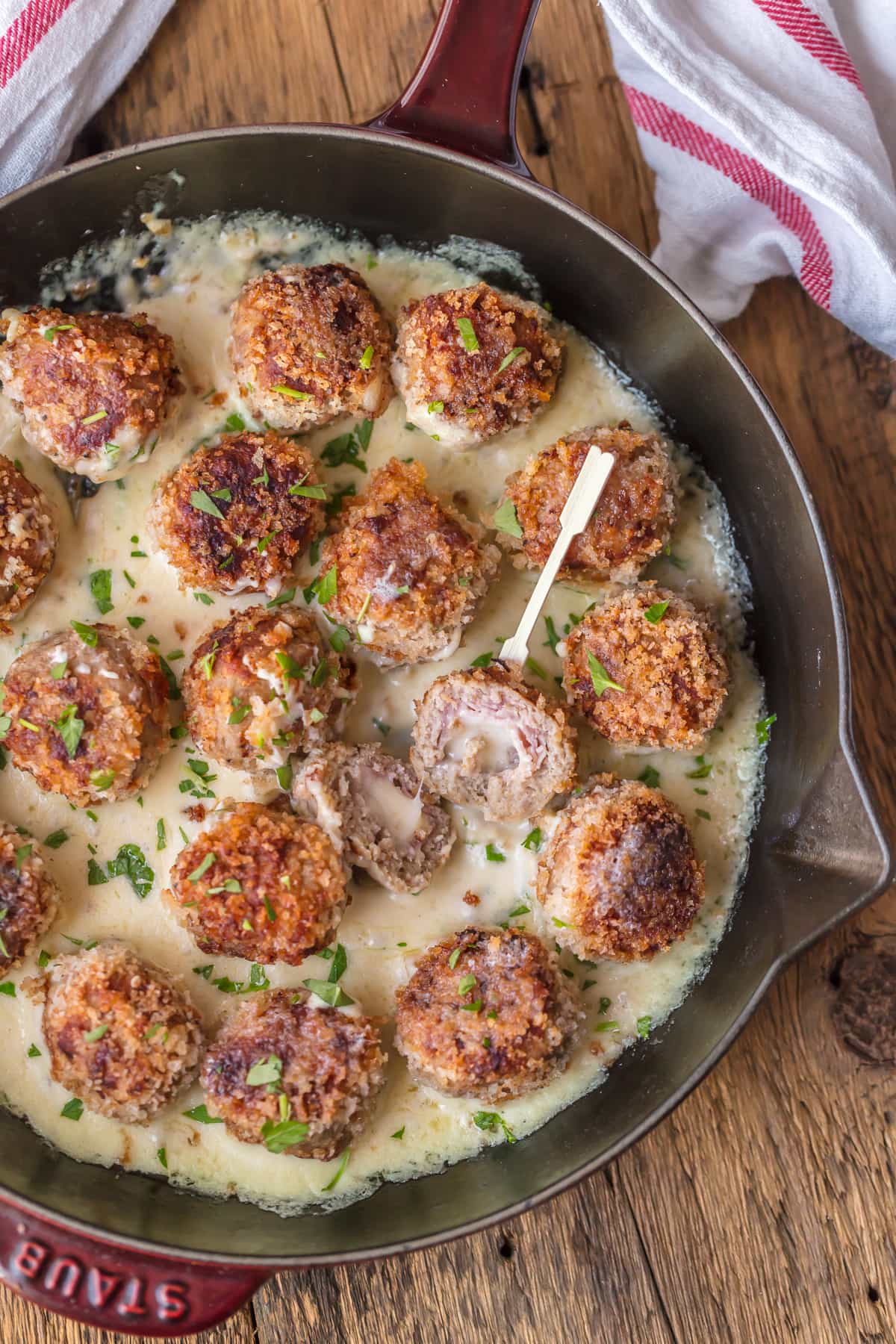 These Cordon Bleu Chicken Meatballs are guaranteed to be the hit of any holiday party, any get together, or any occasion to celebrate from now until next Christmas. I know we will be making them and devouring them year round. Or I might just make the creamy dijon sauce and eat it with a spoon. You won't judge me once you taste it! I plan on putting it on burgers, chicken, steak…you name it. These meatballs are just the beginning!
Watch the Video and See the recipe card for details on how to make Chicken Cordon Bleu Meatballs. Enjoy!
If you like these cordon bleu chicken meatballs, you'll love these other holiday appetizers too: