CHICKEN CORDON BLEU MEATBALLS, the most amazing holiday appetizer ever! Chicken meatballs stuffed with swiss and ham and cooked in a white wine dijon sauce. I could eat these for every meal!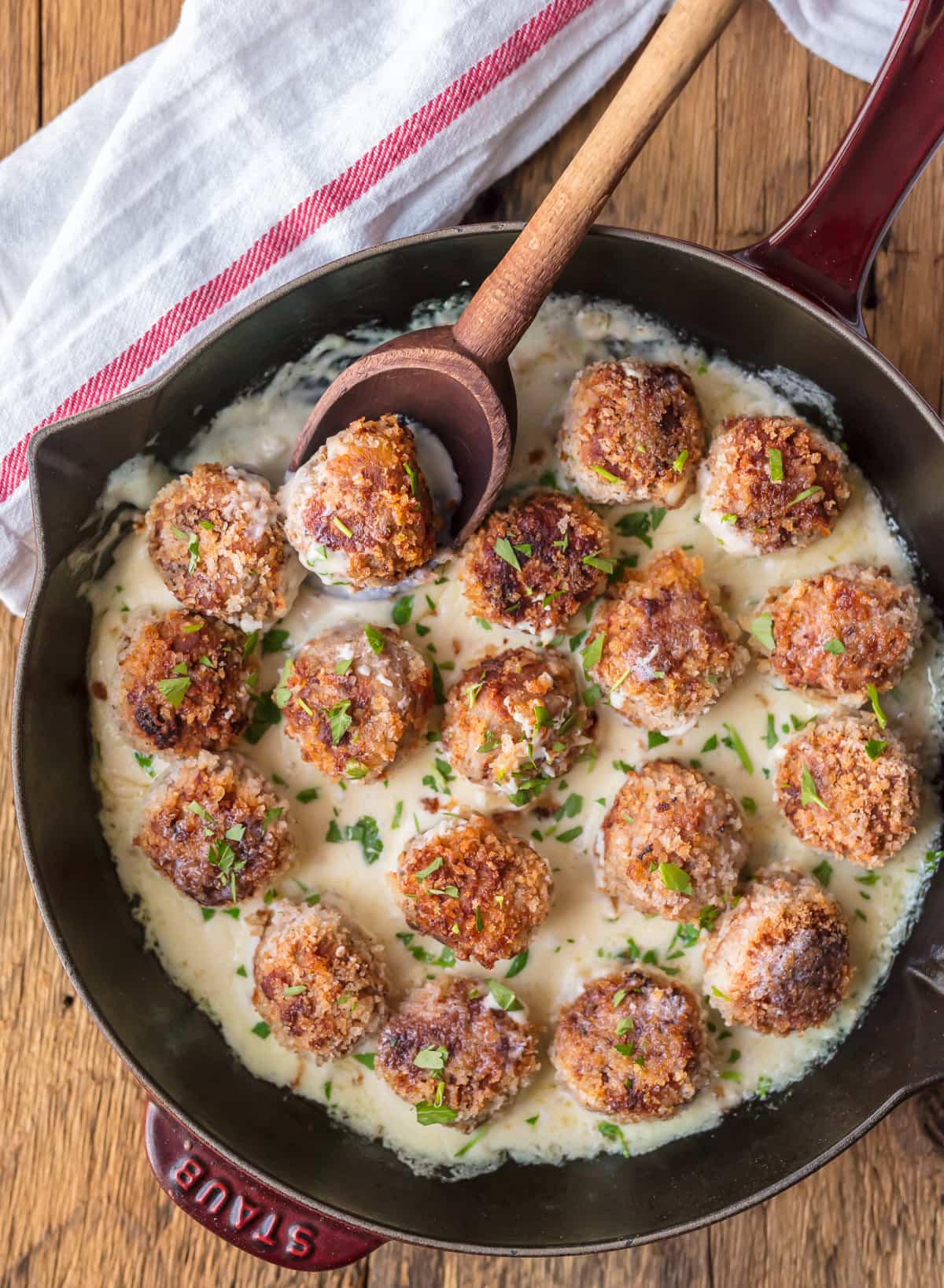 Welcome to my ultimate holiday appetizer, Chicken Cordon Bleu Meatballs! These Chicken Meatballs are stuffed with swiss and ham and then cooked in a white wine dijon sauce. They're totally addicting and gone in minutes, guaranteed! The holidays are made for awesome food, and this appetizer is no exception. Christmas, New Years Eve, and then tailgating for the Super Bowl have totally met their match with these meatballs, buckle up!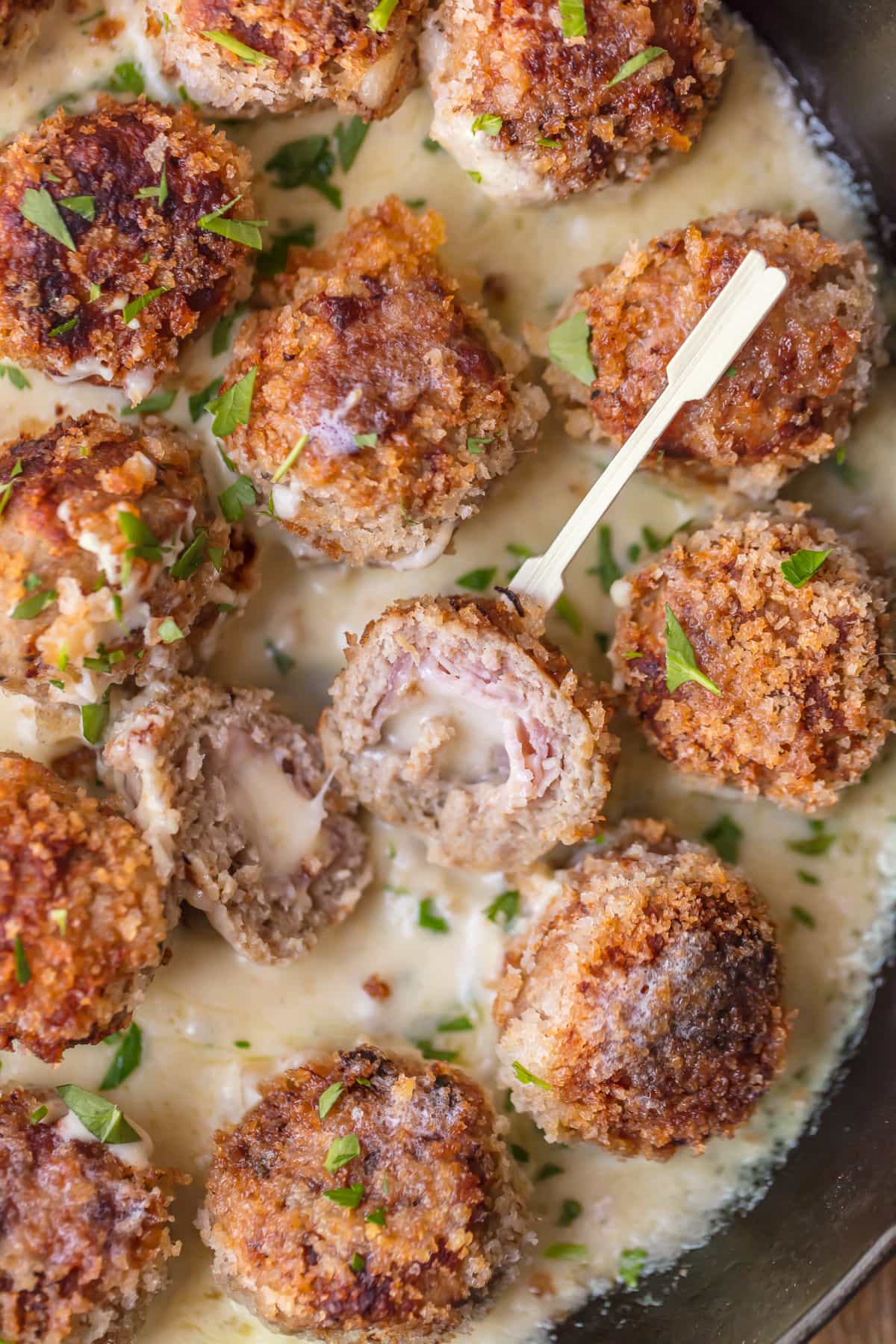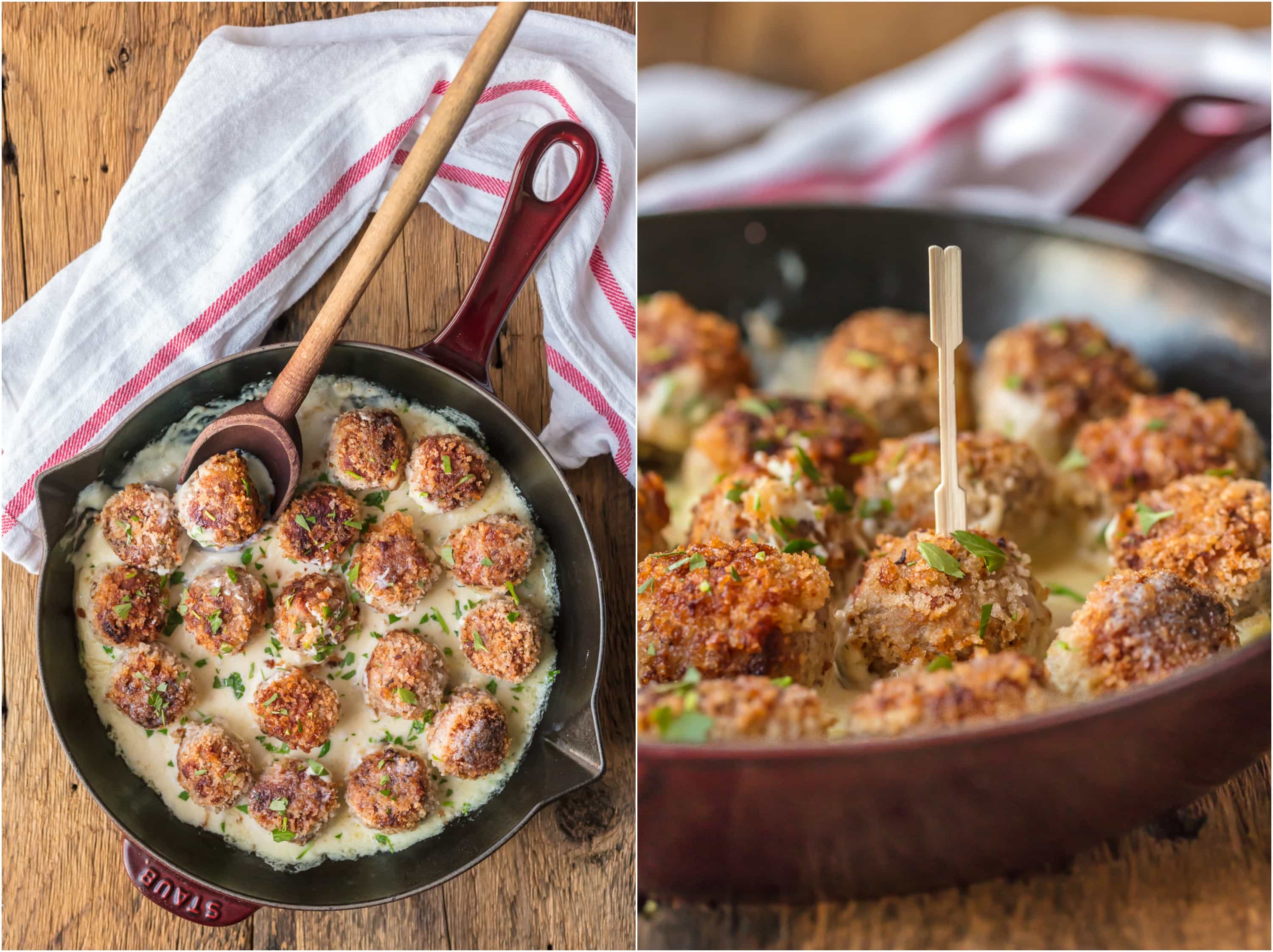 The sauce for these Chicken Cordon Bleu Meatballs is something foodie dreams are made of. It's so simple, but SO delicious. Pat and I actually ate these meatballs for an entire meal, and I didn't regret it once. You can eat them as an appetizer, but they'd also be great over some rice or noodles for a full fledged meal .Or just be like us and eat them out of the skillet in a mad dash to see who can eat the most. He won…just barely. :)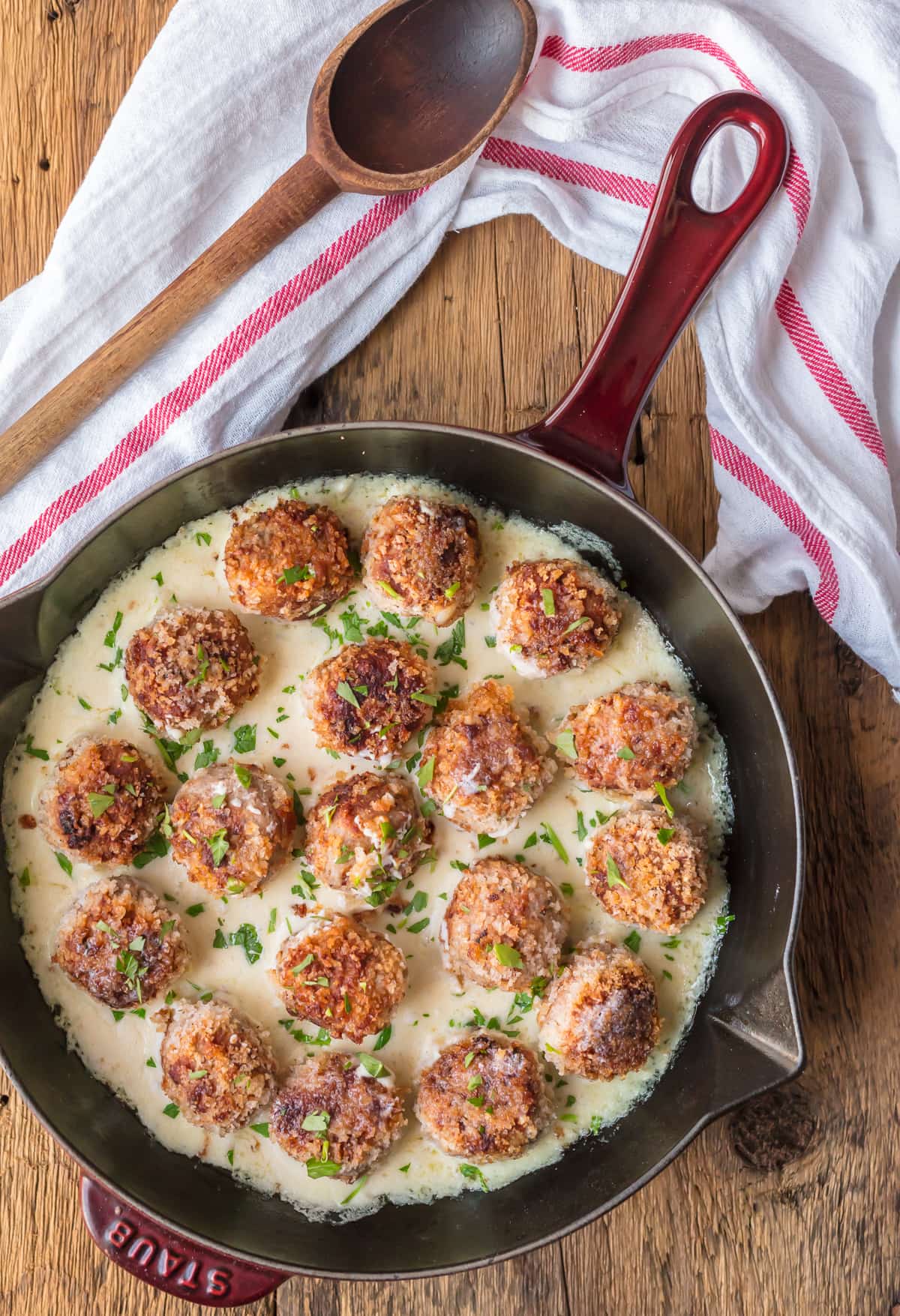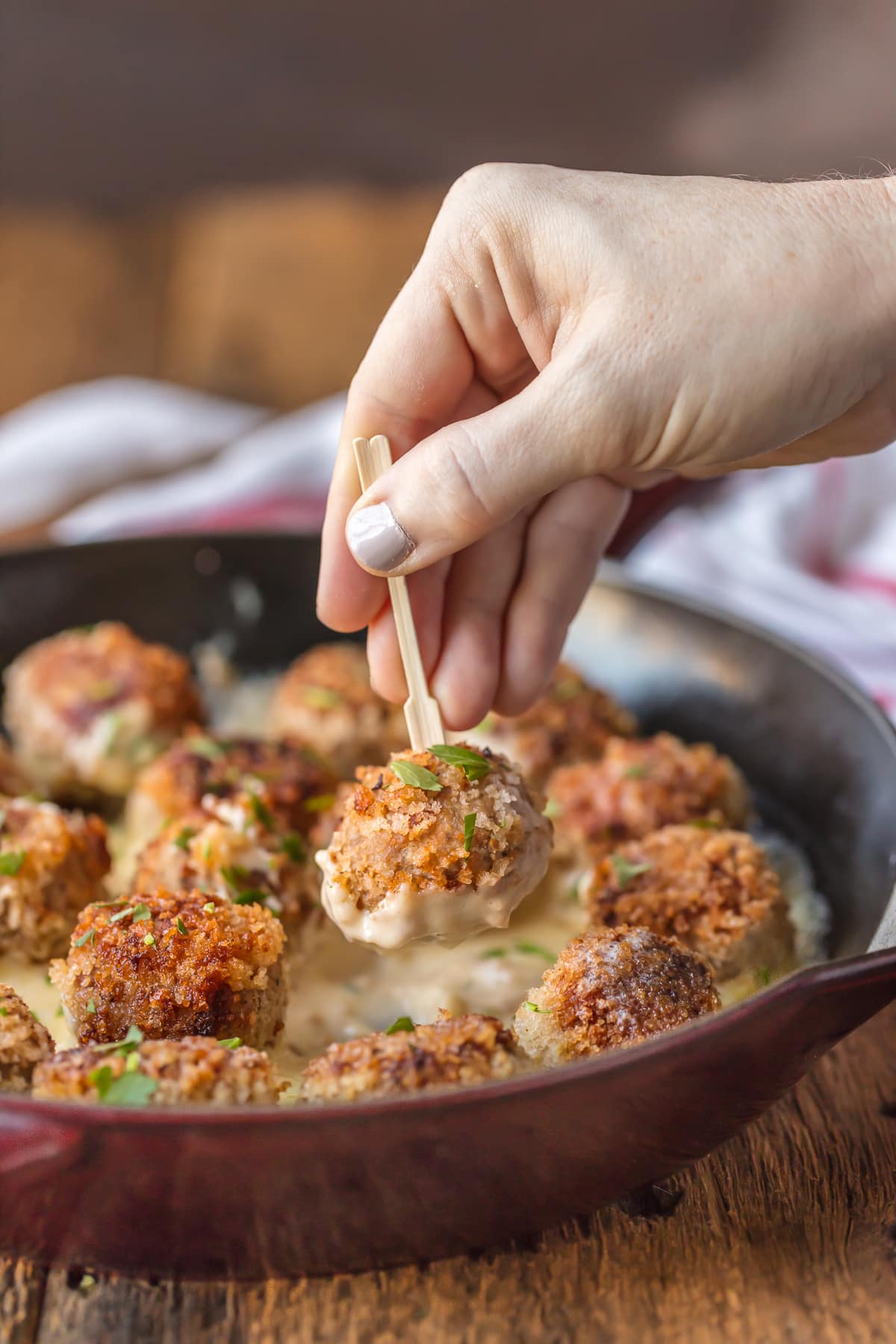 These Chicken Cordon Bleu Meatballs are guaranteed to be the hit of any holiday party, get together, or any occasion to celebrate now until next Christmas. I know we will be making them and devouring them year round. Or I might just make the sauce and eat it with a spoon. You won't judge me once you taste it! I plan on putting it on burgers, chicken, steak…you name it. These meatballs are just the beginning!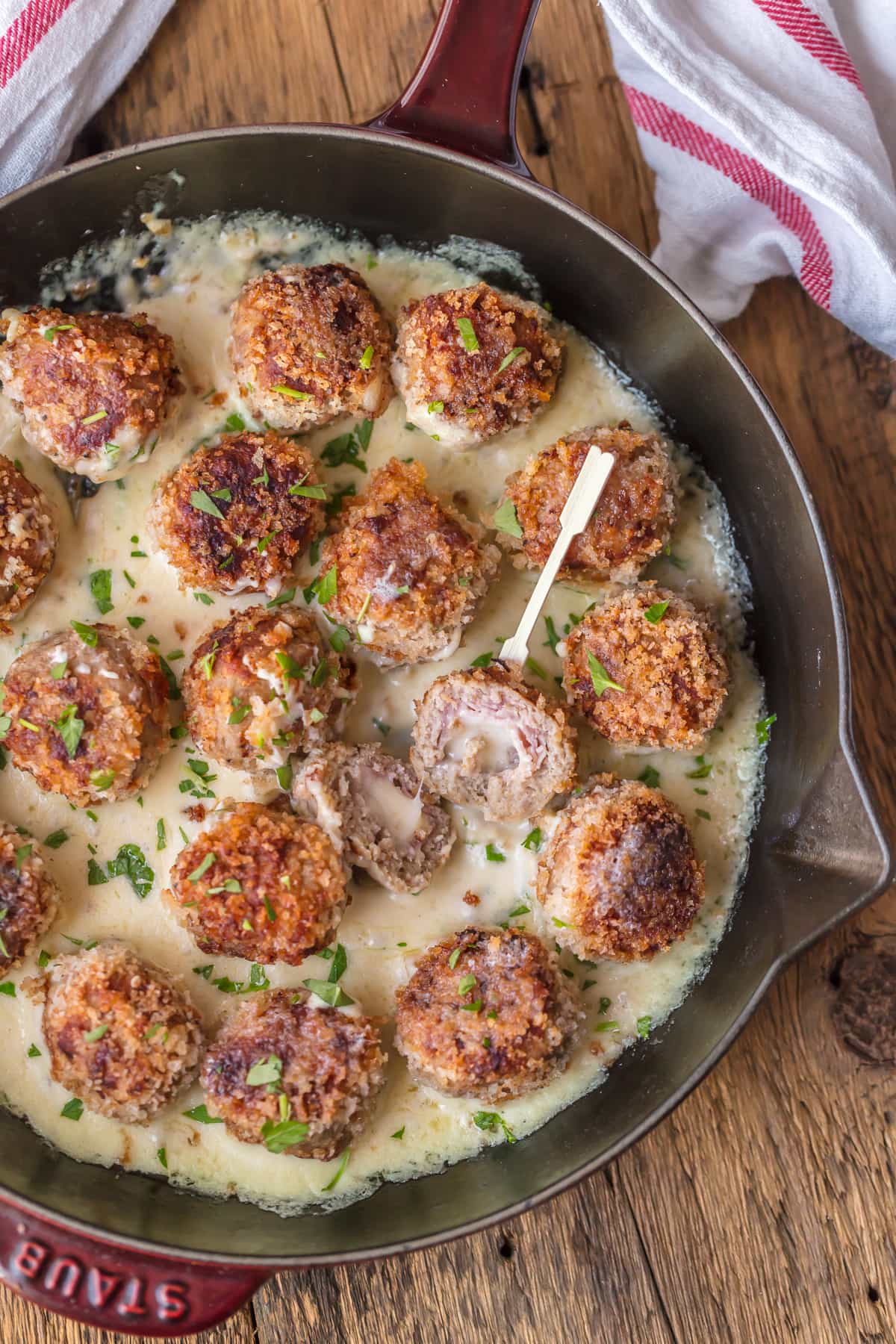 Enjoy!
Chicken Cordon Bleu Meatballs
20 minPrep Time
25 minCook Time
45 minTotal Time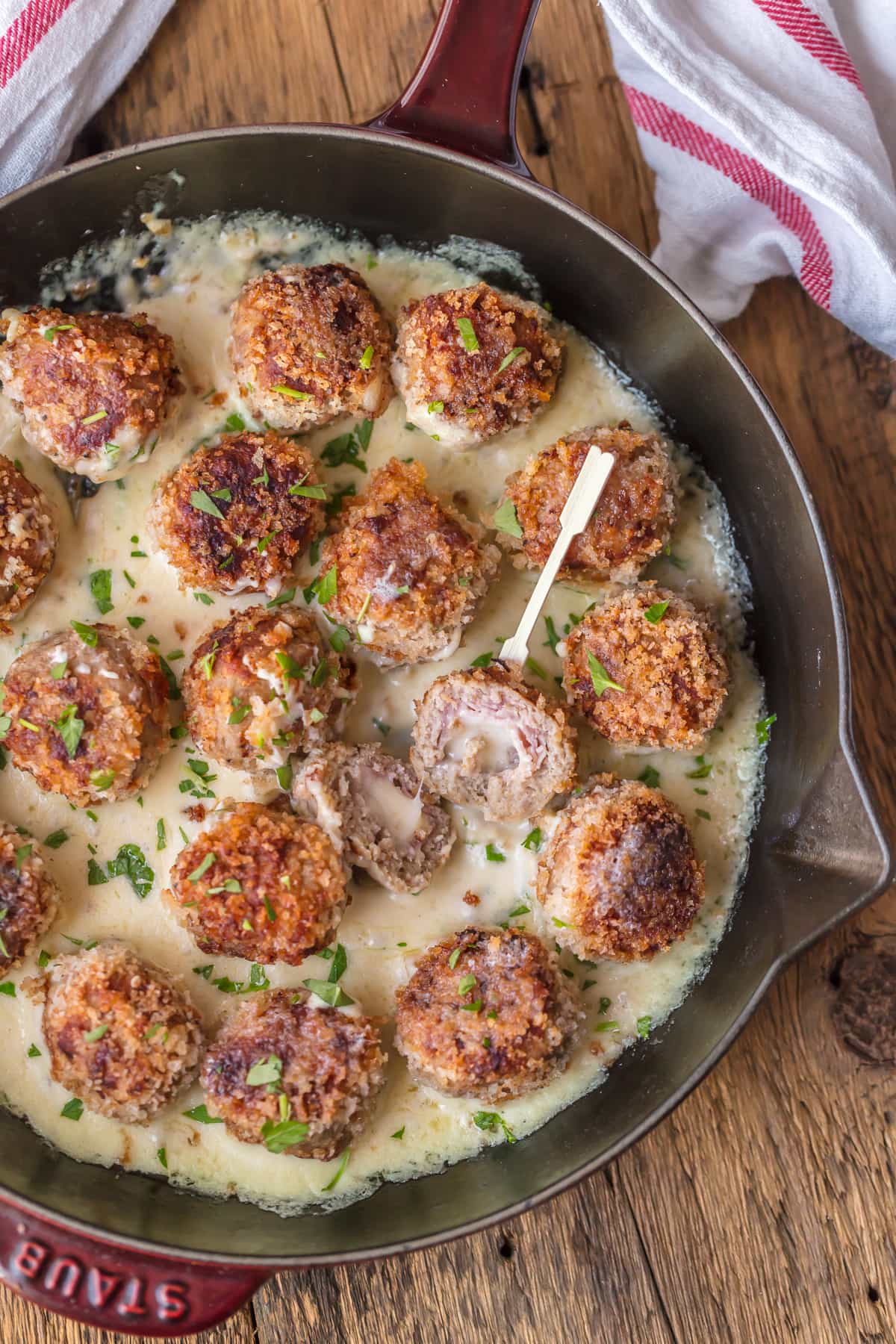 5 based on 1 review(s)
Ingredients
For the Dijon Cream Sauce:

2 tablespoons butter, unsalted
2 tablespoons flour
1-cup milk
¼ teaspoon ground white pepper or black pepper
¼ cup heavy cream
1 teaspoon Dijon mustard
½ chicken bouillon granule cube, crushed
½ teaspoon Worcestershire Sauce
¼ cup white wine
¼ cup grated Parmesan Cheese, optional

For the Meatballs:

1 lb. ground chicken or turkey
½ teaspoon ground black pepper
1 egg, slightly beaten
½ cup regular breadcrumbs
5 slices ham, ultra thin, cut into 4 pieces each
5 slices Swiss cheese, ultra thin, cut into 4 pieces each
Canola oil, enough to cover 1/3 up the side of the skillet
½ cup regular breadcrumbs
¼ cup Panko bread crumbs
¼ cup grated Parmesan cheese
½ teaspoon ground black pepper
2 eggs, slightly beaten
1-tablespoon water or milk
Instructions
Melt the butter in a medium skillet over medium heat. Sprinkle the flour over the butter and whisk until smooth, 1-2 minutes. Continue whisking while slowly pouring in the milk, cream and pepper. Whisk until sauce is smooth. Add in the Dijon mustard, crushed bouillon cube and Worcestershire sauce. Continue cooking over medium-low heat, stirring constantly until the sauce thickens. Once the sauce has thickened, remove from heat and stir in wine and Parmesan (if using). Stir until cheese has melted. Pour the sauce into a heat proof lidded container, stretch a paper towel over the container then place the lid over the paper towel so that the paper towel stays in place and doesn't touch the sauce. (The paper towel will absorb excess moisture from steam.) Set sauce aside until ready to serve. Clean out the skillet to use for the meatballs.

For the Meatballs:

Heat canola oil in the skillet until cooking thermometer reads 350F. While shaping the meatballs, be sure to check the oil temperature often. If the oil is heating too quickly, turn the heat down slightly.
In a medium bowl, combine ground chicken, ½ teaspoon ground black pepper, 1 egg and ½ cup regular breadcrumbs. Mix gently until mixture is well incorporated. Using a 1½" scoop (or tablespoon), form meatballs into 1½" balls, flatten each meatball slightly and place slice of ham and a slice of cheese (stacked) in the middle of each ball. Bring the sides of each meatball up and over the ham and cheese, then "pinch" the meat back together. Slightly roll each meatball to reshape into meatballs.
*Be sure to keep checking the oil temperature.
In a small bowl, combine regular breadcrumbs, panko breadcrumbs, pepper and grated Parmesan. In a different small bowl, combine the beaten eggs and water and mix until combined.
Set the bread crumb bowl and the egg/water bowl on the counter next to the skillet with the hot oil. Place a paper towel-lined plate nearby.
Once the oil has reached the desired heat, dip a meatball in the egg mixture and then roll it in the breadcrumb mixture. Carefully, place the meatball in the hot oil and repeat until half the meatballs are in the oil. Cook, turning gently to cook all sides, until meatballs are cooked through. Be careful not to burn the meatballs. When cooked through, transfer meatballs to paper towel-lined plate. Repeat process with the other half of the meatballs.
After cooking the meatballs, pour the used oil (very carefully) into a heatproof container and set it aside until cool enough to discard.
Place prepared sauce in the skillet over low heat. Once sauce has reheated, place meatballs over sauce and serve.
ENJOY!
**Make ahead. The sauce and meatballs can be prepared (separately) and kept refrigerated up to two days before serving. When ready to serve, place sauce in skillet and place meatballs over the sauce. Cook over low until heated through.
7.6.7
2336
https://www.thecookierookie.com/chicken-cordon-bleu-meatballs/