These PERUVIAN CHICKEN MEATBALLS WITH GREEN SAUCE are the perfect holiday or Super Bowl appetizer! The Peruvian green sauce, made with a parsley base, is just the right amount of spicy. The drop meatballs are just the right amount of easy. It comes together to create the perfect recipe!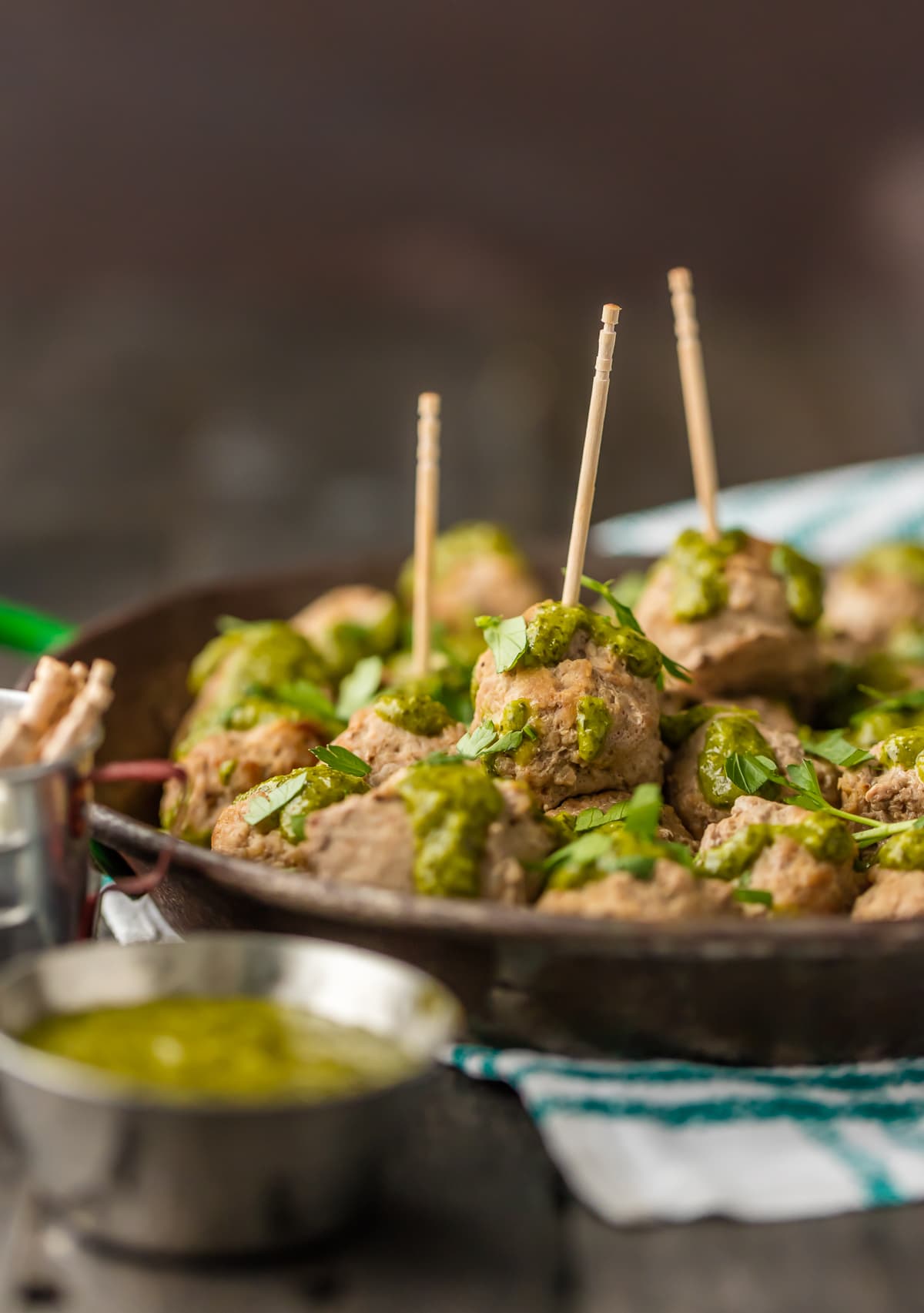 Chicken Meatballs Recipe
Peruvian Chicken Meatballs are so delicious, especially when paired with this amazing green sauce recipe. Easy drop meatballs make the perfect easy appetizer!
My mom makes this AMAZING Peruvian Chicken with Green Sauce, and it's a big family favorite. It's such a simple recipe, but it's so full of flavor you wouldn't believe it. For this holiday season, we thought it would be so good in appetizer form!
We have been on a bit of a meatball kick lately, so I thought that would be the perfect way to turn this favorite recipe into a snackable hit. These Chicken Meatballs are extra easy, because they're DROP MEATBALLS, which means you don't have to get your hands as dirty. I really appreciate that, because making meatballs can be less than pleasant sometimes…
These Peruvian Chicken Meatballs with Green Sauce should be at all of your holiday parties this year: Christmas, New Year's Eve, Super Bowl Sunday, all of them. I promise they'll be a huge hit!
Make these Peruvian Chicken Meatballs with an amazing Green Sauce to serve at your next party. Drop Meatballs make the perfect appetizer for any occasion!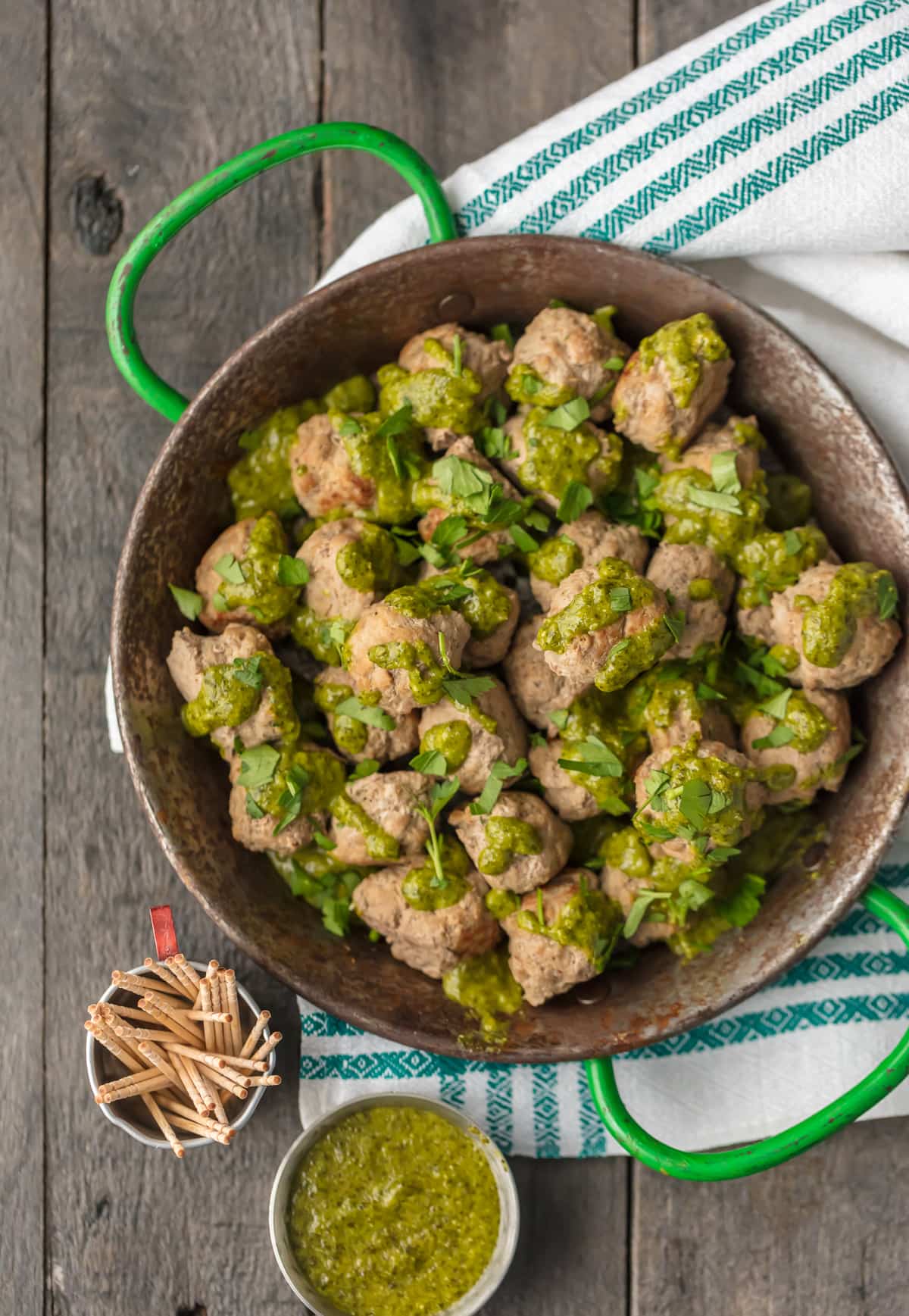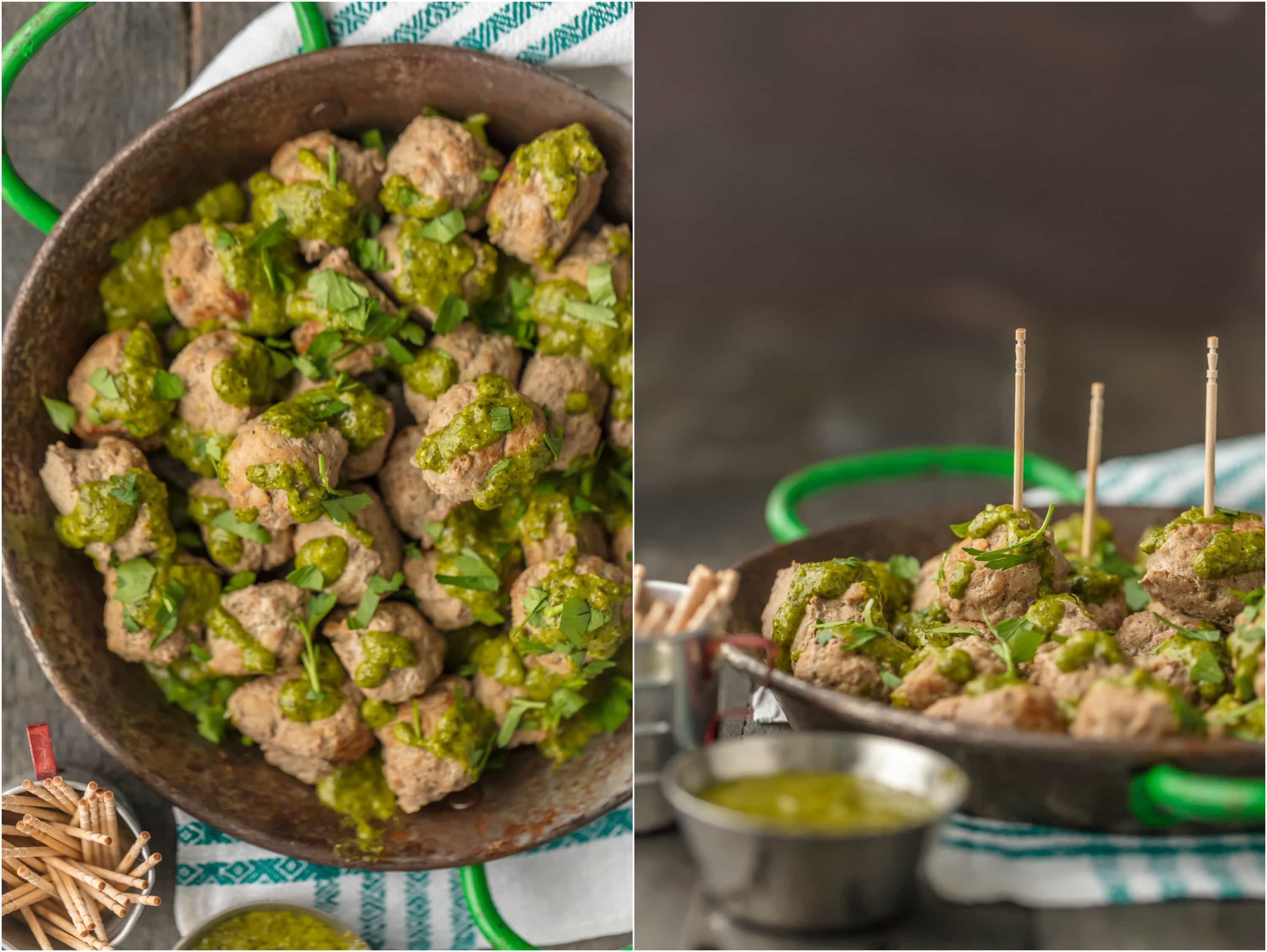 Peruvian Green Sauce
You guys, this green sauce is AMAZING. It's easier to just call it green sauce, instead of calling it THE MOST AMAZING SAUCE IN THE ENTIRE WORLD MADE WITH CILANTRO, BASIL, JALAPENO, and so much more. It's one of my favorite sauces ever, and I know you're going to love it. We are just so addicted! I love it so much, I wrote a full recipe about this green Aji Verde Sauce here. Get more details on how to make this and some other ways to use it!
Easy Drop Meatballs (Chicken, Turkey, or Beef)
I love these delicious drop meatballs paired with the green sauce. I used chicken, but you can also use turkey or beef if you prefer. No matter what kind of meat you use, this recipe comes out tasting amazing!
The drop meatballs are super easy to make, and less messy than regular meatballs too. Use a small scoop to make 1-inch chicken meatballs, then DROP them onto a baking sheet to cook. No messy hands here!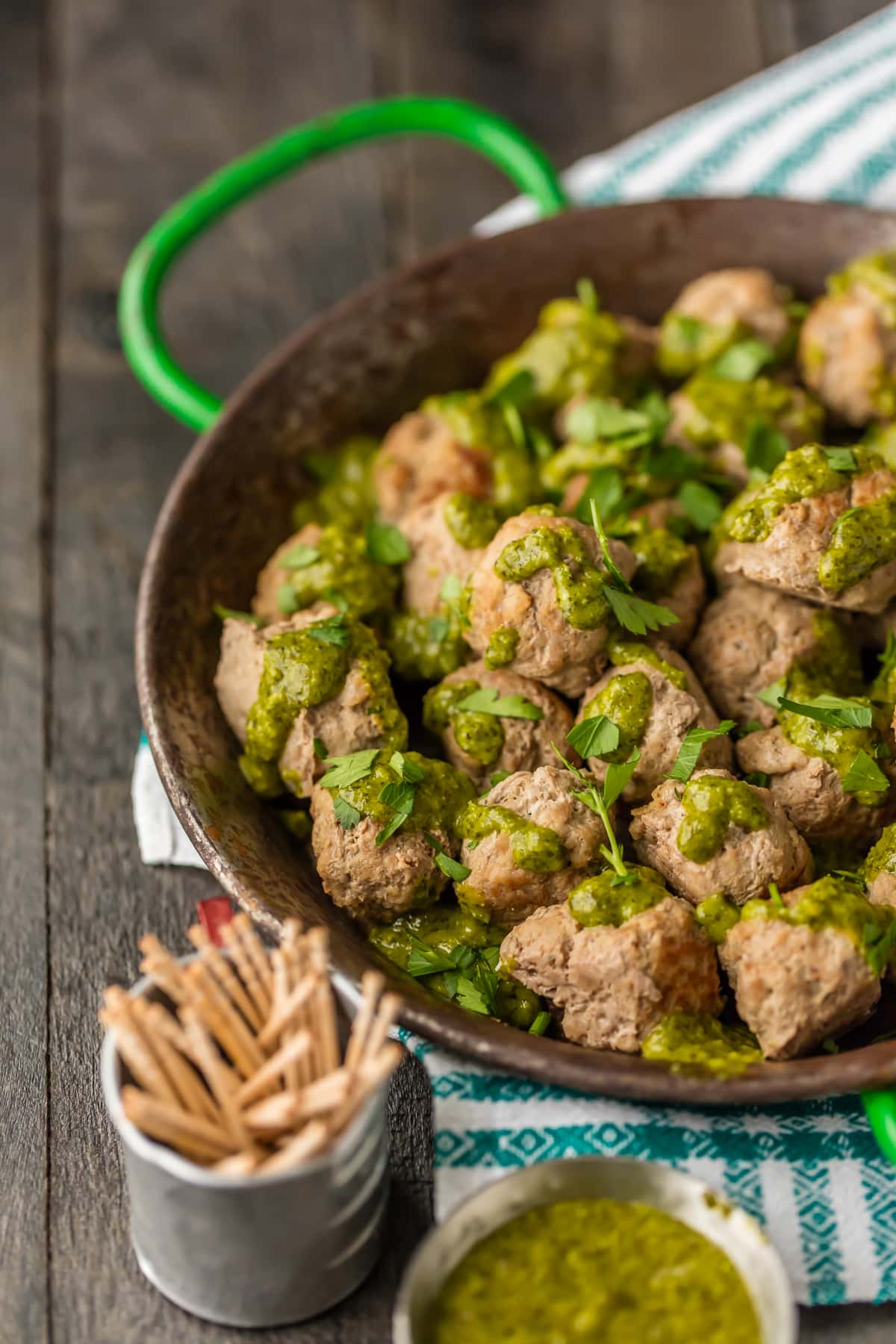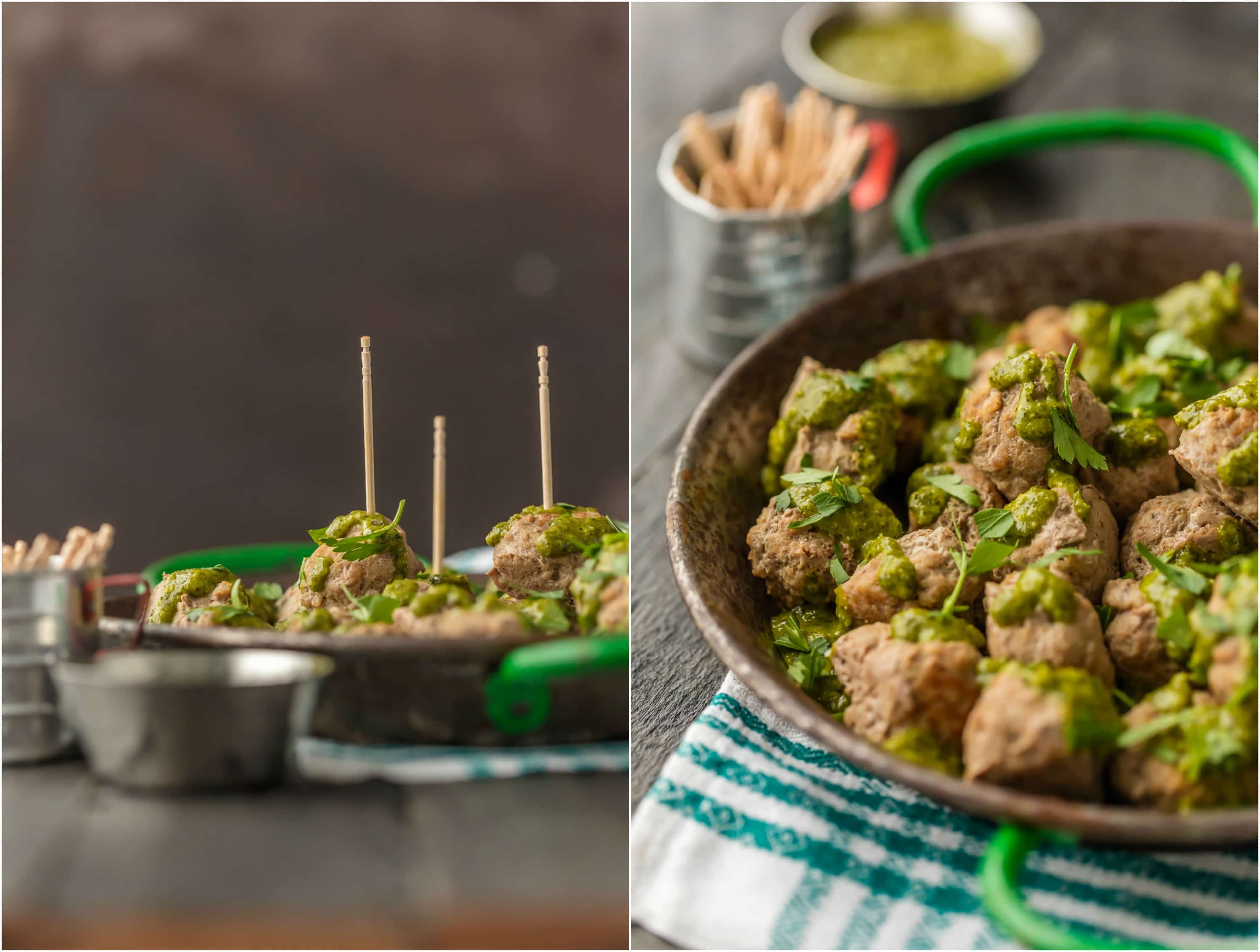 It's important to have amazing appetizers on hand for Christmas and New Year's Eve. It's even more important to have amazing appetizers on hand for the Super Bowl! (which will be here before we all know it) Bookmark this Chicken Meatball recipe, because I have a feeling it will be a family favorite for you, just like it is for us.
See the recipe card below for details on how to make Peruvian Chicken Meatballs with Green Sauce. Enjoy!
Try some of our other favorite meatball recipes too: