These PERUVIAN DROP MEATBALLS WITH GREEN SAUCE are the perfect holiday or Super Bowl appetizer! The green sauce, made with a parsley base, is just the right amount of spice. The meatballs are just the right amount of easy. Enjoy!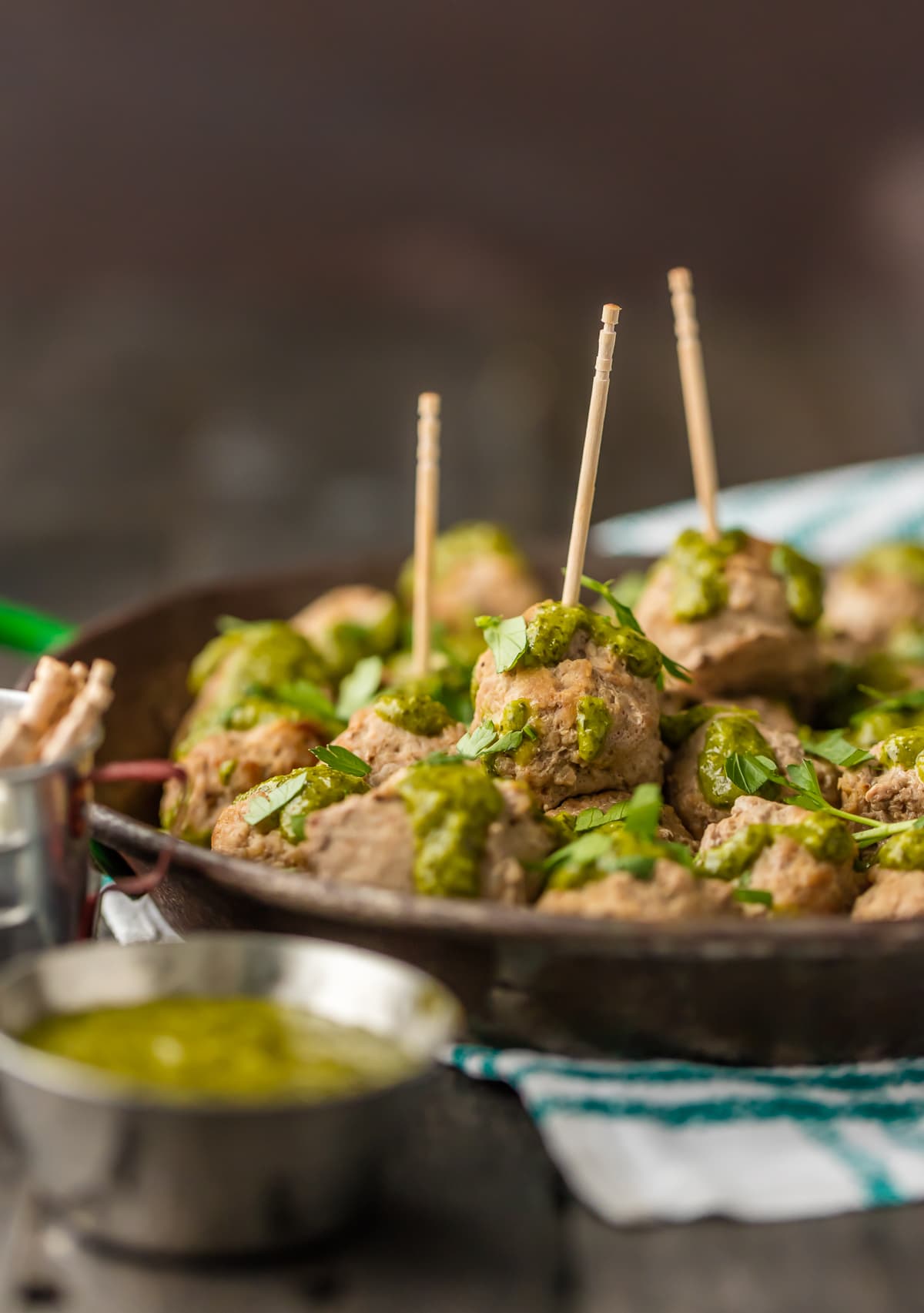 My mom makes this ammmmmazing Peruvian Chicken with Green Sauce, and it's a family favorite. It's such a simple recipe, but it's so full of flavor you wouldn't believe it. For this holiday season, we thought it would be amazing in appetizer form! We have been on a bit of a meatball kick, so I thought that would be the perfect way to make this favorite recipe a snackable hit. These are extra easy, because they're DROP MEATBALLS, which means you don't have to get your hands as dirty. I appreciate that…making meatballs can be less than pleasant. These Peruvian Drop Meatballs with Green Sauce should be at all of your holiday parties this year, I promise they'll be a huge hit!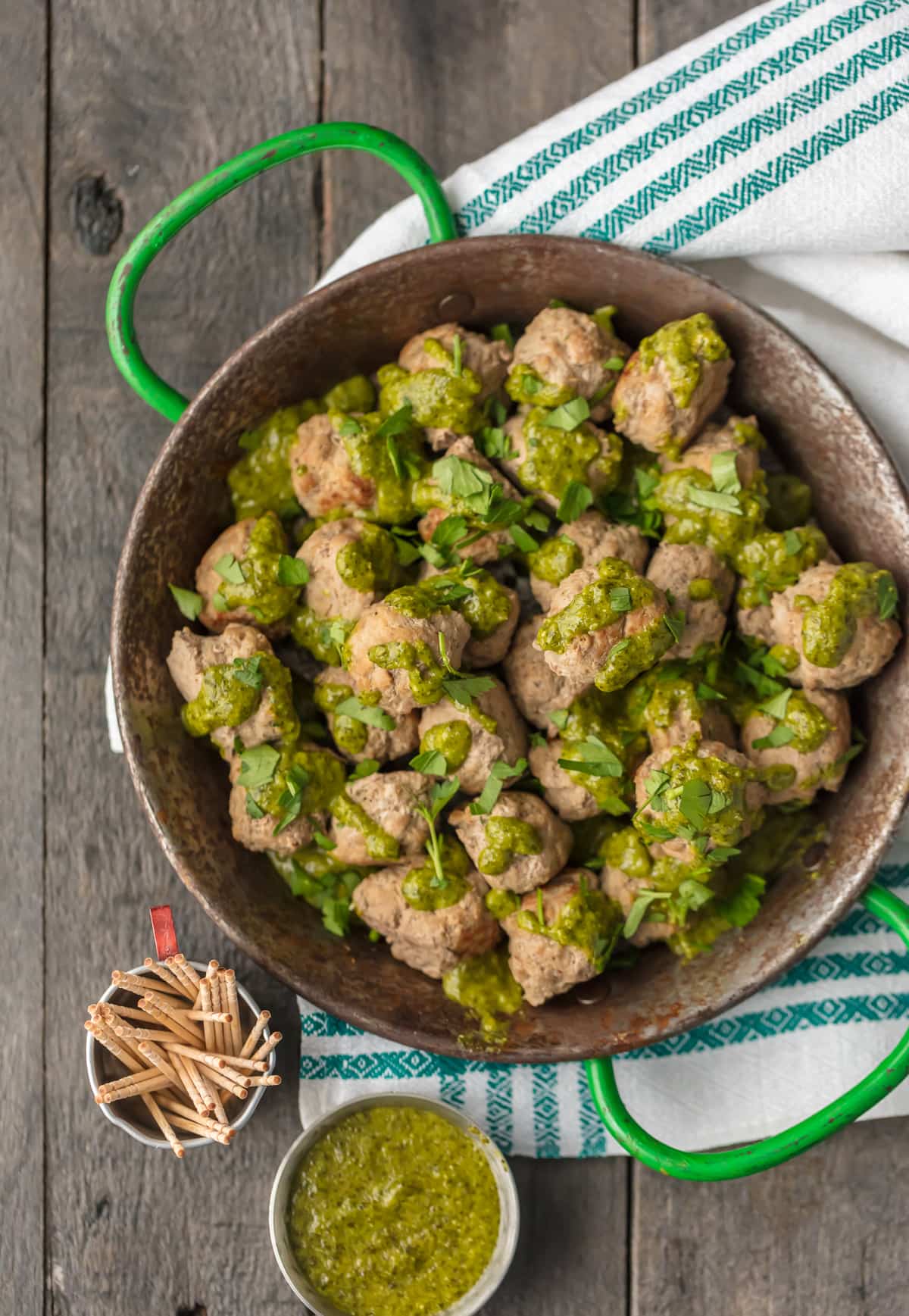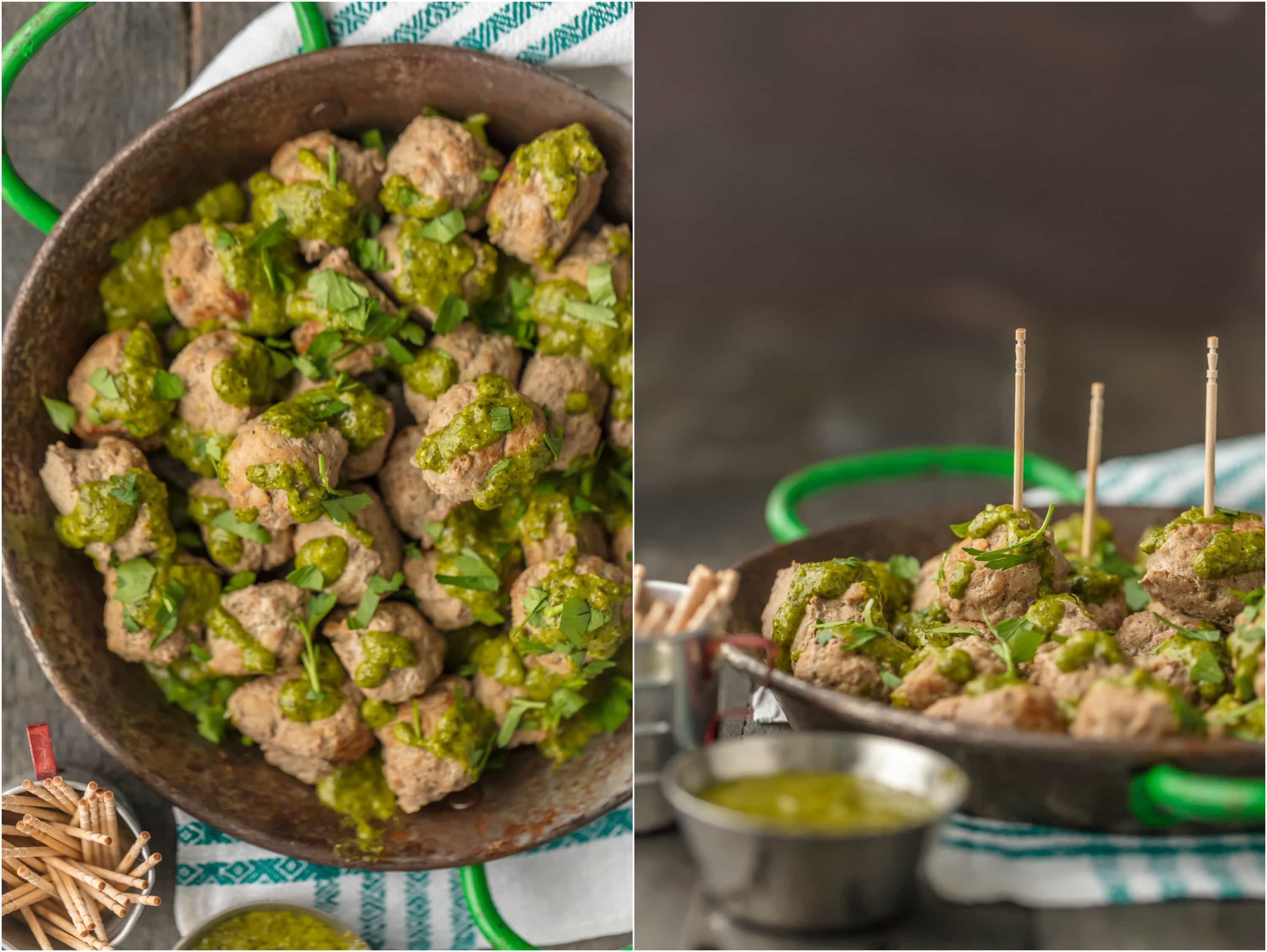 You guys, this green sauce. It's easy to just call it green sauce, instead of calling it THE MOST AMAZING SAUCE IN THE ENTIRE WORLD MADE WITH CILANTRO, BASIL, JALAPENO, and so much more. You're gonna love it. We are just so addicted!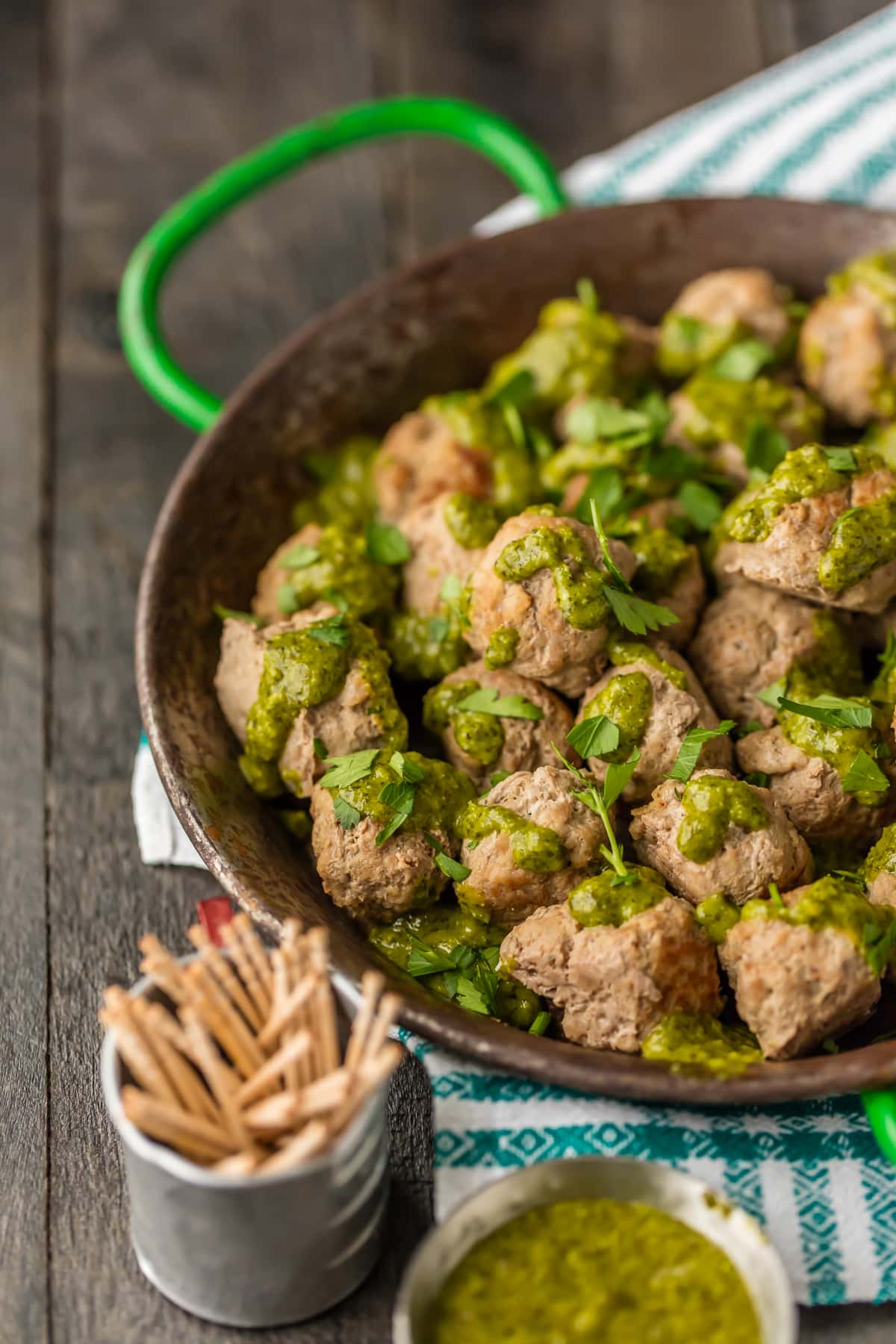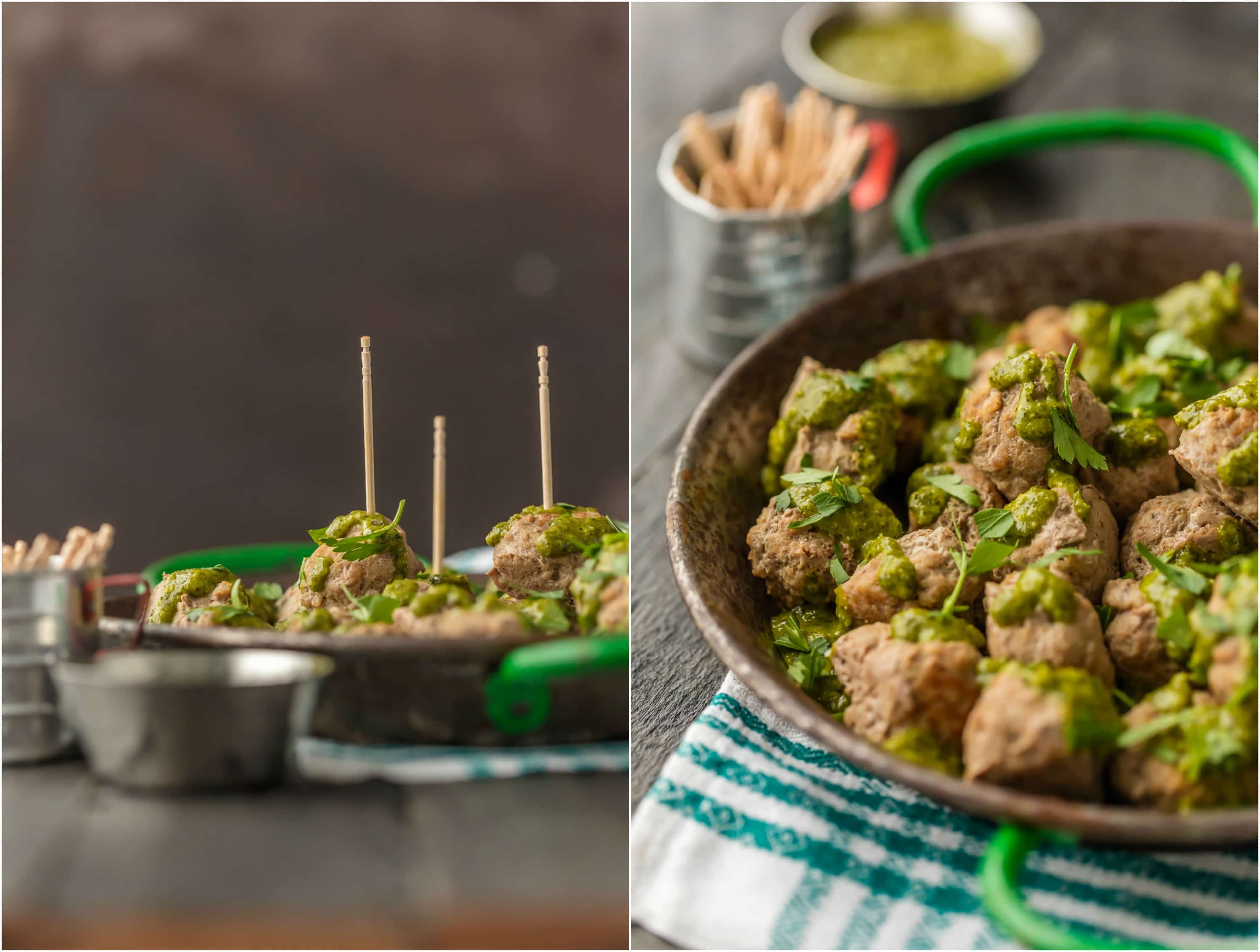 It's important to have amazing appetizers on hand for Christmas and New Years Eve. It's even more important to have amazing appetizers on hand for the Super Bowl! (which will be here before we all know it) Bookmark this recipe, I have a feeling it will be a family favorite just like it is for us. Enjoy!
Serves 32 appetizer sized meatballs
Peruvian Drop Meatballs with Green Sauce
30 minPrep Time
15 minCook Time
45 minTotal Time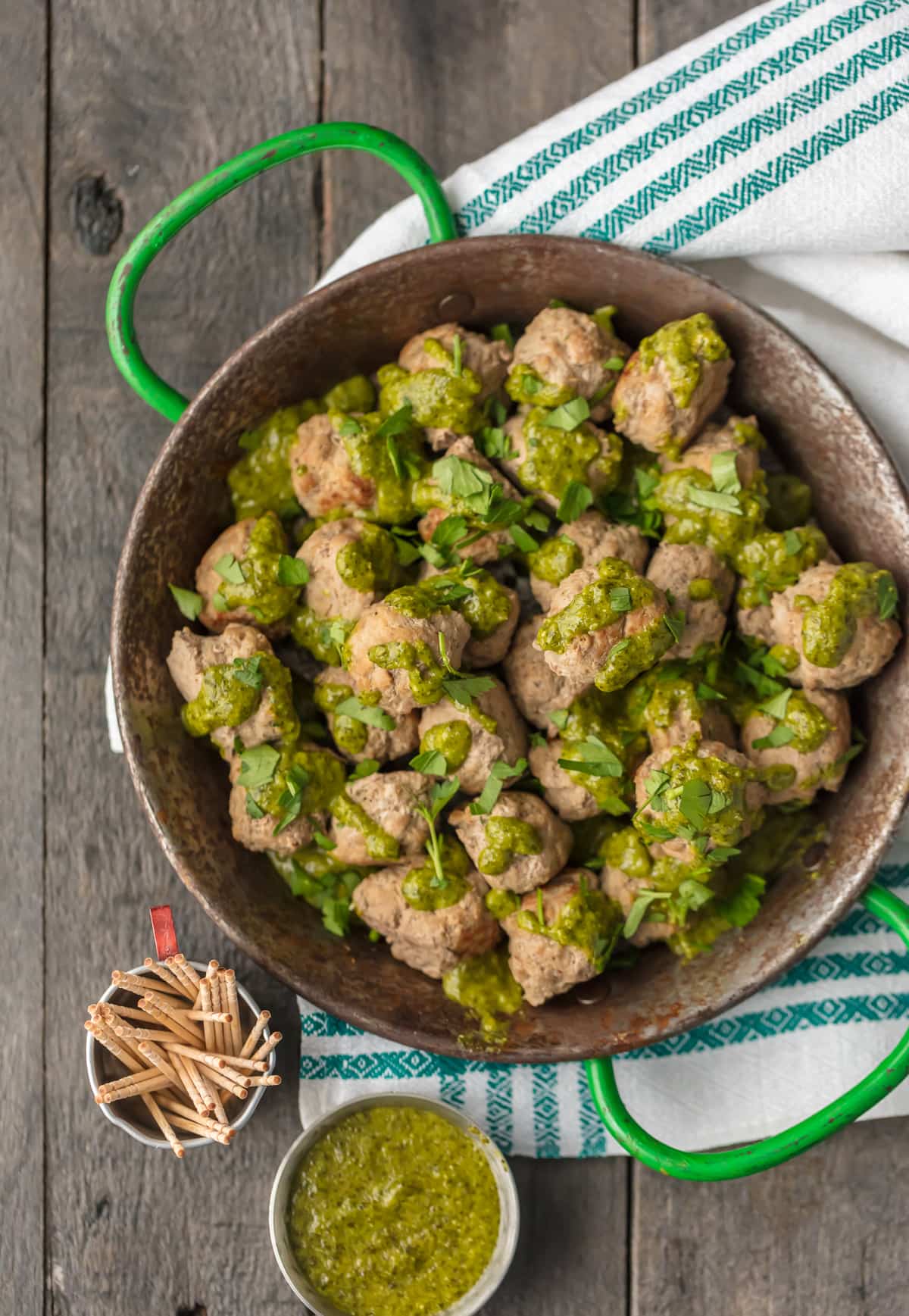 Ingredients
For the Green Sauce (The sauce can be made up to 5 days ahead.):

*This is a delicious sauce and works beautifully on grilled foods, potatoes, steak, rice, fish and so many others) You might want to double the recipe. It is amazing!
2 fresh jalapenos, seeds and white ribs removed
1 cup fresh cilantro, packed tightly
¼ cup fresh basil leaves, packed tightly
¼ cup Cotija or Queso Fresco cheese, crumbled
1 tablespoon Ginger Paste (can find in produce section of grocery store) or 1 teaspoon ground ginger
2-3 tablespoons honey
1 clove garlic, minced or pressed through a garlic press
Juice from 1 lime
½ teaspoon Smoked Paprika
1-tablespoon canola oil
½ cup real mayonnaise or Greek yogurt
Salt & black pepper, to taste

For the Meatballs:

1 lb. ground chicken or turkey
¼ teaspoon garlic powder
1-teaspoon ground cumin
1-teaspoon chili powder
½ teaspoon smoked paprika
½ teaspoon red pepper flakes
1-tablespoon brown sugar
1-teaspoon ginger paste or ½ teaspoon ground ginger
Juice of ½ lime
1 teaspoon Worcestershire Sauce or Soy Sauce
Instructions
For the Green Sauce:

Combine all ingredients except the mayonnaise (or Greek yogurt) in a food processor fitted with the metal blade, a blender or a stick blender. If using a food processor (see note below), process on HIGH until a smooth paste forms. This could take a few minutes. Pause every minute to push the paste down from the sides with a rubber spatula. Once a smooth paste is created, add the oil with the processor on HIGH and process until paste is fully homogenous. Taste and, if necessary, season with kosher salt and freshly ground black pepper.
*Note – if using a blender or a stick blender, add all except the mayonnaise. After the paste forms, add the mayonnaise or Greek yogurt and process 2 minutes on HIGH.
Using a blender or stick blender creates a smoother paste.
Refrigerate and reheat if using at a later date.

For the Peruvian Meatballs:

In a medium mixing bowl, combine all ingredients and mix gently until all ingredients are well incorporated. Cover and refrigerate 30-60 minutes.
Preheat oven to 400 degrees F. Cover a baking sheet with aluminum foil and spray lightly with non-stick cooking spray.
After meat has been seasoned at least 30 minutes, remove it from the refrigerator. Scoop the ground chicken with a 1-inch scoop and drop the "meatballs" onto the prepared baking sheet with 1 inch between each meatball. Place the meatballs in the preheated oven and bake 12-15 minutes until meatballs are just cooked through. Do not overbake.
Remove meatballs from oven.

To serve:

Pour enough sauce in a small skillet to cover the bottom of the pan. Place the meatballs over the green sauce and cook over medium-low heat until sauce is heated through and meatballs are hot.
Drizzle the tops of the meatballs with green sauce and serve immediately.
Enjoy!
*The meatballs can be made up to two days ahead and the sauce up to 5 days ahead.
7.6.7
2342
https://www.thecookierookie.com/peruvian-drop-meatballs/