These juicy turkey meatballs are stuffed with stringy mozzarella cheese for a delicious bite! These baked turkey meatballs are a healthier take on a fun appetizer that's perfect for game day.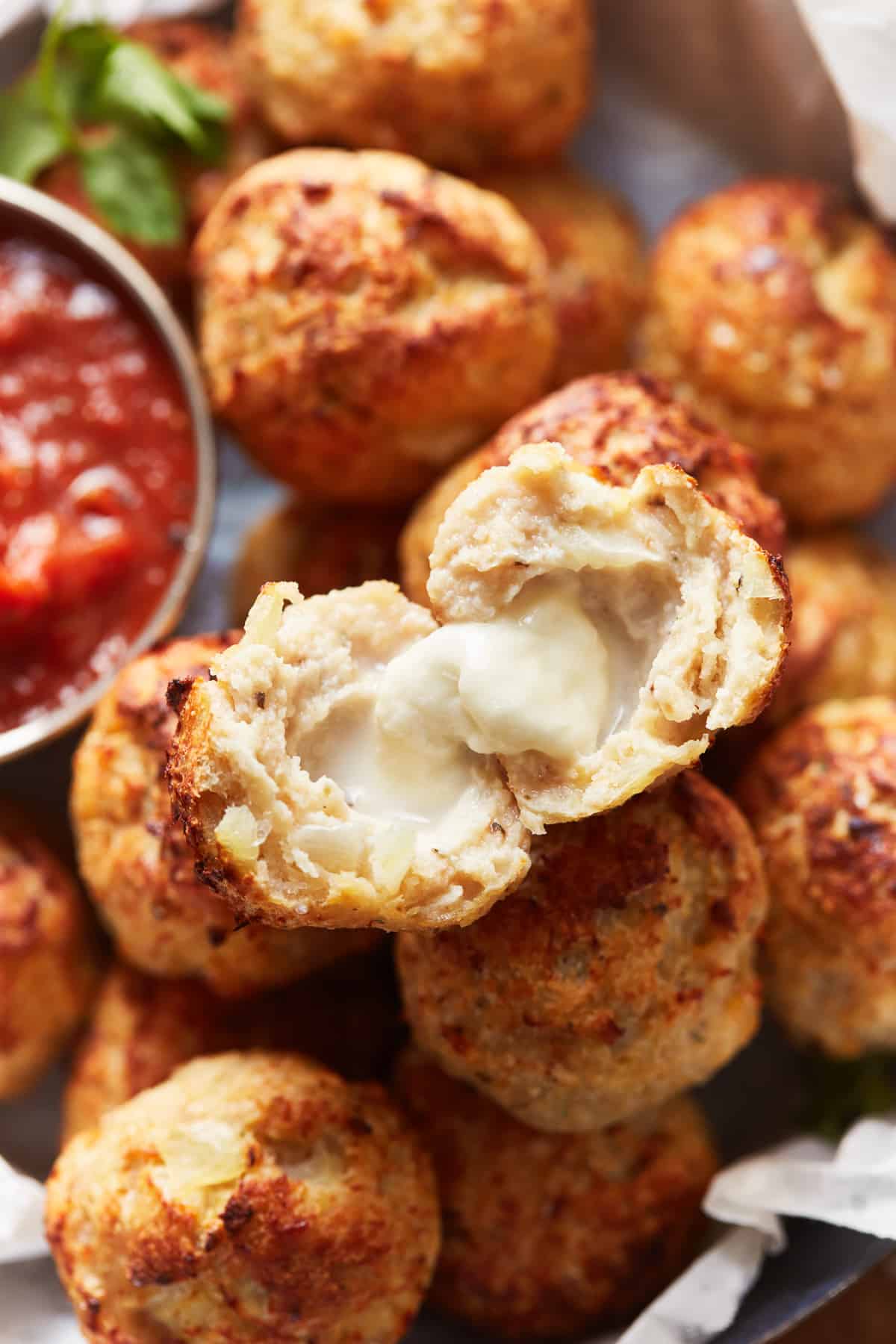 What's in this Baked Turkey Meatballs Recipe?
These cheesy baked turkey meatballs are so delicious and easy to make, I promise that you'll impress with these. Such a fun appetizer to serve on any occasion!
Oil: Olive oil helps prevent the onions from burning. I love the flavor olive oil adds, but you can use avocado, vegetable, or canola oil instead.
Onion: You can use white or yellow onion in this recipe.
Garlic: Garlic combines with the onion to create a classic Italian base of flavors.
Breadcrumbs: Breadcrumbs help to bind these meatballs together. I like classic breadcrumbs, but Italian seasoned or Panko breadcrumbs will also work. If using seasoned breadcrumbs, omit the Herbs de Provence.
Eggs: Eggs also help bind the meatballs together.
Cheese: Parmesan cheese flavors the meatballs, while mini mozzarella balls bake down to create a rich, creamy center!
Seasonings: Salt, pepper, and Herbs de Provence create a delicious flavor profile. You can swap the Herbs de Provence for your favorite herbs.
Half-and-Half: Adding a bit of half-and-half or milk adds moisture to these meatballs to keep them from drying out in the oven.
Ground Turkey: Ground turkey is the base of these meatballs. You can use ground chicken or ground beef if you prefer!
Pro Tip: Use your favorite seasoning blend to change the flavor of these meatballs. Try Italian seasoning, chicken seasoning, taco seasoning, or ranch seasoning.
Variations on Oven Baked Turkey Meatballs
There are tons of ways to change up these stuffed turkey meatballs! You can swap the ground turkey for chicken, pork, beef, or veal for a change of pace. Try swapping the mozzarella balls for herb-marinated mozzarella or cubes of cheddar, Swiss, or Colby jack cheese!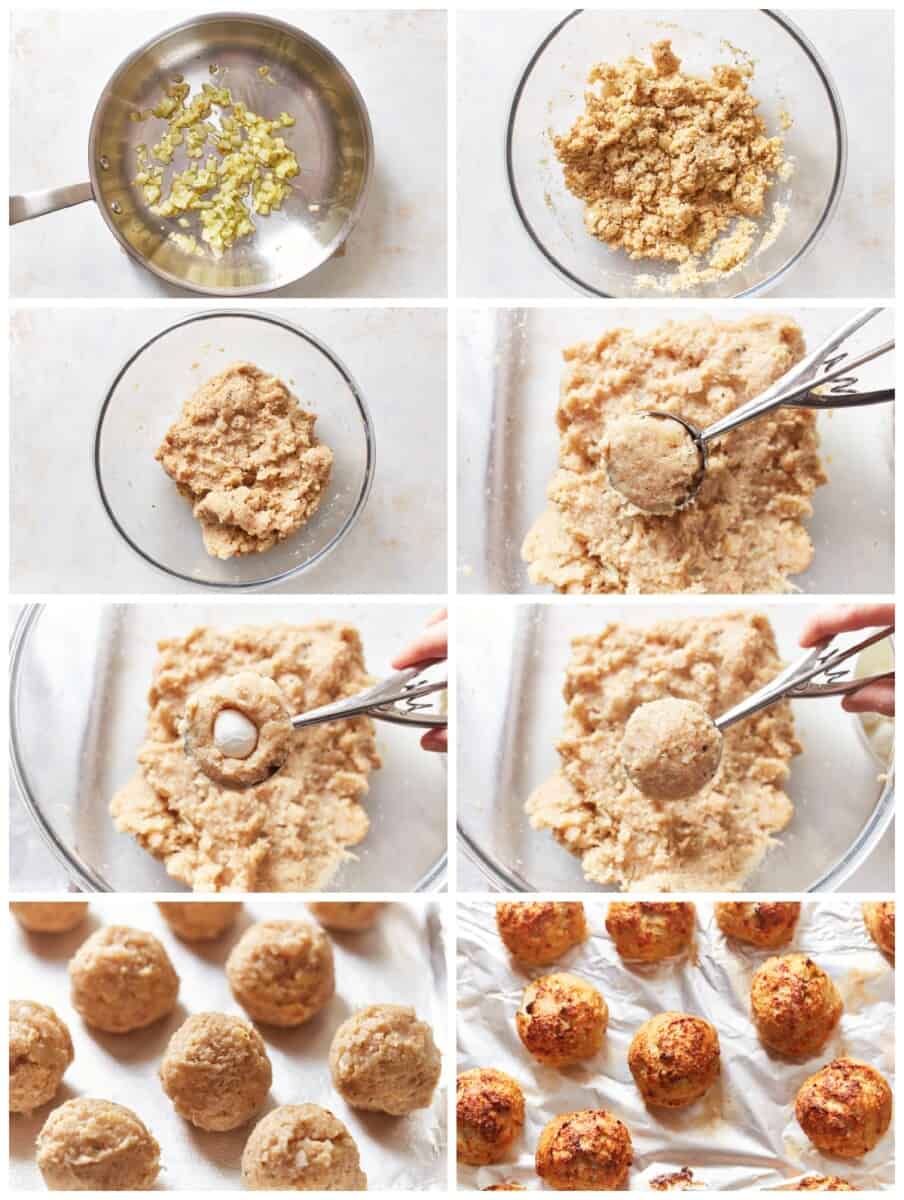 Can you make these with other ground meats?
Yes! These turkey meatballs can be made with any other ground meats. They are great with chicken or pork, or you can of course use a red meat like beef or veal if you prefer.
Can I make these meatballs with a different cheese?
Absolutely! I love mozzarella, but you could use just about any cheese! Colby jack, cheddar, Swiss, American, provolone, fontina, or gruyere cheese all work great.
How long does it take to bake turkey meatballs?
These meatballs take about 20-25 minutes to bake at 375°F!
Can you make them ahead of time?
These cheesy baked turkey meatballs are best served as soon as they are baked so that the mozzarella is nice and gooey. You can roll and fill the meatballs up to 2 days ahead of time and keep them covered in the fridge. Then, just pop them into the oven when you are ready to serve.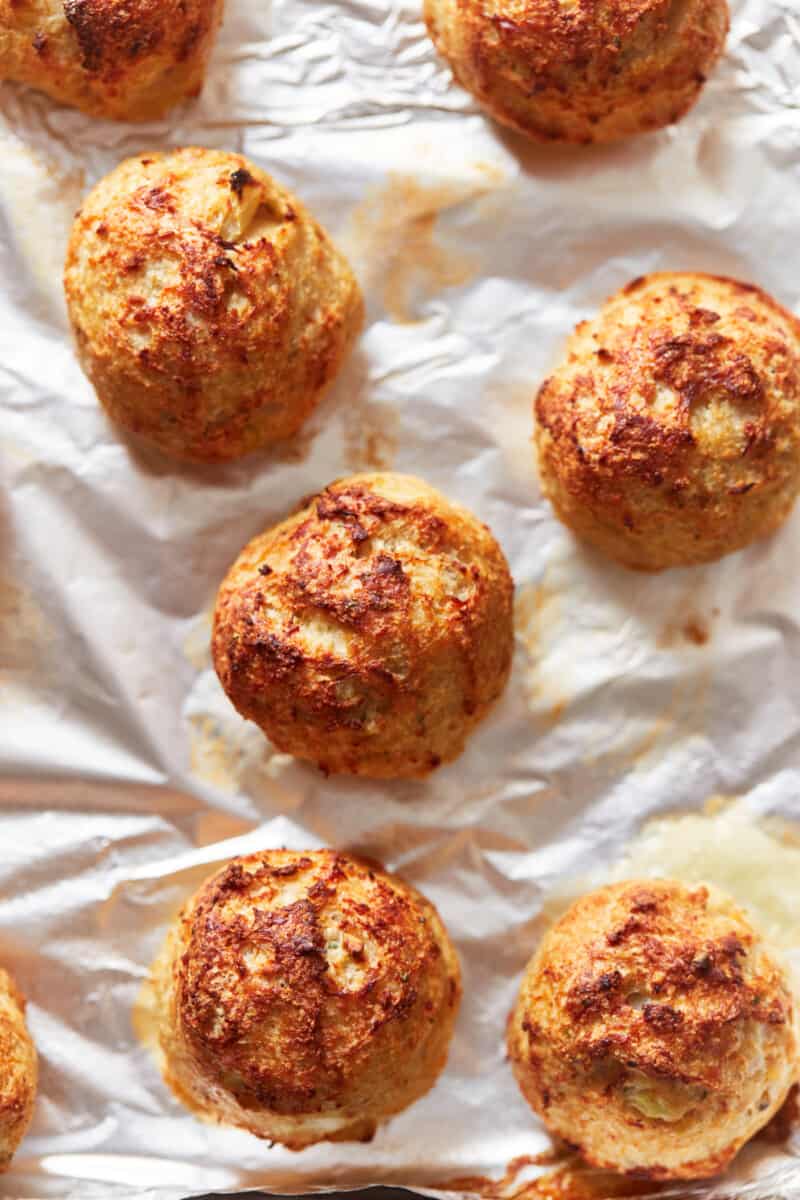 How to Store and Reheat Easy Baked Turkey Meatballs
Store leftover baked turkey meatballs in an airtight container in the refrigerator for up to 3 days. Reheat in a 350°F oven for 10-15 minutes, until warmed through.
How to Freeze Baked Ground Turkey Meatballs
Freeze baked turkey meatballs in a single layer on a lined baking sheet until solid, about 1-2 hours. This will ensure the meatballs do not stick together. Transfer to an airtight container or Ziplock bag to store for up to 3 months. Let thaw overnight in the refrigerator before reheating.
What to Serve with Mozzarella Stuffed Turkey Meatballs
These meatballs are great to serve with a marinara sauce for dipping. The rich tomato flavor works so well with these! They are also great with fry sauce, honey mustard, ranch dressing, Buffalo sauce, balsamic glaze, garlic aioli, or Chick-Fil-A sauce.
For a more filling meal, try serving them atop a hearty caprese farro salad or some instant pot spaghetti.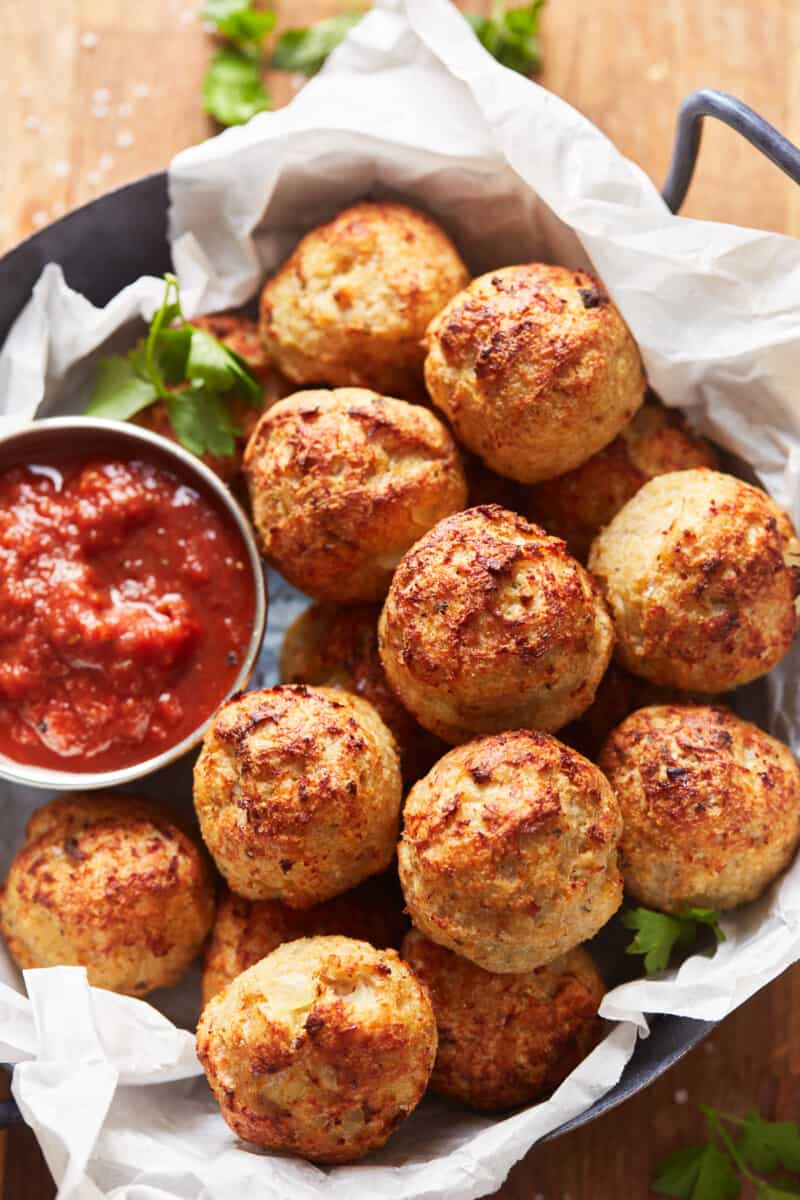 More Meatball Recipes we Love