This Homemade Marinara Sauce is rich, delicious and easy to make! It's so versatile, use it on pasta, pizzas, fish and so much more!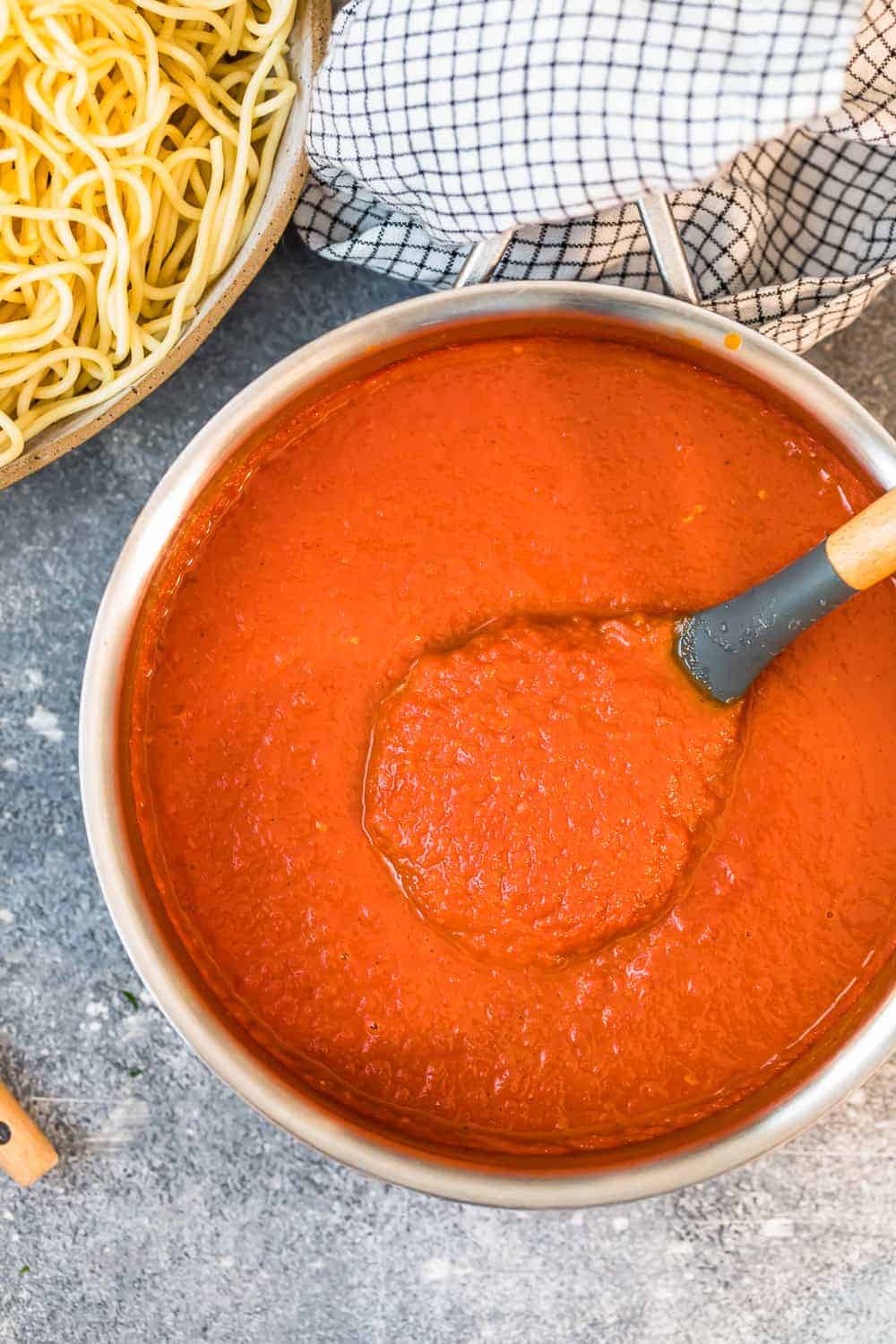 Marinara Sauce Recipe
A handful of ingredients from your pantry, a 45 mins simmer, and this homemade marinara sauce is all yours.
Just throw all your ingredients into the pot, pour yourself a glass of wine and let the magic happen! Great for all kinds of dishes from pasta to sandwiches.
How To Make Marinara Sauce – Step By Step
You can jump to the recipe card for full ingredients & instructions!
Place olive oil, 1-tablespoon butter and onions then garlic in a large saucepan set over medium-low heat.
Crush the tomatoes with a potato masher. Pour all the tomatoes and their juices into the pan with the onion/garlic mixture.
Add bay leaf, basil, 5 tablespoons butter, kosher salt, black pepper and red pepper flakes. Stir well.
Bring sauce to a simmer, reduce heat to low, and cook until sauce has thickened, about 45 minutes. Discard the bay leaves and basil stem. If desired, puree the sauce with a stick blender or in a stand blender.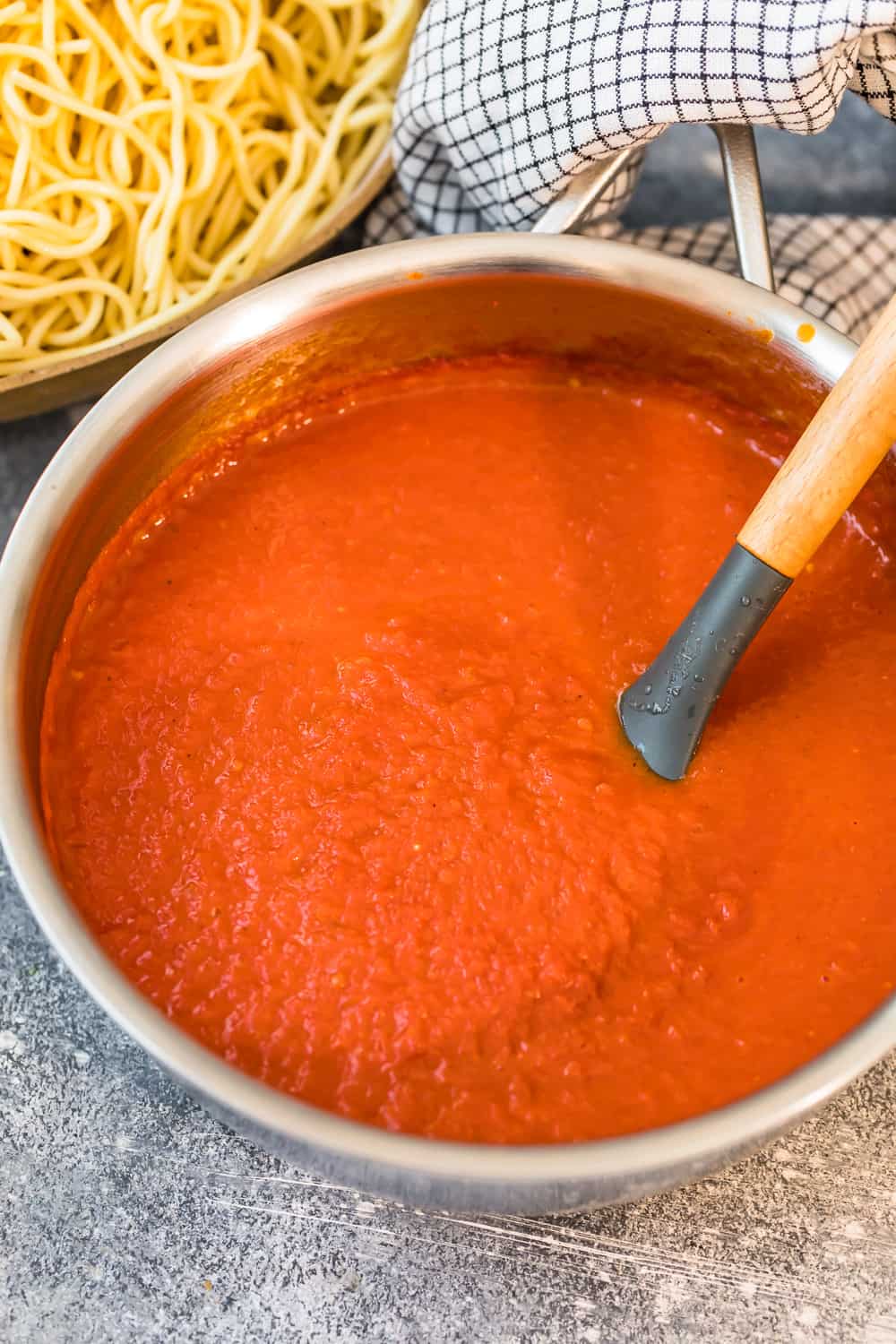 What Is Marinara Sauce?
Marinara Sauce is a simple tomato sauce with very few ingredients. Generally tomatoes, aromatics (onion/garlic) and some seasonings.
It is amazing on pasta, served as a dipping sauce, or perfect replacement for jarred sauces in your recipes (you can use it in place of spaghetti sauce)!
You may be wondering, what is the difference between spaghetti sauce and marinara?
The difference between the two is that marinara is simply tomatoes and seasonings while spaghetti sauce contains more ingredients such as meat or other vegetables.
Can I Freeze Homemade Marinara Sauce?
Yes indeed. Cool sauce to room temperature, and ladle into plastic containers or zip-top freezer bags.
We recommend freezing in 3-cup portions, which is equivalent to 6 servings of sauce, or in 1-cup portions for a smaller household. Store in freezer up to 4 months.
How to Use Marinara Sauce
As I've mentioned, this a super versatile sauce! Use it as a dipping sauce, use it on pasta, use it on sandwiches, or as a sauce for meatballs. It's perfect as a pizza sauce, and adds flavor to all kinds of dishes.
If you want to make a meat sauce, you can use this recipe as a base and then mix in ground beef, Italian sausage or ground turkey (just make sure you brown the first).
What Should I Serve It With?
Cheese tortellini
Spaghetti squash or zucchini noodles
Use as Pizza sauce
Use it as a dip (for garlic bread, breadsticks, garlic knots, etc.).
Meatball sliders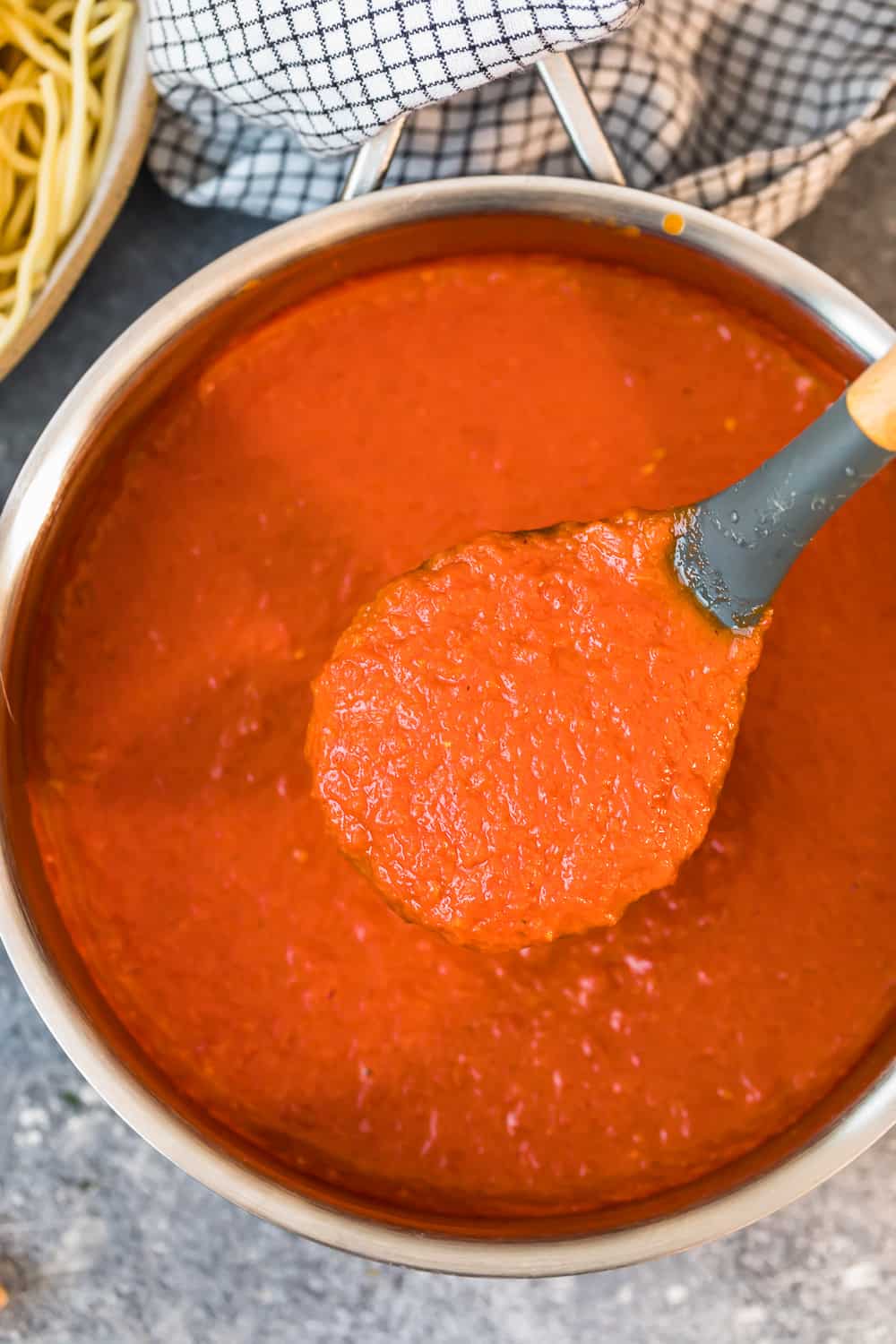 Tips!
For the best flavor, use fresh garlic instead of jarred garlic.
Use San Marzano tomatoes for the best flavor. If you can't find them, canned Cento tomatoes work too.
Fresh basil is highly recommended here. Dried basil has quite a different flavor and it won't be as good.
For more flavor, simmer it with a parmesan rind.
Add red pepper flakes if you like a little heat.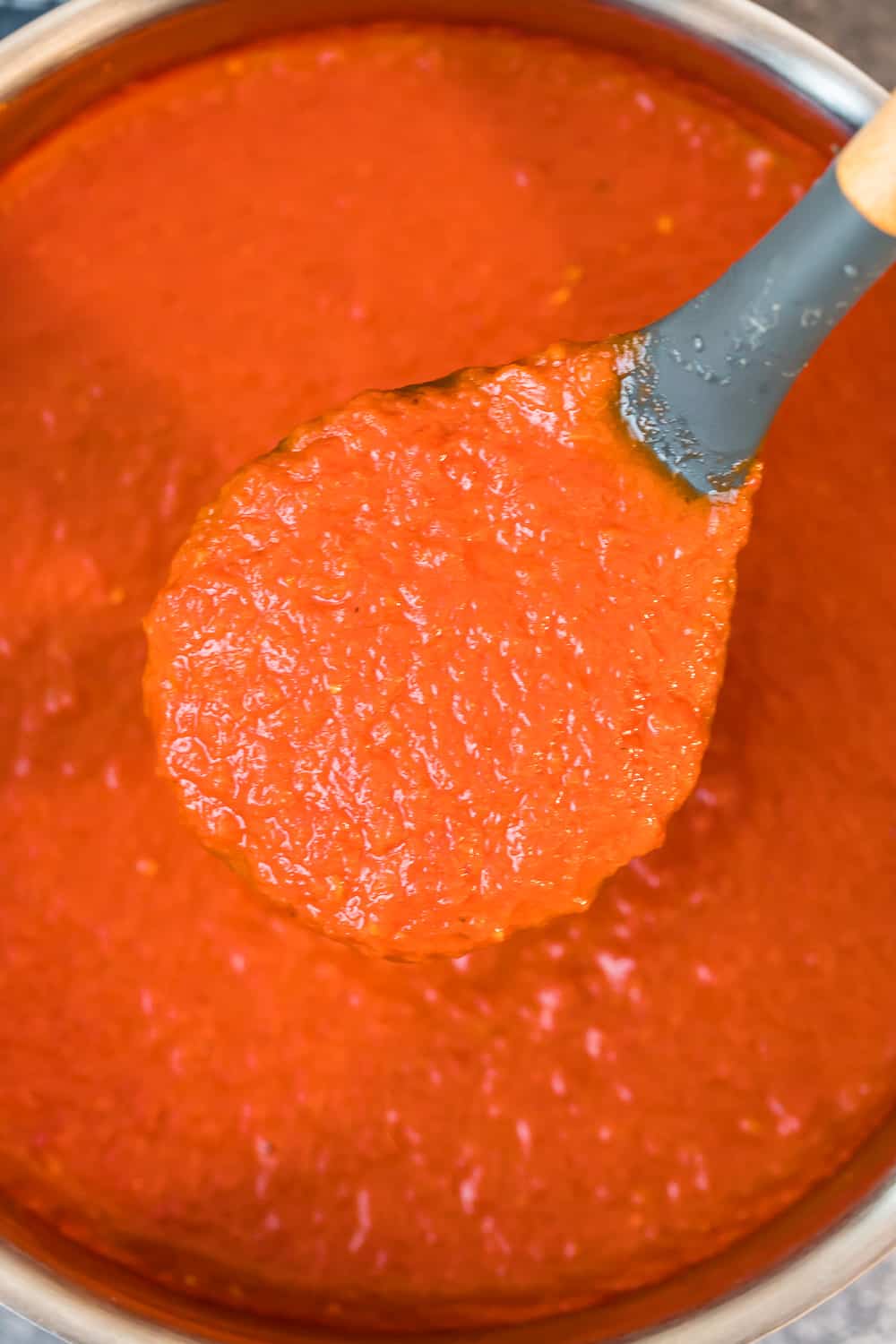 Have you tried this Homemade Marinara Sauce? Have you got a favorite homemade sauce? I'd love to hear from you in the comments below!