This one Pan BLT Skillet Frittata is so easy to whip up for breakfast or brunch. All your favorite BLT flavors in one hearty, wholesome breakfast dish!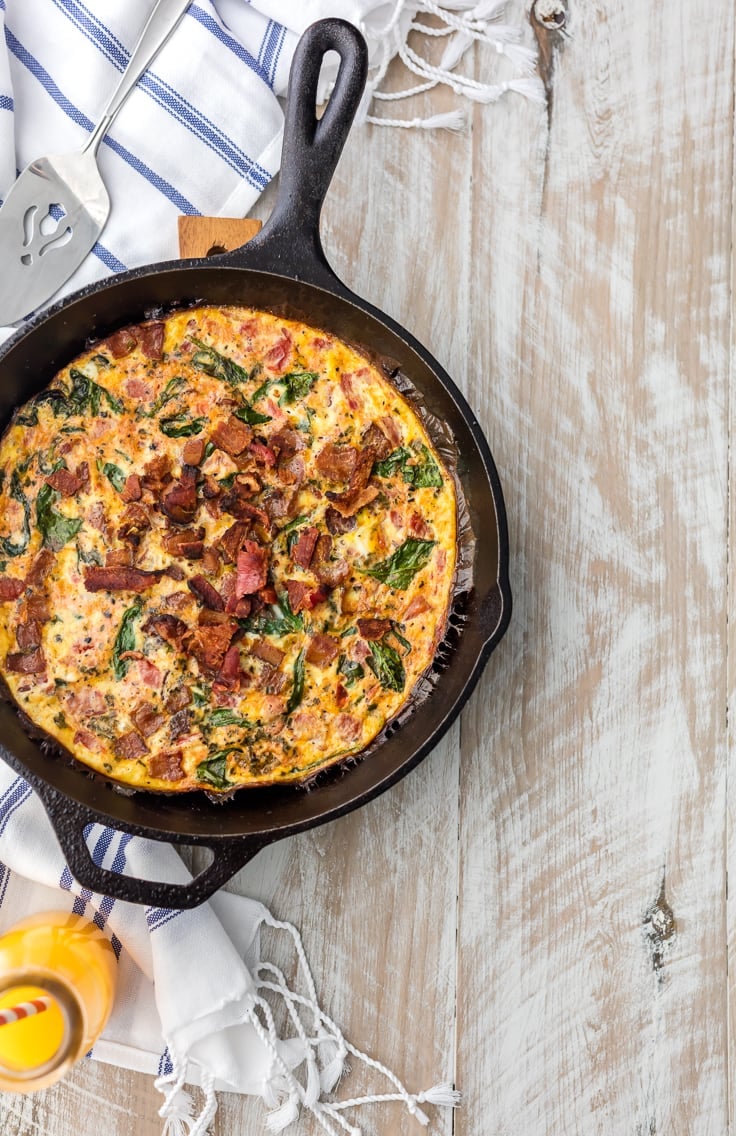 BLT Frittata
This One Pan BLT Skillet Frittata is one of our family's favorite things to make on Christmas morning. But it's not just for holidays; this filling, comforting meal is perfect anytime you need an easy and delicious breakfast or brunch.
Eggs, bacon, spinach, and tomatoes blended together with just the perfect amount of seasonings make this a favorite for all ages!
Be sure to check out my BLT Sandwich Sliders and BLT Pasta Salad too!
Why you will love this recipe!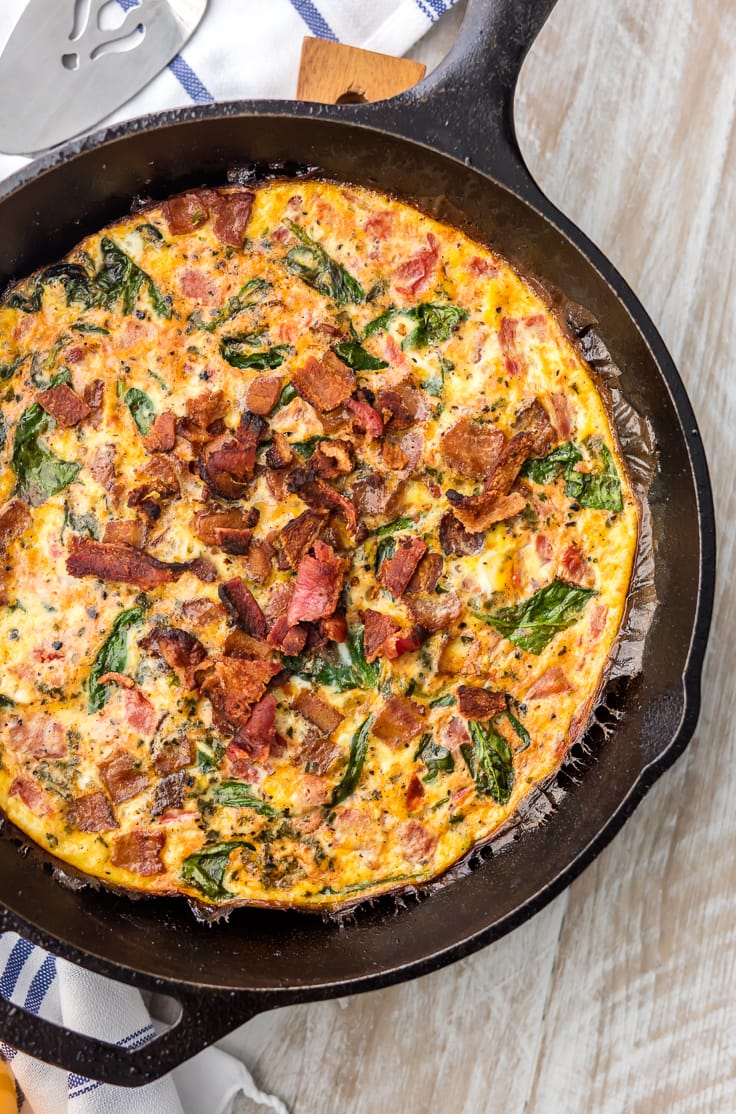 How to make a BLT skillet frittata
Be sure to scroll down for the full recipe!
Whisk together the eggs, milk and seasonings.
Cook the bacon.
Saute the garlic and spinach and stir in the tomatoes.
Pour over the egg mixture and cook til the edges start to set.
Bake in the oven til full cooked through.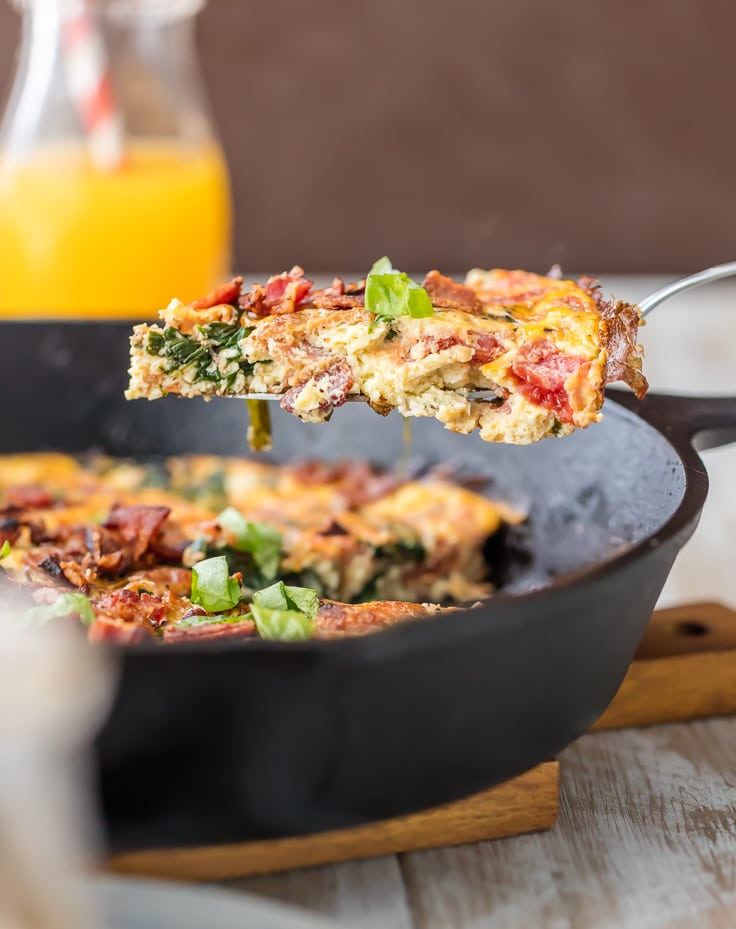 What is the Difference Between an Omelet and a Frittata?
Before getting started in cooking, I had no idea there was a difference between two of my favorite egg dishes. I just knew they both tasted yummy!
Frittatas, like this BLT Skillet Frittata, are cooked in a cast iron skillet or oven-safe skillet. That's because they're started on the stove top, then baked the rest of the way in the oven. Plus, frittata fillings are mixed in with the eggs in the pan.
Omelet fillings are folded in the center and cooked exclusively on the stove. I love frittatas because there's no flipping involved! Super easy and oh so delicious!
Is this a healthy recipe?
Depending on what you put in your frittata, this is an extremely healthy and wholesome dish! Eggs provide lots of protein and you can throw in as many fresh or frozen veggies you like. Since this is a BLT frittata, I love adding plenty of good bacon, lettuce (or in this case, vitamin-rich spinach leaves) and fresh, plump tomatoes.
How long does it keep?
What's better than a frittata? A leftover frittata! These are so great for weekly meal prep! Once cooled, store in an airtight container in the fridge and it will keep well for up to four days. You can enjoy it cold, or warm it in the oven at 350F for 10 minutes.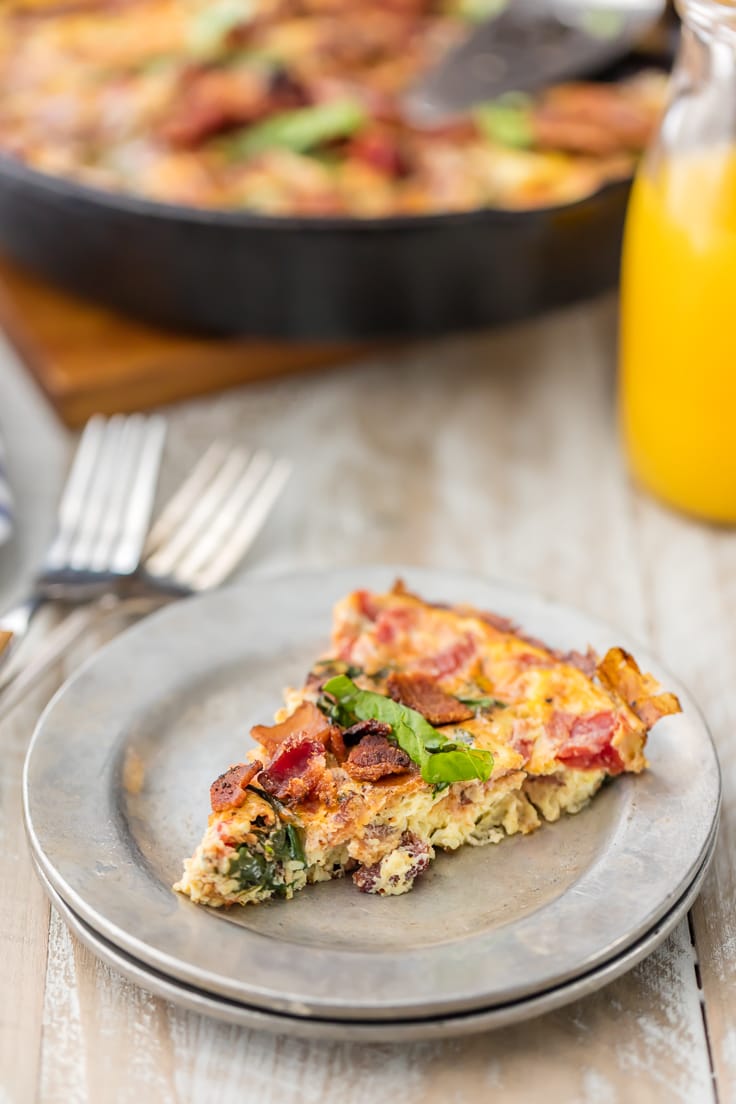 Recipe Notes and Tips
Use an oven safe skillet for this recipe. I like to use cast iron.
Move the skillet into the oven once the edges are just starting to set. It's ready to serve once all of the egg is solid.
Serve by itself for a yummy breakfast, or with a fresh side salad for lunch or brunch.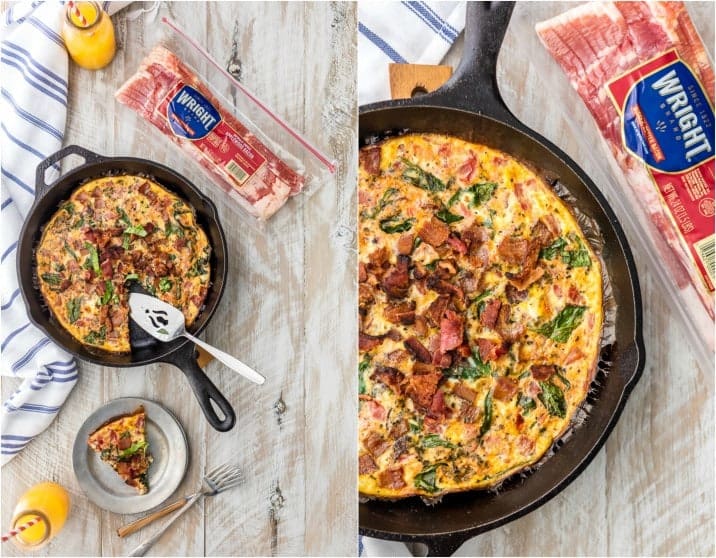 This BLT frittata recipe is so near and dear to my heart. We love making it on Christmas morning, but it's satisfying and delicious any old morning of the year too! I hope you love every glorious mouthful!
More Breakfast Recipes