One Pan BLT Skillet Frittata is the perfect EASY RECIPE for breakfast or brunch!
Thank you Wright Brand Bacon for sponsoring this Christmas Morning recipe! Thank you readers, as always, for supporting the brands that help support The Cookie Rookie. All opinions are 100% my own.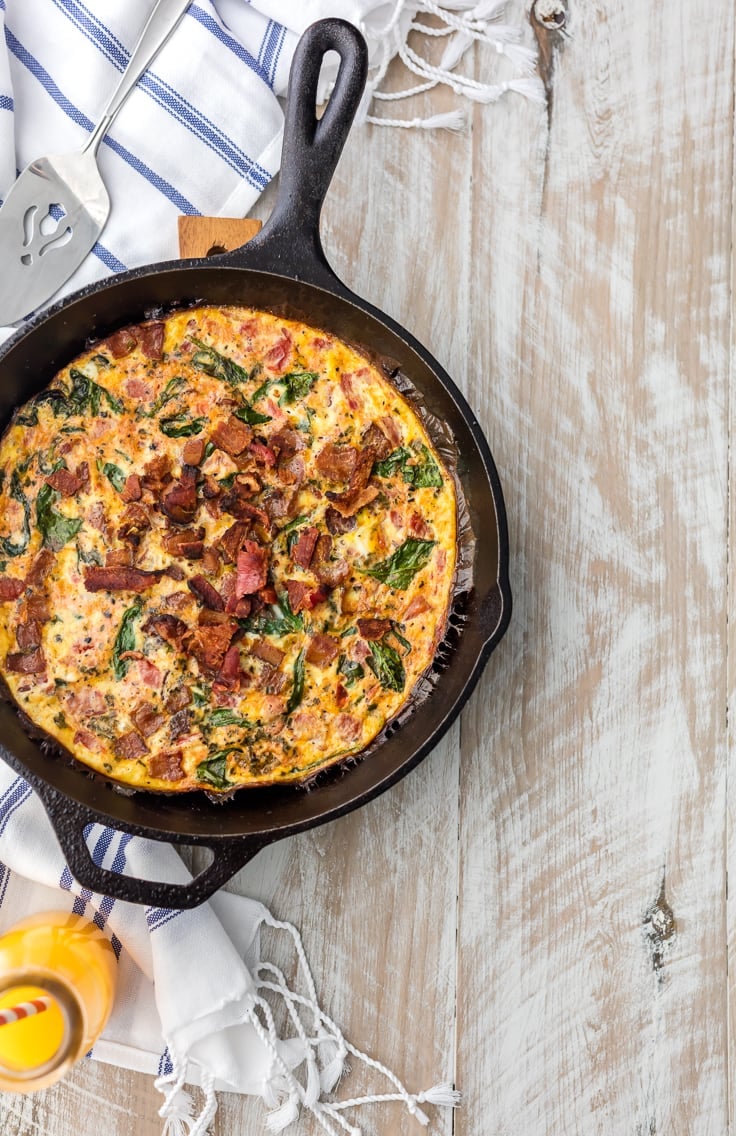 I don't know about you, but Christmas morning is most likely my very favorite morning of the year. For us, it's always spent with family. The gifts are usually the last important thing on a long list of blessings of the day. Time with friends and family, playing outside (hopefully in the snow!), blaring the Christmas music (it's the one day of the year I allow my mom license to do this), and of course, amazing food. This One Pan BLT Skillet Frittata is absolutely perfect for Christmas morning or for any morning you need an easy, delicious, completely comforting breakfast or brunch!
Growing up, my mom always knocked it out of the park with Christmas morning breakfast. I can still remember the sights and sounds of waking up super early, bed head rocking', hearing my dad's "Everyone who thinks Mom made a great meal hold up your hand!", and the laughter that surrounds Christmas. This BLT Skillet Frittata makes me think of those times. I love that it's full of flavor, healthy(er), and also super simple. No egg flipping required here! Just set it, bake it, and enjoy it. My kind of breakfast indeed!
One VERY important ingredient that makes this Frittata feel like home is Wright Brand Bacon. You know the kind. The super thick, super juicy strips of bacon that immediately make you think of childhood. The smell wafting up to your bedroom as you anxiously wait the green light to come down and open presents. Wright Brand Bacon has always been a favorite and is the perfect complement to this BLT Skillet Frittata. I mean, just look at that thick cut deliciousness! Wright Brand Bacon believes in doing things the WRIGHT way. Not cutting corners. Hand selected, hand trimmed, hand smoked. Just like we want to make our families happy with what we prepare!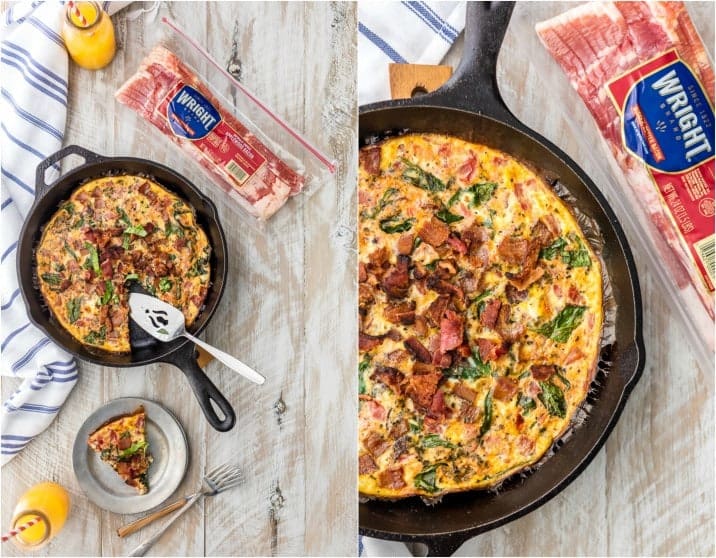 What are your favorite traditions for the holidays? I would LOVE to hear about your favorite BACON inspired recipes for the holidays! This is the first year Pat and I will be just the two of us on the big day, and I want to impress him. This BLT Skillet Frittata will be making an appearance, and I would love to add some of your favorites as well! Are there any bacon-themed favorites that are MUST MAKES around your family table??
Please click HERE to find out more about Wright Brand Bacon, where you can buy, and to see more mouth watering recipes.
Enjoy your One Pan BLT Skillet Frittata & Happy Holidays!!