This BLT Pasta Salad Recipe is loaded with juicy tomatoes, crispy bacon, fresh lettuce, and tiny toasted croutons. BLT Pasta Salad is tossed in a flavored mayonnaise dressing and is the ultimate EASY Pasta Salad Recipe! BBQs, parties, and holiday celebrations like the 4th of July NEED this amazing side dish.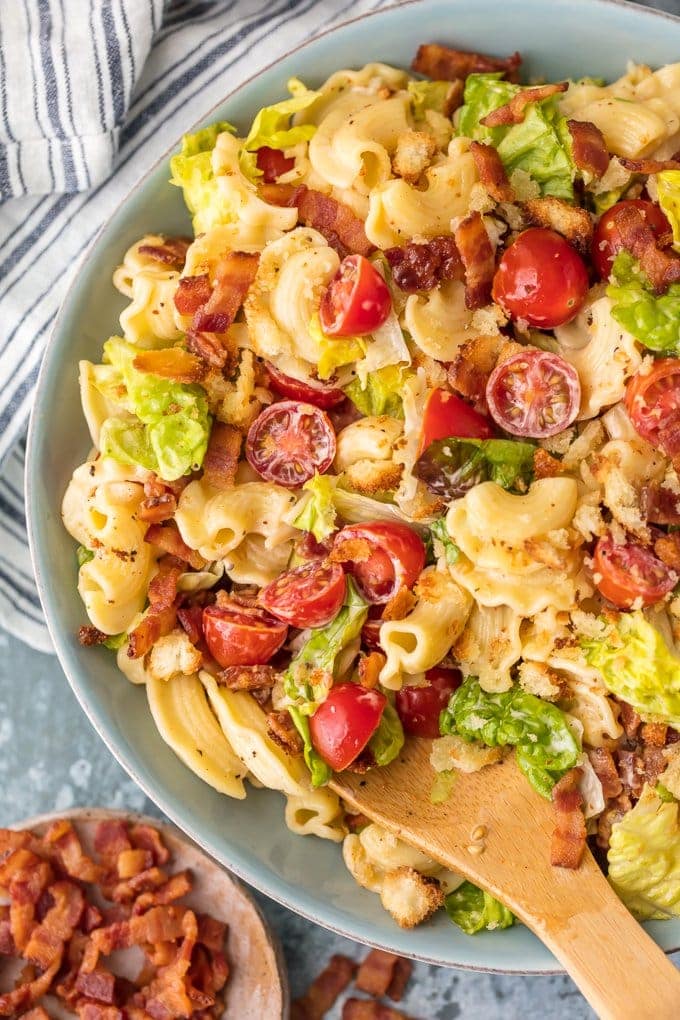 BLT Pasta Salad Recipe
This BLT Pasta Salad Recipe has me so dang excited for Summer! Bring on all the BBQs, tailgates, holiday parties, and most importantly WARM WEATHER. I'm so over cold and chilly St. Louis, and this Pasta Salad is helping me look forward so sunnier days. Loaded with bacon, lettuce, and tomatoes just like your favorite BLT Sandwich…it even has toasted bread bites and is tossed in a mayo vinaigrette. OBSESSED!
We have made several BLT Recipes in the past, like our BLT Chicken Skillet, BLT Frittata, Ultimate Breakfast BLT, and Mini BLT Sandwich Sliders, but this BLT Pasta Salad Recipe has my heart. It just tastes like Summer in a bowl. We are always on the hunt for Cold Pasta Salad Recipes and this is our favorite.
If you're looking for the perfect Summer Side dish recipe, look no further. This BLT Pasta Salad is perfection!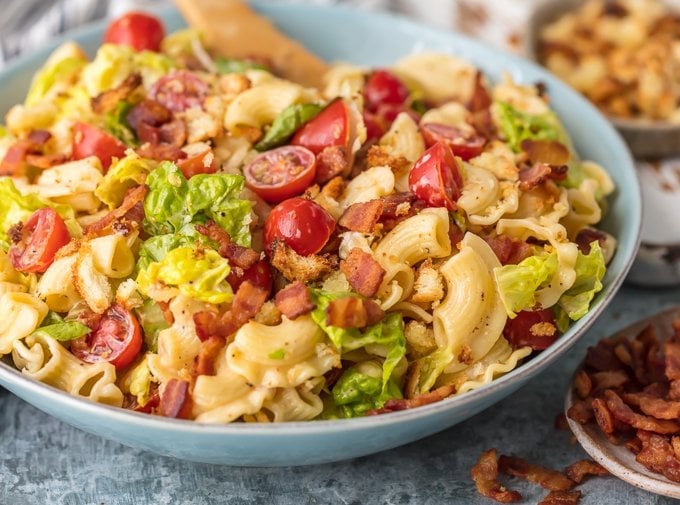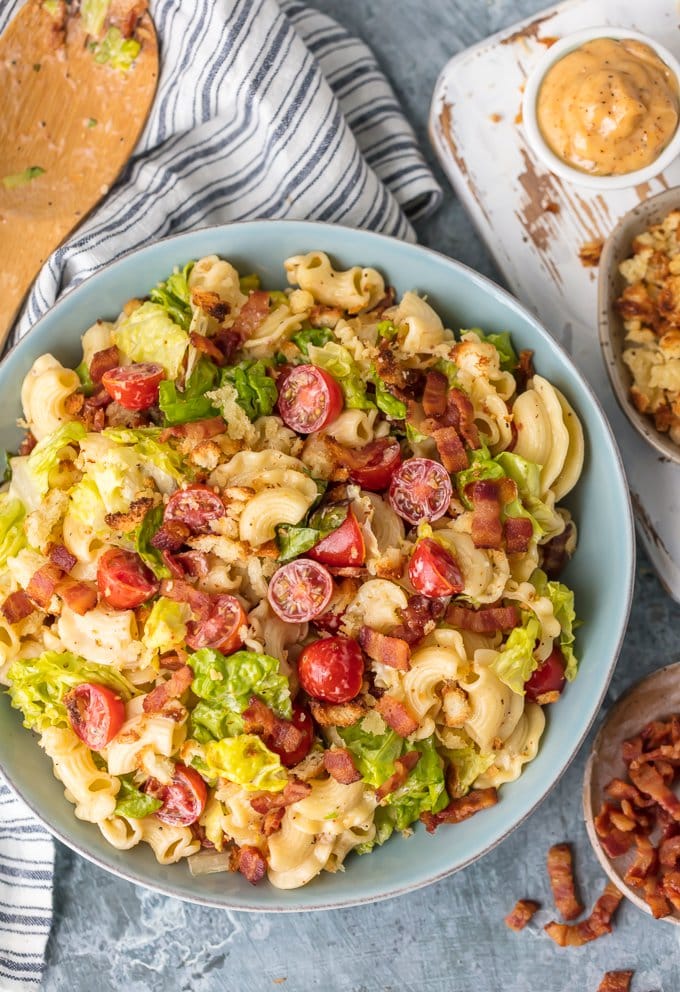 Tips for making BLT Pasta Salad:
Use a pasta with some nooks and crannies: We chose to use a medium flared Elbow Macaroni, but varieties such as Farfalle and Rotini also work well. You want a noodle that will soak up all of this mayo, spices, and general goodness.
Serve in a chilled bowl: Pasta Salad is great on a hot day, but hot pasta salad is gross gross gross. Serving in a chilled bowl helps keep your party contribution fresh longer, even on a balmy Summer day.
Always use fresh ingredients: I'm all for recipe hacks, but I better not catch you using anything but freshly crumbled (CRISP AND PERFECT) bacon in this recipe. NO Bacon Bits or pre-made bacon crumbles here PLEASE. It makes all the difference. Pinky promise? We have a tutorial how How to Cook Bacon Crumbles if you need a refresh.
Splurge on calories and use REAL Mayonnaise: I know, I know…Summer bodies are upon us. But this recipe simply isn't the same with an ingredient like Miracle Whip. No shade, this recipe was just meant for real mayo. So you can diet the following day, but not when eating this BLT Pasta Salad Recipe!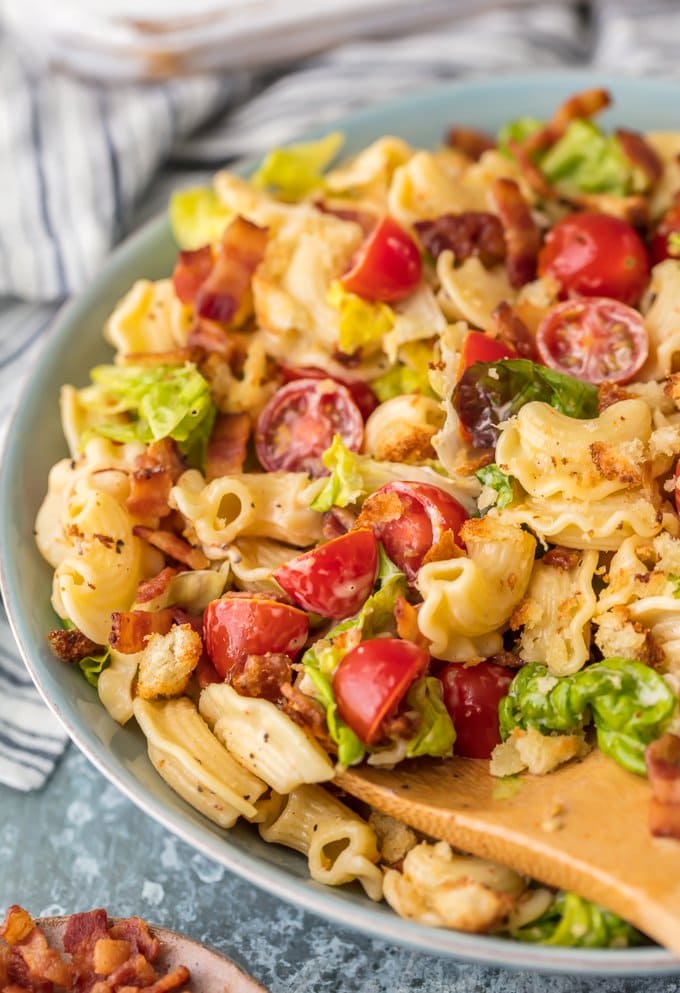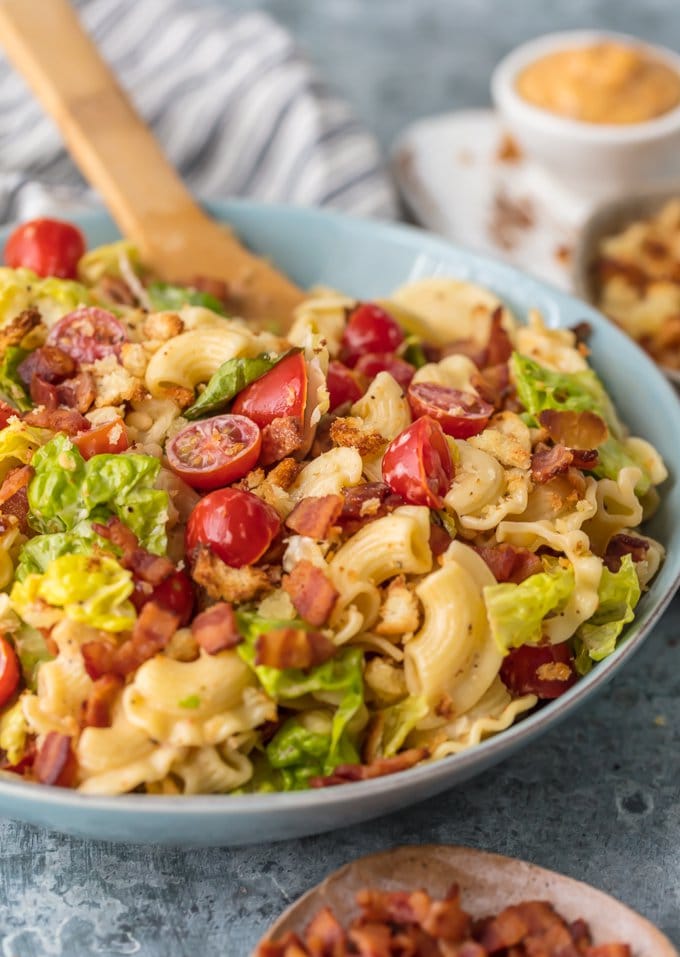 How long does Pasta Salad last in the fridge?
It's important to know how long your favorite Summer Side Dish recipes last in the fridge. This is a recipe that you can make ahead, but not far in advance because you don't want everything to get soggy. If making head, toss in the lettuce and tomatoes right before serving.
Potato Salad – Lasts for 3-5 Days in fridge
Macaroni Salad – Lasts for 3-5 Days in fridge
Pasta Salad (without mayo) – Lasts for 5-7 days in fridge
Pasta Salad (with mayo) – Lasts for 2-3 days in fridge
Fresh Fruit Salad – Lasts for 3-5 days in fridge
Where did the BLT come from?
Studies suggest that the BLT Sandwich originated back in late Victorian Age Tea Sandwiches! The Romans also knew about this amazing flavor combination and loved it. There's just something magical about bacon, lettuce, and tomatoes. Something that has been around for so long and loved by so many people must be amazing!
What are some other favorite potato salad and pasta salad recipes?
We have made several recipes that I hope you'll try! Our Buffalo Chicken Pasta Salad, Pesto Pasta Salad, Chicken Enchilada Pasta Salad, Loaded Baked Potato Salad, Strawberry Avocado Pasta Salad, and Instant Pot Potato Salad are all just perfect as Summer rolls in!
What do you recommend serving with this BLT Pasta Salad Recipe?
Ah, Summer BBQs. There are so many great options! We love our Chicken Burgers, Stovetop Burgers, Grilled Caprese Stuffed Chicken, Fajita Chicken Kebabs, and Grilled Tequila Lime Chicken! It's also the perfect side to a grilled hot dog!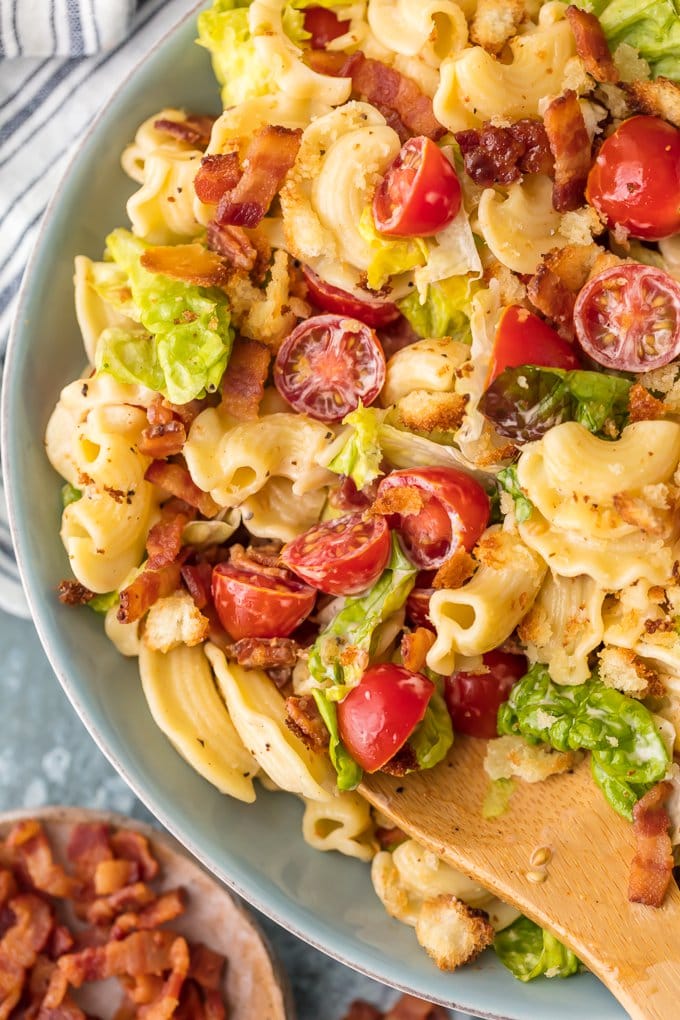 Summer is here and Memorial Day, Fourth of July, and Labor Day will be here before we know it. It's time to find the BEST recipes for serving a crowd. We think this creative EASY Pasta Salad Recipe is just perfect for entertaining. We love it as a side dish, or even a fun and quick dinner in a pinch. As the weather gets hot, I crave a cold pasta salad recipe!
Be sure to see all of our favorite Pasta Salad Recipes as well as our go-to Summer Recipes before planning your next BBQ.
Watch the video or see the recipe card below for details on How to Make BLT Pasta Salad. Enjoy!