Breakfast Pizza is one of my family's favorite breakfast recipes! From the crescent roll crust to the eggs and cheese and everything in between, this pizza is filling and so tasty. Plus this pizza is made in a sheet pan, so it's super easy to make!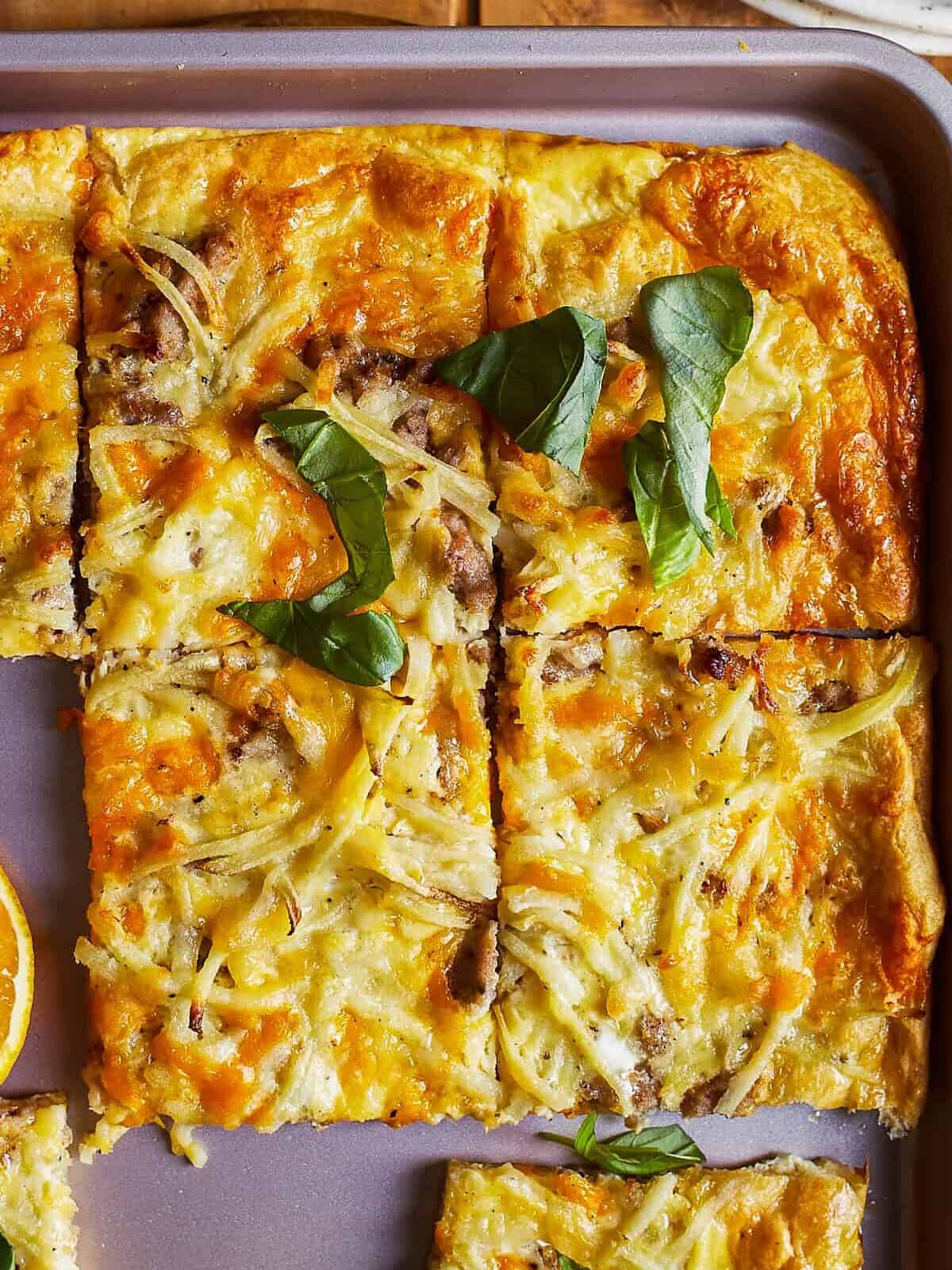 What's in this Breakfast Pizza Recipe?
This Breakfast Pizza Recipe is so easy! Using a sheet pan makes the whole process simple, clean and it makes a huge batch so you can feed a crowd.
Crescent Roll Dough: An easy hack to create a rich, buttery crust that goes perfectly with the breakfast flavor of this pizza. You can use homemade crescent roll dough if you prefer.
Breakfast Sausage: Adds a rich salty, sweet, and umami flavor. You can use mild, hot, or maple-flavored sausage. I recommend Jimmy Dean brand.
Frozen Hashbrowns: Add delicious breakfast potato flavor to the pizza. Make sure to fully thaw them before using.
Cheese: I like Mexican cheese, but cheddar, Swiss, or American would all be delicious! And don't forget to add some Parmesan to the eggs!
Eggs: Help bind the pizza toppings to the crust and create that breakfast casserole-like flavor.
Milk: Adds moisture to the eggs and helps them cook up fluffy.
Salt + Pepper: Enhances the natural flavor of the eggs.
Pro Tip: Be sure to grease your sheet pan so that the pizza is easy to remove once it is baked.
Crescent Roll Breakfast Pizza Topping Ideas
There are so many ways to customize this pizza to suit your individual tastes. Try:
Meat Lovers: Swap the hashbrowns for crumbled bacon and diced ham.
Veggie Lovers: Swap the sausage for spinach, onions, mushrooms, and peppers.
Ham & Cheese: Swap out the sausage for diced ham and use Swiss cheese.
Southwest: Spread a layer of refried beans over the pizza crust and top it with seasoned ground beef, diced tomatoes, onions, jalapeños, and Mexican cheese. Garnish with avocado, sour cream, and cilantro.
Smoked Salmon: Spread a thin layer of cream cheese over the pizza crust. Top it with smoked salmon, thinly sliced red onions, and capers. Finish with a sprinkle of fresh dill.
Greek: Spread a layer of tzatziki sauce or hummus over the pizza crust. Top with diced cucumbers, cherry tomatoes, Kalamata olives, and crumbled feta cheese. Sprinkle with oregano.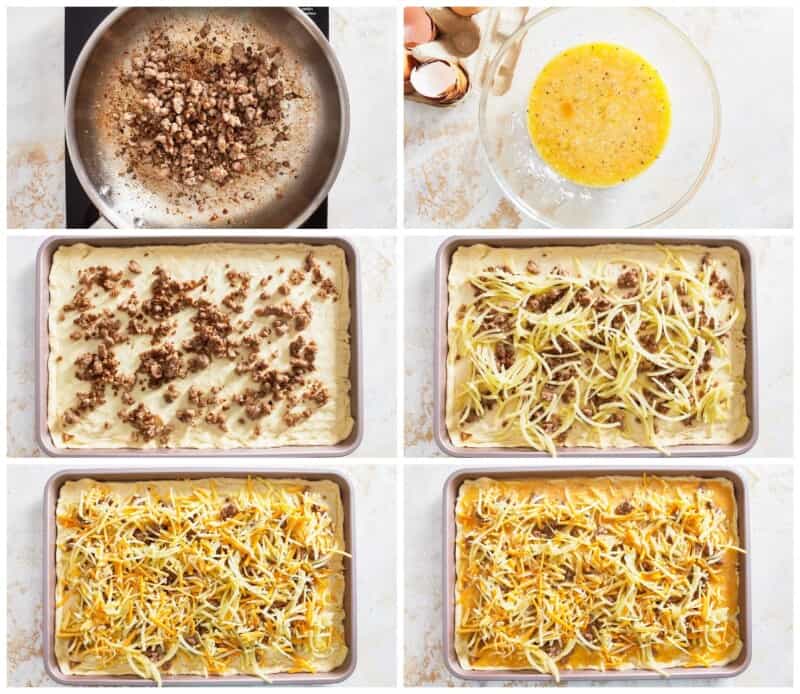 What is the difference between breakfast pizza and regular pizza?
The main difference is in the toppings. Breakfast pizza utilizes toppings that you'd find at the breakfast table. In this sheet pan version, we also opted to swap traditional pizza dough for crescent dough to bring even more breakfast flavor!
Is breakfast pizza healthy?
That depends on the toppings! You can keep breakfast pizza pretty healthy if you're careful with the add-ons, or you can let things be carefree and fun by adding everything your heart desires. Breakfast is the most important meal of the day, so never skip it!
How many calories are in a piece of breakfast pizza?
It varies based on the toppings chosen, but this version has just over 400 calories per serving.
Can you use regular pizza dough for the base?
This breakfast sheet pan pizza is made with a crescent dough base so that it's nice and light. You can easily turn this into a more classic pizza by using pizza dough if you prefer.
Can you make it ahead of time?
If you like, you can build the pizza the night before and keep it covered in the fridge until you are ready to bake it.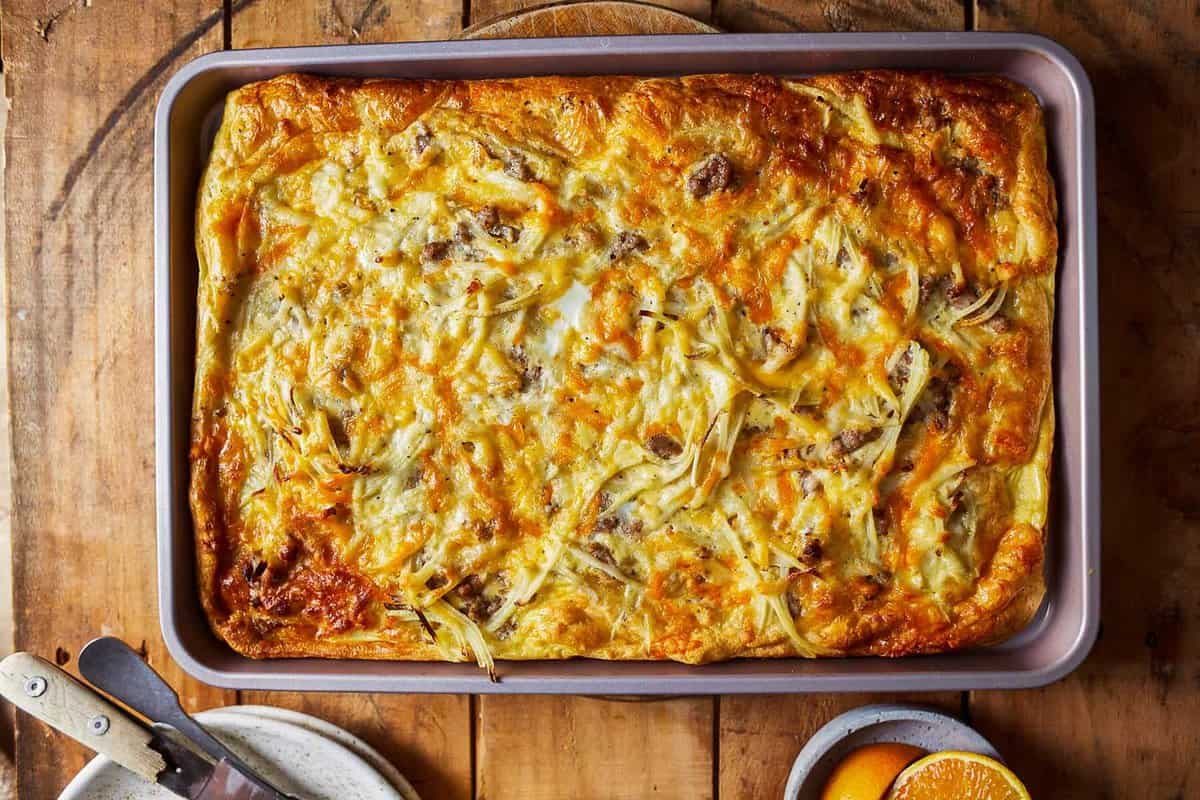 How to Store and Reheat
Breakfast pizza is best enjoyed as soon as it's cooked, but leftovers will keep for 2-3 days in the refrigerator and can be reheated in the oven at 400°F until warmed through.
How to Freeze
Freeze breakfast pizza whole or cut into individual slices tightly wrapped in 2 layers of plastic wrap and 1 layer of aluminum foil for up to 3 months. Reheat directly from frozen, adding a few extra minutes to the bake time.
Serving Suggestions
This breakfast pizza is a pretty complete meal. I suggest serving it with a side of fruit and cream cheese dip or a strawberry mango smoothie.
If you're in the mood for a cocktail with breakfast, check out Sherbet Mimosas, Champagne Sangria, Pitcher Mojitos, or Peach Frose.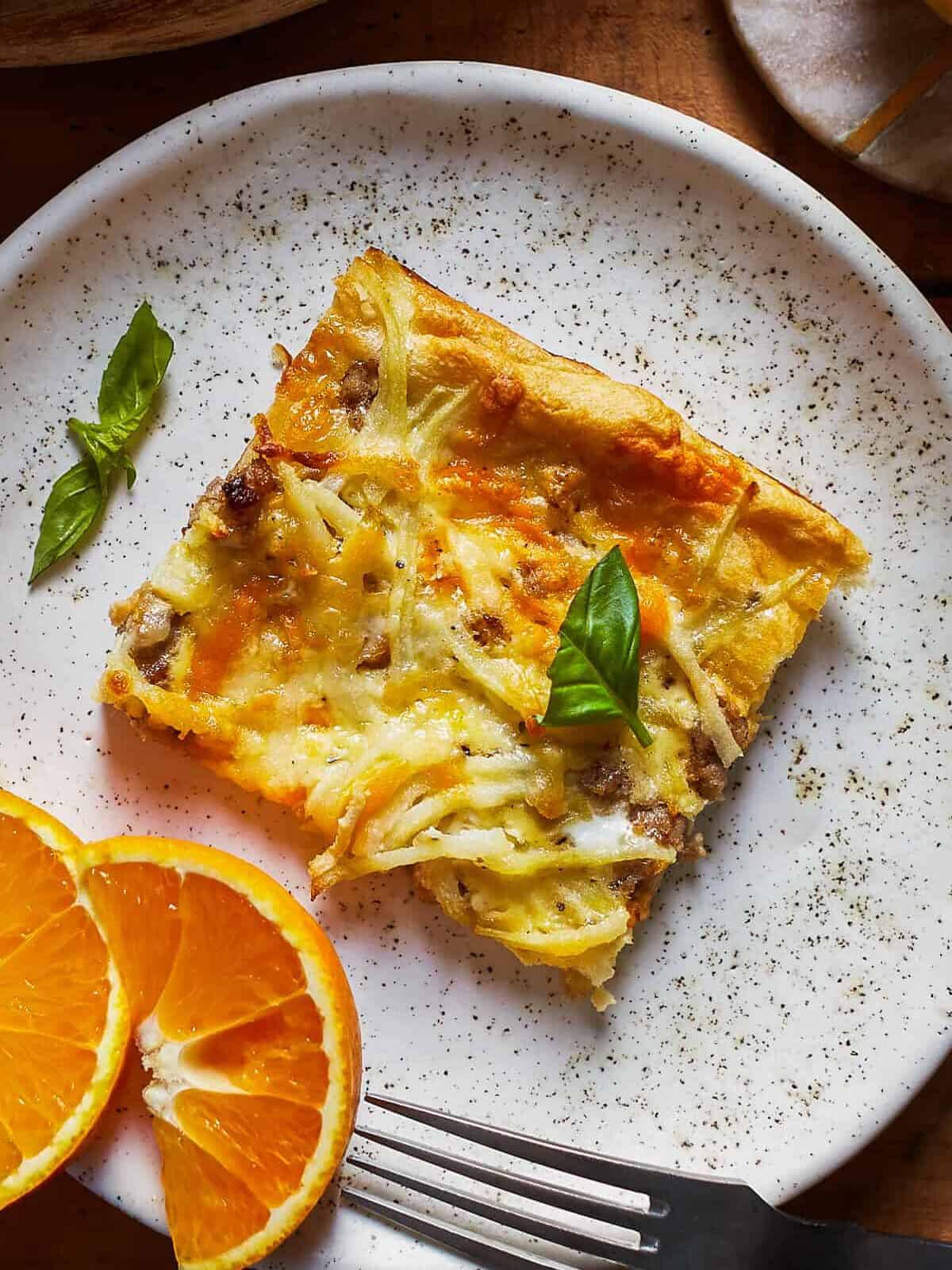 5-Star Review
"This is amazing! I teach High School Foods class and my students made this in class. We used 1lb of sausage and the crescent roll sheets. Taste is superb!" – Lisa
More Pizza Recipes We Love