Quiche Lorraine is a delicious, savory dish made of eggs, cream, cheese, and bacon inside of a pastry crust. It's the perfect brunch food, best served with a side of greens, vegetables, or fruit. Make this easy Quiche Lorraine recipe for breakfast, lunch, or even for parties. The texture of the egg filling is absolutely perfect, and I can't get enough of this flavorful dish!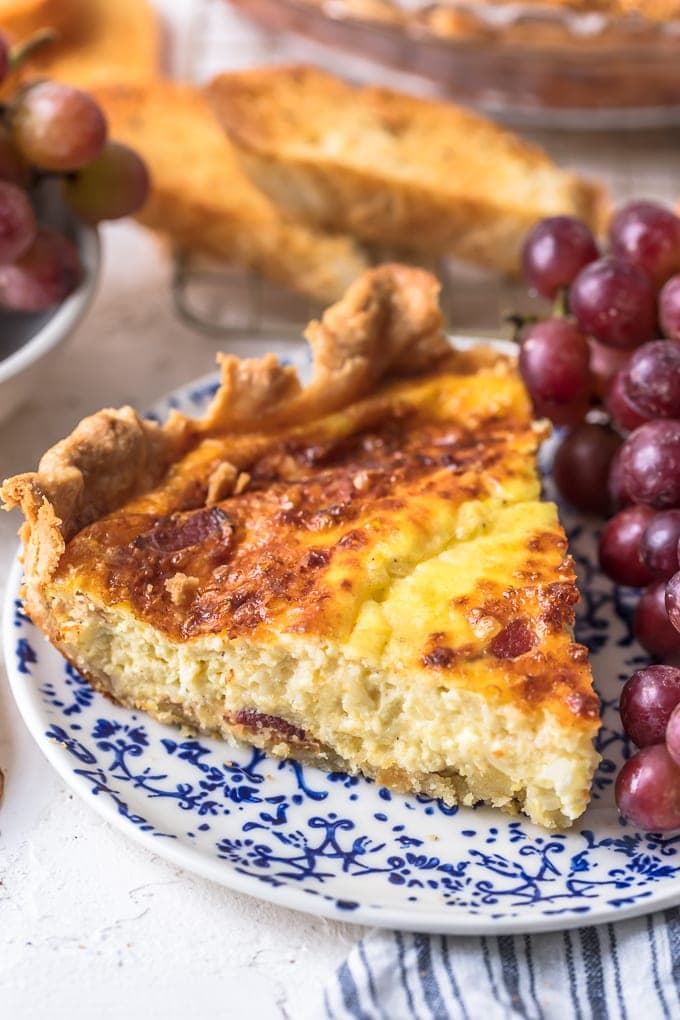 Quiche Lorraine Recipe
Quiche Lorraine is the best brunch food you could ask for. It's savory, it's egg-y. and it's cheesy. It's so good, you could eat it any time of day!
This Quiche Lorraine recipe is filled with eggs, lots of cheese, and tasty bits of bacon, all cooked into a flaky pie crust. It's breakfast in a pie, and it's too good to resist.
This French-inspired dish is the perfect savory breakfast recipe. I don't always want to fill up on sugar first thing in the morning (only sometimes), so I love having recipes like this for days when I want something hearty and flavorful. It also makes a great lunch with a nice side salad to add in some greens. And of course it fits in perfectly for Mother's Day brunch, Christmas brunch, or Easter Brunch!
This easy quiche recipe can be made ahead of time, or easily refrigerated if you have leftovers! You can serve it hot or cold, so make it the night before and have a tasty breakfast ready to go in the morning.
This Quiche Lorraine recipe is the perfect brunch or breakfast dish. It's savory, cheesy, and incredibly delicious!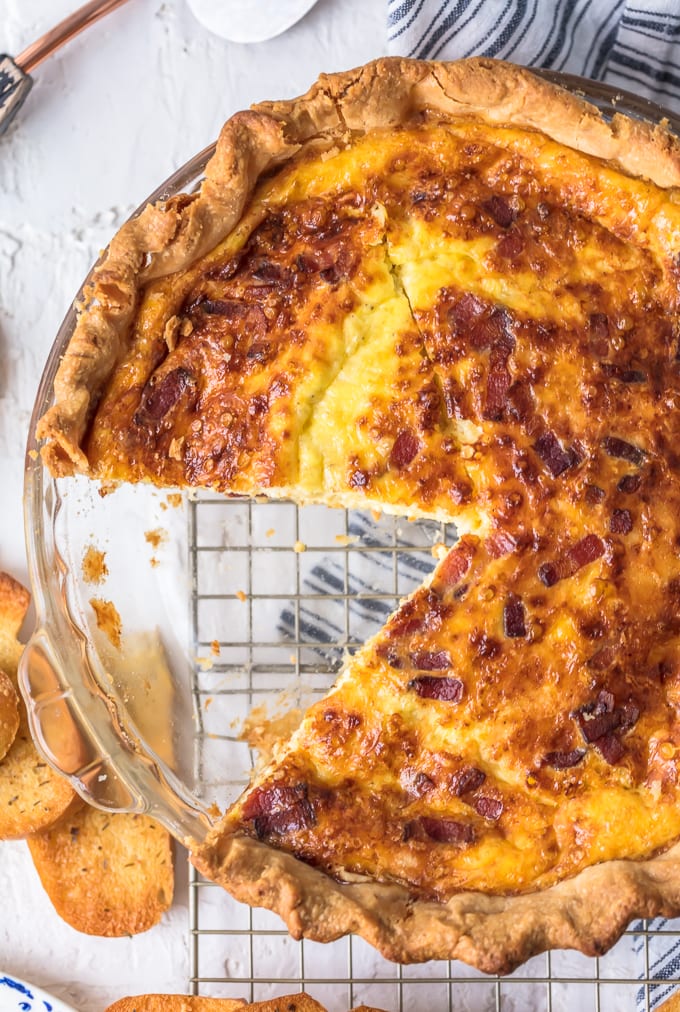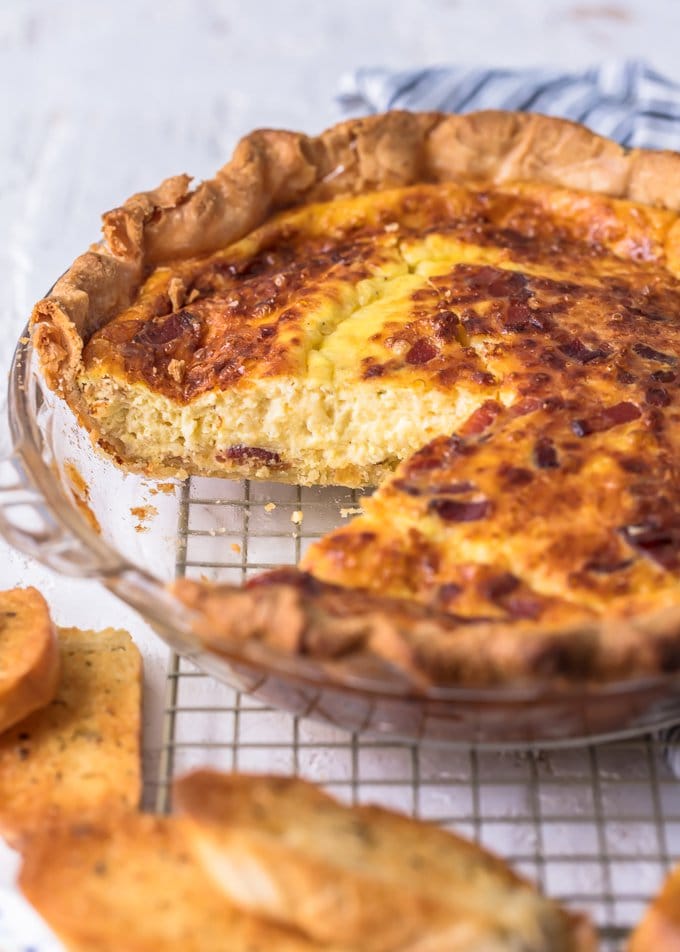 What is Quiche Lorraine?
Quiche is a dish made up of pastry crust, with a filling made of eggs, milk or cream, and other ingredients like cheese, vegetables, meat, etc. It's a savory dish that is perfect for breakfast, lunch, or parties. You can make any kind of filling you want (spinach, tomatoes, & mushrooms are popular ingredients), but today we are making Quiche Lorraine.
Quiche Lorraine typically consists of bacon and Swiss cheese, which is what we're making in this quiche recipe. It got its name from Lorraine, a region in France where this dish originated.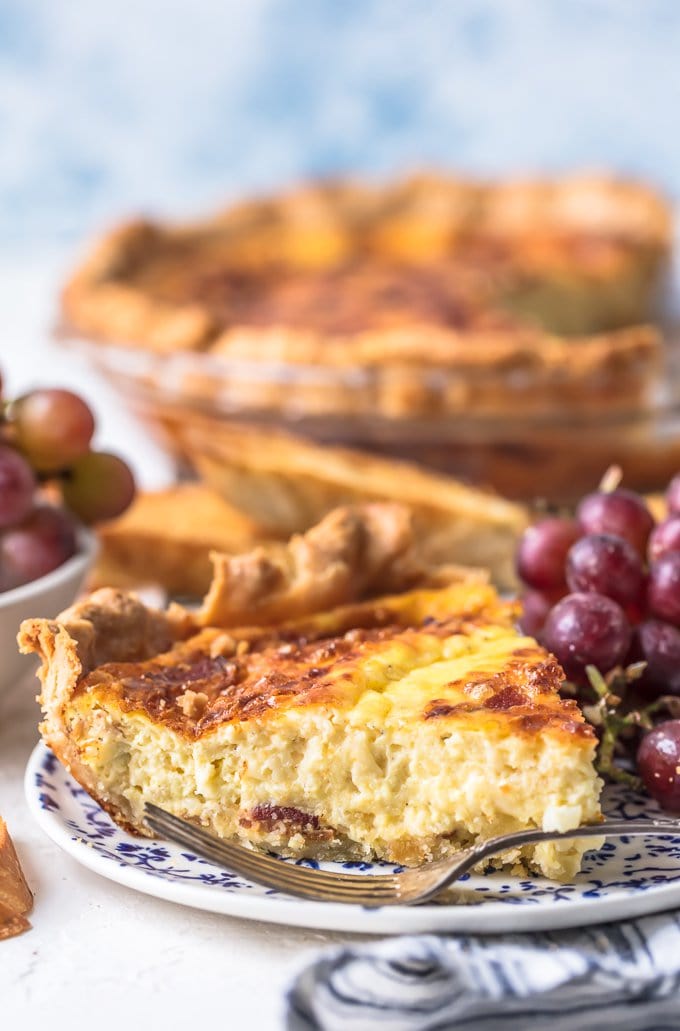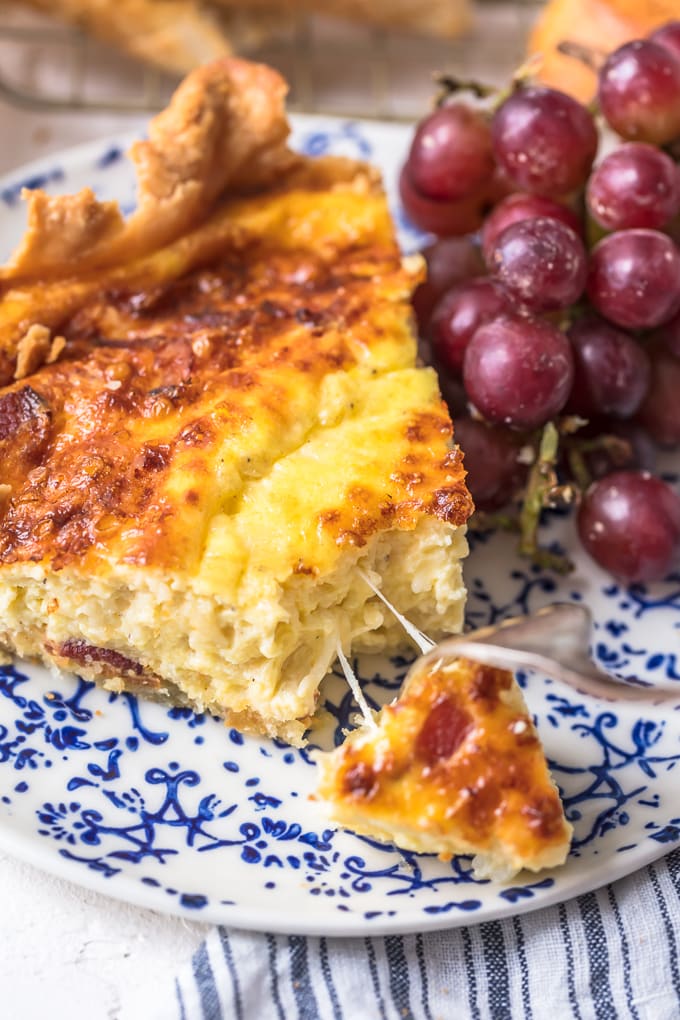 How to Make Quiche Lorraine
This isn't one of those 30 minute recipes, but don't let that scare you. It's really not complicated and it's definitely worth the extra time (let's be honest, an hour isn't that long for a delicious meal). I'd recommend this for a weekend breakfast or brunch, OR you can make it the day before and reheat it in the morning.
Here is a basic overview of how to make this Quiche Lorraine recipe:
First you get the pie crust set up. It's pre-made but you will have to bake it.
Then you move on to the filling. Cook the bacon & mix it in with the cheese.
Next, it's time to whisk the eggs and cream together.
Now you can assemble the quiche by alternating layers of the cheese/bacon mix and the egg mixture.
Finally, bake the quiche for 30-45 minutes at 375°F.
Check the recipe card for full details and instructions.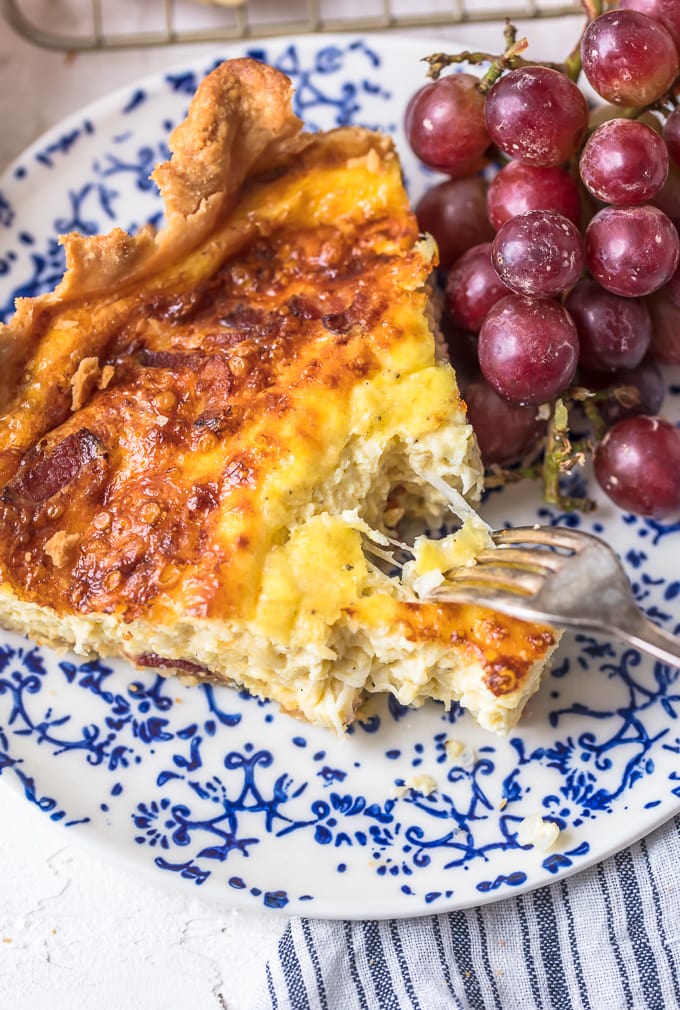 How long can you keep a quiche in the fridge?
A quiche will keep in the refrigerator for 3-4 days maximum.
Can you make a quiche ahead of time?
Yes! Quiche is the perfect dish to make ahead of time because it keeps well in the refrigerator, and it can be served warm or cold. To reheat, cover with aluminum foil and bake for about 15 minutes at 325°F.
How many eggs do you need for a quiche?
This quiche lorraine recipe uses 5 large eggs.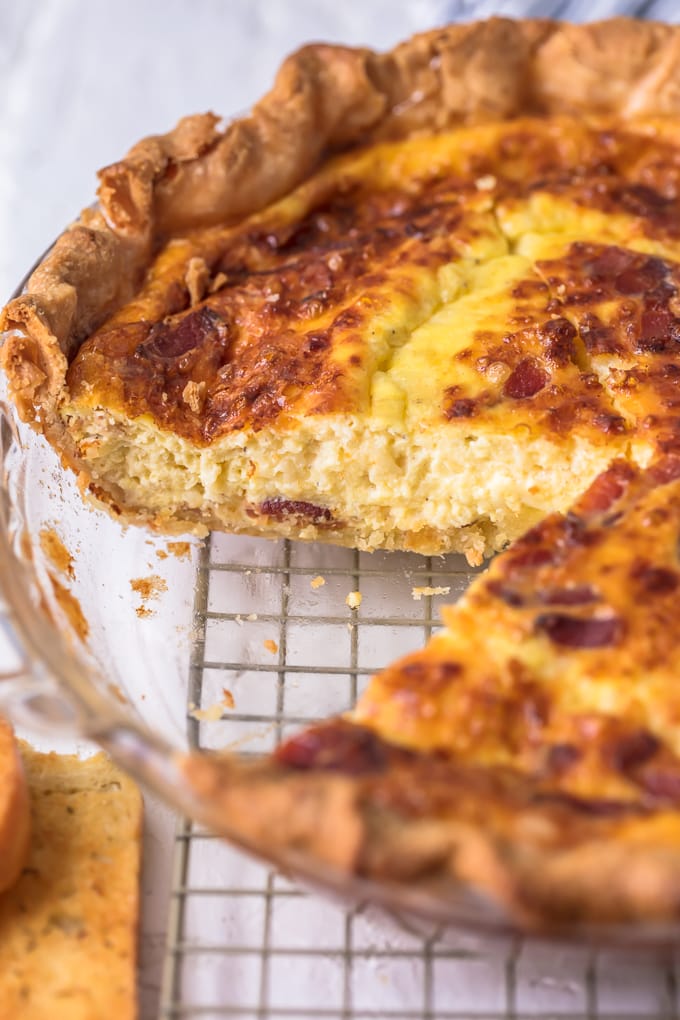 This Quiche Lorraine recipe is one of the best! I can't get enough of the egg-y, cheesy goodness. I love serving this for brunch, a nice weekend lunch, or for a savory breakfast. Serve it with Air Fryer bacon, mixed greens, or fresh fruit!
It's super flavorful and plenty filling. It feels like the perfect cafe meal served with salad and fresh, warm bread.
See the recipe card below for details on how to make this Quiche Lorraine recipe. Enjoy!
If you like this Quiche Lorraine recipe, try these other tasty recipes too: