BLT Sandwich Sliders are a delicious and classic lunch or dinner recipe for any occasion, especially Summer celebrations! This smaller version of a Classic BLT Recipe, layered with crispy bacon, fresh lettuce, and juicy tomato, is utterly delicious and fool-proof. Cut the bread into fourths for an appetizer or in half for a perfect shareable main course.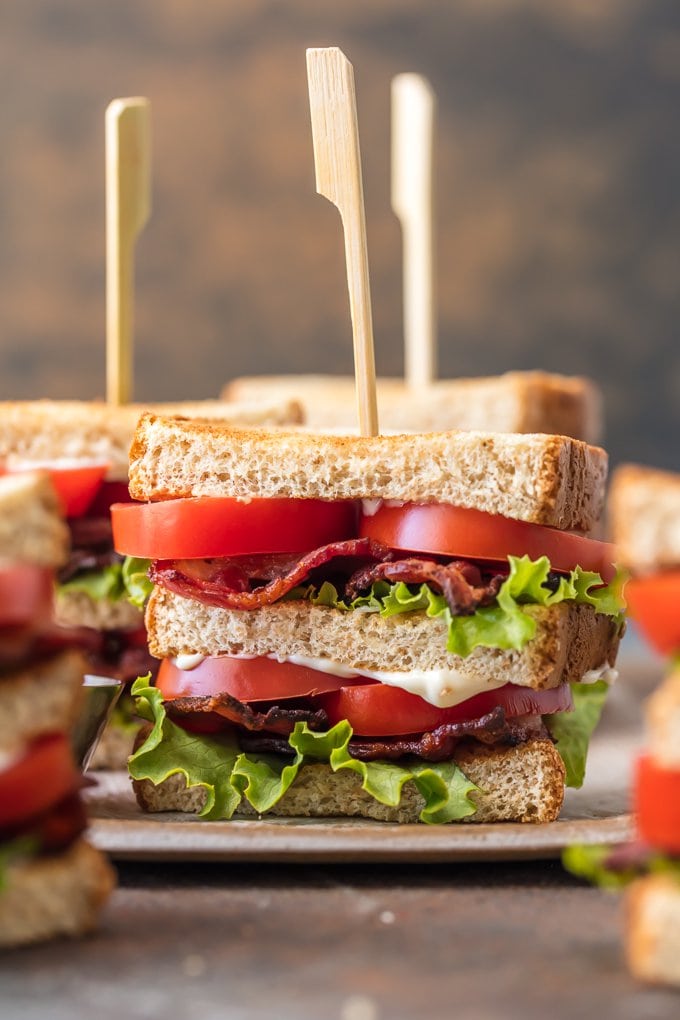 BLT Sandwich Sliders – Classic BLT Recipe
This BLT Sandwich Sliders Recipe is one of my favorite fun and tasty recipes to bring to a Summer Party. This Classic BLT is easily made into an appetizer or main course depending on how small you cut the bread. Whether you make them into Mini BLT Kebabs or keep them as BLT Sandwich Sliders, the taste is INCREDIBLE, classic, and all-American. The ultimate Summer treat.
There's nothing like Bacon, Lettuce, and Tomato to turn a good day into a great day. The fresh flavors of Summer converging on one delicious sandwich.
This BLT Sandwich has toasty bread, crunchy thick cut bacon, juicy ripe tomatoes, fresh crisp lettuce, and creamy REAL mayonnaise. Is this the perfect sandwich recipe?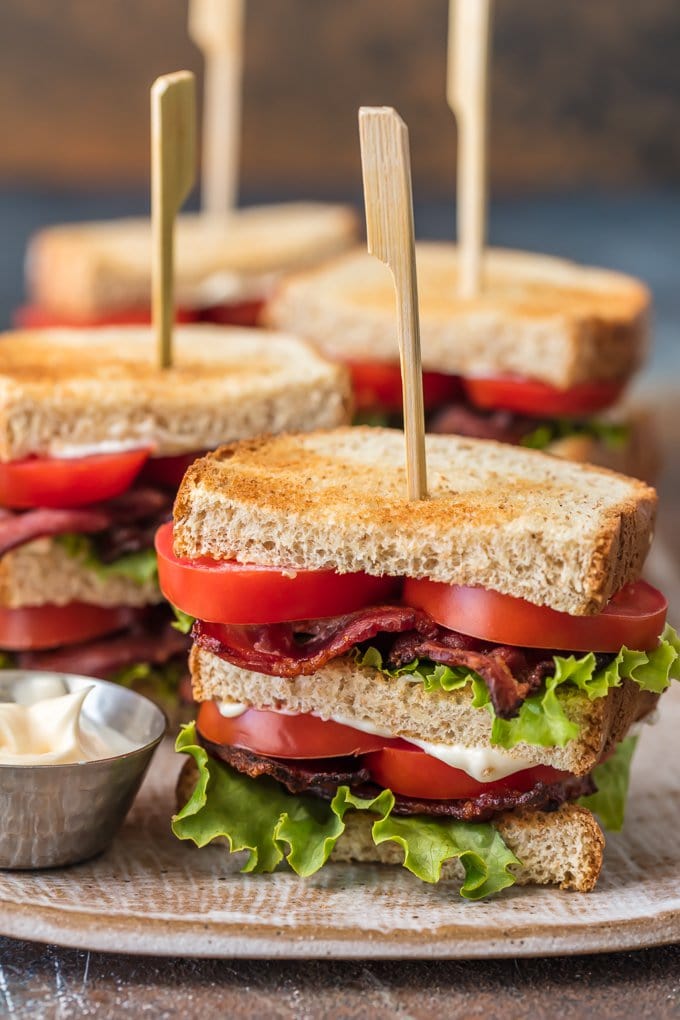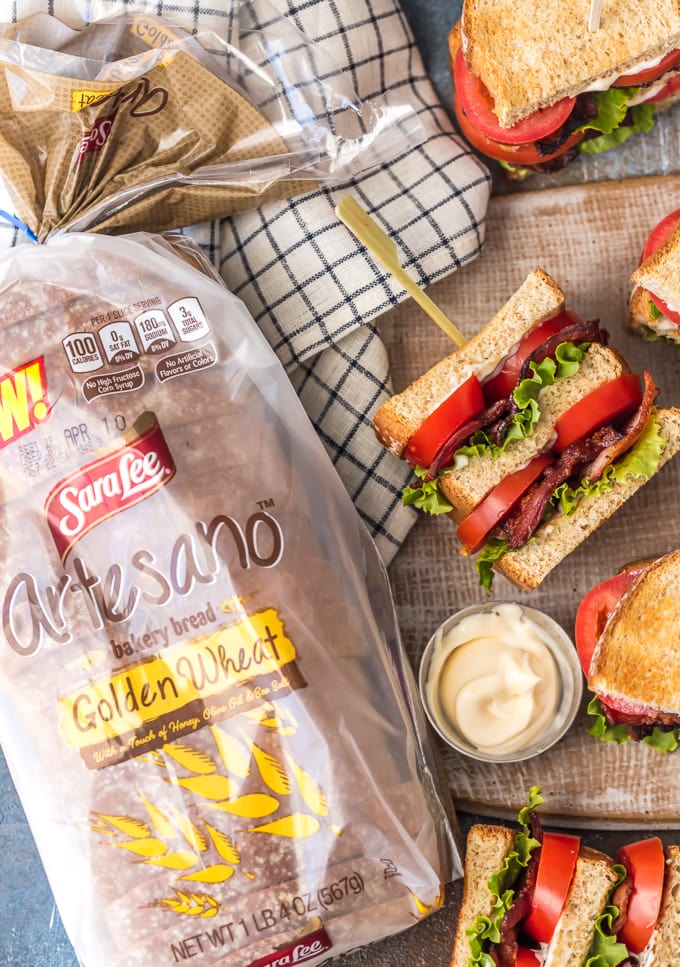 What is the best bread for a BLT Recipe?
A good BLT Sandwich would be NOTHING without amazing bread. For this Classic BLT Recipe I used Sara Lee® Artesano™ Golden Wheat Bread. It's SO good and is such a delicious bakery style bread. You might remember me using Sara Lee Artesano Bread for my Hawaiian Pizza Grilled Cheese last month, and let's just say I fell in love.
What makes Artesano Golden Wheat Bread the BEST Wheat Bread for this BLT Recipe:
A touch of honey, olive oil and sea salt
No high fructose corn syrup
No artificial flavors
No artificial colors
Sara Lee Artesano Golden Wheat Bread has a soft texture that toasts beautifully to create the ultimate BLT. The touch of sweetness from the honey is all it needs to tip this BLT from good to amazing! I'm obsessed!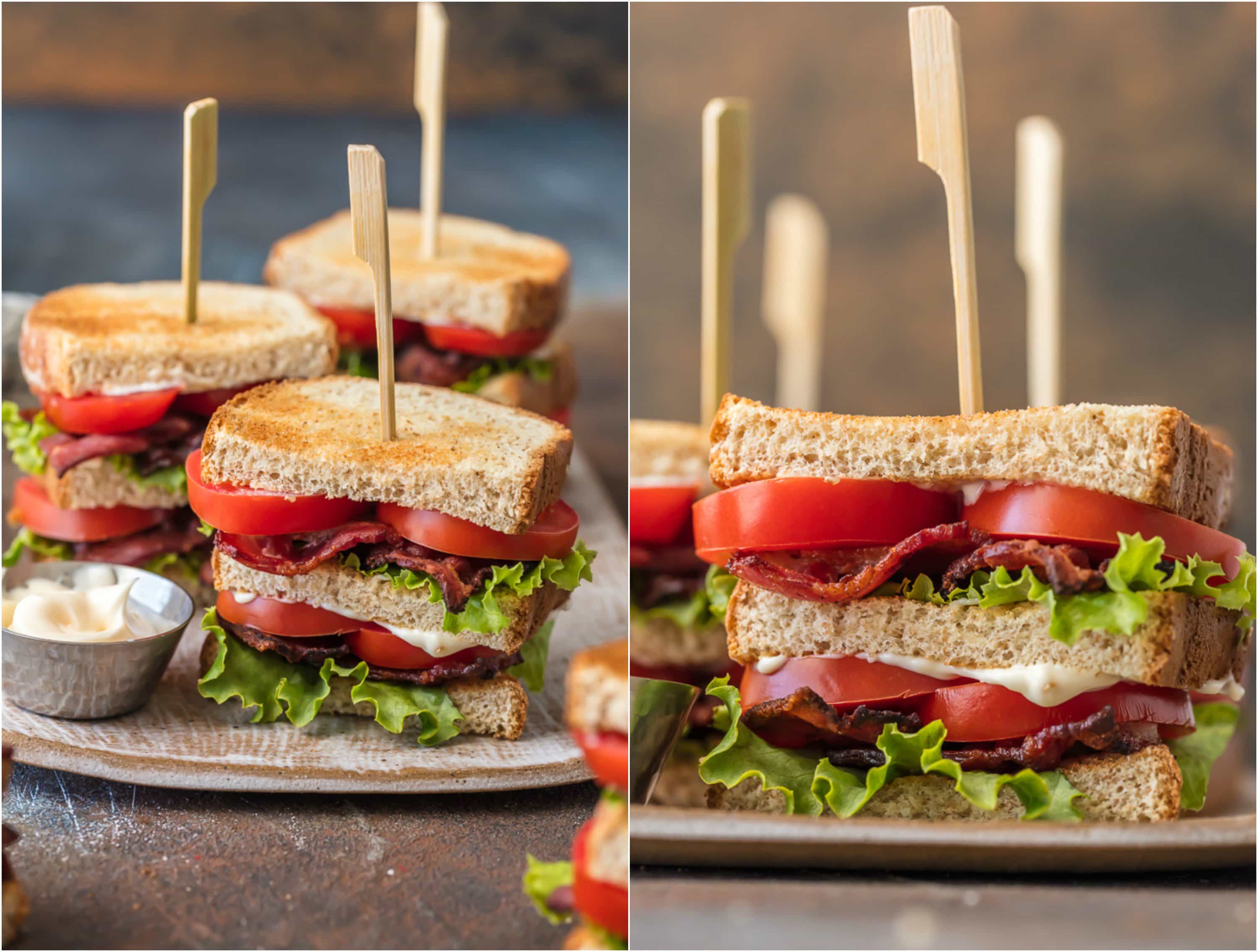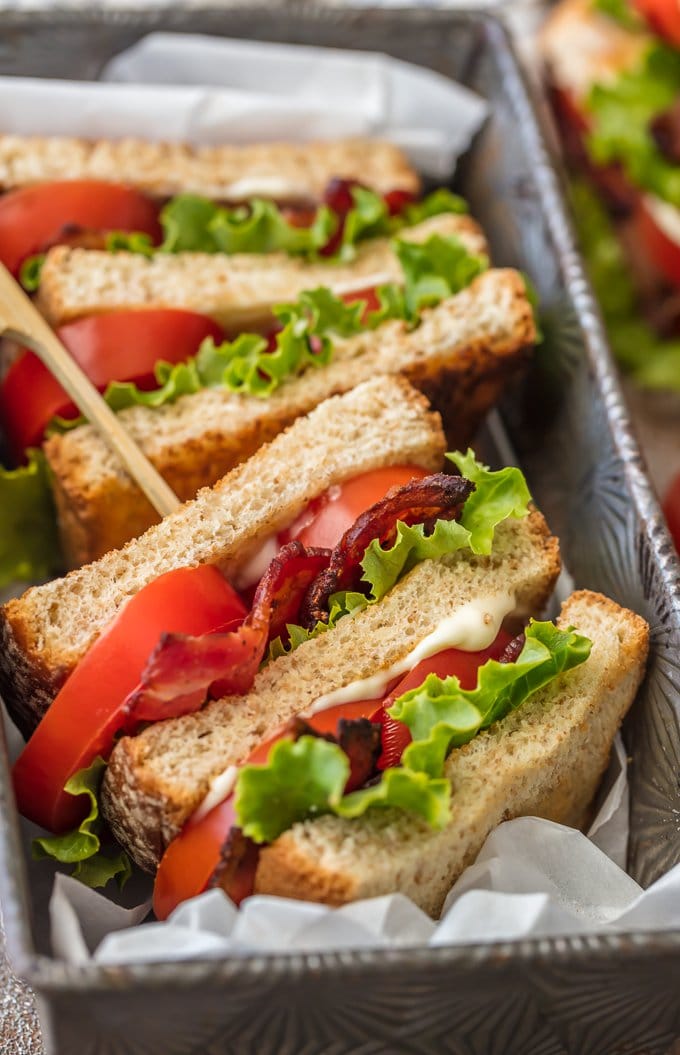 Tips for making the BEST BLT Sandwich:
Always use fresh ingredients: I'm talking the best and freshest Roma Tomatoes, crisp green leaf lettuce from the organic section, and thick cut bacon from the deli counter. With such a simple and classic recipe like a BLT, the best ingredients are a must. They make all the difference.
Toast the bread: I love the simple flavor and texture addition of toasting the delicious Sara Lee Artesano Golden Wheat Bread. A BLT is served cold, but toasted bread still adds a nice crunch and a little extra effort goes a long way.
Use REAL Mayonnaise: No arguing here! Real mayo is an absolute MUST on a Classic BLT Sandwich Recipe. It just is. End of story. :)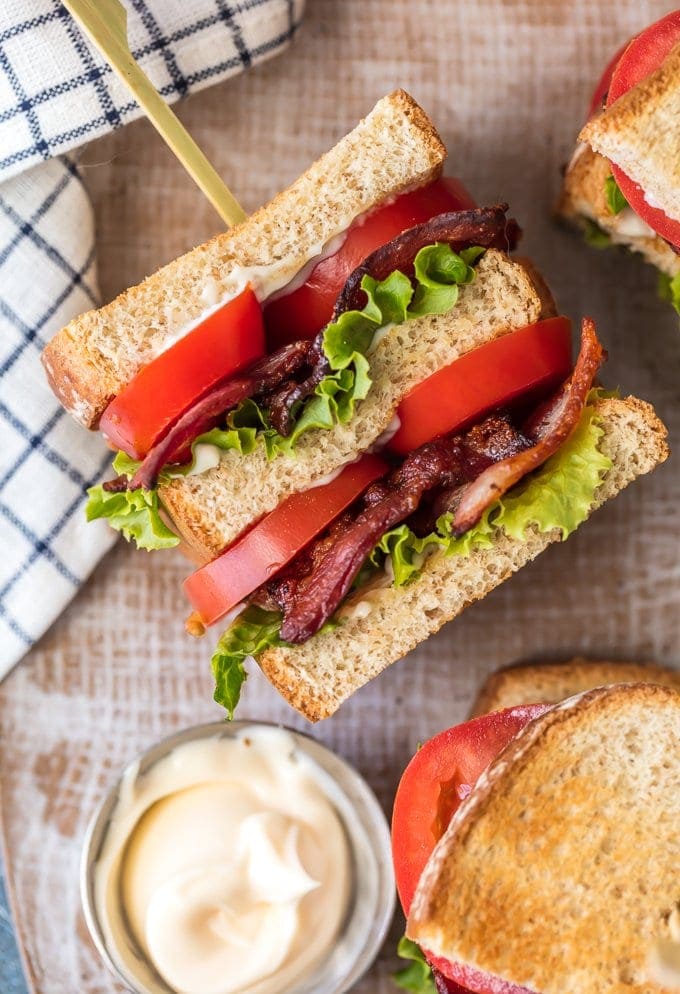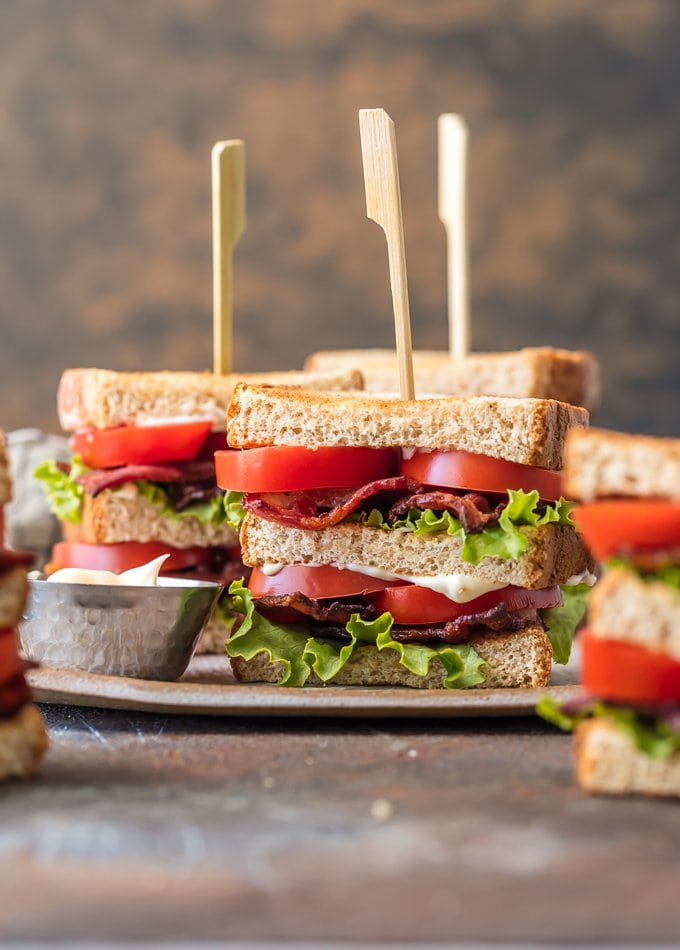 What to serve with a BLT Sandwich?
We have so many favorite side dishes for serving with this BLT Sandwich Slider Recipe. Typically we will serve it with Sweet Potato Chips, Shoestring Fries, Mexican Grilled Corn on the Cob, Instant Pot Potato Salad, or Crispy Parmesan Potato Wedges. So many great options. With a classic sandwich recipe like this, you truly cannot go wrong!
What Summer Drinks would pair well with this Classic BLT Recipe?
You guys know I just love to create the perfect cocktail or mocktail for every Summer celebration! If you're about to serve these BLT Sliders, you need the perfect drink recipe as a pairing. I suggest our Easy Peach Lemonade, Strawberry Margarita Punch, Summer Shandy, Grapefruit Beer Sangria, or Skinny Margaritas.
What are some ways you can dress up a Classic BLT Sandwich?
This BLT Recipe is awesome as is, CLASSIC and delightful, but there are lots of things you can do if you want to change things up a bit.
Add more ingredients such as honey ham, fresh mozzarella, or avocado slices.
Create a fun and different mayo such as basil mayo or rosemary mayo.
Change things up by using fried green tomatoes instead of roma tomatoes.
Use basil leaves or spinach instead of green leaf lettuce.
Cut the bread into fourths (instead of halves) and load up a long skewer to create BLT Kebabs!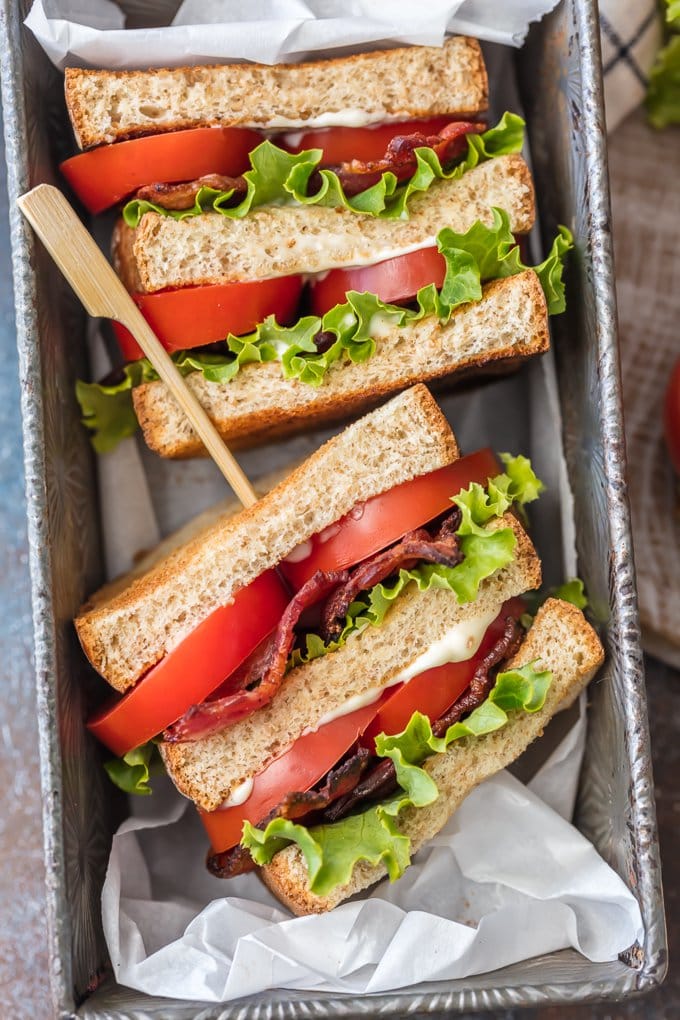 This BLT Sandwich Sliders has become a Summer Recipe staple at our house. My husband and I just love the fresh classic flavors of a BLT, and Henry loves to snack on the bacon and tomato. I love finding recipes that the entire family can enjoy on a hot balmy day. Something about that cool, creamy mayo makes me think its cooler outside than it actually is!
See the recipe card below for How to Make BLT Sandwich Sliders. Enjoy!
More Easy Sandwich Recipes you NEED to try:
Want more BLT Recipes? We've got you covered!