Chicken Couscous with Bacon and Corn will be your new favorite one pot chicken dinner! I love that this one pot chicken and couscous recipe is a main course and side dish all in one, baked together in flavorful goodness. This delicious chicken couscous recipe takes little effort to make and there's virtually zero cleanup!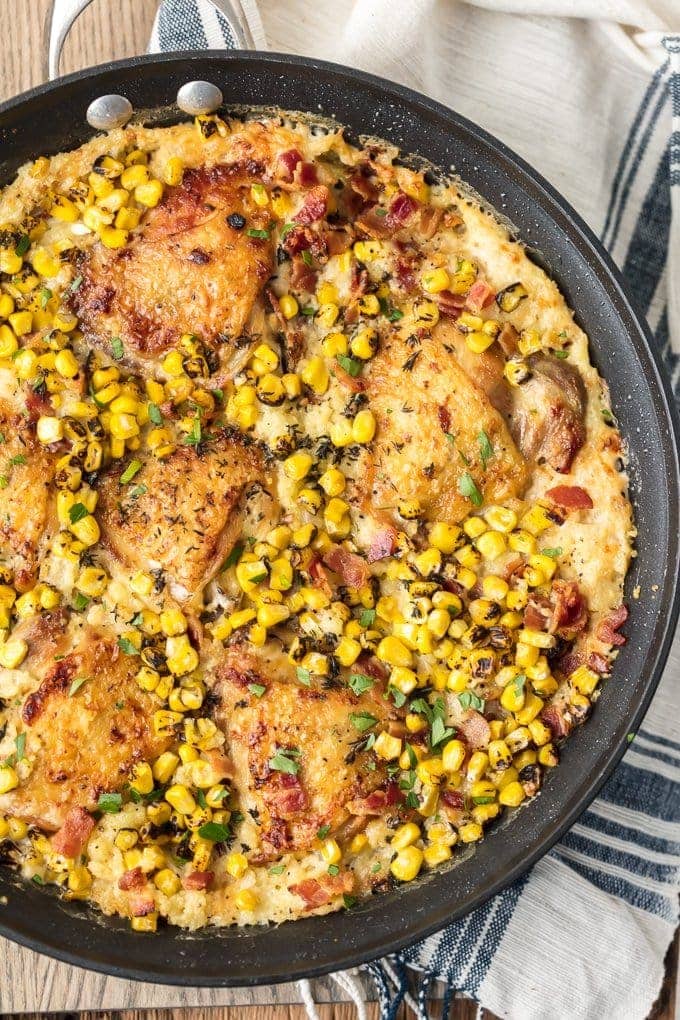 Easy Chicken Couscous Recipe
Chicken Couscous with Bacon and Corn is an EASY one pot chicken dinner for any night of the week! You're going to love this tasty chicken couscous recipe.
I love one pan dinners that all cook together, like my Ranch BBQ Chicken or Chicken Con Queso Skillet…and this chicken and couscous recipe with bacon and corn is my new favorite.
Less cleanup, less fuss, more time with family, more flavor! Win win win!
This One Pot Chicken Couscous Recipe will be your go-to when you need a tasty and impressive meal!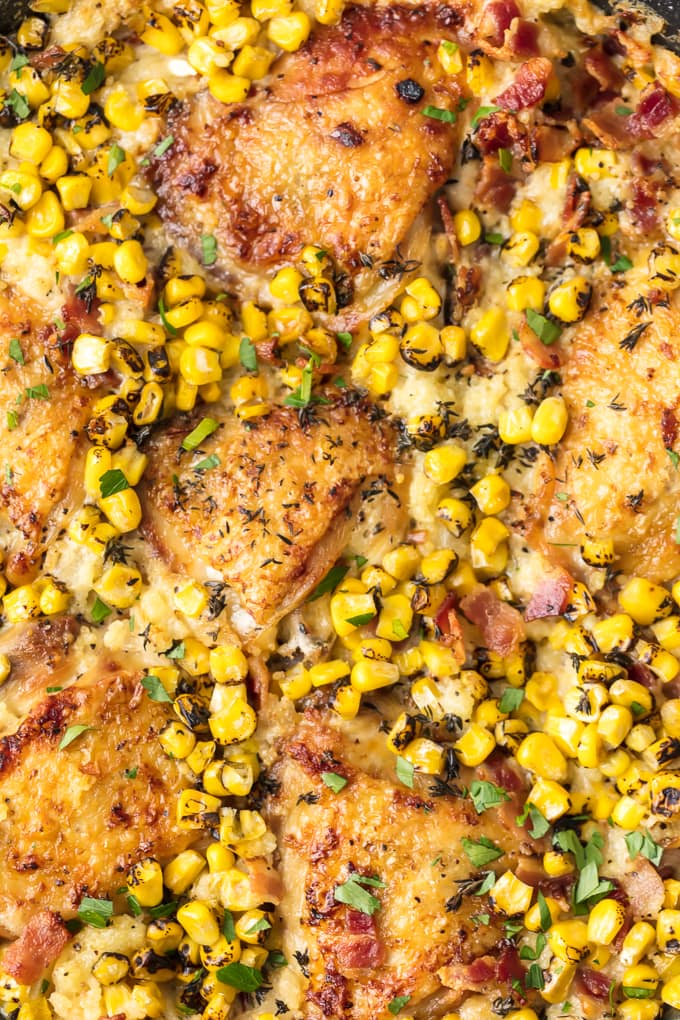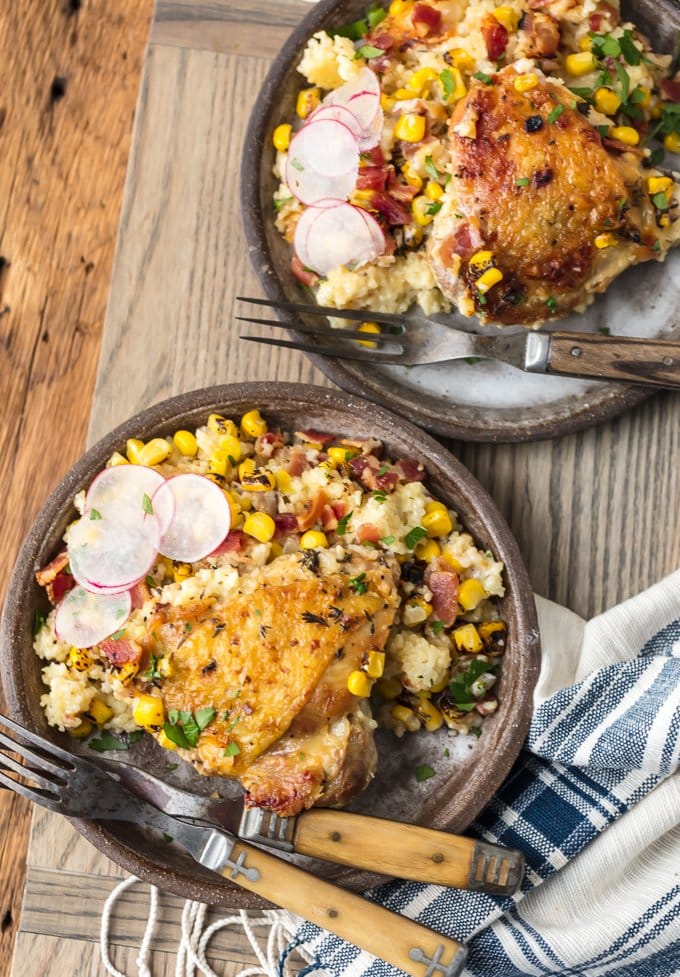 One Pot Chicken and Couscous Dinner
It's hard to believe this delicious Chicken Couscous Recipe is all made so easily in one pan!
I haven't had couscous very many times but every time I do, I know I need to make it more. It's such a sturdy and healthy side dish and is so comforting at the same time. It's like rice or polenta and goes with almost anything. Couscous is better for you than rice, since it's a lower calorie option that can replace rice in so many recipes.
This one pot chicken couscous recipe is the perfect example of what you can do with couscous for a simple and tasty dinner. The flavors are SO DELICIOUS.
This is the ultimate meal to make for guests or just for a quiet night at home. Heck, make it tonight! Your family is sure to thank you. We make this and Henry chows down on the couscous, bacon, and corn, and we devour all the chicken. It's perfect!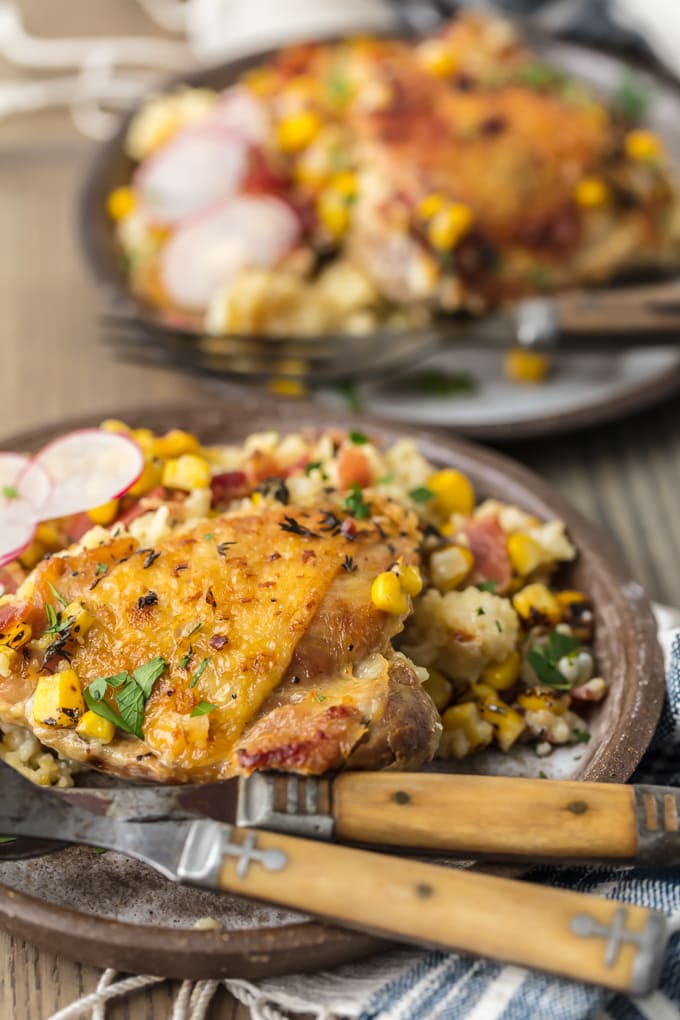 How Do I Make Couscous More Tasty?
Couscous can take on any flavor, which makes it the perfect grain to mix in with your meals. The bacon and corn in this one pot recipe adds a hardy, savory taste. By adding all these flavors into one pot, you end up with a tasty chicken and couscous dish for any occasion!
In general when making couscous, be sure to add plenty of salt and seasonings to give it flavor. It's almost tasteless on its own, so you'll need to add something to make it taste good. But that's easy to do!
How to Cook Couscous
The first step of this recipe is to cook the couscous!
If you've never made it before, you'll be surprised by how QUICK and EASY it is. Follow the directions on whatever package of couscous you buy for best results. But here is a general how-to.
If you want to make plain couscous, all you have to do is follow these simple steps:
Boil water. Use 1 1/2 cups of water for every 1 cup of dry couscous
Add any seasonings you want! Try butter or olive oil, salt, and pepper.
When the water boils, remove it from heat. Add your couscous, cover with a lid, and let it sit for about 5 minutes.
Once the couscous has soaked up all the water, fluff it with a fork and serve.
You can eat couscous hot or cold. Try mixing it in with your vegetable side dishes to make a quick meal or pair it with any chicken dish to create your own chicken couscous recipe.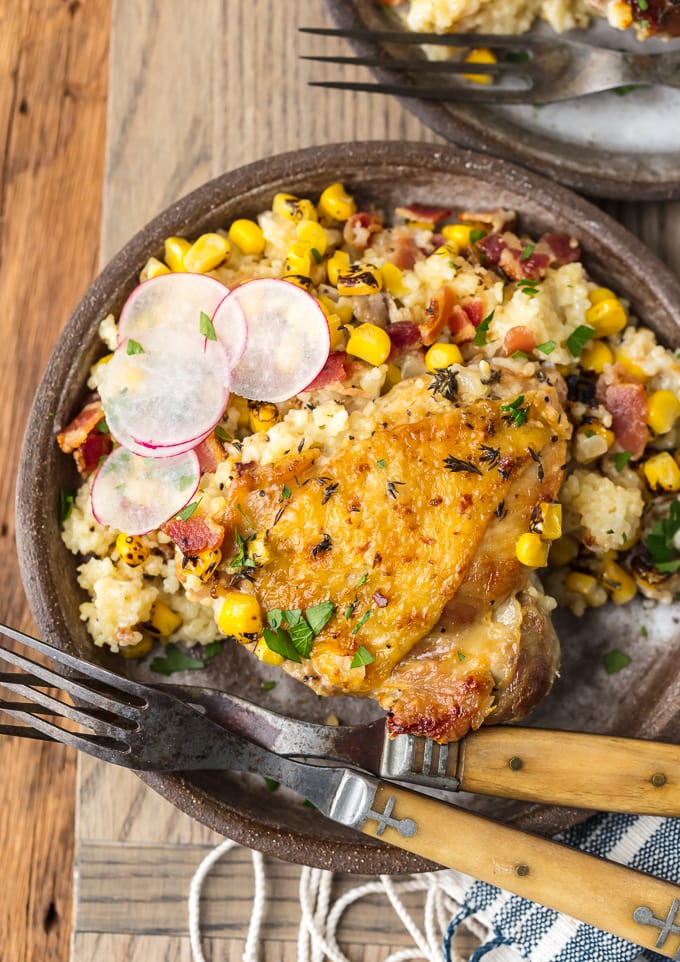 This chicken couscous recipe is classy enough for the fanciest guests or homey enough to make for yourself and pack as leftovers. It's simply delicious and deliciously simple! I just love chicken and couscous and I can't wait for you to try it.
See the recipe card for details on how to make this one pot chicken couscous recipe. Enjoy!
If you like this chicken couscous recipe, try these other easy one pot recipes: