Chicken Parmesan Pasta is our favorite one-pan pasta recipe. An easy and delicious dinner with just a few ingredients? What could be better? This Chicken Pasta Skillet is our go-to easy dinner recipe anytime we are craving comfort food.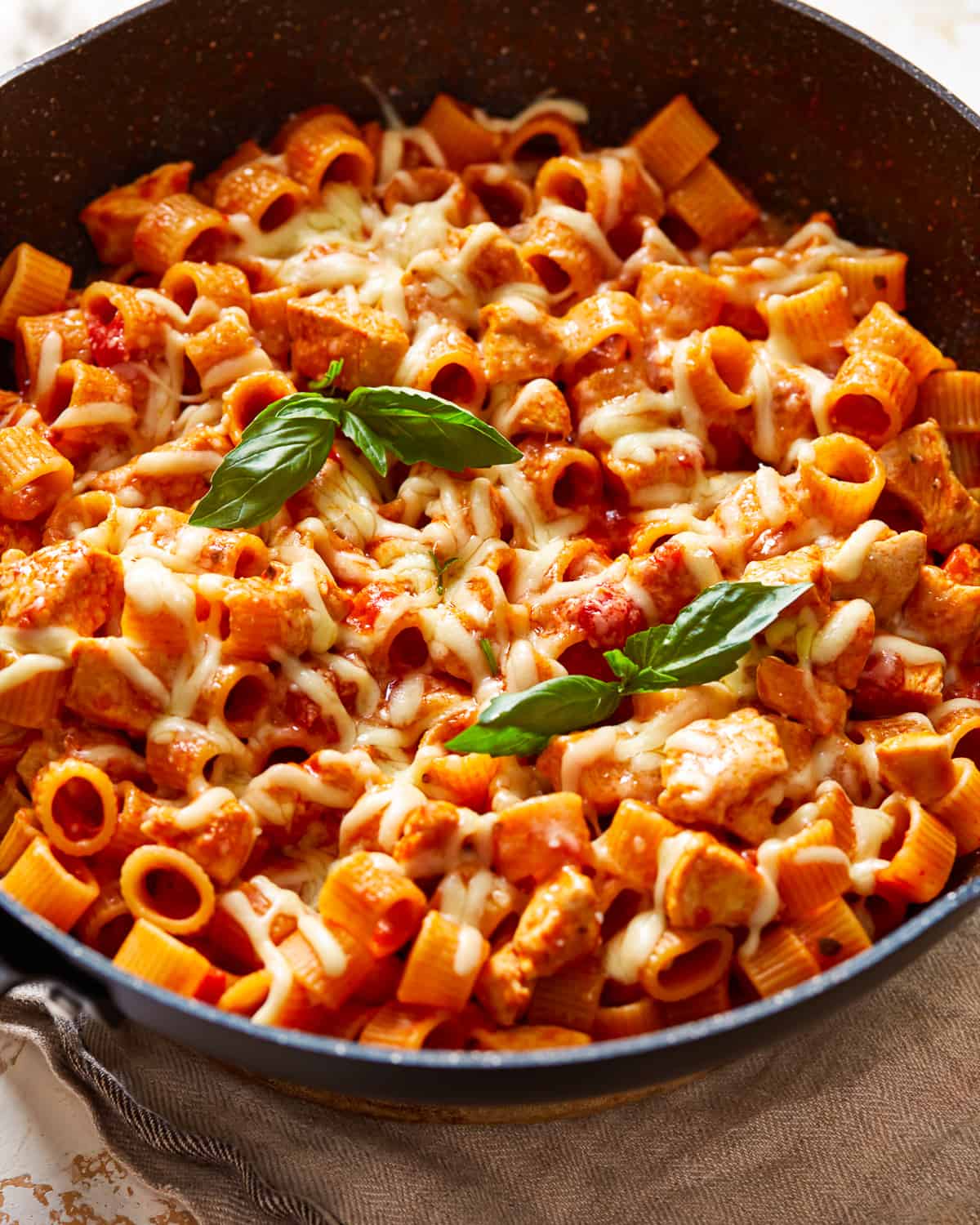 What's in this Chicken Parmesan Pasta Recipe?
Count 'em– you're just 6 ingredients away from a delicious dinner! Plus a bit of salt and pepper for seasoning, and some (optional) basil for garnish.
Chicken: I like to use boneless, skinless chicken breasts, but you can also use thighs.
Italian Dressing: Choose the oily version, not the creamy one.
Pasta: I used rigatoni, but any short pasta shape will work.
Marinara Sauce: Choose your favorite brand or make your own!
Parmesan Cheese: Adds a salty, umami flavor.
Mozzarella Cheese: Makes this dish rich and creamy.
Pro Tip: For even more flavor, sauté a chopped onion and a few cloves of garlic in oil before cooking the chicken!
Variations on Chicken Parmesan with Pasta
This recipe is so easily adaptable. No Italian dressing? Mix some Italian seasoning into a tablespoon each of oil and vinegar. For a vegetarian version, swap out the chicken for some diced eggplant!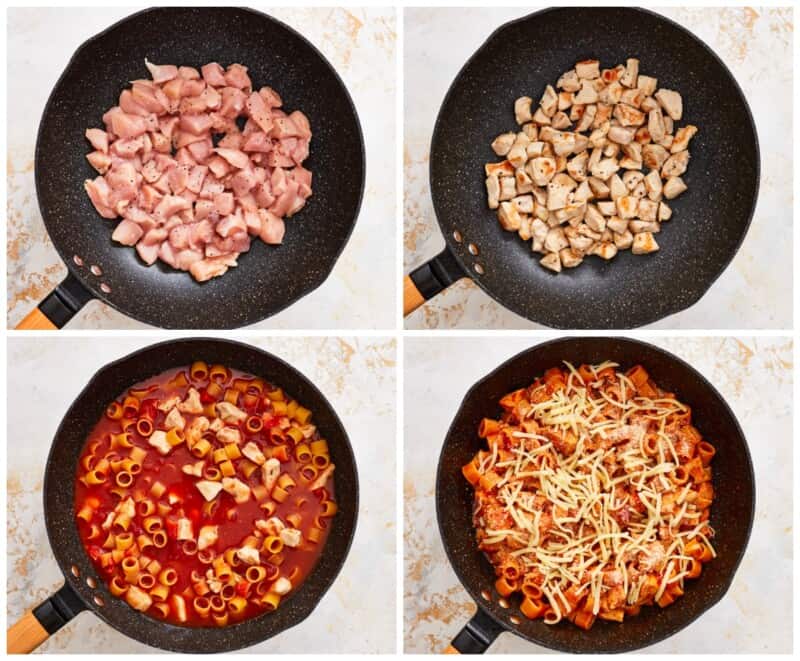 What's the difference between chicken parmesan and chicken parmigiana?
There is no difference– they're different names for the exact same thing!
Why is it called chicken parm if it's made with mozzarella?
The dish was named after the city of Parma in Italy, not the cheese!
Is chicken parmesan a real Italian dish?
Not really! It actually originated from Italian immigrants in the northeast U.S.
Can I make this in the oven instead?
Sure! Follow the recipe through step 4, placing the covered skillet in a 350°F oven for 15 minutes instead of letting it simmer on the stovetop. Add the cheese and return to the oven or place under the broiler to get it bubbly!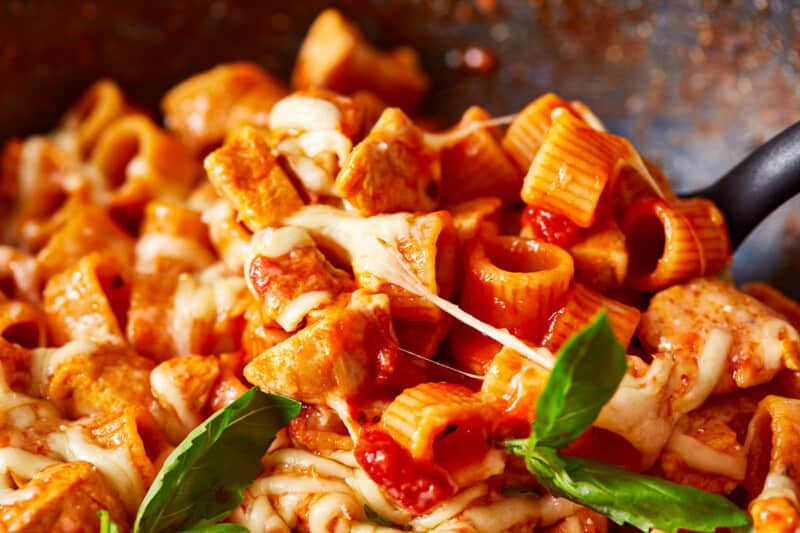 How to Store and Reheat
Store leftover chicken parmesan pasta in an airtight container in the refrigerator for up to 3 days. Reheat in a 350°F oven for 20-30 minutes or in the microwave in 30-second increments until warmed through.
How to Freeze
Freeze chicken parmesan pasta in an airtight container or Ziplock bag for up to 3 months. Let thaw overnight in the refrigerator before reheating.
Serving Suggestions
I love that you don't even need a side dish with this delicious one-pan chicken parm recipe. I usually just serve it with some crusty garlic bread and call it a day. Oh and some wine— can't forget the wine! Wine and pasta is a great combo for making dinner at home feel like a special occasion.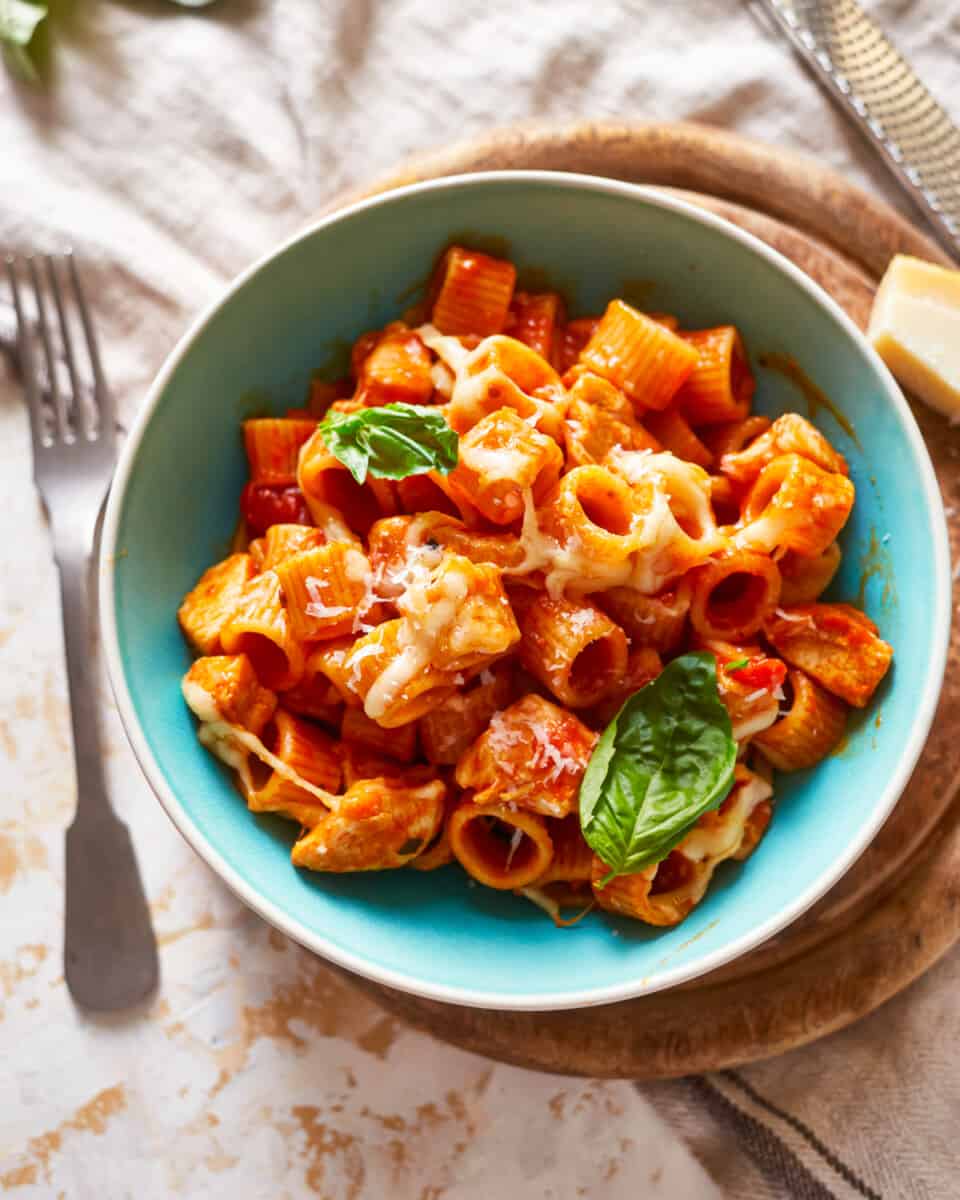 5-Star Review
This is one of my family's favorite go to meals. Which is a win for me because of how simple & fast it is! – Abby
More Chicken Parmesan Recipes We Love