Get ready for an explosion of flavor with this Chicken and Rice dish that comes together beautifully in one skillet on your stovetop. Prepared with juicy and tender chicken thighs and a medley of savory spices and seasonings, delectable ingredients like mushrooms, chicken broth, and white wine elevate the dish to a whole new level.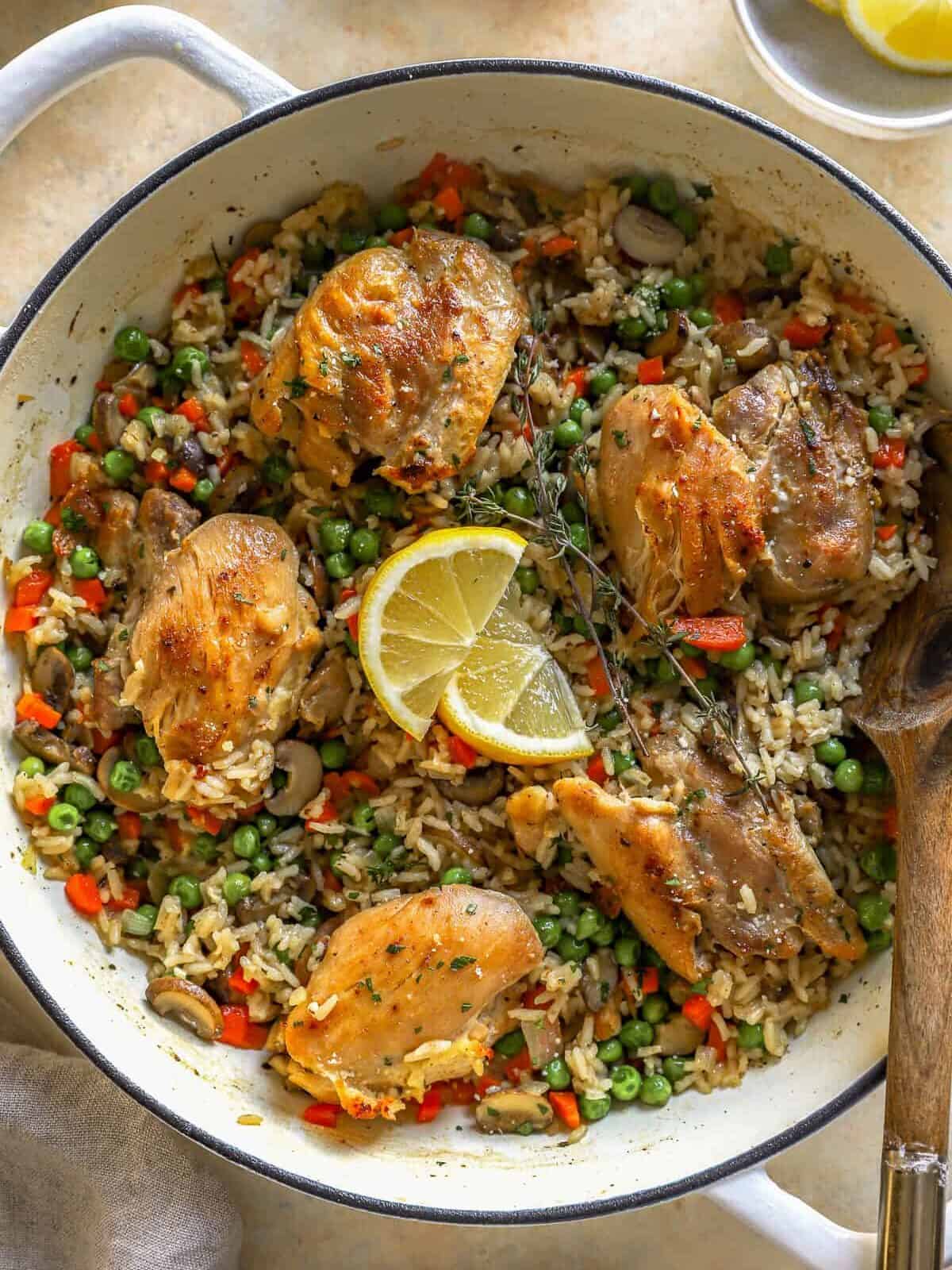 What's in this Chicken and Rice Recipe?
This is not your ordinary chicken and rice dish. Seasoned with the best spices, it's guaranteed to be one of the tastiest you'll ever make! Plus, using chicken thighs keeps it affordable without sacrificing taste.
Spices: The seasonings in this recipe are classic, such as garlic powder, onion powder, and Italian seasoning. Chances are you already have them stocked in your pantry.
Chicken Thighs: Chicken thighs are my favorite, with darker meat and a richer flavor compared to chicken breasts.
Olive Oil: This is a key ingredient for searing the chicken to perfection. I make sure to keep good olive oil in my pantry at all times so that I never run out when cooking.
Onion: Onions, whether white, yellow, or red, always bring out the best flavor in any dish, especially chicken.
Carrots: Carrots are a vibrant, versatile, and nutritious ingredient that burst with even more flavor when sautéed with chopped onions.
Italian Seasoning: This all-purpose seasoning blends the best spices: sweet basil, oregano, marjoram, rosemary, thyme, sage, and crushed red pepper.
Garlic: This recipe would be lost without the addition of garlic, the holy grail of seasonings!
Mushrooms: Cremini mushrooms, also known as baby portobello mushrooms, have a rich, meaty flavor and a slightly firmer texture compared to button mushrooms.
White Rice: Long-grain white rice has a neutral, slightly sweet flavor and a fluffy texture when cooked.
Chicken Broth: Even though chicken broth is so easy to buy premade off the shelf, homemade is so much better!
White Wine: When it comes to cooking with white wine for chicken recipes, it's best to choose a wine that is dry, light, and has a subtle acidity, like Sauvignon Blanc, Pinot Grigio, or Chardonnay.
Frozen Peas: Green peas add just the right touch of color and pop of flavor to this otherwise perfectly gorgeous dish.
Variations on One Pot Chicken and Rice
There are so many fun ways to modify this recipe. Not a fan of chicken thighs? Use chicken breasts or beef tips. Try brown rice or quinoa instead of white rice. Swap the Italian seasoning for your favorite seasoning blend, such as herbs de Provence or chicken seasoning.
For a creamier dish, swap the chicken broth for cream of chicken or cream of mushroom soup. The possibilities are endless!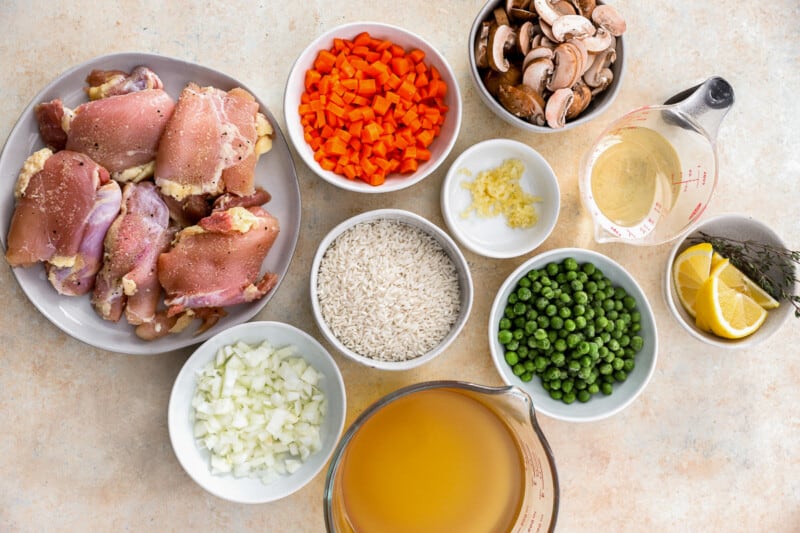 Is chicken and rice healthy?
Yes! This dish features fresh ingredients and is cooked in low-sodium chicken broth, so it is a healthier alternative to a creamy chicken and rice dish.
Can I use chicken breasts instead of thighs?
Absolutely! While I highly recommend using chicken thighs for the juiciest end result, you can use boneless, skinless chicken breasts instead. Simply cut down the cooking time by a few minutes.
Is chicken and rice gluten-free?
Yes! This recipe is naturally gluten-free!
Can I make chicken and rice with brown rice?
You sure can! Brown rice does take longer to cook than white rice, so be sure to cook it for at least an additional 10 minutes. Check the rice for doneness by biting into it. If it is still too firm, cook it for a bit longer.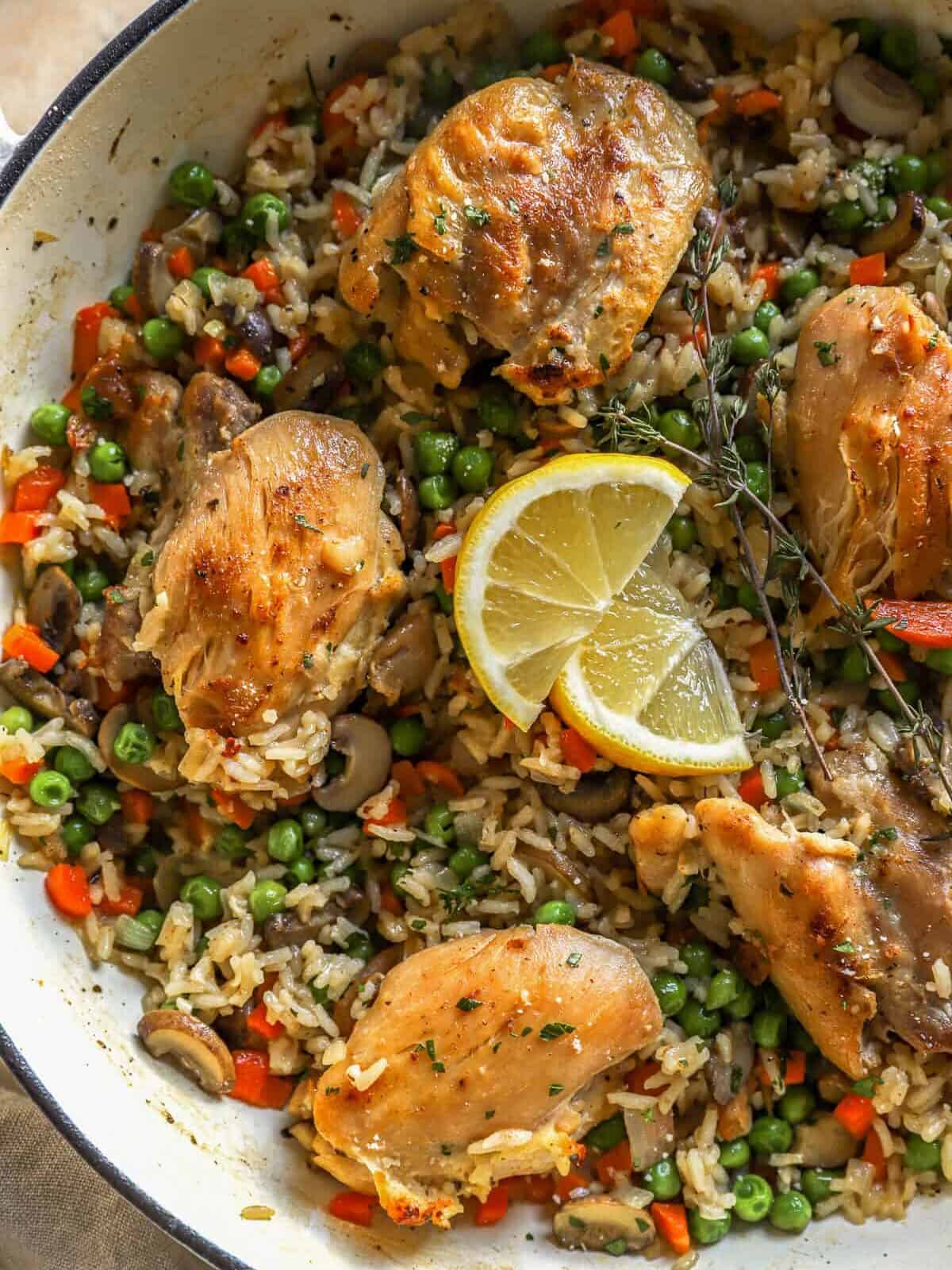 How to Store and Reheat Chicken Thighs and Rice
Store leftover chicken and rice in an airtight container in the refrigerator for up to 3 days. Reheat in the microwave in 30-second bursts until warmed through. You may wish to add a splash of water or chicken broth to help the rice steam.
How to Freeze Easy Chicken and Rice
Freeze chicken and rice in an airtight container or Ziplock bag for up to 3 months. Let thaw overnight in the refrigerator before reheating.
What to Serve with One Pan Chicken and Rice
The beauty of this one-pot dish is that you do not need to serve the tasty chicken and rice with anything else except perhaps some fluffy dinner rolls and a glass of white wine.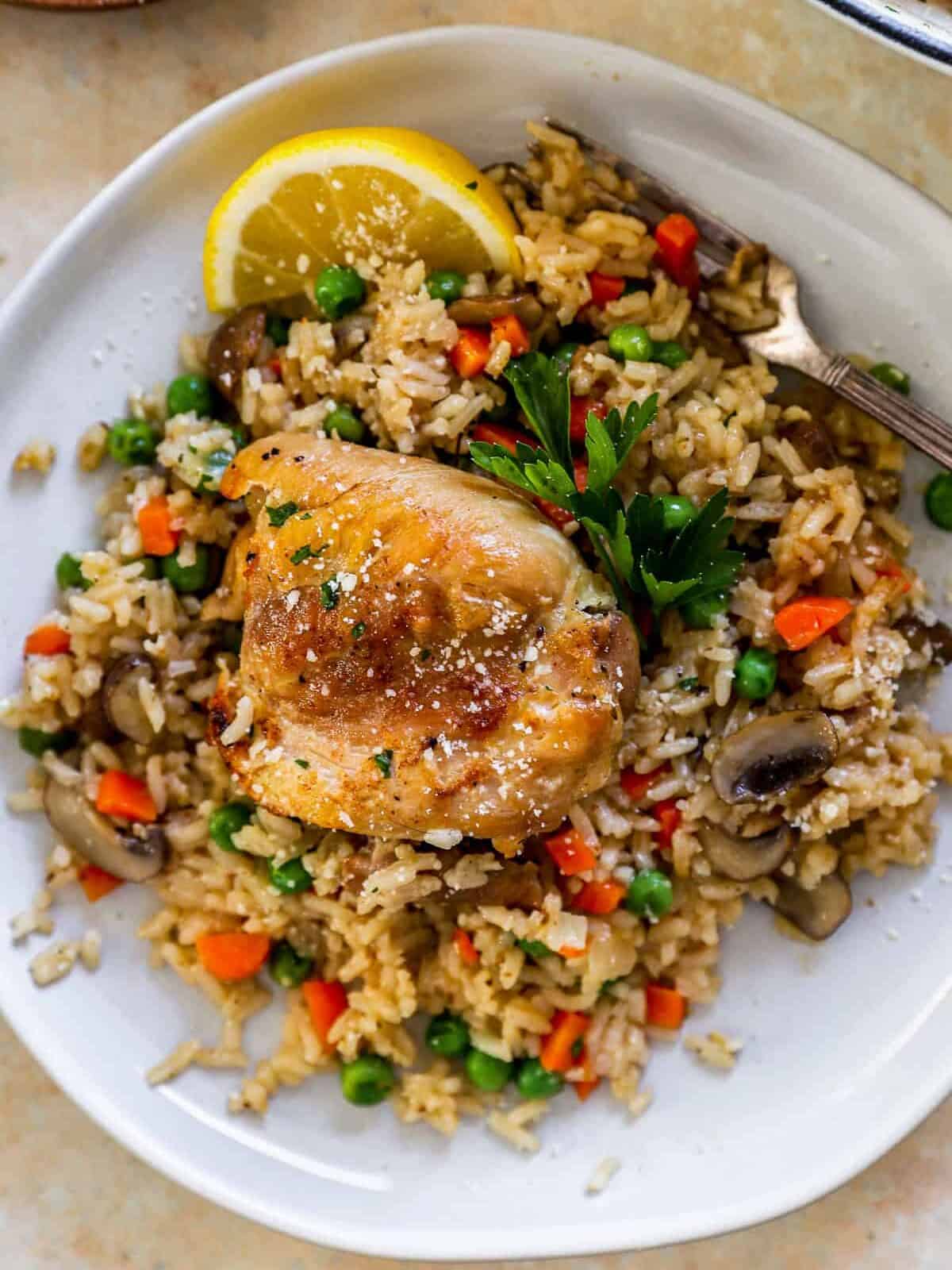 More Chicken and Rice Recipes We Love