This Christmas Cheese Ball needs a place on your table this year! Made with orange and cranberry, it's easy to make and full of festive flavors. It's a great holiday centerpiece and perfect as an appetizer, as part of a cheeseboard or a casual finger food.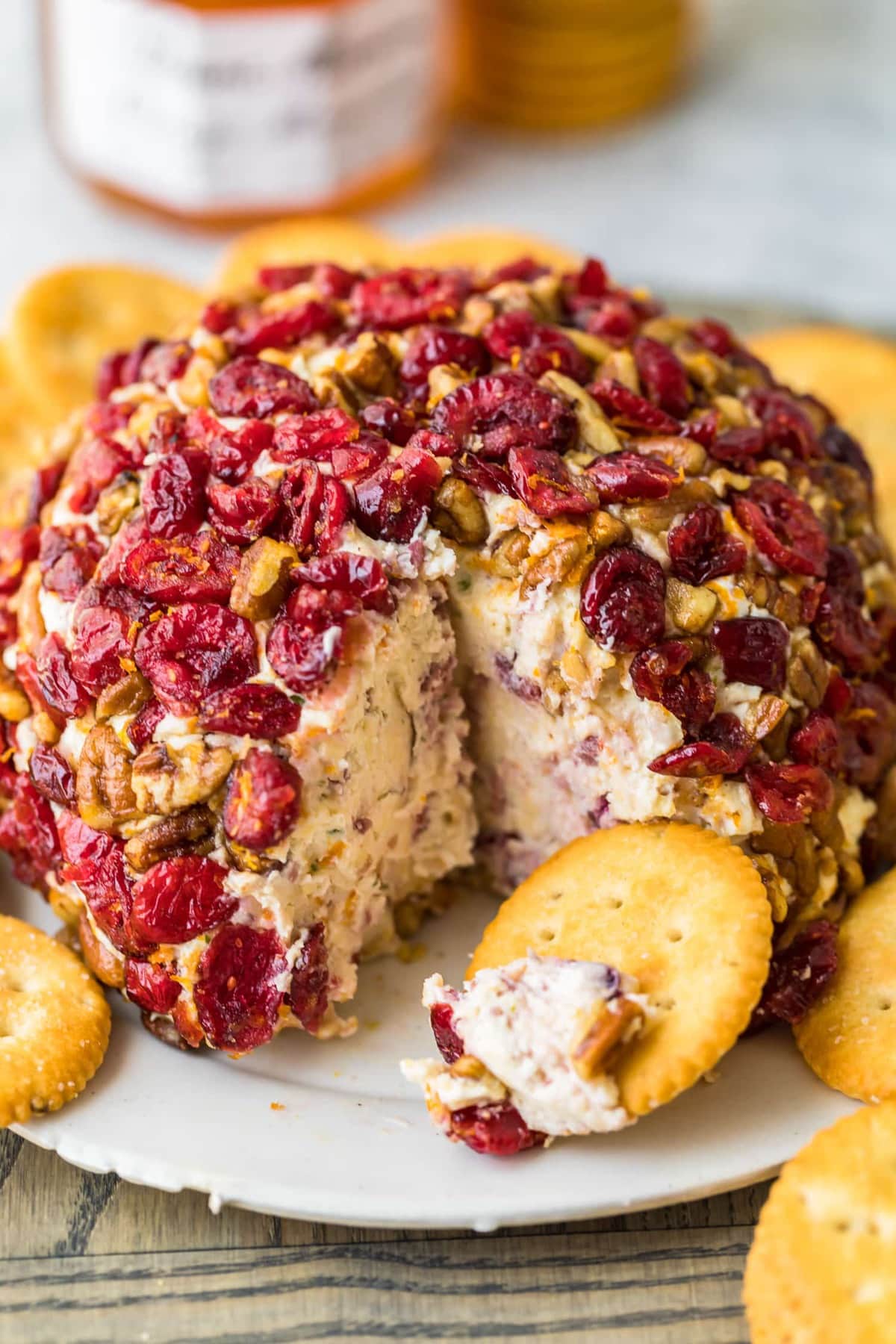 Is it really Christmas without an awesome cheese ball recipe?! I've packed all of the festive flavors into a fun cheese appetizer that's so easy to make! Wow your guests with this holiday cheese ball recipe!
How to Make Orange Cranberry Cheese Ball (Christmas Cheese Ball Recipe)
In the bowl of a food processor, combine cream cheese, goat cheese, lemon juice, Worcestershire Sauce, salt and black pepper. Process 30 seconds or until smooth. Add cheddar cheese, chives, orange zest, orange marmalade and dried cranberries; process until smooth and ingredients are fully incorporated.

Transfer the cheese to the center of a large piece of plastic wrap that has been placed on a work surface. Pick up the cheese from under the plastic wrap and shape the cheese into a ball. Twist the plastic wrap to enclose the cheese ball. Set the wrapped cheese ball in a bowl with the twisted part of the plastic wrap on top and refrigerate it for at least 1 hour or until firm. You can make the cheese ball up to three days ahead of serving.

Remove the cheese ball from the fridge 30 minutes prior to adding the topping mixture, After 30 minutes, remove the plastic wrap and roll the ball in the topping mixture, pressing as you work your way around the ball to ensure the topping adheres.

At this point, the cheese ball is ready to serve, or it can be loosely covered and placed back in the fridge until ready to serve.

When ready to serve, allow it to soften on the counter 30 minutes prior to serving.

Serve on a platter or cheese board along with fresh veggies, crackers, pretzels, and/or crostini.

Enjoy!
FOR THE TOPPING ON THE CHRISTMAS CHEESE BALL:
Mix the dried cranberries, pecans and orange zest together in a medium bowl.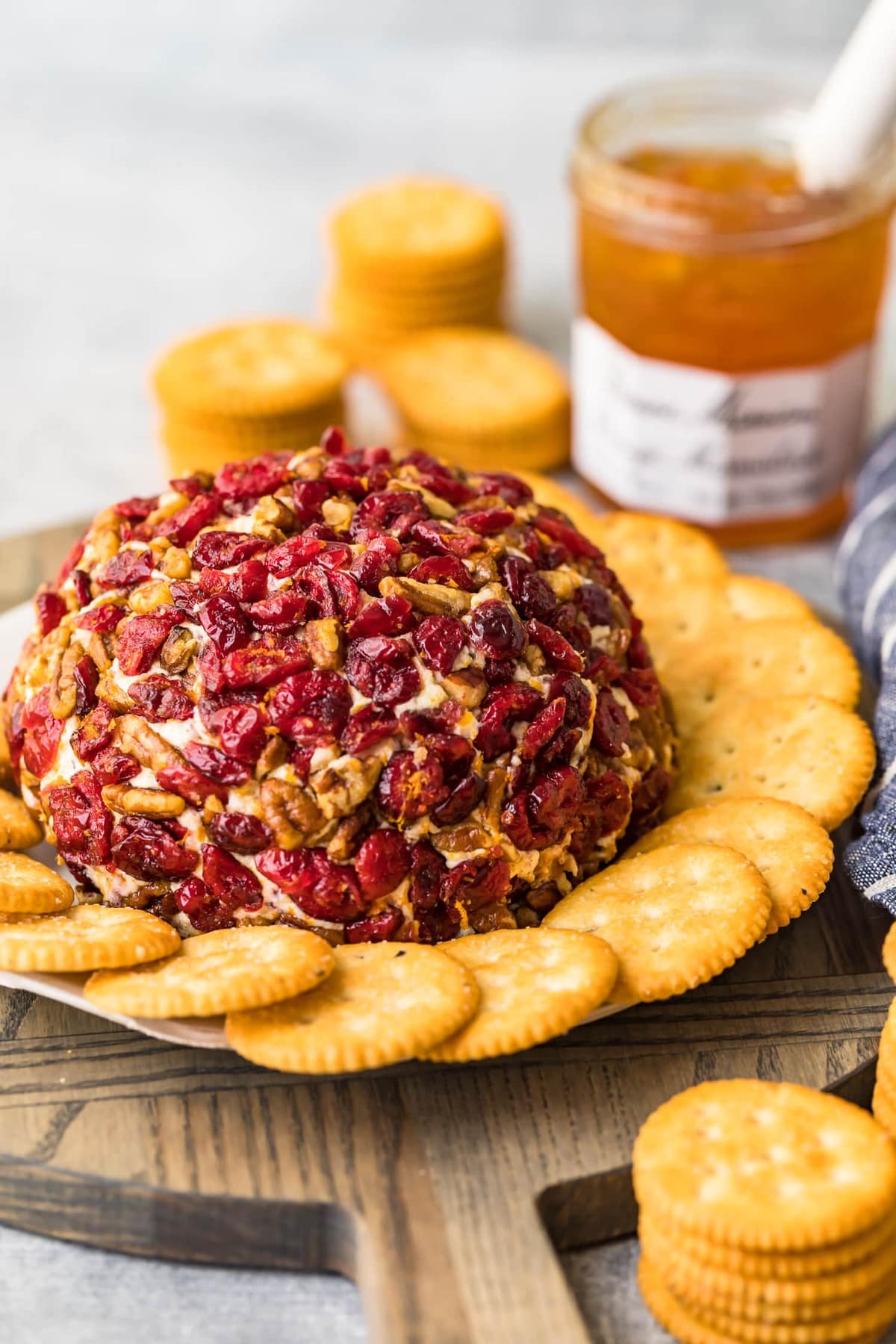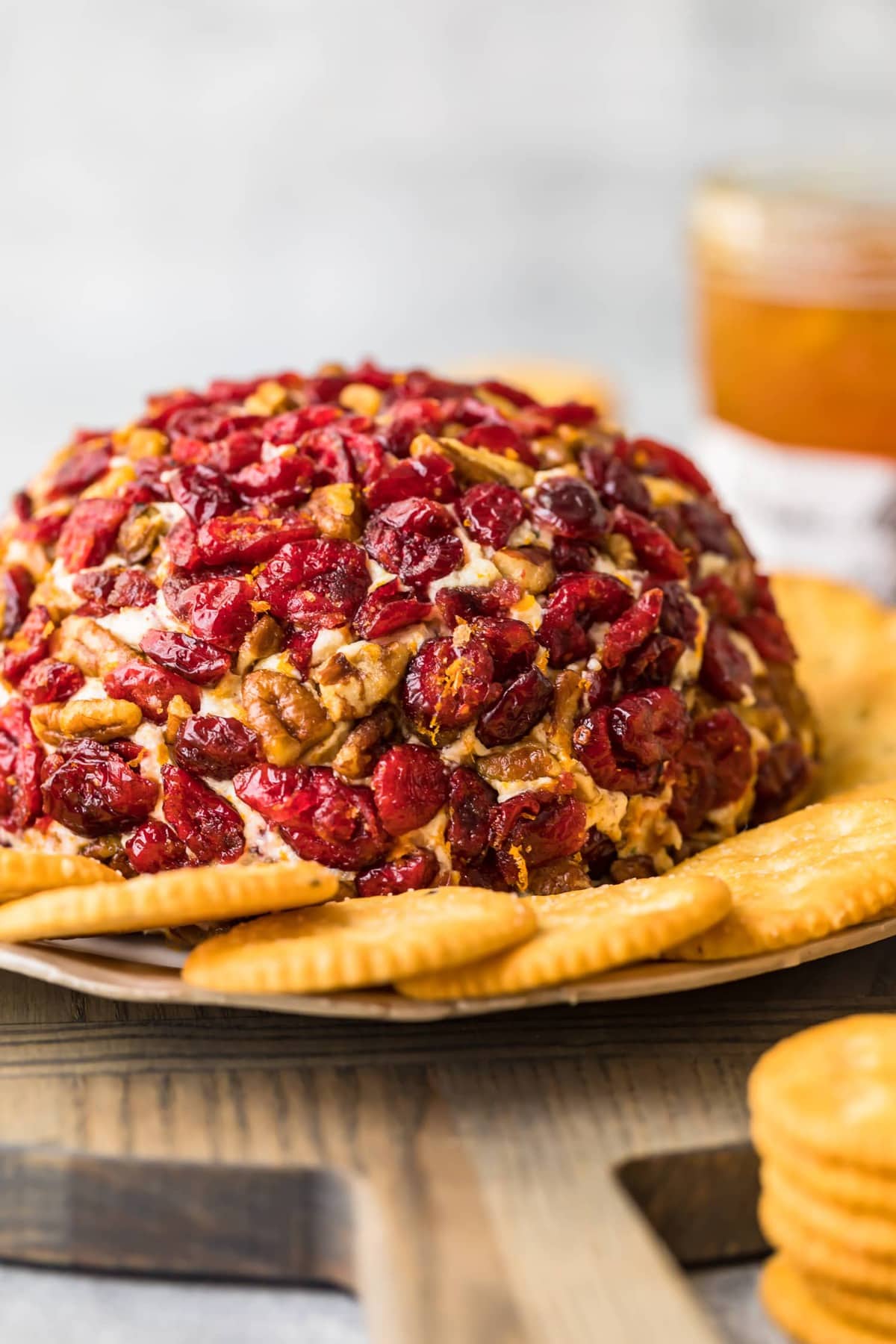 The perfect make ahead party appetizer
At the time of year when you are entertaining more friends and family than usual, make ahead party food and appetizers are a must! You can prep this Christmas cheese ball a whopping three days ahead of time, so it's perfect to keep in the fridge to serve at any point.
Can you freeze a cheeseball?
If you are really planning ahead, you can in fact, freeze the cheeseball before you add the toppings and it will be good for up to a month. Be sure to wrap it in securely in the plastic wrap and thaw it in the fridge.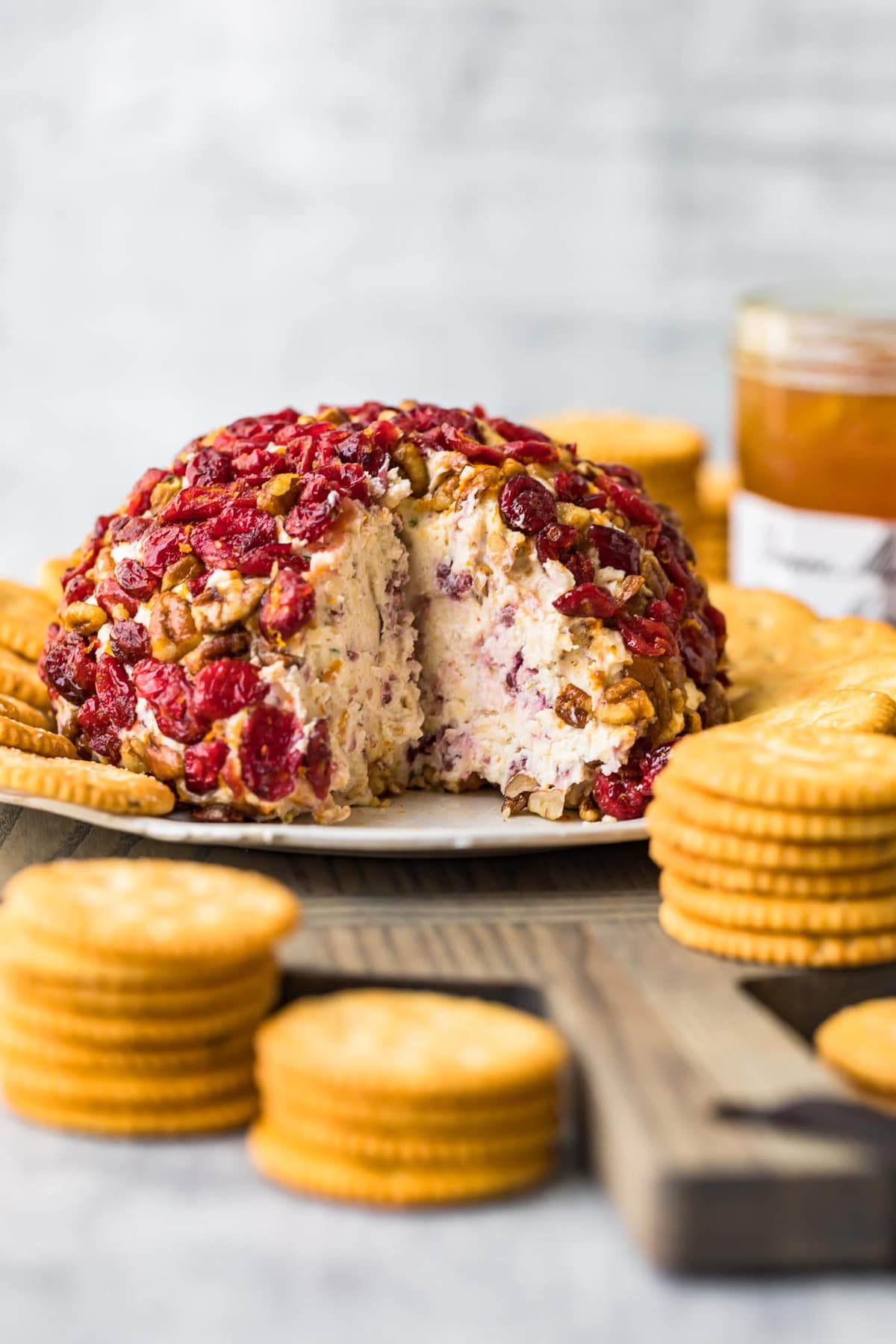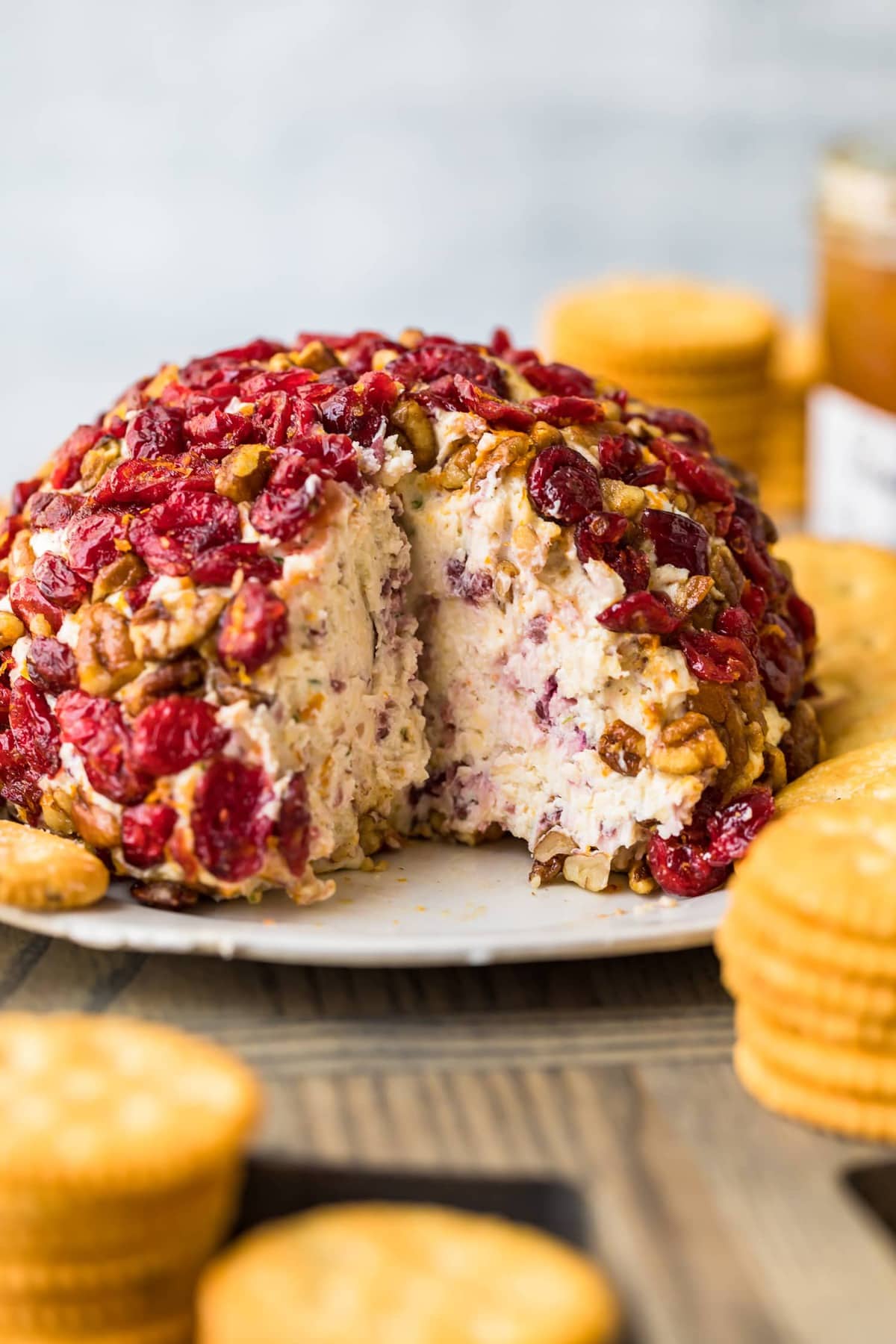 Sweet and savory Christmas cheese ball recipe
The flavors in this festive appetizer are the perfect mix of sweet and savory with a little tang. The pecans add texture to the soft cheese and we all know cranberries and orange work so well together!
How do you serve a cheese ball appetizer?
I like to keep it simple when serving cheeseballs and simply like to serve them up on a plate with a selection of savory crackers. You can however serve the cheese ball a part of a larger cheeseboard, and this works especially well if you have lots of guests. Serve with several cheeses, nuts, crudite and crostini.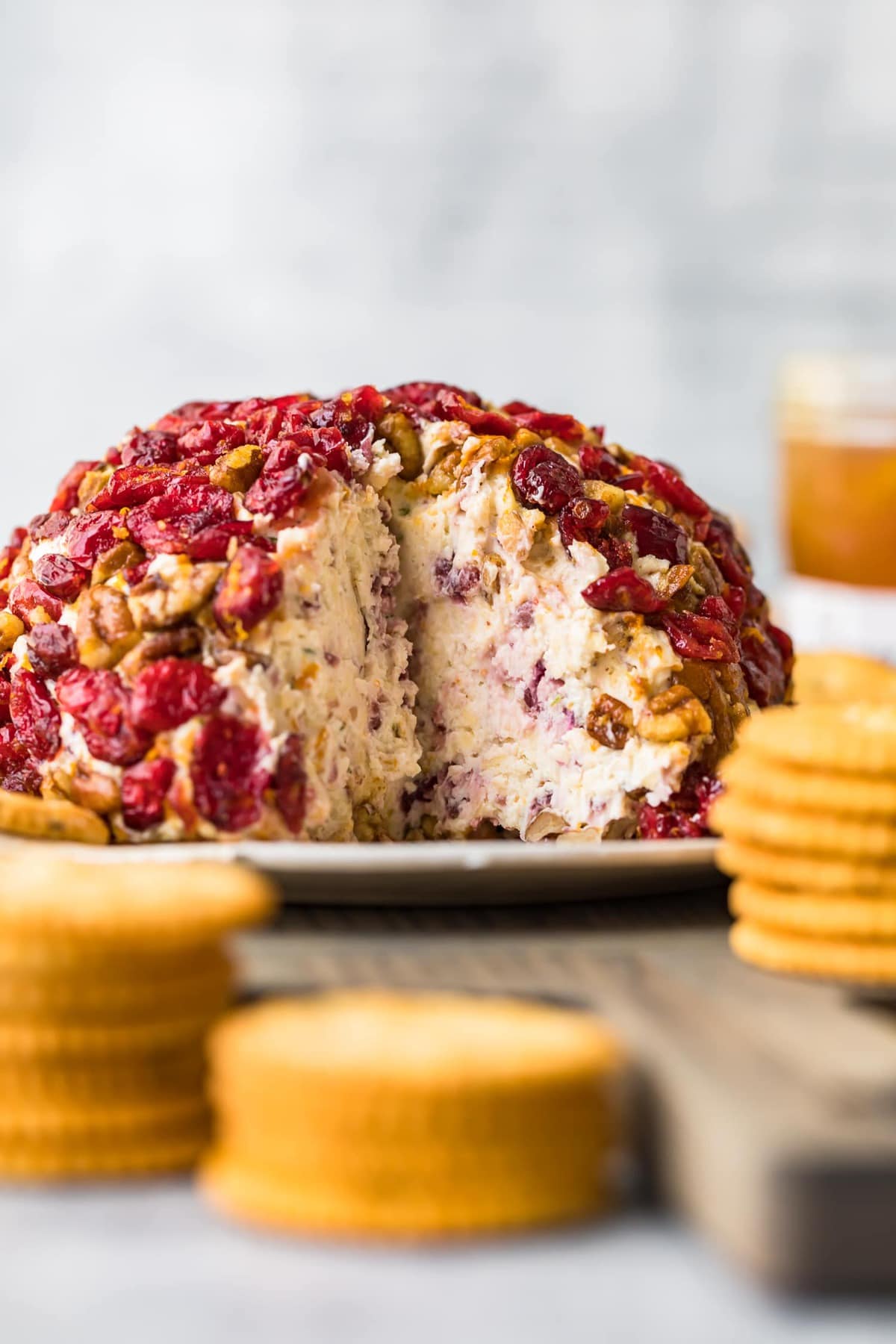 Top Tips to Make This Orange Cranberry Cheese Ball (Christmas Cheese Ball Recipe)
If you don't have a food processor, you can mix the ingredients in a large bowl with a spoon. It will take longer but work the same!
Be sure to cover the whole cheese ball in plastic wrap so that it's secure.
Let the cheese ball come to room temperature before adding the toppings.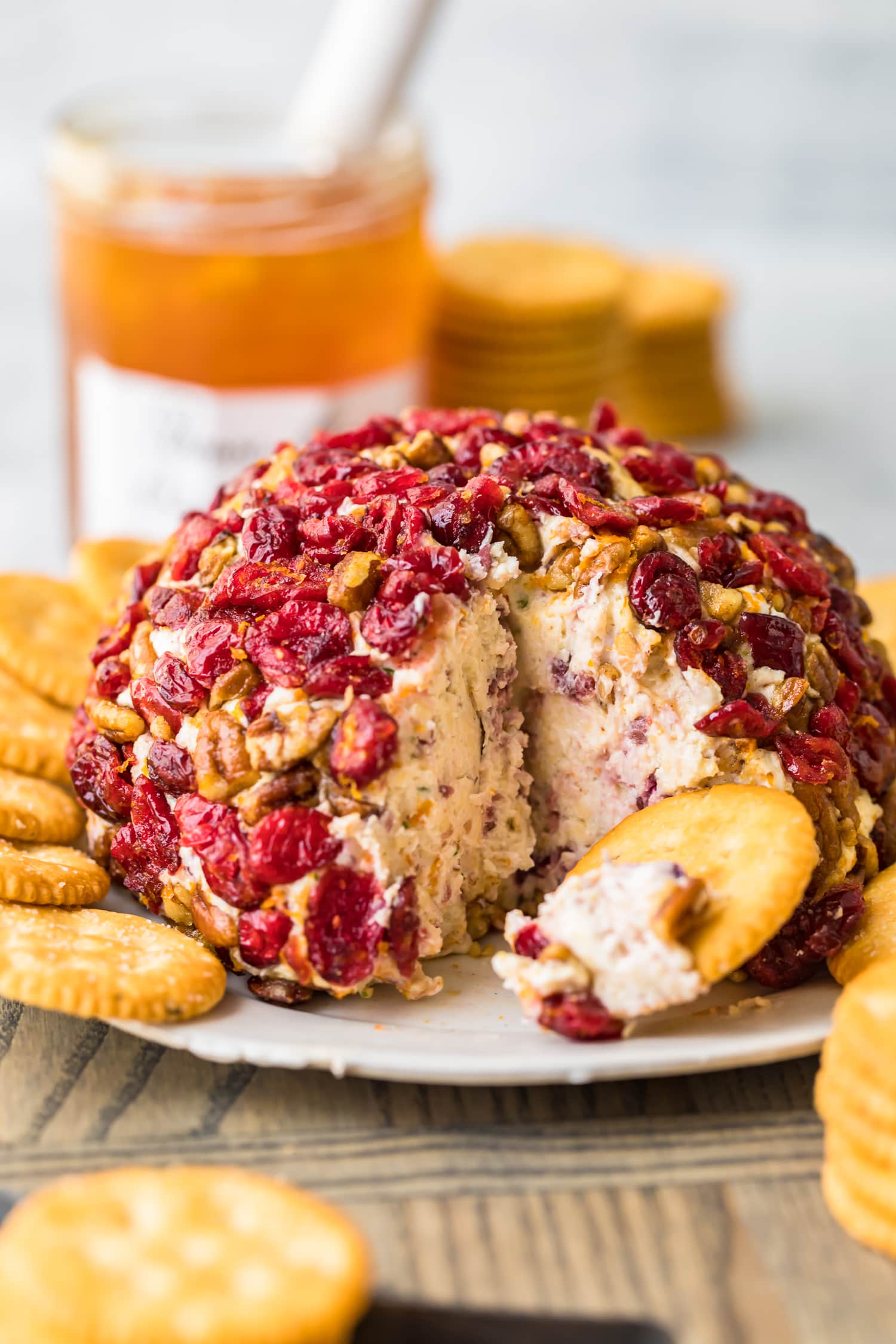 Be sure to check out these other cheese ball appetizer recipes!