Have you tried Fried Goat Cheese!? Some people call them Goat Cheese Balls. Dried Cherries and Pecans mixed with Goat Cheese and Deep Fried. Cherry Pecan Fried Goat Cheese Poppers, amazing! The perfect salad topper!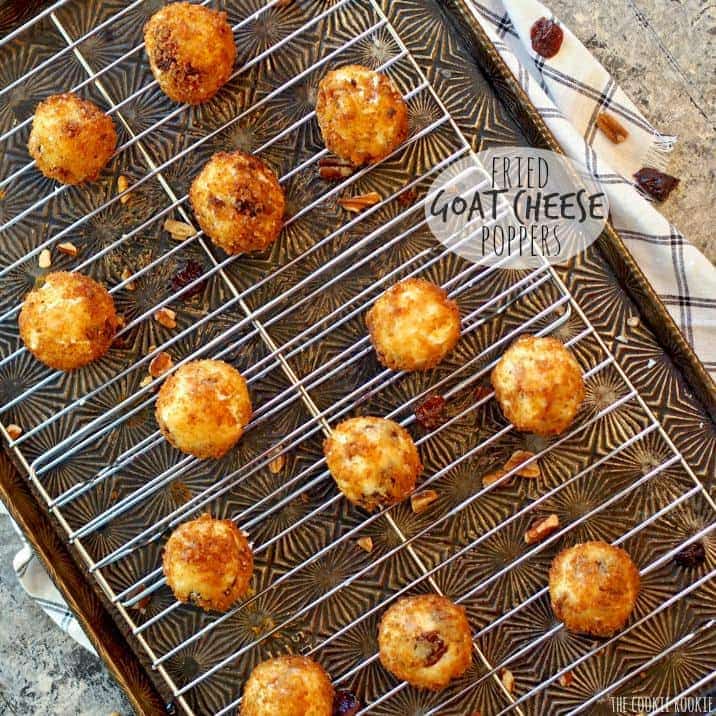 So before I admit something…I need to make sure we are in a judgement free zone.  A trust tree.  I'm about to tell you something super embarrassing and I need to make sure you'll still come back.
Okay, here goes.  I LOVE REALITY TV. Love isn't a strong enough word.  Addicted would be more accurate.  There are few reality series that I don't record.  Our DVR is always ready to make my day with some good old fashioned "smut" as my Grandma would say.  She had her smut magazines (National Inquirer fan) and I have my smut tv.  It's in my genes.  One of my favorites? Vanderpump Rules.  What is it about that show? They're all so terrible, and so fun to watch.
Well anyway, I was watching my girl Stassi (one of the worst!) a couple weeks ago and she went on and on about her favorite appetizer……GOAT CHEESE BALLS.  I thought Goat Cheese Poppers sounded a bit better, but the idea was awesome.  Fried Goat Cheese.  Yes please!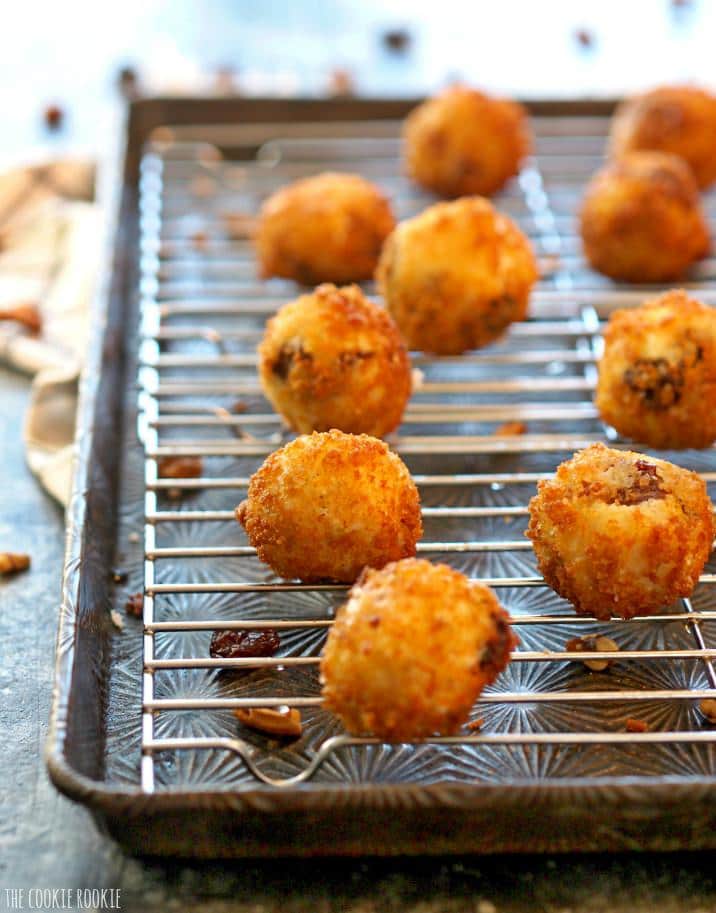 I love love love goat cheese.  Not as much as reality tv, but still a lot.
These little Cherry Pecan Fried Goat Cheese Poppers were so delicious.
The perfect fun and easy appetizer for any occasion, especially Christmas!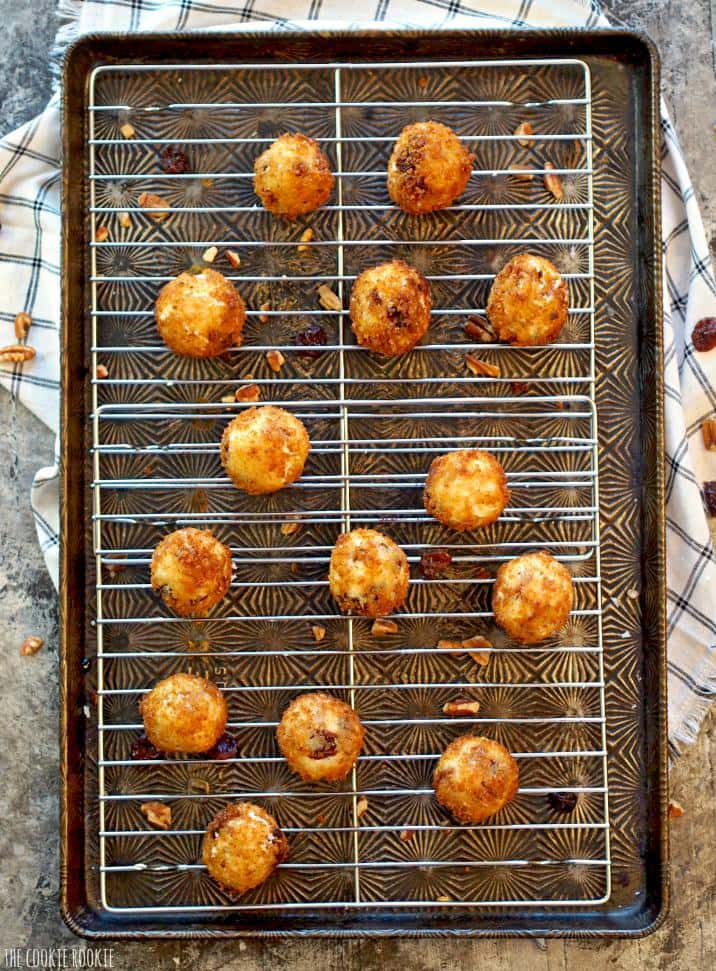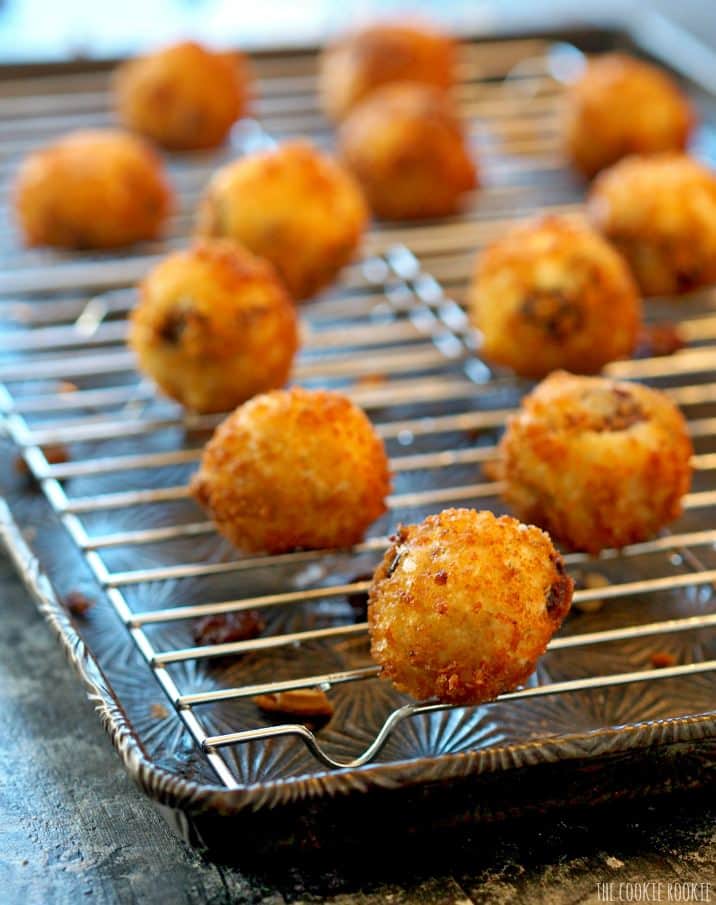 I love the added crunch from the pecans and touch of sweetness from the dried cherries.  I knew my reality tv addiction would take me places in life.  Delicious places.  Thank you Stassi!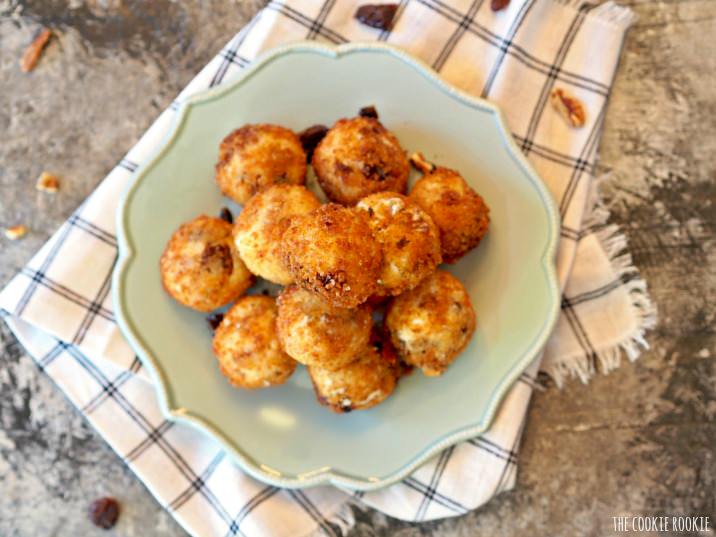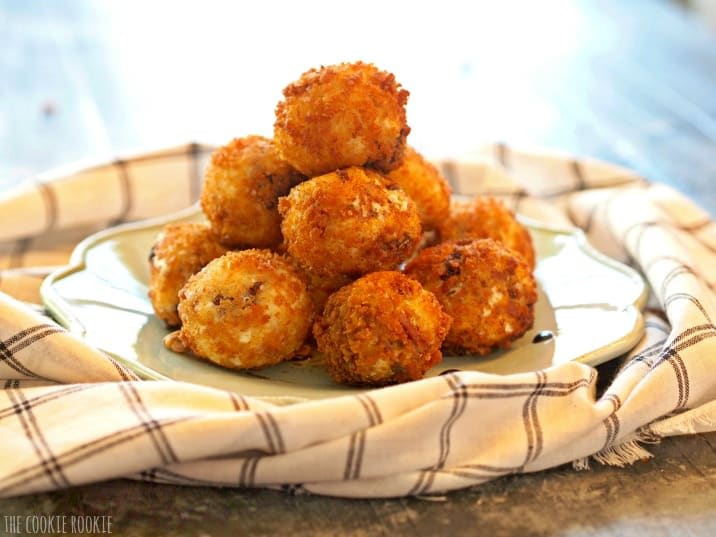 These are great on their own, and would be equally great with some crackers.  Or for breakfast.  No? Okay maybe not breakfast.  But they really are delicious.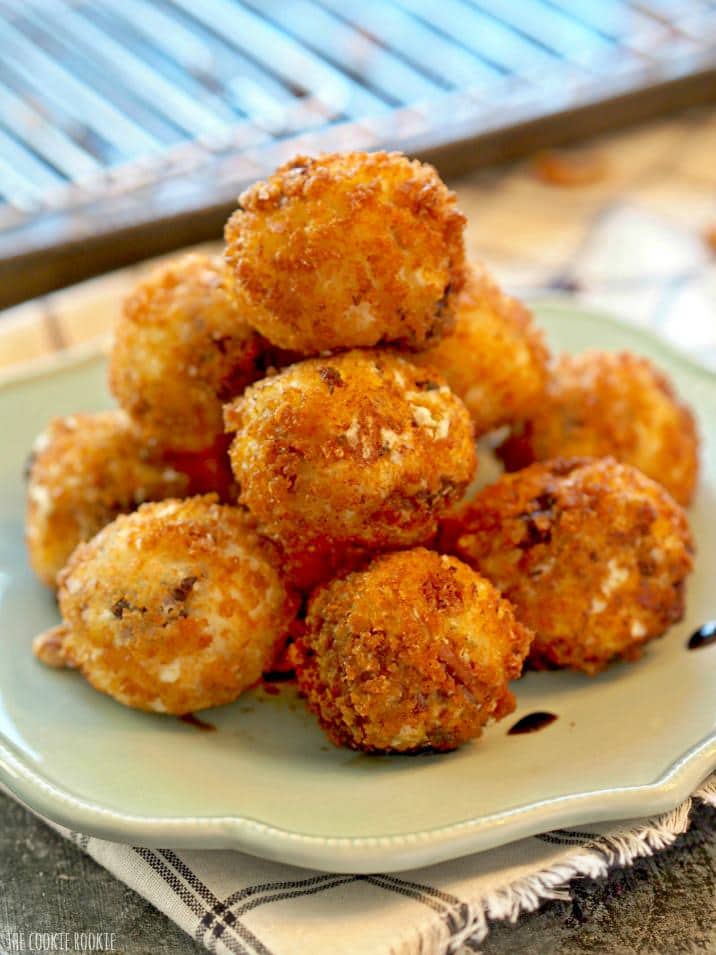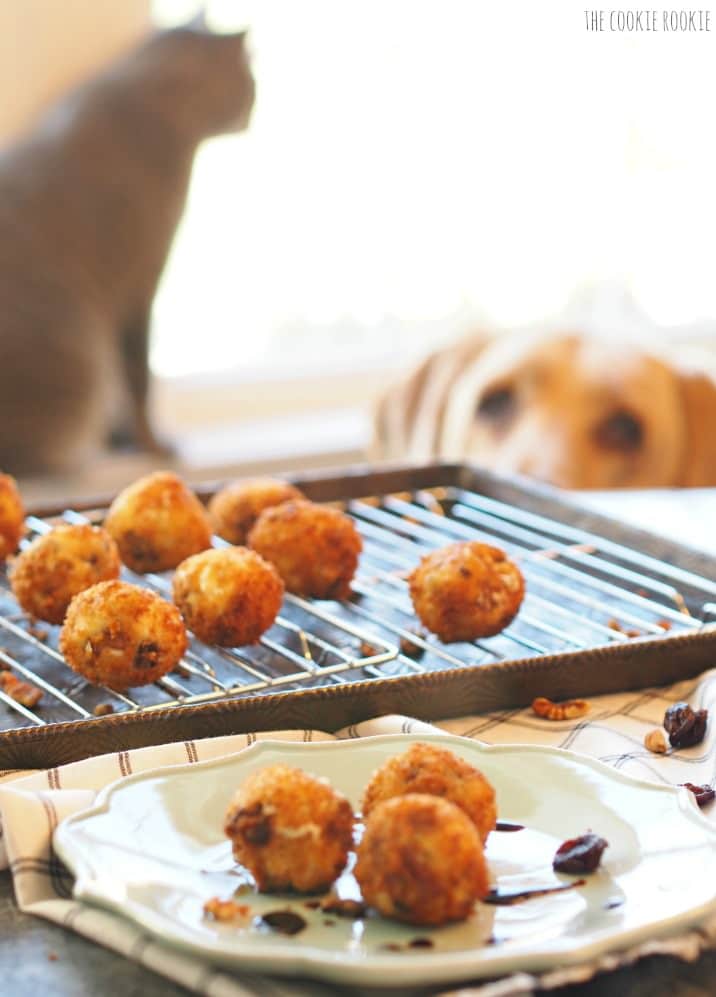 Drizzle with a little pomegranate balsamic vinegar and you're truly in business. Scout and Dill agree! Enjoy!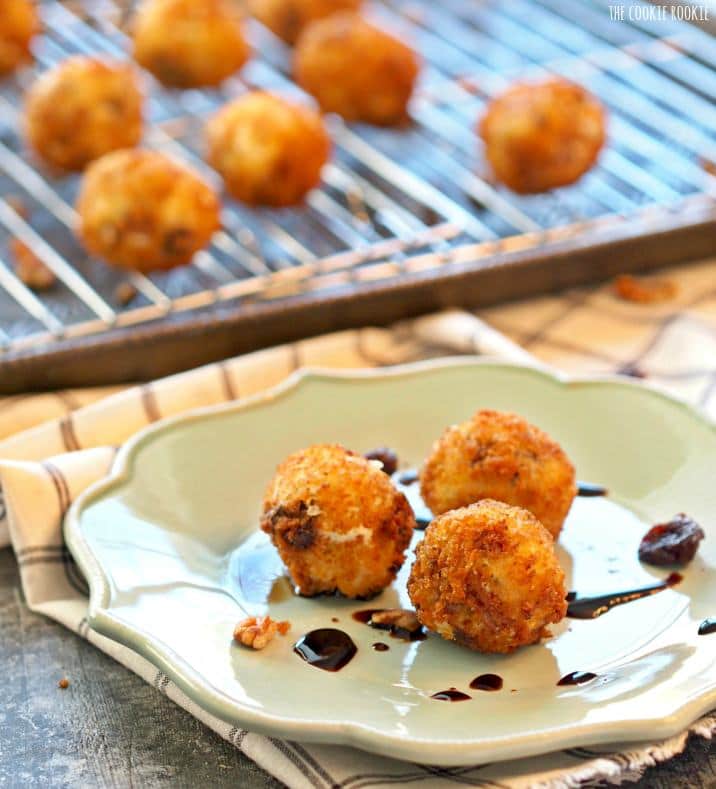 Cherry Pecan Fried Goat Cheese Poppers
15 minPrep Time
15 minTotal Time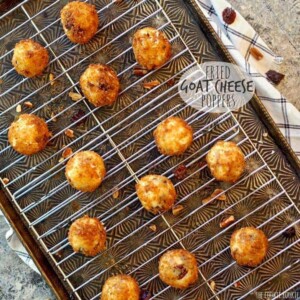 Ingredients
12 ounces (3 small packages) good quality goat cheese
1/3 cup flour
Egg white from one egg
1/2 tablespoon sea salt
1 cup panko bread crumbs
2 cups canola oil
1/2 cup dried tart cherries
1/2 cup chopped pecans
Pomegranate balsamic vinegar (optional)
Instructions
Place flour in a small bowl. Combine egg and 2 tablespoons water in another small bowl. Place panko and 1/2 teaspoon sea salt in another bowl. Set aside.
Roll goat cheese into 24 1 tablespoon-sized balls. As your rolling, add some cherries and pecans to each ball.
Place in the fridge for about an hour or the freezer for 20 minutes to make sure they are firm and sturdy.
Coat each goat cheese ball in the flour mixture. Dip in the egg and make sure that all of the outer surface is covered. Then coat with the panko mixture. Don't skimp on the panko!
Heat oil to 350° in a deep saucepan over medium-high heat. It will not boil. Since this one my first time frying food, I wasn't sure! A deep sauce pan is important so that the hot oil doesn't splatter.
Working in batches, add 2 or three goat cheese balls to the oil and allow them to fry for about 30 seconds, or until the entire coating is crispy and browned. Take out of the oil using a slotted spoon and place on a cookie rack or paper towel to dry.
Serve warm topped with a drizzle of pomegranate balsamic vinegar if desired! Enjoy!
7.6.9.2
2085
https://www.thecookierookie.com/fried-goat-cheese-poppers/