Fried Goat Cheese Balls are the perfect party appetizer! These goat cheese poppers are stuffed with dried cherries and pecans and then deep fried into a crispy little snack. They are great for holiday parties or as a fancy salad topper. Fried Goat Cheese is definitely my favorite goat cheese appetizer!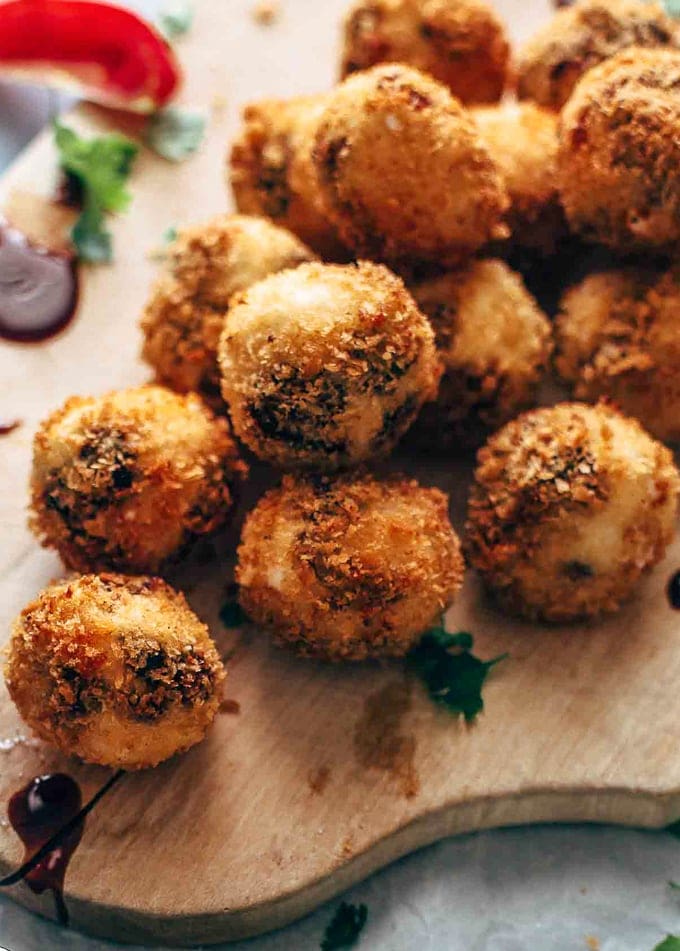 Fried Goat Cheese Balls
Fried Goat Cheese Balls (aka goat cheese poppers) are one of my favorite holiday appetizers. They are cheesy on the inside, crispy on the outside, and the perfect poppable size!
Before I tell you where I got the idea for these Fried Goat Cheese Balls, I need to make sure we are in a judgement free zone. I'm about to tell you something super embarrassing and I need to make sure you'll still come back…
I LOVE REALITY TV. Love really isn't a strong enough word. Addicted would be more accurate. There are few reality series that I don't record, and one of my favorites is Vanderpump Rules. What is it about that show? They're all so terrible, yet so fun to watch. Well anyway, I was watching my girl Stassi (one of the worst!) a couple weeks ago and she went on and on about her favorite appetizer……GOAT CHEESE BALLS.
She convinced me that I needed to try them, so I decided to just make some for myself. The idea was awesome, and I'll never deny a good appetizer idea, no matter where it came from! I mean, fried goat cheese? Yes please! Sounds like the best New Year's Eve appetizer if you ask me. And that's how this delicious goat cheese appetizer recipe was born…
These Fried Goat Cheese Balls are stuffed with dried cherries & pecans and then deep fried into a crispy little ball. This goat cheese appetizer is PERFECT for New Year's Eve parties!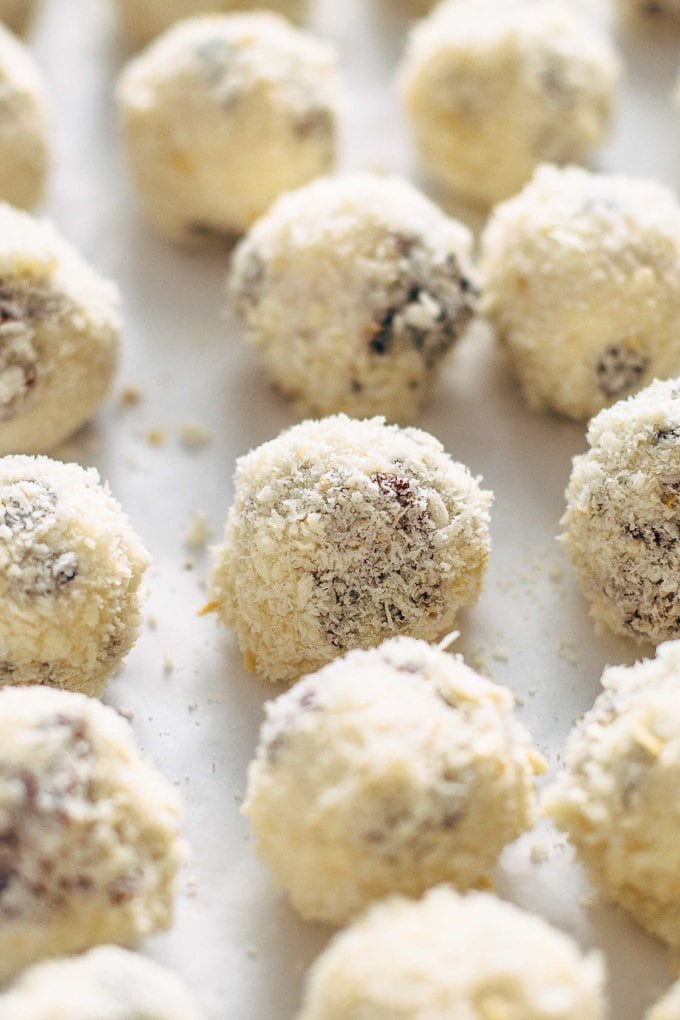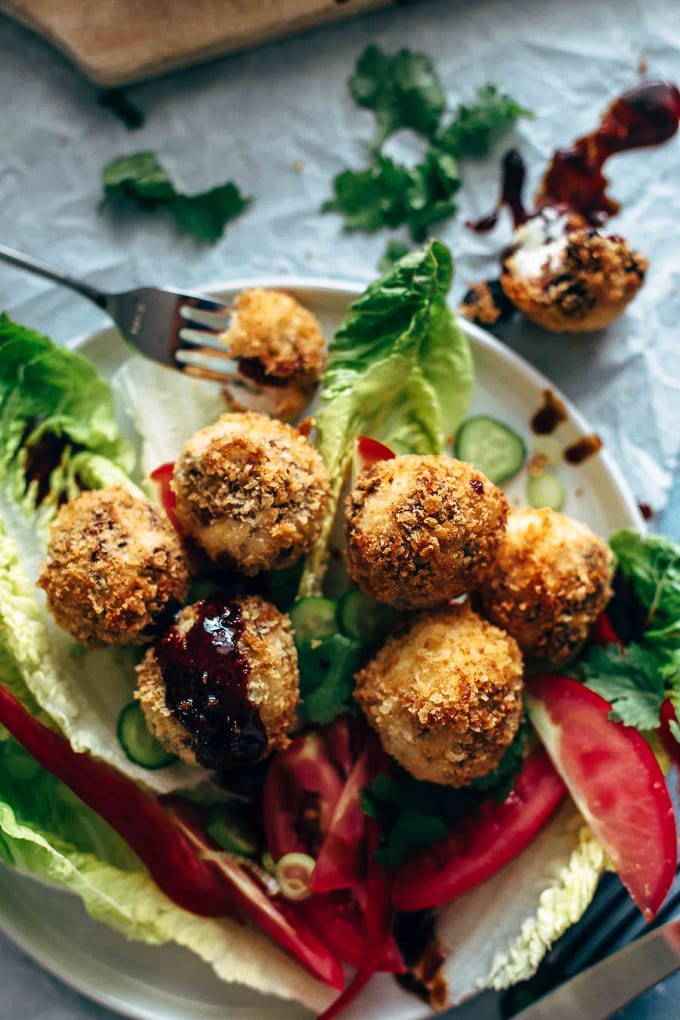 Goat Cheese Appetizers
I. Love. Goat Cheese. I'm a big fan of any kind of cheese, but goat cheese just feels a bit more decadent than, say, cheddar or swiss. It's soft and creamy, and it's just so perfect to snack on. I've made a lot of goat cheese appetizers because it just seems like the perfect cheese for the job!
These Fried Goat Cheese Balls are one of my favorites because they're the perfect size to pop in your mouth one by one. The cherries and pecans add so much flavor into the mix, and deep frying them adds a nice crispy shell that makes them absolutely irresistible!
Here are a few more tasty goat cheese appetizers to try: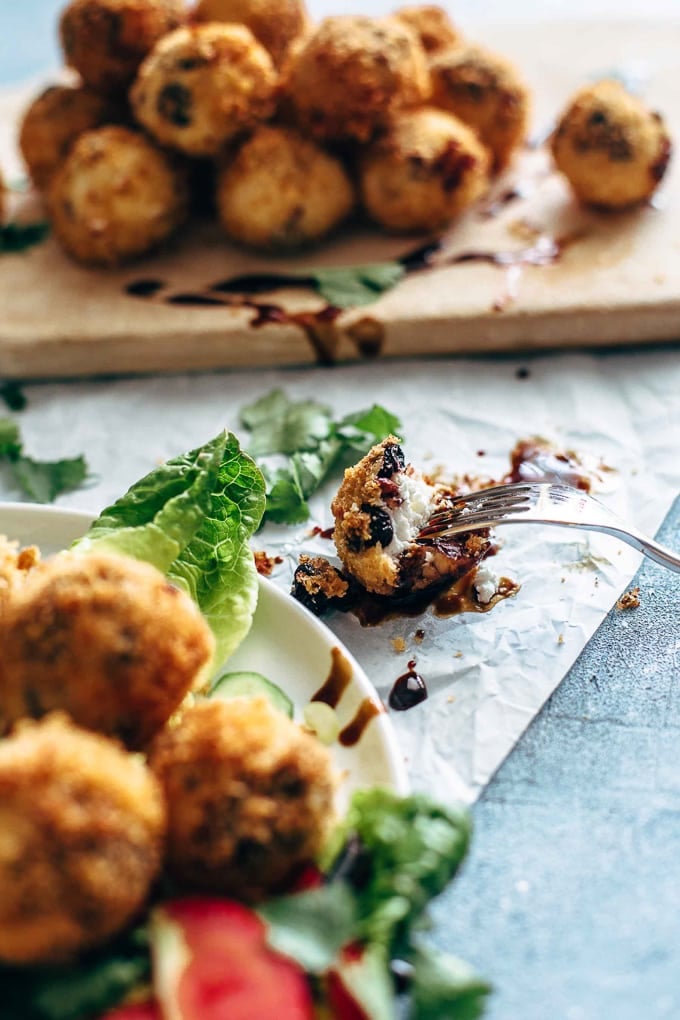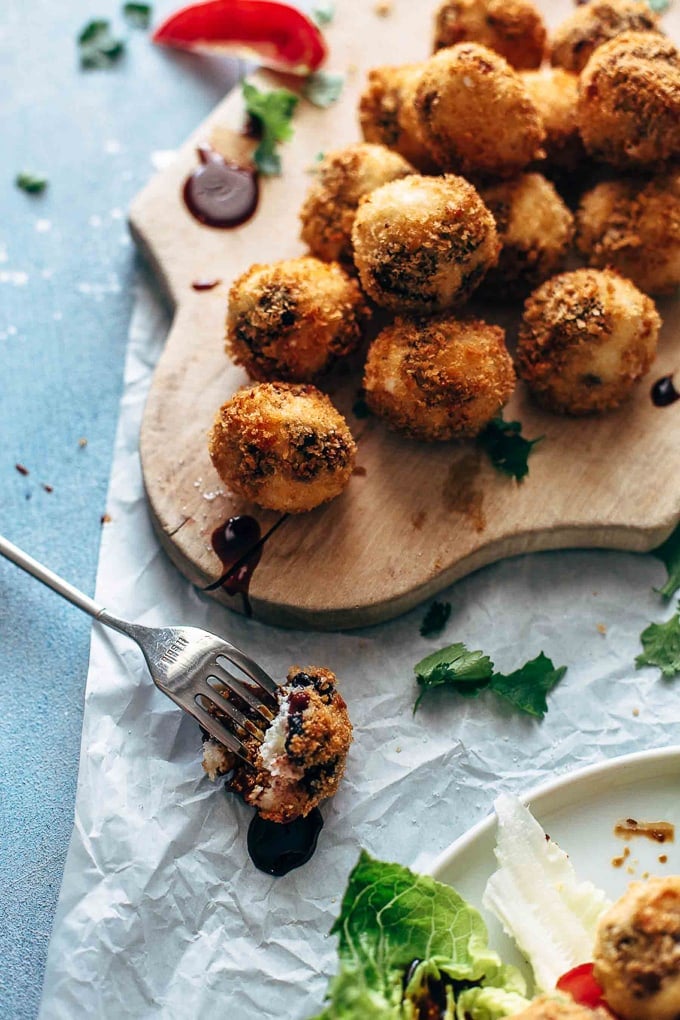 How to Make Fried Goat Cheese Balls
This fried goat cheese balls recipe is super simple. Mix pecans and dried cherries in with goat cheese, and roll them into bite-sized balls. Then quickly deep fry them (it's a lot easier than it seems, trust me!) and they're ready to go. If you have some sort of deep fryer, you can use that. But all you really need is a deep saucepan (deep enough that the hot oil won't splatter everywhere).
How to Make Goat Cheese Balls:
Place flour in a bowl, then mix egg & water in another bowl, and mix breadcrumbs & sea salt in a third bowl
Roll the goat cheese into 24 1 tablespoon sized balls, mixing dried cherry and pecans into each goat cheese ball
Let them set in the refrigerator for about 1 hour, until firm
Roll each ball into the flour, then the egg, and finally the breadcrumbs
Heat oil to 350°F in a deep saucepan
Set 2 or 3 balls into the oil at a time & fry for about 30 seconds (coating should be crispy and fully browned)
Use slotted spoon to remove the fried goat cheese balls and let them cool/dry on a paper towel or cooling rack
These are really great as an appetizer and taste even better with a dip or dressing of some sort. They also make a great salad topper for something a little extra special. See the recipe card for full instructions!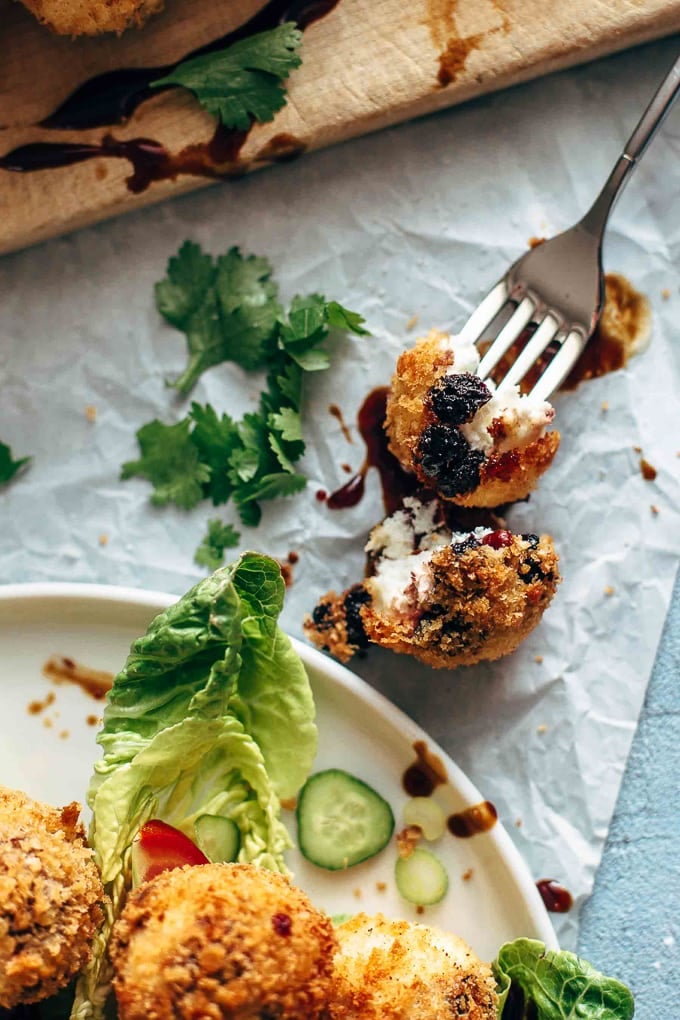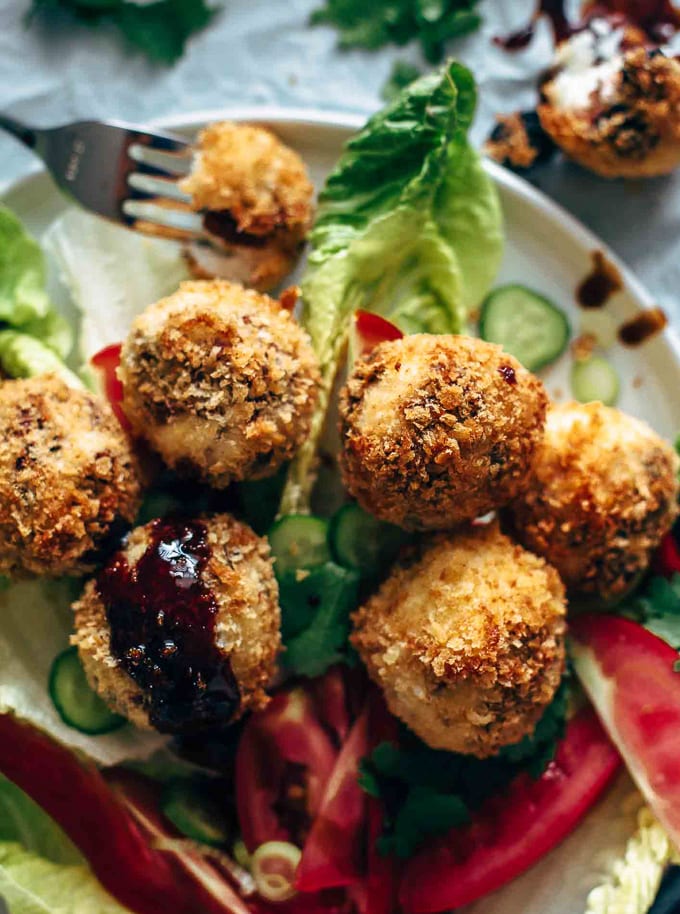 These Fried Goat Cheese Balls are just too good! I love the added crunch from the pecans and touch of sweetness from the dried cherries. I knew my reality TV addiction would take me places in life…very delicious places. These are great on their own, and would be equally great with some crackers. Drizzle with a little pomegranate balsamic vinegar and you're truly in business.
Watch the Video and See the recipe card for full details on how to make Fried Goat Cheese Balls. Enjoy!
If you like these fried goat cheese balls, try these other great appetizer recipes: