When hosting special events with family and friends, make sure your Everything Bagel Cheese Ball is the star of the show. Use this recipe to prepare a delicious ball of cheese to serve with crackers, nuts, and more.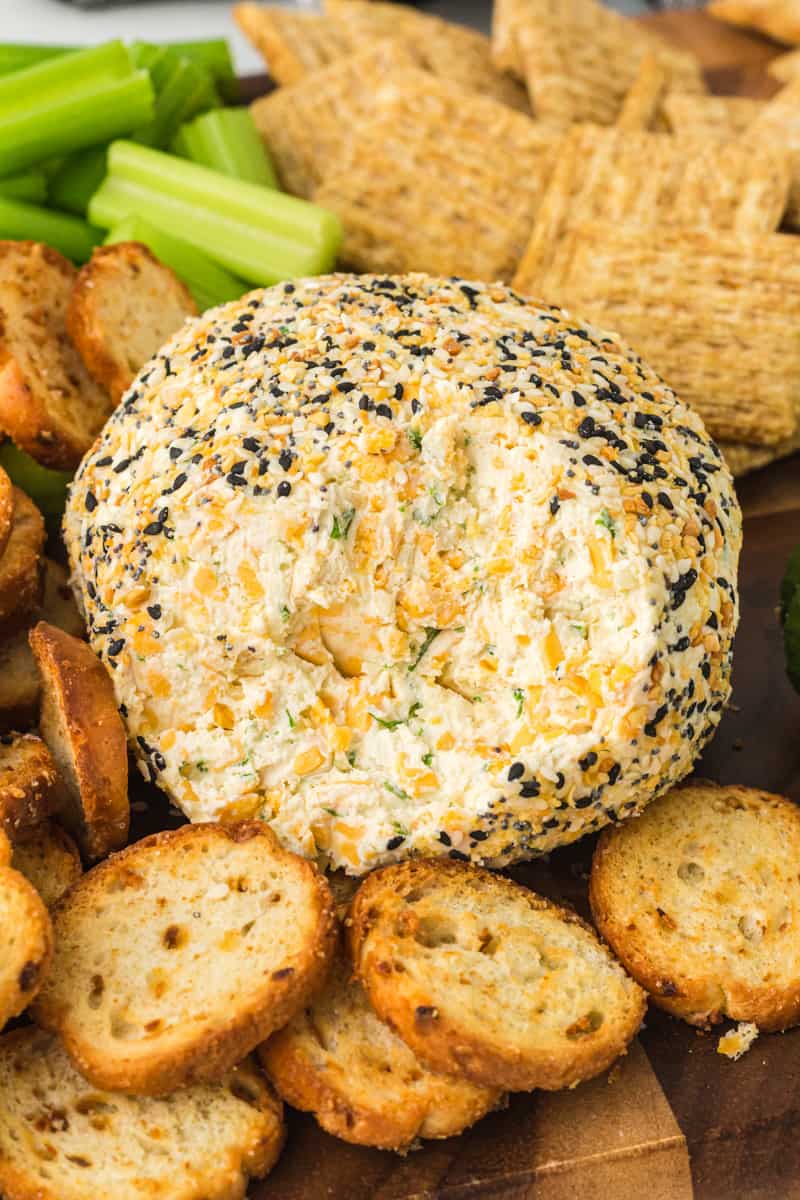 Easy Everything Bagel Cheese Ball
If you're a cheese lover who often has friends and family visiting for special occasions, prepare this easy Everything Bagel Cheese Ball. It doesn't take long to prepare, making it the perfect appetizer to prepare for any event, whether you're the host or not.
Everything Bagel seasoning is a mix of spices that are commonly found on bagels. It contains poppy seeds, sesame seeds, garlic and onion. This cheese ball uses the seasoning on the outside to give it a great flavor and crunch.
Why You'll Love this Cheese Ball Recipe:
EASY TO MAKE: It's incredibly easy to prepare and doesn't take long to make. No baking required!
SIMPLE INGREDIENTS: You won't need a bunch of ingredients to make this delicious Everything Bagel Cheese Ball that is loaded with flavor.
GREAT APPETIZER: It's perfect for cheese lovers and those who enjoy everything bagel seasoning! It makes a great addition to your appetizer spread.
This easy cheese ball recipe is simple to make. If you can mix together ingredients than you are going to be a pro at making this everything bagel cheese ball.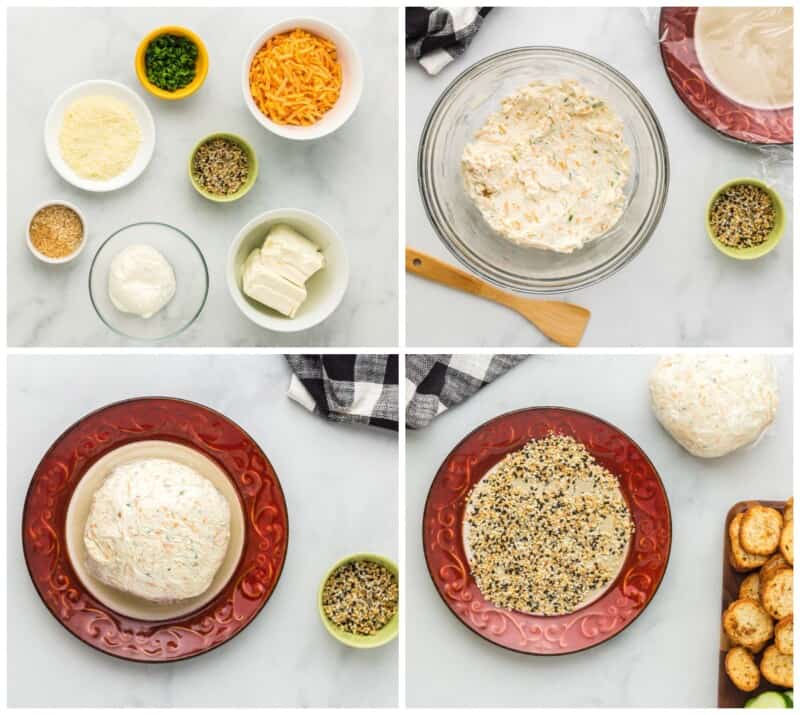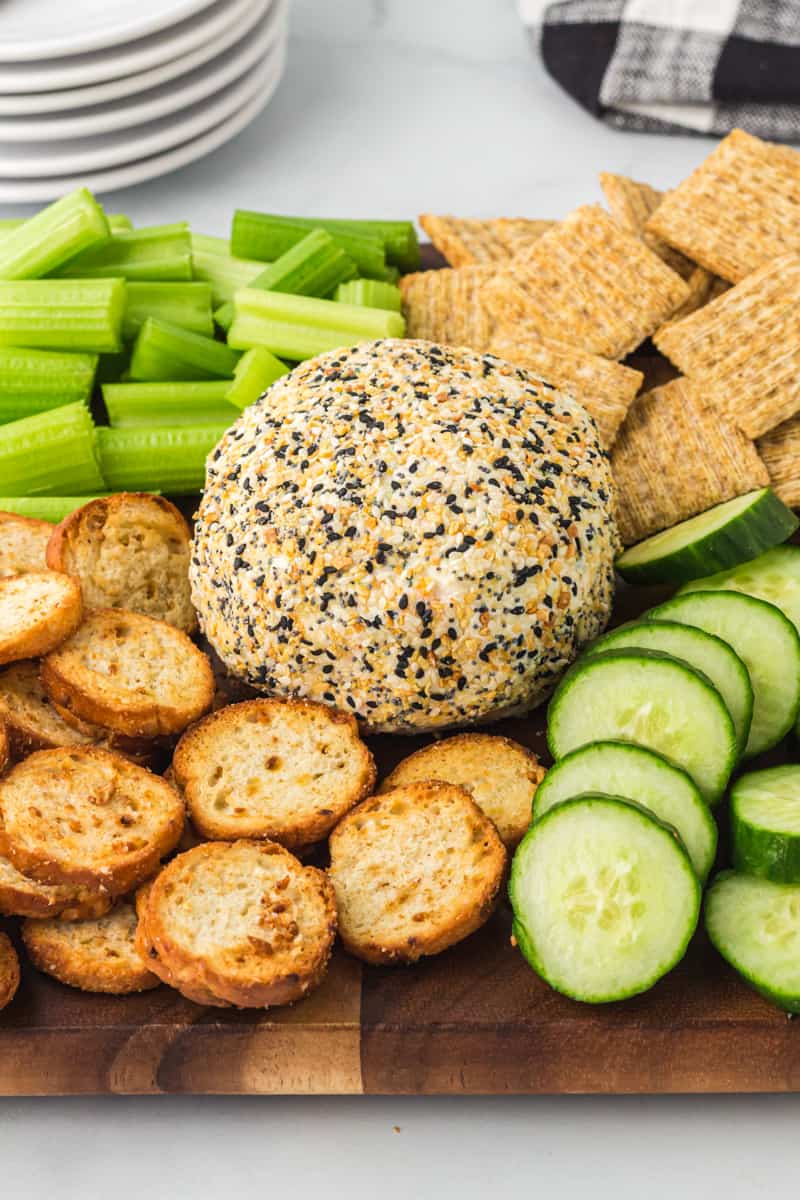 How to Make Everything Bagel Cheese Ball
You can jump to the recipe card for full ingredients & instructions!
Beat your cream cheese, Parmesan cheese, chives, dried onion, sour cream, cheddar cheese, and dehydrated minced garlic in a mixing bowl.
Place plastic food wrap on your table and then use a spatula to remove the mixture from the mixing bowl, placing it on the plastic wrap.
Wrap the cheese and begin shaping it into the form of a large ball, setting it in the fridge to chill for an hour.
Pour your everything bagel seasoning on a large plate and then take your cheese ball, remove the wrap, and roll it into the seasoning to coat it.
Serve with some of your favorite sides, such as crackers!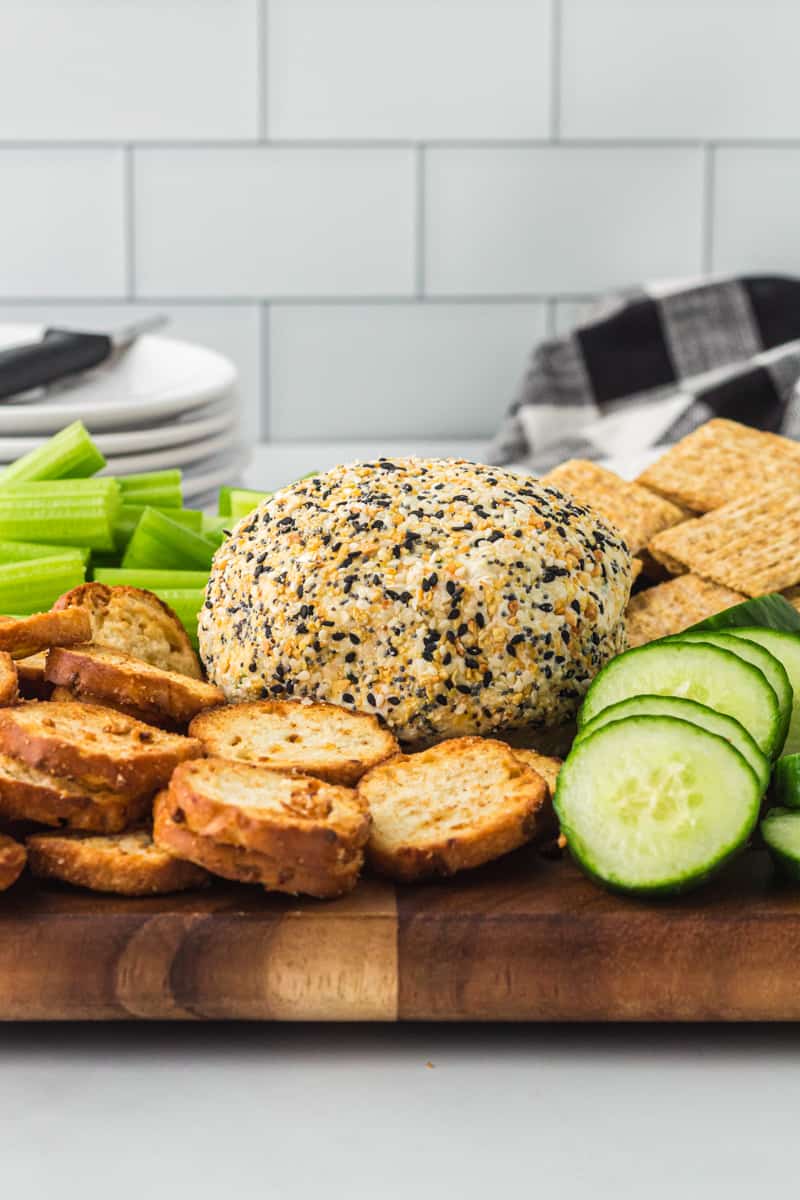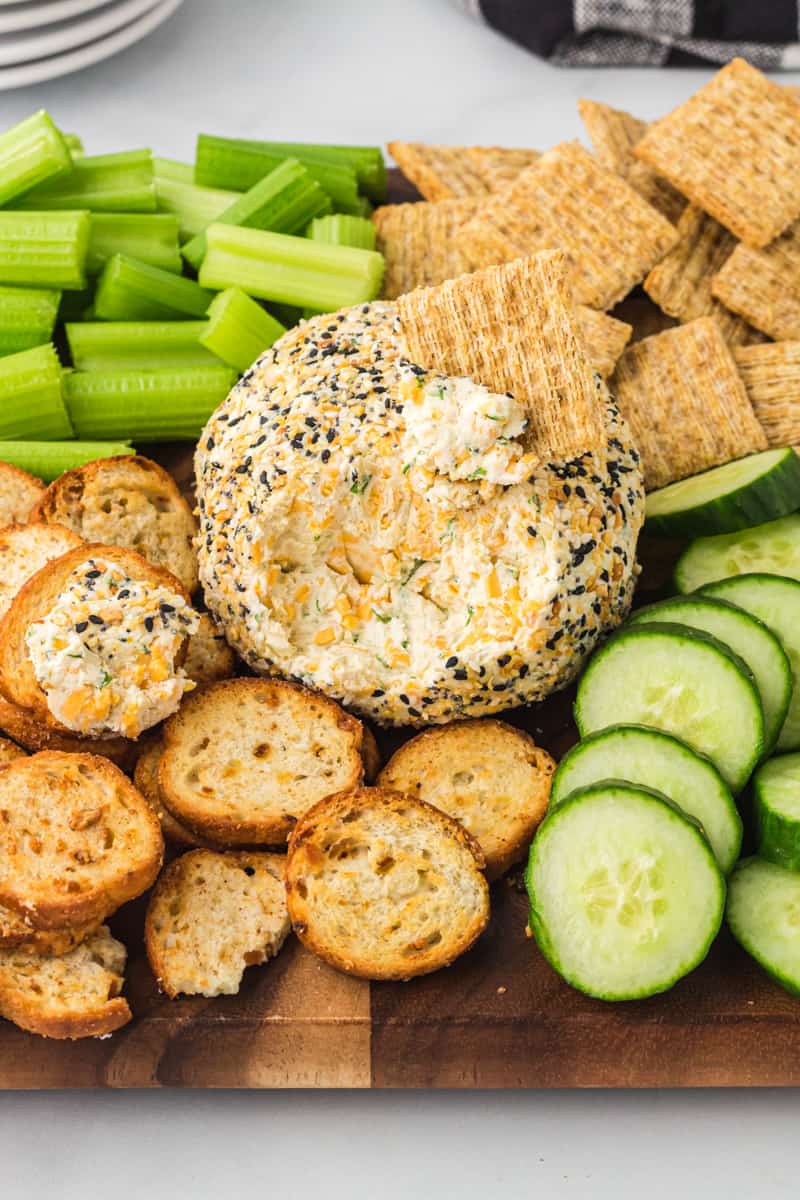 What is in everything bagel seasoning?
Everything bagel seasoning is a mixture of white sesame seeds, black sesame seeds, dried minced onion, dried minced garlic, sea salt flakes, and poppy seeds.
Where can I buy everything bagel seasoning?
You can buy everything bagel seasoning at Trader Joe's, Amazon or most grocery stores. You can also make your own everything bagel seasoning at home!
Can I freeze this cheese ball?
Yes but keep in mind that cheese can dry out in the freezer so make sure it's wrapped really well in food-safe plastic wrap before freezing. Thaw before serving.
Can I make this cheese ball ahead of time?
Yes, you can make it in advance, wrap it up, and properly store it to keep it fresh before you serve it. Make sure to keep it in the fridge to preserve its freshness.
Serving Suggestions
Crackers are an excellent side to serve with the cheese ball. You can choose from a broad range of crackers, including Ritz, traditional saltines, or even club crackers, depending on what you like and have at home.
If you don't want to use crackers, no worries. You can also use tortilla chips. Choose from restaurant-style, rounds, or even scoops to hold more cheese!
Celery, carrots or even cucumbers make a great side for dipping as well.
The Everything Bagel Cheese Ball will quickly become a huge hit. Before you know it, your loved ones will constantly request it for every special occasion.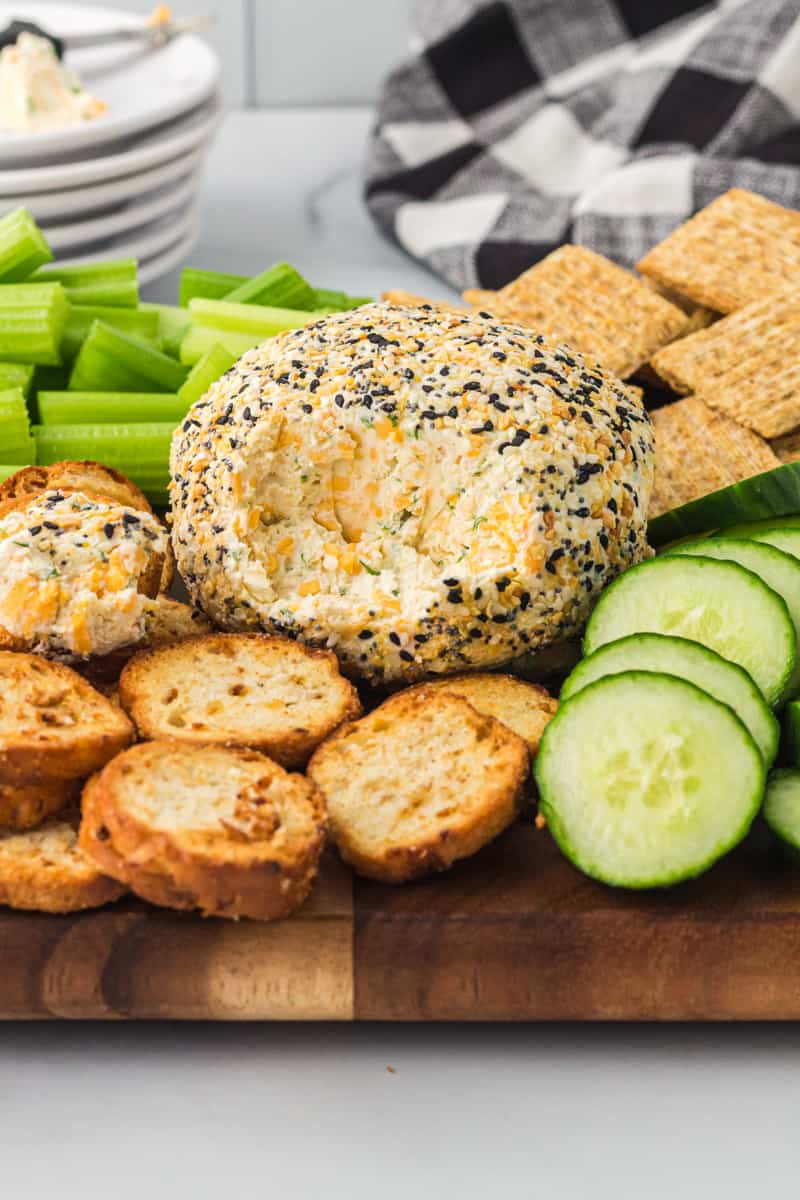 Tips!
Some people like to add chopped nuts to this cheese ball. It's a great option to add more texture to your cheese ball.
You can always replace different cheeses in this recipe. For example, if you don't have sharp cheddar cheese, you can use mild cheddar cheese.
If you want to make the cheese ball spicy, add red pepper flakes or diced jalapenos into the mixture.
If you're looking for a great appetizer to serve, this is an excellent choice. The Everything Bagel Cheese Ball is delicious to taste and fun to make. This is a great appetizer for Easter or any holiday.
What should I serve with this cheese ball?
If you're not sure what to serve with the Everything Bagel Cheese Ball, there are plenty of great options. While crackers and tortilla chips are two great choices, you can also serve crostinis, apple slices, mini bagels, and even your favorite bag of pretzels with the cheese ball to provide more dipping opportunities. Fresh vegetables such as celery and carrots work well too.
Can I use this recipe to make cheese ball bites?
Absolutely. Instead of creating one large ball for people to dip, you can roll the mixture into smaller balls to create cheese ball bites that are perfect for guests to grab at their leisure.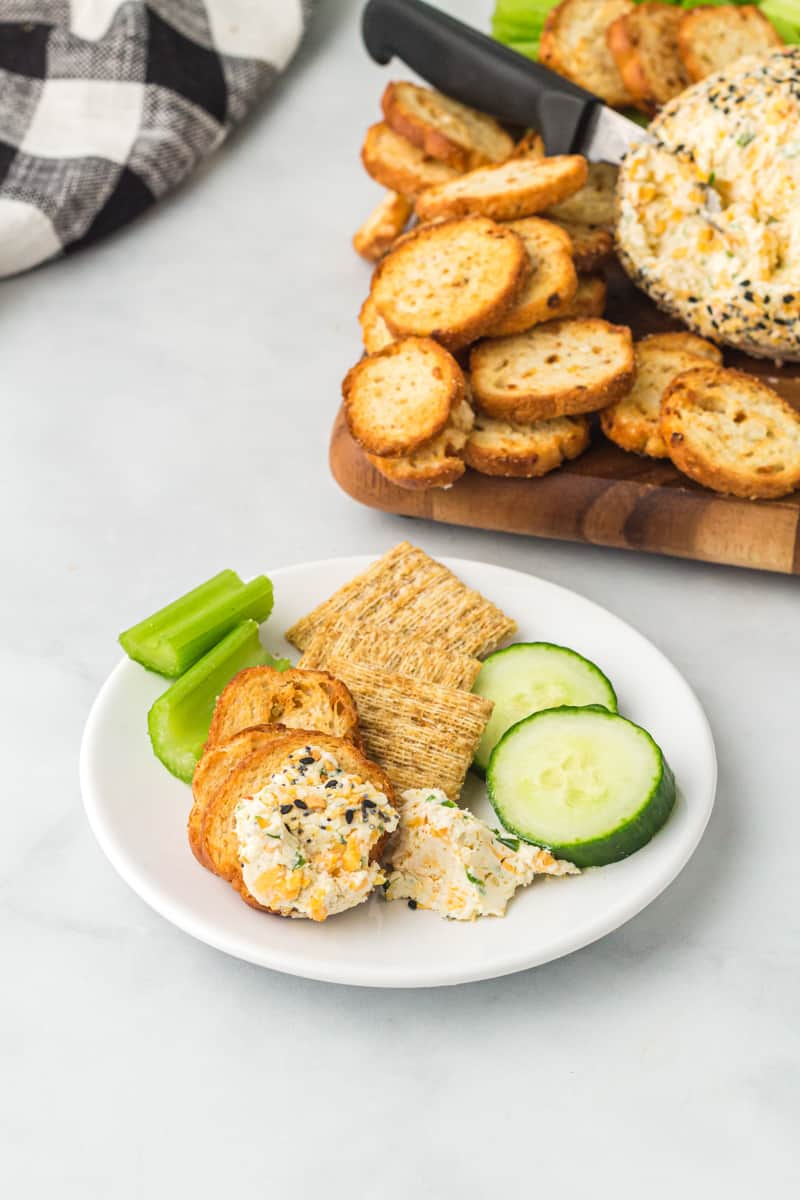 The next time you're planning to host an event or head over to someone else's house, make this Everything Bagel Cheese Ball. Everyone will rave over its incredible taste and texture. Best of all, you can serve it with such an impressive variety of snacks.
If you make this recipe be sure to upload a photo in the comment section below or leave a rating. Enjoy! You can also jump to recipe.