This orange honey glazed ham recipe is made with the easiest 3-ingredient glaze. Honey, brown sugar, and orange marmalade are mixed together to create a sweet and bright flavor, then used to coat a spiral ham before baking. This is such a delicious dish to serve for Easter, Christmas, or any holiday feast!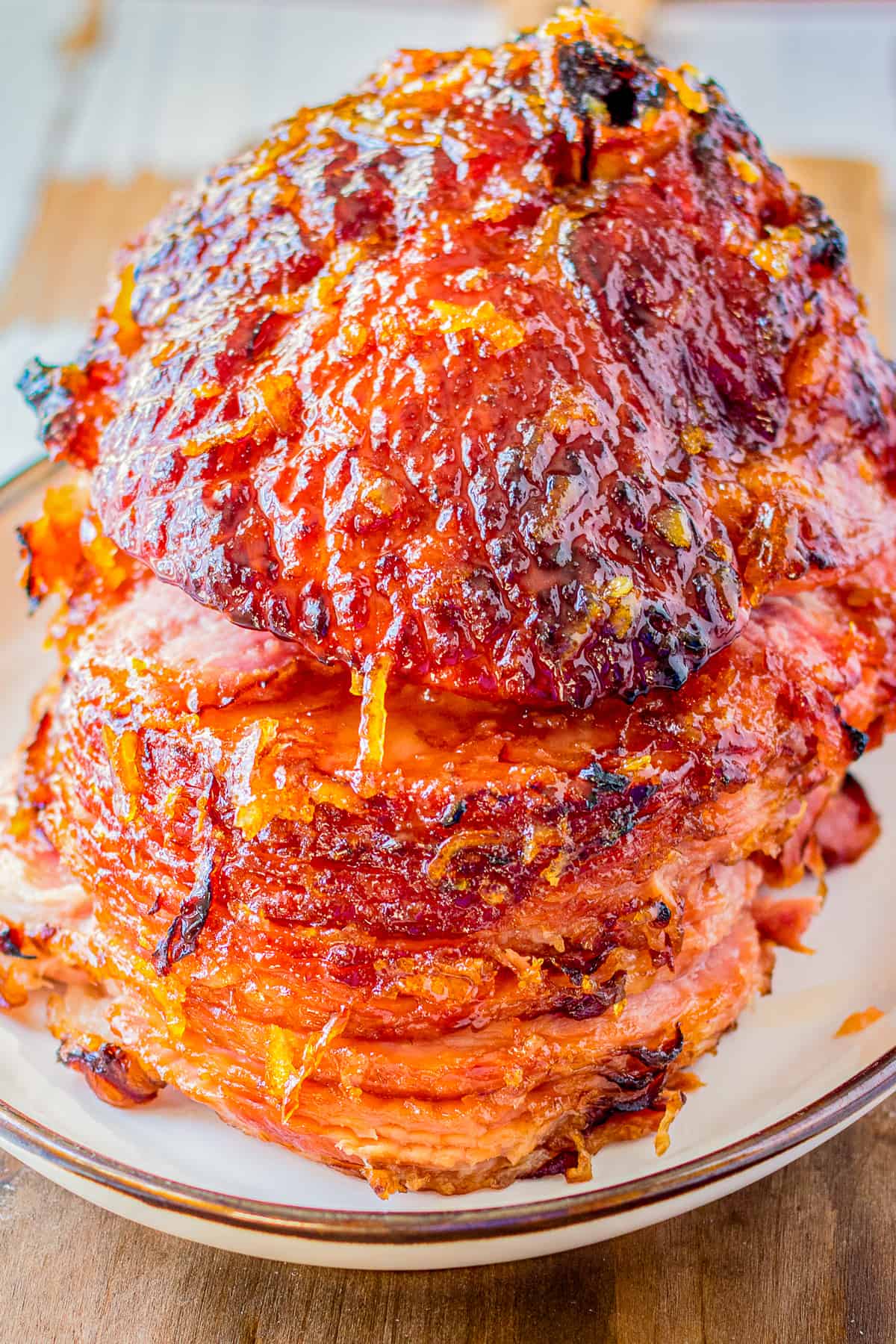 What's in this Orange Glazed Ham recipe?
You only need 3 ingredients to make this delicious orange and honey glaze for ham, and it's so easy to do.
Spiral Ham: You can use this glaze on any type of ham, but for this recipe I used a bone-in spiral ham. It's quick and easy to cook!
Brown Sugar: This adds a rich, deep sweetness to the glaze. Be sure to pack it when measuring. You can use dark brown sugar if you want to intensify the flavor.
Honey: Honey adds texture and sweetness.
Orange Marmalade: Marmalade is perfectly sweet and the perfect consistency. This creates the most delicious orange flavor for our glaze.
Can I use orange juice to make the ham glaze?
If you don't have orange marmalade, the best substitutes are orange jam or orange juice concentrate. Concentrate has a thicker, more syrupy consistency that works better than orange juice when making a ham glaze. If you use orange juice, make sure it's pulpy, otherwise you'll end up with too much liquid in the glaze, and it will change the consistency.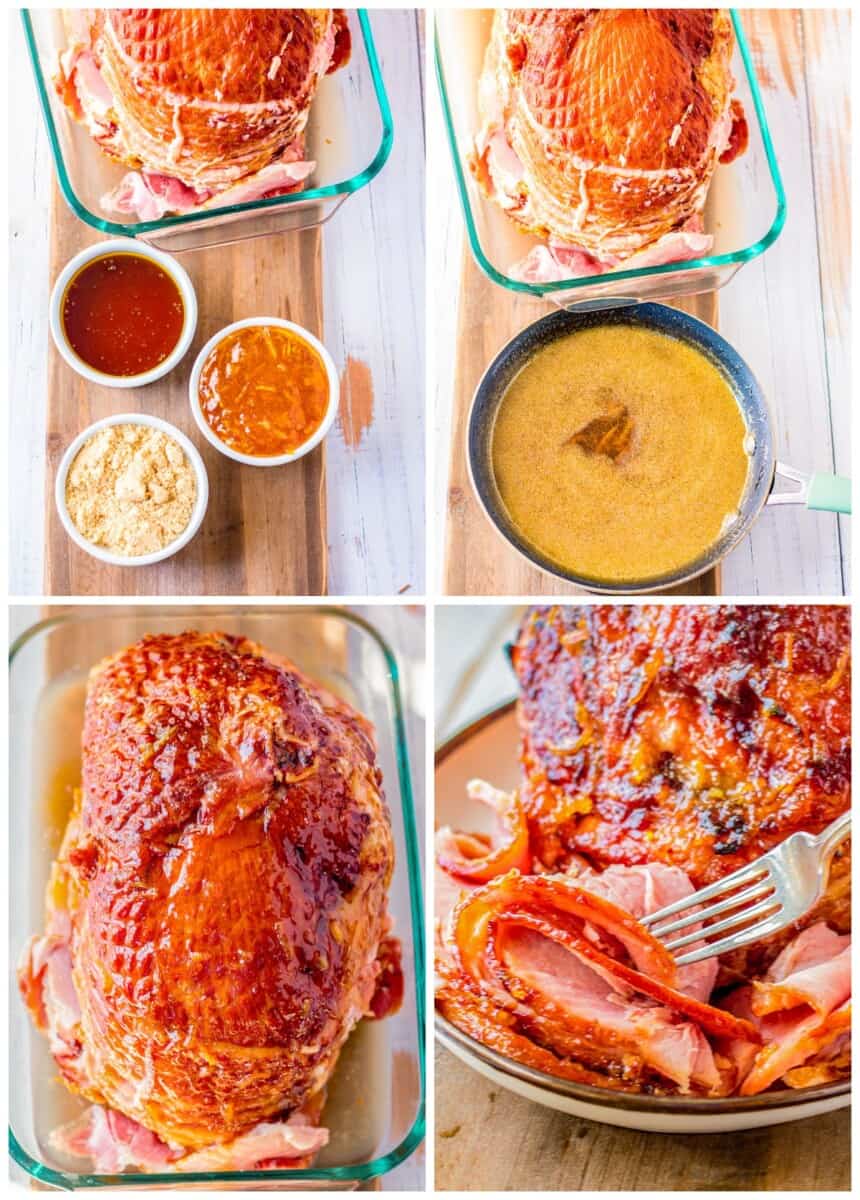 How long does it take to cook a spiral ham?
This recipe uses a cooked ham, so it takes just over an hour to warm through. Allow 15-20 minutes per pound. If you have an instant read thermometer, it should register at a minimum of 145F when inserted into the center of the ham, and not touching the bone.
How do you slice a spiral ham?
When slicing a half ham like this one, you can cut around the center bone in a circular motion to free as many slices as possible. Then you can cut them again into your desired size.
Should I cover a glazed ham while baking?
Bake the ham uncovered for the majority of the cooking time. When you add the rest of the glaze for the last 15-30 minutes, you can cover to protect the surface from burning. However, you want to make sure the glaze gets some direct heat to caramelize at the end.
How to Store 3-ingredient Ham Glaze
The orange honey ham glaze can be saved if you have extra. Store it in an airtight container in the fridge, for up to a week. Add more to slices of leftover ham when you reheat them. Or you can use it for another pork dish.
How to Store a Glazed Spiral Ham
The baked glazed ham should be covered and stored in the refrigerator, for up to 5 days. Eat leftovers cold, straight from the fridge, or you can serve them warm.
To reheat, it's best to reheat slices rather than the whole ham. Cover or wrap slices in aluminum foil, and warm in the oven at 275F.
You can also freeze slices, wrapped in foil and placed in freezer-safe bags.
What to Serve with Orange Honey Glazed Ham
This deliciously sweet and tangy glazed ham is the perfect centerpiece for any holiday feast. Serve it for Easter, Thanksgiving, or Christmas dinner, along with plenty of side dishes. Fill out the table with roasted potatoes, wild rice sausage stuffing, au gratin potatoes, roasted Brussels sprouts, crockpot glazed carrots, and some dinner rolls.
If you make this recipe be sure to upload a photo in the comment section below or leave a rating. Enjoy! You can also jump to recipe.
More Spiral Ham Recipes We Love