Crock Pot Potatoes are our favorite easy side dish recipe! We have made these Slow Cooker Potatoes two ways, in Garlic Ranch and Taco flavored! My mind is blown by how simple making Crockpot Red Potatoes can be…and the sky is the limit with flavors. This recipe is amazing as a side dish to almost any meal…such a great weeknight option.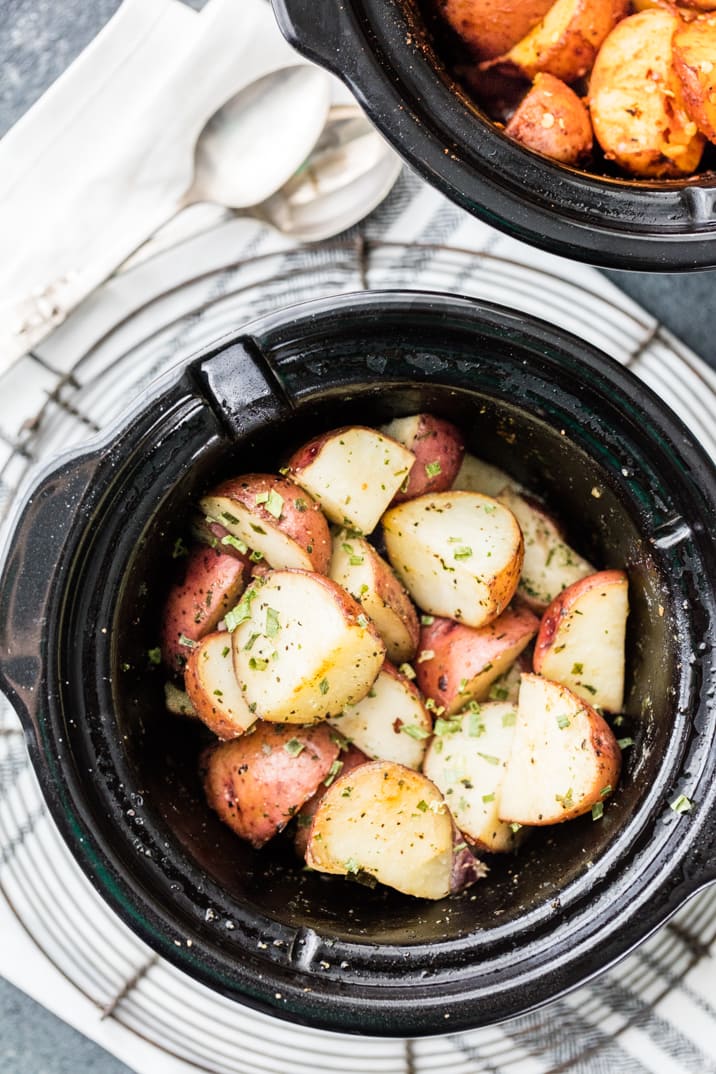 Crock Pot Potatoes Recipe Two Ways (Garlic Ranch and Taco Slow Cooker Potatoes)
Crock Pot Potatoes are the absolute best. Today I have one of my favorite side dish recipes for you, Slow Cooker Potatoes! Slow Cooker Garlic Ranch Potatoes and Slow Cooker Taco Potatoes. I love both and can't wait to hear which one is your favorite!
Well I'm not going to lie to you…today has been a day of non-stop reality tv. Working from home has its perks, and one of them is having a full DVR crammed with every reality show known to man…#guiltypleasure. Pat will tell you, there's pretty much zero reality shows I won't at least give a shot. Addiction is tough. So today was a day of sitting on the couch, editing photos, and watching my gals (aka, the Real Housewives). Do you think Real Housewives of STL would come looking for me soon?? Life goals.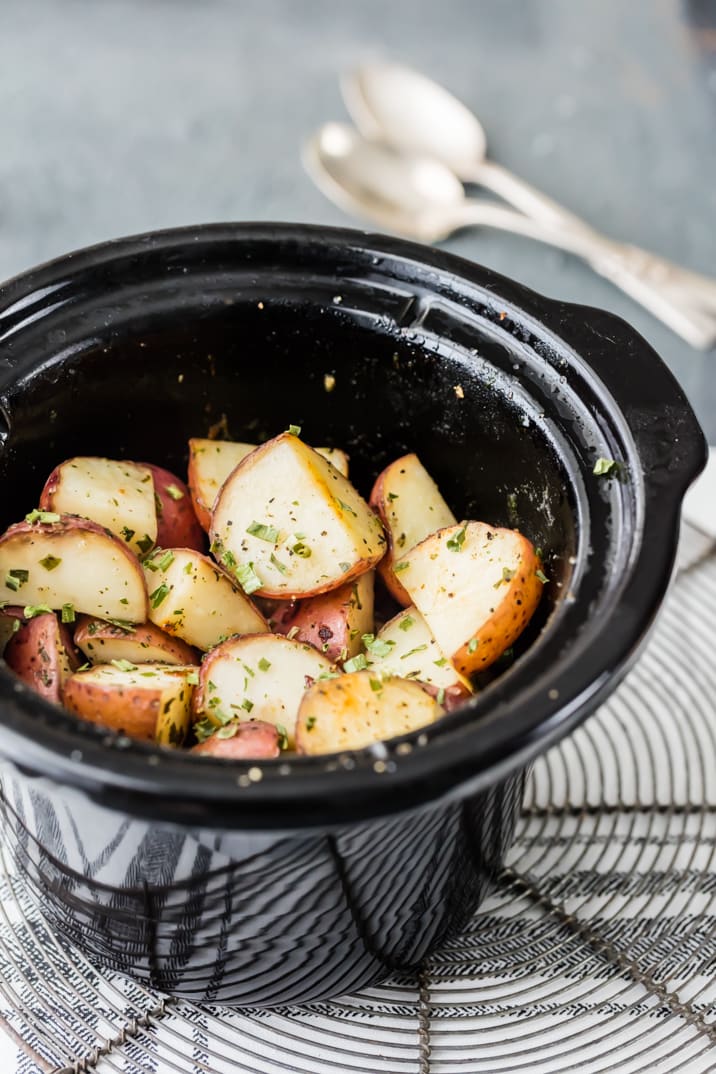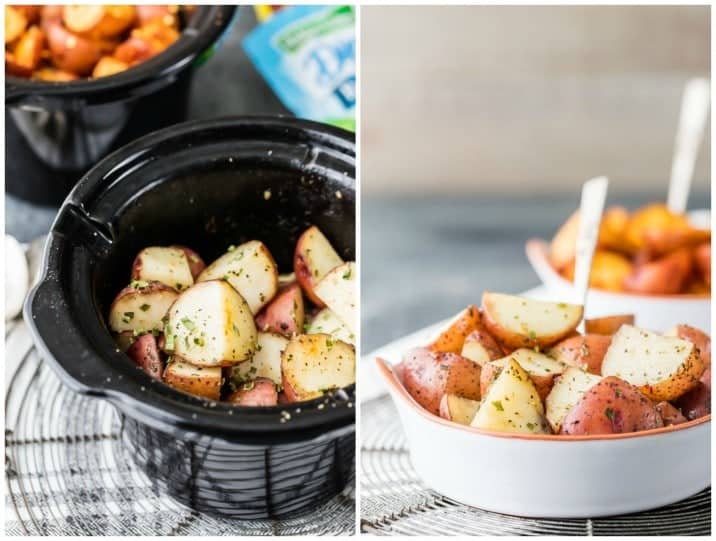 Where to serve Crock Pot Red Potatoes
Since I was distracted all dang day catching up before Pat got home (he doesn't love reality tv…imagine that!), I only had time for the EASIEST OF RECIPES. I don't have time for complicated stuff you guys…my DVR is calling! <—Priorities :).
Even though this recipe for Crockpot Potatoes is SUPER EASY, it's also super delicious. No shame in our game! Whether you choose Garlic Ranch Crockpot Potatoes or Spicy Taco Crockpot Potatoes, I think you'll be quite pleased at dinner time.
We bring these Crock Pot Potatoes to work events, family pot lucks, backyard BBQs, and more! They're the perfect versatile side dish recipe!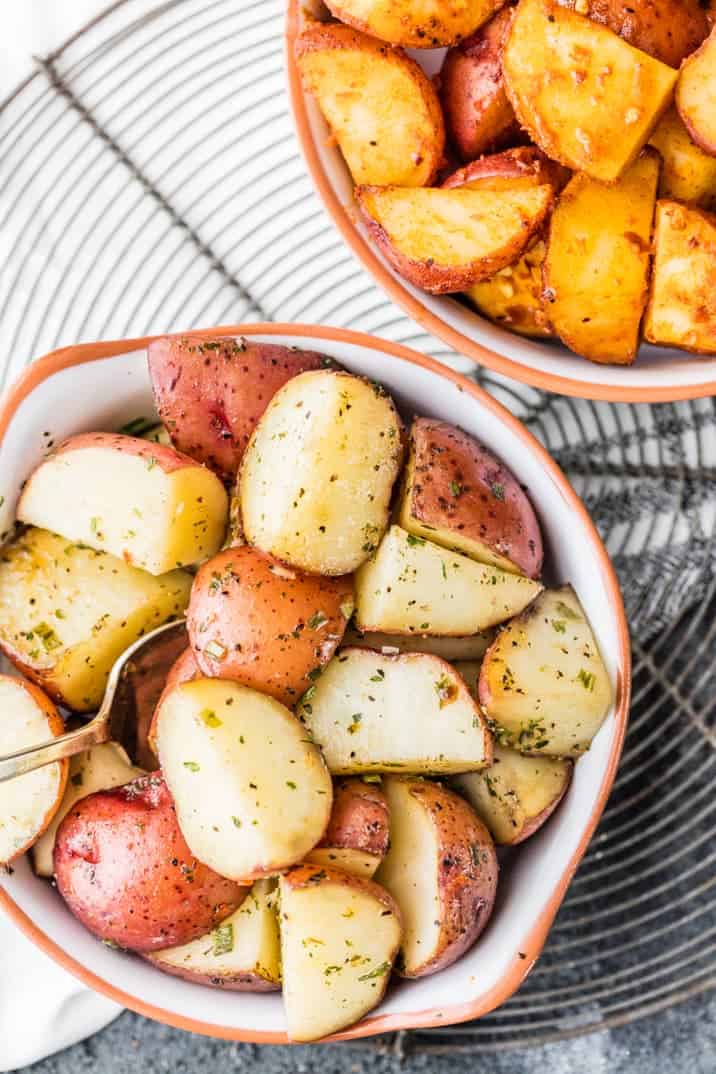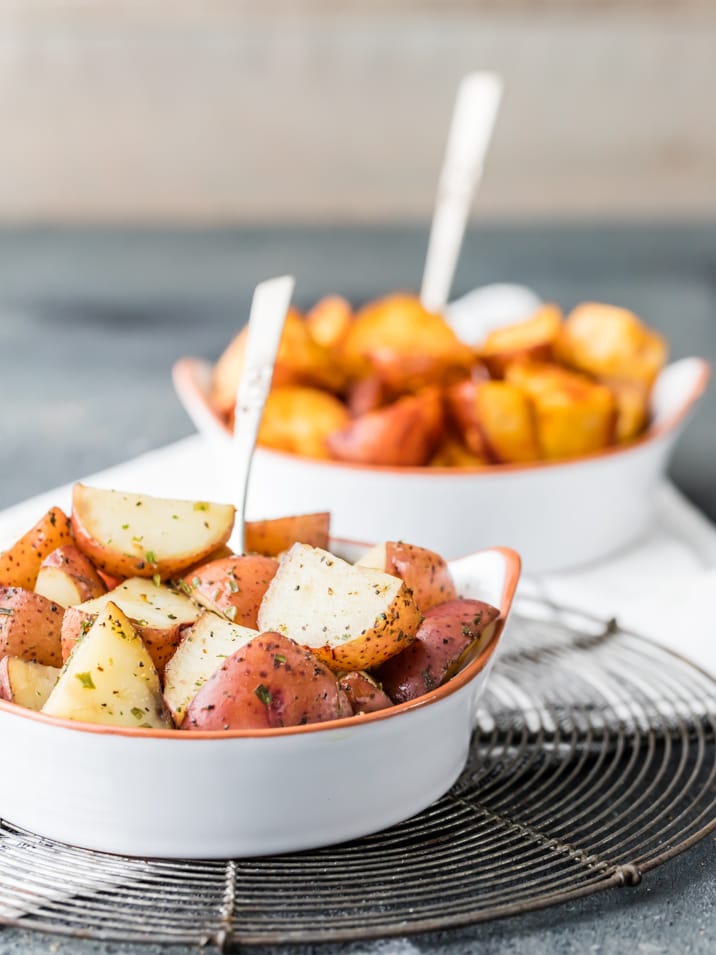 Tips for making Crock Pot Potatoes:
You don't need a lot of water in the slow cooker. The potatoes will have some water come out of them while the cook plus you have ingredients like oil to bring some moisture. They may look dry when you put them in, but they'll be perfect, moist, and tender once cooked.
I have made Garlic Ranch and Taco Slow Cooker Potatoes but you can play around with the flavors! You could make Italian Potatoes with your Italian Dressing Mix and your favorite herbs or you can make them plain and sprinkle on some parmesan before serving.
I didn't peel the potatoes because…LAZY! There's no need to peel the red potatoes before tossing in the slow cooker.
I am SO excited about these Garlic Ranch Slow Cooker Potatoes…They are SUPER simple, super yum…and perfect for busy people like us (I normally am a little busy…just not today…). Packed with flavor and also pretty darn healthy. I'm patting myself on the back if you can't tell!
And if Garlic Ranch isn't your thing, I hope the Spicy Taco variety is! Both are delicious, EASY, and perfect for THANKSGIVING!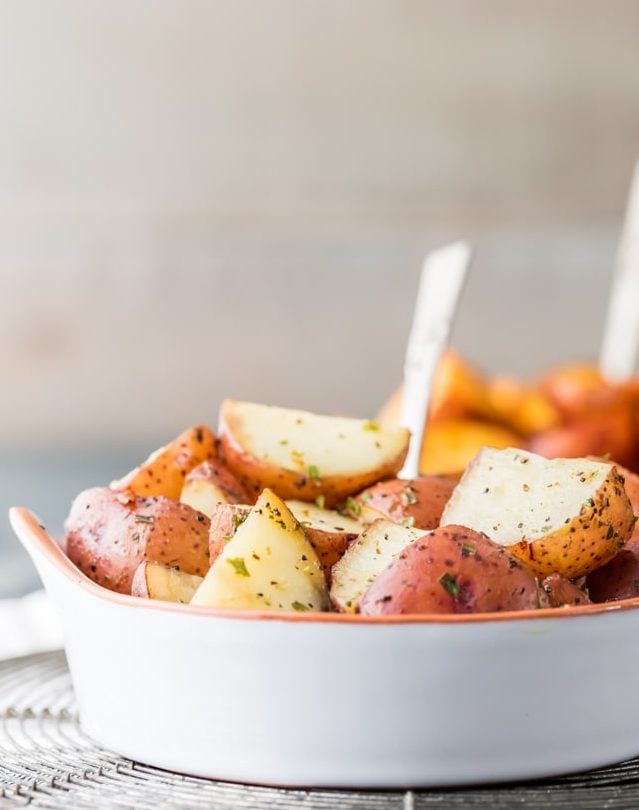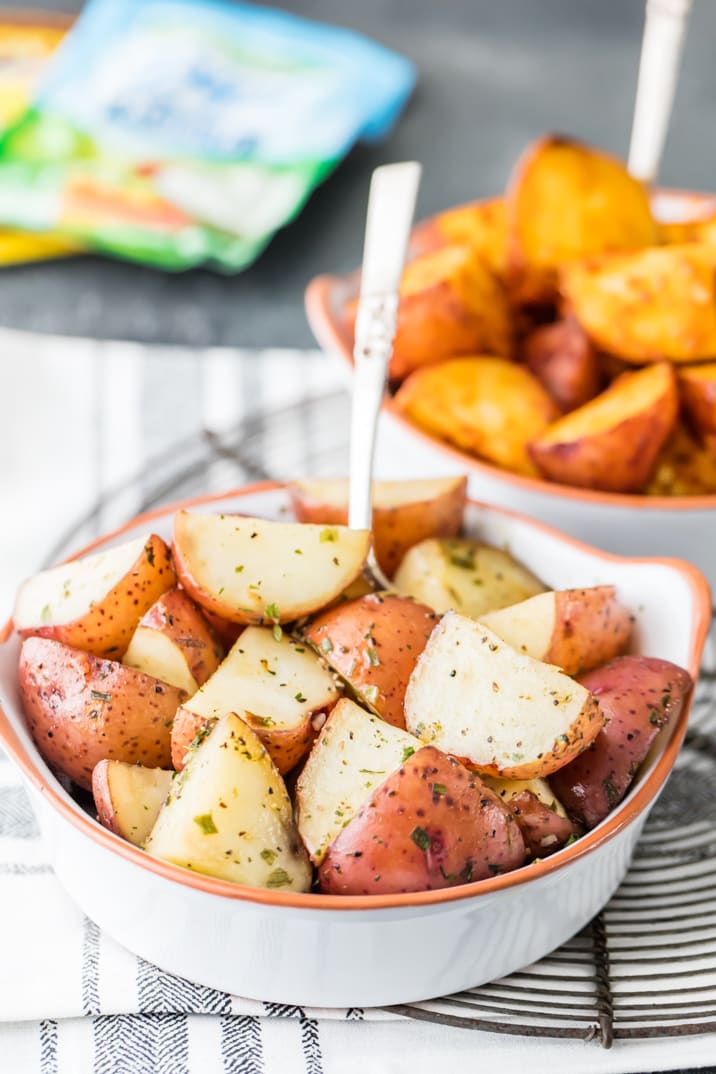 How to Make Garlic Ranch Slow Cooker Potatoes (PLUS Spicy Taco Potatoes)
I have a really nifty slow cooker that has two sides…perfect for making double the gameday dips or wings…OR perfect for making two flavors of Slow Cooker Potatoes! I made the Garlic Ranch on one side, and SPICY TACO on the other side!! This is one of my favorite Crockpot Potato Recipes because its so versatile and simple.
What do you serve with Crockpot Potatoes?
You can literally serve these with anything and everything, but some favorites include our Sheet Pan Chicken Parmesan, Chicken Burgers, Stovetop Burgers, Oven Fried Chicken, or Easy Chicken Cordon Bleu. They'd also be an amazing side to our Best Ever Skillet Steak. Steak and Potatoes…is there anything better?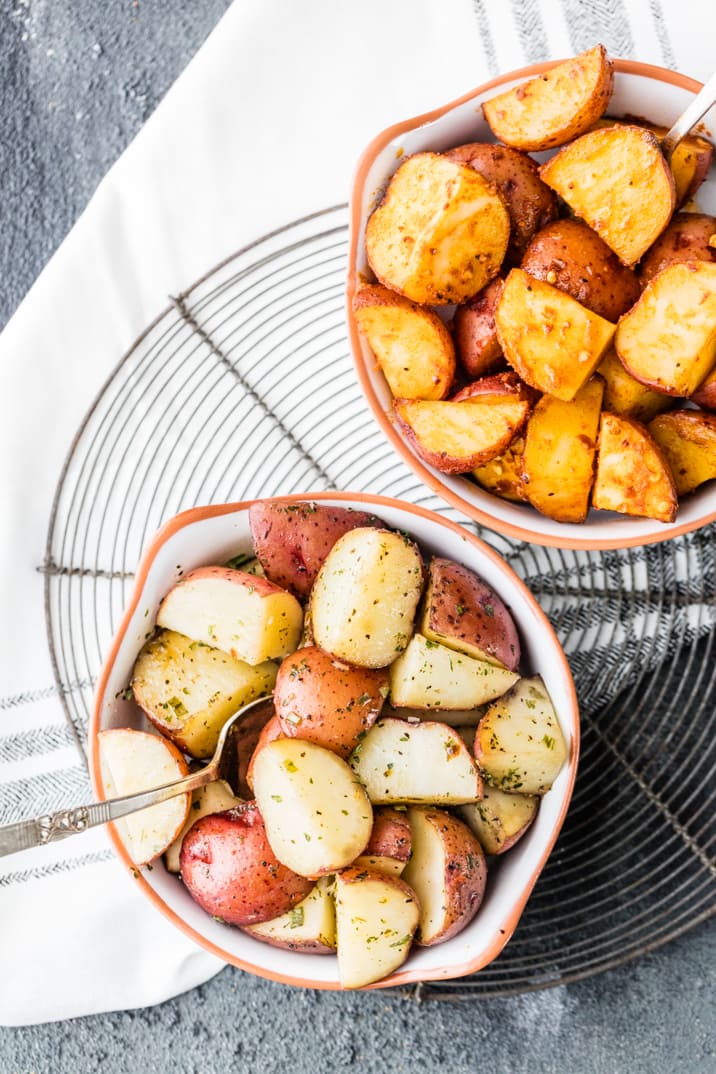 Spicy Taco up top and Garlic Ranch down below. The ranch potatoes were my favorite, but I loved them both! Let me know which one your favorite is!!
Watch the video or see below for details on How to make Crockpot Potatoes. Enjoy!
If you love potatoes, but this recipe isn't quite the right thing, we have you covered with SO MANY other
potato recipes
! Here are some of our favorites:
AROUND THE WEB: Looking for more slow cooker sides? These recipes we found on the WWW are amazing! Slow Cooker Macaroni and Cheese, Slow Cooker Honey Cinnamon Carrots, and Crockpot Garlic Mushrooms.