Crockpot Potatoes are our favorite easy side dish recipe! We made these slow cooker potatoes two ways: Garlic Ranch and Taco seasoned. My mind is blown by how simple making crockpot red potatoes can be…and the sky is the limit with flavors. This recipe is one of our favorite crockpot side dishes to make for any meal.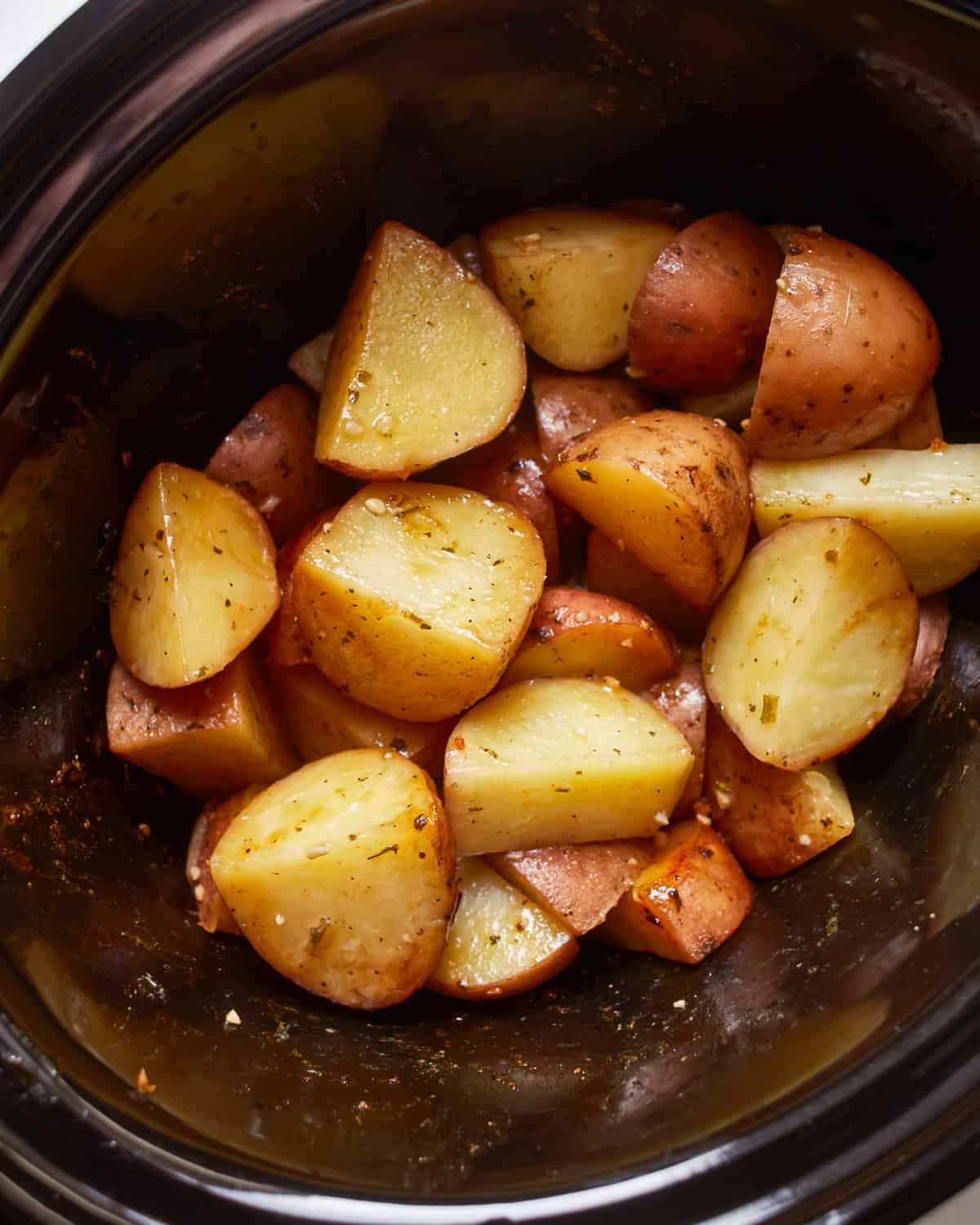 What's in Slow Cooker Potatoes?
This is one of my favorite crockpot side dishes, mostly because you get two-for-one here. Both flavors are so good. Both start with red potatoes, then just add different ingredients to get the flavor you love.
Red Potatoes: Waxy potatoes stand up well to being slow-cooked over a long period of time. You could use Yukon Gold or new potatoes instead, but I love the flavor of red potatoes.
Salted Butter: Adds richness and flavor to these potatoes.
Olive Oil: Helps the potatoes cook without burning.
Salt + Pepper: Enhance the flavor of the potatoes.
Garlic Ranch: Fresh minced garlic, ranch seasoning, and fresh chopped chives make these potatoes taste so tangy and savory!
Spicy Taco: Taco Seasoning and crushed red pepper flakes give these potatoes a Mexican kick!
Pro Tip: For a more neutral base, swap the olive oil for avocado oil.
Variations on Red Potatoes in the Crockpot
The great thing about these potatoes is they both start with the same ingredients– butter, oil, salt, and pepper. From there, you can add just about anything to make them the perfect side dish for any meal. Some of my favorite seasoning blends to add to these potatoes are Creole seasoning, blackened seasoning, chili seasoning, everything bagel seasoning, Italian seasoning, or herbs de Provence.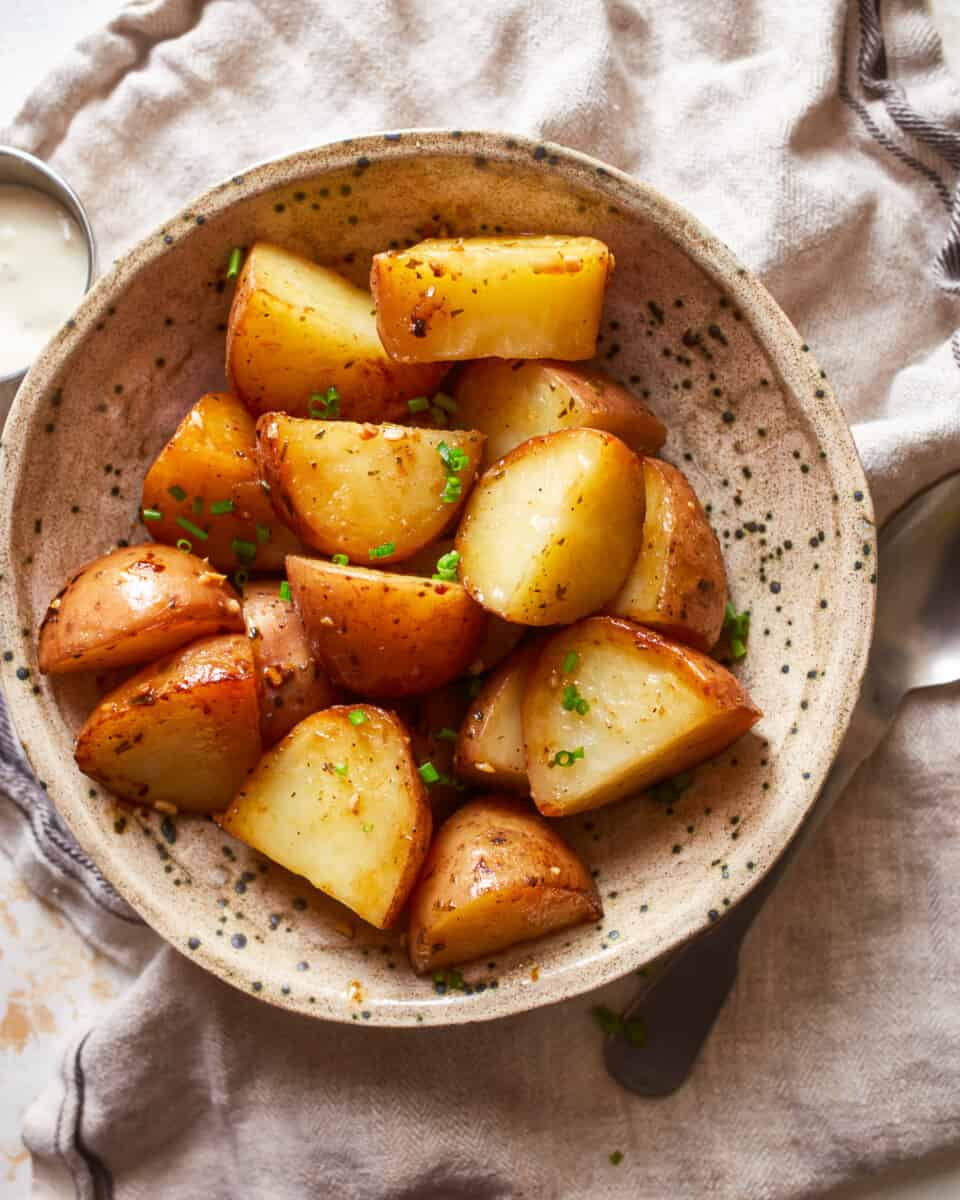 How long do you cook potatoes in a crockpot?
For this recipe, you'll need to cook the potatoes for about 3-4 hours on high. You want them to be fork-tender, so check them every hour or so.
Can I use any type of potato?
Yes, you can use any type of potato, but some varieties work better than others. I find that waxier potatoes hold up better to the long cooking time, so try Yukon Gold, new potatoes, or fingerlings. Russets are delicious, but they will likely fall apart.
Should I peel the potatoes?
It's up to you! If you prefer peeled potatoes, then peel them before cooking. But leaving the skins on can add texture and flavor to your dish. Plus, if you're feeling lazy like me, it cuts down on the prep time!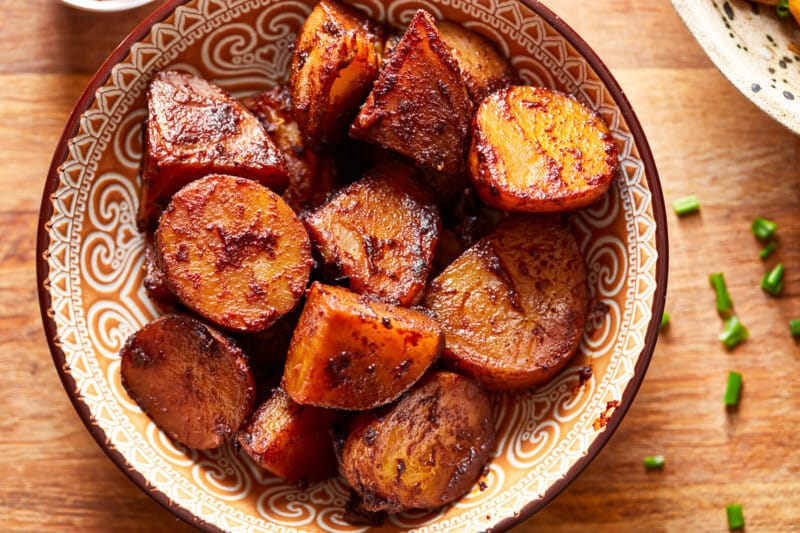 How to Store and Reheat
Store leftover potatoes in an airtight container in the refrigerator for up to 5 days. Reheat in the microwave in 30-second increments until warmed through.
How to Freeze
Freeze these potatoes in an airtight container for up to 3 months. Let thaw overnight in the refrigerator before reheating.
Serving Suggestions
The great thing about these slow cooker potatoes is that they go with just about everything. Some favorites include our Sheet Pan Chicken Parmesan, Chicken Burgers, Stovetop Burgers, Oven Fried Chicken, or Easy Chicken Cordon Bleu. They'd also be an amazing side to our Best Ever Skillet Steak. Steak and Potatoes…is there anything better?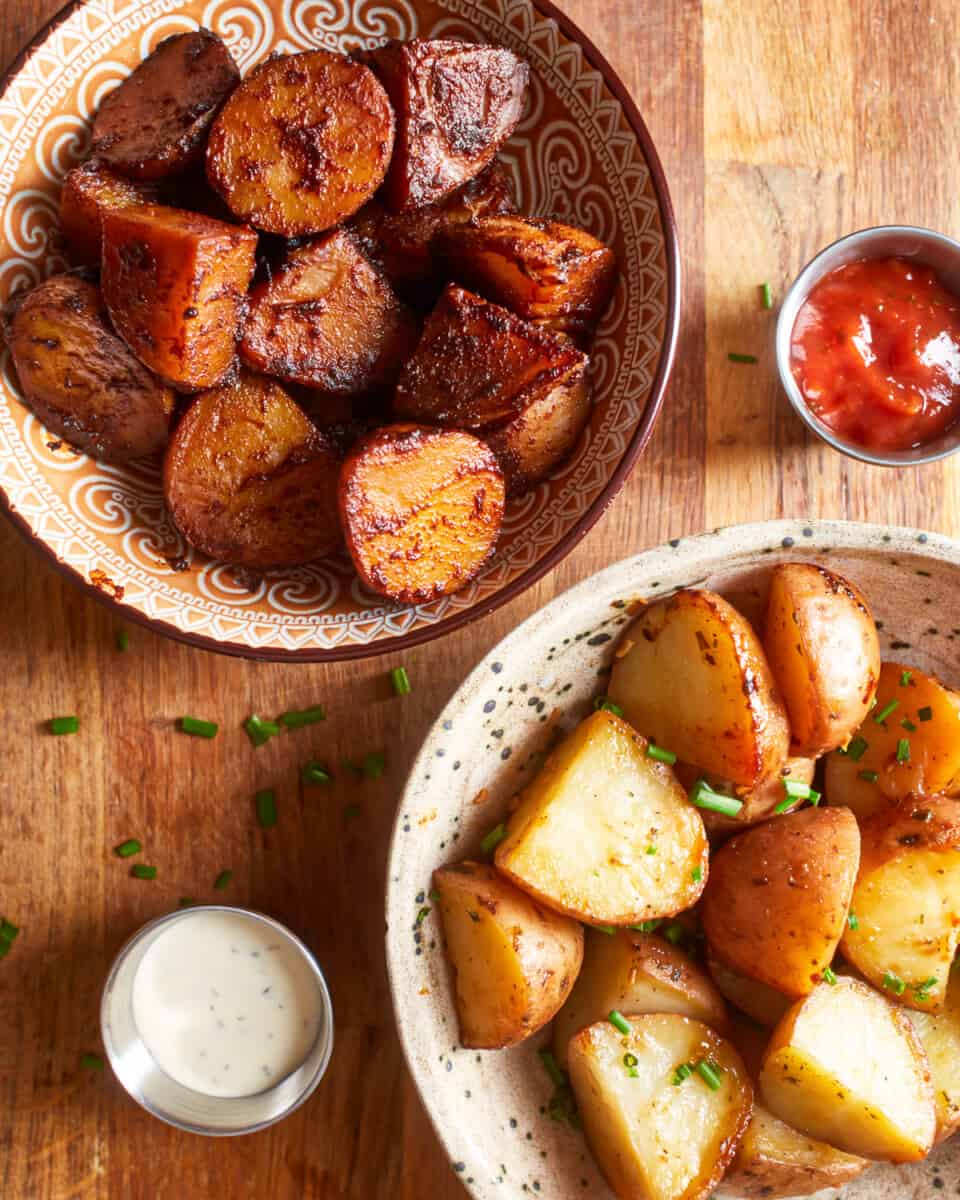 5-Star Review
"Very easy and yummy will do again . Cooked perfectly 5 hrs no fuss 😃" – Janice Koch-Lumpkin
More Crockpot Potato Recipes We Love