Garlic Ranch Slow Cooker Potatoes (PLUS Spicy Taco Potatoes)…MIND BLOWN! Best and easiest side dish EVER!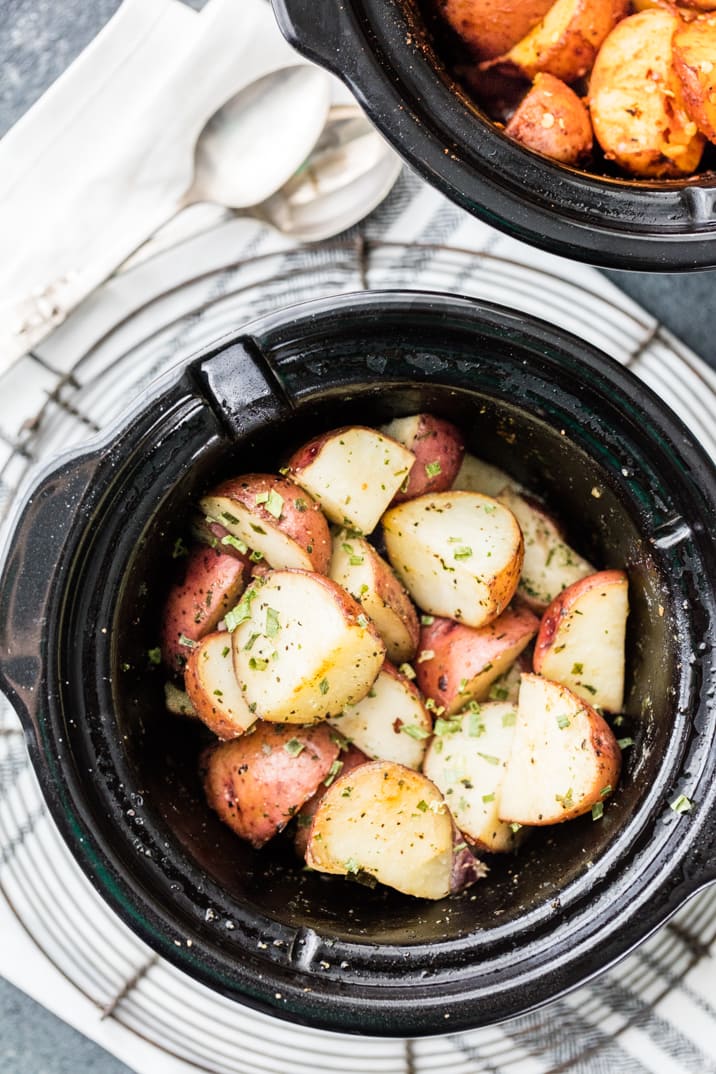 These recipes for GARLIC RANCH SLOW COOKER POTATOES and SPICY TACO SLOW COOKER POTATOES were originally posted in October 2015. They continue to be a favorite so I thought it deserved a reboot! Enjoy!
Well I'm not going to lie to you…today has been a day of non-stop reality tv. Working from home has its perks, and one of them is having a full DVR crammed with every reality show known to man…#guiltypleasure. Pat will tell you, there's pretty much zero reality shows I won't at least give a shot. Addiction is tough. So today was a day of sitting on the couch, editing photos, and watching my gals (aka, the Real Housewives). Do you think Real Housewives of STL would come looking for me soon?? Life goals.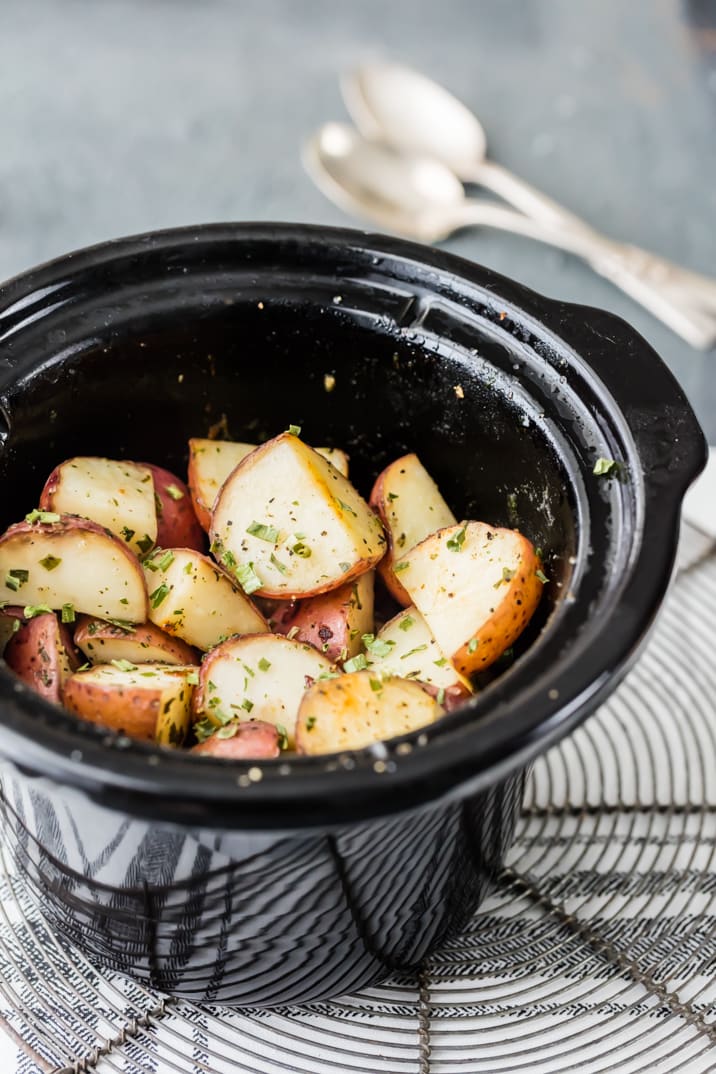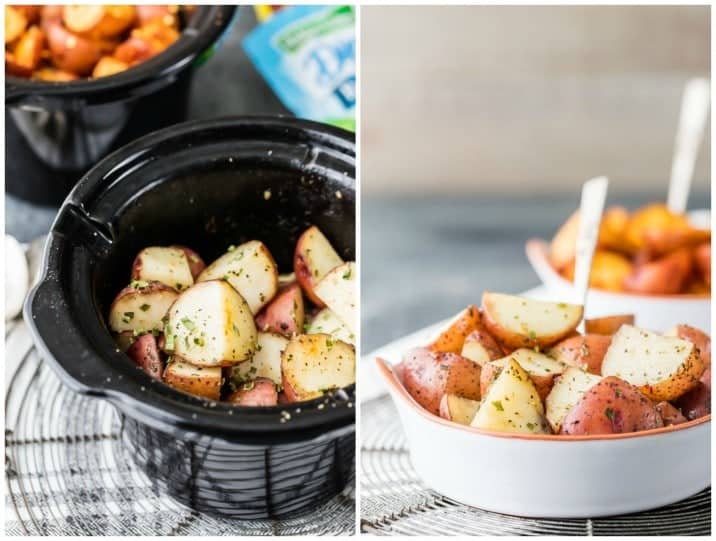 So since I was distracted all dang day catching up before Pat got home (he doesn't love reality tv…imagine that!), I only had time for the EASIEST OF RECIPES. I don't have time for complicated stuff you guys…my DVR is calling!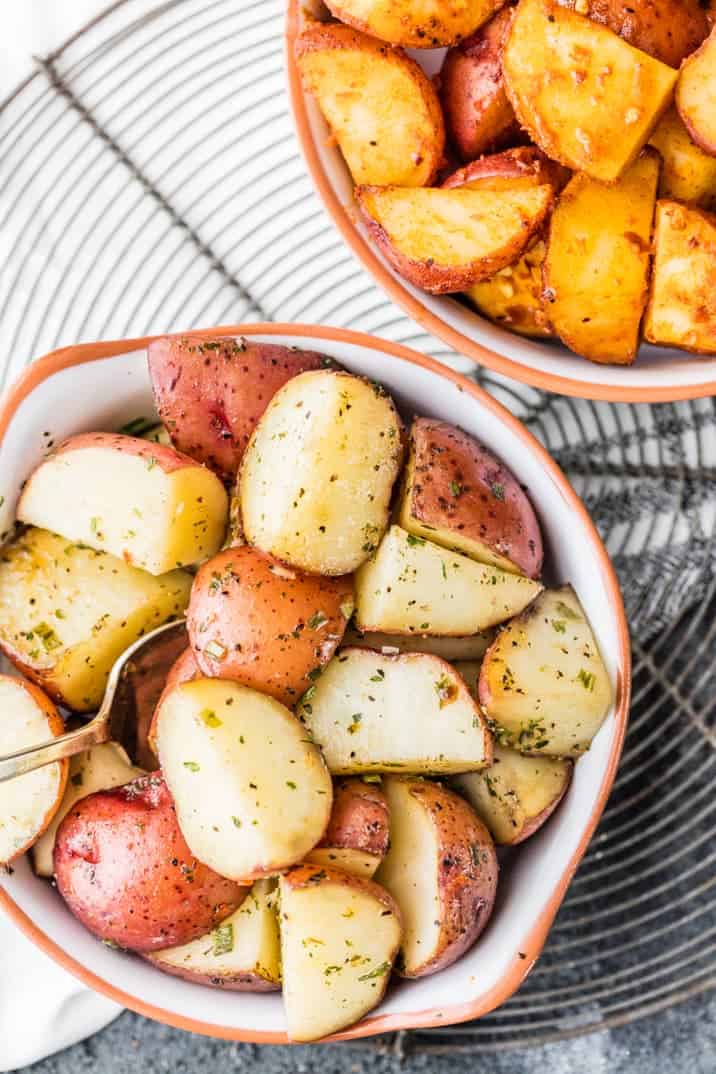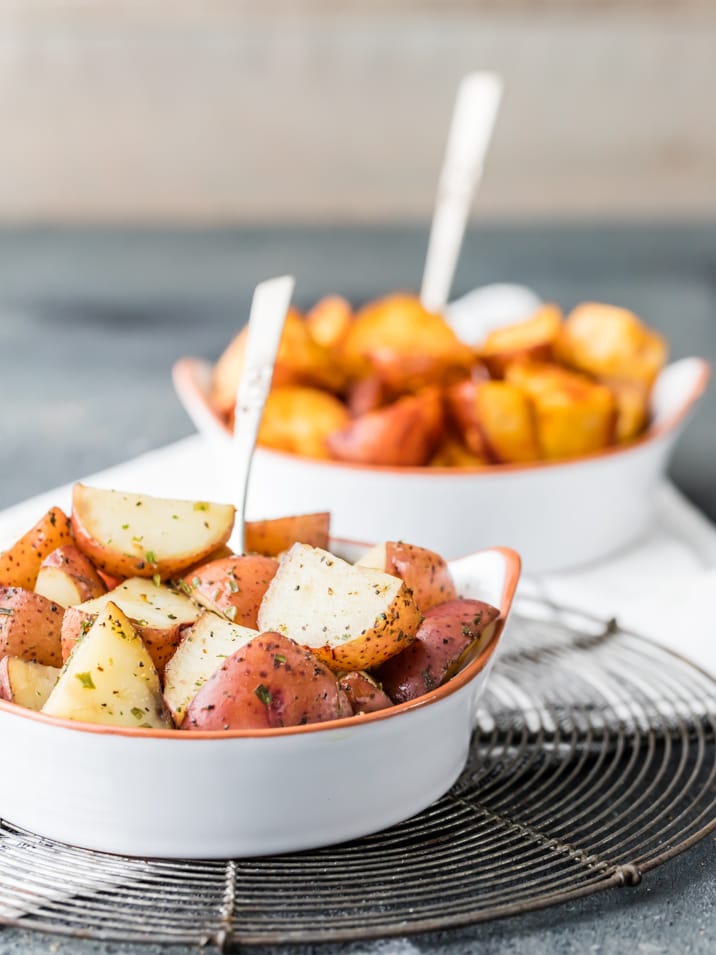 I am SO excited about these Garlic Ranch Slow Cooker Potatoes…They are SUPER simple, super yum…and perfect for busy ladies like us (I normally am a little busy…just not today…). Packed with flavor and also pretty darn healthy. I'm patting myself on the back if you can't tell!
And if Garlic Ranch isn't your thing, I hope the Spicy Taco variety is! Both are delicious, EASY, and perfect for THANKSGIVING!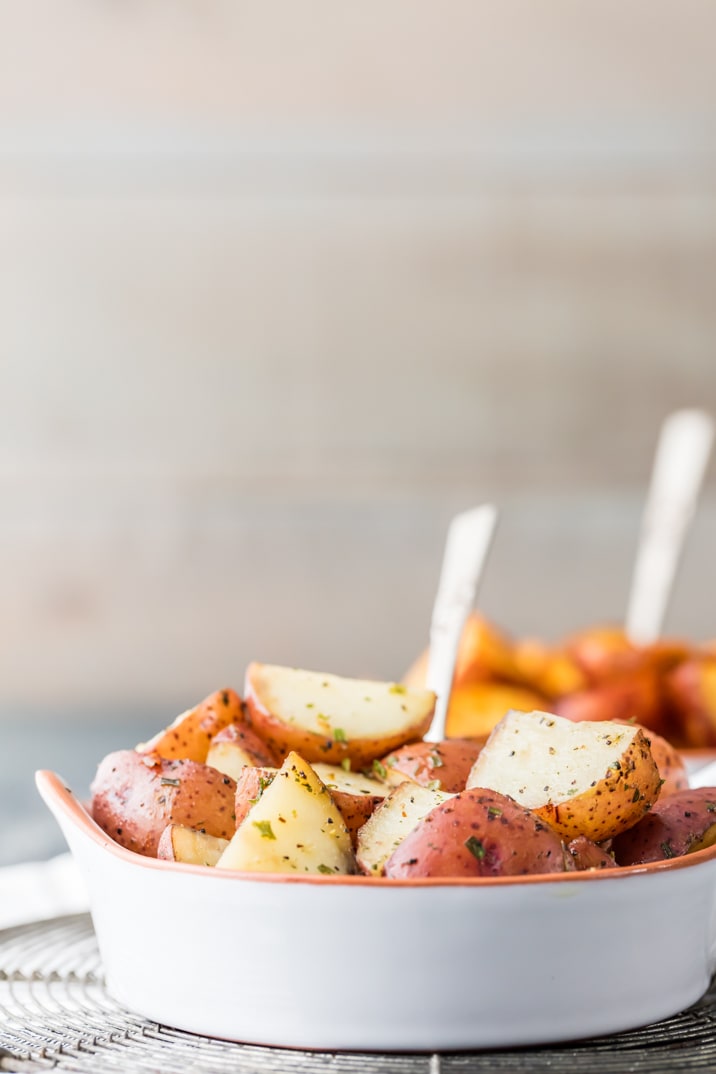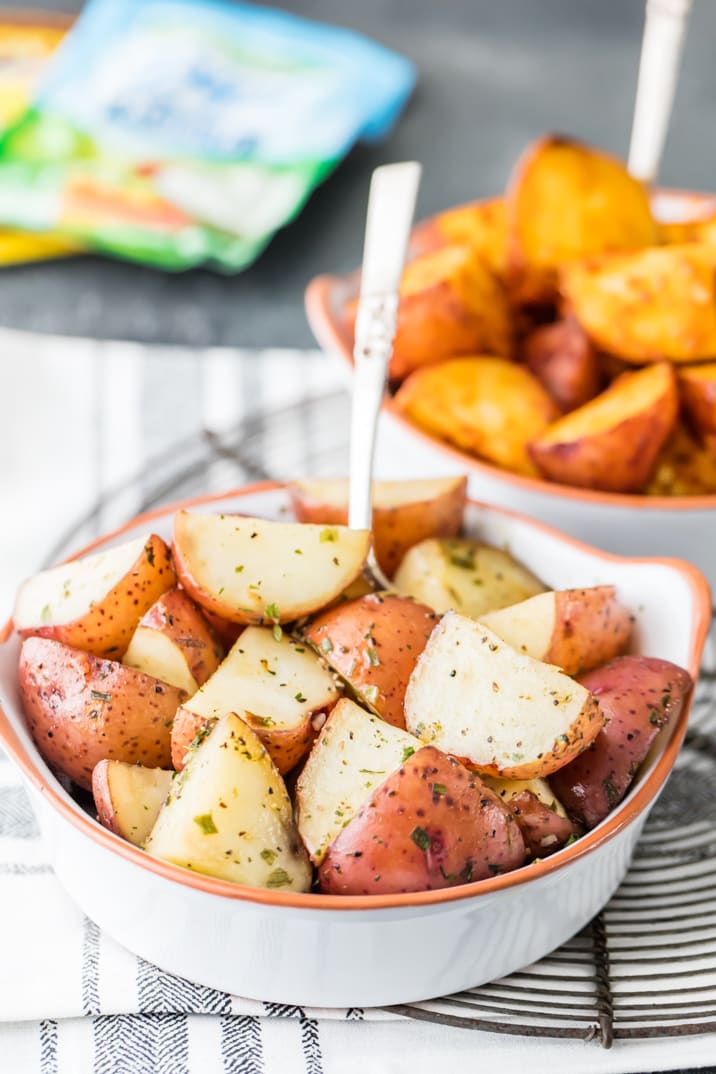 I have a really nifty slow cooker that has two sides…perfect for making double the gameday dips or wings…OR perfect for making two flavors of Slow Cooker Potatoes! I made the Garlic Ranch on one side, and SPICY TACO on the other side!! I've written out the recipe for the Garlic Ranch Slow Cooker Potatoes below, and you can hop over to Real Housemoms to see the recipe for the Spicy Taco! They're both very easy recipes and both awesome!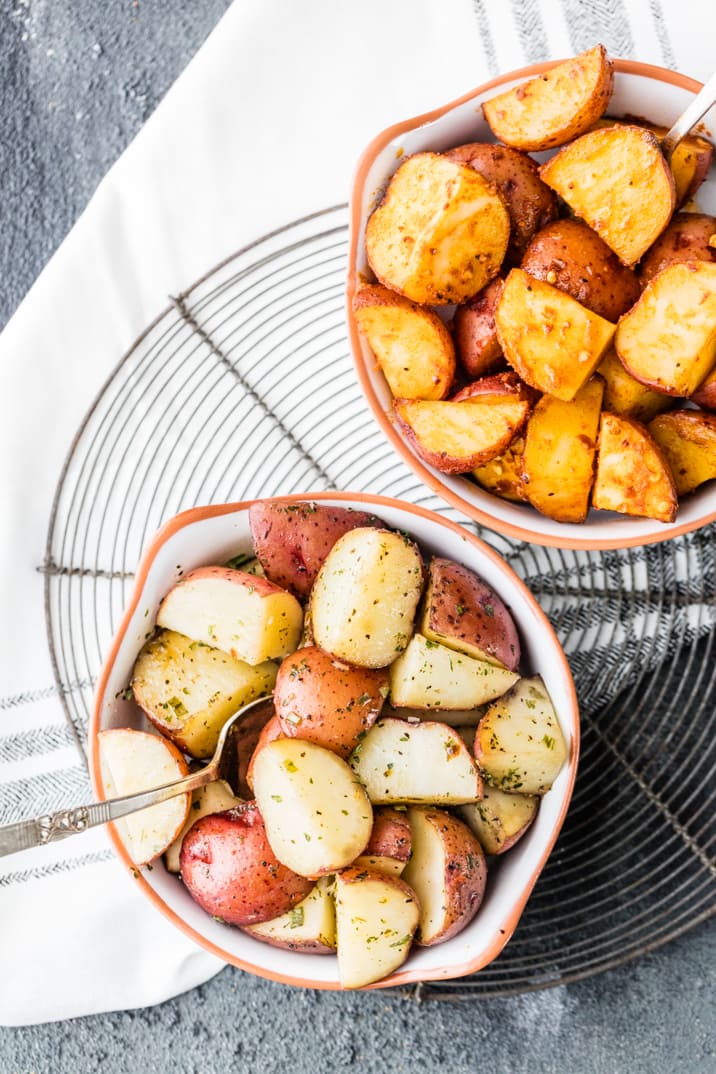 Spicy Taco up top and Garlic Ranch down below. The ranch were my favorite, but I loved them both! Let me know which one your favorite is!! Enjoy!
Ingredients
For the GARLIC RANCH SLOW COOKER POTATOES

3 pounds red potatoes, washed and quartered
2 tablespoons salted butter
2 tablespoons olive oil
1 (1 ounce) packet ranch seasoning
1 tablespoon chopped chives
1 tablespoon garlic, minced
salt and pepper to taste

For the Spicy Taco Slow Cooker Potatoes

3 pounds red potatoes, quartered
1 (1 ounce) packet taco seasoning
2 tablespoons olive oil
2 tablespoons salted butter
1 tablespoon red pepper flakes
salt and pepper to taste
Instructions
Spray a large slow cooker with non-stick spray.
Place all the ingredients in a large slow cooker. Stir to combine slightly. While the potatoes are cold they won't coat completely and that's totally fine.
Cook on high for 3-4 hours or until the potatoes are fork tender. (NOTE: Check the potatoes after 1 hour and stir to make sure all the potatoes are coated fully. Check again after 2.5 hours and make sure they aren't done. Depending on the size of the potatoes, they could cook a bit quicker)
Serve hot, enjoy!
7.6.4
1886
https://www.thecookierookie.com/slow-cooker-potatoes/

JOIN OUR MAILING LIST
TO GET COOKING!
Subscibe to recieve all the latest, greatest, and EASIEST recipes sent straight to your email inbox. If we post something yummy, you'll be the first to know.