Crock Pot Potatoes are our favorite easy side dish recipe! We made these Slow Cooker Potatoes two ways: Garlic Ranch Potatoes and Taco flavored. My mind is blown by how simple making Crockpot Red Potatoes can be…and the sky is the limit with flavors. This recipe is one of our favorite crockpot side dishes to make for any meal.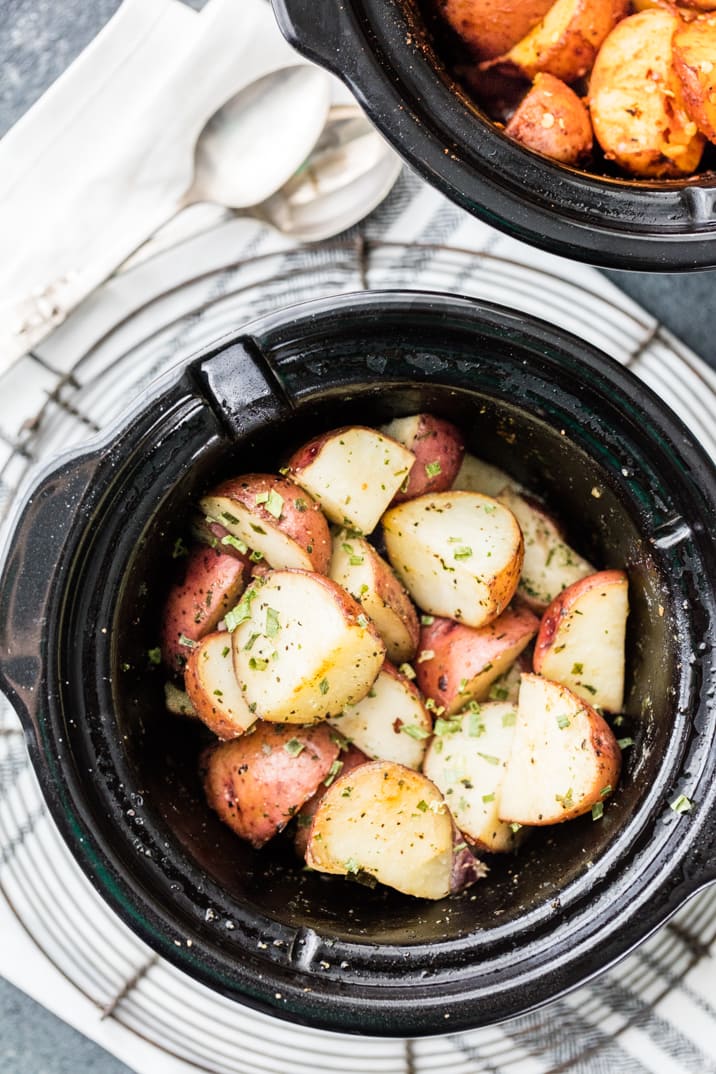 Crock Pot Potatoes
Crock Pot Potatoes are the absolute best. Such an easy side dish to make for any meal, plus you can change up the flavor to make every meal a little different!
Today I'm sharing one of my favorite crockpot side dishes with you: Slow Cooker Potatoes! Even more exciting is the fact that I'm giving you TWO different flavors to choose from. We've got Garlic Ranch Potatoes and Taco flavor. I love both and can't wait to hear which one is your favorite!
These crockpot red potatoes are perfect for any meal, especially since you can choose your flavor. You can get creative and make your own flavors too, following the same directions for cooking the potatoes in your slow cooker.
Make this Crock Pot Potatoes recipe for holidays, weeknight dinners, any time. Pick you favorite flavor, or make both!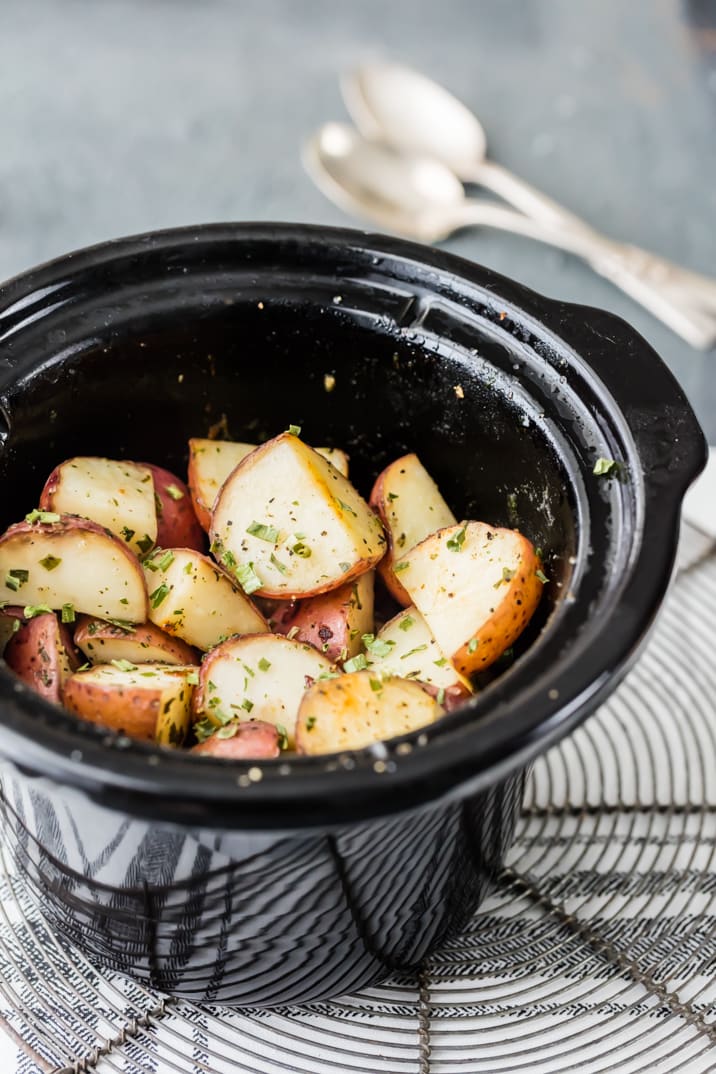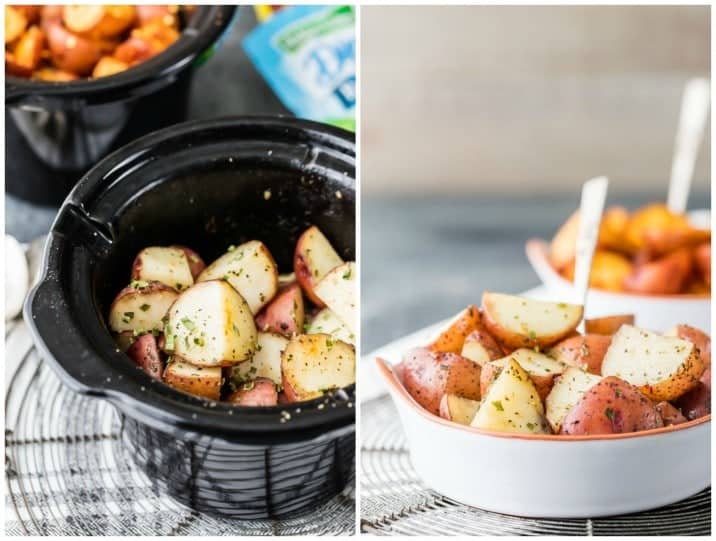 Easy Slow Cooker Potatoes
I love these slow cooker potatoes because they are EASY. Check the recipe card and you'll see what I'm talking about. you barely have to do any work!
Even though this Crock Pot potatoes recipe is SUPER EASY, it's also super delicious. No shame in our game! Whether you choose Garlic Ranch Potatoes or Spicy Taco Potatoes, I think you'll be quite pleased at dinner time.
We bring these Crockpot red potatoes to work events, family pot lucks, backyard BBQs, and more! They're the perfect versatile side dish recipe!
Taco Flavor or Garlic Ranch Potatoes
This is one of my favorite crockpot side dishes, mostly because you get two-for-one here. Both flavors of these Crock Pot potatoes are SO good. Both start with red potatoes, then just add different ingredients to get the flavor you love.
Garlic Ranch Potatoes:
Garlic
Ranch Seasoning
Olive Oil
Butter
Chives
Salt & Pepper
Spicy Taco Potatoes:
Olive Oil
Butter
Red Pepper Flakes
Salt & Pepper
Luckily I don't have to choose between on or the other, I can just make both! I have a really nifty slow cooker that has two sides. It's perfect for making double the game day dips and wings, OR perfect for making two flavors of Slow Cooker Potatoes! I made the Garlic Ranch on one side, and Spicy Taco on the other side! It's such an awesome feature.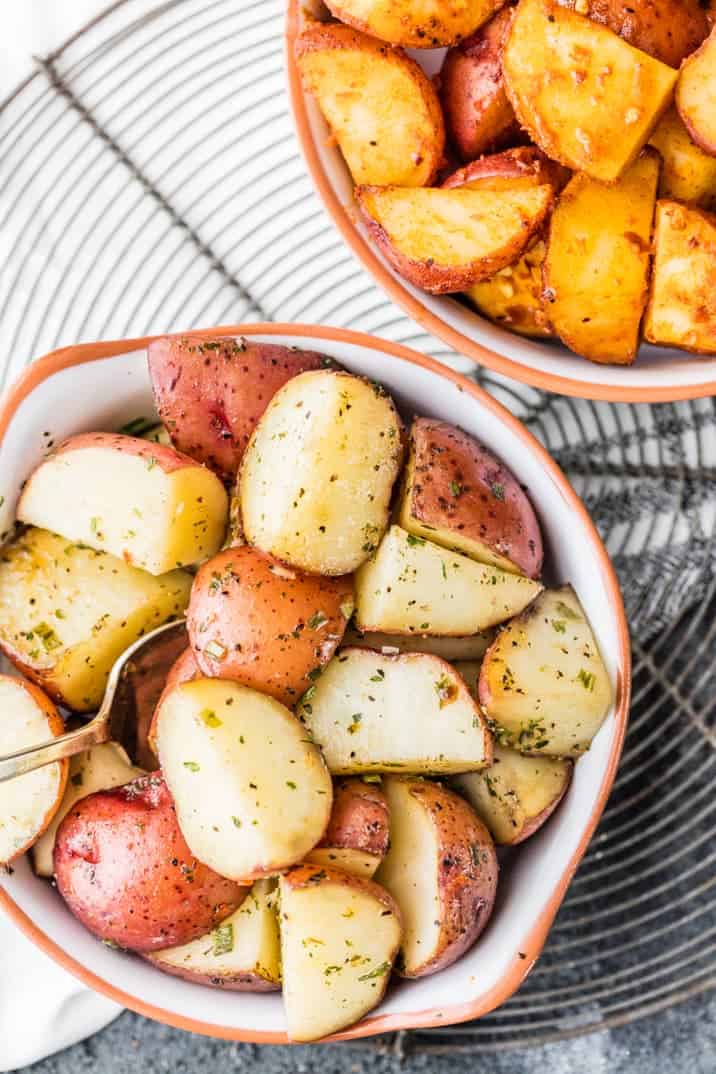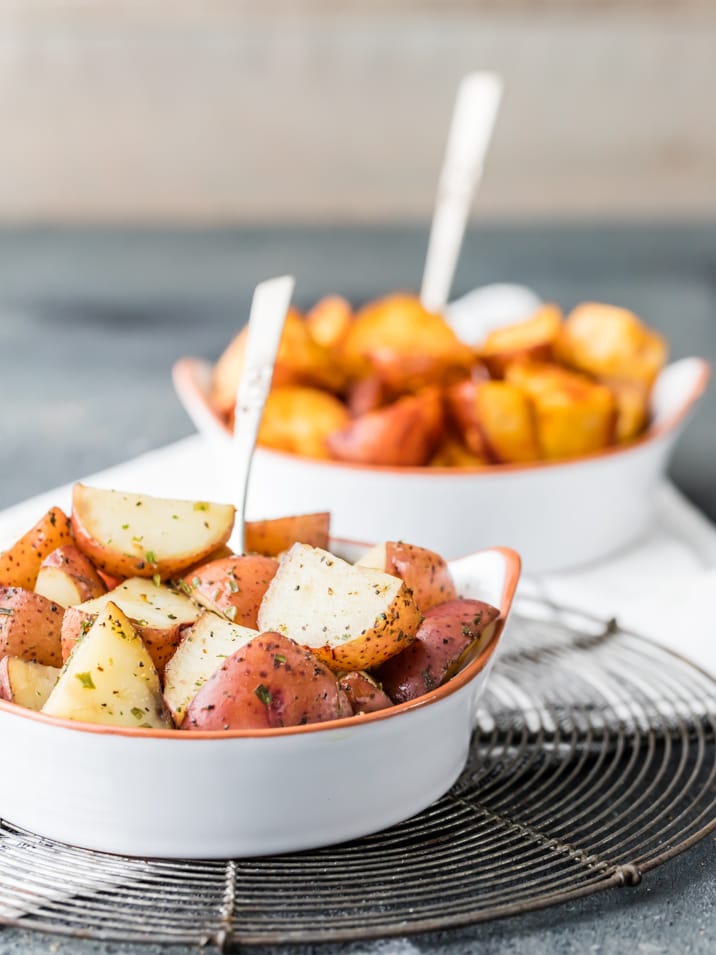 Tips for making Crock Pot Potatoes
I am SO excited about these Garlic Ranch Slow Cooker Potatoes. They are SUPER simple, super yummy, and just perfect for busy people like us. They are packed with flavor and also relatively healthy. I'm patting myself on the back if you can't tell.
Here are a few tips for making potatoes in a crock pot:
You don't need a lot of water in the slow cooker. A bit of water will release from the potatoes while they cook, plus you have ingredients like oil to add in some moisture. They may look dry when you put them in, but they'll be perfectly moist and tender once they're cooked.
I made Garlic Ranch potatoes and Spicy Taco potatoes, but you can play around with the flavors! You could make Italian Potatoes with Italian Dressing Mix and your favorite herbs, or you can make them plain and sprinkle on some parmesan before serving.
I didn't peel the potatoes because…LAZY! There's no need to peel the red potatoes before tossing in the slow cooker. Just make sure you rinse and scrub them.
If Garlic Ranch isn't your thing, I hope the Spicy Taco variety is! Both are delicious, EASY, and perfect for THANKSGIVING!
How long do you cook potatoes in a crock pot?
For this crock pot potatoes recipe, you'll need to cook the potatoes for about 3-4 hours on High. You want them to be fork tender, so check them every hour or so.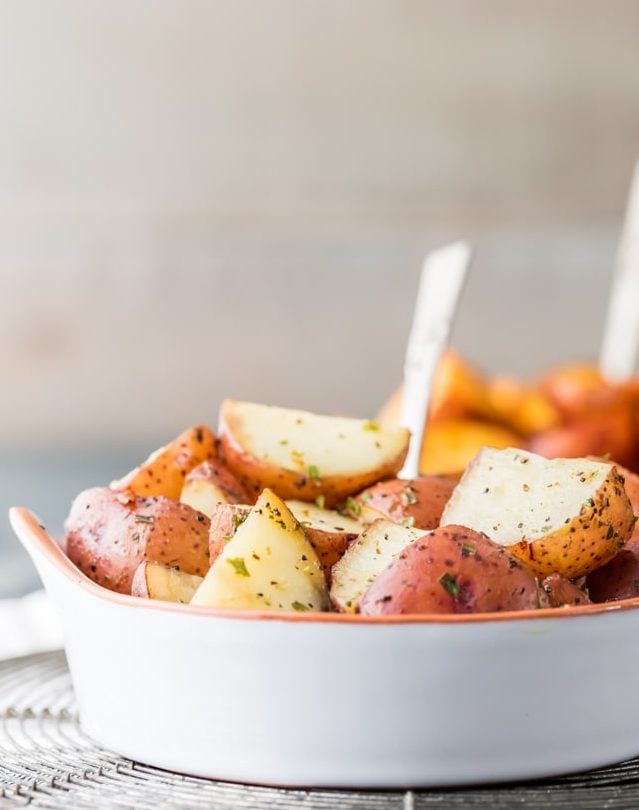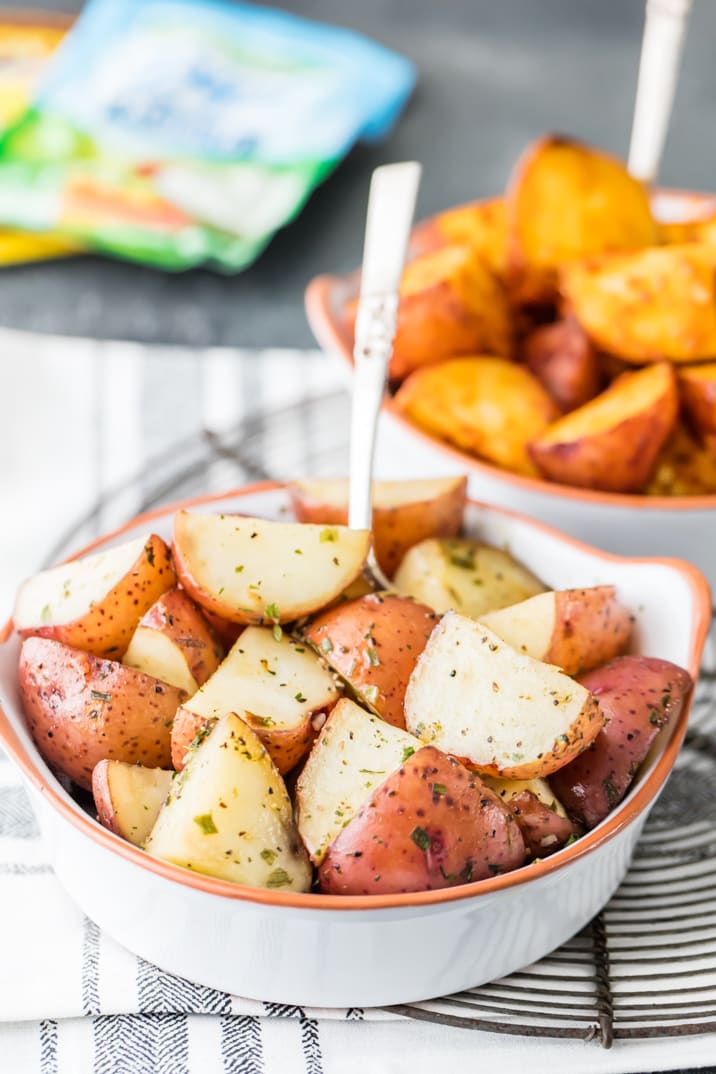 What do you serve with Crockpot Red Potatoes?
The great thing about these slow cooker potatoes is that they go with just about everything. Some favorites include our Sheet Pan Chicken Parmesan, Chicken Burgers, Stovetop Burgers, Oven Fried Chicken, or Easy Chicken Cordon Bleu. They'd also be an amazing side to our Best Ever Skillet Steak. Steak and Potatoes…is there anything better?
Easy Crockpot Side Dishes
I love my slow cooker, because it makes cooking extra easy. I especially love that you make the easiest crockpot side dishes for any meal. When you're busy with the main dish, it's nice that you can just let the side dishes cook all on their own without hassle.
Easy Crockpot Side Dishes
These slow cooker sides are the perfect easy recipes for any meal.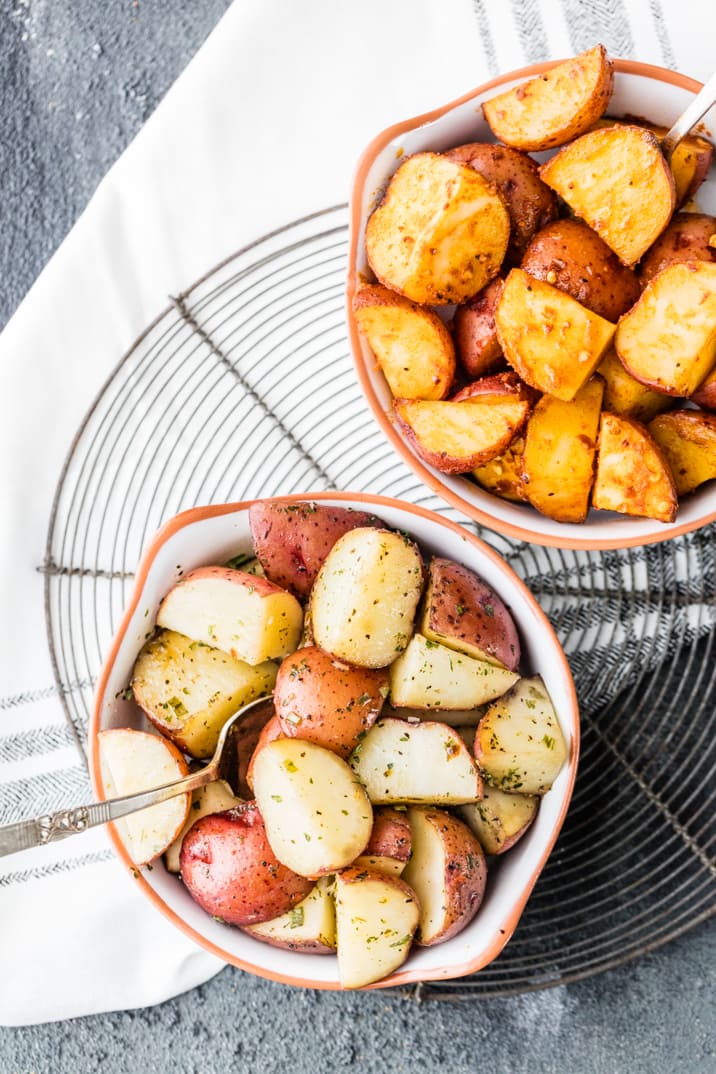 Spicy Taco up top and Garlic Ranch down below. The ranch potatoes were my favorite, but I loved them both! Let me know which one is your favorite!
Watch the video or see below for details on How to make Crock Pot Potatoes. Enjoy!
If you love potatoes, but this recipe isn't quite the right thing, we have you covered with SO MANY other potato recipes! Here are some of our favorites: